The BMX Dude is the NBD (Never Been Done) online magazine for everything BMX-related.
After riding bicycle motocross for 20+ years, I took a hiatus due to an injury. However, even when not riding, I was continually binging on BMX videos and new product drops.
After my knee surgery and being off the bike for over 4 years, I fell in love with BMX for the second time.
(I think I'm even more obsessed with it now than I was before.)
Once you go BMX you never go back.
BUT.
What somewhat (always) bothered me was the fact that you always need to go from page to page – and repeat the process multiple times – to watch several videos from one rider alone.
Everyone knows that times come when you just want to see all the videos of one rider in a row.
I always thought how convenient it would be to have it all neatly packed in ONE location.
That's when the idea for The BMX Dude came.
To build the ultimate online BMX magazine and put an extra shine on the best Pro and AM riders, outstanding videographers and terrific brands and companies that are pushing the boundaries of the industry.
All this comes with a twist, and that's what's special about The BMX Dude.
If you have any questions, ideas, suggestions, you want to submit your BMX video or bike check, get in touch.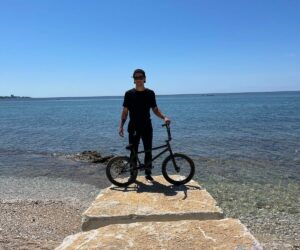 Yo!
Rok Krivec, @rokrivec