I know we're in the era of freecoasters, but so many still requested to create a list of the best BMX cassette hubs.
I also ride a cassette (and don't have any plans on switching to a BMX freecoaster hub).
This collection came about after involving 20 of my BMX buddies, sharing their reviews and collecting information from others.
I couldn't recommend any of the below rear hubs more.
Even though I'm right now still riding the Animal Javelin hub the others are equally epic.
This post covers:
I don't care what you say, but the SOUND of a cassette is THE BEST.
Enjoy.
Note: You may also like my collection of the best BMX front hubs.
Best BMX Cassette Hubs (Rear)
1. BSD Street Pro Rear Hub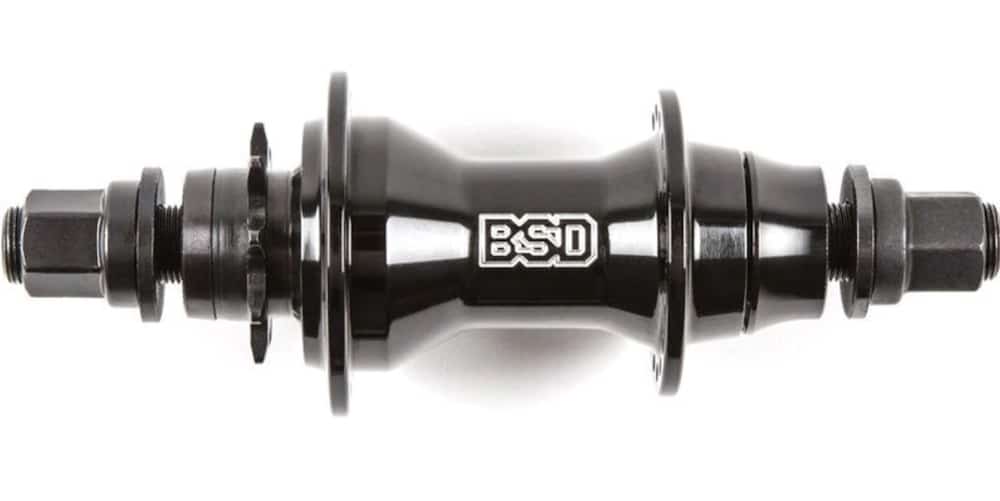 A ton of my friends told be they still prefer BSD's Street Pro hub after trying a bunch.
I'm adding it first because it's pretty much indestructible.
BSD always comes out with high-quality products, and the Street Pro cassette is one that will last you a long time.
It looks kinda basic but uses a custom driver with 6903 bearings, chromoly cones and a compact shell.
Available in black, polished and raw. Enjoy the sound and reliability!
Street Pro specs:
Weight: 17oz
Price: $164.99 (may vary)
GET RHD
GET LHD
2. Animal Javelin Cassette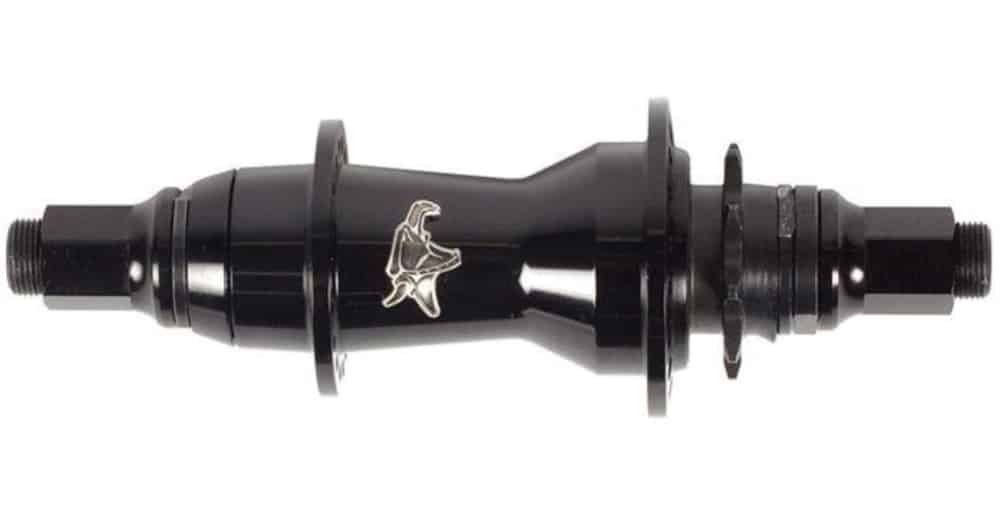 This is the hub I'm currently riding and have been riding it for many years.
I can only say one quick conclusion. O issues ever! And I've done a ton of gaps, rails, ledges and just hours-long sessions.
Con: I do like the old Animal Javelin hub's badge more than the new print logo. Such a unique detail! (You can see the new one on the featured image above.)
Javelin specs:
Weight: 15.5oz
Price: $179.99 (may vary)
GET LHD
3. Cinema VX3 Rear Hub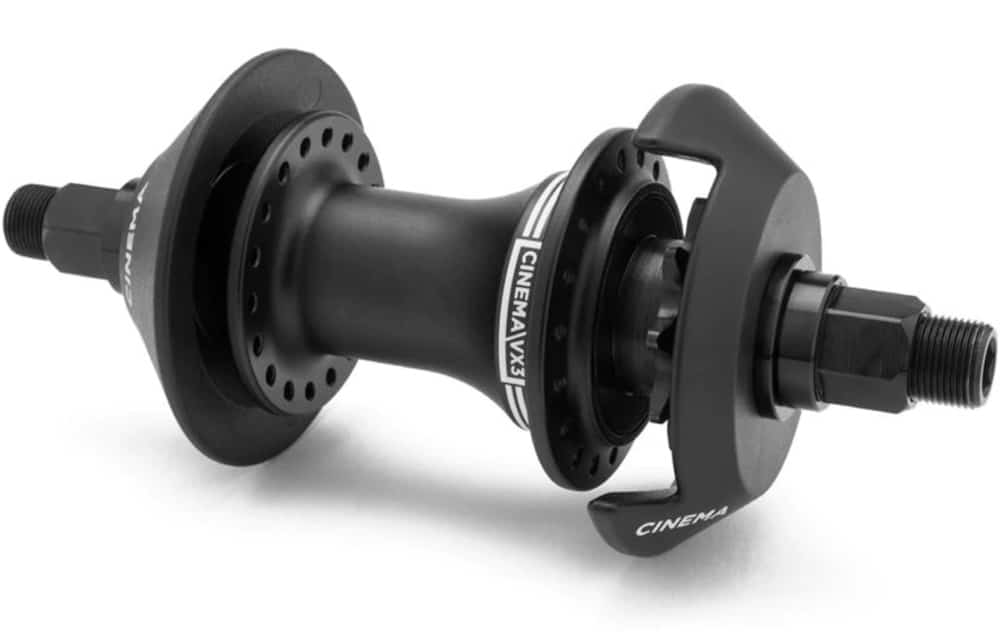 Even though the Cinema team is more about freecoasters, their cassette hub is equally amazing, strong and long-lasting.
It has a beautiful shell that uses 6061 aluminum with a 9t driver.
What's unique about the VX3 hub is that it's compatible both with RHD and LHD.
This hub allows you to test things out if you're figuring out which side fits you better. (I run LHD because my regular grinds are on the right side.)
PLUS, you get CR and DR nylon hub guards!
VX3 specs:
Weight: 19.6oz
Price: $189.99 (may vary)
GET RHD/LHD
4. Cult SDS Cassette Hub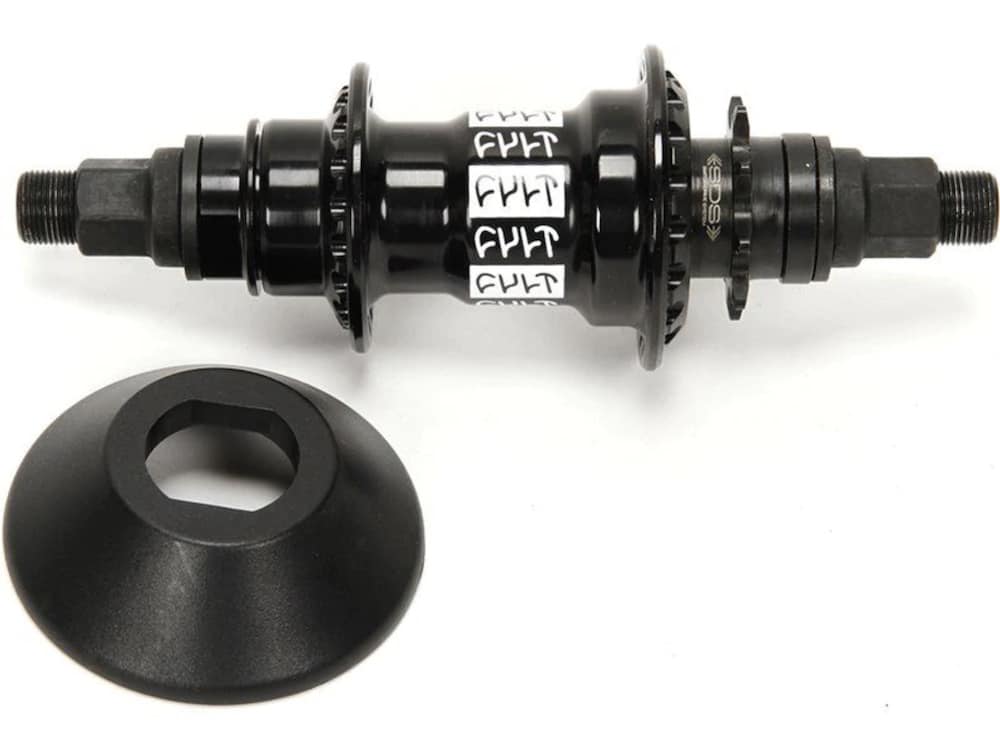 The Cult SDS Cassette is another one that fits right-hand-drive and left-had-drive shredders.
You simply switch the driver to the side that fits you better, tighten it and you're ready to rock-n-roll.
The non-drive side also comes with a plastic hub guard stock.
I've spent months talking to my dudes globally and many reported that the Cult SDS rear hub is their FAV.
SDS specs:
Weight: 19.5oz
Price: $179.99 (may vary)
GET RHD/LHD
5. Eclat Cortex Cassette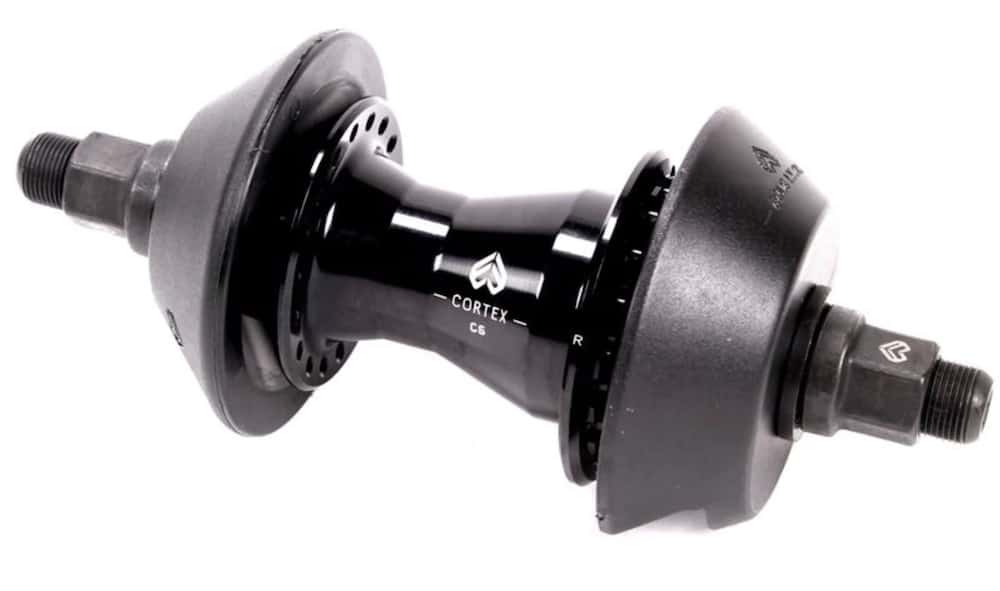 The Eclat's Cortex family of hubs consists of front, freecoaster and cassette.
Eclat shows that they are no joke with every new or updated product drop.
The Cortex rear hub is a serious deal that I may even say that it's a must if you haven't yet decided which to pick.
It uses only the best materials with two hub bearings and three driver bearings.
Aaand, you get it out-of-the-box with Viper and Gong nylon hub guards for drive and non-drive sides.
The only con is that it's on the heavier side. But who even cares about bike weight? (I don't!)
Yo!
Cortex specs:
Weight: 21.4oz
Price: $161.99 (may vary)
GET RHD
GET LHD
6. G-Sport Roloway Cassette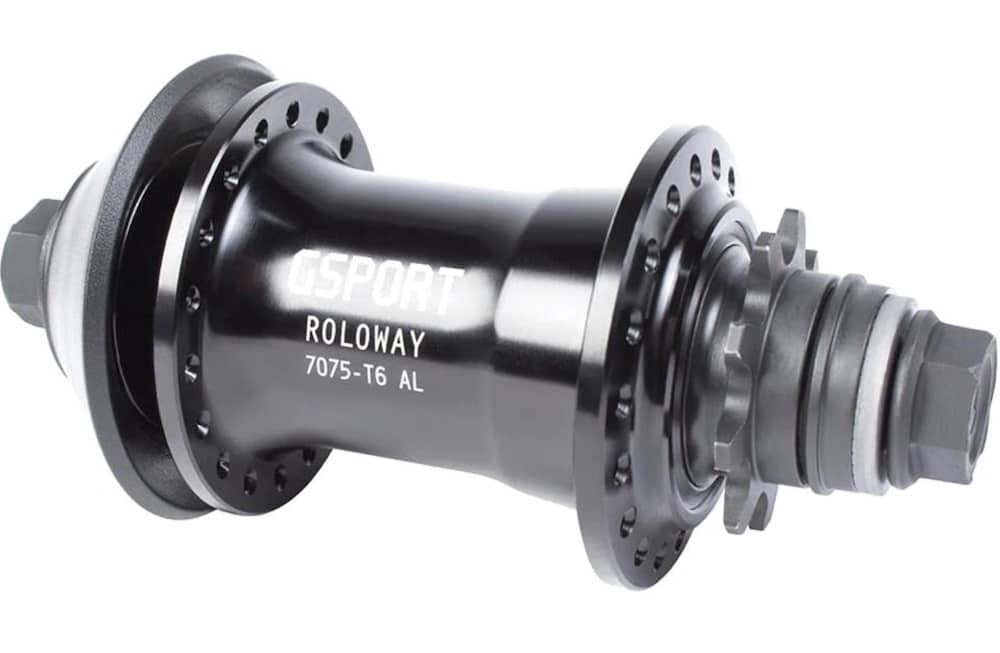 Whenever there's a chance to mention the G-Sport Roloway hub (either front or rear) I need to say that it's a hub that's the most beautiful.
It's a bit bulkier (but light!) with a clean design and female bolts.
G-Sport also went one step further and made it RHD and LHD compatible, keeping things simple.
Extra tough shell, driver and bearings will keep you shredding all the time.
(And the addition of the non-drive hub guard is also cool.)
Roloway specs:
Weight: 15.3oz
Price: $209.99 (may vary)
GET RHD/LHD
7. Odyssey Antigram V2 Rear Hub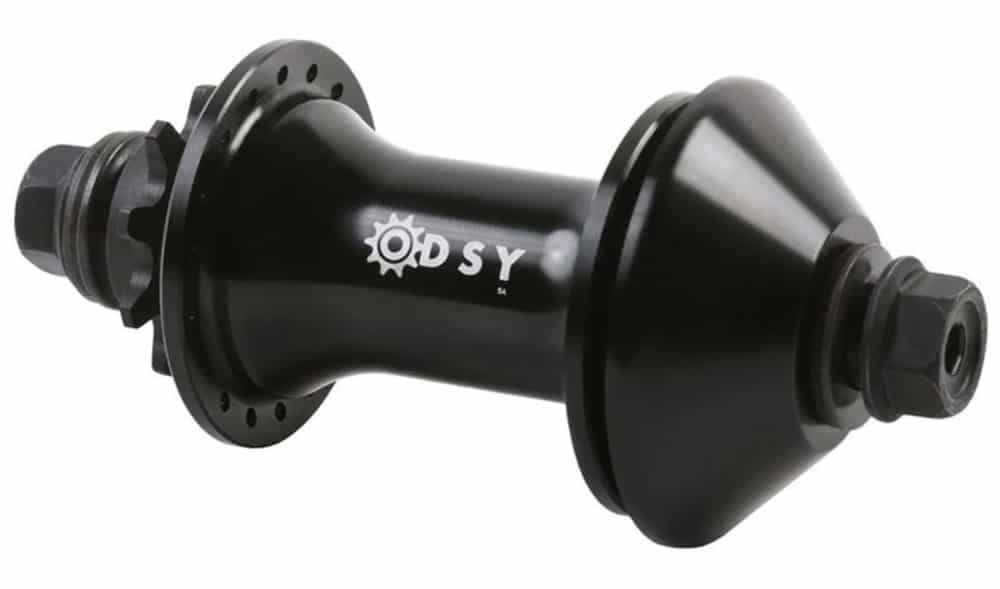 Coming from the same family than G-Sport, Odyssey's Antigram V2 is another exceptional cassette hub.
This one has a slim design (female bolts) that comes with the same hub guard than their Clutch V2.
RHD and LHD switchable, 4130 chromoly axle, 9t driver and forged aluminum hub shell – that's what's up when it comes to Antigram.
Enjoy street, park and trail riding with absolute confidence!
Antigram specs:
Weight: 14.5oz
Price: $199.99 (may vary)
GET RHD/LHD
8. Primo Remix Rear Hub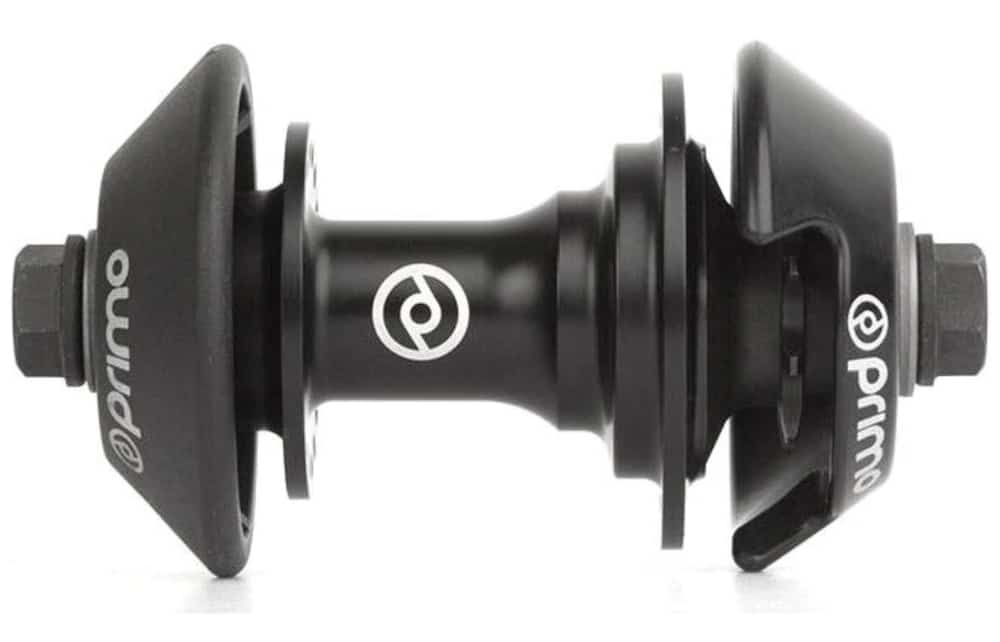 Primo's Remix BMX cassette hub is on the market for a while and there's a good reason behind it.
Which is?
Yup, this thing works! And it also works for LHD and RHD, which is even better.
It features a female axel with a bushing driver and 6 pawls with 3-point engagement each.
Like that wouldn't be enough already, the two nylon hub guards (for both sides) is a tasty cherry on top.
Remix specs:
Weight: 18.3oz
Price: $191.39 (may vary)
GET RHD/LHD
9. Shadow Definitive Cassette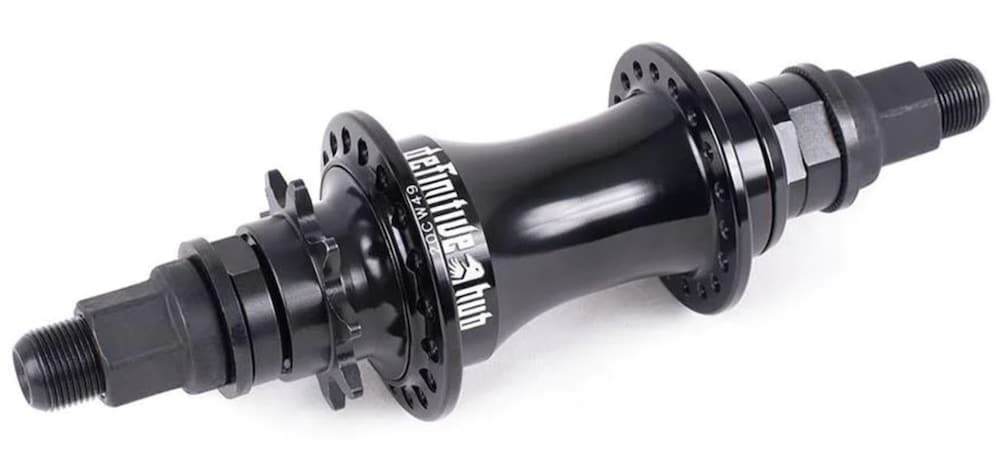 Shadow is always working their ass off to create the best products, and they did an excellent job with the Definitive cassette.
Definitive isn't only stylish and original-looking but high-performing as well.
It has a slimmer design with a boosted strength to keep up with your insane riding, whether street, park or trail.
The non-drive nylon guard is also in the box.
Definitive specs:
Weight: 17.6oz
Price: $228.99 (may vary)
GET RHD
10. Saltplus Trapez Rear Hub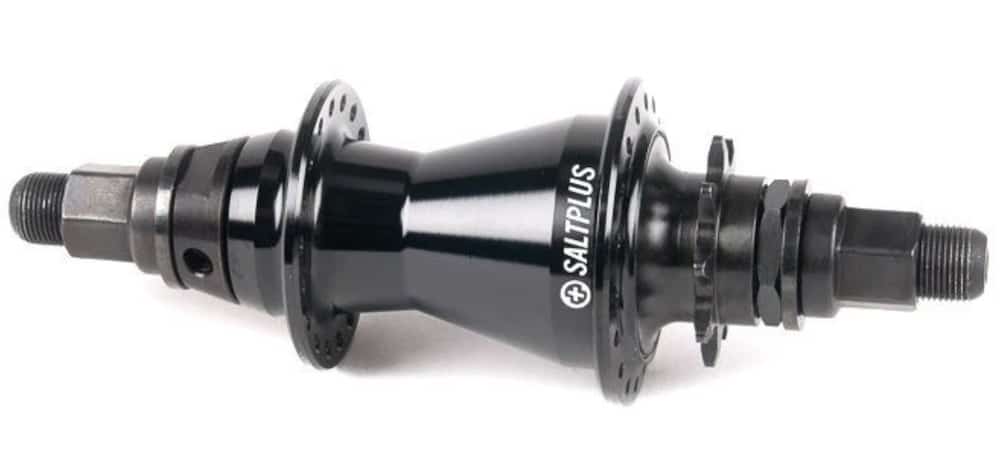 If you came all the way this far and are looking for a low-priced but trustworthy cassette then I recommend the Saltplus' Trapez hub.
This one also comes RHD and LHD compatible stock and includes a non-drive side Saltplus Pro nylon guard.
Also, Salplus usually releases some really cool colorways, which they sell out pretty quickly. (Just a friendly warning to act quick when they drop!)
Trapez specs:
Weight: 20.1oz
Price: $193.99 (may vary)
GET RHD/LHD
FAQs About BMX Cassette Hubs
What is a BMX cassette hub?
A cassette hub is part of your BMX's rear wheel. It allows you to pedal forward, but you can also roll backward by engaging the hub's pawls into notches with springs. This means that you need to pedal when you do a fakie.
What is the difference between freecoaster and cassette hubs?
The main difference between a freecoaster and a cassette BMX hub is that the former allows you to do a fakie without the need to pedal backward. This technology started in BMX flatland but now spread into other styles, like street and park riding.
What is the loudest BMX cassette hub?
One of the loudest BMX cassette hubs on the market is the Profile Elite Rear hub. Remember that this hub is also handmade in the USA.
Was this article helpful?
Disclosure: The BMX Dude's content is free & reader-supported. I may earn a commission if you click & buy through my links. Your support helps me create the best content & make a difference. Thanks! 🤘