Are you looking for the best and strongest BMX front hubs?
There's nothing worse than a cracking hub after just a month or two of riding it!
And that's why I wanted to create a collection of the best hubs that are rider-approved to last and roll smoothly for a long time.
I joined forces with a bunch of my dudes to help me out on this one.
I just had an idea of creating the ULTIMATE collection.
And I'm now stoked to share it with you finally.
I also added weight and pricing to get a quick overview in just a few scrolls.
Keep rollin' rollin' rollin'.
(Any Limp Bizkit fans? 🙂 )
Best BMX Front Hubs
1. Profile Elite Front Hub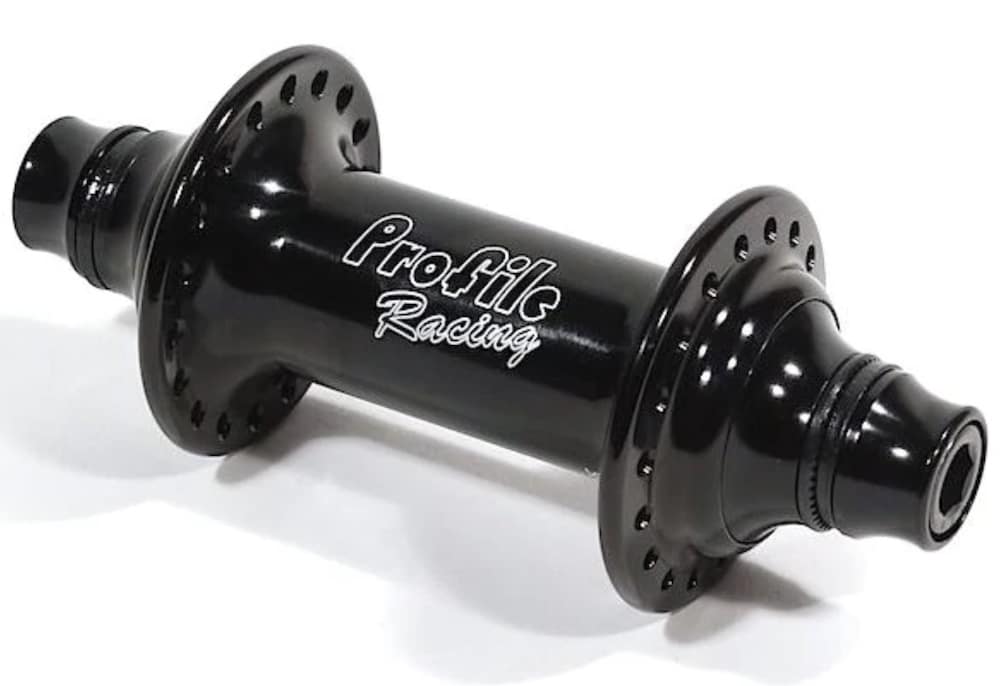 But if you're looking exclusively for a made in USA BMX front hub then I couldn't recommend the Profile Elite more.
Even though this one is on the pricey side, you're supporting the craft and a legendary BMX brand – Profile!
The hub comes in 7+ colors, ensuring there's something for everyone.
One of the core difference between the Elite hub and others on this list are the allen key bolts.
I wouldn't necessarily suggest using this one with pegs (it's harder to tighten it through a peg, or at least I haven't seen a proper tool yet), but it's still possible.
Note: You can even upgrade the hub with titanium bolts and axle.
Elite hub specs:
Weight: 7.19oz
Price: $120.99 (may vary)
GET YOUR
2. Odyssey Vandero Pro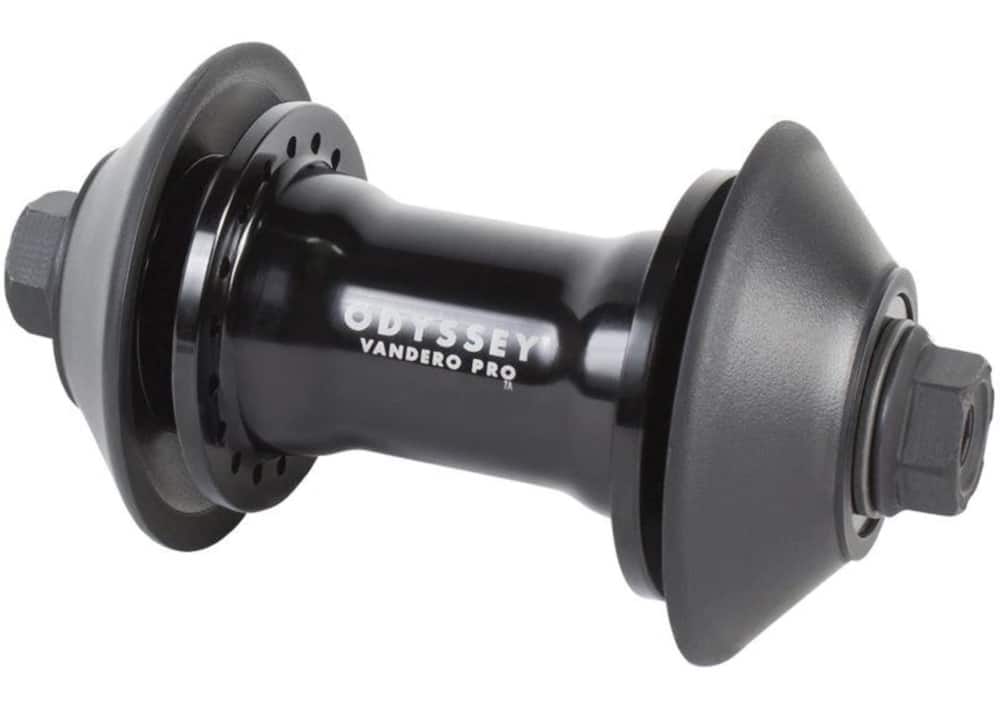 I was riding the Odyssey Vandero Pro front hub for many (MANY) years before I finally replaced it. (I only replaced it because I really like matching front and BMX rear hubs.)
While the original Vandero hub was already popular, the Pro version takes things to the next level.
It's a female version, which I also really like for the front hub. It has a 17mm aluminum axle with steel thread inserts for 10mm chromoly bolts to tighten securely.
Another perk of the Vandero Pro are the included plastic hub guards that you can replace any time.
Vandero Pro hub specs:
Weight: 11.3oz
Price: $79.99 (may vary)
GET YOUR
3. G-sport Roloway Hub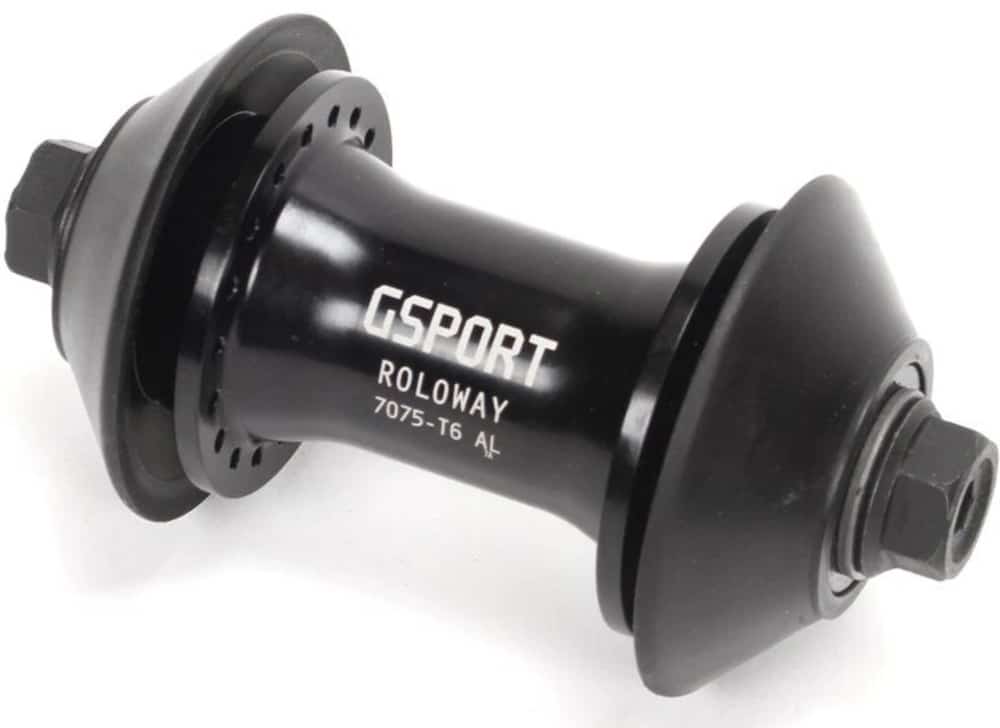 I still don't really know why but G-sport's Roloway hubs (back, too!) are one of the best-looking hubs in my opinion.
Maybe because they have a little larger shell, but not bulky. But this is all on purpose – to make the hub stronger and perform better.
It has a 20mm aluminum axel (other hubs have 17mm or 14mm) with steel inserts to fit 10mm female bolts.
Different (cool) colors are available with two plastic guards for all you street shredders.
Roloway hub specs:
Weight: 12oz
Price: $99.99 (may vary)
GET YOUR
4. WeThePeople Helix Front Hub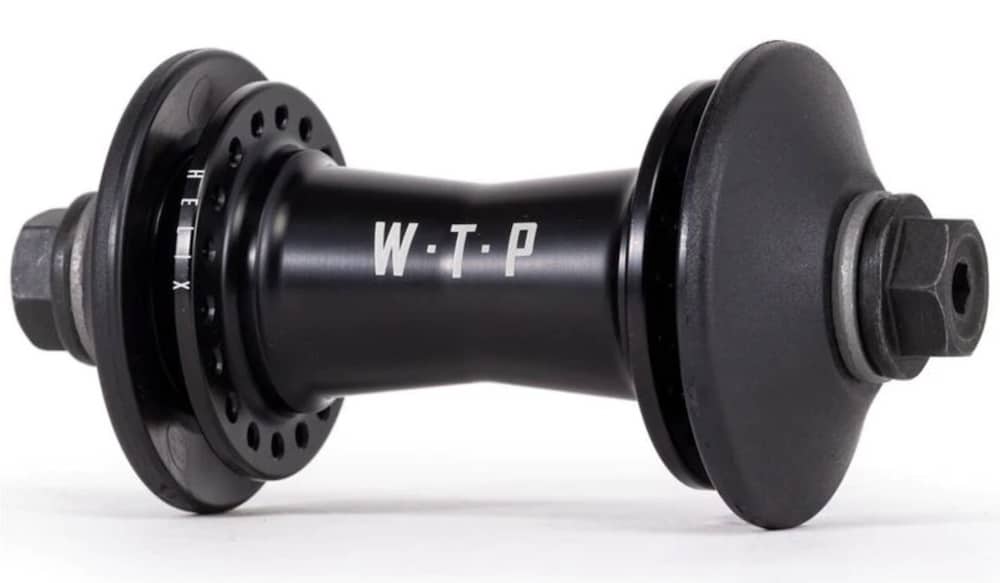 Similar to the BSD's front hub, WTP's Helix is another hub that I keep seeing so many shredders ride.
Yes, this thing works, whether you're grinding all day or flowing in the air.
Slim but robust shell, heat-treated axle and two hub guards – BOOM!
(But if you're a style king then I'd suggest going with Profile's Elite front hub.)
And what's even better is that the Helix line also comes with an extremely solid BMX freecoaster hub. (A match made in heaven.)
Helix hub specs:
Weight: 8.9oz
Price: $52.99 (may vary)
GET YOUR
5. BSD Street Pro Hub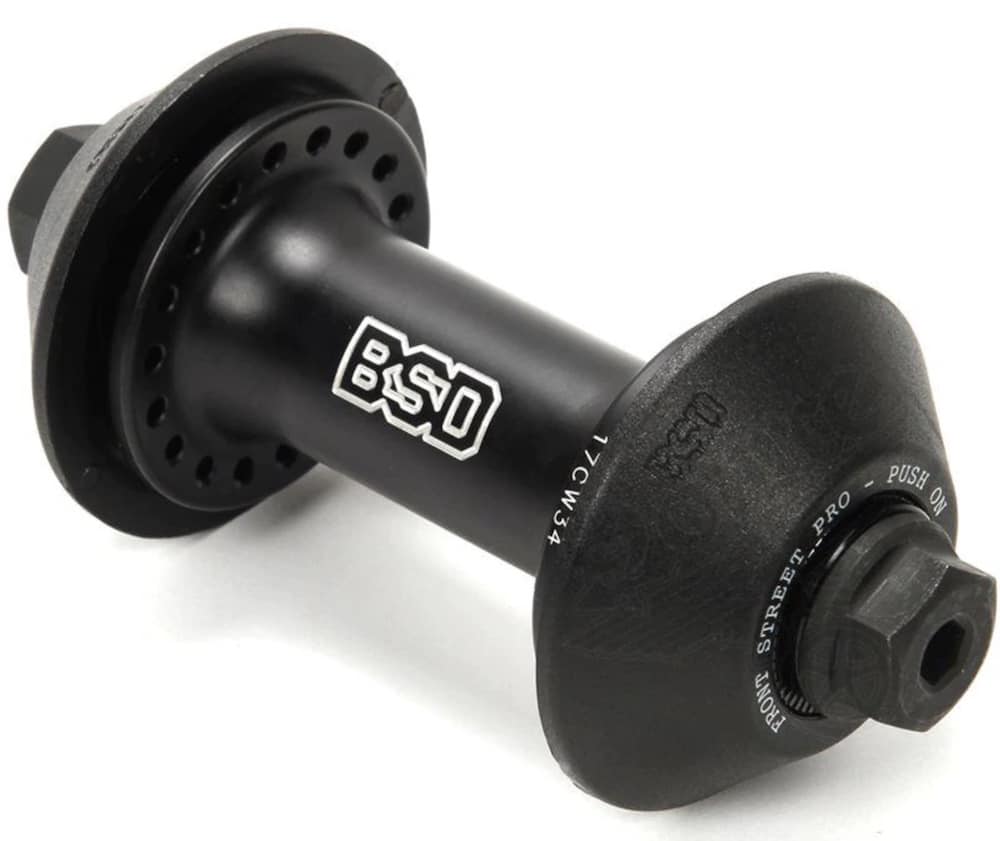 I've chatted with so many shredders already and everyone says that the current front hub they ride is their favorite, and ride it for the longest.
Which do they ride? It's the BSD Street Pro hub.
While the hub has a very minimalist look, it's extremely strong and durable, thanks to its heat-treated aluminum shell and indestructible 10mm heat-treated axel.
What's also great is that you get it with two plastic hub guards (and push-on cones).
I highly recommend it!
Street Pro hub specs:
Weight: 8.9oz
Price: $74.99 (may vary)
GET YOUR
6. Eclat Cortex Front Hub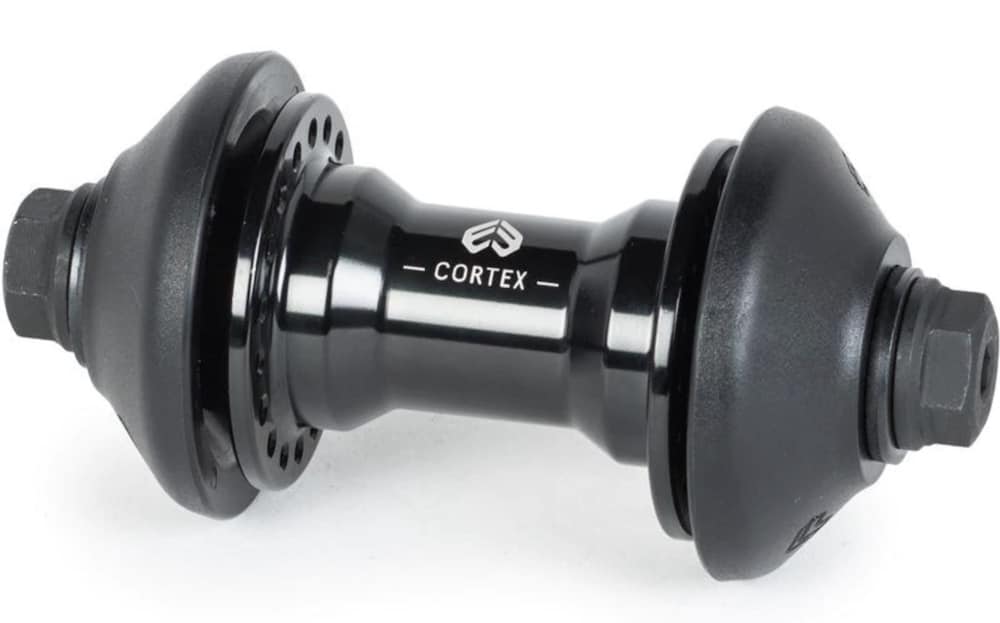 Eclat's Cortex line features casette, freecoaster and front hub. You can have a matching set no matter which combination you prefer.
As always, Eclat is a rider-proven brand, dropping extreme-quality products, and the Cortex front hub is no different.
This one also has 35mm female bolts (longer than average) to easily fit plastic pegs.
And it comes stock with two nylon hub guards.
Cortex hub specs:
Weight: 10.65oz
Price: $74.99 (may vary)
GET YOUR
7. Shadow Definitive Front Hub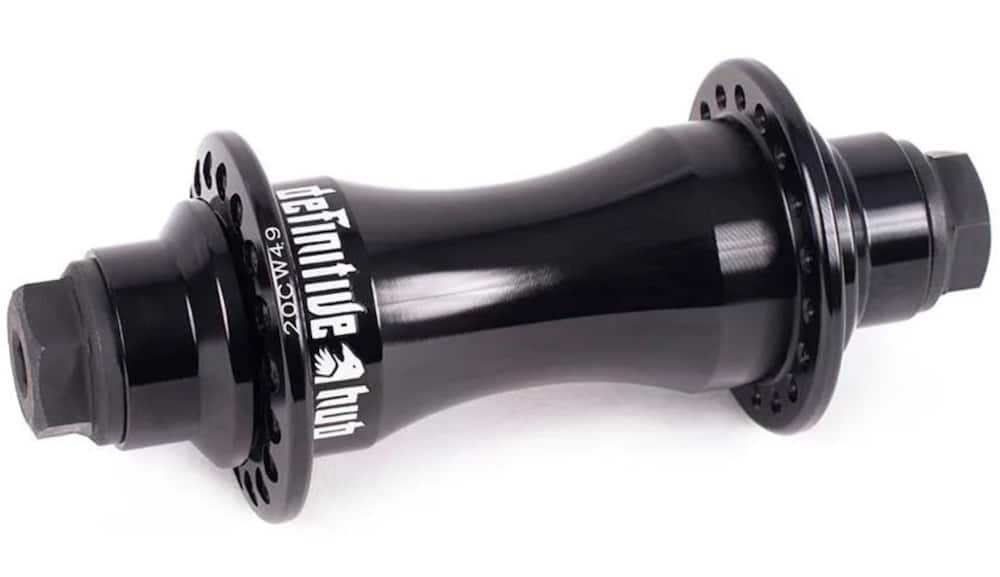 The Shadow Conspiracy Definitive front hub is a classic, ridden by many pros, amateurs and flow riders.
Its design is in perfect Shadow-style while maintaining the necessary strength for all kinds of abuse.
Plus, you can get it in multiple colors (which quickly sell out so act fast when they're available).
Definitive hub specs:
Weight: 10.8oz
Price: $84.99 (may vary)
GET YOUR
8. Salt EX Hub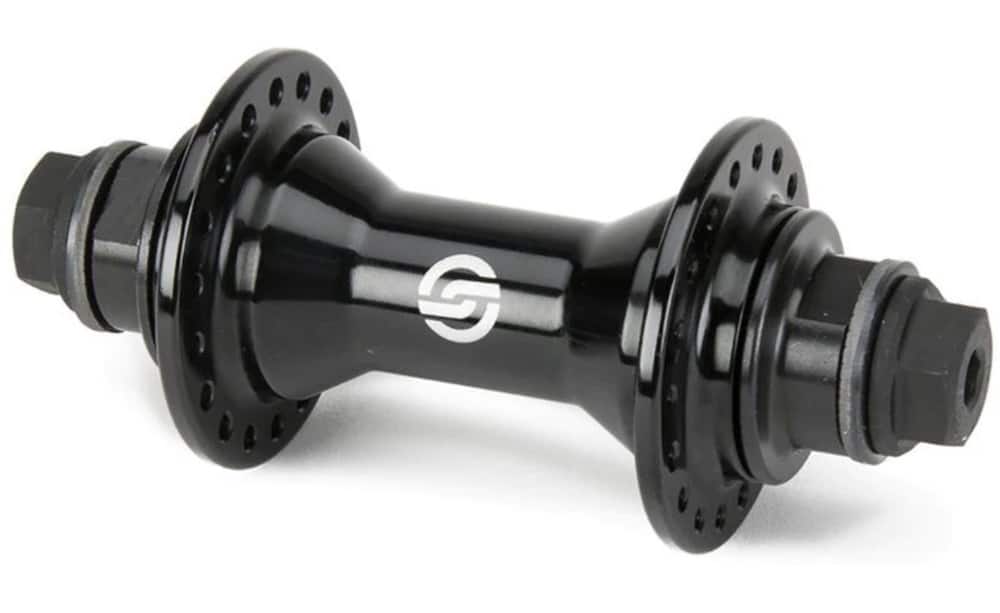 Salt EX is one of the cheapest BMX front hubs that you can currently get on the market.
But is it safe?
Yes! Even though I haven't ridden it, I asked five dudes who are and they all said they're using it for many months (one even 1+ year) without a single issue.
SO, if you don't want to pay a ton for a front hub but still get something you can trust then drop everything and grab Salt EX hub.
(It's also compatible with the Saltplus pro nylon guards.)
EX hub specs:
Weight: 10.55oz
Price: $60.99 (may vary)
GET YOUR
9. Fiend Cab Flangeless Front Hub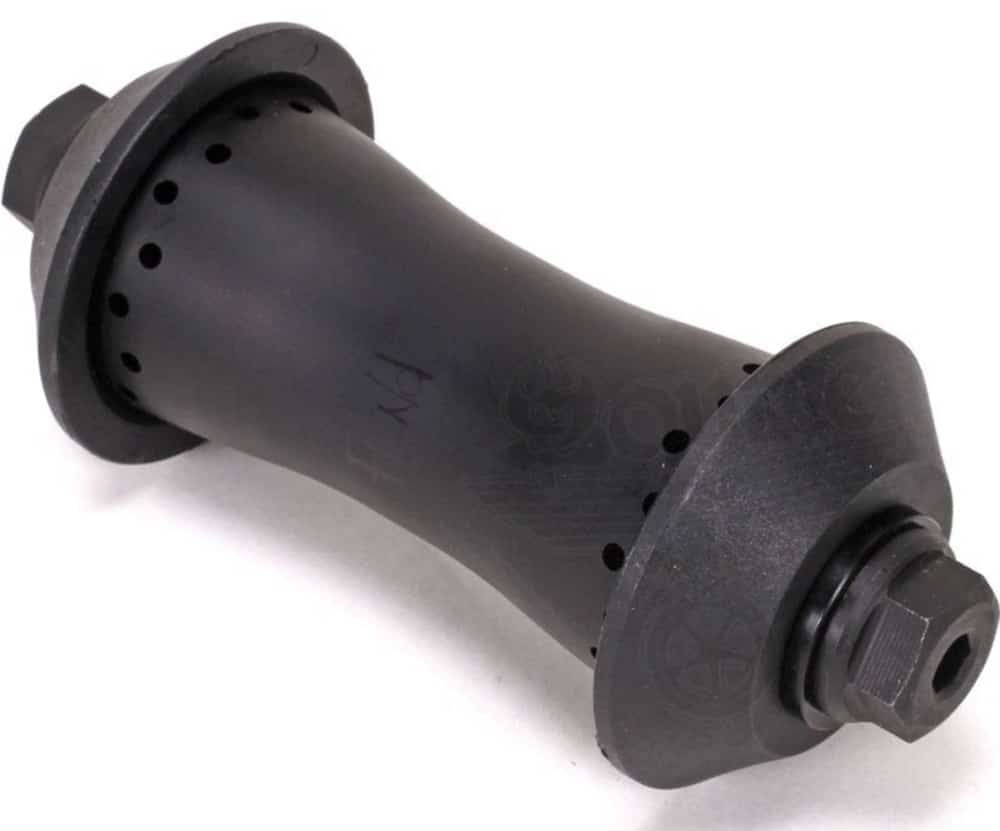 If you're looking for something different but at the same time support Garrett Reynolds, then Fiend's Cab flangeless front hub is what you need.
This one protects spokes by itself but you still get two nylon guards to feel safe during your grinds.
Is a flangeless hub better than the classic? Not necessarily, at least nowadays when the majority use hub guards anyway.
But if you like a cleaner, more minimalist look, then this is probably the ideal option to pick.
Cab hub specs:
Weight: 12.8oz
Price: $121.99 (may vary)
GET YOUR
10. Primo N4FL V2 Hub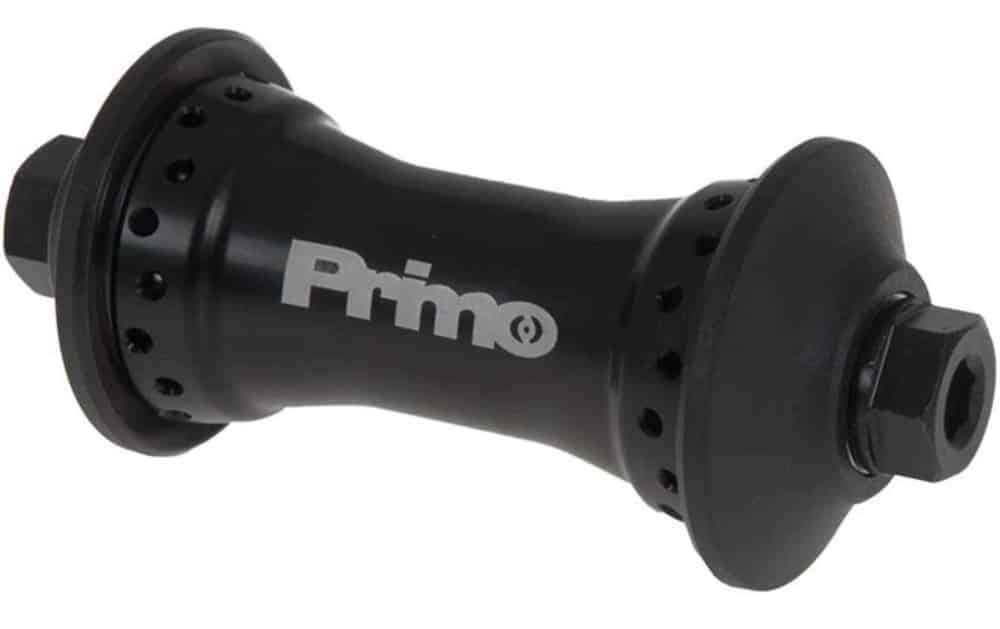 But since I know there are legends who prefer flangless front hubs, I'm adding another one.
Primo's N4FL V2 hub is no joke when it comes to epic strength but at the same time maintaining a clean, not too robust look.
6000 aluminum shell, sealed bearings, chromoly center axle, 10mm female bolts and plastic guards keep your sessions flawless.
N4FL hub specs:
Weight: 10.3oz
Price: $85.00 (may vary)
GET YOUR
11. Cinema FX Front Hub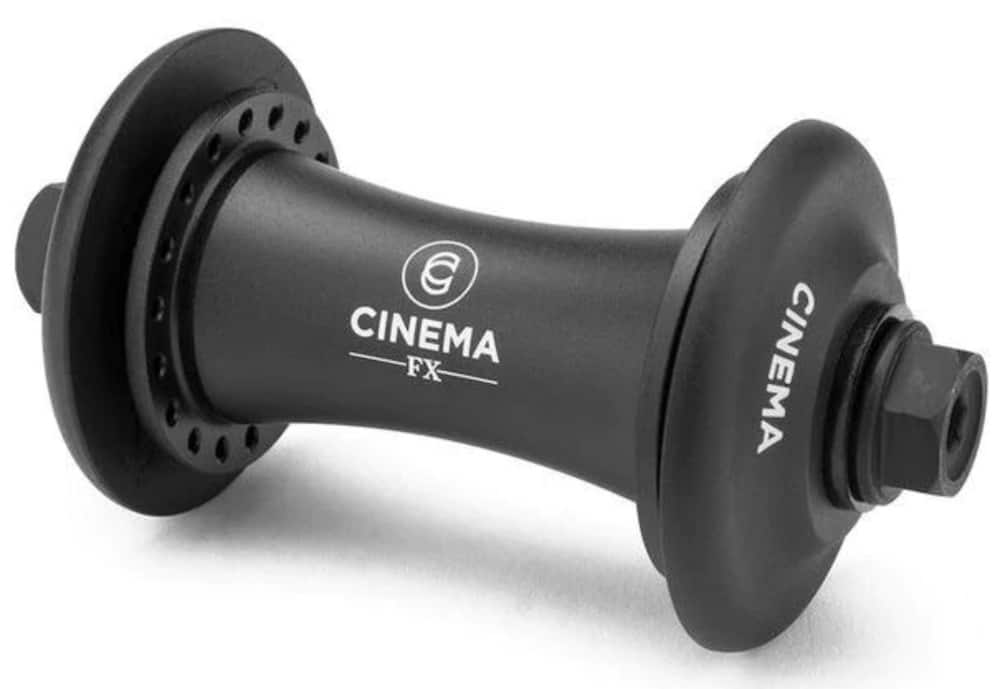 Cinema team consists of a bunch of heavy-hitters who tested the FX front hub vigorously.
And if it handles dudes like Reynolds, Nathan Williams and Dakota Roche, this thing must be a beast.
Which it is!
Cinema created their BMX front hub from scratch, using a 15mm inner chromoly axel, to achieve the long-lasting effect.
And you can grind comfortably with two included CF nylon hubs, protecting the hub and the spokes.
FX hub specs:
Weight: 11.9oz
Price: $84.99 (may vary)
GET YOUR
FAQs About BMX Front Hubs
What size is BMX front hub?
All BMX front hubs come with a 10mm axle, usually a female version.
Was this article helpful?
Disclosure: The BMX Dude's content is free & reader-supported. I may earn a commission if you click & buy through my links. Your support helps me create the best content & make a difference. Thanks! 🤘