Are you looking for the best BMX freecoaster hubs?
So many of you requested to create a list of the ultimate freecoasters. (Thanks!)
I'm stoked to share it with you – FINALLY!
First: All these offer RHD (right-hand-drive) and LHD (left-hand-drive) drives with 14mm axels and 36 holes.
Second: I ensured to include only the most high-quality ones, guaranteeing durability and easy maintenance.
In short, no matter which you pick, you're in good hands!
But I recommend the BSD Revolution hub for its lightweight design and cassette-like pedal gap.
However, I have many friends who prefer the extra pedal gap that the freecoaster hub has.
This post covers:
Your backward tech wizardry is SORTED – with a freecoaster!
Best RHD & LHD BMX Freecoaster Hubs
1. BSD Revolution Hub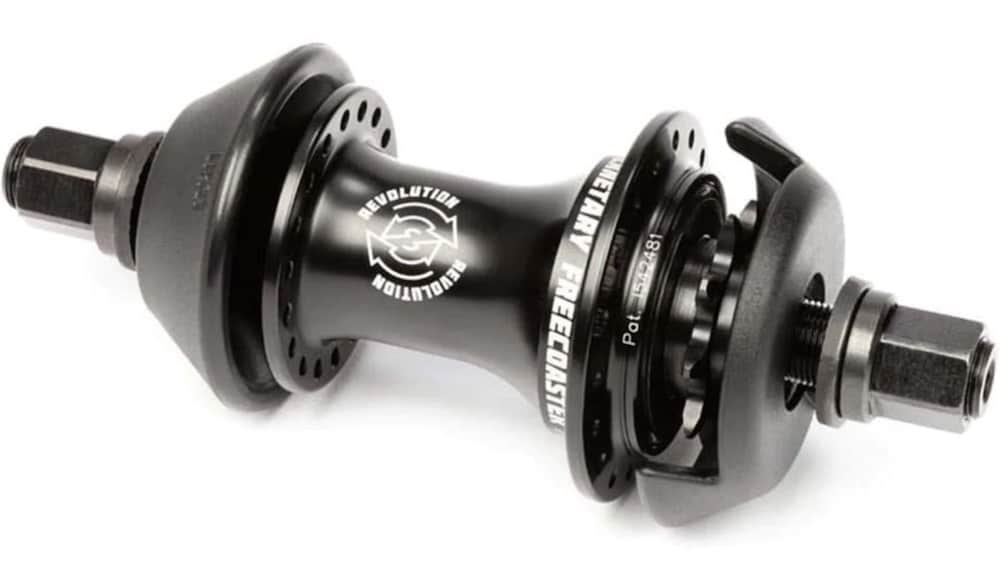 The BSD Revolution hub is truly revolutionary.
It's like you'd blend together a cassette and a freecoaster: lightweight, little pedal gap (like a cassette) and also has the cool sound of a cassette.
The pedal-gap-like-cassette is definitely one of my best features! (No more sketchy engagement on your rollbacks.)
That's why it's my favorite on the list. And even though it's a bit pricier, it's worth every penny.
It also looks very slim compared to some other, bulkier freecoaster hubs.
Note: Preferred by Alex Donnachie.
Revolution specs:
Weight: 16.5oz
Price: $249.99 (may vary)
GET RHD
GET LHD
2. Odyssey Clutch V2 Hub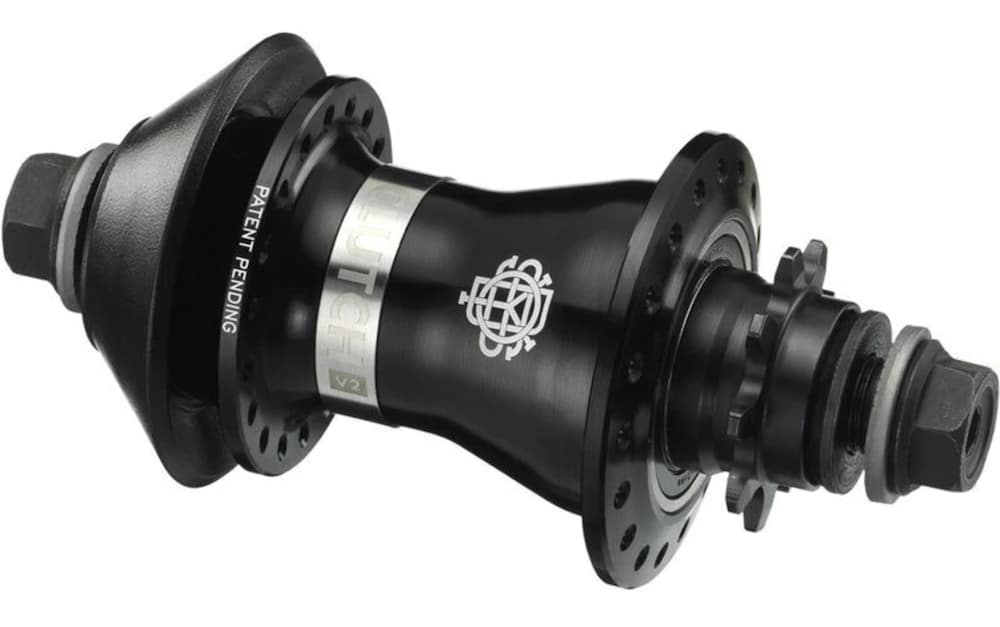 Odyssey's Clutch V2 hub is another one of the rider-favorites with great features to keep your shredding more comfortable.
One option is to adjust the slack externally (without removing the wheel!). You do it with ease, using a 2.5mm hex key.
Another cool thing that I like about the Clutch V2 is the female system (but this won't necessarily improve your riding).
The Clutch V2 hub is extremely strong and robust, keeping you rolling smoothly for a long time. Little-to-no preparing needed.
Note: Preferred by Broc Raiford.
Clutch specs:
Weight: 22.5oz
Price: $179.99 (may vary)
GET RHD
GET LHD
3. Cult Crew Freecoaster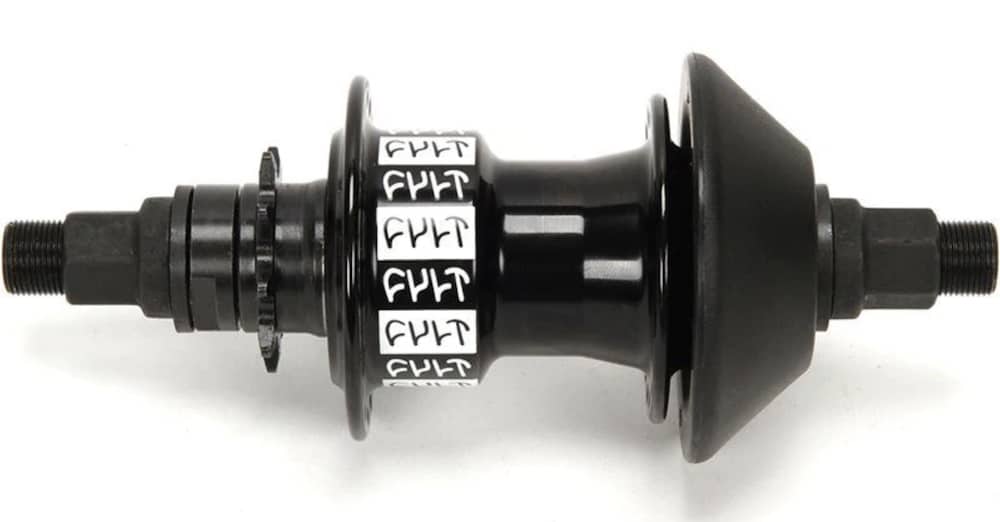 There are many of the pros who are using Cult Crew's freecoaster hub for their insane shredding.
Honestly, I didn't find anything too special and unique about their hub to put extra shine one.
Like Primo, it also uses the KHE internals with an extra tough shell. And the slack is adjustable easily by removing or adding washers. (Need to remove the wheel.)
And you get it with a non-drive side plastic hub guard.
If it holds the Cult team then it'll hold the majority. Go!
Note: Preferred by Sean Ricany.
Cult Crew Freecoaster specs:
Weight: 26.1oz
Price: $179.99 (may vary)
GET RHD
GET LHD
4. Eclat Cortex Freecoaster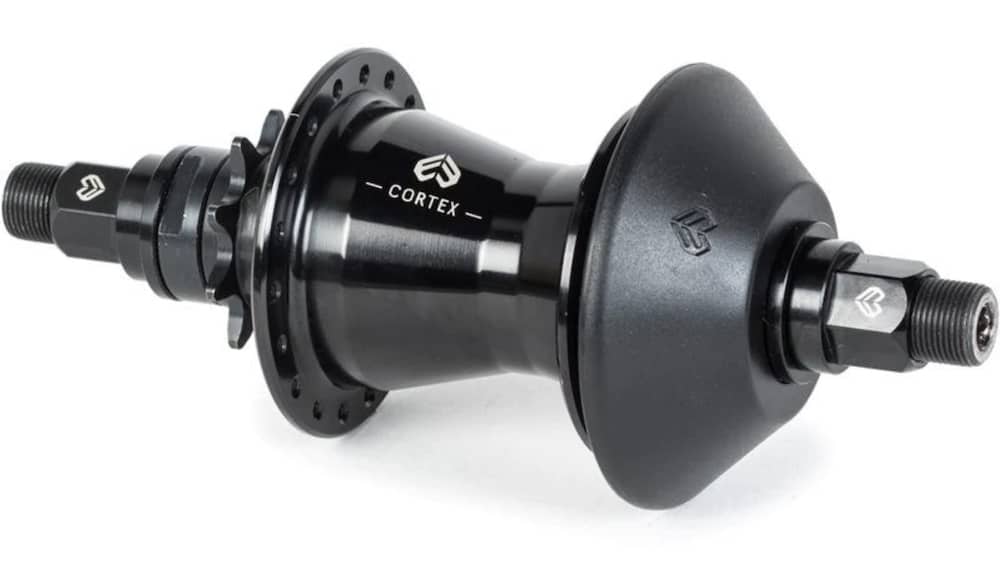 Eclat knows how to do things at the highest levels of quality while still maintaining the good look.
And they achieved an epic result with the Cortex hub.
Instead of using the traditional two-points-of-friction (two balls), Eclat improved it by adding another ball, creating three-point friction.
This makes Cortex a lot more durable and stable. Also, they added a "C-clip" on the non-drive side that protects the bearings from the clutch force.
Lastly, Cortex comes with a larger slack that's easily adjustable to your preference.
Note: Preferred by Ty Morrow.
Cortex specs:
Weight: 27.25oz
Price: $201.99 (may vary)
GET RHD
GET LHD
5. Cinema FX2 Hub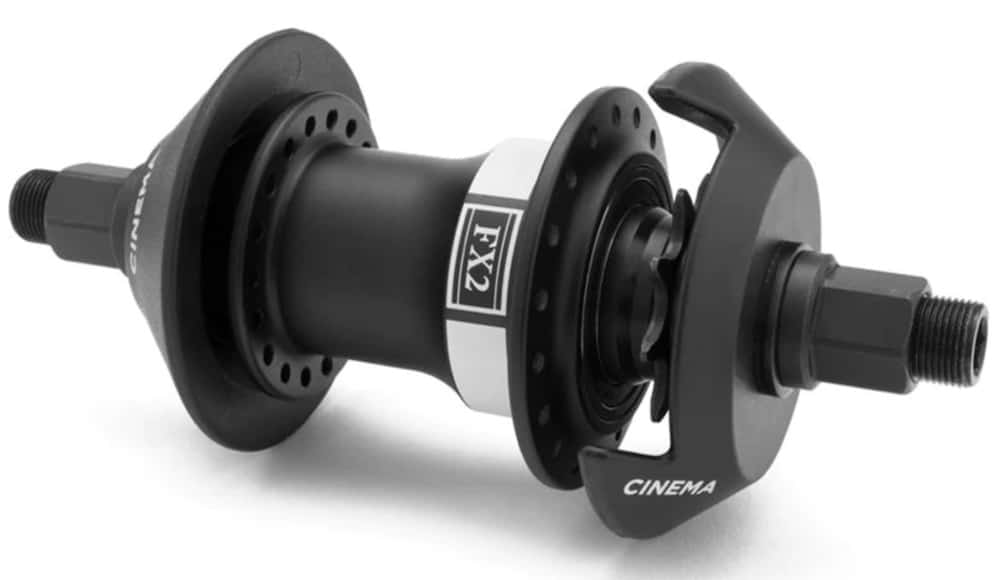 Prefered by many of the best riders in the world, the Cinema FX2 BMX freecoaster hub deserves the inclusion in the top of the list.
What's hot about FX2?
Its DTC (dual threaded clutch) system allows it to change the drive side quickly. No need to get a new hub if you change your mind!
Additionally, it comes stock with 156 degrees slack, but you can adjust it anywhere from 55-180 degrees.
And to spice things up even further, you get it with CR and DR hub guards!
EPIC.
Note: Preferred by Garrett Reynolds.
FX2 specs:
Weight: 25.3oz
Price: $199.99 (may vary)
GET RHD
GET LHD
6. WTP Helix Hub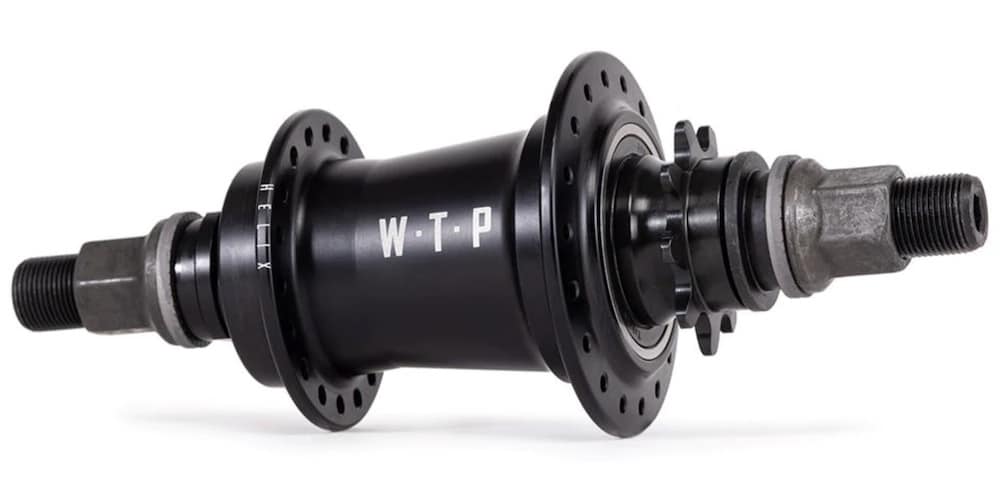 WeThePeople is known for its high-end products, including the long-lasting Helix hub that'll keep you shredding backwards and forwards like a champ.
It comes with a special eight-point friction system and two nylon hub guards stock.
Note: Preferred by Dan Kruk.
Helix specs:
Weight: 23.4oz
Price: $166.99 (may vary)
GET RHD
GET LHD
7. Shadow Optimized Freecoaster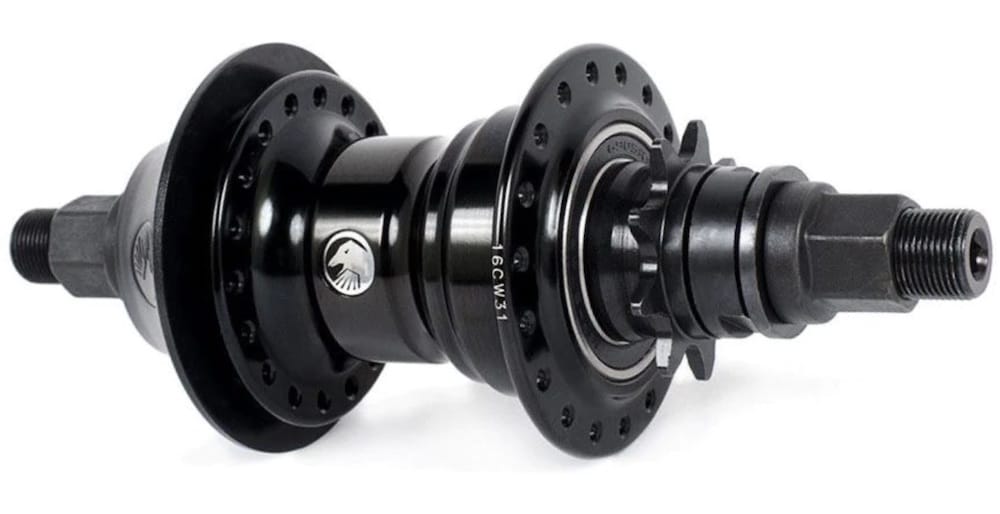 If it says optimized than I immediately pay extra attention to what they mean by that.
Shadow's Optimized freecoaster hub keeps all the inconvenience away whether you're a dude who grinds all the time or not.
And they also optimized the Optimized hub with a new bushing resistance system to prevent it from damaging.
Have fun on the streets and at skateparks with Shadow's original and stand-out design – this time, with a freecoaster.
BOOM.
Note: Preferred by Matt Ray.
Optimized specs:
Weight: 25.85oz
Price: $168.99 (may vary)
GET RHD
GET LHD
8. Primo Freemix Freecoaster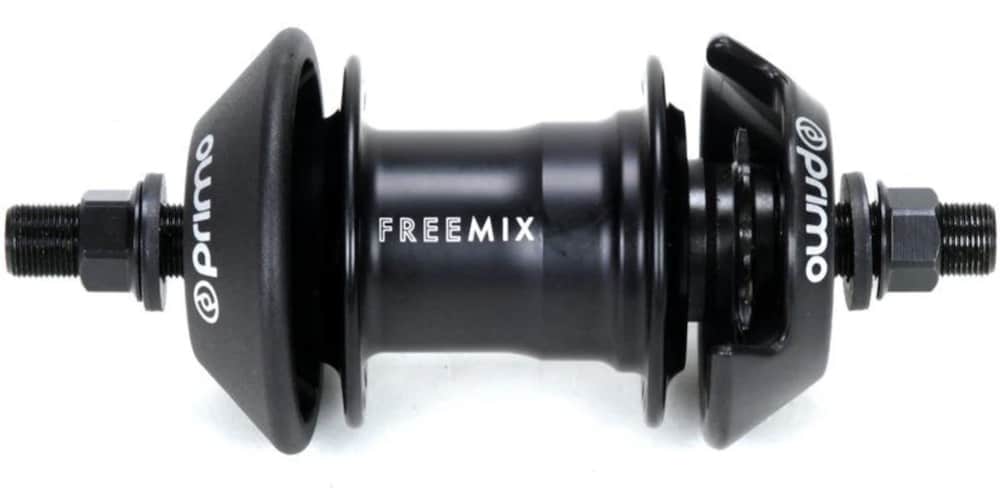 Primo Freemix is another powerful solution when looking to get a new freecoaster hub or switching from a cassette.
Freemix uses KHE's internals with a needle bearing that reduces the drag. You'll also find separate washers in the box to adjust the slack.
However, the good people at Source BMX can do it for you! (Just make sure you leave a note during ordering for small, medium or large gap.)
Note: Preferred by Jordan Aleppo.
Freemix specs:
Weight: 25oz
Price: $222.95 (may vary)
GET RHD
GET LHD
9. Fiend Cab V2 Freecoaster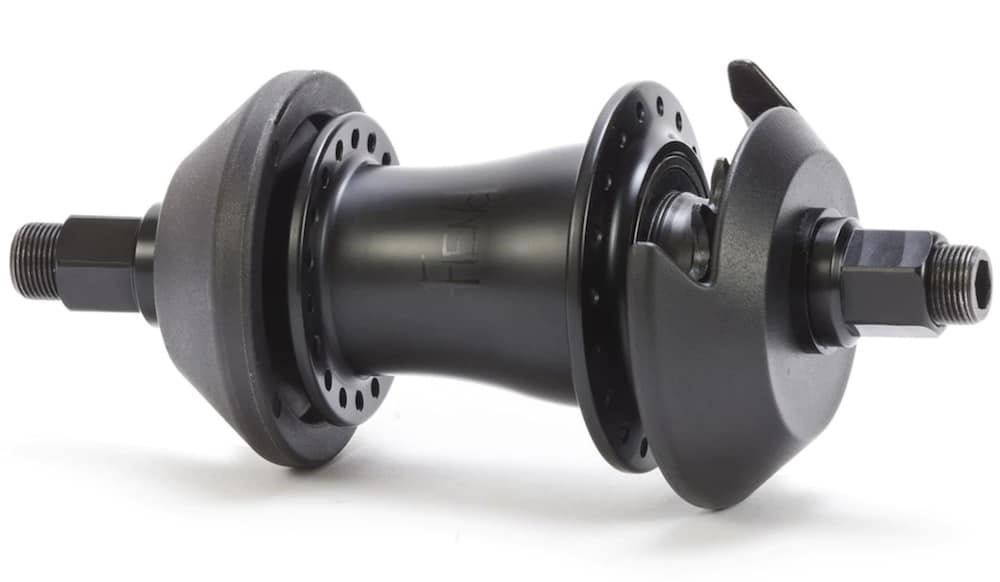 Okay, here's the thing: If you have such a heavy team as Fiend does and you release a freecoaster hub that this same team puts through a test and ticks all the boxes, well, there's no need to wonder whether it's high-quality or not.
Because it SIMPLY is!
It doesn't have a bulky look (it looks more cassette-like) with a gorgeous black-on-black design!
Nylon clutch system (instead of the spring/ball), hollow 14mm axel and a pair of plastic hub guards are all the goodies of the Cab V2.
Note: Preferred by Colin Varanyak.
Cab V2 specs:
Weight: 20.75oz
Price: $179.99 (may vary)
GET RHD
GET LHD
FAQs About BMX Freecoaster Hubs
What is a BMX freecoaster hub?
A BMX freecoaster hub is a hub that keeps you rolling backward without pedaling.
It was created for flatlanders, but is now widely popular for street and park riding, too.
What is better freecoaster or cassette?
Both are good, but it all depends on the style of riding you prefer.
In general:
If you're more technically oriented then I recommend going with a freecoaster.
But if you like to go fast, ride transitions and enjoy the flow, then a cassette hub is a better option.
What is the difference between BMX freecoaster & cassette hubs?
The main difference is that a freecoaster allows going backward without pedaling, which a cassette doesn't.
Was this article helpful?
Disclosure: The BMX Dude's content is free & reader-supported. I may earn a commission if you click & buy through my links. Your support helps me create the best content & make a difference. Thanks! 🤘