Do you want to know what the different BMX crank types are?
There are four styles available: 3-pc, 2.5-pc, 2-pc & 1-pc.
I explain below what are the main differences between them.
But I received the most questions about the 2.5-piece crank type, which is a more modern style.
My recommendation: 2 (quickest installation) and 3 piece cranksets are the most reliable.
And absolutely never go with a 1-pc version. Even if you're buying a complete BMX and it has a 1-pc spindle – JUST don't!
Note: Don't miss checking my ultimate collection of BMX cranks for every rider.
4 BMX Crank Types
3 Piece BMX Cranks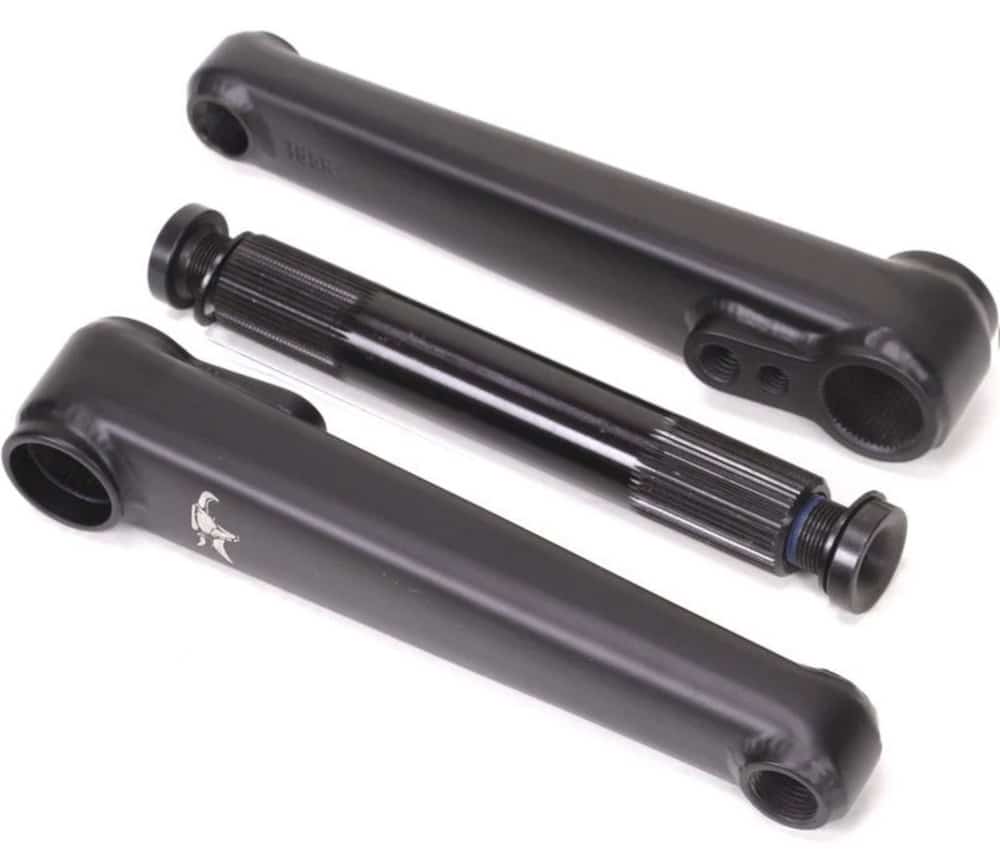 A 3-piece crank is the most common amongst riders these days.
It consists of three separate pieces: two crank arms and a (splined) spindle.
You tighten each crank arm to the spindle with a bolt, which presses it together for smooth riding.
Note: Don't tighten it too much because it'll put too much pressure on the bearing and the cranks won't spin as they should.
2.5 Piece BMX Cranks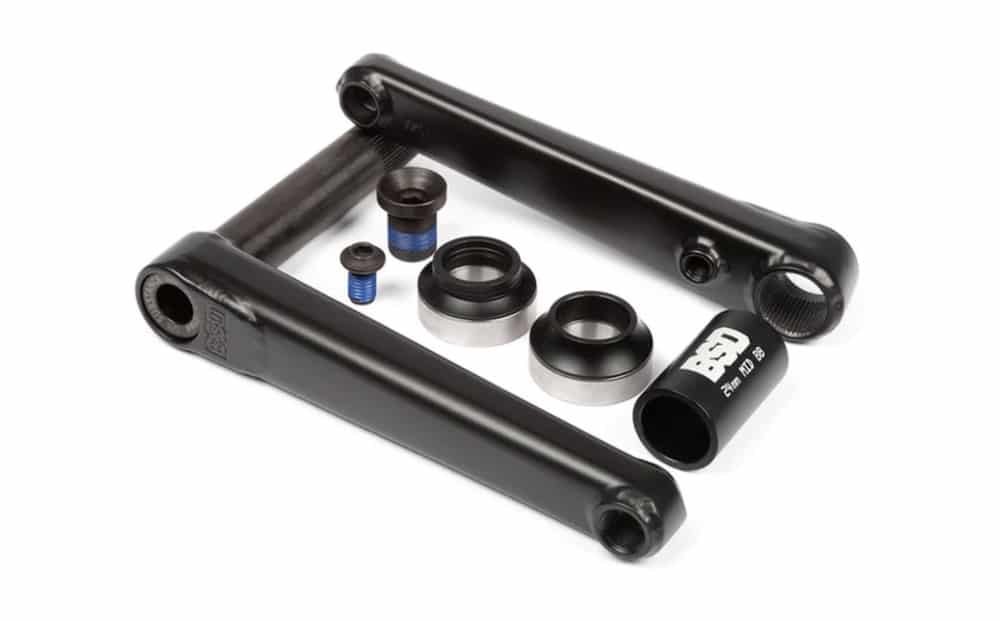 A 2.5 crank type is a more modern solution that, unlike a 2 piece crank, still has three separate parts.
The difference between a 2 and a 2.5 pc crankset is that the former has one arm integrated onto the spindle (or vice versa) and the latter has a moving one, with a "riveted system" at the end.
This allows you to change individual arms, whereas, with a 2-pc, you cannot.
2 Piece BMX Cranks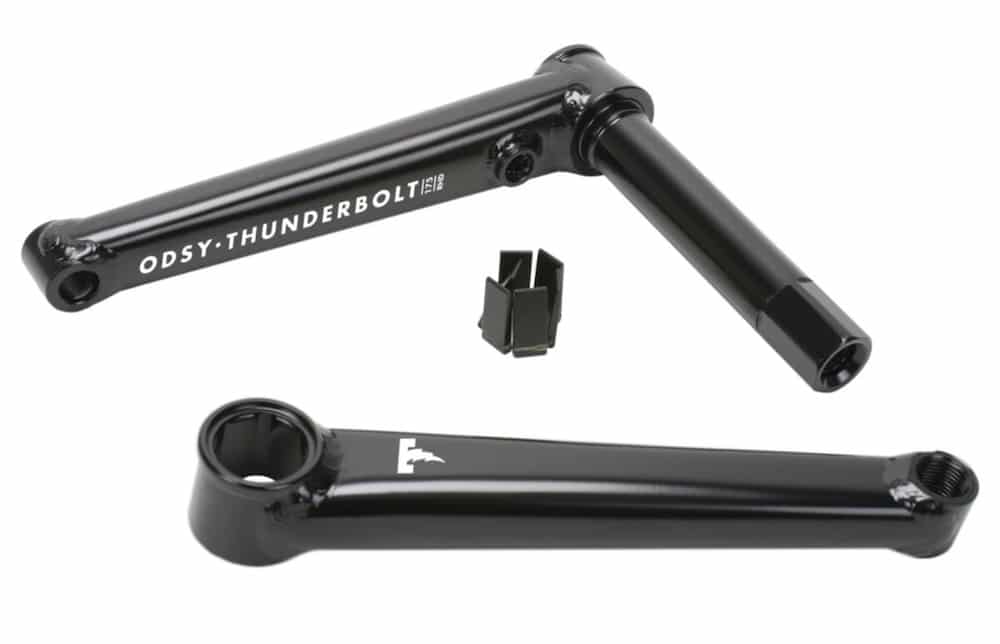 A 2-pc BMX crank consists of a separate crank arm and an integrated spindle into the other crank arm.
This offers the quickest installation process, which is a big plus for me.
Downside: You cannot replace just the arm, but the whole set if you break or grind through the crank arm that's integrated with the spindle.
1 Piece BMX Cranks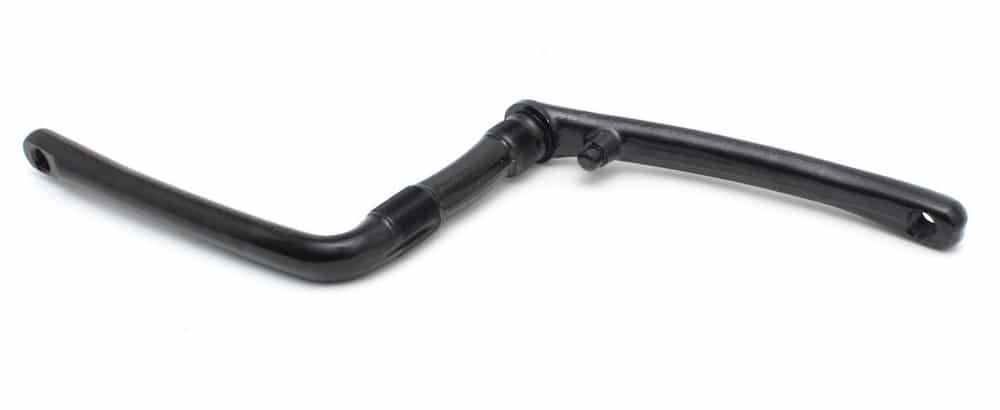 NOT. RECOMMENDED.
These are becoming less and less popular but you can still see a 1-piece crankset on children's bikes and cheap BMXs.
Both crank arms and the spindle are all one piece. (Nope, not even close to as strong as 2-3-piece cranks.)
I still remember how often did I need to fix my cranksets and bottom bracket when I first started riding BMX with a one-pc crank.
SUCKS!
Compatible Crank Bottom Brackets
2-3 Piece Cranks
You'll predominantly need a Mid bottom bracket for the majority of frames. (Be careful that you pick the right size because crank spindles vary in size (19mm, 22mm, 24mm).)
But, for instance, some Fly Bikes frames require a Spanish BB (so make sure you read specs and get the right size bearing.)
1 Piece Cranks
A bottom bracket in this case should be an American style – others do not fit.
Note: I also have a collection of the best and most quality BMX bottom brackets.
Was this article helpful?
Disclosure: The BMX Dude's content is free & reader-supported. I may earn a commission if you click & buy through my links. Your support helps me create the best content & make a difference. Thanks! 🤘