Are you searching for the best BMX bottom brackets to keep your cranks spinning smoothly?
The quality of BBs was extremely poor when I started riding BMX. It needed fixing after almost every session.
Luckily, things changed!
You can pretty much forget about the BB once you install it these days.
And because all bottom brackets are durable and quality, I suggest you pick the brand you like the most.
However, if you also need a sprocket bolt, go with BSD Substance mid BB.
This post covers:
Note: You may also want to check my collection of the ultimate BMX cranks.
Best Mid BMX Bottom Brackets
1. BSD Substance Mid BB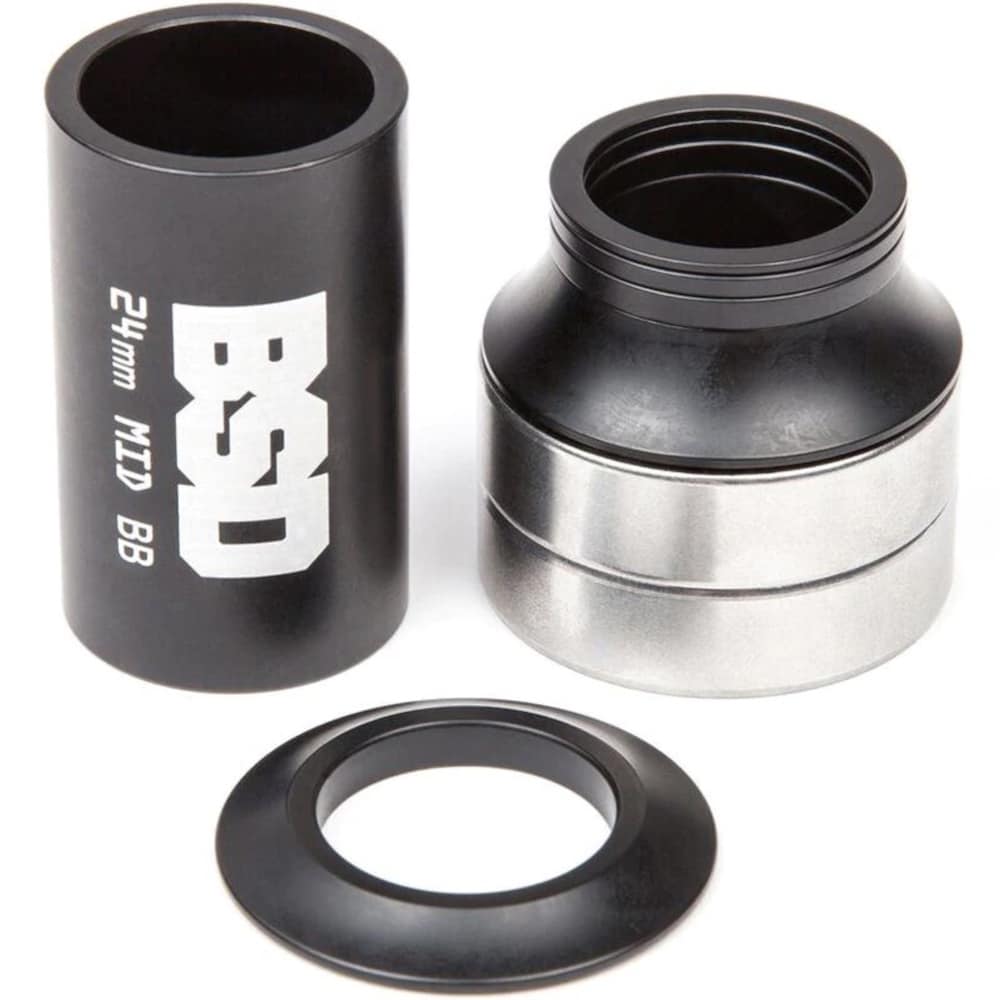 BSD's Substance mid bottom bracket comes in three sizes for all the popular crank axles.
What I like about this one is that it comes with a sprocket bolt, which isn't something that happens too often.
Plus all the other details, like spacers, dust protectors and a tube spacer.
Substance BB specs:
Size: 19, 22, 24mm
Price: $27.99 (may vary)
GET YOURS
2. Odyssey Mid BB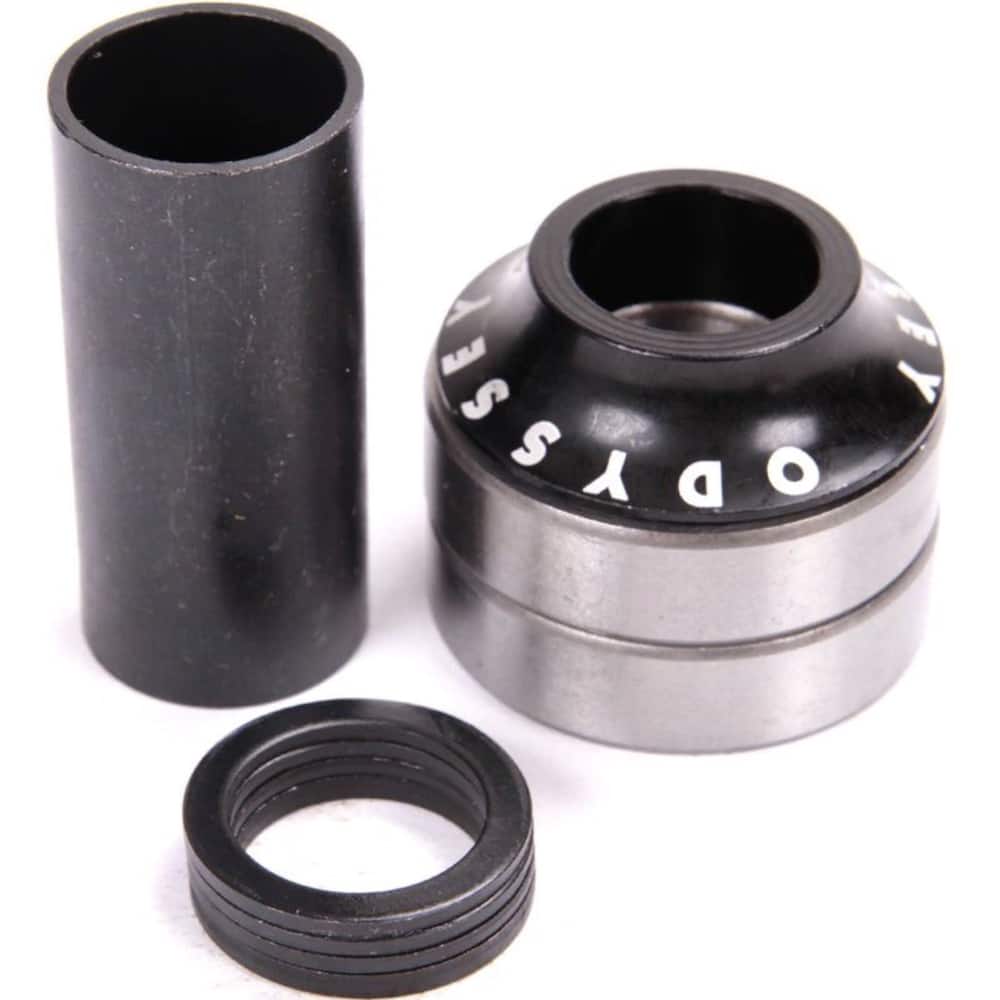 Odyssey's bottom is another amongst the popular that you can get your hands on. Why?
Not only is it strong and long-lasting, but it also comes in multiple really cool color options. (Unfortunately, the different colors sell out quickly so make sure you act fast.)
Odyssey BB specs:
Size: 19, 22mm
Price: $22.99 (may vary)
GET YOURS
3. Federal Mid BB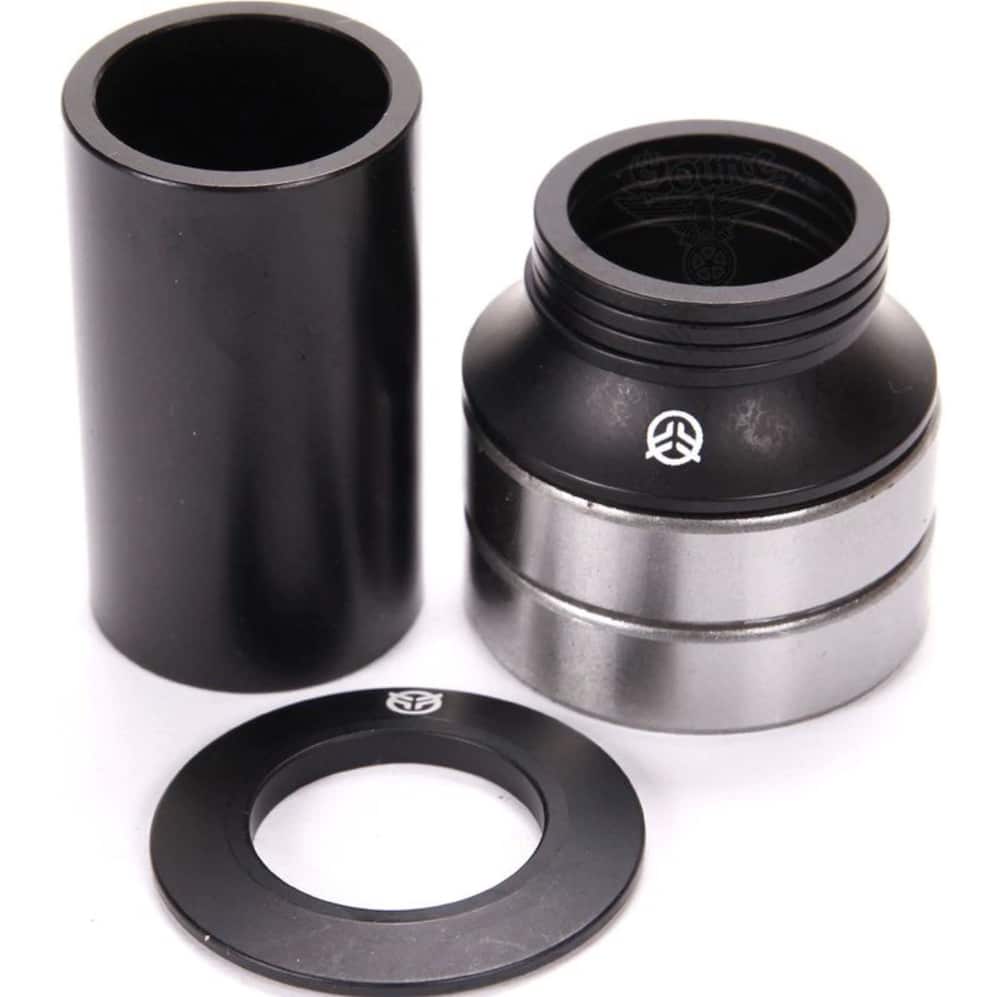 If you need something simple but robust then drop everything and enjoy the Federal version of a mid bottom bracket.
Two colors, three sizes, laser etched Federal logo – what else do you need?
Federal BB specs:
Size: 19, 22, 24mm
Price: $24.99 (may vary)
GET YOURS
4. Profile Mid BB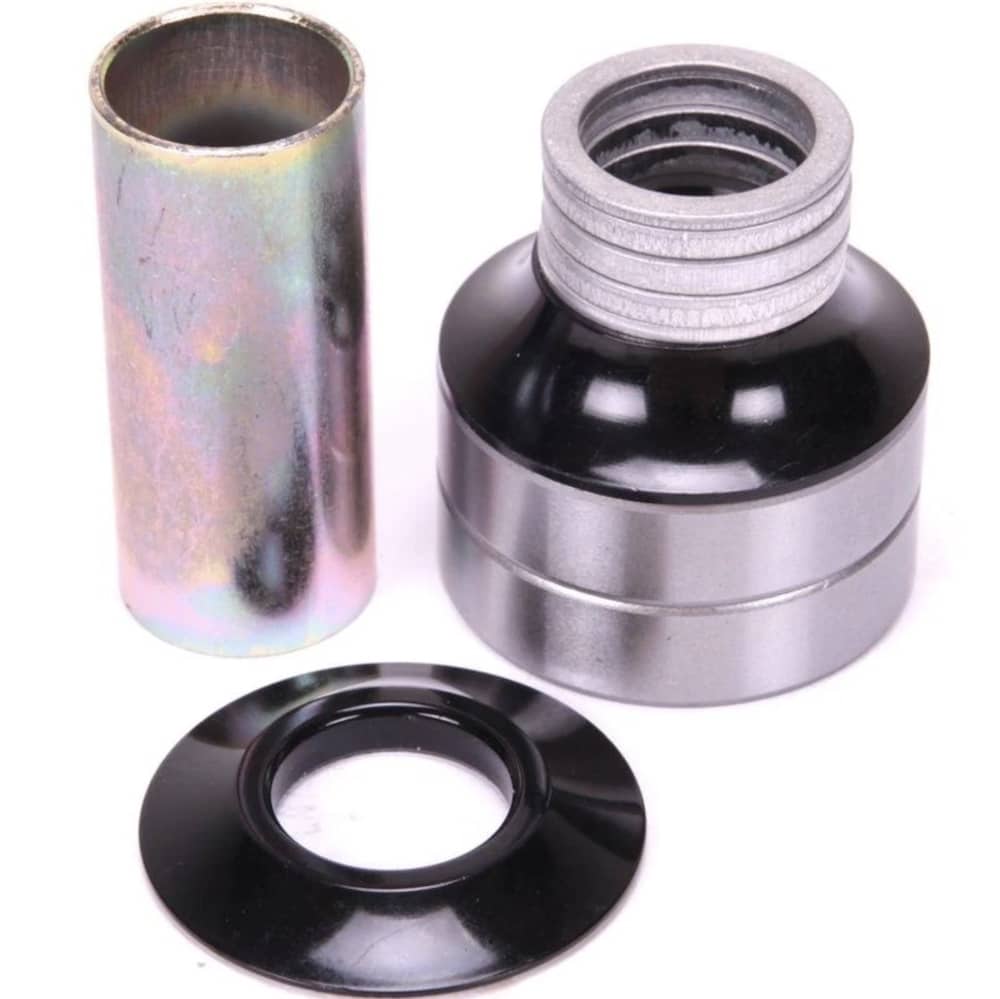 Profile doesn't fool around when it comes to producing the best quality BMX products.
And they applied the same methodology to their mid BB. You can get it in two sizes and various colors (colored cone spacers) so there's something for everyone.
If you're searching for an American-made BB, go Profile.
Profile BB specs:
Size: 19, 22mm
Price: $44.99 (may vary)
GET 22MM
5. Jet BMX Mid BB

Jet BMX guys also thought of riders beyond black and silver, offering their BB in multiple extra color options.
This is a very simple and extremely affordable mid bottom bracket, available in two spindle sizes, 19mm and 22mm, to cover most of the riders.
Total BMX BB specs:
Size: 19, 22mm
Price: $17.99 (may vary)
GET YOURS
6. Cult Mid BB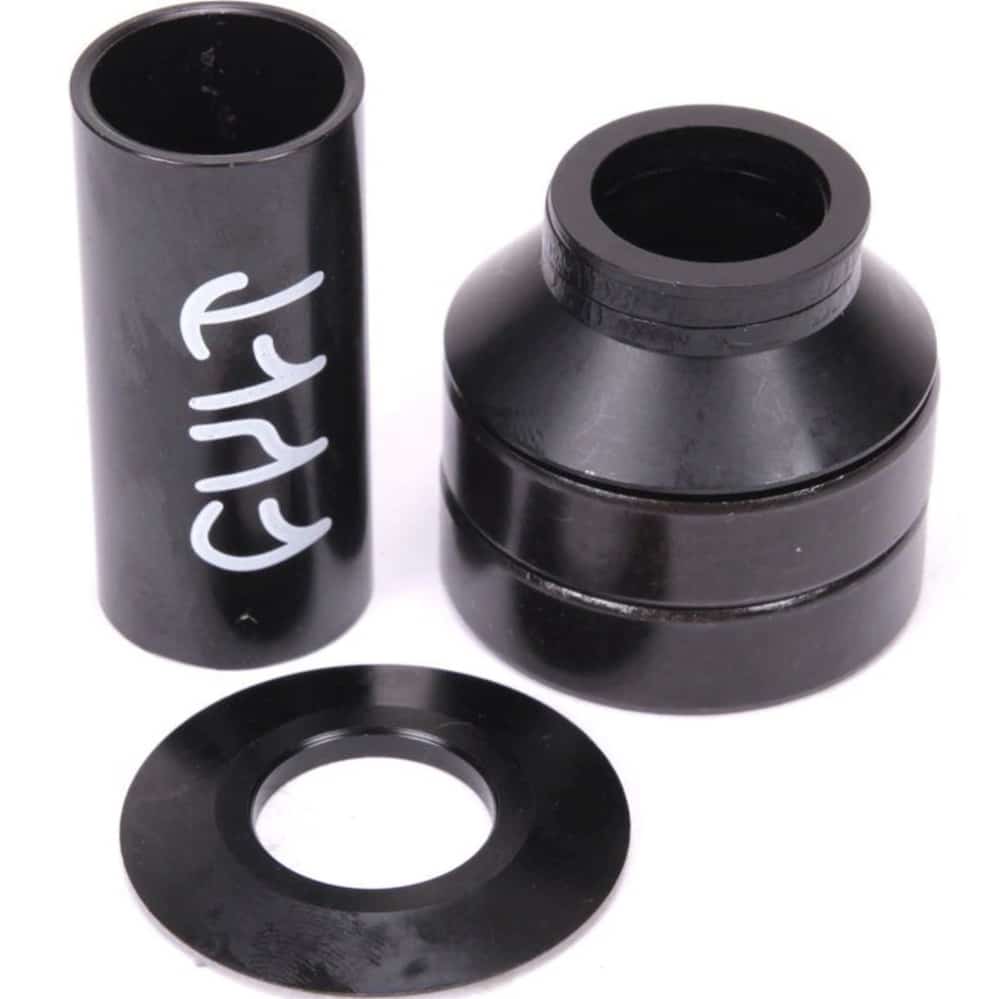 If you're a fan of Cult then it's more than obvious that you'll want to get their mid BB.
And after talking to a bunch of riders who run this BB, they only reported good things. And some are riding it for many years without a single issue.
Cult BB specs:
Size: 19, 22mm
Price: $27.99 (may vary)
GET YOURS
7. Eclat Mid BB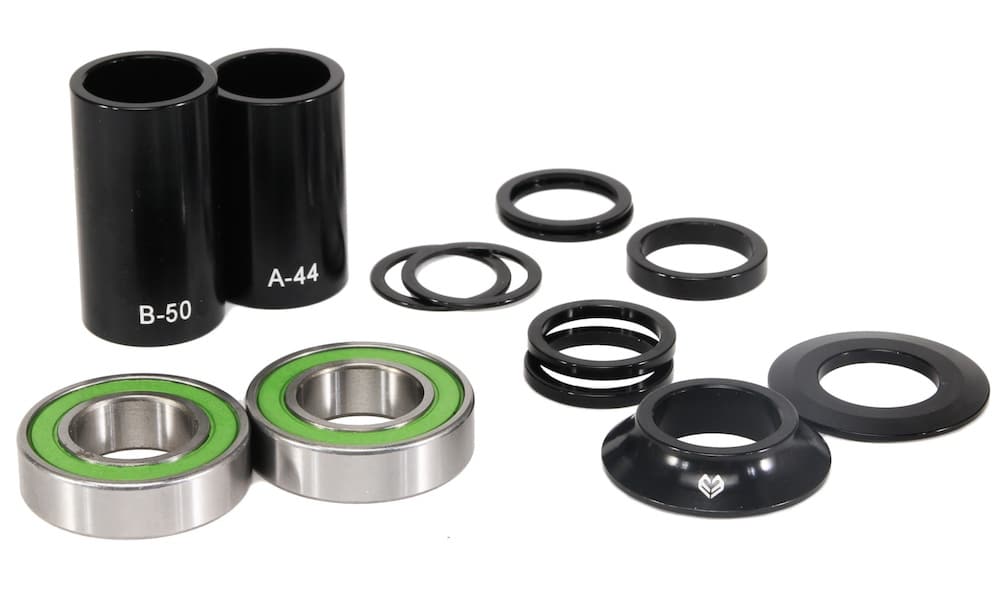 Eclat is another trustworthy BMX brand with epic products, and their mid BB is no different
While Eclat likes to innovate things, they kept it traditional with their bottom bracket, offering two colors and three sizes.
Eclat BB specs:
Size: 19, 22, 24mm
Price: $36.99 (may vary)
GET YOURS
8. Shadow Stacked Mid BB

Shadow cares about the details by creating an epic mid bottom bracket in two sizes, 19mm and 22mm.
The kit includes everything you need for your cranks to run smoothly for years to come. Go black or go raw – that's it!
Not it's NOT! You can get Shadow's BB in a few other rad colors, too!
United BB specs:
Size: 19, 22mm
Price: $30.99 (may vary)
GET YOURS
9. WeThePeople Compact Mid BB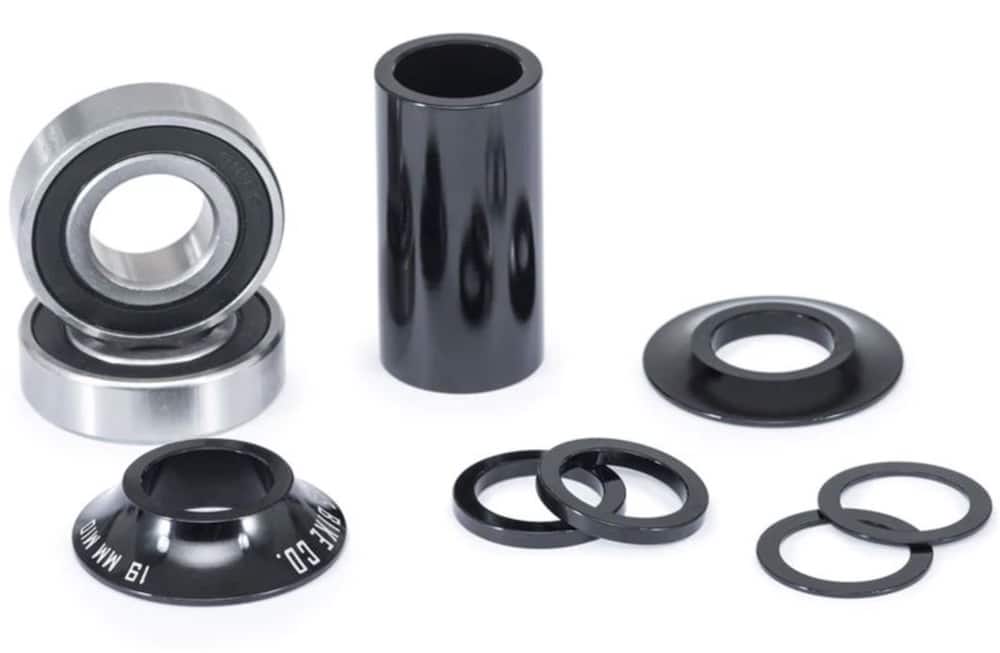 Your WeThePeople setup also needs a WTP midd BB just to keep everything looking better.
You'll also enjoy WTP's bearings' durability and high quality, plus all the extra spacers for easy installation.
WTP BB specs:
Size: 19, 22, 24mm
Price: $28.99 (may vary)
GET YOURS
10. Rant Bang Ur Mid BB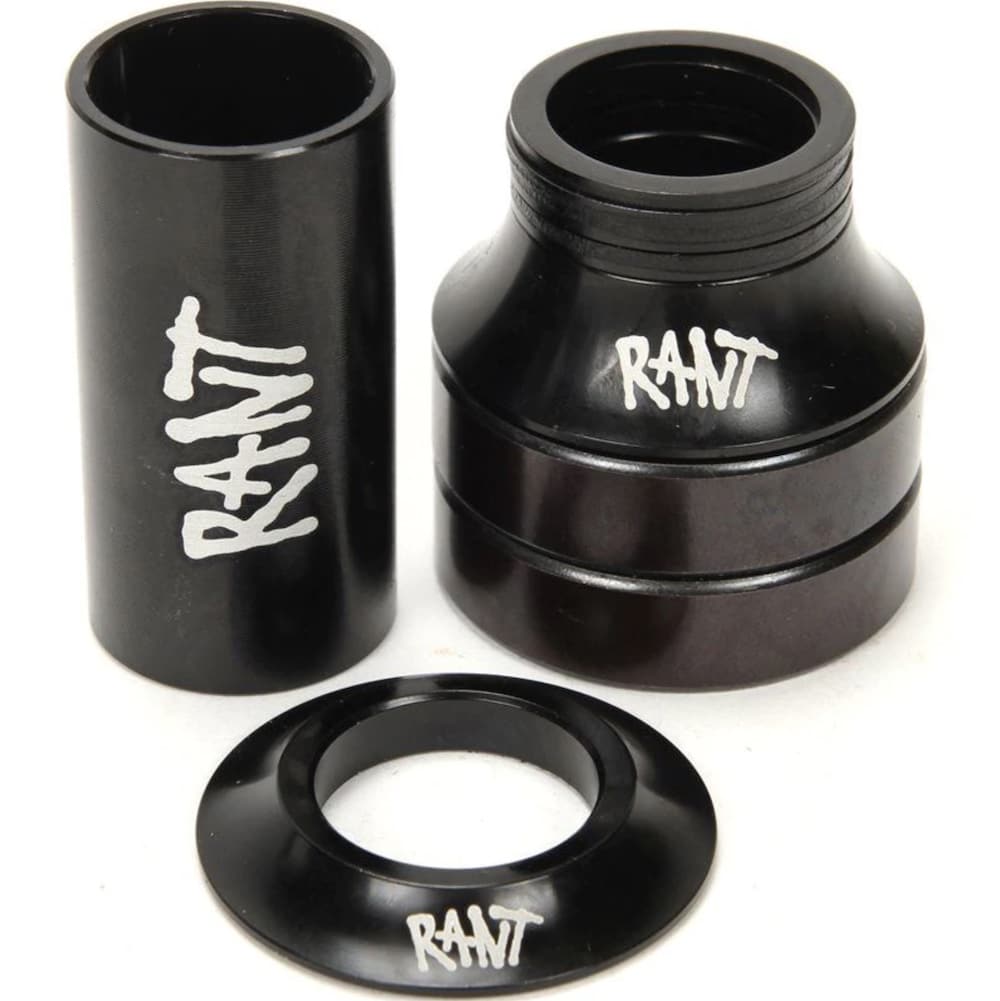 Even though Rant's Bang Ur Mid BB is one of the cheapest available on the market, this doesn't mean it's half-baked.
This thing is strong! And I saw a lot of riders rock it without a single issue.
And it comes in endless color options (which, sadly, are usually unavailable).
I like that the bearings are all-black, which isn't something you see too often.
Rant BB specs:
Size: 19, 22mm
Price: $23.99 (may vary)
GET YOURS
11. Merritt Mid BB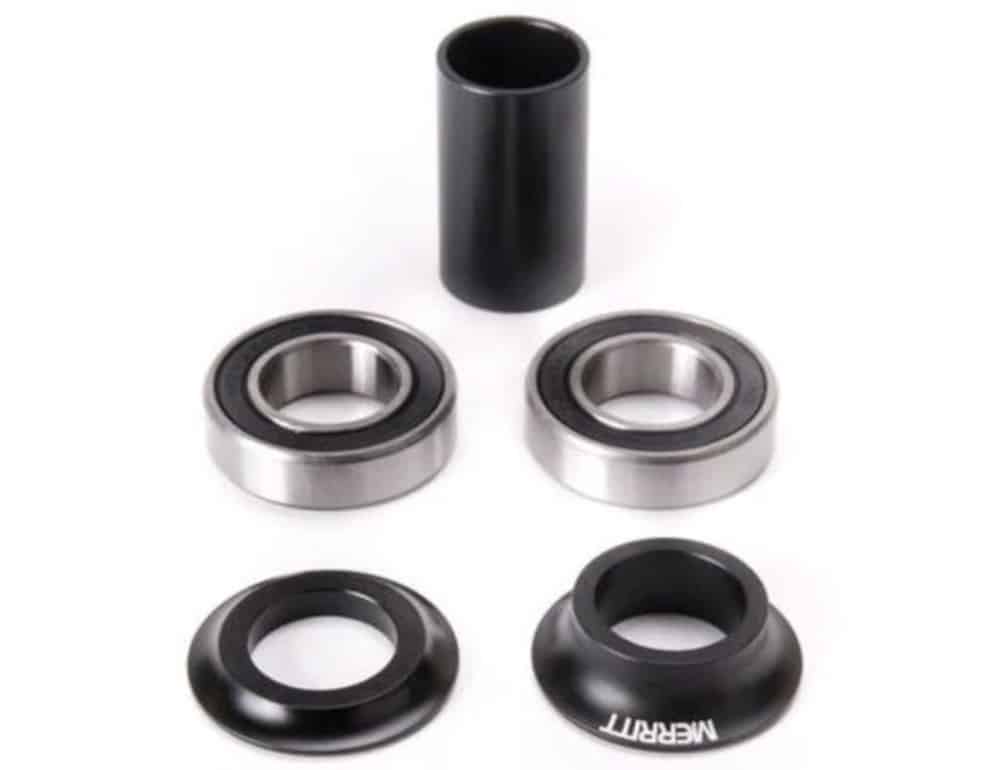 Merritt's mid bottom bracket will keep you going for a very long time. It's also very crankflip-friendly (but so are all the others in this collection).
Inner and outer spacers, CNCd dust caps and buttery bearings, that's all your cranks and your frame need to keep you rolling smoothly.
Merritt BB specs:
Size: 19, 22mm
Price: $26.95 (may vary)
GET YOURS
12. Fiend Mid BB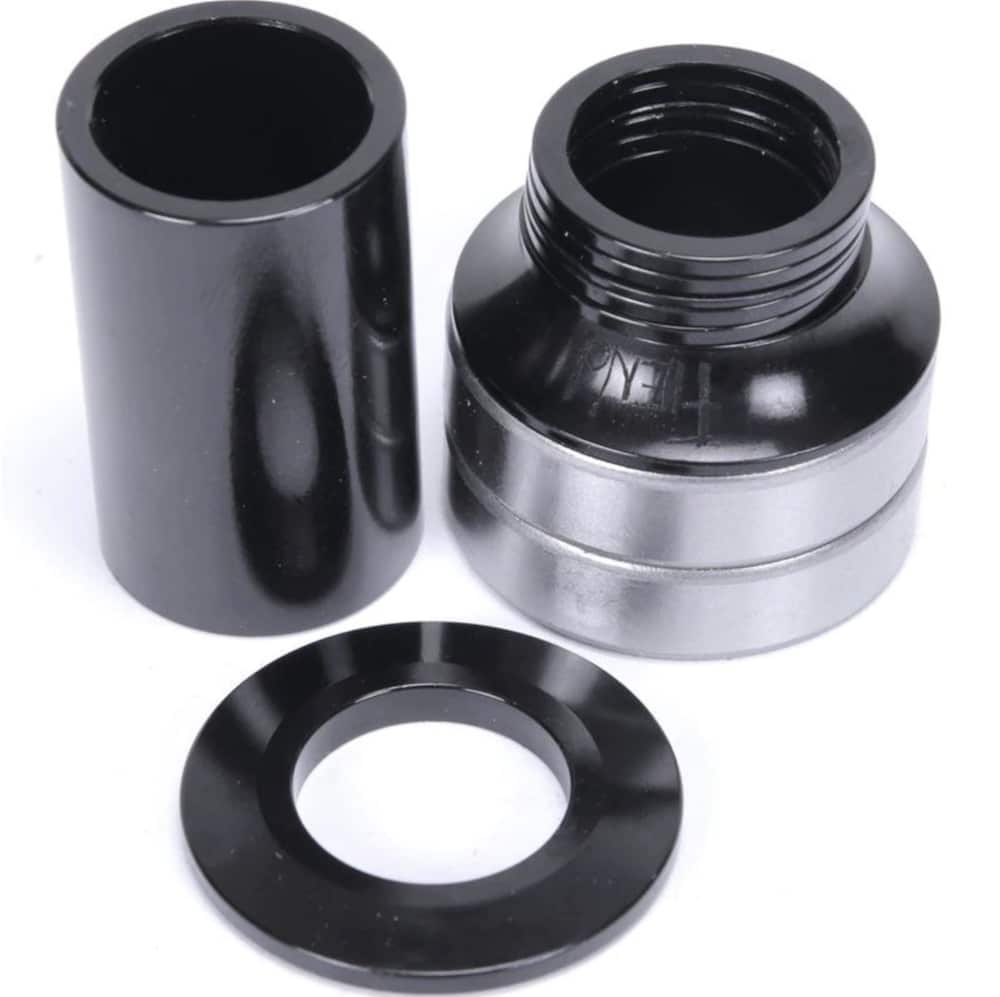 If it's Garrett Reynolds that rides it than you know it must be good. And you couldn't be more right.
Fiend's mid BB includes R12 bearings with laser etched logo on the dust caps and inner and outer spacers.
Fiend BB specs:
Size: 19, 22mm
Price: $30.99 (may vary)
GET YOURS
Best Euro BMX Bottom Brackets
If you're exclusively searching for a Euro bottom bracket, then any of these three will do the trick.
13. Rant Bang Ur Euro BB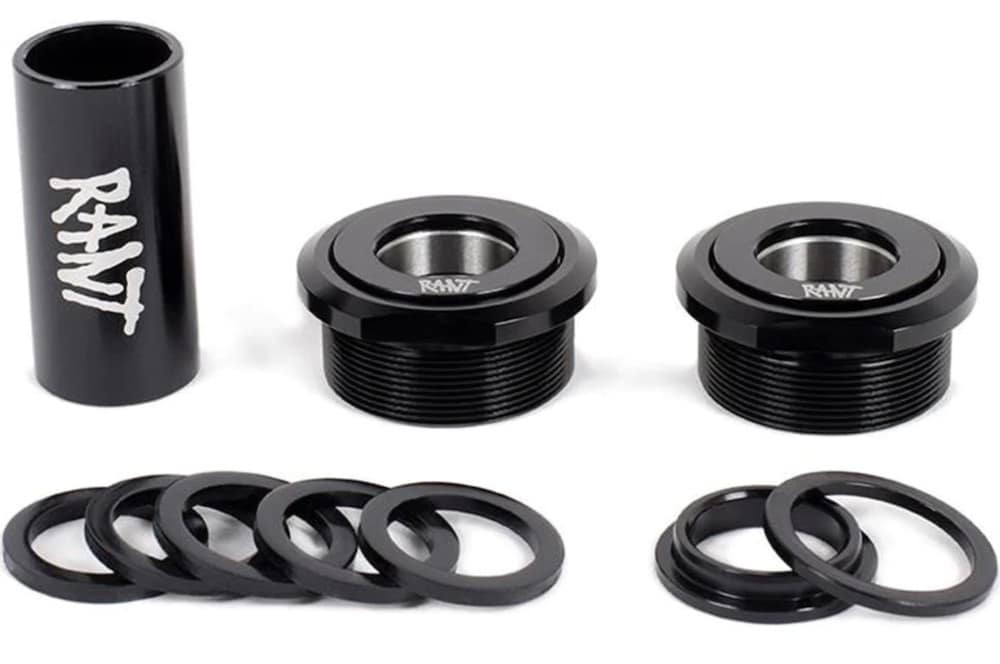 The Rant is my favorite but the other one is just as durable and quality. The only downside of Rant's BB is that it's available in 19mm.
Pick Odyssey for larger spindle sizes.
Profile Euro BB specs:
Size: 19mm
Price: $40.99 (may vary)
GET YOURS
14. Odyssey Euro BB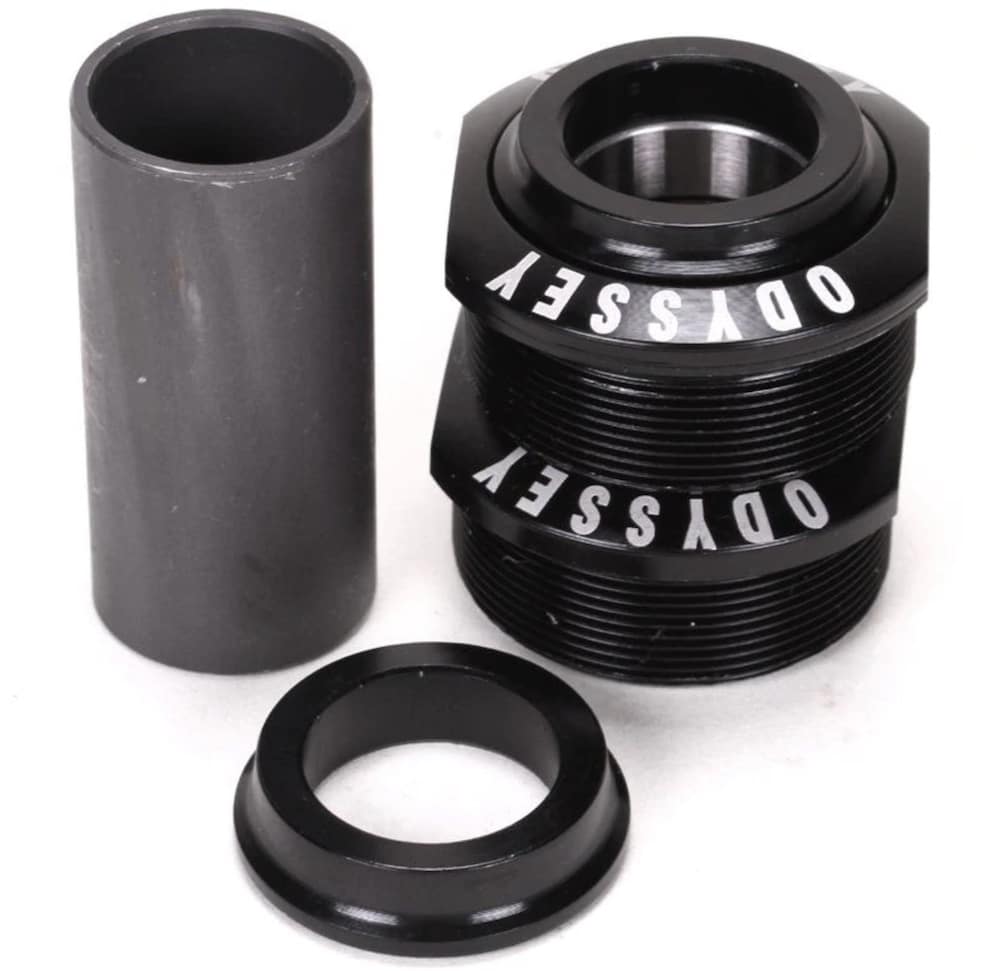 The Odyssey Euro bottom bracket installation is smooth, with all the hardware necessary in the kit.
Black is the only available color, with 19mm and 22mm diameter options.
Odyssey Euro BB specs:
Size: 19, 22mm
Price: $39.99 (may vary)
GET YOURS
FAQs About BMX Bottom Brackets
What bottom bracket do I need BMX?
It all depends on what frame you have. While all the modern frames have mid BB, you still need to check in case it's Euro or Spanish BB.
Are all BMX bottom brackets the same?
No, not all BMX bottom brackets are the same. They come in three versions: Mid BB (most popular), Euro BB and Spanish BB. You can also see an American BB (but isn't popular anymore).
What size are BMX bottom brackets?
Besides the different styles I mentioned above, BB comes in three main sizes: 19mm, 22mm and 24mm.
Was this article helpful?
Disclosure: The BMX Dude's content is free & reader-supported. I may earn a commission if you click & buy through my links. Your support helps me create the best content & make a difference. Thanks! 🤘