Are you looking for the best Pro-Tec BMX helmets to keep your head safe and secure during your sessions?
I've been ON and OFF with wearing a helmet, and here's why.
I simply couldn't find a helmet that fit me right. And wearing a bucket on my head never was my thing.
Yup, style matters to me.
This post covers:
Luckily, more and more brands are designing better-looking and stronger BMX helmets.
I've tested multiple helmets over the past fifteen years, from Fuse and TSG to Pro-Tec, Sandbox and Bell.
BUT!
My absolute favorite is the Pro-Tec Old School helmet. More in the review below.
Best Pro-Tec BMX Helmets Review
1. Pro-Tec Old School Helmet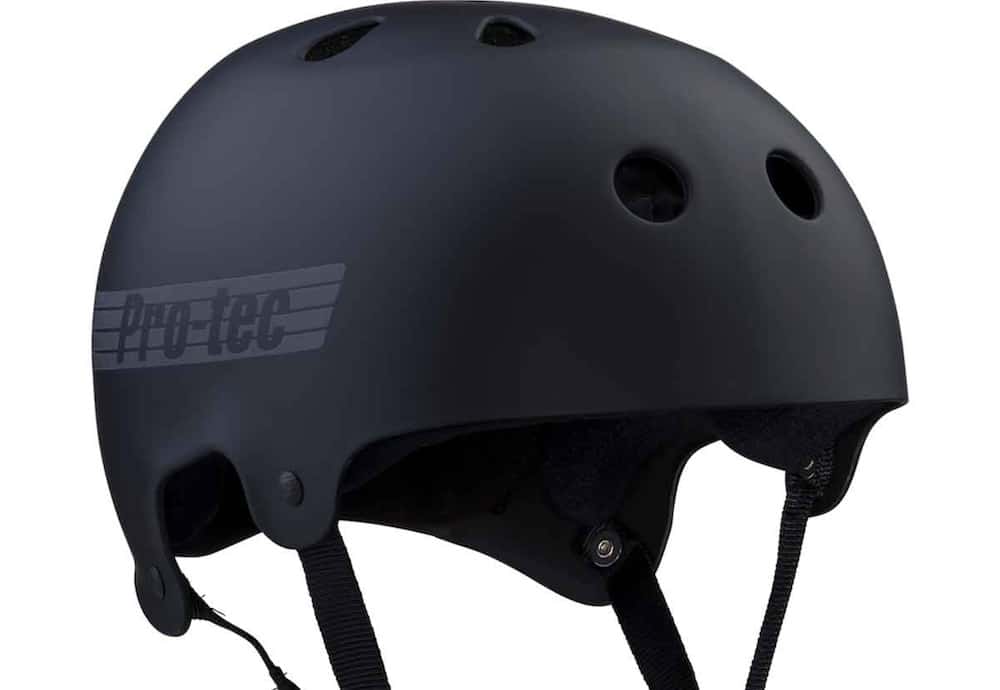 My first experience with the Old School helmet wasn't the best.
Why? Because I bought the wrong size (too big).
But I immediately FELL in love with it after getting the right fit and adjusting the liner.
(I have a tip on how to pick the right helmet, which is something nobody tells you below.)
This one sits a little lower on the head compared to the Classic, which I really like.
Plus, I think EXTRA protection on the back of your head is so essential. Unfortunately, that's where you'll hit your head the most.
And the Old School helmet sorts this out perfectly.
Another plus that I found in this one (and the rest of the Pro-Tec BMX helmets) is that it's pretty cool.
For instance, the Sandbox Classic 2.0 Street helmet is hard to wear during the summer because it has barely any ventilation.
But you get eleven vents on your Pro-Tec Old School helmet, and that's GREAT!
The only real improvement I see for all Pro-Tec helmets is the strap. They could (and should) better it (or check how well the Sandbox straps are).
But for me, the strap is a minor thing because I pay a lot more attention to the fit, wear and especially look.
What I also like about the Old School helmet is that it's a hard shell and not an in-mold (like the Classic).
This allows the force of impact to distribute more globally across the helmet.
Whereas with the in-mold version, the force distributes more locally (and can damage the helmet more in the place of impact).
And lastly, the liner/pads are relatively thin and heat-sealed, which will last you a very long time.
Do I recommend the Pro-Tec Old School helmet? YES! (It's the best helmet for me so far after testing five brands.)
Weight: 455g+ (depending on the size)
Fit & wear: ⭐️⭐️⭐️⭐️⭐️
Price: $58.99 (may vary)
GET YOURS
Sheesh, that was a long one, but I needed to share everything.
Also, I really like the Old School helmet, which is hard for me to say because of how picky I am.
Anyway, let's move on.
2. Pro-Tec Classic Helmet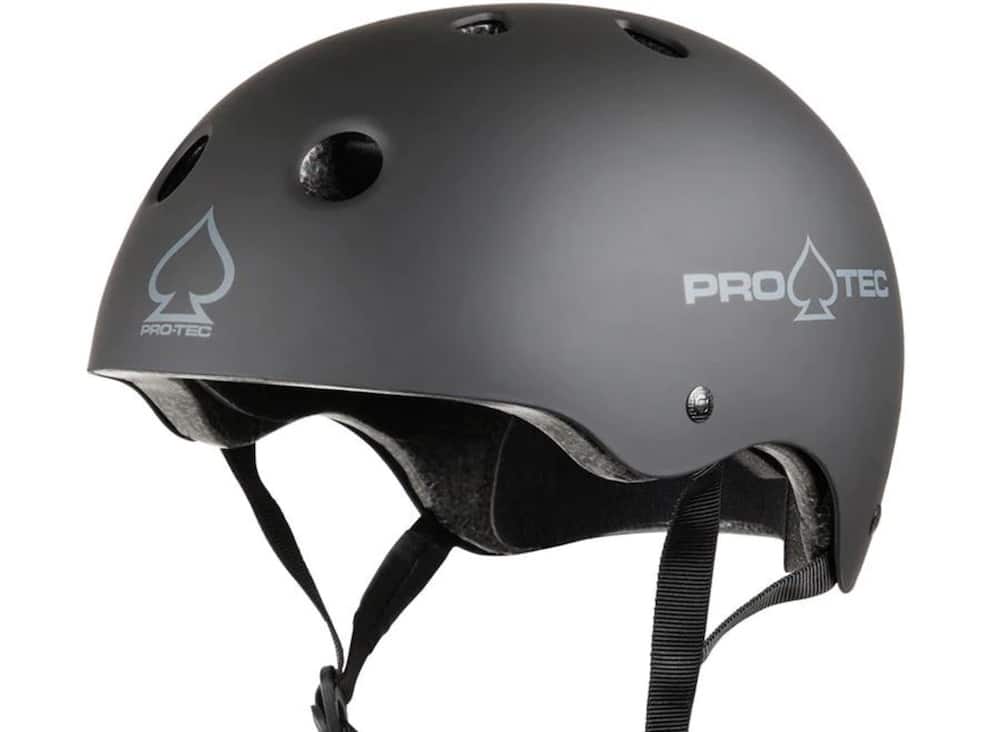 While the Old School and the Classic helmets are pretty similar at first glance, there are two major differences between them.
First, the Classic helmet sits a little higher compared to Old School, which has a lower back.
Some prefer this, but I don't.
And second, this is an in-mold helmet and not a hard shell like the Old School and Fullcut are. (Refer to what's the difference above.)
Moreover, all Pro-Tec BMX helmets feature an ABS shell and an EPS liner, guaranteeing high-impact protection.
Like my favorite helmet, Classic also rocks eleven open holes for ventilation, which work really well in the hot weather.
But one of my most important findings when testing and comparing the Old School vs. Classic helmets is that the fit and wear on the former are much better.
I think that comes from the fact that the Old School sits deeper on your head, wrapping around it more nicely.
Do I recommend the Pro-Tec Classic helmet? YES! (If you need a slightly lighter helmet.)
Weight: 450g+ (depending on the size)
Fit & wear: ⭐️⭐️⭐️⭐️
Price: $49.99 (may vary)
GET YOURS
3. Pro-Tec Fullcut Helmet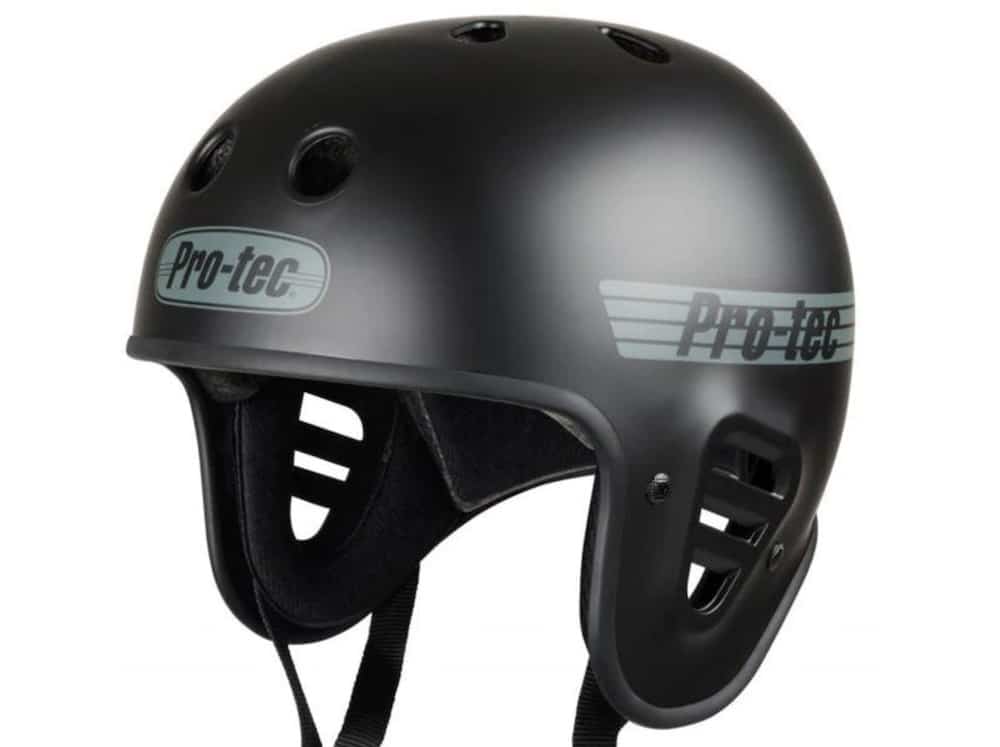 I'll be honest with you: I really like how a fullcut helmet looks on others (Joe Battaglia, you sure do know how to rock it properly!), but I just CAN'T.
It's probably because my head is slightly bigger, and I get hot really fast.
Yup, the Pro-Tec Fullcut helmet is slightly warmer.
Note: The Fullcut is very similar to the Old School in fit, but it comes with the classic ear protection that was popular in the 1970s.
Regarding specs, it still features Pro-Tec's signature ABS and EPS compounds to ensure high-impact protection.
Plus, the Fullcut helmet has seventeen vents, six extra (three per each ear) compared to Old School and Classic helmets. This allows more air ventilation, which is needed for a fullcut.
Do I recommend the Pro-Tec Fullcut helmet? YES! (If you need a little extra protection and you dig the classic look.)
Weight: 465g+ (depending on the size)
Fit & wear: ⭐️⭐️⭐️⭐️
Price: $59.99 (may vary)
GET YOURS
How To Pick Your Ideal Pro-Tec BMX Helmet
1. Sizing
What I particularly like about all Pro-Tec BMX helmets is that they come in multiple sizes.
Instead of the S/M and L/XL sizing that most brands offer, Pro-Tec offers many more options, so you'll find a perfect fit easier.
They generally come in XS, S, M, L and XL (you can get lucky and also find them in XXXS, XXS and XXL).
What this also means is that the aesthetical factor is a lot better.
Example: The helmet will look a lot bigger if you get an L/XL helmet and you're on the smaller size (but S/M is just slightly too small). But that's hardly the case with a Pro-Tec because of their many sizings.
Tip: When you measure your head to pick the right helmet size, measure it multiple times and make sure the measuring tape is tight around your head.
2. Color
This is more of my personal preference, BUT don't get a glossy helmet.
It. Just. Looks. Weird.
Go with a matte version (but it doesn't need to be black, although I believe that helmets should be available only in black).
I want a solid color helmet!
You have two options if you want to cover the logos and branding:
Either spray paint it or
Use the car wrapping foil (my preferred way)
The latter is a lot easier to do, and it will last you longer.
3. My Secret Tip To Make Pro-Tec BMX Helmet Look Even Better
This is something nobody tells you.
Caution: Do it at your own risk.
When I went one size down when buying my Pro-Tec helmet, it looked really good on my head, but it was too tight.
What did I do?
I took out the back liner/pads. Yup, that's really it!
And yes, I wear my helmet without the back (and top, if the helmet has it) pads.
Surprisingly, it doesn't feel uncomfortable. But you also need to remove the hook part of the velcro, which comes as a sticker and peels off easily.
Remember, you will feel it (a little) more when you hit your head, but the high-impact protection is still there.
A quick recap of buying the perfect BMX helmet:
Matte black
One size smaller
Car wrapping foil
DONE!
But that's my way of doing it.
If you like the branding and adding stickers to the helmet, that's great, bro.
Even if you go with a glossy helmet – the only thing that matters is that it feels right for you.
Yo! 🤘
Was this article helpful?
Disclosure: The BMX Dude's content is free & reader-supported. I may earn a commission if you click & buy through my links. Your support helps me create the best content & make a difference. Thanks! 🤘