Are you looking for the best BMX helmet that's quality, reliable and looks good?
I'm the best person for helmet suggestions.
WHY?
Because I'm the pickiest when it comes to helmets.
But even though the Pro-Tec Old School one is currently my favorite, I still have many more to test and try.
Still, this is my ultimate list, which I'm keeping short, so you'll pick the right one quickly.
This post covers:
Keep. Your. Head. Safe!
Best BMX Helmets Review
1. Shadow Featherweight Helmet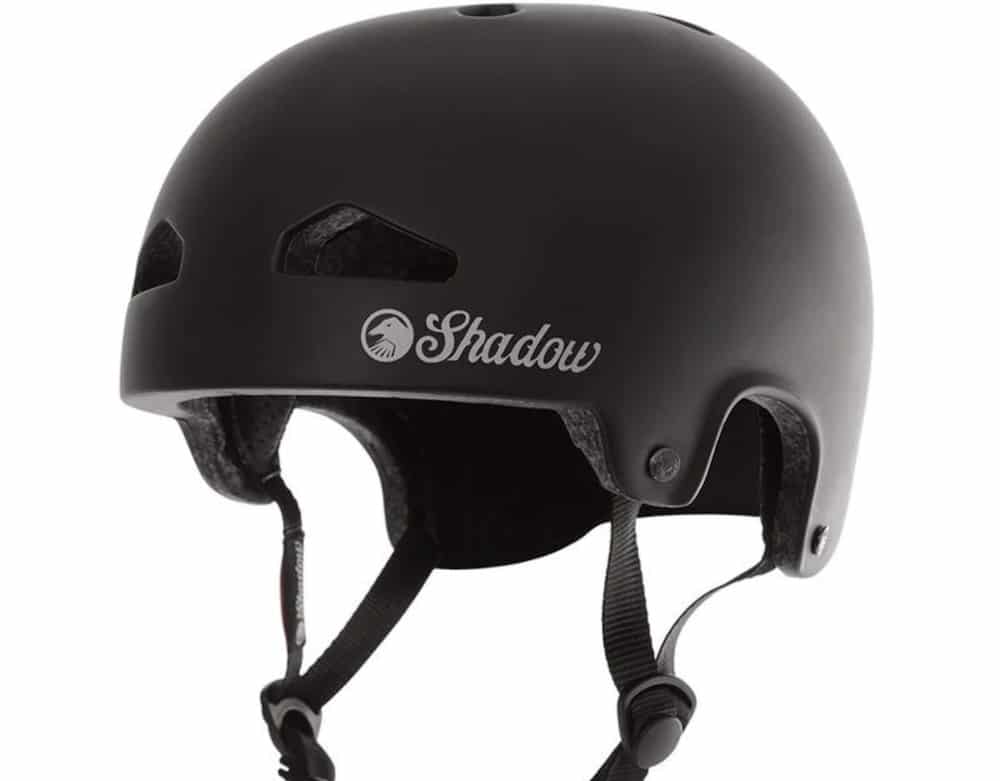 Shadow's Featherweight helmet is another fan-favorite that's available in gloss white (nope) and matte black (yup!).
They used in-mold technology to make a custom BMX helmet unlike any other on the market.
Congrats!
The EPS foam works really well for light and heavier slams, keeping your head safe.
What I also like about the Featherweight helmet is the low weight (that's where the name comes from).
Plus, it's the small details that make this helmet EPIC and stylish!
Note: You get extra padding for adjustment because it comes in only two sizings.
Note: Don't miss reading my in-depth Shadow Featherweight helmet review.
Price: $69.99 (may vary)
GET YOURS
2. Pro-Tec Fullcut Helmet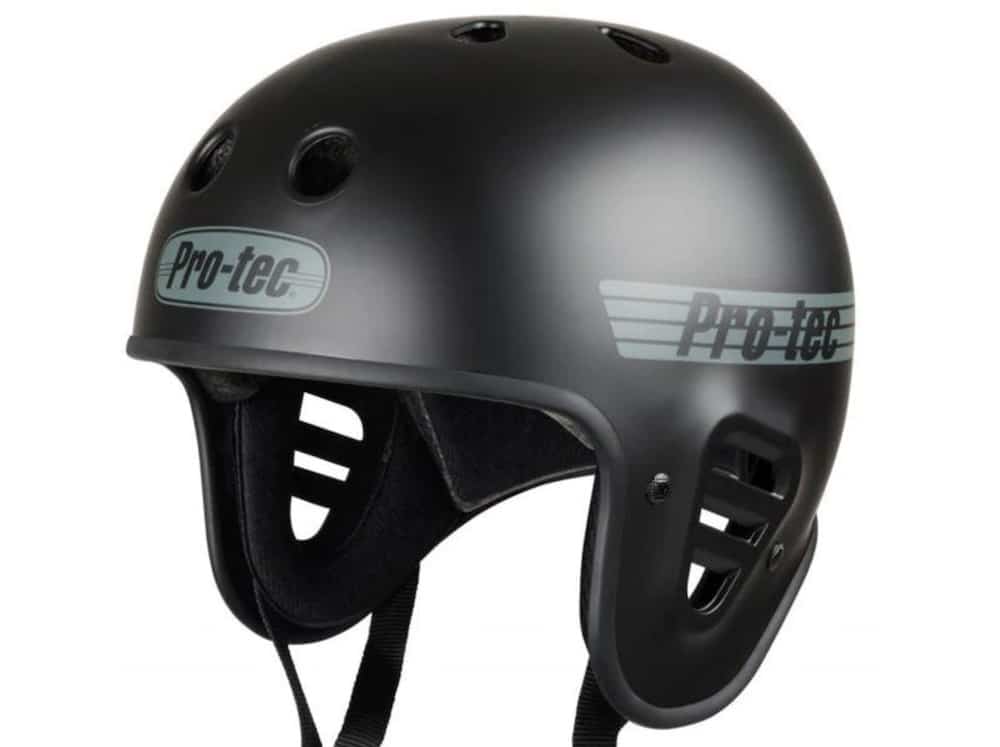 One of my good friends was rocking the Pro-Tec Fullcut BMX helmet for a very long time and loved it!
I cannot ride it because it's too hot for me. But I sure do like the old-school look of it. I even saw a bunch of street riders wear it and it can really boost your style.
It's a 70's helmet that Pro-Tec is keeping around to this day with updated materials, making it last longer and protect your head better.
The Fullcut helmet features an ABS shell with EPS foam and compression-molded padding. The hardware is stainless steel, which takes things to the next level!
You will easily find the right fit with multiple sizing options.
Price: $59.99 (may vary)
GET YOURS
3. Pro-Tec Classic Helmet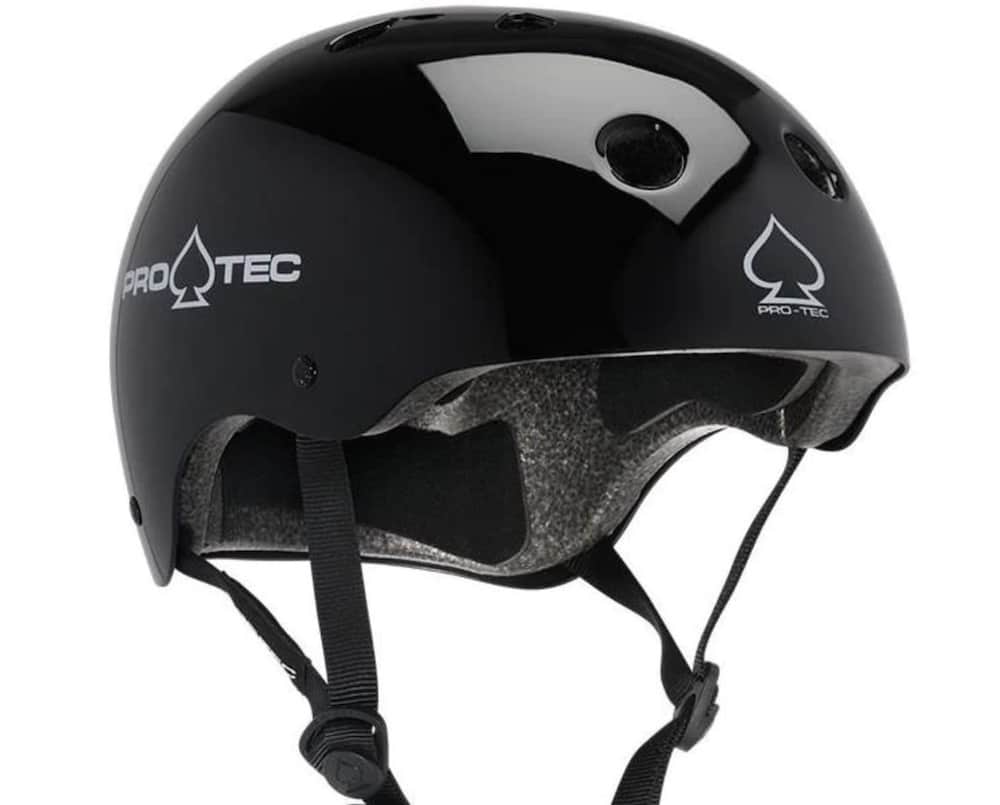 Even though I'm not the biggest fan of the Pro-Tec Classic helmet, many dudes reported back that they prefer it over any other helmet available.
So I'm adding it here for YOU!
The back of the helmet sits a little higher compared to the Old School, so if you have a larger head it may not look as good (which is me, by the way).
However, that's my opinion.
The helmet still comes in bigger sizes (L, XL & XXL), fitting any head easily.
Try it and decide for yourself, I'm just really picky when it comes to helmets.
Price: $49.99 (may vary)
GET YOURS
4. Shadow Matt Ray Helmet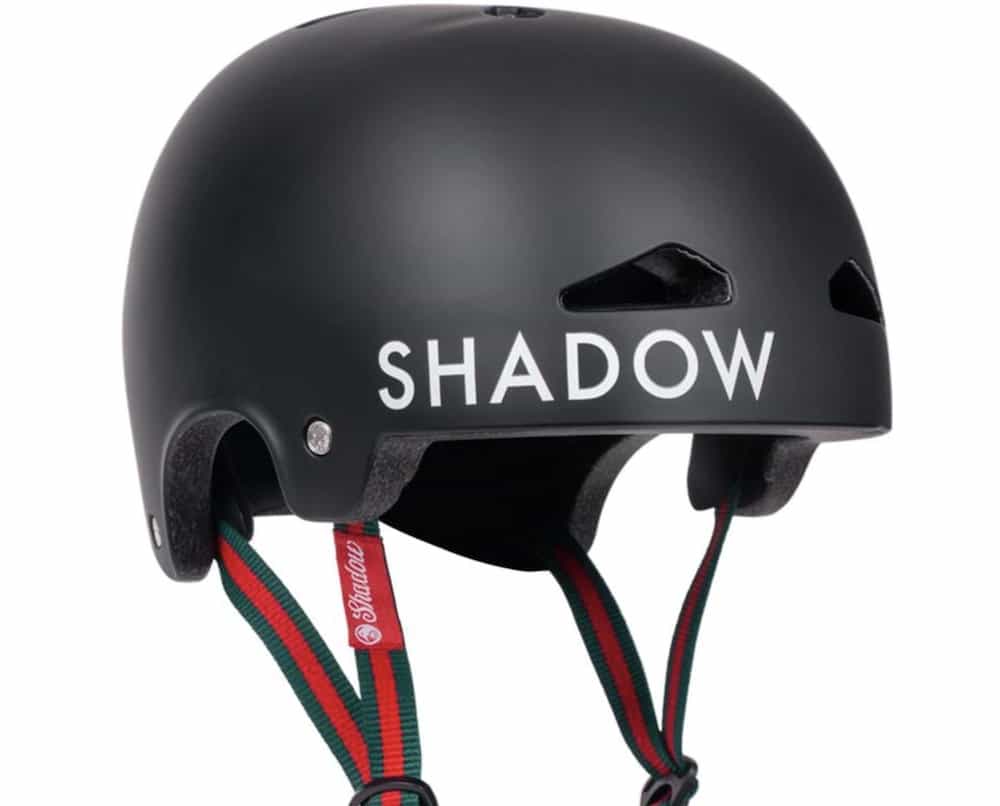 I'm stoked that Matt Ray went with matte black for his signature Shadow Featherweight helmet.
Similar to the original version, Matt's BMX helmet only differs in the details. It has cleaner decals and a Gucci-inspired strap, making it look a tad fancier.
This one looks really good even though I'm a fan of all-black helmets. But maybe because it's Gucci.
Anyway, if you're Matt's fan, support him by getting his signature helmet.
Price: $72.99 (may vary)
GET YOURS
5. Shadow Classic Helmet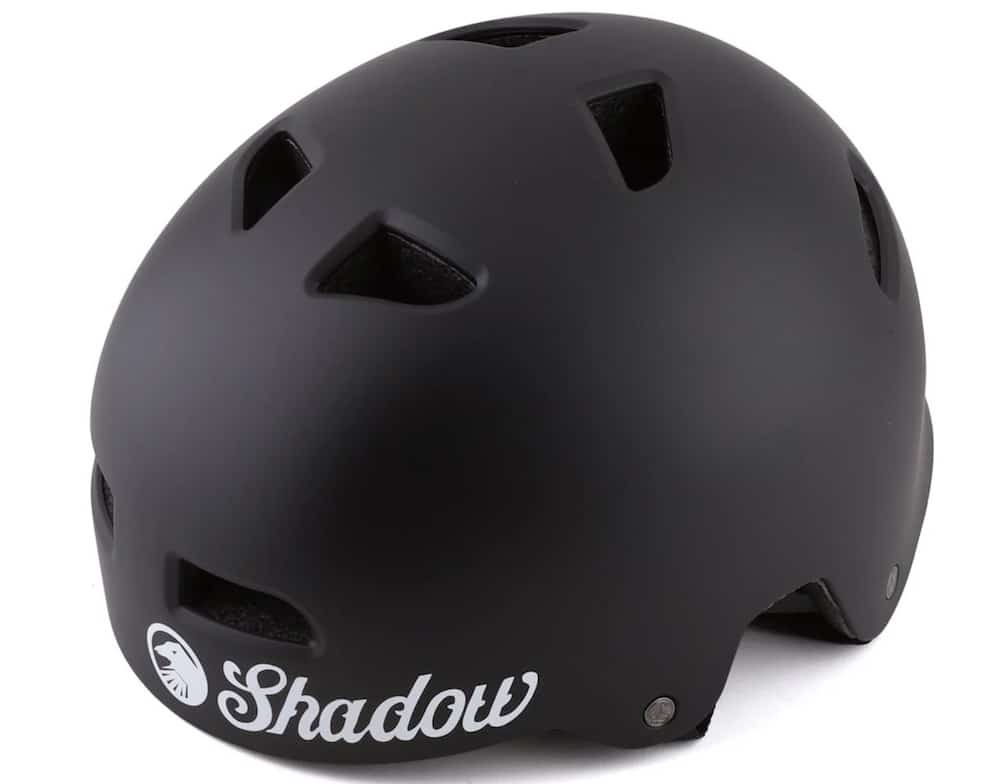 If you're a fan of the Shadow Conspiracy but are searching for a more affordable helmet then their Classic helmet will do the trick.
The helmet features all the latest technologies to get the best bang for your buck. It comes in three colors, white, gloss and matte black, and four sizes (XS, S/M, L/XL, 2XL). Remember, you also get two sets of padding to adjust the fitting accordingly.
Yup, there's something for everyone!
The helmet is only 60g heavier than the Featherweight version, ensuring a great and comfortable fit, even during your multi-hour long sessions. And the ten ventilation holes will keep you cool.
Price: $54.99 (may vary)
GET YOURS
6. Fuse Alpha Helmet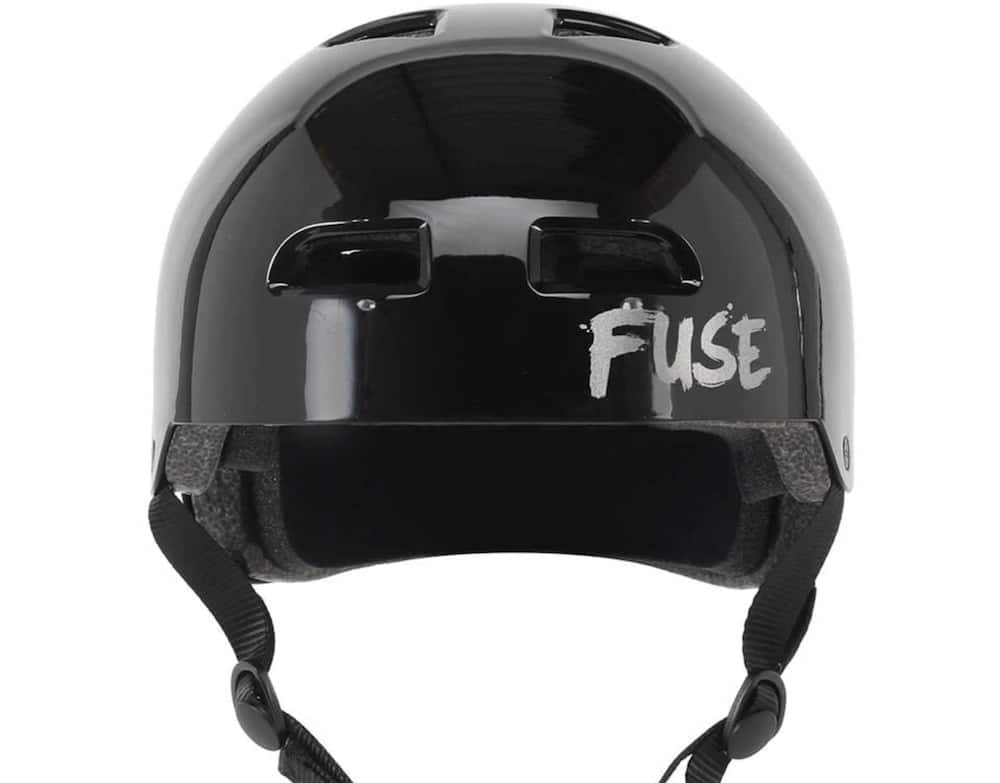 I was testing the Fuse Alpha helmet for many years and have only good things to say about it.
It fits really well because of the deep cut, which makes it sit lower on the head (similar to Pro-Tec's Old School helmet).
Fuse Alpha comes in multiple colors and three sizing options, so there REALLY is something for everyone.
It's also made from the popular ABS outer shell and EPS inner foam with extra padding for a custom fit.
This is also one of the cheapest high-quality BMX helmets you can get your hands on.
Price: $43.99 (may vary)
GET YOURS
7. Pro-Tec Chase Hawk Helmet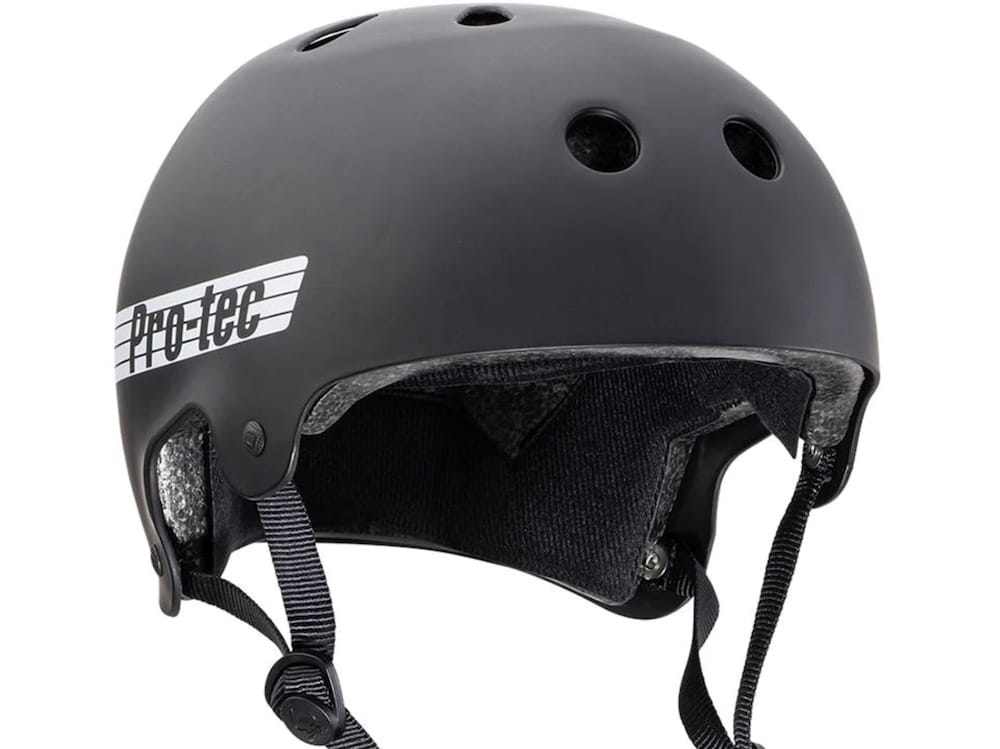 If you're unsure about which helmet to opt for I cannot recommend Chase Hawk's signature Pro-Tec more.
Why? Because I think a helmet should be matte black and not any other color. (I tried gloss, but it just doesn't work!)
And Chase's is available in one color only: yup, matte black.
But it comes in multiple sizes, so there's a fit for everyone. Also, the heat-sealed liner is very durable and lasted me a long time.
Moreover, the eleven vents ensure a nice airflow, keeping your head cooler.
Note: This one is based on Pro-Tec's Old School certified helmet. A slightly lower profile, so it sits on the head better.
This is the helmet I currently ride and LOVE it!
Price: $59.99 (may vary)
GET YOURS
My Secret Tip To Make BMX Helmet Look Better
I bet nobody has told you this, so here we go.
But please, do it at your own risk.
Instead of buying the right-size helmet, I go one size down.
And what do I do when the helmet feels too tight? I simply remove back and top pads, leaving just the front because those are 100% necessary.
I also remove the velcro hook part where the back and top pads stick to the helmet for more comfort.
Keep in mind: This may make you feel the impact when you crash a little more, but the strong protection is still there, which is the most important part.
Also, I prefer a matte black helmet because it gives it a more "beanie-like" look (not really).
That's my way of doing it, and because it looks good, I wanted to share it with you.
How To Make A Bmx Helmet Last Longer
A BMX helmet is a crucial piece of safety equipment, and ensuring its longevity is important. Here are four key tips to help make yours last longer:
1. Proper Storage
Avoid direct sunlight: Store your helmet in a cool, dry place away from direct sunlight. UV rays can degrade the materials of the helmet over time.
Safe storage space: Ensure that you place the helmet in a safe spot where it won't get knocked around or fall onto a hard surface, as this can cause damage.
2. Keep It Clean
Regular cleaning: Clean your helmet regularly to remove dirt, sweat, and oils, which can degrade the helmet's materials over time.
Use gentle products: Use a mild soap and warm water to clean the helmet. Avoid using harsh chemicals, as these can damage the helmet's materials. (I wash my liners in the washing machine on gentle, with my other sport clothing.)
3. Inspect Regularly
Check for damage: Regularly inspect your helmet for any signs of damage, such as cracks in the foam, fraying straps, or a damaged buckle.
Replace if necessary: If you find any signs of damage, replace the helmet immediately. Even small cracks can significantly reduce the helmet's ability to protect you in a crash.
4. Handle With Care
Gentle use: Avoid throwing or dropping your helmet, as this can cause damage, even if it's not immediately visible.
Avoid modifications: Do not make any modifications to your helmet (like drilling holes), as this can compromise its integrity and safety.
Bonus: Replace After Impact
Post-crash replacement: If you have been involved in a crash, or if the helmet has taken a significant impact, replace it immediately, even if there are no visible signs of damage.
The foam inside the helmet is designed to compress upon impact to absorb energy, and it does not bounce back after compressing.
By following these tips, you can help ensure that your BMX helmet remains in good condition, providing the maximum level of safety and protection for as long as possible.
Remember, when it comes to safety gear, it's always better to err on the side of caution and replace the helmet if there is any doubt about its integrity.
Was this article helpful?
Disclosure: The BMX Dude's content is free & reader-supported. I may earn a commission if you click & buy through my links. Your support helps me create the best content & make a difference. Thanks! 🤘