Are you searching for the best and most reliable BMX chain breaker tools?
Nothing feels worse than breaking a chain and not having a tool to fix it.
Okay, here's something that might be EVEN MORE – having the tool but not having a few links of the BMX chain with you to replace the broken one(s).
At first, I was pretty intimidated by the idea of fixing the chain myself (that was 20+ years ago).
But as soon as I got my first tool (the Topeak one), I realized how simple it was.
I encourage everyone to know how to fix their bike.
This allows you to have all the FREEDOM you want, not relying on bike shops to maintain it for you. (Plus, you'll need to pay for the service.)
Don't let a broken chain hold you back. Fix it and continue with your session like it didn't happen.
Note: I have an even better solution for you in the conclusion part of this article (at the bottom), which can save you plenty of money.
Best BMX Chain Breaker Tools
Remember, all these tools fit both full and half link BMX chains.
1. Shadow Pro Grade Chain Breaker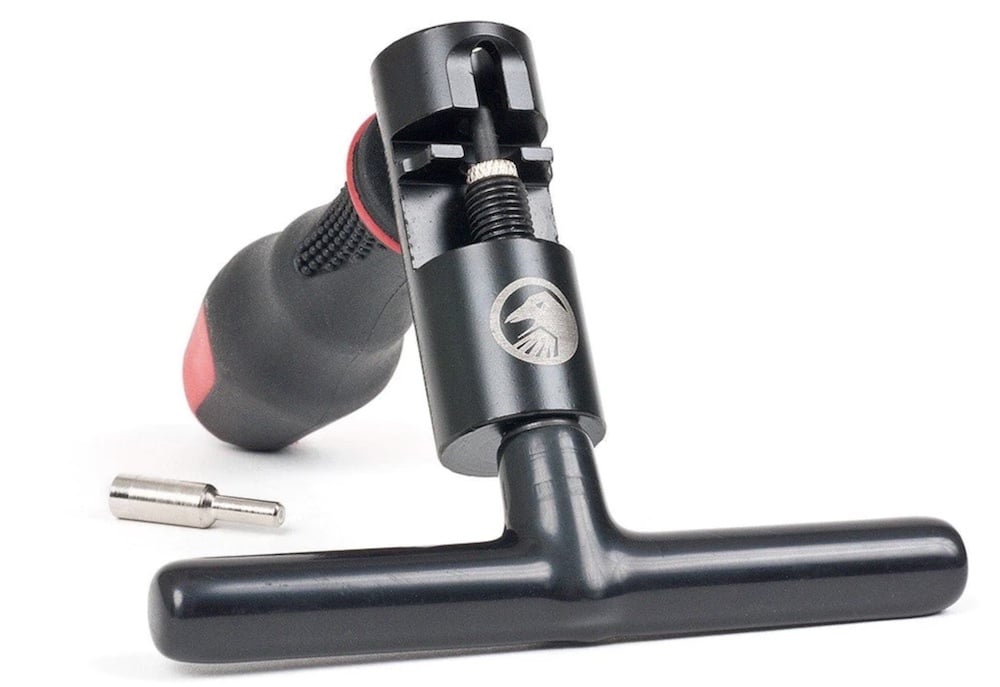 Do you also ride Shadow Conspiracy's Interlock chain? I'm in love with it – have been riding it for the past decade, and not a single issue.
So it makes perfect sense to have the Shadow's Pro Grade chain tool that fits the 1/8″ chain. Remember, you'll need a different tool if you have the Interlock race chain.
This tool comes with a comfortable grip and a larger handle, which gives you more leverage to easily break the chain.
Price: $24.99 (may vary)
GET YOUR TOOL
2. Odyssey Chain Breaker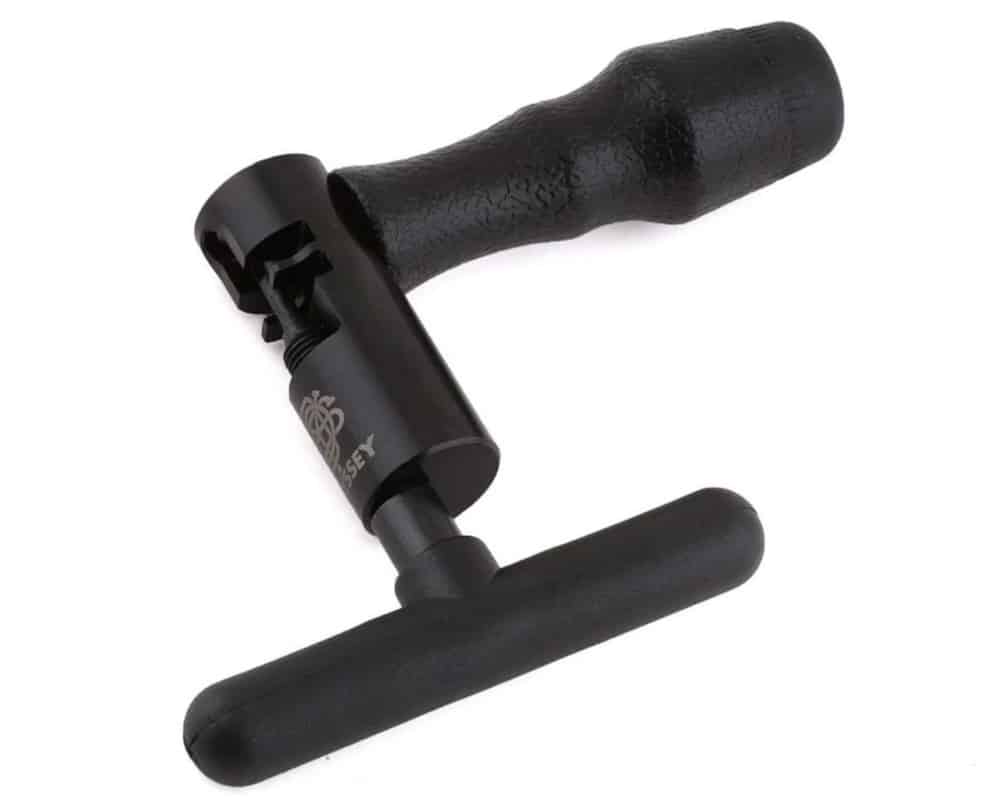 If you need a chain tool that fits most of the regular and half link chains, then Odyssey's chain breaker is an excellent investment.
It comes in a beautiful all-black design with an oversized and ergonomic handle that – listen carefully – has a hidden compartment to store your master link.
How clever!
While the twisting handle isn't as large as on the Shadow's tool, it's still big enough to disassemble/assemble the chain effortlessly.
Price: $18.99 (may vary)
GET YOUR TOOL
3. Topeak Super Chain Tool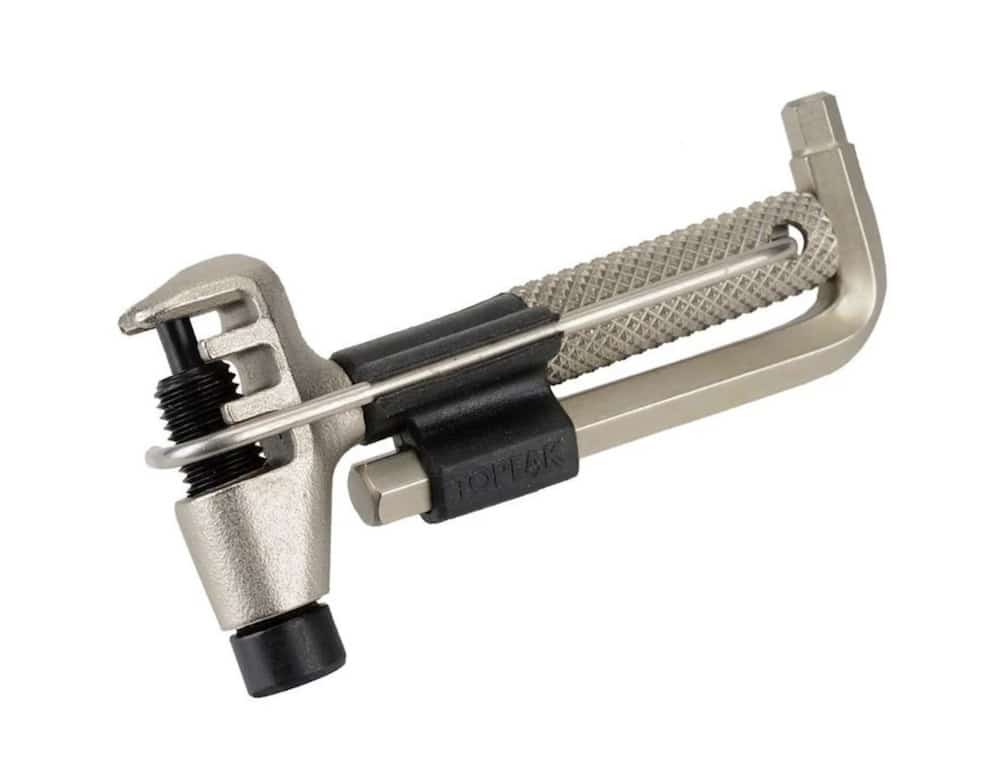 I already told you about the Topeak tool earlier, being the first ever chain breaker that I used.
What I really like about this one is its size – super compact, so you can easily carry it around, even in your pocket.
Another cool thing is the integrated chain hook that holds links during assembly – you don't have to worry about holding it with the other hand.
There's more.
Included is also a 5mm and 6mm Allen key for any other light repairs (it holds on the plastic clip, so you don't lose it).
But because it's small in size, it doesn't provide the most leverage. In other words, if you plan on fixing multiple chains in a row, your fingers might hurt.
If I didn't get myself a multi-tool, I would still have the Topeak Super chain tool.
Price: $19.95 (may vary)
GET YOUR TOOL
4. Birzman Lighter Universal Chain Tool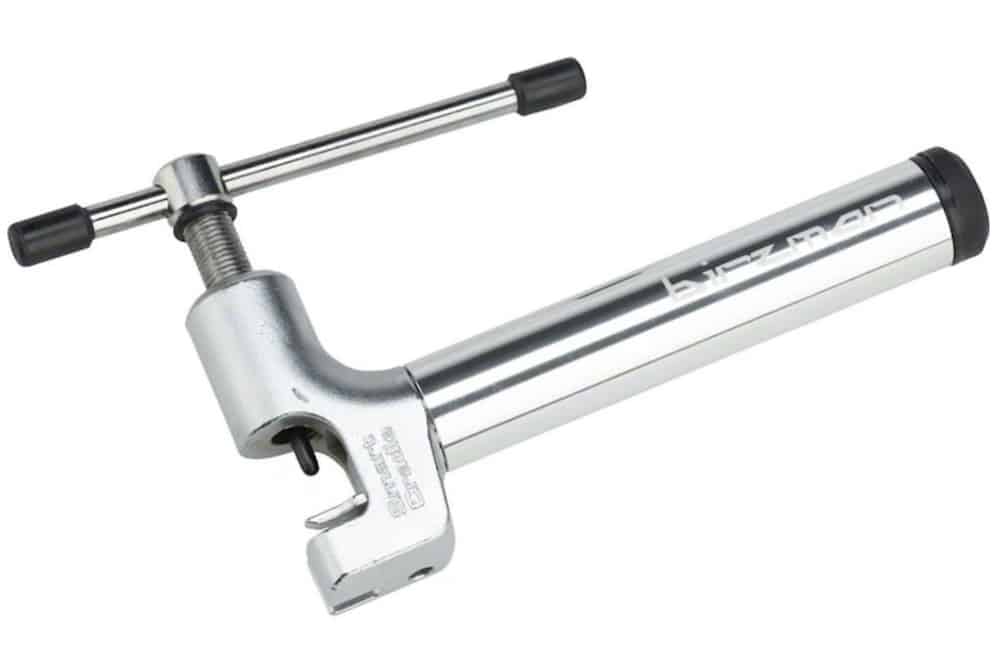 While most brands use steel for chain breakers, Birzman decided to step up the game with an aluminum construction.
They developed a very light chain tool that features a steel pin for longevity.
The smart cradle system is easy to adjust, ensuring the tool is compatible with almost all chains on the market.
Price: $32.00 (may vary)
GET YOUR TOOL
5. Rant Break Em Chain Tool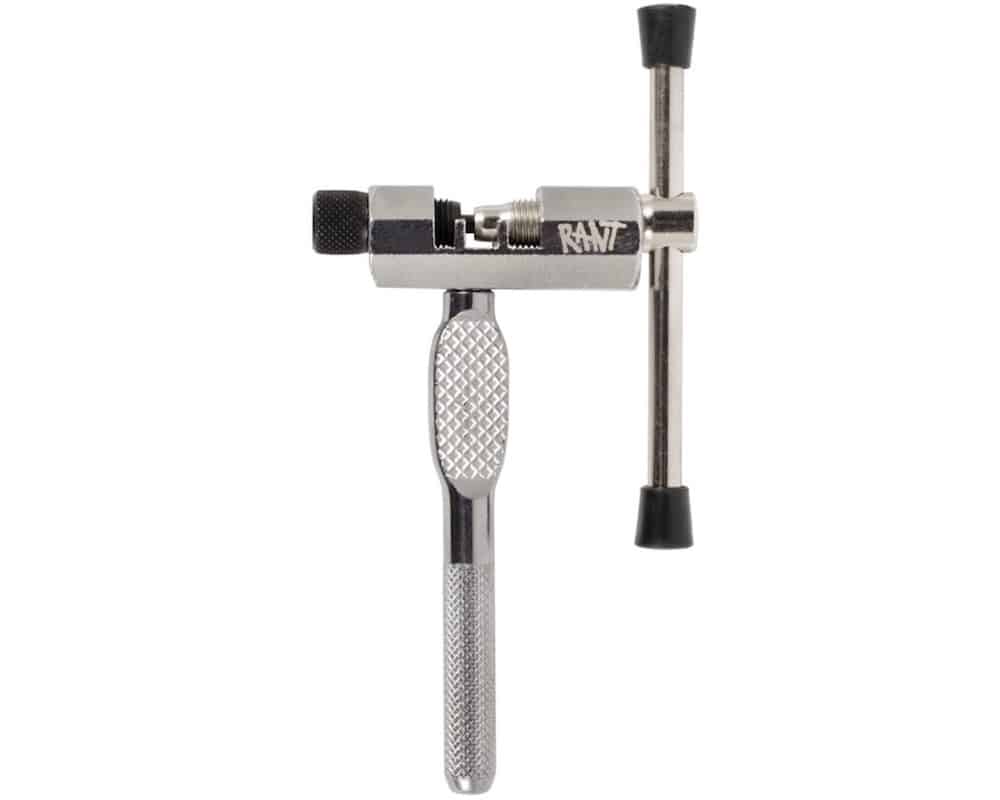 But if you are here to find the cheapest BMX chain breaker tool, then Rant is by far the best solution you can get.
It has a heavy-duty steel construction with a long handle (you can unscrew it) for comfortable grip and leverage and an adjustable barrel.
The Break Em tool is designed to work with 1/8″ and 3/32″ chains for your convenience.
Price: $8.99 (may vary)
GET YOUR TOOL
Conclusion: Should You Invest In A Chain Tool?
While there are many other chain tools available, these are the five that I vouch for.
Still, the cheaper ones might not last you as long as the more expensive ones – but it all depends on how often you use them.
I used Topeak for many years without any sign of wear.
BUT!
I actually don't recommend you get a chain breaker.
Why?
Because having a multi-tool is MUCH MORE convenient.
Instead of carrying around all the tools, hoping you don't lose them, a multi-tool keeps it all organized and highly portable.
I always have my multi-tool in my backpack (because I use it almost every other session).
And the best I can recommend to you is The Shadow Conspiracy Multi Tool.
It packs everything: Chain breaker, 17mm/15mm/10mm wrench, spoke wrench, tire levers, multiple Allen sockets, a hammer and a bottle opener.
Yup, all packed into ONE TOOL!
Don't let a broken chain ruin your session – FIX it.
Was this article helpful?
Disclosure: The BMX Dude's content is free & reader-supported. I may earn a commission if you click & buy through my links. Your support helps me create the best content & make a difference. Thanks! 🤘