Are you searching for the best and strongest half link BMX chains?
I'm excited to bring you this list because these are my favorites.
When half link chains came out YEAAARS ago, I got myself one and never turned back.
I find it looks a lot better and stronger from my experience.
And you have more options to configure the right length (which I'm playing with a lot, changing my chainstay length).
If you don't know which to pick, any from the below collection will do the trick. (I ride the second one.)
This post covers:
GUARANTEE!
Note: You may also be interested in my best BMX sprockets collection.
Best Half Link BMX Chains
1. Shadow Interlock Supreme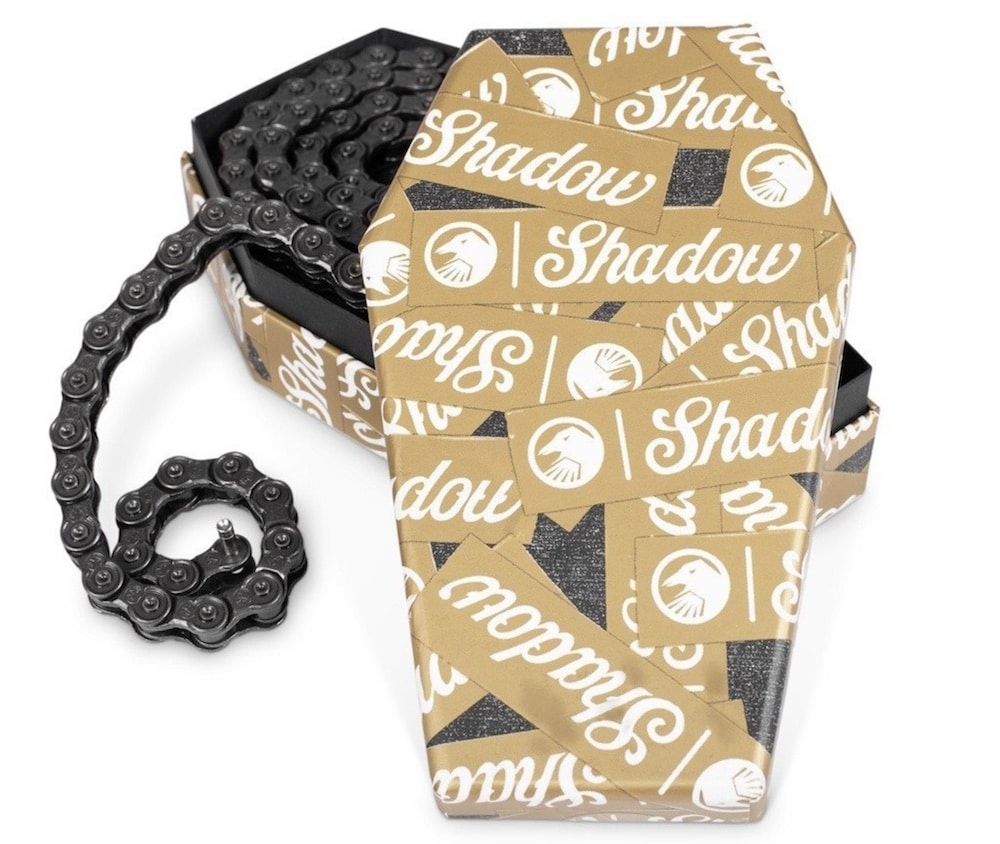 Thirteen years after the release of the original Interlock chain The Shadow Conspiracy released an updated version with a whole new level of toughness.
The Shadow Interlock Supreme chain is a beefed-up version of Shadow's Interlock chain meant to take any abuse you can throw at it. And it only weighs 315g.
This chain implements a forging process to make the links, has a 1,500 kgs tensile strength, and even has a lifetime warranty!
Light but strong.
(Might be my next chain.)
Price: $64.99 (may vary)
GRAB YOURS
2. Shadow Interlock Chain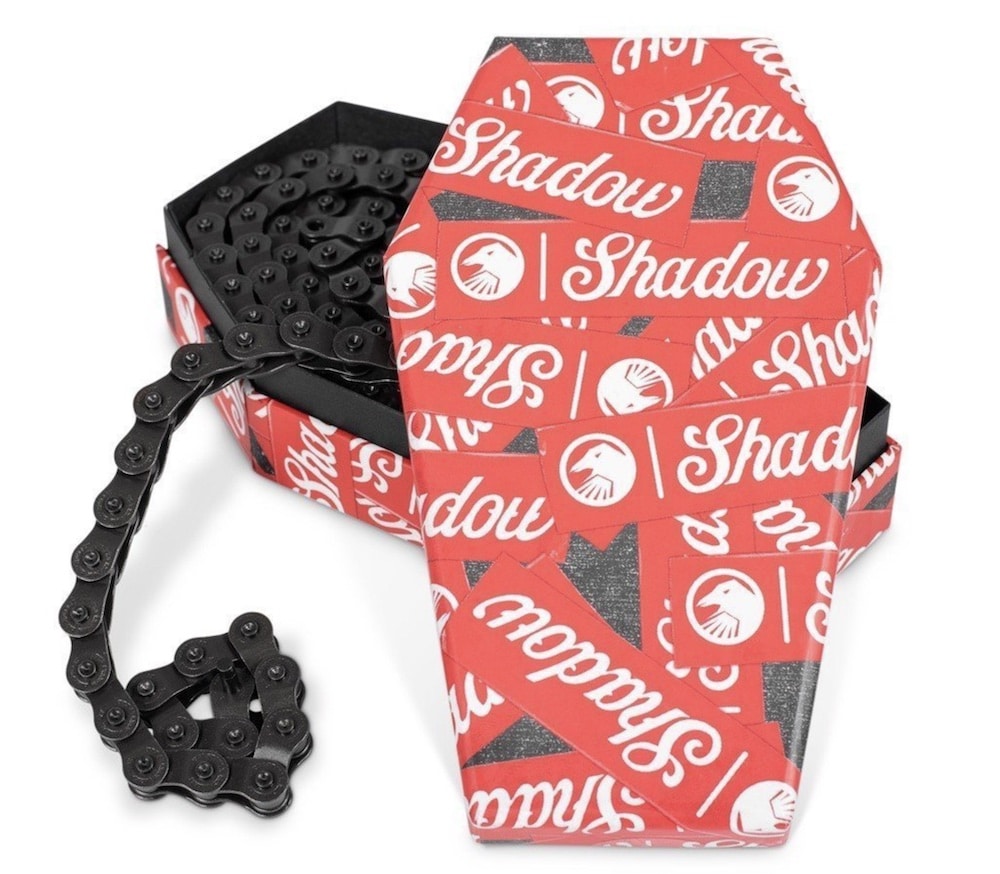 The Shadow Interlock V2 chain is a legendary chain in BMX with quite a long history and chances are, you've had one on your bike at some point.
According to Shadow, the Interlock v2 boasts the highest tensile strength of any 1/8th chain in BMX short of their Supreme version of the Interlock.
With a tensile strength of 1,300 kgs, mushroomed pins, and compatibility for 8T drivers and up, this chain has been a staple in BMX for years! It weighs 430g.
Note: I currently ride it.
Price: $48.99 (may vary)
GRAB YOURS
3. Cult Halflink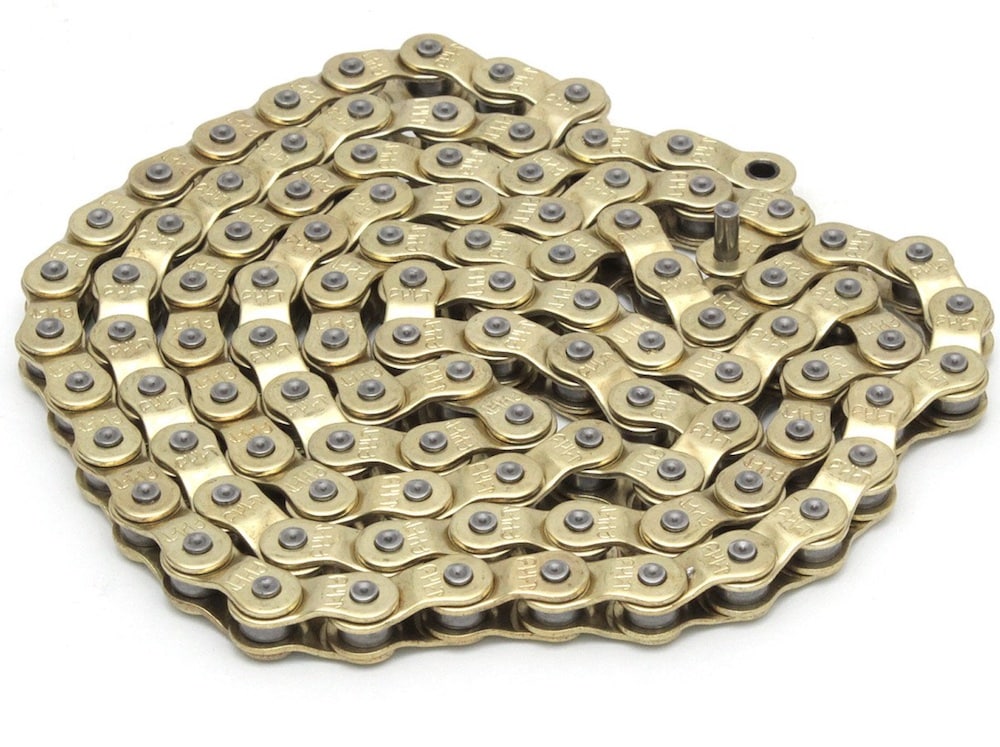 Let's take a look at what Cult has to offer in the BMX chain department, shall we?
Cult has three different BMX chains: one half link chain and two full link chains.
The half link appears to be a regular half link (weighs 320g!) with Cult logos engraved, but there is a difference between the two full link chain options.
The 510 has thicker side plates and heat-treated riveted pins, which the 410 chain does not have.
These full link chains have a pre-installed half link to help dial in the exact length you need. So cool.
Price: $29.99 (may vary)
GRAB YOURS
4. Odyssey Bluebird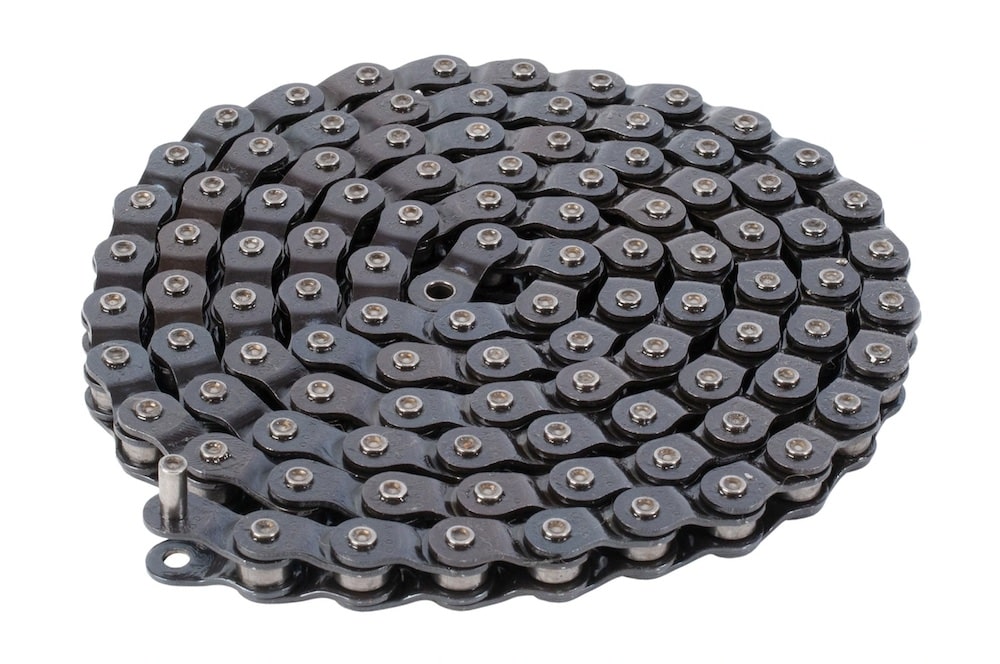 Odyssey's Bluebird chains have been basics in BMX for quite some time. This chain is constructed with chromoly plates and has hardened pins.
The Bluebird also comes with 100 links and is available in both ½" as well as ⅛" sizes. It comes in two different color options (black and silver) and weighs 440g.
There is also a full link version for anyone who prefers it over a half link.
Price: $26.99 (may vary)
GRAB YOURS
5. Cinema Sync Chain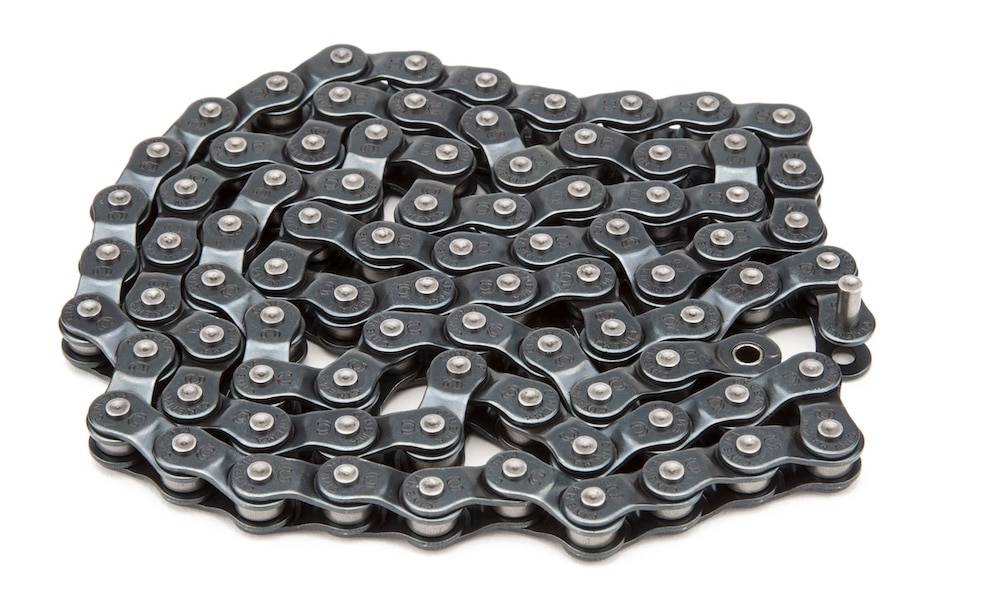 Cinema's Sync Chain is a half link with forged pins and a teflon coating at 385g.
Each plate on the Sync chain features a debossed Cinema logo, and this one is available in four colors.
You can get the Sync in black, raw, polished, and gold.
Price: $29.99 (may vary)
GRAB YOURS
6. Salt Warlock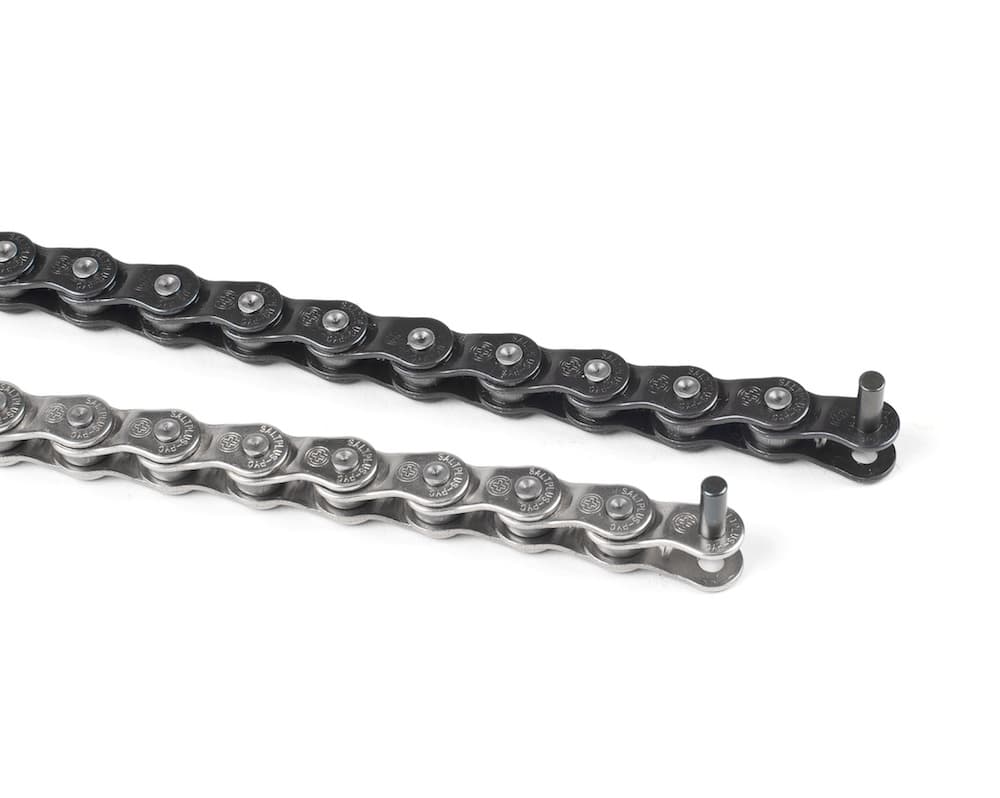 The Warlock half link chain from Salt BMX is available in ½" and ⅛" and has Salt logos embossed on each plate.
The color options for the Warlock are black, chrome, gold, and oil slick. This chain comes with 100 links and weighs in at 447g.
Price: $47.99 (may vary)
GRAB YOURS
7. Merritt HL1 Chain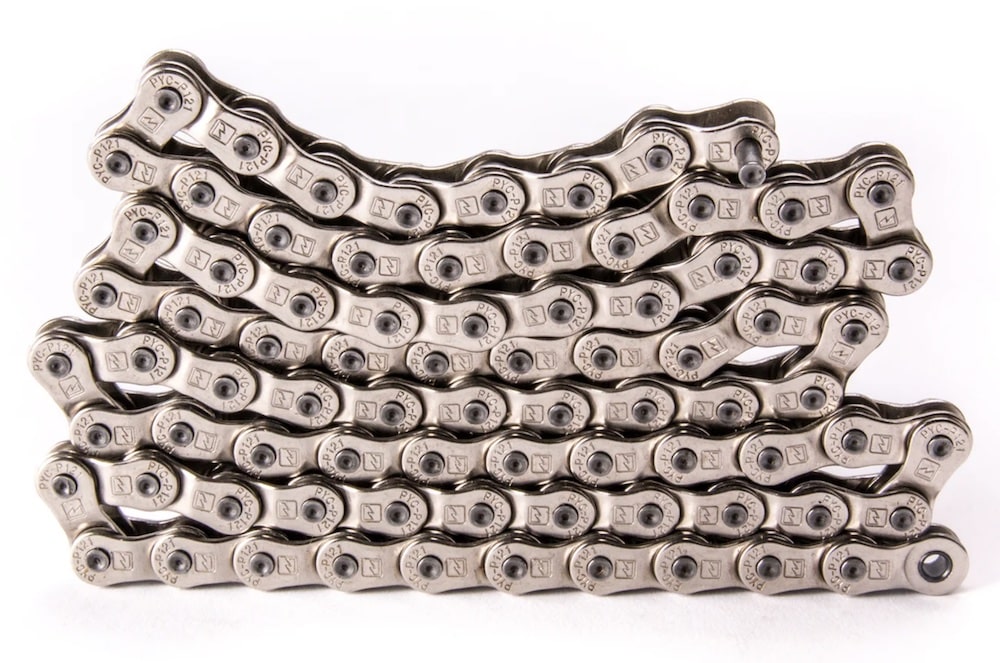 The HL1 Chain from Merritt is a half link chain with 80 links that are teflon coated (and weighs 450g).
Each plate has the Merritt logo engraved into it, and the available color options are black, nickel, and gold.
Price: $36 (may vary)
GRAB YOURS
8. BSD 1991 Halflink Chain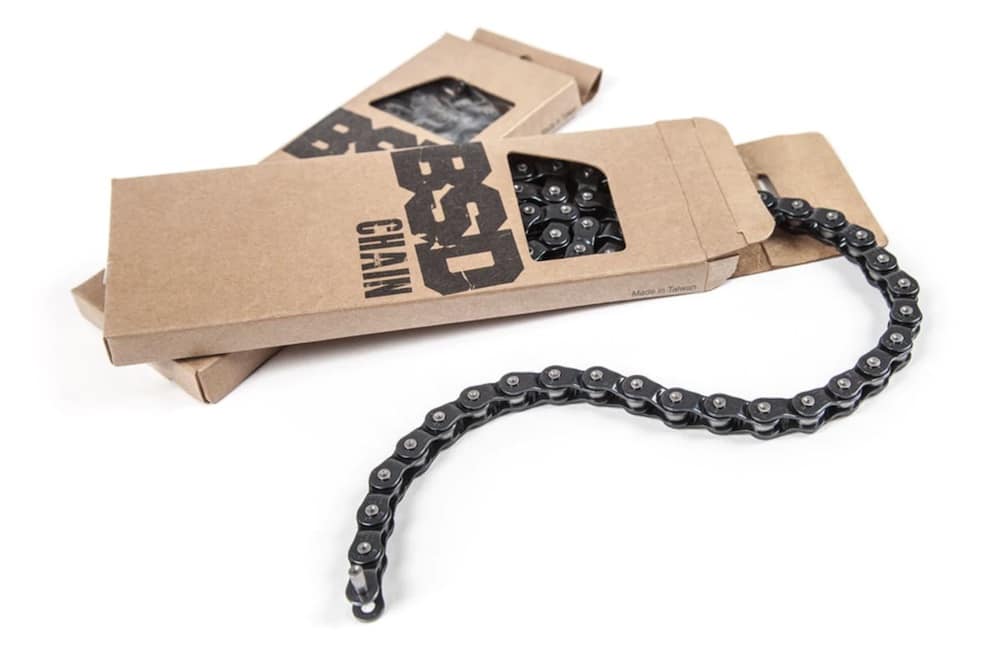 Here is BSD's submission into the BMX chain space with their 1991 Halflink Chain.
This one is available in sizes of both ½" as well as ⅛", comes with 96 links that have mushroomed pins, and weighs in at 430g.
1991 is available in black and chrome, and there are also BSD logos with BSD-1991 stamped into each link of the chain – details matter (at least for me).
Price: $26.99 (may vary)
GRAB YOURS
9. Primo 121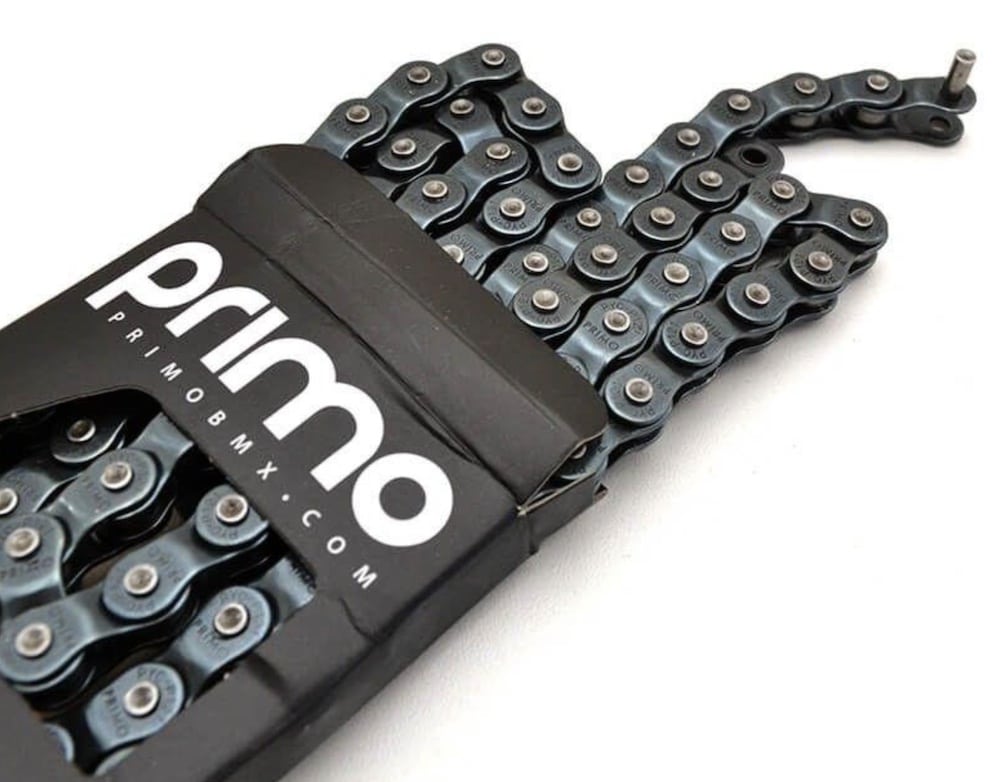 Primo's 121 is a half link chain that is heat treated with Primo's logo engraved into each link. And according to Primo, there are "More links than Zelda."
The chain comes with 85 links (weighs 420g) and is available in black, chrome, and raw.
Price: $28.00 (may vary)
GRAB YOURS
10. Mission Half Link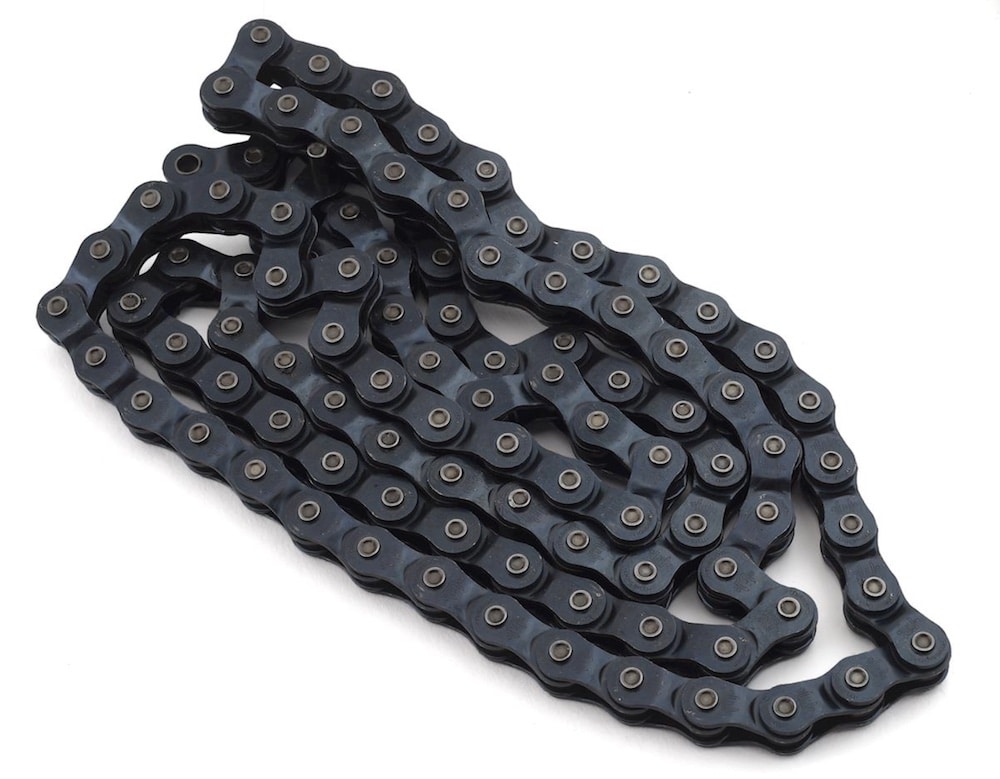 Apparently there are two chains in BMX with the Supreme chain.
The United Supreme chain is a half link chain featuring a teflon rust-proof coating and mushroomed pins.
This one is available in black or chrome and weighs 432g.
Price: $37.99 (may vary)
GRAB YOURS
11. Eclat Stroke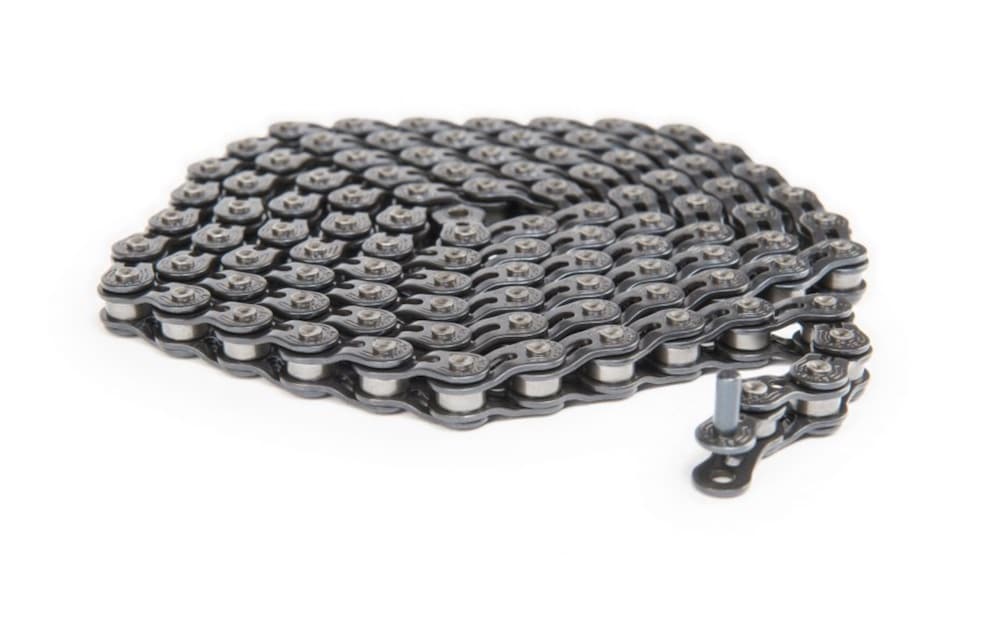 Here is the Stroke chain from Eclat. This is a half link chain with hollow plates that weighs in at 421g.
It is available in sizes of ½" and ⅛" and has color options of black, silver, and gold.
Price: $34.99 (may vary)
GRAB YOURS
FAQs About Half Link BMX Chains
What is the purpose of a half link chain?
A BMX half link chain has two benefits: 1) It's stronger, and 2) it allows for fine-tuning the rear wheel placement. You can remove or add a single link, which offers a lot of room to play with the chain length.
Why are half-link chains better?
Half link chains are better if you are more into street riding because the chain is much more robust (it usually has thicker links, which also makes it heavier). But the full link chain is excellent for any other riding style where hitting your chain isn't really a thing.
What size is a half link chain?
A half link BMX chain is 1/4 inch in size. But you can also expect half links in 1/2″ and 1/8″.
What direction does a half link chain go?
A rule of thumb: The outer part of the half link chain goes in the direction of pedaling. But more and more half links are done in a way that can go in both directions.
Does a half link chain have a master link?
No, but it has a master pin that's slightly longer than the rest for easy assemblage.
Is a half link an offset link?
Yes, generally speaking, a BMX half link chain is made of multiple offset links.
Was this article helpful?
Disclosure: The BMX Dude's content is free & reader-supported. I may earn a commission if you click & buy through my links. Your support helps me create the best content & make a difference. Thanks! 🤘