Are you looking for the best tallest BMX bars?
Many of my IG followers requested this collection, so here you go.
Unfortunately, there aren't that many high-rise bars available on the market.
However, the ones that are WILL do you well.
BSD, S&M, Shadow and WTP took the leap and released bars that are above 10″.
If you're rocking a 10″ bar and want to go higher, try adding some spacers first just to see how it feels.
It's a pretty big gap from 10″ to 11″, but you can transition with BSD's High As Hell!
This post covers:
GO. BIG. OR. GO. BIG.
Best High-Rise BMX Bars For Tall Riders
1. S&M 12 Step (12″)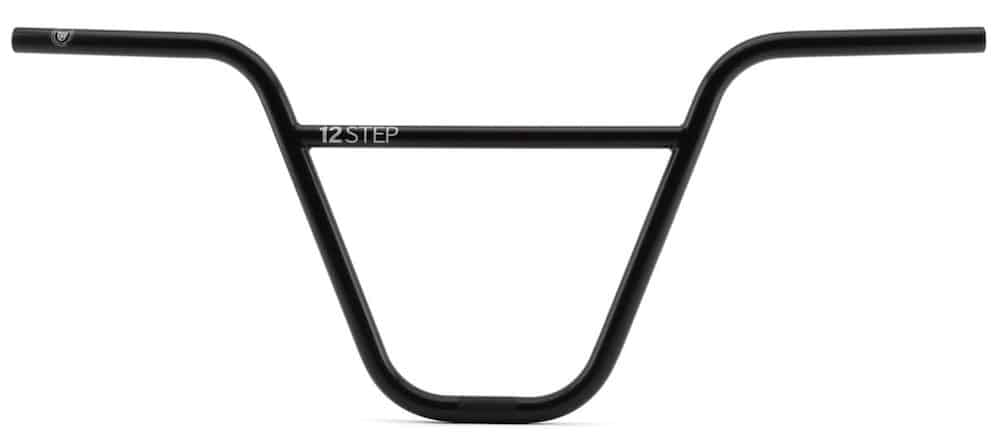 What everyone thought was a joke became a reality – the S&M 12 Step handlebar. In other words, a 12″ BMX bar, which is the tallest you can currently get on the market.
Some say it's absurd; some say it's genius.
If you are really tall, then the 12 Step bar will work wonders. And, in my opinion, this one looks best on a 22-inch BMX bike. But you can put it on any bike that works best for your – even a cruiser!
To achieve insane strength, S&M went with extra thick, straight gauge tubing with a 0.083″ wall. Moreover, the top bands are larger compared to smaller bars, which makes this big boy even stronger.
12 Step is definitely an attention-grabber.
12 Step specs:
Rise: 112″
Width: 32″
Backsweep: 11°
Upsweep: 1.5°
Weight: 2.9lbs
Price: $79.95 (may vary)
GET YOURS
2. S&M Elevenz (11″)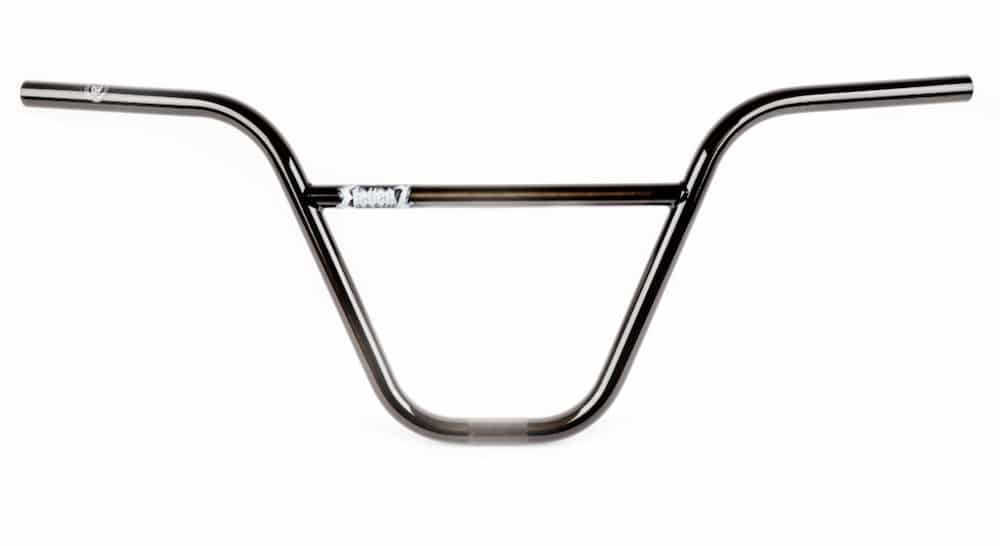 S&M is one of the first, if not the first, BMX brands that released an 11″ bar. Everyone went crazy about the idea, but there are still very many riders who enjoy it!
This is the heaviest bar on the list because of its straight gauge construction, which also makes it the strongest.
Drop everything and pick S&M's Elevenz bar if you want an extremely reliable 11″ BMX bar.
It also comes in multiple colors, ensuring there's something for everyone. (FYI: Some colors sell out quickly, so be fast!)
Elevenz specs:
Rise: 11″
Width: 30″
Backsweep: 11°
Upsweep: 3°
Weight: 2.87lbs
Price: $69.95 (may vary)
GET YOURS
3. S&M FU-Bars (10.5″)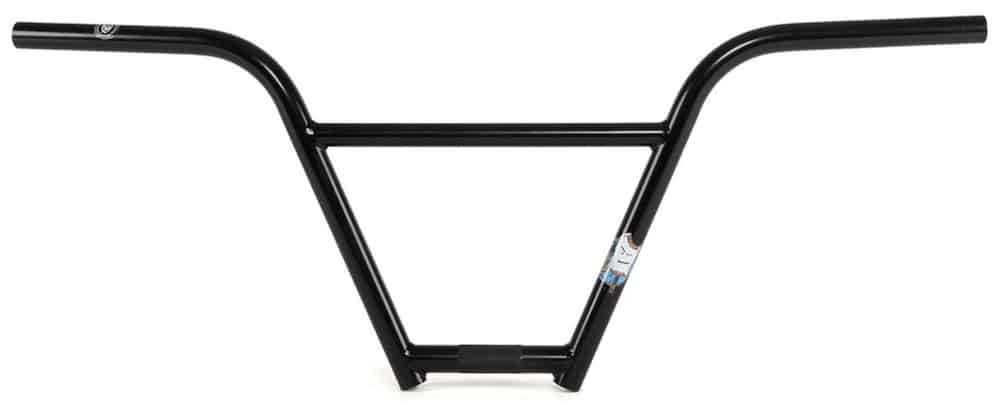 If you'd like to go high but are unsure yet if switching to an 11″ bar would be a good idea, then I highly recommend picking S&M FU-Bars in 10.5″.
This is the grandest version of Charlie Crumlish's signature bar (also available in 8″, 9″ and 10″), and it's meant for the tallest of riders. But if you're like me, who likes the front end high, then go ahead; it might be the perfect solution – especially if you like the four-piece bar look.
It is made of straight gauge 4130 chromoly that's 4Q baked (aka heat-treated), which gives the bar the necessary strength.
FU-Bars specs:
Rise: 10.5″
Width: 30″
Backsweep: 10°
Upsweep: 1.5°
Weight: 2.93lbs
Price: $99.95 (may vary)
GET YOURS
4. Shadow Conspiracy Vultus SG (11″)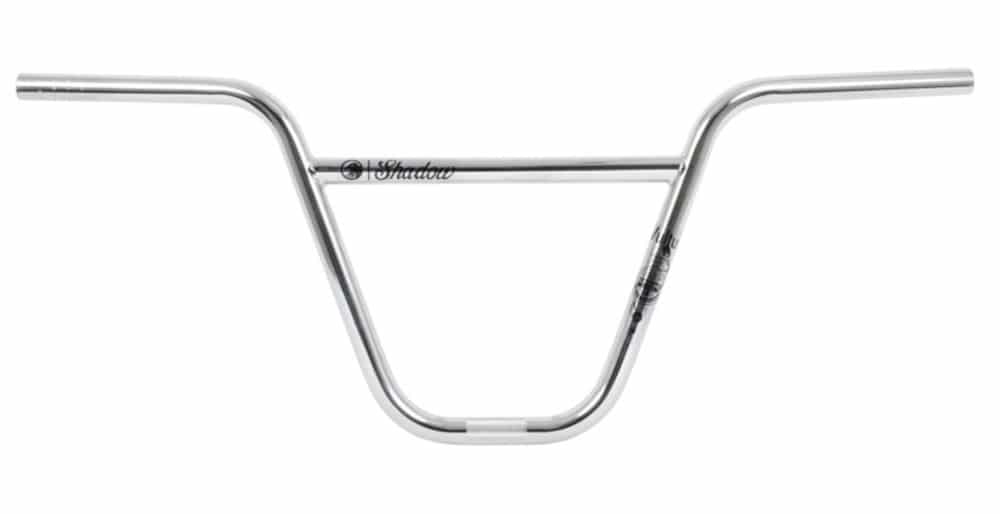 Shadow also saw the need for tall BMX bars, so they joined the tribe with the 11″ version of their widely popular Vultus SG bar.
This is another straight gauge handlebar made of heat-treated chromoly, guaranteeing the strength you need.
What's unique about the Vultus SG bar is the teardrop crossbar, Shadow's signature detail that's not just for the aesthetics but improves the bar's overall toughness.
Vultus SG specs:
Rise: 11″
Width: 29″
Backsweep: 12°
Upsweep: 3°
Weight: 1.9lbs
Price: $69.99 (may vary)
GET YOURS
How To Pick A Bar For A Tall Rider?
Even if you're really tall, I wouldn't recommend jumping straight to purchasing a 10″+ BMX bar.
If you haven't yet tried, place as many spacers as possible and see how the new height feels. (You can also first try a friend's bike if he has a taller bar.)
And if this doesn't work, it's time to get a new bar.
Honestly, I'd go straight to 11″ if you are really tall.
Why?
If you're currently using spacers and the new bar feels too high, remove the spacers, and you're good to go.
On the flip side, if it's still too low, you can get a BMX top load stem with at least a 30mm+ rise.
Advice: Don't go straight to riding at the same level as you do if you raise your front end for 1″+. Get the feel of it first (at least the first session) and avoid injuries.
FAQ About Tallest BMX Bars
Are taller bars better for BMX?
Yes, if you are a taller person. High-rise bars make the bike lift easier.
And you'll have less back pain because you won't be so bent over if you're taller.
But it's worth testing raising your front-end with spacers before switching to anything above 10″. (Just to be sure it's something that'll work for you.)
DON'T MISS MY COLLECTIONS OF THE:
Was this article helpful?
Disclosure: The BMX Dude's content is free & reader-supported. I may earn a commission if you click & buy through my links. Your support helps me create the best content & make a difference. Thanks! 🤘