Are you searching for the best BMX chains?
I created a list of the ultimate half-links and full-links.
Which is better?
It's more or less a personal preference, but I still recommend half link BMX chains.
Not only do they look better, but I find them also a lot stronger.
So far, I haven't broken any half-links but broke multiple full-links.
This post covers:
Note: You may also be interested in my best BMX sprockets collection.
And if you do a lot of sprocket stalls and grinds in general, then I recommend getting a guarder sprocket to protect your chain.
Best Half Link BMX Chains
1. Shadow Interlock Supreme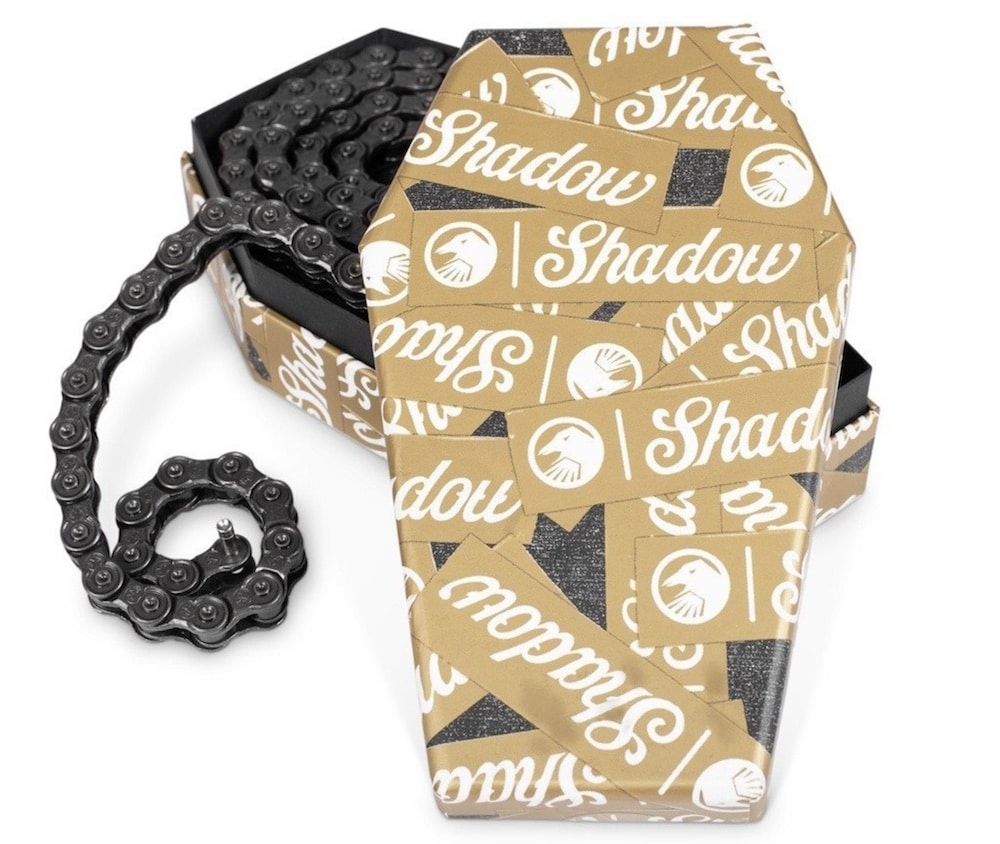 Shadow's Interlock chain is around for a VERY long time, but it was time for a change.
That's why they decided to release an updated version, the Supreme version, aiming to create an even tougher chain.
The Interlock Supreme chain is like the Interlock chain on steroids.
Not only is the look better, but the chain sits on the sprockets a lot better, plus, it's much stronger than the original
Shadow Interlock Supreme chain has a 1,500kg tensile strength and comes with a lifetime warranty.
Light. And. Strong.
Weight: 315g
Price: $64.99 (may vary)
GRAB YOURS
2. Shadow Interlock Chain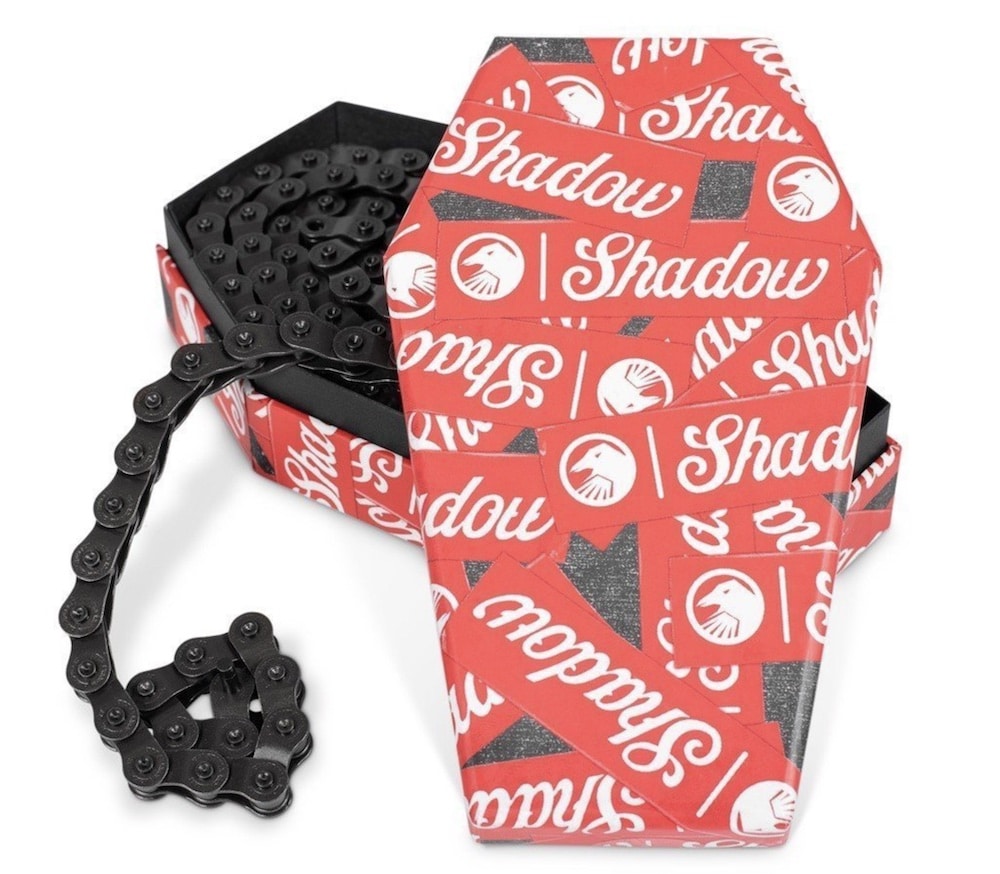 The Shadow Interlock chain is a legendary BMX half link chain with a long history. I am still the biggest fan of the Interlock chain (already had three!).
This is still one of the strongest chains in the BMX game with a tensile strength of 1,300kg.
According to Shadow, the Interlock v2 boasts the highest tensile strength of any 1/8th chain in BMX, except for their Supreme version of the Interlock.
It features mushroomed pins and is compatible with 8t drivers and up.
A BMX staple!
Weight: 430g
Price: $37.99 (may vary)
GRAB YOURS
3. Cult Halflink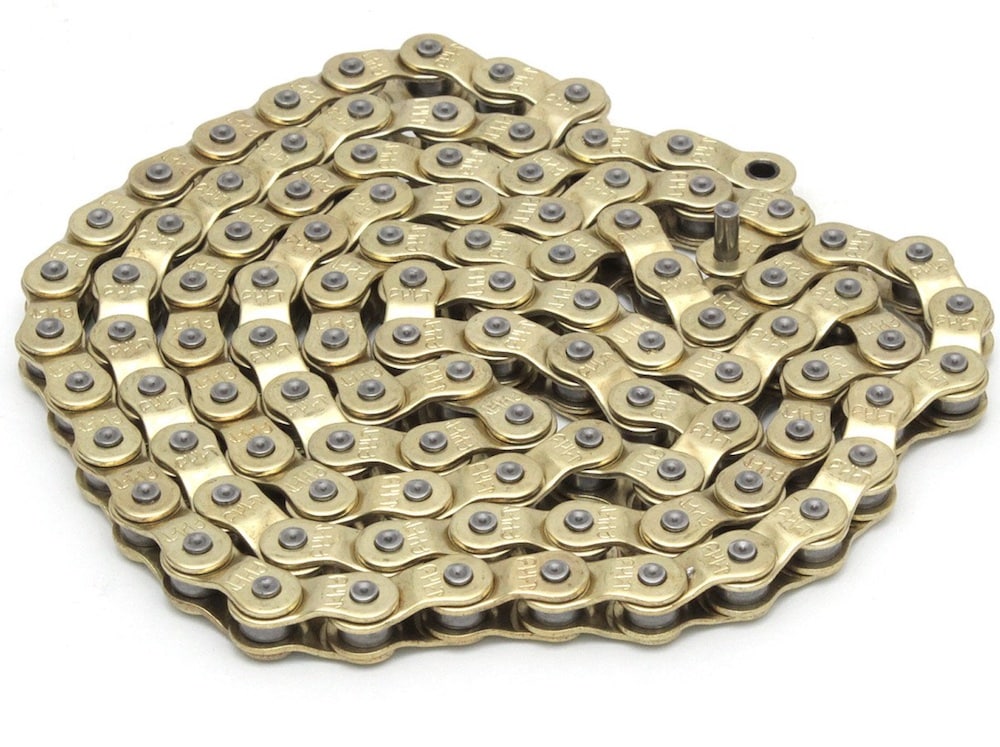 Cult BMX takes care of both half and full link chains (see full link version below).
The Halflink is regular half link with engraved Cult logos.
If you need a simple and reliable half link BMX chain and happen to be a Cult fan, well, what are you waiting for?
This is the chain for you!
Weight: 320g
Price: $29.99 (may vary)
GRAB YOURS
4. Odyssey Bluebird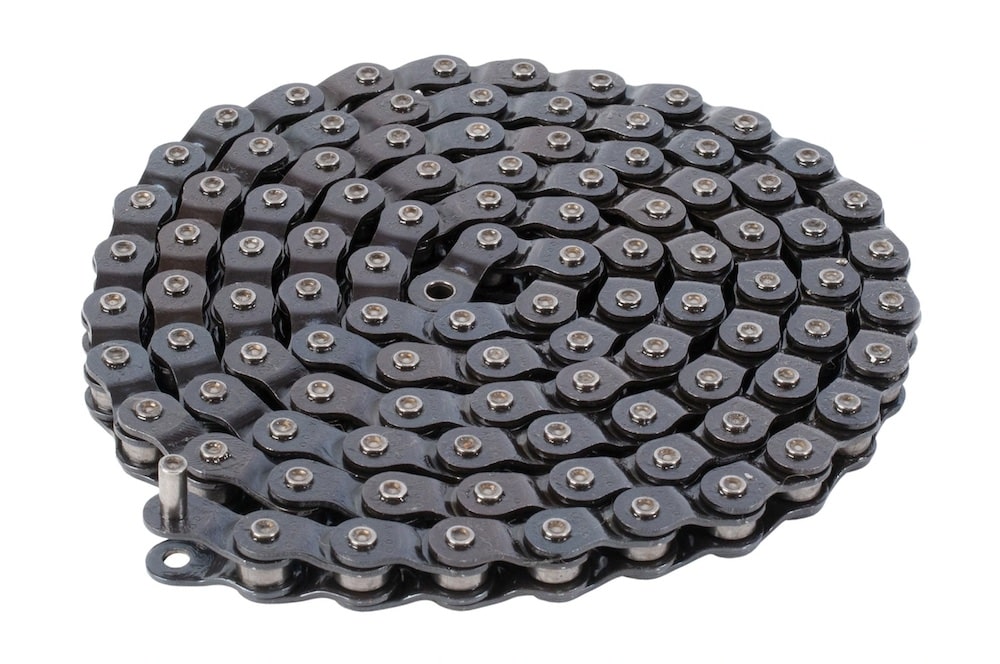 Odyssey's Bluebird chains are basics in BMX for a while. All versions have Chromoly plates and hardened pins for additional strength.
The Bluebird chain has 100 links and comes in black and silver.
What's unique about this chain is that it comes in ½" as well as ⅛" sizes.
There is also a full link version for anyone who prefers it over a half link (scroll down for specs).
Weight: 440g
Price: $26.99 (may vary)
GRAB YOURS
5. Salt Warlock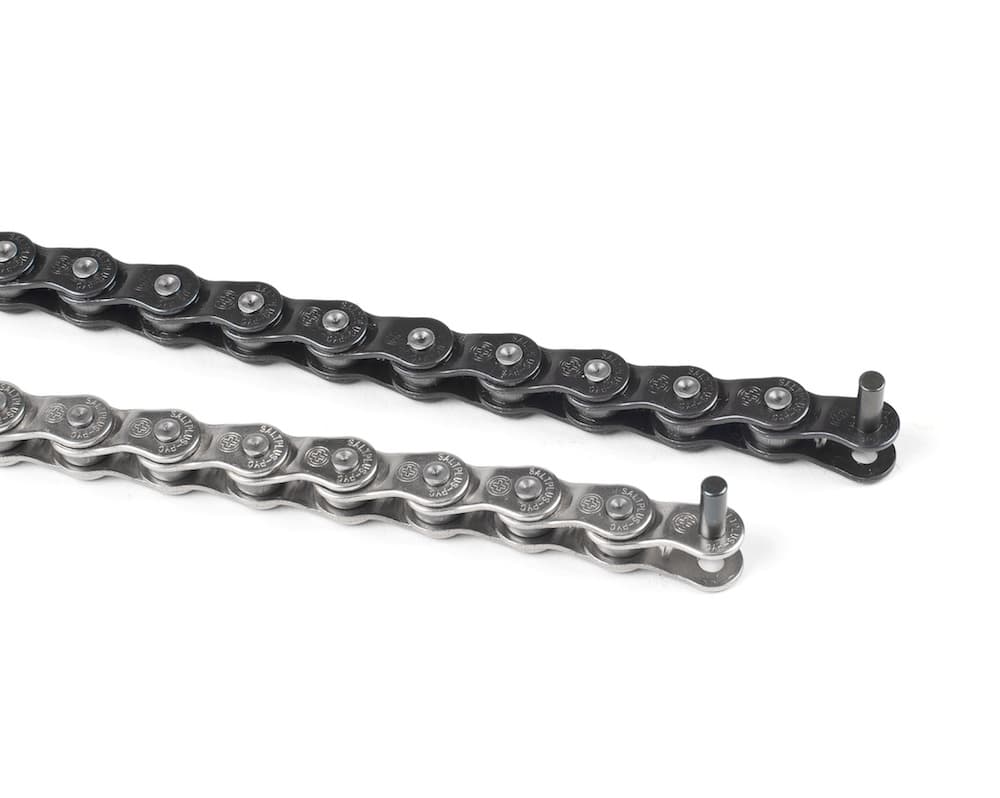 Salt's Warlock half link chain is available in ½" and ⅛" with Salt logos embossed on each plate. Note: This chain has 100 links.
You can get the Warlock chain in black, chrome, gold and oil slick. I'm really impressed by the oil slick colorway.
Weight: 447g
Price: $47.99 (may vary)
GRAB YOURS
Best Full Link BMX Chains
Remember, there are many BMX brands that use KMC chains, so I see no point in adding them all to the list – because they're all the same.
But here are the best – I recommend Odyssey Bluebird because it was tested extensively by multiple of my dudes and all vouch for it.
6. Odyssey Bluebird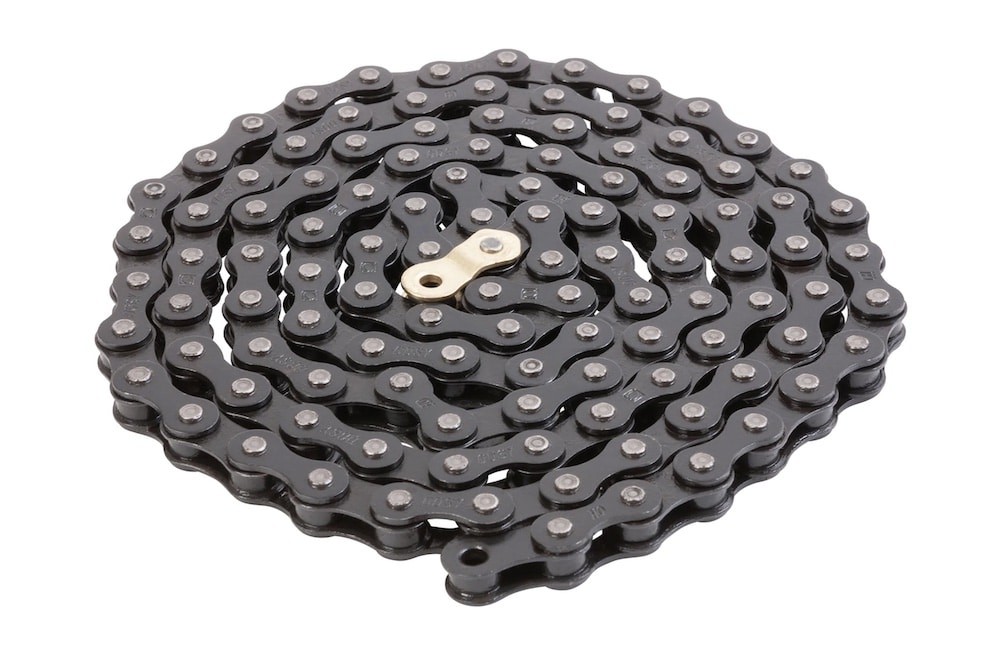 Similar to the Bluebird half link chain, this one is exually sturdy and will last a long time.
Odyssey achieved this by building the chain using heavy-duty plates and pins.
What's pretty unique about the Bluebird full link chain is that it comes with a half link pre-installed on one side. This allows you to find that perfect length much easier. (But you can also remove the half link if you want.)
Available in black, silver, gold, blue, white and red.
Weight: 470g
Price: $16.99 (may vary)
GRAB YOURS
7. Mission 510 Chain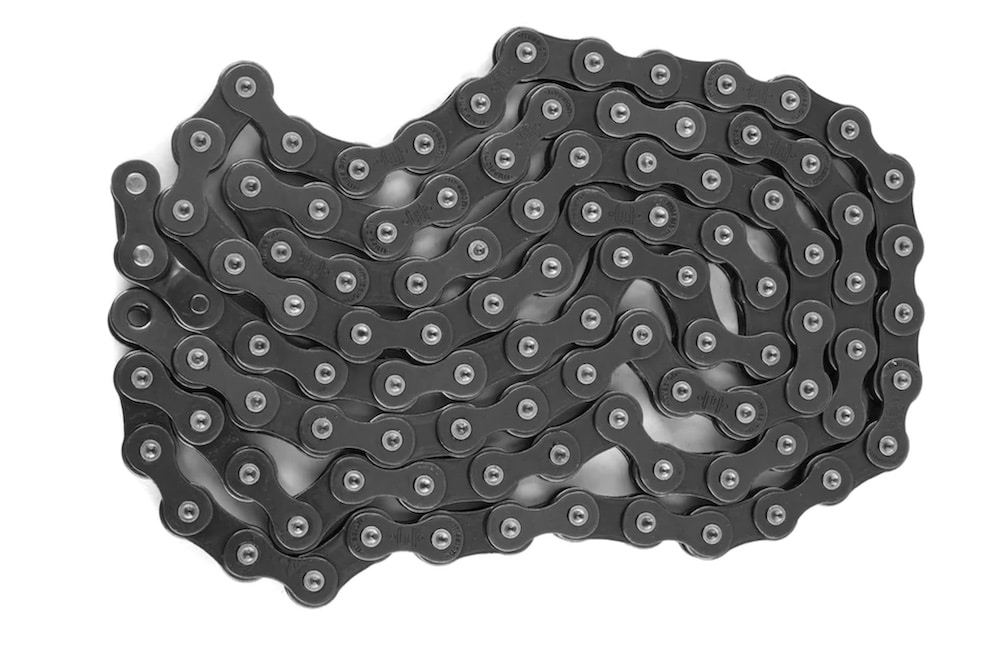 The Mission 510 full link chain comes in various vivid color options if you want to spice things up on your bike.
It has heat-treated pins and thicker side plates, giving the chain additional strength needed for BMX riding.
Half link and master link are pre-installed for your convenience.
Available in grey, purple, black, white, green, dark blue and red. (Teflon coating allows a longer-lasting color resistance.)
Weight: 396g
Price: $24.99 (may vary)
GRAB YOURS
8. Cult 510 Freestyle Chain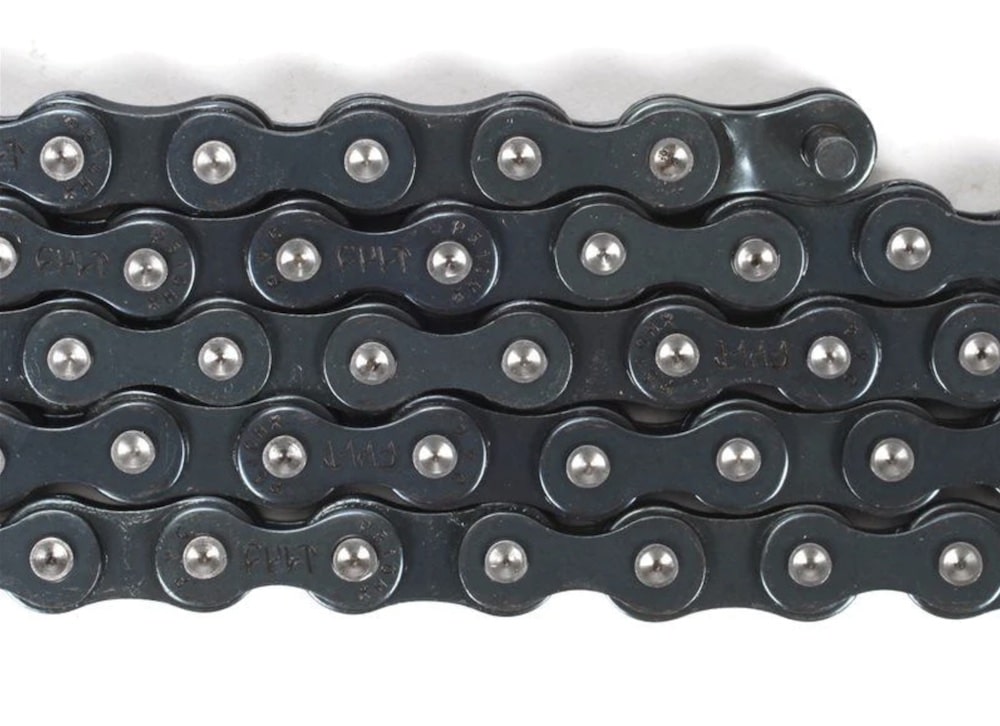 Cult 510 Freestyle chain is a KMC chain but with custom Cult logo stamped into outer plates.
Pins are heat-treated and riveted to prevent chain breakage.
Also, the side plates are thicker than normal, which adds to the overall chain strength and minimizes stretching.
Half link comes pre-installed out-of-the-box for fine chain length adjustment.
Cult's 510 Freestyle chain is available in gold, chrome and black.
Weight: 380g
Price: $14.99 (may vary)
GRAB YOURS
How To Install A BMX Chain
I want to share with you a simple step-by-step guide that's applicable to both half- and full-link chains.
Remember, a chain straight out-of-the-box will never be the right fit for your bike.
The chain is always longer, which gives you a few extra links in case it brakes and you need to replace them.
Step 1:
Loosen your back wheel and put the chain on the sprocket and rear driver to get the right length.
You measure the right length by pulling together both ends, cutting where the end meets the excess.
Step 2:
The next step is to pick up your chain breaker and push the pin through where you want to cut the chain.
When you use the chain breaker, ensure everything is aligned, so you don't damage the chain.
But this isn't as important one you're disassembling the chain as when you're assembling it.
The pin should go in and out somewhat smoothly but you still need to put some pressure on it by tightening the tool.
Attention: Don't push the pin all the way through! (It'll make your life a lot more complicated.)
It's best to leave 1-2mm of the pin in the side plate for easier assemblage.
Important: Make sure you have an inner and an outer link to join the chain. Two inner or two outer links don't fit.
I cut it wrong SO MANY times – not thinking what I'm doing, lol. I just want to bring this up, so you don't make the same mistake.
Step 3:
Once you've cut the chain, put it around your rear driver and sprocket, press it together and use the chain breaker tool to press the pin through.
Note: You don't necessarily need to put it on the chainrings first. You can put it on later.
But make sure it goes "through" the frame the right way, so you won't need to cut it again.
Because a chain always comes with the "master" pin, always use it to assemble and disassemble it using this pin.
Why?
Because it's slightly longer and makes the whole process a lot simpler.
Step 4:
You're now ready to tension the chain by pulling your rear wheel back and tightening the drive side first.
This allows the wheel to stay centered once you tighten the other side.
Or if your frame has built-in chain tensioners, use those to stretch the chain and center the wheelset.
I personally don't like chain tensioners because the process of tightening the drive side first is so much quicker.
Step 5:
You're ready to ROLL!
Finally, if you're installing a chain and don't know how long you'd like your CS to be, check my guide on what's the best BMX chainstay length.
Was this article helpful?
Disclosure: The BMX Dude's content is free & reader-supported. I may earn a commission if you click & buy through my links. Your support helps me create the best content & make a difference. Thanks! 🤘