I've talked to many dudes who were seeking a new pair of solid 22 inch BMX forks, and these are the ones I recommended to all of them.
Unfortunately, there aren't yet many fork options for 22″ wheels on the market, but you cannot go wrong with these.
And if you want to save money on forks by going with a high-tensile steel version – please DON'T!
ALWAYS go with heat-treated Chromoly forks – you'll thank yourself later!
They are MUCH safer because they are nearly impossible to break.
I vouch for these 100%!
Not only are they strong AF, but they are an excellent upgrade that will contribute to your faster progression.
Take your BMX riding skills to the next level with absolute confidence, thanks to solid forks you can trust.
Best 22″ BMX Forks For Street, Park & Trails
1. S&M 22″ Widemouth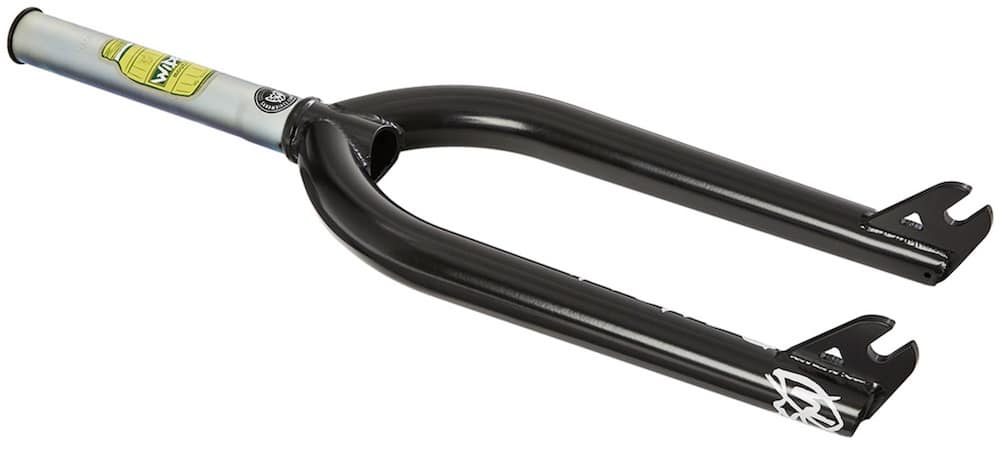 I'm sharing The S&M Widemouth forks first because they offer the most options for every rider.
And they are called like that for a reason – because they fit the fattest tires you can get, thanks to the larger curve radius.
(By the way, you may also be interested in learning whether or not BMX tire width even matters.)
More often than not, riders prefer a thicker tire in the front and a slimmer one in the back, especially when it comes to 22″.
Even if you like to switch tires, going from fat to slim occasionally, Widemouth forks unlock all THE FUN of doing so.
What I also like about these 22″ forks is that they come in 26mm and 33mm offsets.
If you want a more responsive bike, go with the shorter one, and for a more stable bike, go with the longer offset.
But you can learn more about that in my beginner's guide on BMX fork offset.
Many 22″ bike riders out there prefer responsiveness (26mm) for technical street riding. And then there are those riding trails and transitions that need extra stability (33mm).
You see, Widemouth forks have something for EVERYONE.
Another benefit is the 173mm steerer tube (which S&M beefed up to make it even stronger).
Why? Because you can have an 11mm higher front end compared to the other two forks on this list. But you can also raise it with a top load stem or a 10 inch bar.
If I were to pick forks for a 22″ wheel BMX bike, I'd go with Widemouths every day!
Widemouth fork specs:
Steerer Length: 173mm
Offset: 26mm, 33mm
Max Tire Clearance: 2.45″
Weight: 37.4 oz
Price: $209.95 (may vary)
GET YOURS
2. S&M 22″ Pitchfork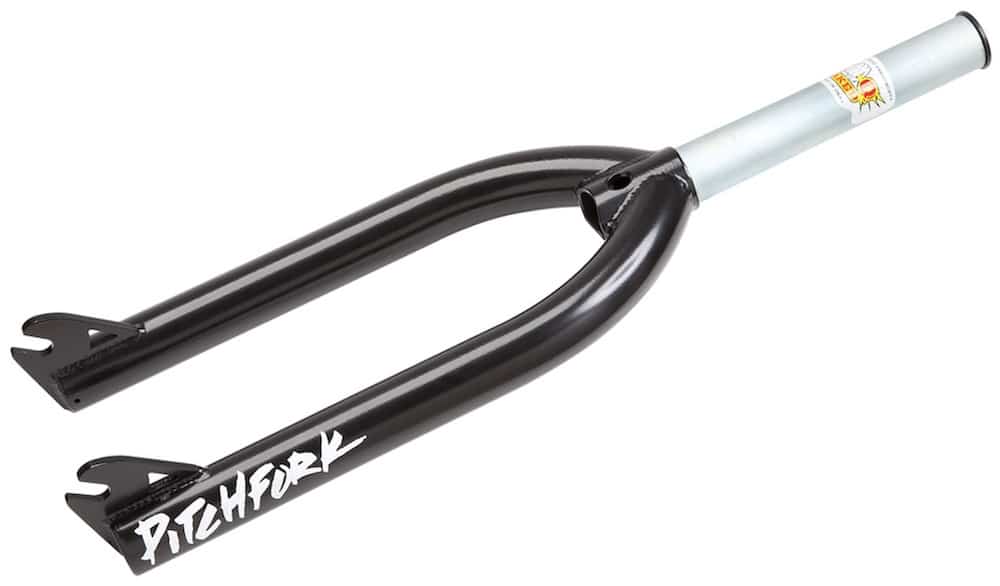 The S&M Pitchfork forks are around for a LOOONG time – we could almost call them the staple forks of BMX.
It's definitely one of the more recognizable forks in the BMX scene.
And all for a good reason – because they are strong and long-lasting.
They were first available for 20″ wheels, but S&M later made them available in various sizes, including 22″.
I had the 20″ version for a few years, and even when I gave them away, they lasted for another few years.
They are slightly heavier, but this only means one thing – LONGEVITY!
SO. EPIC.
Pitchfork offers enough clearance for the modern tires (but I don't recommend lacing it to the thickest ones – go with Widemouths instead).
The offset is 33mm, which gives you all the necessary stability you want.
But this doesn't mean you cannot do any technical stunts because you can – they may just require a little extra effort.
The Pitchfork is meant for you if you want a classic fork.
Pitchfork fork specs:
Steerer Length: 162mm
Offset: 33mm
Max Tire Clearance: 2.4″
Weight: 38.4oz
Price: $209.95 (may vary)
GET YOURS
3. S&M 22″ Pitchfork XLT

If you care about your bike's weight, I have a solution for you – The S&M Pitchfork XLT forks.
While the general specs are the same as the original Pitchforks, the tapered legs are one of the main differences.
These allowed S&M to reduce the weight by around 2.5oz, which is a big deal for someone looking at the overall bike weight.
But for this reason, Pitchfork XLT forks aren't as strong, so I'd avoid using them for any type of burly riding.
But if you're into riding parks, trails and transitions (even light street), then these are a FANTASTIC investment.
You can also go really fast with them, thanks to the 33mm offset, which equips you with more stability.
Pitchfork XLT fork specs:
Steerer Length: 162mm
Offset: 33mm
Max Tire Clearance: 2.4″
Weight: 35.9oz
Price: $169.95 (may vary)
GET YOURS
Was this article helpful?
Disclosure: The BMX Dude's content is free & reader-supported. I may earn a commission if you click & buy through my links. Your support helps me create the best content & make a difference. Thanks! 🤘