Are you searching for the best Shadow Featherweight helmet review?
I'm stoked to bring it to you after giving it a proper test during several extensive sessions.
Note: I'm one of the pickiest people when it comes to helmets that you know.
Seriously, I've tested SO many because I'm searching for the perfect one.
Is it Shadow Conspiracy's?
Yes and no.
BTW: You can get it in three versions: The classic Featherweight version, the Matt Ray version and the Big Boy version.
The Shadow Conspiracy Featherweight Helmet Review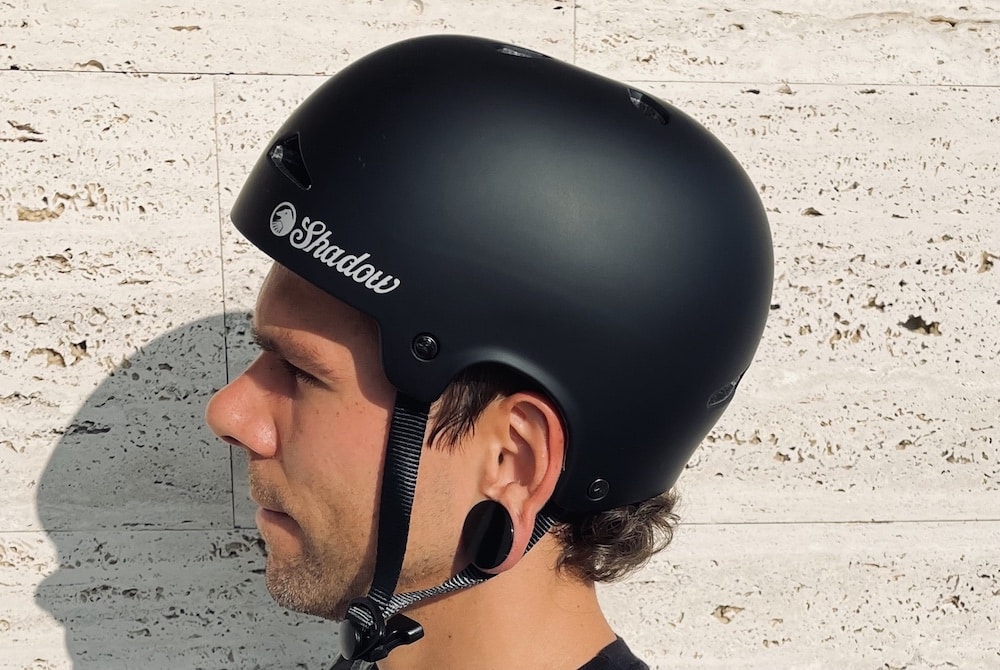 When I received the package in my hand from the postman, I couldn't believe HOW LIGHT it was.
I thought, "Did they forget to add something?"
And I didn't even have only the helmet in the package, which surprised me even more.
Yup, that's why this helmet is called Featherweight.
1. Weight
I owned Pro-Tec helmets, Fuse, TSG and other BMX helmets, but none was as LIGHT (SM/MD (318g), LG/XL (340g)) as this one.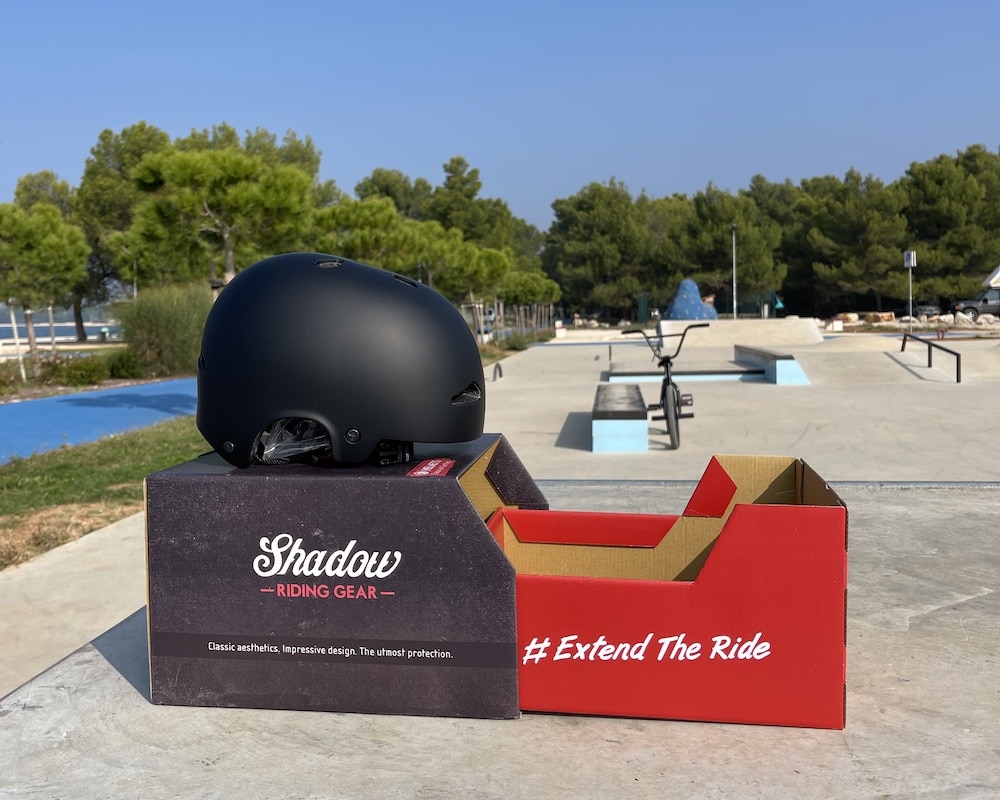 It almost comes down to the point: Does it even protect your head?!
Guys over at The Shadow Conspiracy tested it thoroughly for CPSC and EN 1078 standards – approved!
They wanted to replicate the skate helmet (the non-certified) but make a certified version.
MAJOR success!
However, there's one caveat: If you crash really hard, you'll want to replace the helmet with a new one.
Why? Because the helmet won't offer 100% protection anymore.
But that's something I recommend you do with any other helmet you use.
Weight: 5/5
2. Fit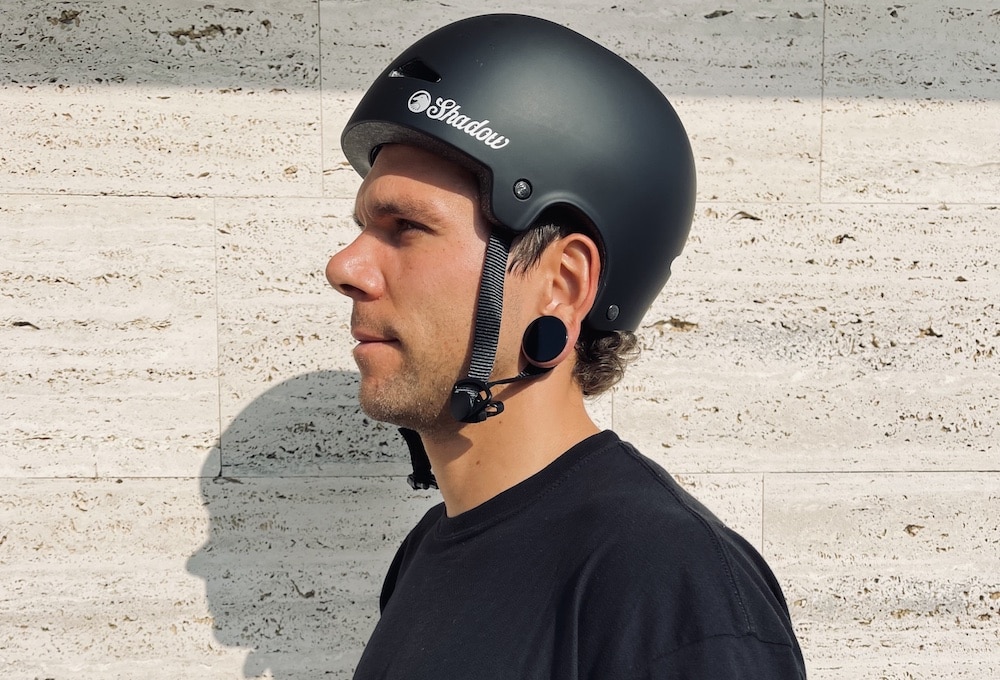 I really like that the Shadow Featherweight helmet has a DEEP fit.
Instead of having the feel of the helmet sitting on top of your head, this one fits around it.
You really feel the protection just by wearing it.
But because it's so lightweight, you'll FORGET it's on your head.
You also get two sets of padding (front, top & back), so you can customize the fit to your needs.
I especially like how well it feels on the back because it sits so low on the head.
Fit: 5/5
3. Ventilation
The helmet has ten ventilation holes, six on the top, two on the front and two on the back.
The top coffin cutouts look EPIC.
I like that the front flow-vents are pretty large because that's where you need the most cooling.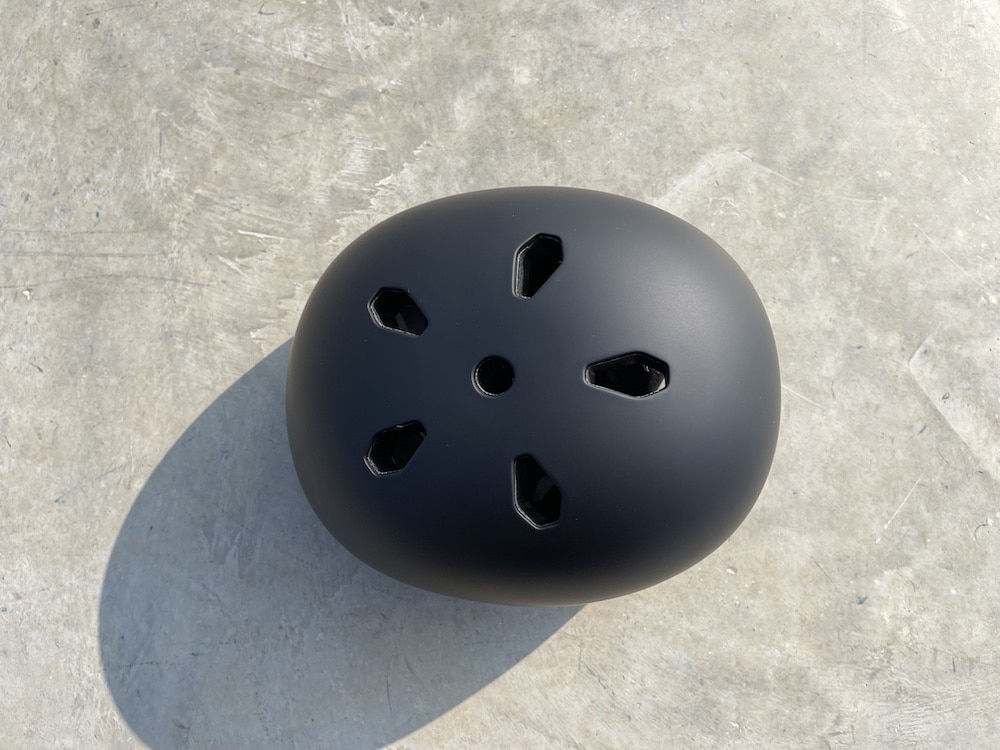 I think the back ones could be slightly lower, but that's a minor detail that doesn't impact the overall EXCELLENT helmet cooling you get with the Shadow Featherweight.
Ventialtion: 4.5/5
4. Look
While ventilation and cooling is the most important factor (okay, the quality of protection is first) of a good BMX helmet for me (because I get really hot fast), the second one is the look.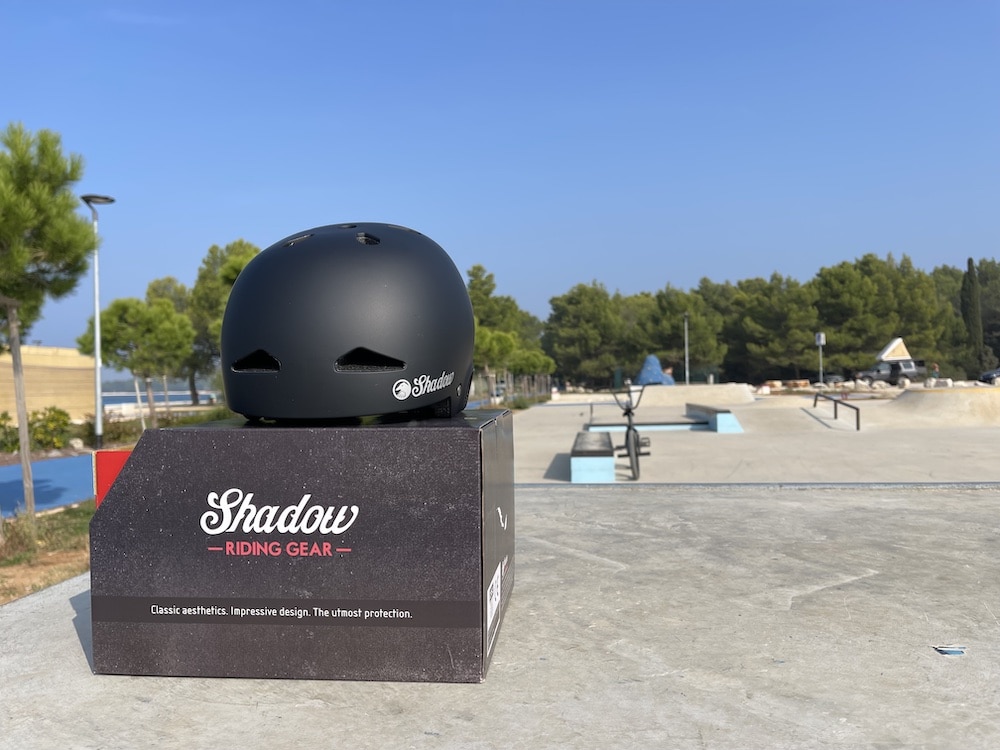 This is also one of the main reasons why so few riders actually wear a helmet – because it DOESN'T look stylish.
I feel you.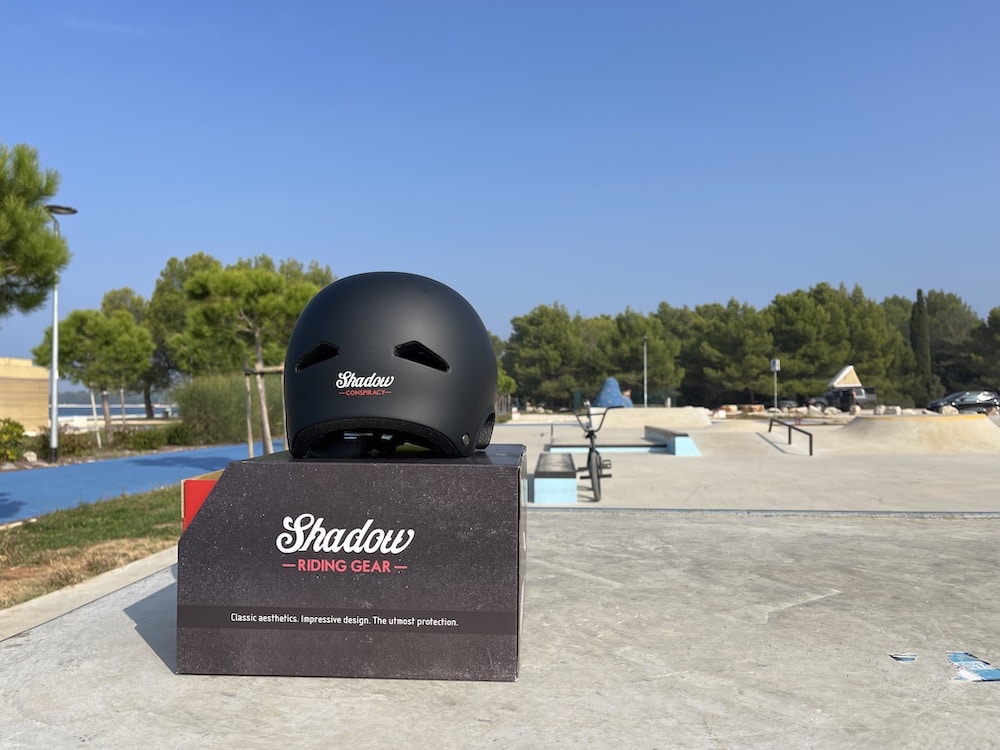 But that's when this helmet comes into play.
Because it sits very low on the head, it immediately looks much better.
Plus, it features a high-density EPS in-mold structure with a thin outer shell, which allowed Shadow to give it a unique look unlike any other helmet on the market.
Also, I think the matte finish makes a BIG difference.
Nope, I don't like gloss helmets (although I wore them for many years – because there wasn't any solid matte one available).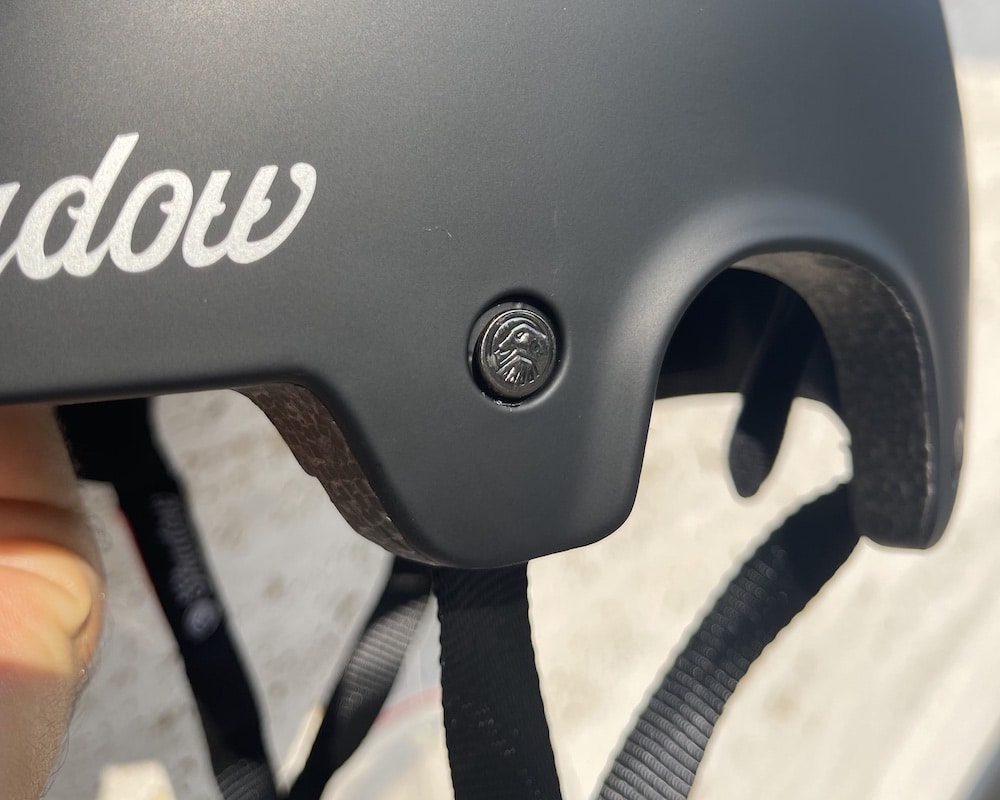 Another detail that contributes to the stylish look are the custom crown rivets.
The front area is the only thing that forced me to give this helmet a ranking of 4/5.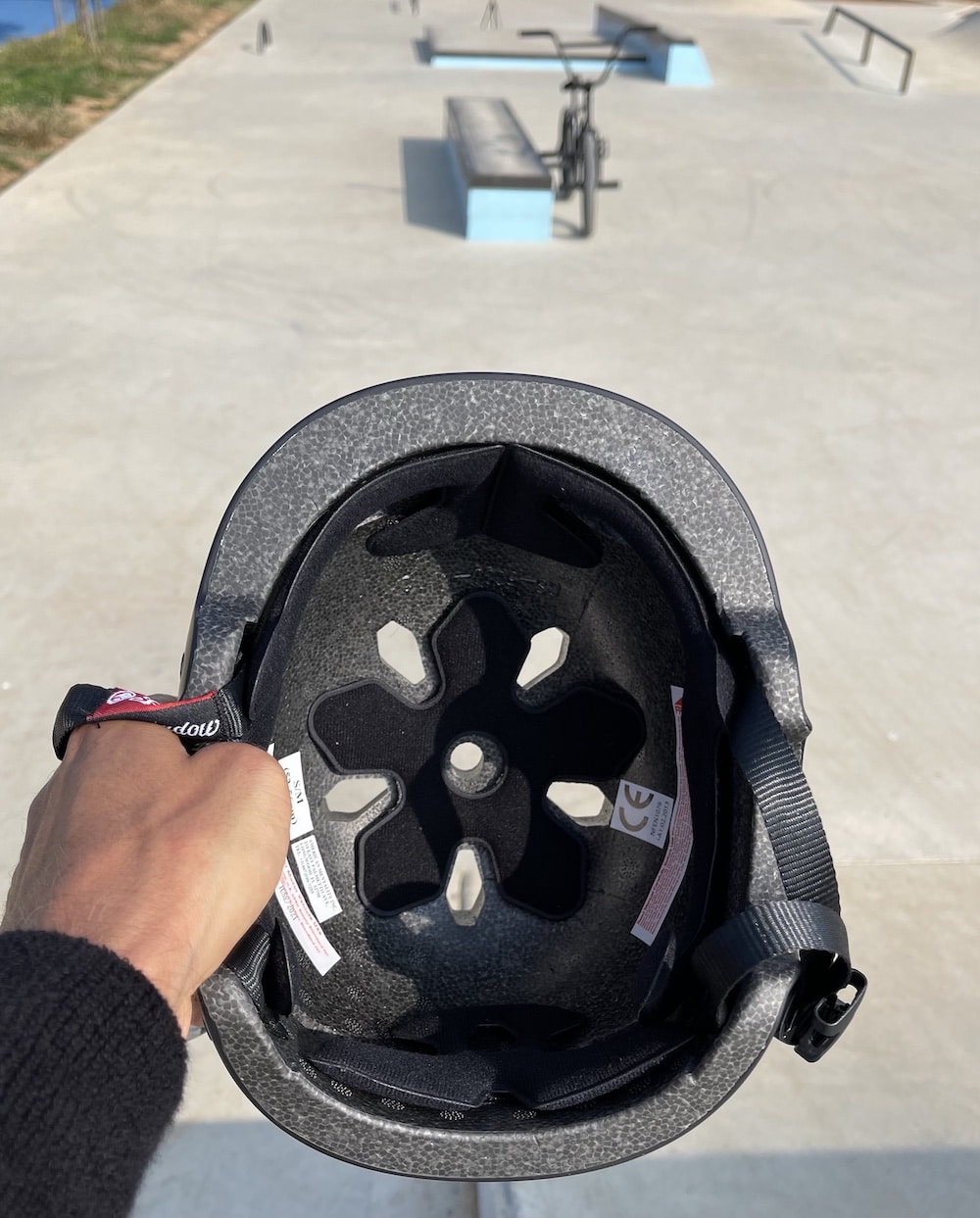 It's very bulky, to the point of making the helmet look larger than it could be.
But I think that comes as compensation for its extremely lightweight structure – they needed to make some areas "fatter" to be still certified.
Please note: This is more or less my pickiness. No one really noticed it in the first place after asking my friends about it.
Look: 4/5
Do I Recommend Shadow The Featherweight Helmet?
YES!
This is a SUPERB helmet that will keep you looking good and protected.
The ventilation is also great so that you can expect some nice cooling effect.
And the two padding sizes allow you to find the perfect fit much easier.
Not to mention, you'll not even notice you wear a helmet because of how LIGHT it is!
I was driving back home from the skatepark when I noticed, "Oh heck, I still have my helmet on."
Shadow Featherweight Helmet Specs:
Extremely lightweight (SM/MD (318g), LG/XL (340g))
10 ventilation holes
Two colors (black & white) + Matt Ray & Big Boy
In-mold design (shell & hard foam are one piece)
2 sets of padding
Size (circumference): S/M (20.5-22″/52-56cm), L/XL (22-24″/56-61cm)
Crow rivets detailing
Price: $69.99+
GET FEATHERWEIGHT HELMET
GET MATT RAY'S
GET BIG BOY'S
Was this article helpful?
Disclosure: The BMX Dude's content is free & reader-supported. I may earn a commission if you click & buy through my links. Your support helps me create the best content & make a difference. Thanks! 🤘