Are you looking for the best BMX knee pads?
Welcome to my collection of the ultimate protection options that cover all riding styles.
Not just that, but they'll keep you stylish, even if you ride in slimmer pants.
As someone who cares about style (VERY MUCH), I do care about how protection is made.
Bulkier is a no-go.
But all the 8 epic ones that I have here are a yes-go.
I'm a fan of the Shadow Invisa Light Knee Pads because of their minimalist profile that make you look good even if you wear tight pants.
This post covers:
QUICK PICK:
Best BMX Knee Pads & Guards
1. Shadow Super Slim V2 Knee Pads

I've been told by many riders that they prefer the Shadow Super Slim V2 knee pads more than any other they ever tried.
After I put them on for the first time, they really feel good – under the pants. (But I prefer their even slimmer version that I listed below.)
And most importantly, they feel safe.
The Shadow guys put a lot of thought into these, making them one of the best on the market.
What I like about The Super Slims is that they are quite long, ensuring they stay in place. But they also have an elasticized cuff with a silicone print on the inside for anti-slippage.
There's an EVA pad on the inside of the knee that will make your legs whip-safe.
And the main area of this BMX knee pad features a motorsport-approved PU protector for additional safety.
Van Homan says it best: "Progression without pain."
Price: $55.99 (may vary)
GET YOURS
2. Space Brace Dennis Enarson Knee Pads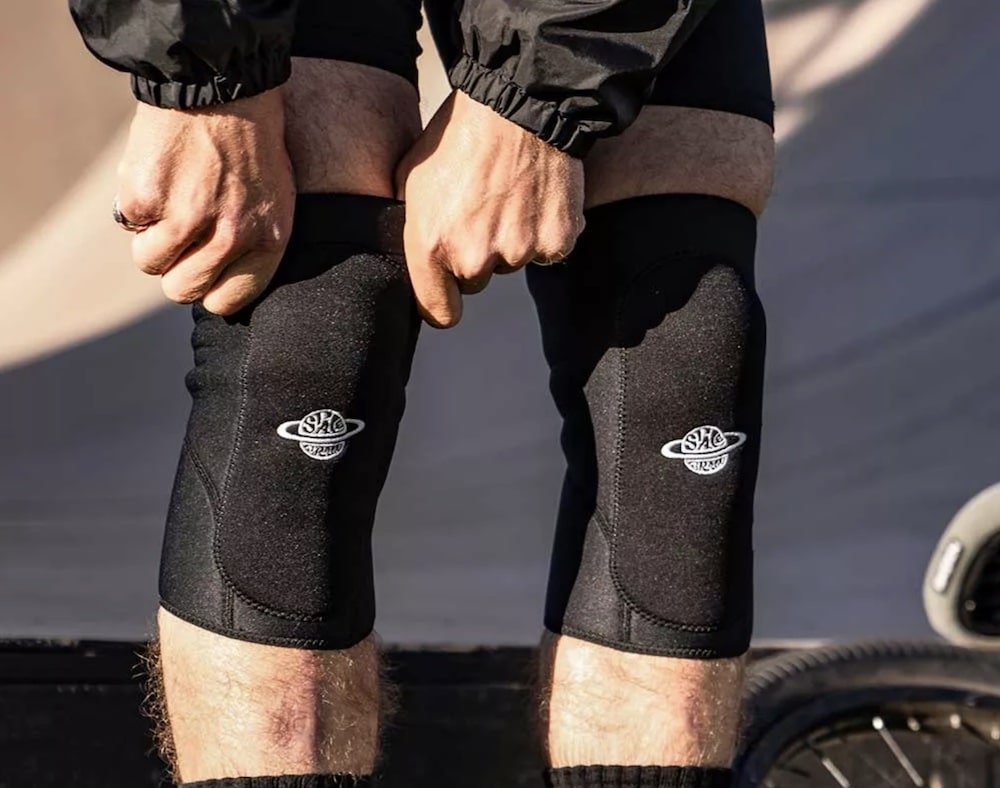 Here're the very popular Dennis Enarson signature Space Brace knee pads.
You know that if Dennis puts his name on a product, then it must be good. And when it comes to protection and his insane riding style, yup, these knee pads are epic.
These are more like a knee brace than a pad or protector. They feature a neoprene material that acts as a compression band to help improve blood flow and reduces swelling.
The Space Brace kneed pads are also designed without straps, so you just pull them on like a sock.
However, their minimal and slim shape with cushioning gel instead of plastic makes the pads very comfortable (low profile) to wear even during long sessions.
Note: You may need to adjust them from time to time (because of the strapless design) if you pedal a lot, but that's something that you'll need to do with almost all BMX knee pads.
Price: $69.99 (may vary)
GET YOURS
3. Shadow Invisa Light Knee Pads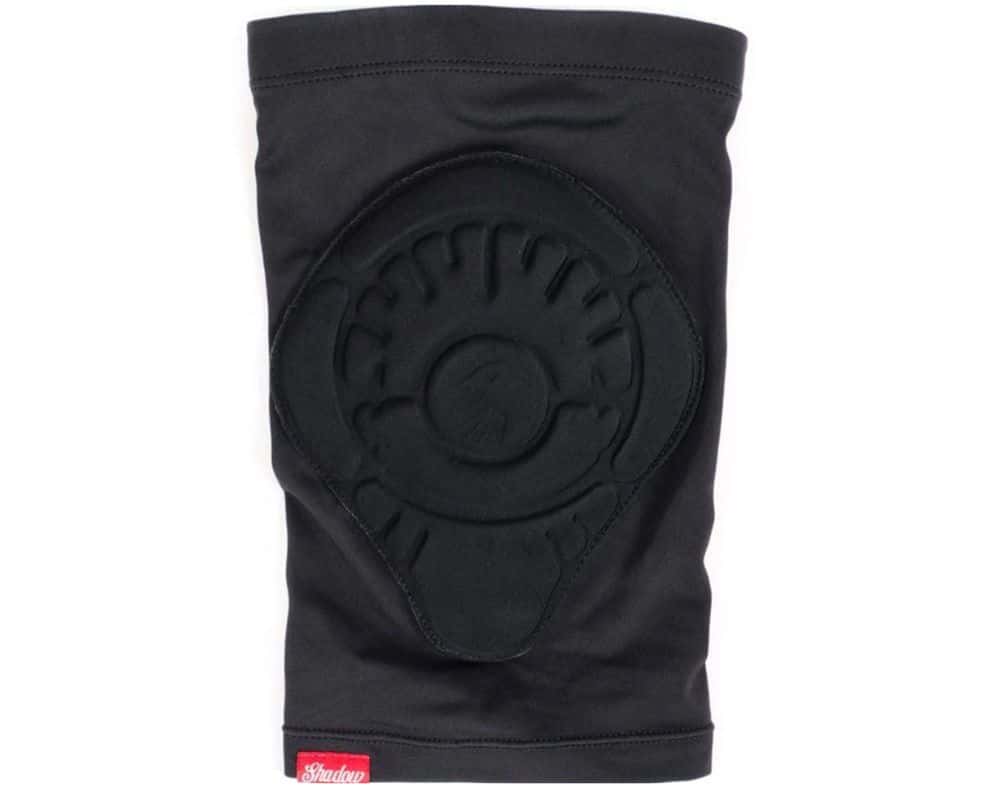 Okay, these are the ones that I briefly mentioned above, the slimmest and thinnest knee pads that fit under tight jeans without restricting knee motion and compromising your style.
Similar to the Shadow Invisa Light BMX ankle guards, they also feature comfortable lycra/micromesh construction with strategically placed double-layer impact foam on the knee cap and around it.
If you like to ride without pads but think from time to time that some protection would be great, then get these.
I feel you because I'm the same. I like the freedom of riding without pads, but I somehow feel "naked."
Luckily, Shadow's Riding Gear line finally took care of that with their Invisa Light knee pads.
But because their super slim and low profile, know that these protect lighter hits only.
For instance, they're not recommended for vert riders. But great for street, park and trails!
I LOVE these!
Price: $34.99 (may vary)
GET YOURS
4. Fuse Alpha Knee Protector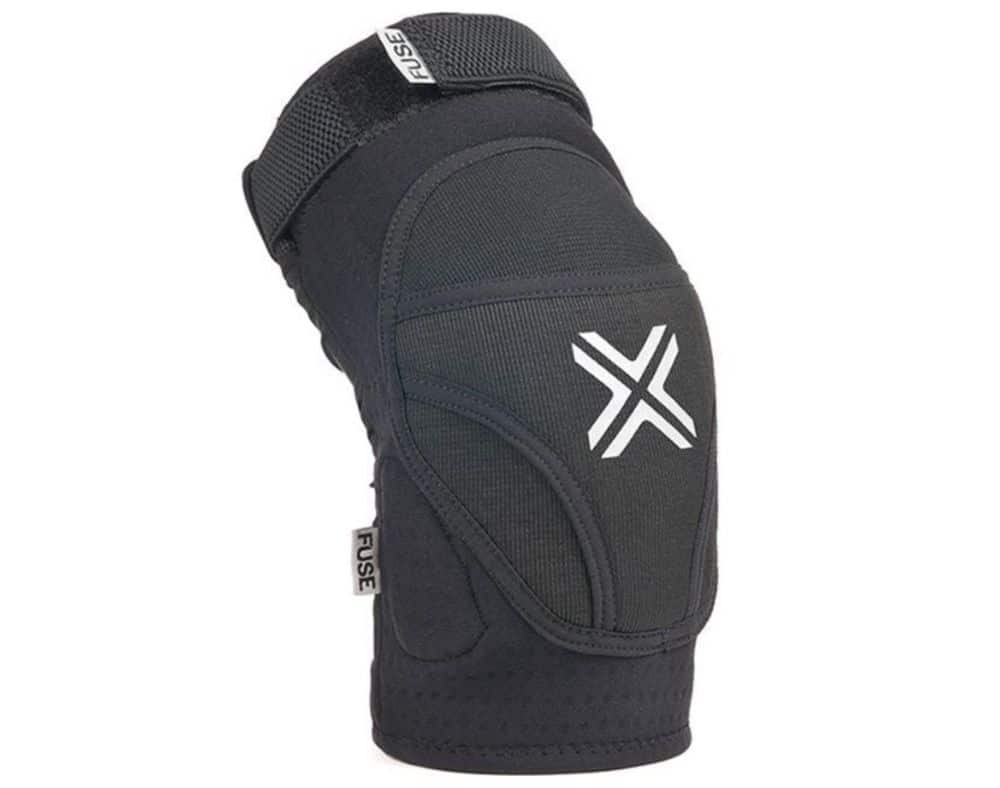 The Fuse Alpha knee protector is similar to Shadow Super Slim V2 knee pads just a little bulkier, which means – more protection.
The pads use a durable duratex neoprene with a perforated structure to keep you cool.
The back side has a dual-layer Lycra that feels soft on the inside but sturdy on the outside.
Moreover, the main area of the knee pad features an EVA foam with a nylon hard cap and extra padding on the side.
The above area has a strap that keeps the pad in place during your long sessions with the boys.
For the amount of protection that the Fuse Alpha Knee protector offers, they still feel VERY comfy and light.
Price: $51.99 (may vary)
GET YOURS
5. Fuse Alpha Knee Sleeve Pads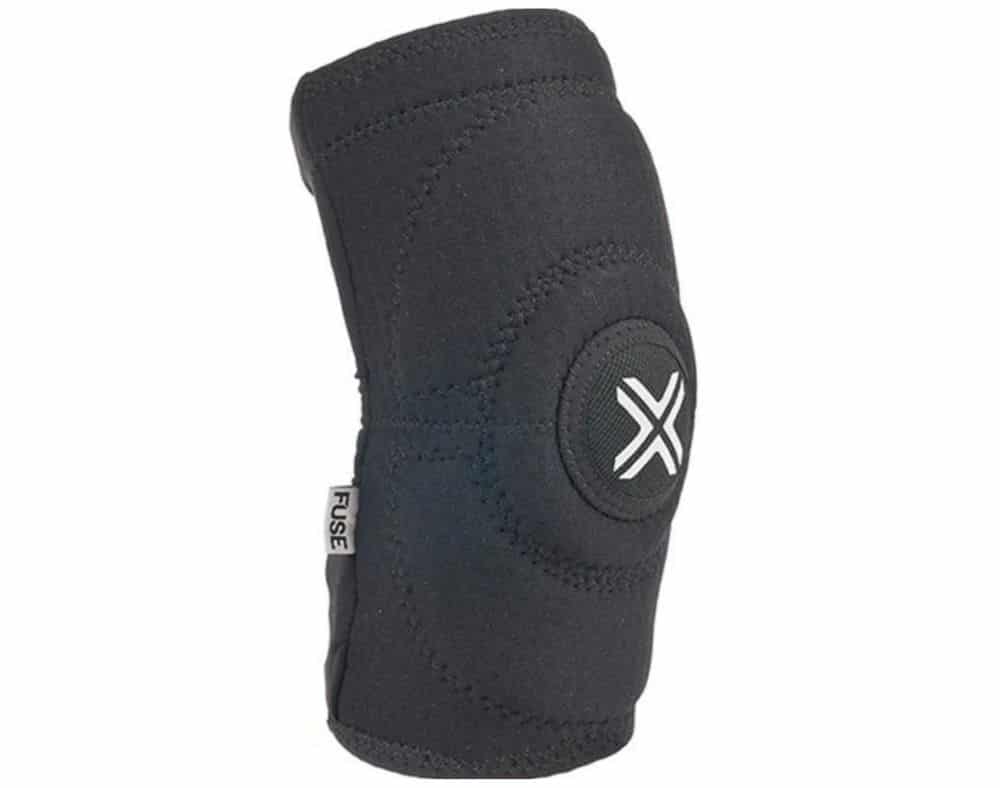 We can say that this is the slimmer version of the Fuse Alpha Knee protector.
If your riding style doesn't require a ton of protection, plus you care about style, these are a great option to keep knee pain away during falls.
Because sleeves like these tend to slip and move around a lot (which is super annoying, I know!), Fuse dudes added a sharkskin neoprene gripper on the inside so they'll stay in place.
But this doesn't mean you put it on and forget about it. Some adjustments may be needed during your riding hours, but VERY little (which won't bother you). Still, it's important to pick the right size.
Hey, I'm just trying to be transparent with you.
The backside's dual-layer Lycra makes the pad barely feel it's there. And the EVA foam padding on the front ensures your knee (cap) won't hurt when you crash.
Price: $44.99 (may vary)
GET YOURS
6. Fuse Delta Knee Pads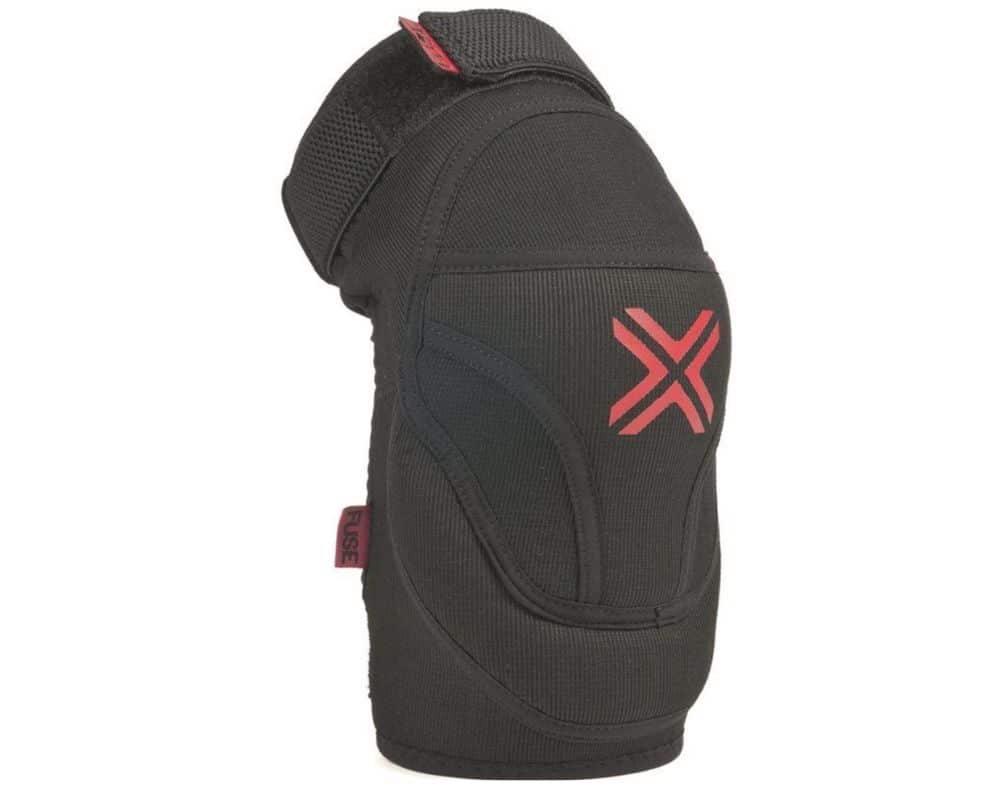 The Fuse Delta Knee pads have a very similar design to their Alpha protector, with a little more protection around the knee.
The Fuse people created their DFS system foam that's under the polyamide soft cap to keep your knees protected.
As you see from the image above, there's also quite a bit of additional padding around the main area, which I find comes in handy, especially when you hit your knee with your pedal.
Lastly, the pads have a sharkskin gripper with a strap, ensuring these stay in place and won't really need much additional adjusting.
Price: $69.99 (may vary)
GET YOURS
7. Fuse Omega Knee Pads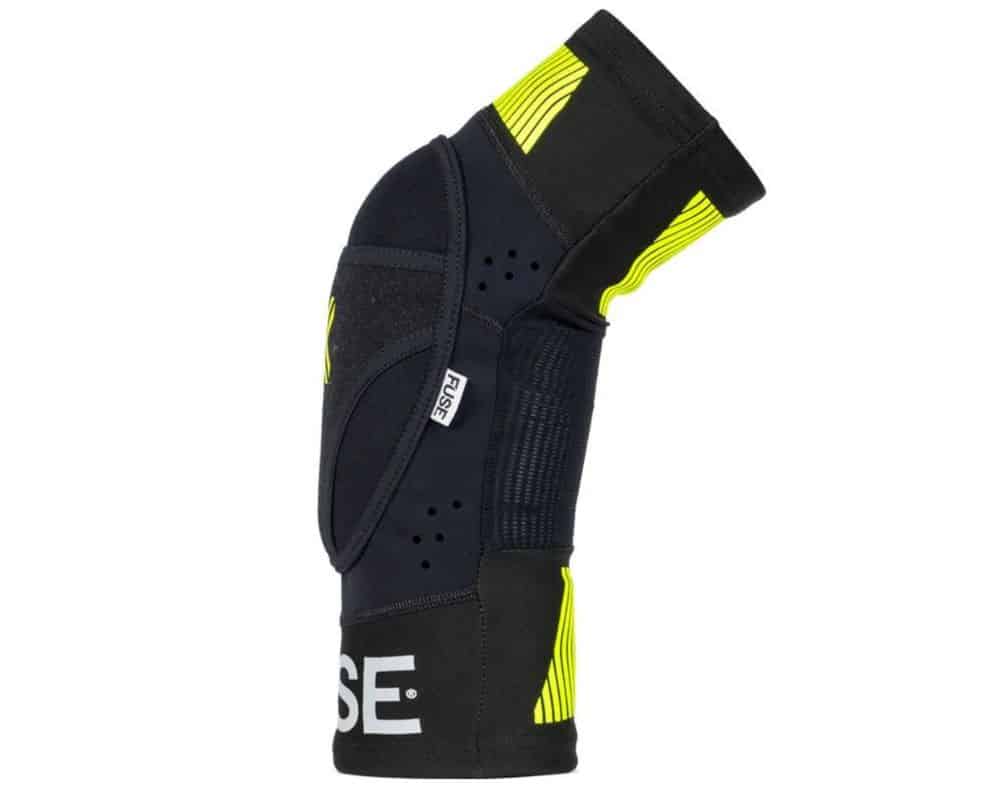 If you like the sleeve style BMX knee pads the most, but the ones I have here aren't offering enough protection, then the Fuse Omega version is your best bet.
These are a serious deal when it comes to protection, but at the same time, they aren't bulky or uncomfortable to wear.
A complete opposite!
Fuse really did their job well when designing the Omega pads.
The sleeves feature a lycra and "dry fit" mesh on the back, which makes it barely feel like it's there.
We all know how annoying the back area of a knee pad can be if it starts rubbing against the skin too much. That won't happen with the Omegas (and any other pad in this collection!).
The ventilation is also very on point, so you'll be shredding comfortably even during the hotter days.
Moreover, Fuse's Omega knee pads feature Kenesio bands and multiple sharkskin grippers to ensure they stay in place.
This is why you should also always aim for taller knee pads. But Omegas are extra tall, which gives it that firm feel that won't move anywhere.
Remember, these also have a hard SAS-TEC insert that's 30% lighter than a traditional plastic cup.
Protection and flexibility done right!
Price: $96.99 (may vary)
GET YOURS
8. Fuse Echo 75 Knee Shin Combo Pads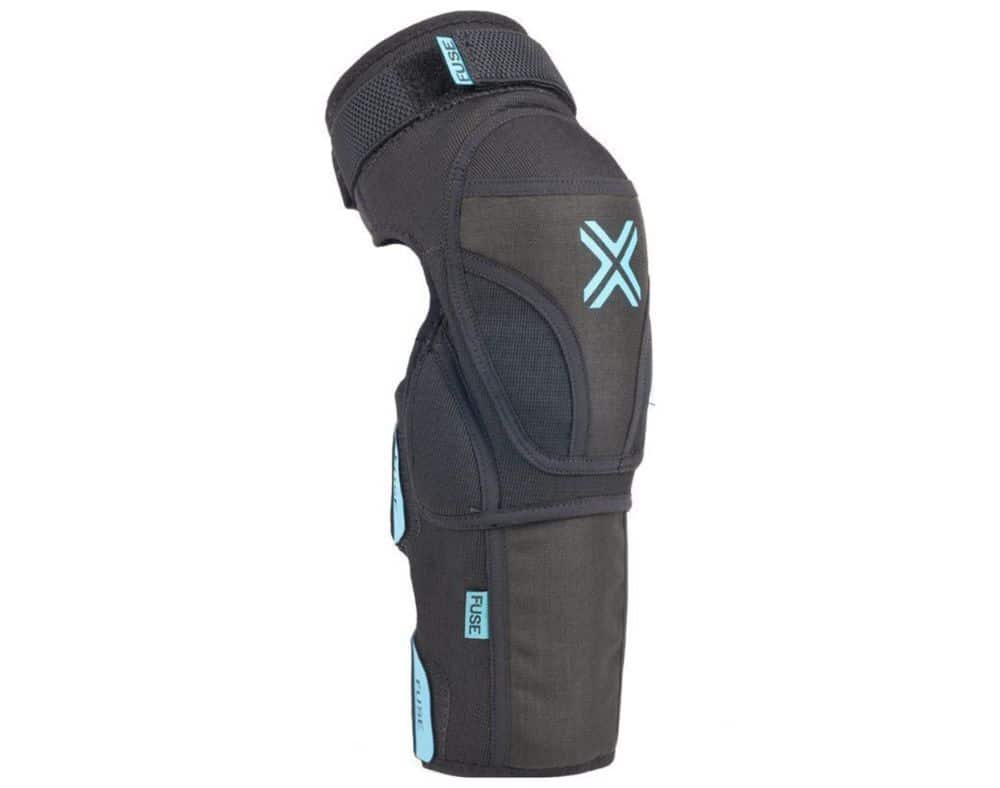 Instead of purchasing knee pads and shinguards separately, just go with Fuse Echo knee/shin combo pads.
These are done with Fuse's latest technology to ensure the ultimate protection that your legs need.
The pads feature cordura and duratex outer layers with air plush inner lining.
They used a SAS-TEC insert for knee protection but added a plastic shield on the shin part of the pad.
And to keep this knee/shin combo in place, you'll find multiple sharkskin grippers and an improved strap for the ideal fit that, at the same time, feels very pleasant on the legs.
Note: The shin area of the Echo pads doesn't cover the very bottom part of your shins. Luckily, that's the area where you'll rarely hit yourself.
Price: $99.99 (may vary)
GET YOURS
Do I Need Knee Pads & Guards?
There's no right answer to this, so I'll say Yes and No.
I definitely HIGHLY recommend you use knee protection as a BMX beginner.
You'll be learning a lot of new stuff and thus are more prone to crash and hit yourself – a lot.
Avoid pain and enjoy a more comfortable progression with BMX knee pads.
However, even many experts and pros ride knee pads.
Do BMX pros ride pads and protection?
Still, you'll often find a professional without any pads. Why? Because they 100% trust themselves and have tricks on lock.
But that doesn't mean they won't hurt and injure themselves. It still happens, but it's very rare.
Also, one of the reasons riders don't like protection is style. Luckily, modern knee pads aren't as bulky as they once were.
And if you were slightly baggier pants, no one would even know your riding protection.
But it's important that you do what feels right to you. Who cares what others say?
With or without protection, we're all in this BMX game for one main reason: To. Have. Fun.
If you're unsure about protecting your knees, at least opt for Shadow's Invisa Light Knee Pads. You'll thank yourself later.
Was this article helpful?
Disclosure: The BMX Dude's content is free & reader-supported. I may earn a commission if you click & buy through my links. Your support helps me create the best content & make a difference. Thanks! 🤘