Are you searching for the best BMX ankle braces and guards?
I've been asked so many times to make a list of the best ankle safety products that it was about time to make it happen.
Am I using ankle protection?
Not at the moment; I only did it for the sake of this interview.
BUT!
I'm actually reconsidering it (I used to wear it all the time), and all because of the Shadow's Invisia Lite Ankle guards.
These things are epic.
This post covers:
BTW, I just hit myself in my Akimbo cranks today, and the ankle bone pain is THE WORST!
Best BMX Ankle Braces, Guards & Pads
1. Shadow Invisa Lite Ankle Guards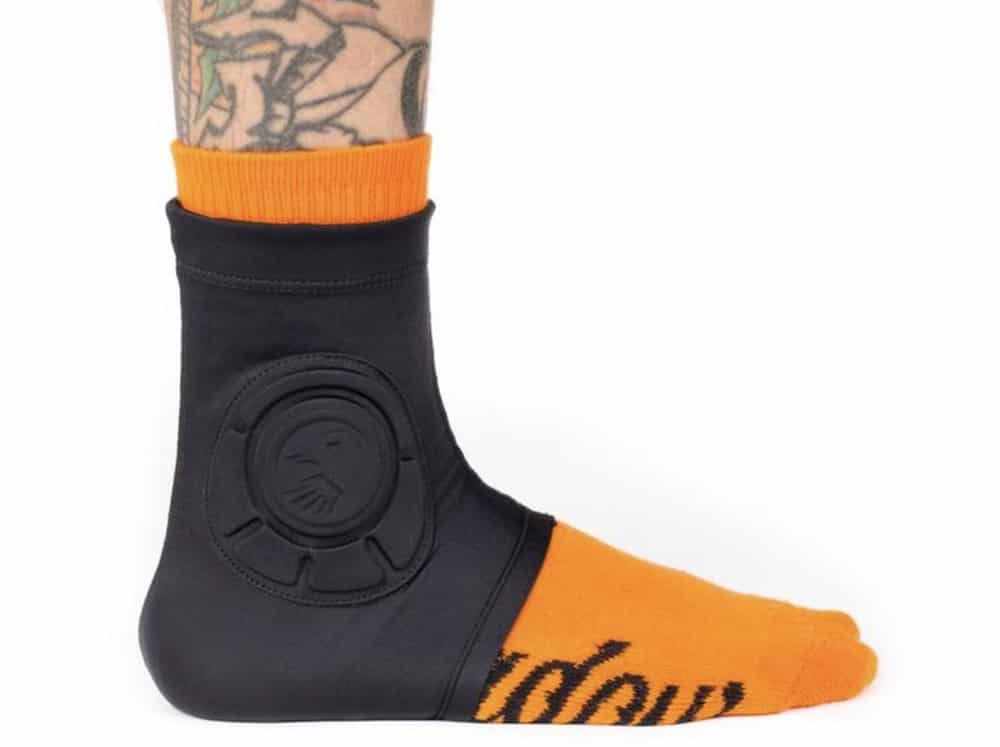 I am one of those riders who like minimalist stuff, and the same goes for protection.
I don't like it to look bulky.
And that's why I instantly became a fan of Shadow's Invisa Lite ankle guard.
This thing is epic and it fits well under and over the sock. I prefer to ride it under the sock to achieve an even cleaner look.
Plus, from what I experienced, riding the guard under the sock keeps it in position more and doesn't move around much.
As far as the protection goes, it prevents bruises and cuts.
However, if you'll hit yourself really hard, you'll still feel it. But better a little pain (you'll still be able to ride the next day) than a completely destroyed ankle.
The Shadow Invisa Little guards use breathable and stretchable lycra construction with optimized double-layer impact foam.
I highly recommend you go with the Invisa if you need a great ankle pad that at the same time keeps you look stylish.
Put the sleeve on, then socks over and no one will tell you're using any protection. How cool is that?
Price: $28.99 (may vary)
GET YOURS
2. Shadow Revive Ankle Support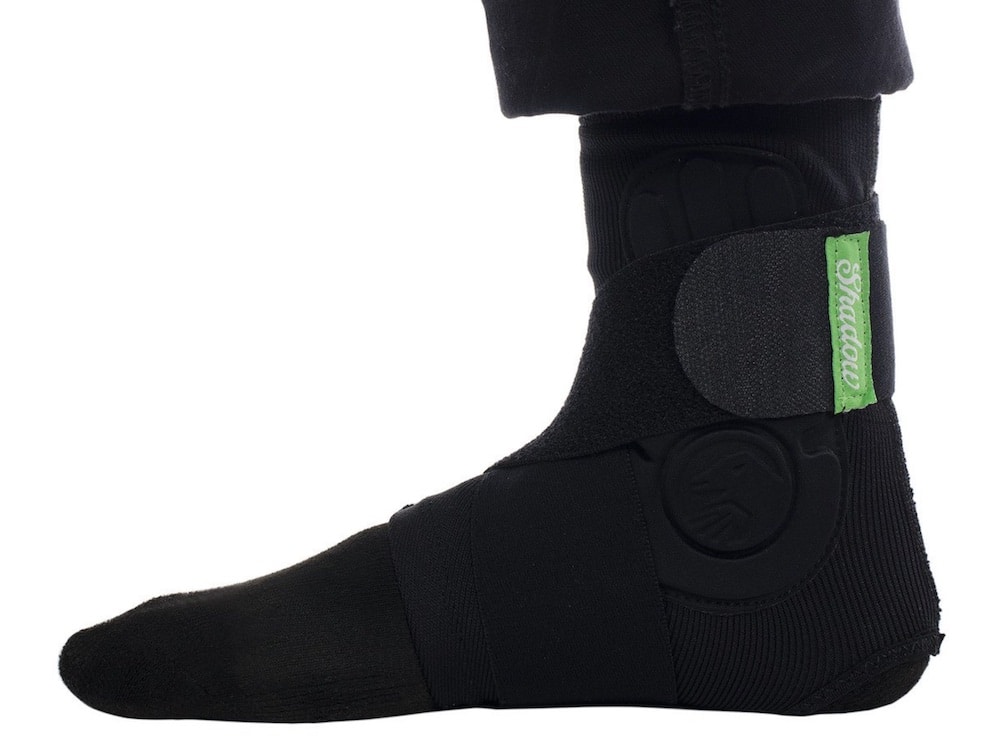 You immediately notice the difference between the Invisa and the Revive ankle protection.
The later is ready to keep you going after an injury, keeping your rehab phase much shorter.
While the Shadow Revive BMX ankle support keeps your ankle stable, it still offers protection from side hits, whether from tailwhips or any other trick.
The figure-8 style strap allows you to configure the tightness to your need.
What's also really awesome about the Revive is that it has a low profile to fit in your shoes and under pants easily.
But remember: After fully healing and regaining ankle strength, either stop using this type of brace or at least don't tighten it too much.
(A too tight brace, while it gives your ankle support, it also weakens your muscles, and you don't want that.)
Price: $26.99 (may vary)
GET YOURS
3. Fuse Alpha Ankle Protector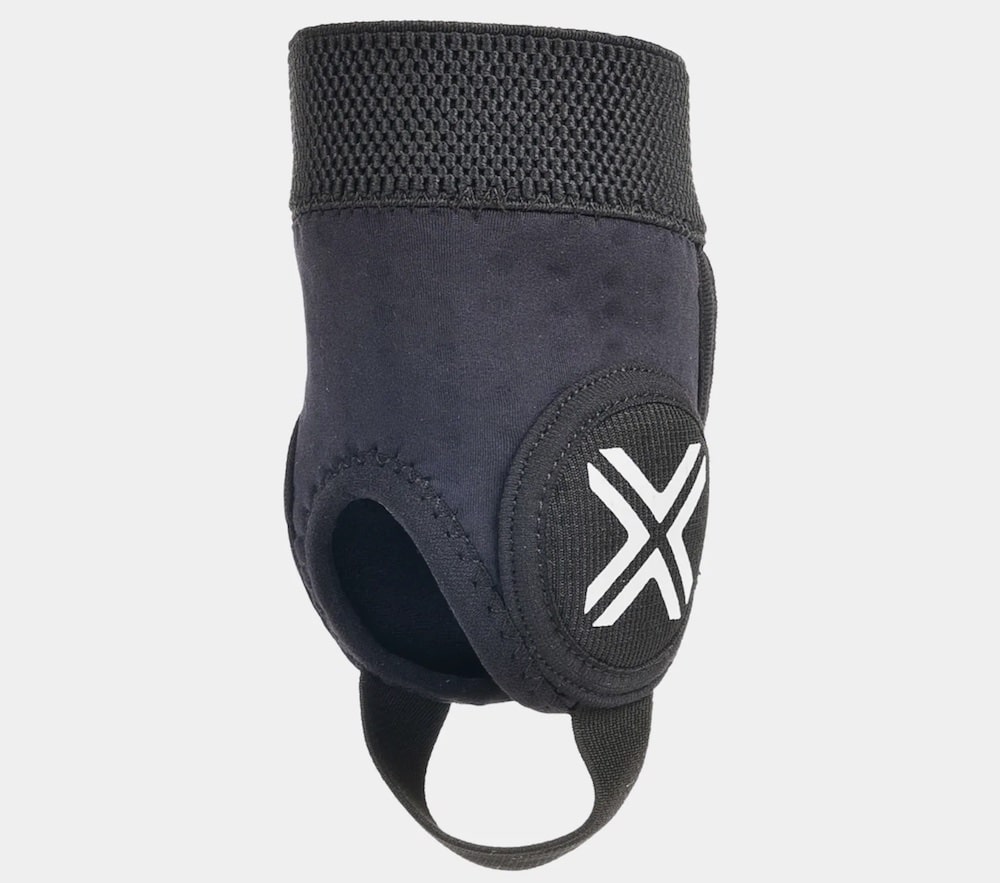 The Fuse Alpha ankle protector is for everyone who doesn't find enough protection in the Shadow Invisa Lite.
What's the difference?
While Shadow's has a double-layer foam, Fuse's has an Eva foam padding with a polyamide hard shell.
And here's where these two differ the most, but mostly in case you smack yourself really hard.
If you don't do (a lot of) tailwhips and tricks with a higher chance of hitting yourself, then the Fuse's Alpha protector isn't necessary because Shadow's is still slimmer and more minimalist.
I also didn't find the Fuse Alpha Ankle protector the comfiest. Also, it doesn't work too well under the sock, so I recommend wearing it over-sock.
But what's really awesome about this one is the extra Achilles tendon padding. If you ever hit yourself in the Achilles, then you know how painful it can be.
Plus, because of the simple strap on the bottom part, Fuse's protection fits in shoes without you knowing it's there.
Finallly, because it's one-size-fits-most, it may not work for you if you have really strong ankles-calfs (it may feel too tight and uncomfortable – hey, you can still purchase it and then return it back if it doesn' work).
Price: $21.99 (may vary)
GET YOURS
4. Fuse Omega Ankle Guard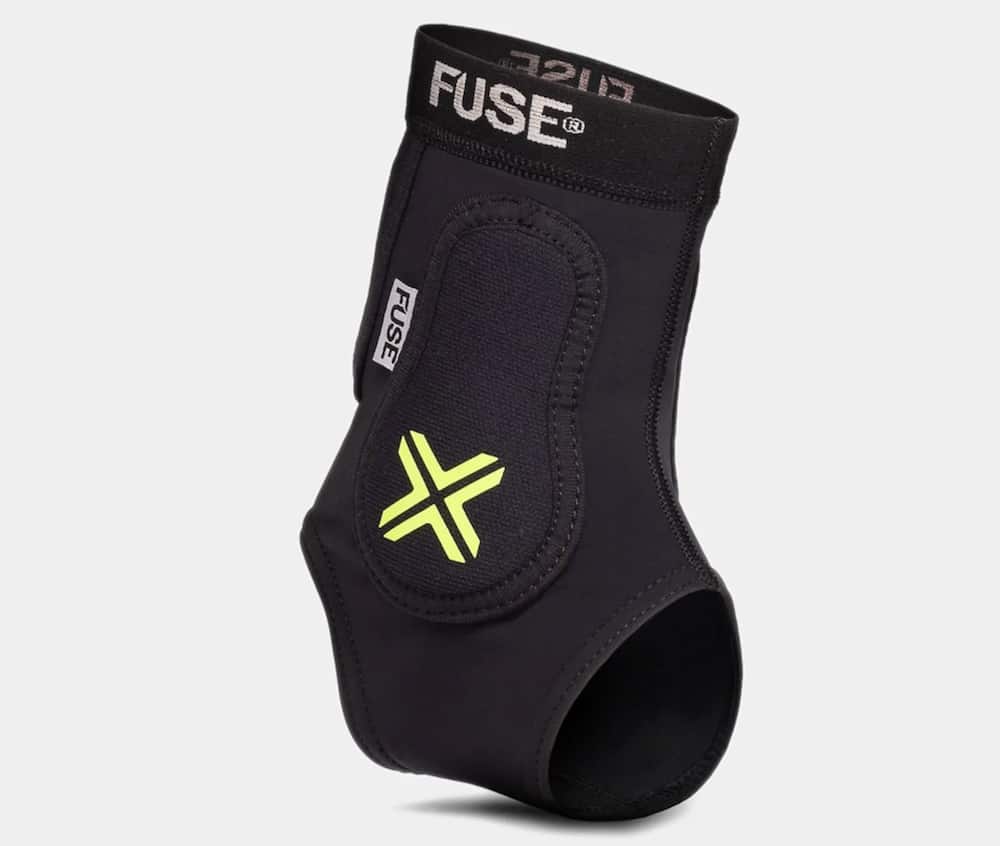 The Fuse Omega Ankle guard is for all serious trick machines out there. This one is preferred by park riders the most, but I've seen street and trails dude ride it, too.
It gives you A LOT more protection than the Fuse Alpha Ankle because of the much taller and wider side and Achilles pads.
And the mix of Eva foam padding and polyamide hard shield keep you away from injuries – even when you hit yourself really hard.
This BMX ankle guard is made from two-way stretch neoprene, so it feels comfortable and not too hot.
Also, the two available sizes fit a pretty wide range of riders, although I think the L/XL version would be mandatory.
Why the higher price range? Because they sell in pairs.
Price: $42.99 (may vary)
GET YOURS
5. Shadow Super Slim Ankle Pads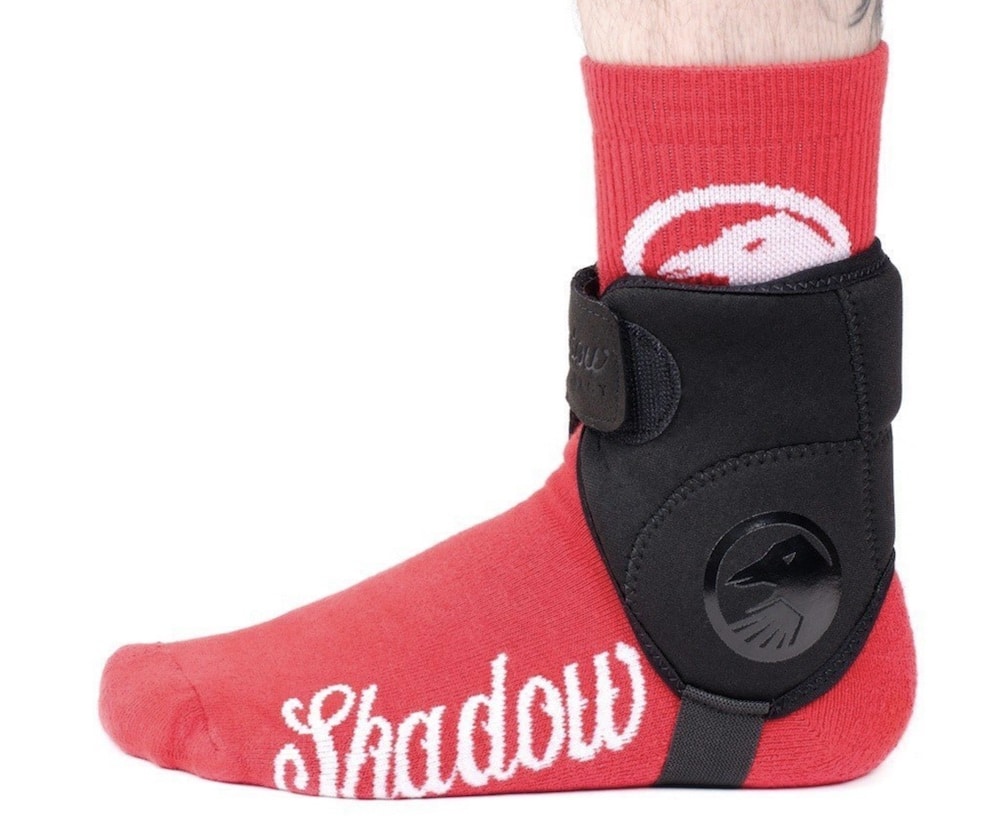 Shadow's super slim ankle pads are tougher than the Invisa ones but still keep a low profile to offer a great fit.
The Shadow people designed these strategically, offering only one size but with an adjustable strap, so you can match it perfectly to the girth of your calves.
The double-sided hard nylon ankle bone shields will keep you away from bruises, cuts and other hit-forming injuries.
But the one thing that bothered me with these is that you need to adjust them from time to time during your session because they can get off-centered with your ankle bones.
You just need to have this in mind, and you're good to go.
Price: $24.99 (may vary)
GET YOURS
The Difference Between A BMX Ankle Brace & Guard/Pad
Many confuse what's the main difference between an ankle brace and an ankle guard.
I've even been asked multiple times how they differ, so thought of writing it down for everyone.
1. BMX Ankle Brace
An ankle brace is usually bulkier and comes with extra straps or laces because it supports the ankle. But at the same time, protects it from getting hit.
I don't recommend using an ankle brace if your ankle is healthy.
Why?
Because too often use of a brace can weaken your ankle muscles, which can lead to more injuries.
Instead, work on your ankle mobility (all the time!) because this will keep you away from injuries and the potential use of a brace.
Honestly, I'd only recommend using a brace after surgery or a very serious ankle injury (when you feel your ankle isn't stable).
But only in the first stages.
Start focusing on ankle mobility and strength as soon as possible because this will give you the most protection, and not a brace.
2. BMX Ankle Guard/Pad
On the contrary, angle guard doesn't offer any ankle support per se.
You'll want to use it mainly to prevent bruises or getting bloody ankle bone, which, I KNOW, is one of the most painfully annoying things!
After testing all these guards, I think I'll actually start using one again because even the slightest connection with cranks gives me a bloody ankle bone.
For me, the Shadow Invisa Lite Ankle guards is the perfect option, which I recommend to everyone.
In short, the brace supports the ankle while the guard protects it from bruises.
Do I Need Ankle Braces & Guards/Pads?
I wouldn't necessarily recommend wearing an ankle brace if you're not suffering from a (more serious) injury.
I'd rather focus on ankle mobility because it'll give you way more support.
As for ankle guards and pads, it's really a personal decision. If you want to protect your ankles from bruises and cuts, then go for it.
Still, it all depends on your riding style. If you're doing a lot of tricks, then I advise you to pick an ankle guard.
But you probably don't need it if you're more into flow and riding transitions.
You may also be interested in my collections of the best:
Was this article helpful?
Disclosure: The BMX Dude's content is free & reader-supported. I may earn a commission if you click & buy through my links. Your support helps me create the best content & make a difference. Thanks! 🤘