Are you looking for the best BMX multi-tool because you're tired of carrying too many tools with you?
I feel you.
At first (20+ years ago), I carried all the necessary around by throwing the tools in different pockets of my backpack.
But that was SO unpractical.
Then, I saw someone organizing all his tools in a toiletry bag. I thought to myself, "How clever!"
But I STILL wasn't satisfied.
The next thing I came across was a handy bike travel tool wrap.
It had multiple compartments and individual pockets for sockets, Allen keys, spoke wrench, chain breaker, etc.
This post covers:
I stuck with it for a while – but I lost too many tools using it, so I kept searching for alternatives.
At one point, I only carried the 17mm deep socket and a 6mm Allen key with me.
And if I needed something, I either asked my dude for it or the session was over.
Yup, I risked it!
HOWEVER!
Animal Bikes shocked the world with their first all-BMX multi-tool – Kotulak.
I knew immediately I needed to have it – and I still have it to this day. (Thanks, Luka, for hooking me up!)
Best BMX Multi-Tool
Unfortunately, Animal stopped producing the Kotulak tool, so you can only get it in a few selected shops until the stock lasts.
That's why I will share with you an EPIC alternative that has EVEN MORE tools packed in than Kotulak.
Meet, The Shadow Conspiracy Multi-Tool.
It's currently the only solid option on the market, trusted by 100s (if not 1,000s) of riders around the world.
Why You Need A BMX Multi-Tool
First and foremost, BECAUSE it's practical!
Instead of hoping you brought all the tools with you and, on the contrary, hoping you don't lose them, a multi-tool makes our lives so much easier (and less stressful).
With the Shadow's solution, you will always have EVERYTHING with you.
The only two things left are a spare BMX inner tube and a pump, and that's it.
What Can You Find In A BMX Multi-Tool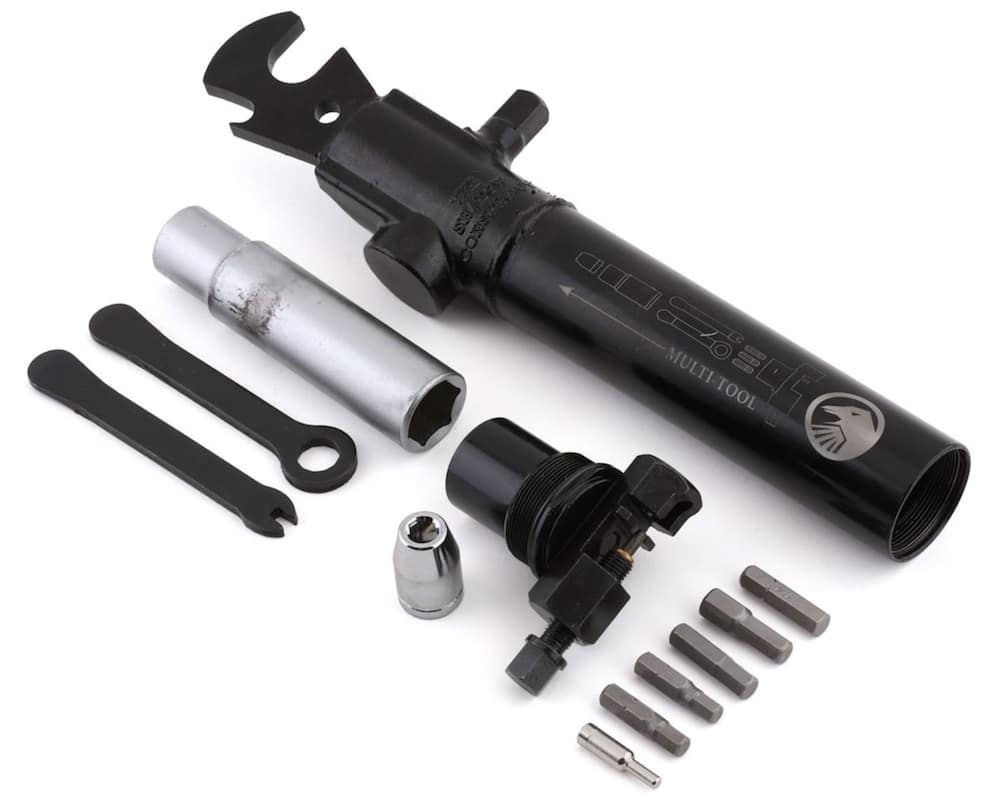 The dudes behind The Shadow Conspiracy thought of everything, making all your sessions ten times more enjoyable.
Why?
If something needs fixing, you can do it easily and quickly on the spot.
The Shadow's multi-tool includes:
Chain breaker
17mm deep socket
15mm pedal wrench
10mm wrench
Spoke wrench (life saver!)
Tire levers
7/32″, 1/4″, 5mm, 6mm & 8mm Allen sockets
Hammer (yes, really!)
Bottle opener
Plus, it's 10.25″ (260mm) long and weighs 33.7oz (955g).
GET YOUR MULTI-TOOL
Can you imagine all this neatly packed into one easily portable BMX tool?
And I really like that it has some weight to it so that you can feel it, and it's less likely that you'll lose it. (I haven't mine in 10+ years.)
Remember, while there are some other options available on the market, Shadow's is stacked with the most tools.
Portability
One of the main reasons I picked up a multi-tool is so I can always have all the tools with me.
And with Shadow's solution, you even have a hammer and a bottle opener always by your side.
How AWESOME is that?
Plus, it's very compact, so you can easily throw it in smaller or larger backpacks. (I even saw a dude carry it in his fanny pack.)
In short, wherever you go, you're tools go with you.
Conclusion: A Multi-Tool Helps A BMX Rider Out!
Instead of purchasing individual tools and then sticking them in a bag or a wrap, I ENCOURAGE everyone to get a multi-tool.
Sure, it's a slightly larger investment, but you'll thank yourself later.
Not only that, but you can have it for decades if you take care of it (DON'T throw it around).
The only tool I still carry with me (probably out of habit) is a 6mm Allen key.
I usually have it in my backpack's top pocket, so it's easily reachable.
But writing this article reminded me to finally ditch it because the multi-tool has it all anyway.
Never again think of the tools because you'll always have them with you, thanks to a multi-tool.
GET YOUR MULTI-TOOL
Was this article helpful?
Disclosure: The BMX Dude's content is free & reader-supported. I may earn a commission if you click & buy through my links. Your support helps me create the best content & make a difference. Thanks! 🤘