Do you want to check the best BMX frame size chart and guide but cannot find a solid one?
That's great!
WHY?
Because I'll share with you all the ins and outs about getting the right frame size after riding BMX for 20+ years.
Let's do this.
This post covers:
BMX Frame Size Chart
Remember, choosing the ideal frame TT is more of a personal preference than anything else.
Even myself, I'm 5'11" and according to the table below, I should ride a frame with a 21″ – 21.25″ top tube (TT) length. (Don't miss my in-depth article on BMX top tube length.)
Which I did. For many years, actually!
But I wanted to try something different, picked a 21.6″ BSD Raider frame, and I'll probably NEVER go smaller (maybe 21.5″).
It fits me SOOO good!
| | |
| --- | --- |
| Rider height | Top tube length |
| 4'8″ to 5'2″ | 18.5″ – 20″ |
| 5′ to 5'4″ | 20″ – 20.25″ |
| 5'2″ to 5'6″ | 20.25″ – 20.5″ |
| 5'4″ to 5'8″ | 20.5″ – 20.75″ |
| 5'6″ to 6′ | 20.75″ – 21″ |
| 5'8″ to 6'2″ | 21″ – 21.25″ |
| 6'+ | 21.25″+ |
Note: If you're choosing a complete bike – then check out my BMX bike size chart.
You should also know that most of the professional BMX riders also don't really follow any BMX frame size charts.
For the most part, they ride larger frames that they "should."
In BMX, there are NO rules.
But I will say this: If you are a beginner, choosing a frame according to the above chart is a wise decision to make.
However, with time, you'll likely want to try something new, make adjustments to your bike that are unique to you and your riding styles, which will help you progress further and FURTHER.
You may also be interested in learn all and everything about BMX frame geometry and get geeky about it.
How To Measure BMX Frame Top Tube Length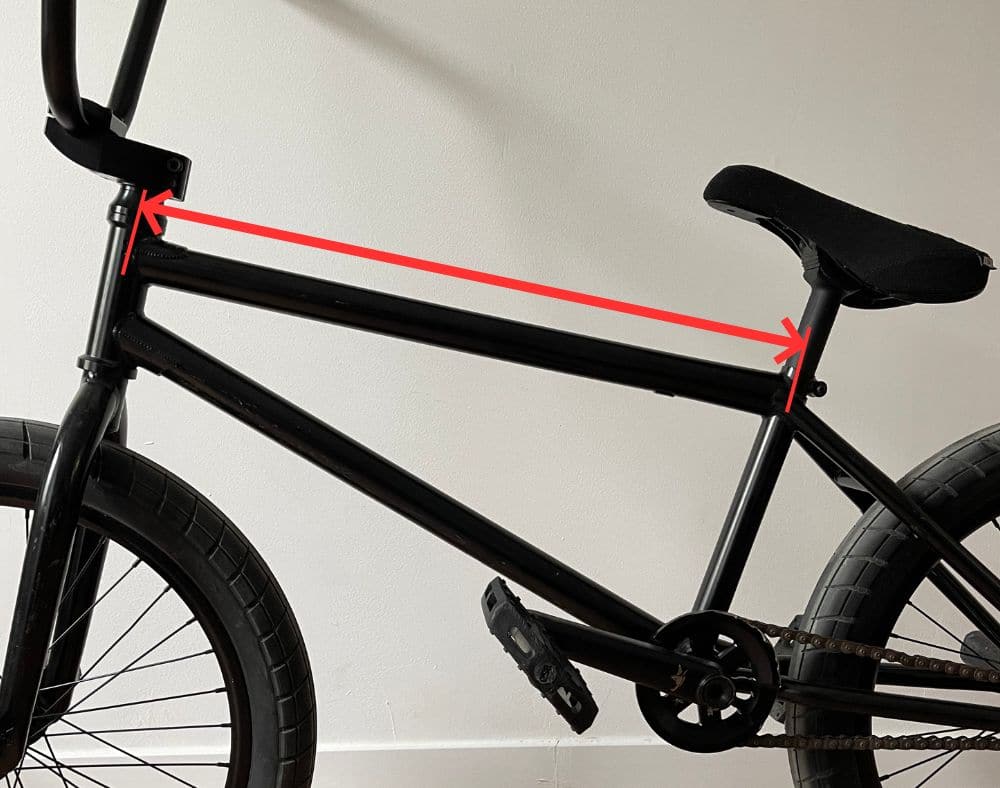 If you have a BMX bike but don't know what size it is, the above image demonstrates how to measure the top tube length.
TT is the measurement from the center of the seat tube to the center of the head tube.
Sizing Up Or Sizing Down Your BMX Frame
If you've analyzed the frame size chart above but you're right on the edge – what to do?
Should you pick a LONGER or a SHORTER frame?
This really all depends on the riding style you do, but here are my two general recommendations:
Why sizing up: If you like flow, riding fast and enjoy shredding trails and transitions the most, then going with a frame that's longer will give you that extra stability that will make you feel safer and more comfortable.
Why sizing down: If you are into technical street and park riding and you need a responsive and twitchy bike for spins, grinds and all other balancing stunts, then I recommend you go with the shorter frame version.
Remember, while you cannot modify the TT, you can play with the chainstay length to make the bike feel right for you.
Another way of tweaking the bike is by getting a different BMX stem size (shorter/longer) or shorter or longer offset forks (check out my beginner's guide on BMX fork offset).
Your bar position (forward/backward) also makes the bike feel different. (I ride it slightly forward.)
Yup, there's a lot of room for optimization for you to find the right frame and build the bike that suits you perfectly.
What Size BMX Frame Do Pros Ride?
Okay, because so many requested a list of some of the top pros and what frame sizes they ride, here they are.
If you're interested in bikes pros and ams ride, check my BMX bike checks category.
Conclusion: Pick The Right BMX Frame Size
Getting the ideal frame is a very personal thing.
But I'm sure the BMX frame size chart above and this entire guide will HELP you make the right decision.
As a reference, I started riding BMX on a 20.5″ TT frame, but slowly transitioned to a 21.75″, then 21″ (which I rode the longest), 21.25″ and now 21.6″ (which feels THE BEST so far!).
In short, if you're a beginner, picking the frame according to the above recommendations would be your safest bet.
However, if you're already riding BMX for some time and are looking to try something different, I'd recommend you size up. (This is something you won't read elsewhere.)
But really, DO YOUR THING! (Who cares what everyone else says.)
Yo! 🤘
Was this article helpful?
Disclosure: The BMX Dude's content is free & reader-supported. I may earn a commission if you click & buy through my links. Your support helps me create the best content & make a difference. Thanks! 🤘