Do you wonder what are the different BMX stem types and why one might be better than the other?
Two versions are available: A front load stem and a top load stem.
However, from time to time, a BMX brand also comes out with an inverted stem, which you'll see what it looks like in a bit.
I was rocking a front load for a long time, but I made a move only when I realized that a higher front end suited me better.
Unfortunately, you're quite limited with a front load regarding rise. But if you like the look, you can compensate with spacers and a bigger BMX bar.
This post covers:
I also have the ultimate collection of the greatest BMX stems collection available for your convenience.
What Are The Different Types Of BMX Stem?
While the front load and the top load are the dominant stems, some brands offer the inverted or upside down type (but that's more often than not a rarity).
1. What Is A Front Load BMX Stem?

A front load stem clamps your bars in the front and gives the bike a more classic look.
This allows the bar to sit lower, which might not be the best option for tall riders (unless you really like the look).
While the rise is completely different, the reach can be identical to a top load stem.
BUT!
If you fancy the look but don't like the low rise, Cinema's Projector stem may be the solution you've been looking for.
It has a nice 25mm rise, which some top loads offer, but it's still a front load. Confused?
Classic and modern in one with a twist, if you will.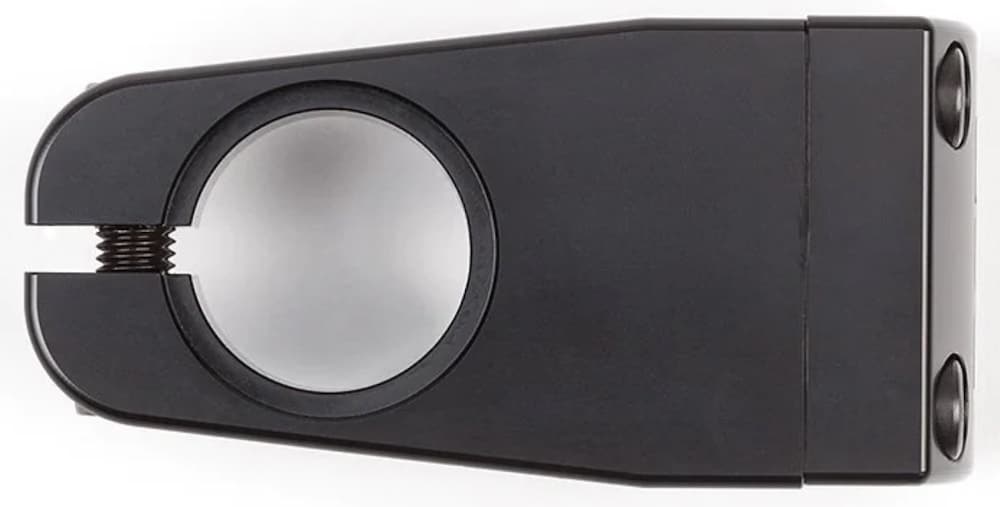 One of the dudes who seems like he'll never switch to a top load is Garrett Reynolds. And Felix Prangenberg is also enjoying a front load more.
Don't forget to peek at my collection of the best BMX front load stems.
2. What Is A Top Load BMX Stem?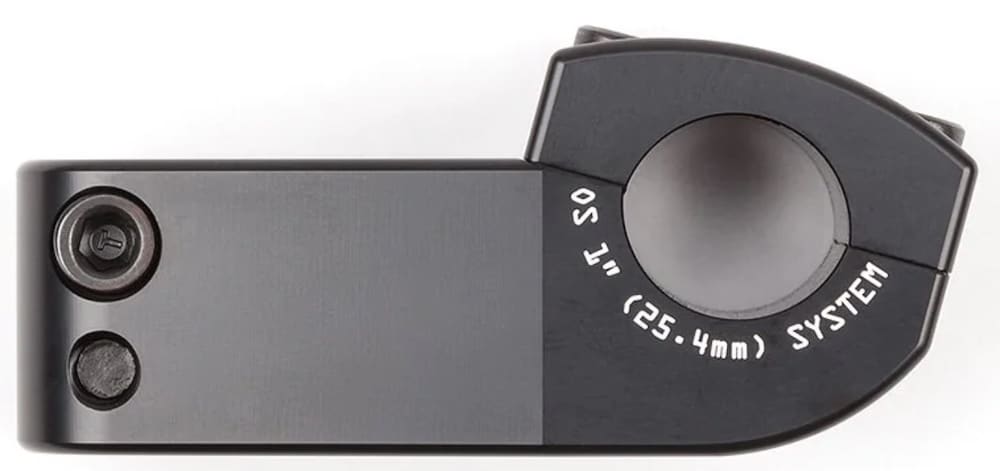 While the functionality is the same, the look is completely different.
A top load stem holds your bars from the top, as you can see in the example picture above.
This immediately raises your bar. Some top loads have a rise of 30mm+, which can change how your bike feels entirely.
More and more amateurs and professionals are switching to a top load because a higher front end has many benefits. (And yes, it even makes bunnyhops easier! Which is something I believed only after trying it.)
And if you are taller, I recommend going with a top load.
I'm 5′ 11″, and I enjoy a top load much more. I even have spacers and a 10″ BMX bar, and my bike feels the best!
But, generally speaking, if you look closer, you'll see how many pros' front ends are really high when standing beside the bike. Yes, because it works!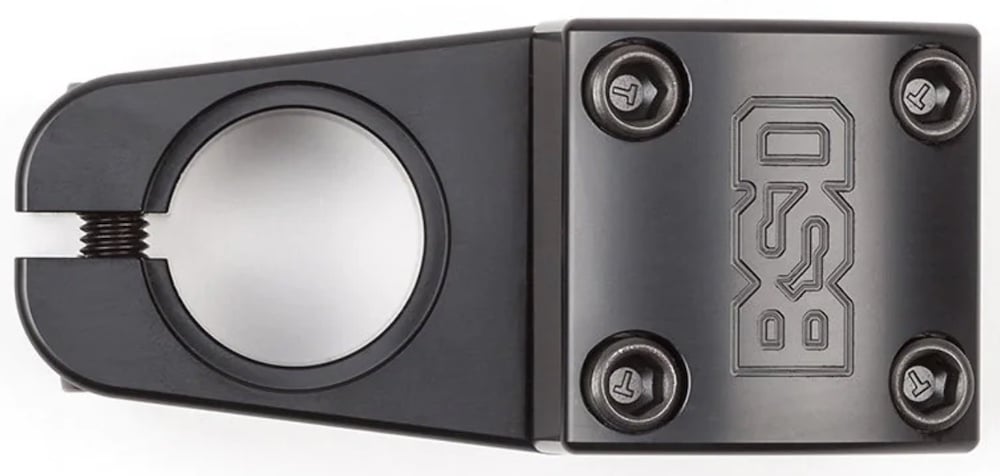 Do you need to see the best BMX top load stems? I have a full collection ready for you.
3. Bonus: What Is An Inverted BMX Stem?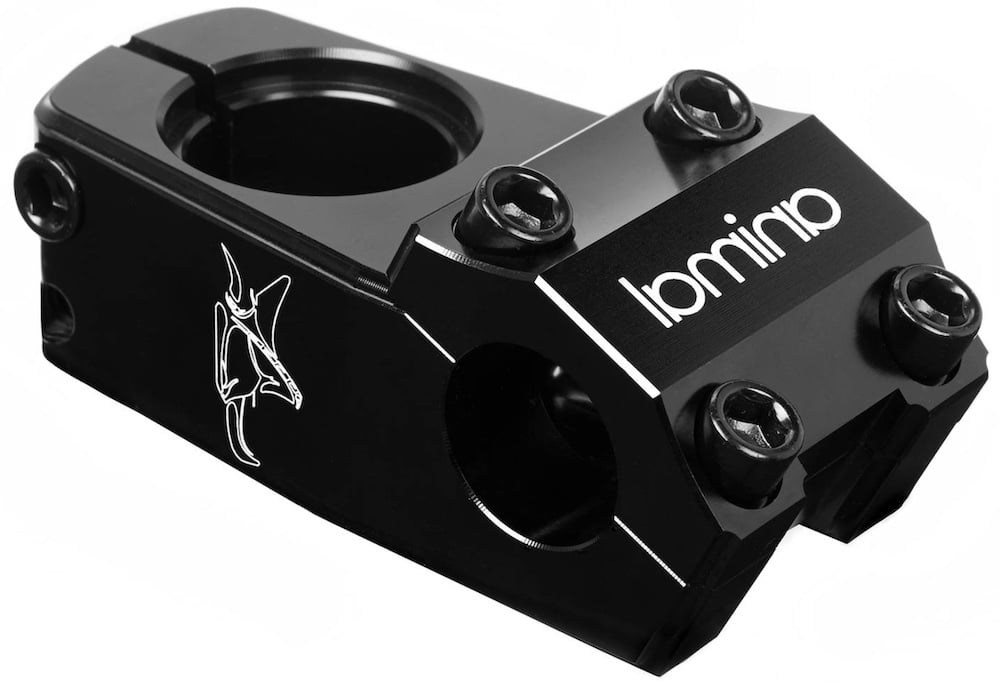 An inverted or upside down stem looks like a top load you can flip. Some even call it a negative stem.
This allows you to run different rises, but it also gives the bike a unique look (when the stem is upside down).
Example: Animal's Inverse top load stem has two rises; 22mm when upright and 10mm when inverted.
An inverted stem isn't something new; many old-school bikes have them (you can find Profile, GT, etc. – but those don't fit modern BMX bikes).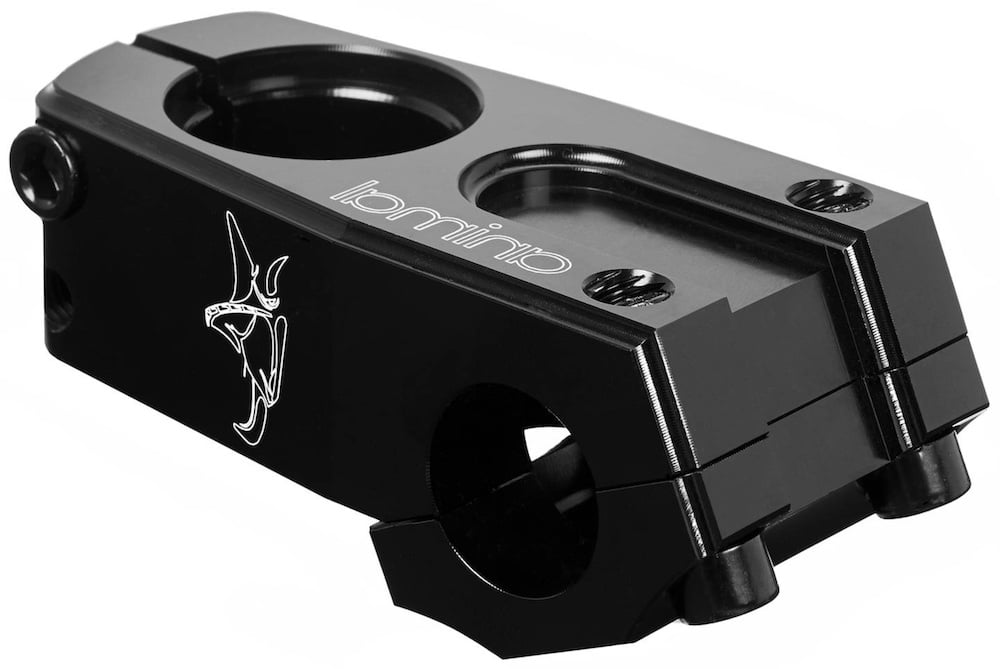 Conclusion: BMX Stem Buyers Guide
The final question: Which stem is better?
None.
They are both strong and long-lasting stems but with different specs and looks.
So it's more of a personal preference which you pick.
But in general, if you are a taller rider, I recommend you go with a top load version because of the extra rise.
Moreover, it's said that a top load is stronger than a front load because the block of metal absorbs the impact, whereas, with a top load, the pressure is on the bolts.
This isn't something you have to worry about. Felix and Garrett are pulling insane gaps and they're both riding a top load.
I rode top loads for many years and never had a single issue.
Simply choose the type that you like (and buy from a notable brand – just DON'T get a cheap stem!)
3 BMX Stem Types For You:
Front load BMX stem: It offers a more classic look by clamping the bar from the front, which also makes it sit lower.
Top load BMX stem: It offers more rise, which works great if you want to elevate your front end.
Inverted BMX stem: It offers a two-in-one solution – higher (in upright position) and lower (in inverted position) rise.
FAQs About BMX Stem Types
Do all BMX stems fit?
While most BMX stems still have the regular 7/8″ clamping system, some brands started adopting the 1″ (OS – oversized) size that only fits with OS bars. In short, 7/8″ is most common and 1″ is less common.
Are all BMX stems the same?
No, BMX stems vary in design (top load or front load), reach, rise and stack height.
Was this article helpful?
Disclosure: The BMX Dude's content is free & reader-supported. I may earn a commission if you click & buy through my links. Your support helps me create the best content & make a difference. Thanks! 🤘