Are you interested in knowing all the different BMX seat post types you can get?
There are five! Actually, six, but the last one is a combo.
You'll see what I mean shortly.
All modern freestyle BMX bikes/frames use a standard seat post diameter of 25.4mm.
While the diameter is the same, the lengths vary, but, most importantly, the design is different.
It can be frustrating for a beginner to pick the right seat post for his/her bike.
Luckily, the style is visually different for most; only two are similar at first glance. But if you choose wrong, it won't fit your BMX seat.
And that's why you're here.
This post covers:
You may also be interested in my collection of the best and strongest BMX seat posts.
What Are The Different Types Of BMX Seat Posts?
I added images of example seat posts, so you'll better understand how each looks.
Attention: Unfortunately, seat posts aren't cross-compatible with different BMX seat types, so you must get the right one to make it work.
1. What Is A Pivotal BMX Seat Post?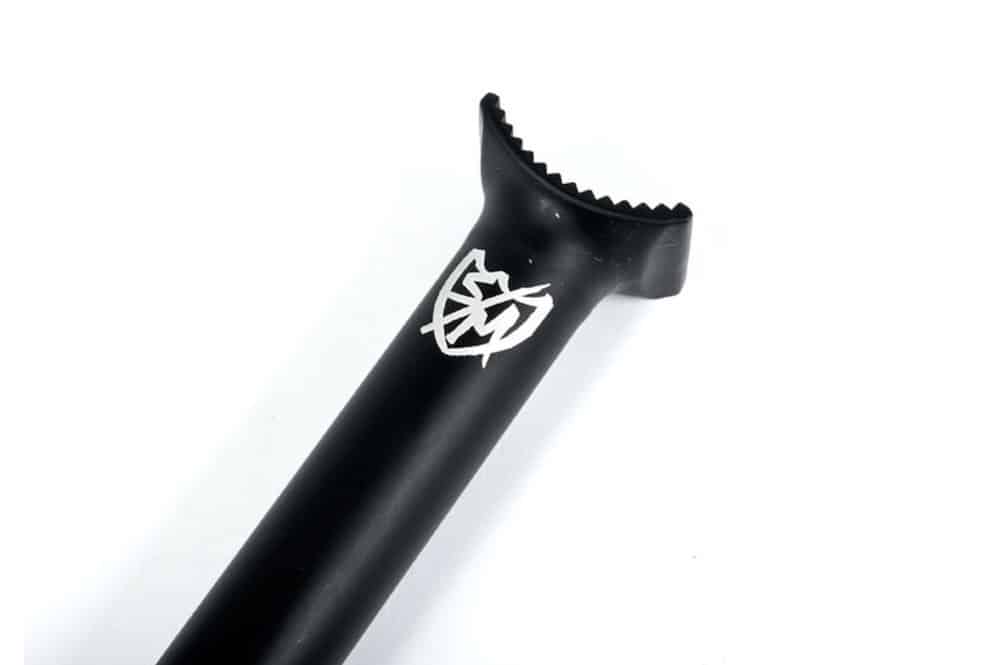 After the classic, the old-school railed post came the pivotal design that changed everything.
A pivotal BMX seat post type quickly became popular because of its simplicity, strength and cleaner look.
You tighten it from the top, using the integrated bolt that comes with the seat. The seat has a hole in the center through which you insert a 6mm Allen key.
A pivotal post also lets you set the right angle to make your bike feel comfier.
2. What Is A Stealth BMX Seat Post?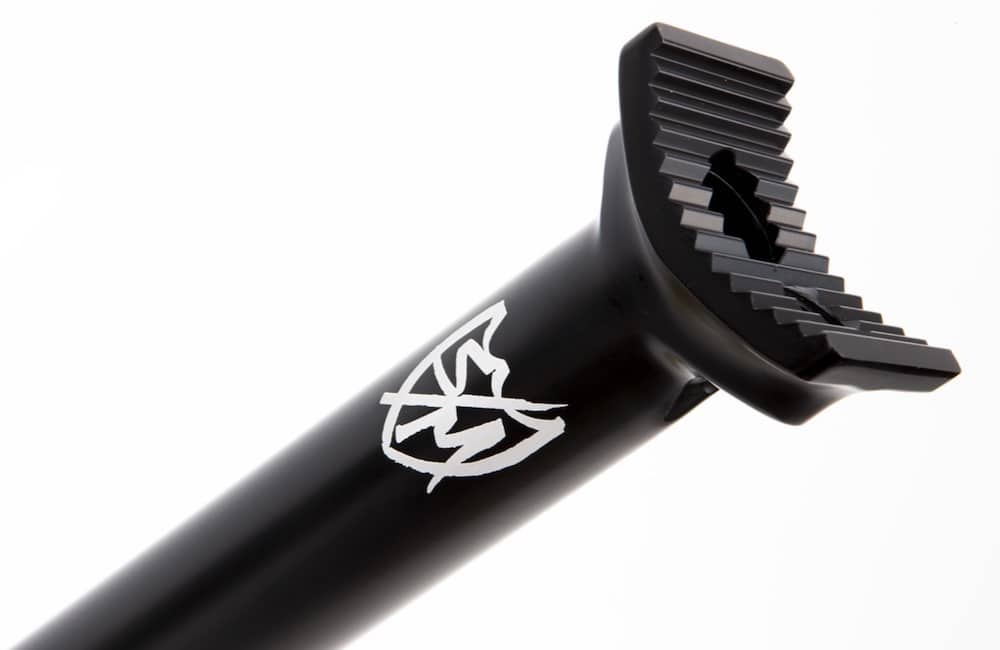 A pivotal and a stealth seat post are comparable, but the "devil" is in the details.
While the functioning is similar, a stealth seat and seat post combo can completely change the look of your bike.
How? It'll look cleaner because there's no need for the patch/hole in the middle of the seat.
You tighten a stealth seat post from the bottom; you don't have to fish your Allen key through the seat (which can be annoying sometimes, especially if the short part of the Allen key is too short). The thread is reversed, so it pulls the seat to itself.
We could say that the stealth type is the minimalist pivotal design.
More and more BMX companies are adopting this mounting system because it's simple, strong, and creates a smooth finish (there's no hole in the seat and no need for the rubbery patch).
3. What Is A Railed BMX Seat Post?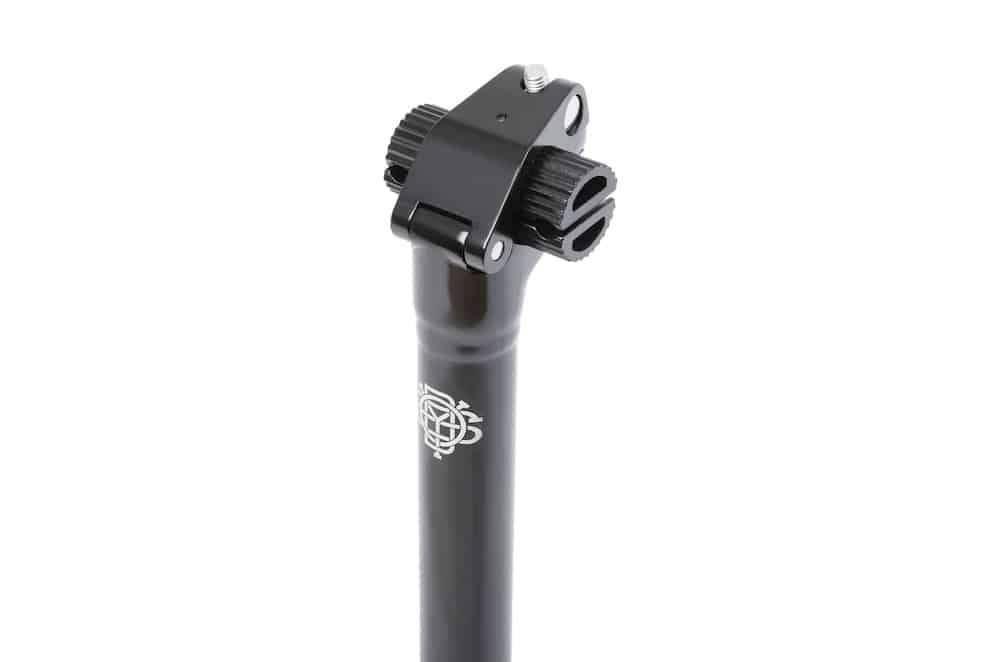 I think I don't need to go too into detail about what a railed BMX seat post is.
It's the old-school version, specifically designed for railed seats (that have two rails underneath).
One of the main benefits of a railed seat post is that it allows you to adjust the seat positioning in all directions – upward, downward, forward and backward.
The old post and clamping system for a railed seat was really annoying (I was so happy when the pivotal design came out), but companies improved it, allowing you to tighten it similarly to a stealth post, from the bottom.
If you like the classic look, like Trey Jones, then this is the ideal solution to opt for.
4. What Is A Tripod BMX Seat Post?

The tripod post type (thanks, Fly Bikes!) is some kind of a "predecessor" of the stealth version.
It gives the seat the same minimal finish because there's no need for the central hole, but it offers less control over the angle.
The tripod system has three points of contact and features a little wedge, allowing you to choose between two of the most common seat angles. You may also read my guide on why are BMX seats angled up.
You add the wedge first and then the post for a mellower angle and vice versa for a steeper one.
And like a stealth post, you also screw it to the seat from the bottom.
Despite having that extra part, it's still very simple, but only a few BMX brands use this system.
5. What Is A Layback BMX Seat Post?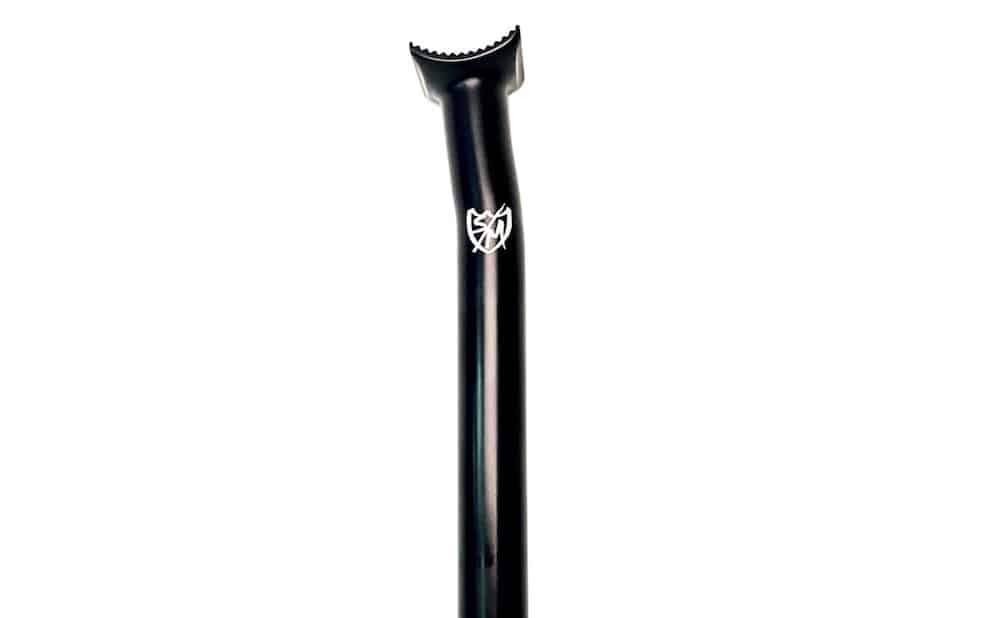 If you cannot find the right seat angle, a layback seat post type may help you.
This post has a slight (visible) backward bend toward the top to put the seat farther back.
The change in the angle isn't too drastic, but it may give you that extra angle option for a better feel.
Note: A layback seat post can come in other styles, too, like stealth, railed, etc. The above pivotal version is only an example.
6. Bonus: What Is A BMX Seat/Post Combo?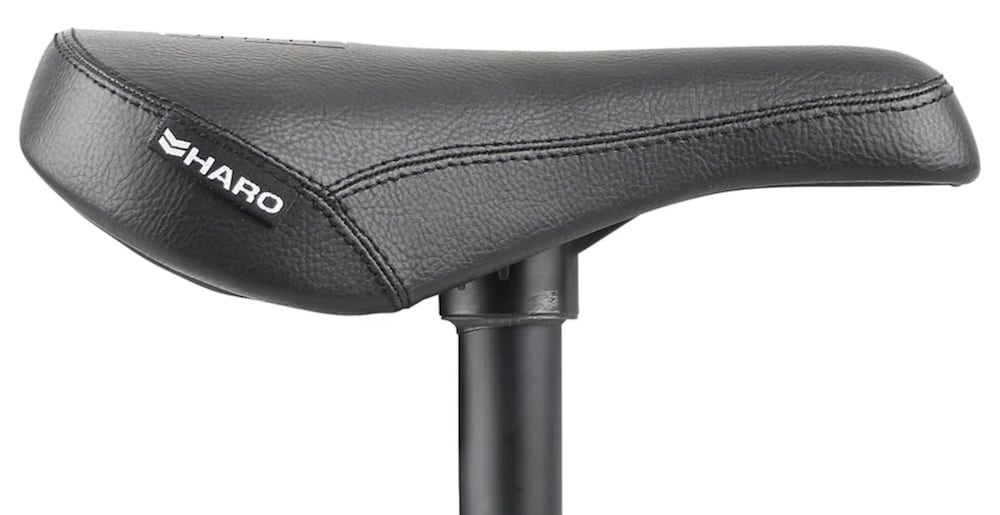 A BMX seat and seat post combo is for everyone who wants to reduce the bike's weight.
It's a simple solution that many complete bikes come with. However, you'll also see many park riders go with the seat/post combo purely for weight reasons.
The combo has two downsides: 1) You cannot change the angle and 2) it's not as strong as other types I mentioned above.
So if you're all about shaving off as much weight as possible, then go with the combo – but I don't recommend it.
Conclusion: BMX Seat Post Buyers Guide
If you want to keep it simple and have the most options, I recommend you go with the now-standard pivotal seat post.
It's straightforward to use, strong and still gives your bike a great look.
Which is better?
There's really no one-is-better-then-the-other situation here (although I don't recommend going with the combo).
It's more of a personal preference.
Here's a quick recap.
6 BMX Seat Post Types For You:
Pivotal BMX seat post: A widespread option that almost every BMX brand offers.
Stealth BMX seat post: Similar to a pivotal system, but gives the bike a more minimalist look.
Railed BMX seat post: If you like it old-school, go railed!
Tripod BMX seat post: It's a unique type with two most-common angle options.
Layback BMX seat post: Haven't found the right seat position? You may find it with the layback post.
BMX Seat/Post combo: A two-in-one solution that reduces weight.
Get the right seat post now!
Was this article helpful?
Disclosure: The BMX Dude's content is free & reader-supported. I may earn a commission if you click & buy through my links. Your support helps me create the best content & make a difference. Thanks! 🤘