Do you want to learn all about the BMX fork offset, what it is and how can it impact your riding style?
I'm stoked to share with you all the ins and outs so you can choose the right offset, specific to the tricks and riding you like to do the most.
Fun fact: Nobody really cared about the offset when I started riding BMX. In fact, I wasn't even aware of the "offset," and we never talked about it.
All we cared about was riding.
Flatlanders, that's a different story. Luckily, I had one flatlander friend who educated me about a completely different bike geometry 20+ years ago.
But no one thought about putting shorter-offset forks on a freestyle BMX bike.
Why would you do that, right? Well, that's not the case anymore.
This post covers:
Only later, with more and more technical street riding, came the need for different, shorter offsets. (Which were adopted from flatland brands first, before freestyle companies started producing them.)
Okay, history aside, let's get right into it.
Note: You might also be interested in by tested and proven collection of the best BMX forks.
What Is BMX Fork Offset
How To Measure BMX Fork Offset
A BMX fork offset indicates how far forward the center of your front wheel is from the center of the fork leg or fork's line.
What Difference Does Fork Offset Make
Only when I started getting familiar with the fork's offset I understood what a big difference those few mm can make.
It's definitely worth putting a little extra time into it, educating yourself about how your bike can handle better just by getting the correct forks.
And that's why you came here!
Let's examine three more common offsets you can currently get on the market.
We'll reference Odyssey's R Series forks because they're easier to compare. Not just that, but they're also one of the best you can get.
32mm BMX Fork Offset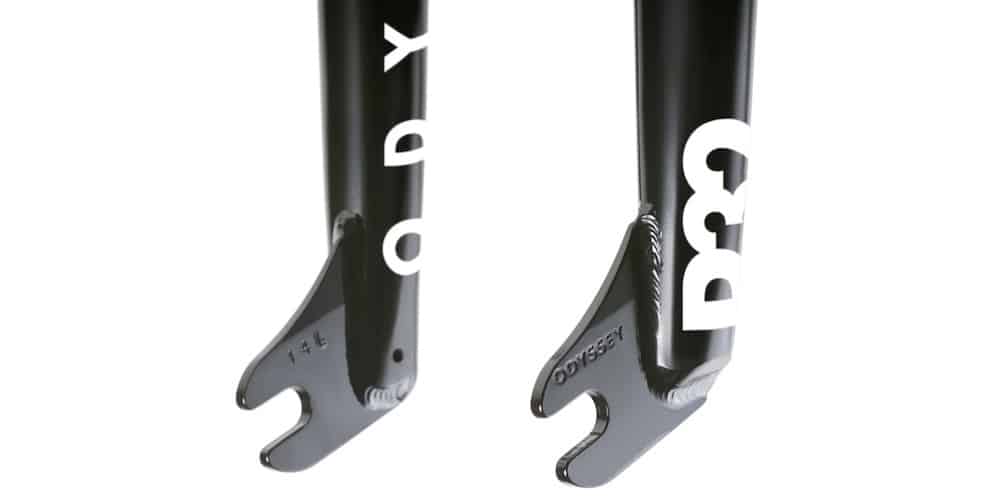 This is the "old-school" offset size most of us rode when starting out. It's a (then) all-around solution.
Any offset at 30mm+ will make your bike feel a lot more stable. Thus, it's a preferred offset for anyone riding bowls, trails, transitions and going fast. It's the offset you'll see riders like Corey Walsh ride.
It gives your bike stability on the ground and in the air. It's the least twitchy.
Fun fact: No "expert" will recommend using 30mm+ offset forks for nose manuals, unless you ask Courage Adams. He rides 33mm Fly Volcano forks, and we all know Courage is one of the best nose manual dudes in the world.
Remember, there are no rules – especially in BMX. Find your way.
GET YOUR R32'S
25mm BMX Fork Offset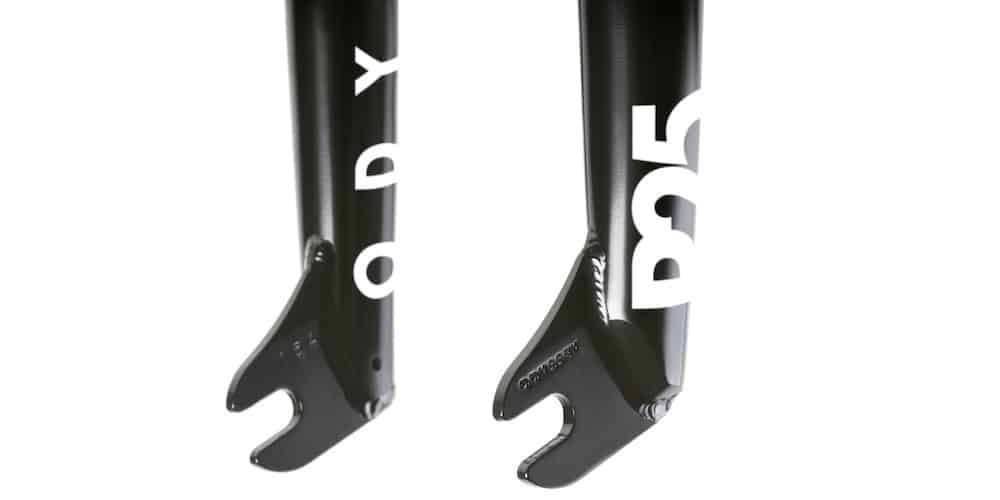 While the 30mm-34mm offset was considered universal, times change and so do riders' needs.
These days, an offset of around 25mm (even 28mm – what I ride) is the most common one you'll see amateurs and professionals ride.
If you like to ride a bit of everything, I highly recommend using the middle-size fork offset. You'll definitely have the most FUN with it.
It makes a considerable difference in front-wheel stuff, barspins and spinning tricks.
However, it still gives you enough stability to hit parks, trails and transitions in general.
GET YOUR R25'S
15mm BMX Fork Offset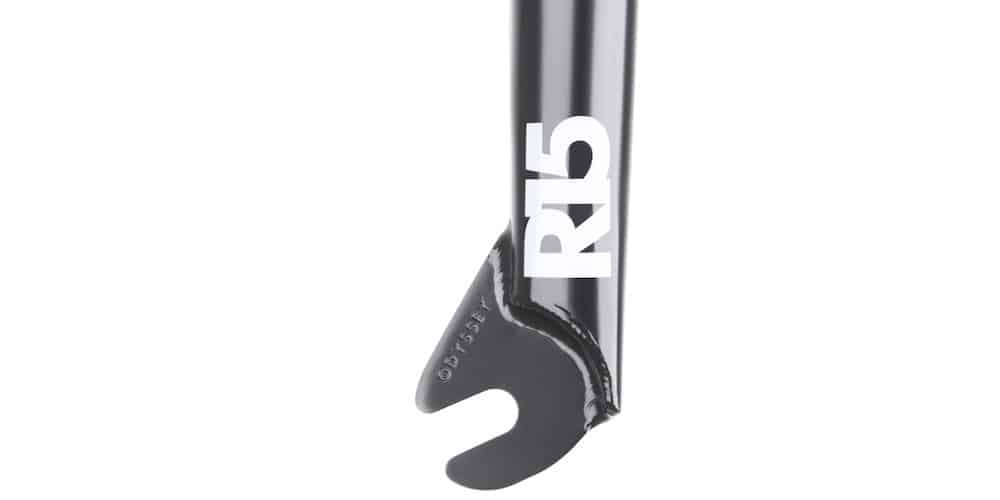 Some will say, "15mm offset, that's absurd!" but not if you're Jacob Cable and 100s if not 1,000s of other riders around the world.
What others say doesn't matter. But some guidance, like this article, is always helpful in picking the right BMX products to enjoy riding your bike more.
So, what will a 15mm offset do?
It will make your bike twitchy AF.
(Especially if you transition from a 32mm offset. I wouldn't even recommend making such a big jump because your bike might feel too weird.)
BUT!
That's great if you like to do a ton of nose manuals and other front-wheel tricks. And barspins will feel more effortless (and be faster) because the front wheel is more in line with the forks.
Also, such a small offset will shorten your bike, contributing to easier bunnyhops, spinning tricks, and even tailwhips.
GET YOUR R15'S
Best BMX Forks For Nose Manuals
Now you know that the shorter/smaller the BMX fork offset, the better it will be for nose manuals.
Besides the R15's (which I endorse the most), the following two forks are strong and high-quality, offering a 15mm offset, too: WeThePeople Battleship Fork and Eclat Storm Fork.
Conclusion: What Offset Is Right For Me
You can easily choose the right fork offset, thanks to the many options that different BMX brands offer.
Here's a quick recap to help you choose the right one for your riding style.
30mm+ Offset: For everyone who needs a stable bike because of riding trails, bowls and transitions in general. And if you like to go fast (even pulling massive street gaps), then I recommend a longer offset, too.
25mm-28mm Offset: For everyone who enjoys riding a bit of everything. The most common and all-around offset for streets, parks and trails.
15mm Offset: For everyone who is into extremely technical riding, emphasizing front-wheel tricks first and foremost.
FAQs About BMX Fork Offset
I can't decide which offset to opt for. What to do?
If you really cannot decide what would be the ideal offset for you, then Shadow's Adjustable forks are the perfect solution. Or maybe you're in the process of figuring out the right offset but you don't want to invest into multiple forks, then these are for you! They come with handy inserts/spacers that allows you to ride three different offsets; 22mm, 25mm and 28mm. So. Practical.
Can I change my fork offset?
No, you can't change your fork offset, unless you get the Shadow's Adjustable forks, which come with three spacers for three different offset lengths.
What does increasing fork offset do?
An increase in a fork offset means that your bike will feel much more stable when riding transitions, deep bowls and going fast.
What is the effect of a shorter fork offset?
Your bike will be a lot more twitchy if you pick a shorter fork, which is helpful for nose manuals, barspins, spinning tricks and even tailwhips (becasue it makes your bike shorter).
Was this article helpful?
Disclosure: The BMX Dude's content is free & reader-supported. I may earn a commission if you click & buy through my links. Your support helps me create the best content & make a difference. Thanks! 🤘