You came to the right place if you are searching for the ultimate plastic BMX pedals.
I researched and included only the most promising options you can get your feet on. (Did you see what I just did there.)
Some have a larger and some a smaller platform. (I prefer the larger.)
Also, some of the plastic pedals come with more (extra grip!) and some with fewer pins.
The design also varies, so there's something for EVERYONE.
This post covers:
Plastic pedals FTW!
Best Plastic BMX Pedals Review
1. Cinema CK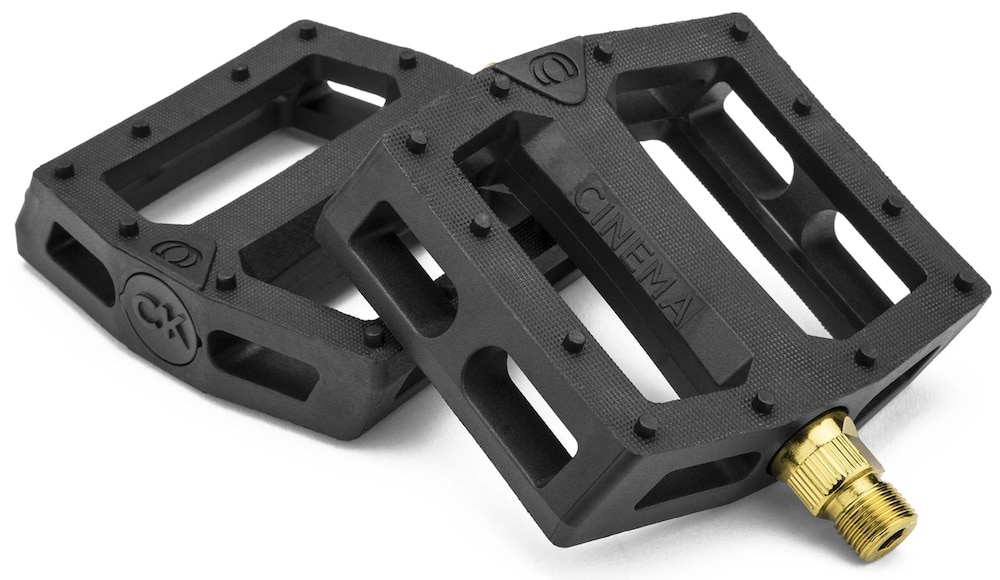 The CK in the name of the CK Pedals from Cinema stands for Chad Kerley.
These are Chad's signature pedals with Cinema which feature a fiberglass nylon blend material and 12 pins molded onto each side.
The pedals also have micro knurling on each side for more grip and a heat-treated chromoly spindle through them. These pedals come in at 14.7 ounces.
Price: $19.99 (may vary)
GET YOURS
2. Animal Rat Trap (My FAV!)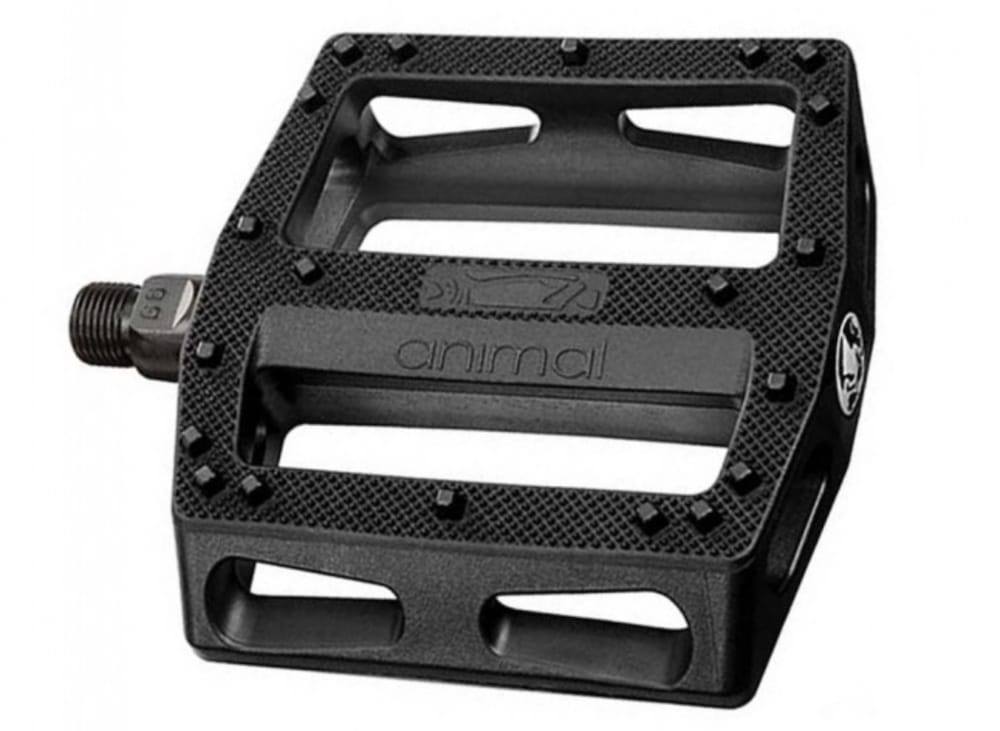 The Rat Trap Pedals from Animal are a plastic pedal constructed of nylon-based plastic.
These pedals are Animal team rider Mark Gralla's signature and feature an interesting corner pin design with 3 pins in each corner of the pedal.
This means that each side of the pedal has 20 pins molded into it, and there's even micro knurling on each side as well.
The Rat Trap pedals utilize a chromoly spindle and come in at 15.3 ounces.
I tested these heavily and they grip extremely well.
Price: $18.99 (may vary)
GET YOURS
3. Shadow Surface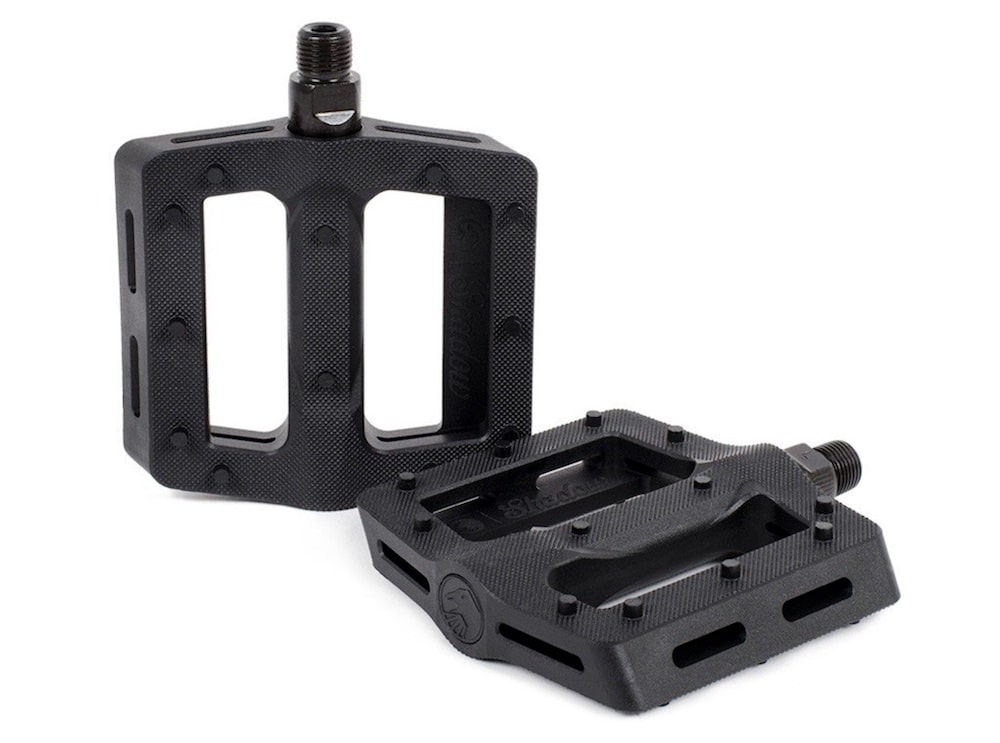 The Shadow Surface pedal is a plastic pedal from Shadow that features a slim platform that is also wide and long.
This platform is micro-knurled and has a concave shape to help with grip as well as comfort.
The plastic BMX pedals have 12 molded pins per side and use a heat-treated chromoly spindle with a 6mm broach.
With the slim design, these pedals come in at just 13.3 ounces for the pair.
Price: $22.99 (may vary)
GET YOURS
4. Shadow Ravager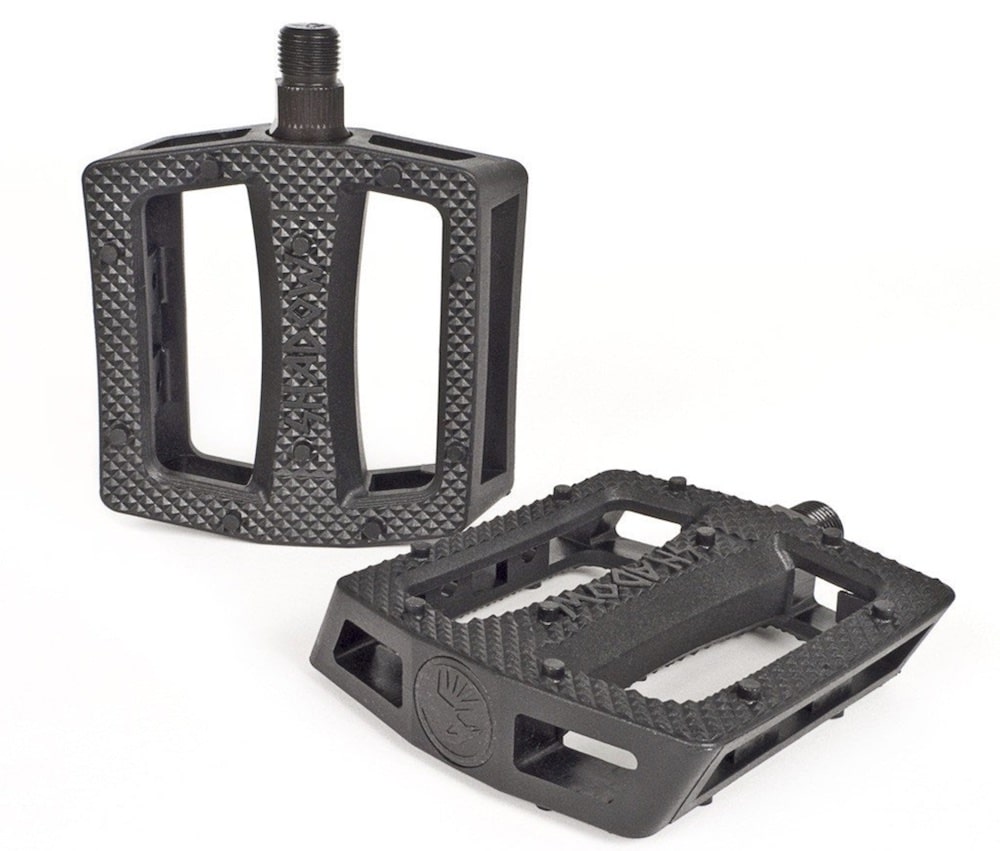 Here we have the Shadow Ravager plastic pedal. These pedals have been around for what feels like forever and have been a staple of the Shadow component lineup.
The spindle in the Ravager is heat-treated 4140 and the weight on these comes in at just 13.6 ounces.
There is also knurling present on the Ravager pedal that Shadow describes as maxi knurling. It is a bit larger than the micro knurling like on their Surface pedal.
Price: $21.99 (may vary)
GET YOURS
5. Eclat Centric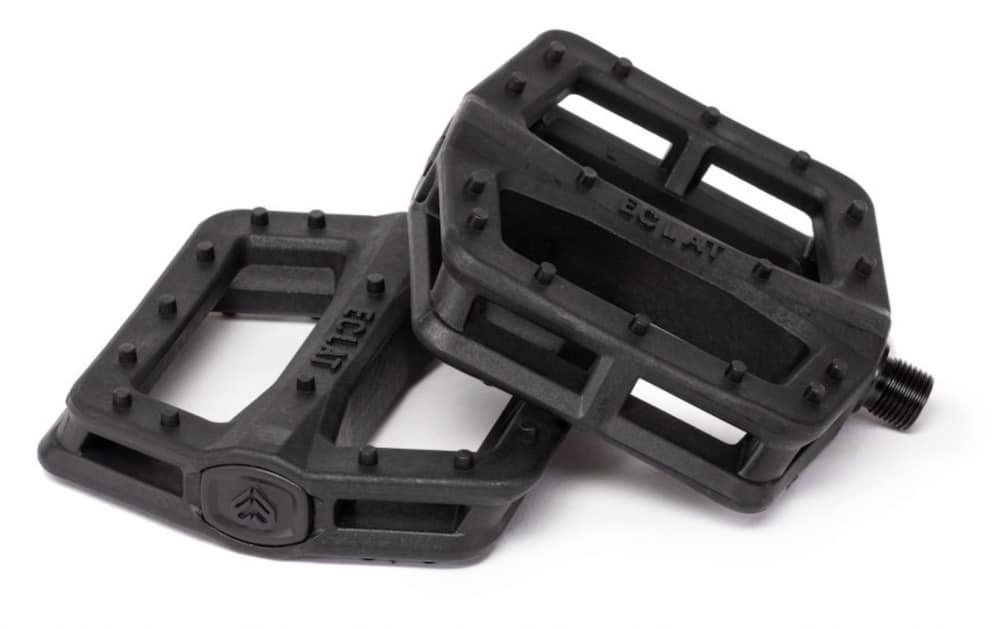 The Eclat Centric pedals have a unique pedal body design that completely covers the area of the pedal that would normally be used to tighten/loosen them with a wrench.
The idea behind this is similar to the idea behind the potential benefits of a shorter crank arm.
This does mean that the 6mm allen broach is the only option for tightening these pedals.
The molded pins on the Centric pedal are longer than usual and there is a horizontal concavity to the pedal platform to help with grip.
These pedals come in at 14.6 ounces per pair.
Price: $16.99 (may vary)
GET YOURS
6. WeThePeople Logic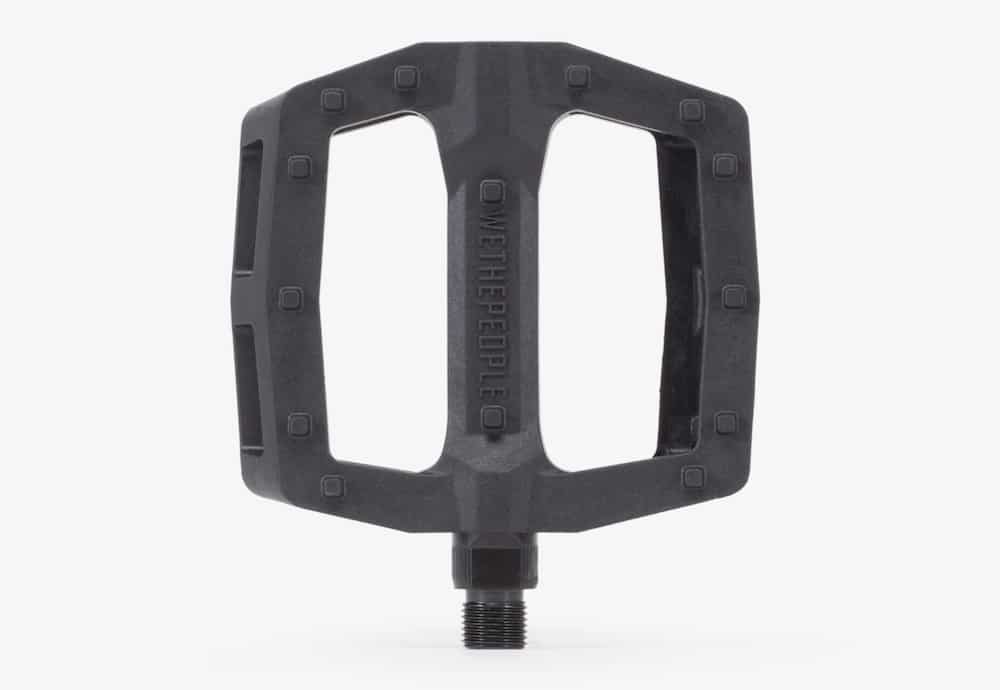 The Logic pedal was born through discussion with the WeThePeople team with the intent of creating everything they wanted in a BMX pedal.
The Logic Pedal is a pedal with a larger platform and larger square pins.
The pedals also use an oversized chromoly spindle, so just about everything is larger than normal.
The weight, however, is not more on these, coming in below average at 13.8 ounces.
Price: $19.99 (may vary)
GET YOURS
7. BSD Safari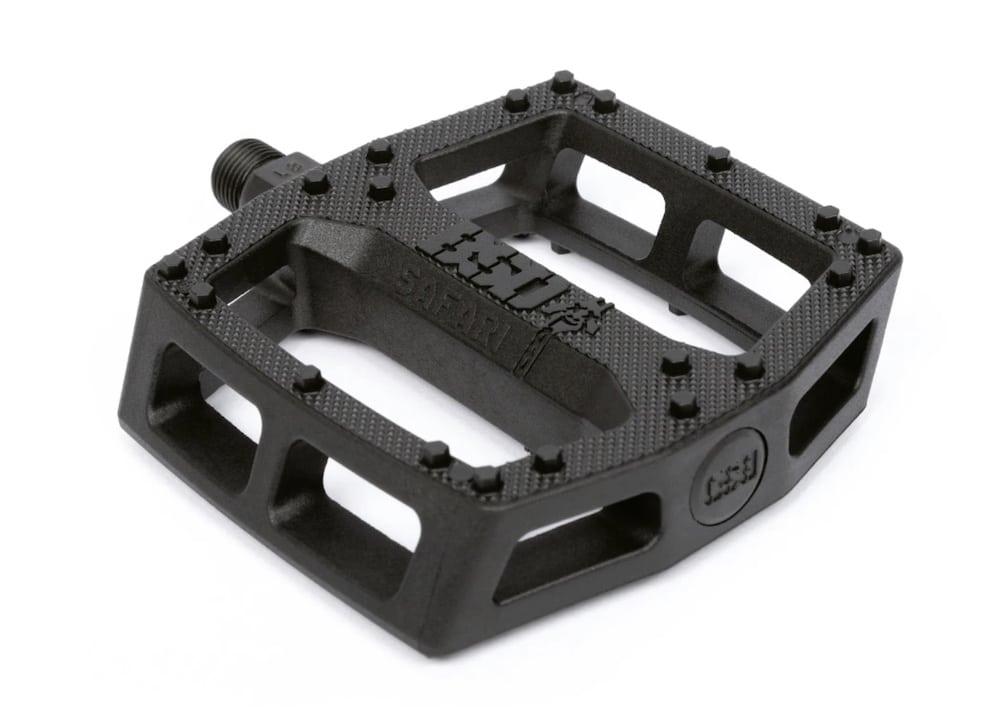 Here we have Reed Stark's signature Safari Pedal from BSD.
The Safari pedal solves a problem that Reed had noticed where when a bike hits the ground, corner pins on pedals have a tendency to grind or break.
To help with this, there are three pins in each corner of his signature plastic BMX pedals.
These extra pins bring the total count to 20 pins per side in addition to the micro knurling that is also present.
These pedals also feature a dual concave design and weigh in at 13.5 ounces.
Price: $19.99 (may vary)
GET YOURS
8. Odyssey Grandstand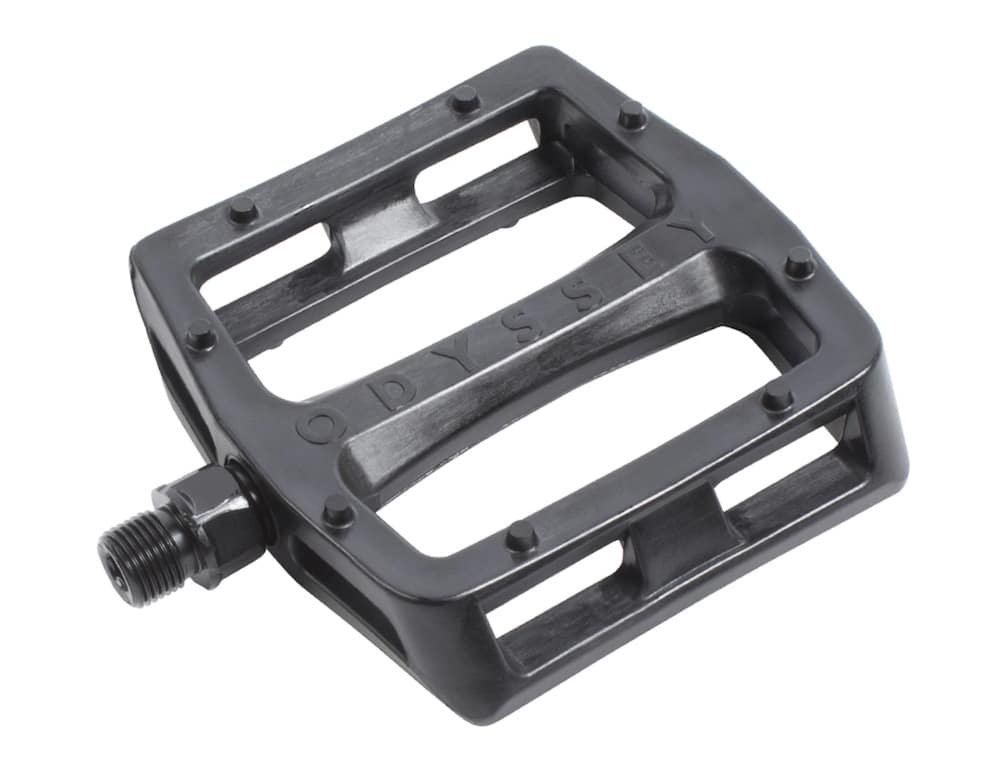 The Grandstand V2 pedal is the second iteration of Odyssey's extremely popular Grandstand V1 that brings key improvements to the pedal.
It was no secret that the original developed a bit of wobble, which has seen an internal redesign to reduce that "axial movement."
These plastic BMX pedals utilize a heat-treated 14mm chromoly spindle and tighten with a 17mm wrench versus the conventional 15mm.
There is also a 6mm broach option for tightening.
One of the main reasons the original Grandstand pedal was so loved is the larger platform combined with its concavity.
This has remained unchanged in V2, so if you were a fan of how the V1 pedals felt, these will make your feet happy as well!
Price: $24.99 (may vary)
GET YOURS
9. Merritt P1 Pedals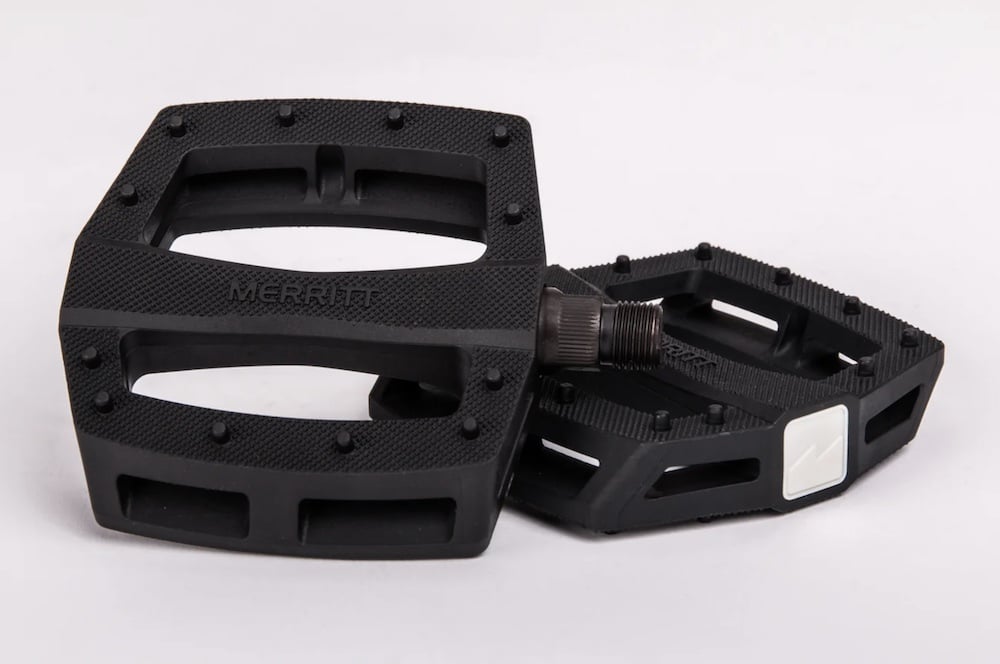 P1 plastic pedals are the only ones from Marritt. But when you do things right, why would you want to make another product?
The pedals have a low profile, constructed from a special nylon/fiberglass blend that adds strength for all types of riding styles.
And they grind on rails and ledges very well, too.
You can get them in six different colors and the pedals wight 12.9 oz.
Price: $23.95 (may vary)
GET YOURS
10. Odyssey Twisted PC Pedals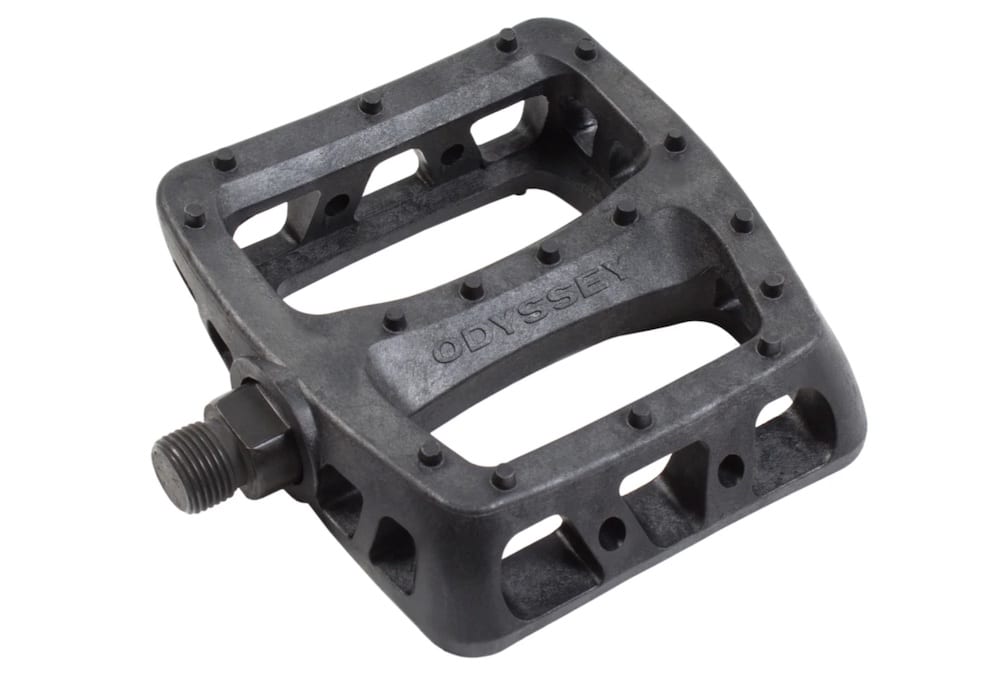 The Odyssey Twisted PC pedals have been one of the most popular plastic pedals in the world for a LONG time. They have a very simple look with a robust compound, ensuring they'll last a while (unless you do a ton of pedal grinds, but even in this case, they hold nicely).
Interestingly, these pedals have more central pins than some other PC pedals, contributing to the insane grip. A perfect match for my Vans slipons.
Moreover, you can get Odyssey Twisted PC pedals in two spindle sizes, 9/16″ (for 3-piece cranks) and 1/2″ (for 1-piece cranks). Weight: 14.2 oz.
Price: $16.99 (may vary)
GET YOURS
11. S&M BTM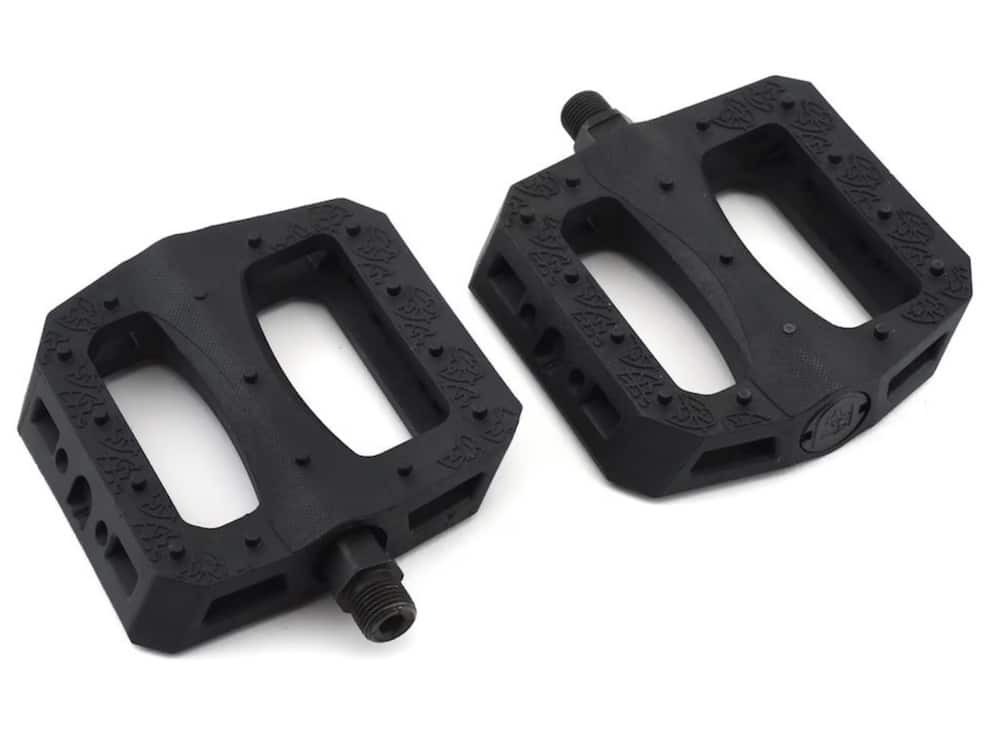 I always say this, if it holds Mike Hoder, it'll hold everyone. And the same applies to his signature S&M pedals.
Mike decided to go with only fifteen molded pins per side, but that's the perfect number because they don't slip.
The pedal's platform is made of a reliable nylon/fiber blend that's great for confident (fast) pedaling around and grinding. The pedals weigh 14.3 oz and are compatible with 6mm Allen, 15mm and 17mm wrench for effortless installation.
Price: $19.95 (may vary)
GET YOURS
12. Rant Trill PC Pedals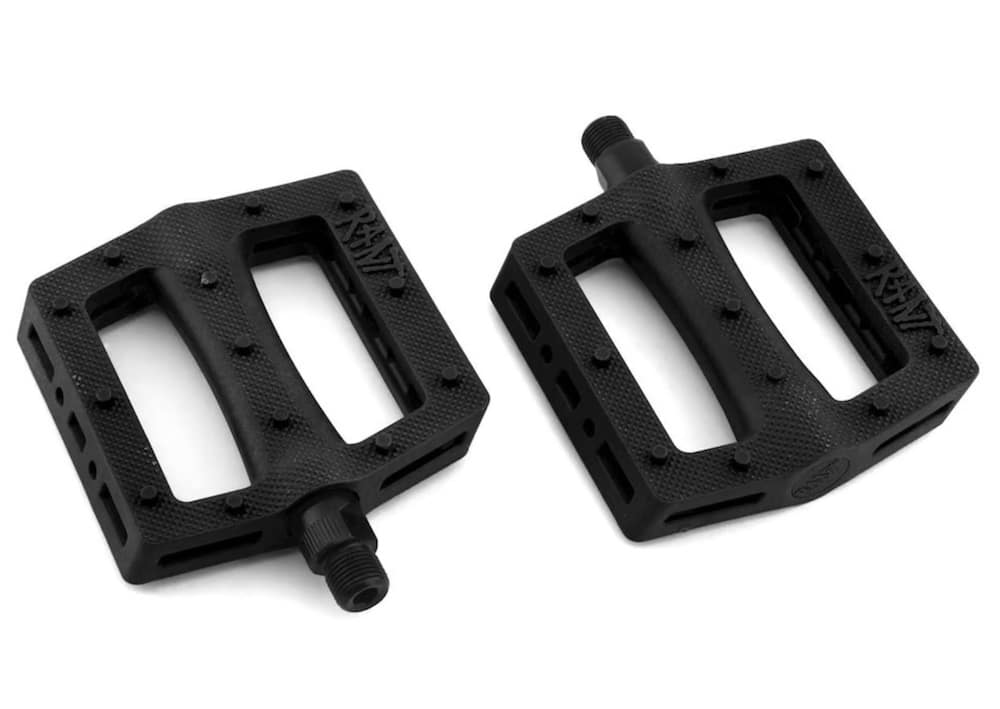 With a 95 x 100mm platform, the Rant Trill plastic pedals are an affordable, solid and grippy solution for every rider.
These only have thirteen pins but are slightly larger than other pedals, ensuring your feet are safely in place regardless of your riding style. But they also have micro knurling, which contributes to their grippiness.
The pedals weight 13.5 oz.
Price: $16.99 (may vary)
GET YOURS
13. Cult Dak Pedals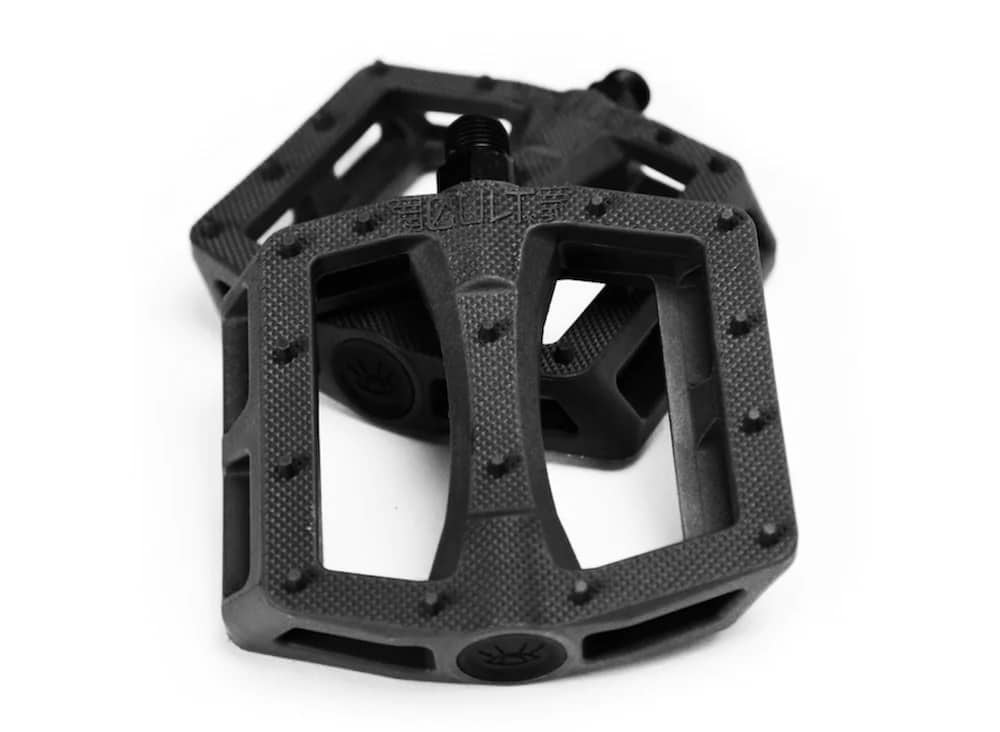 Are you a fan of Dakota Roche? Then his signature Cult Dak pedals might be something you'll want to put on your bike.
These pedals feature a strong and durable nylon composite with a concave and micro knurled surface. The addition of fourteen pins on each side ensures the necessary grip so you don't slip.
A pair of Cult Dak pedals weigh 15.4 oz.
Price: $16.99 (may vary)
GET YOURS
FAQs About Plastic BMX Pedals
Are plastic BMX pedals good?
Yes, plastic pedals are strong, durable and suitable for all types of BMX riding you do.
How much do plastic pedals weigh?
The average weight of a pair of plastic pedals is 14 oz (396.9g). That's 3.7 oz less (104.9g) compared to alloy pedals.
(I compared the average weight of 10 plastic pedals vs. 10 alloy pedals.)
Are all BMX pedals the same size?
The standard, modern BMX pedals are all the same size, 9/6″ (for 2- and 3-pc cranks). However, there is a difference in the size of the platform; some are larger and some smaller.
I prefer larger, like Anima's Rat Trap.
Note: 1/2″ pedal size is for 1 piece cranks, which I don't recommend you use on your BMX bike. (Not nearly as strong as 2- or 3-pc cranks.)
Was this article helpful?
Disclosure: The BMX Dude's content is free & reader-supported. I may earn a commission if you click & buy through my links. Your support helps me create the best content & make a difference. Thanks! 🤘