Are you looking for the best and the strongest BMX sprockets?
Welcome to my collection of ultimate chainrings that any rider can use.
Whether you want a sprocket with a guard or without it, small or large, it's all here.
I ride a 25T one with a guard because of the grinds, so I don't destroy the chain.
But that's more recently.
I was rocking a 28T sprocket without a guard for a very long time. No problem, but the guard just makes it all a tad easier.
This post covers:
Here are the BEST ONES – something for everyone. Go.
You may also be interested in my collection of the best BMX chains.
Best BMX Sprockets
1. Shadow Cranium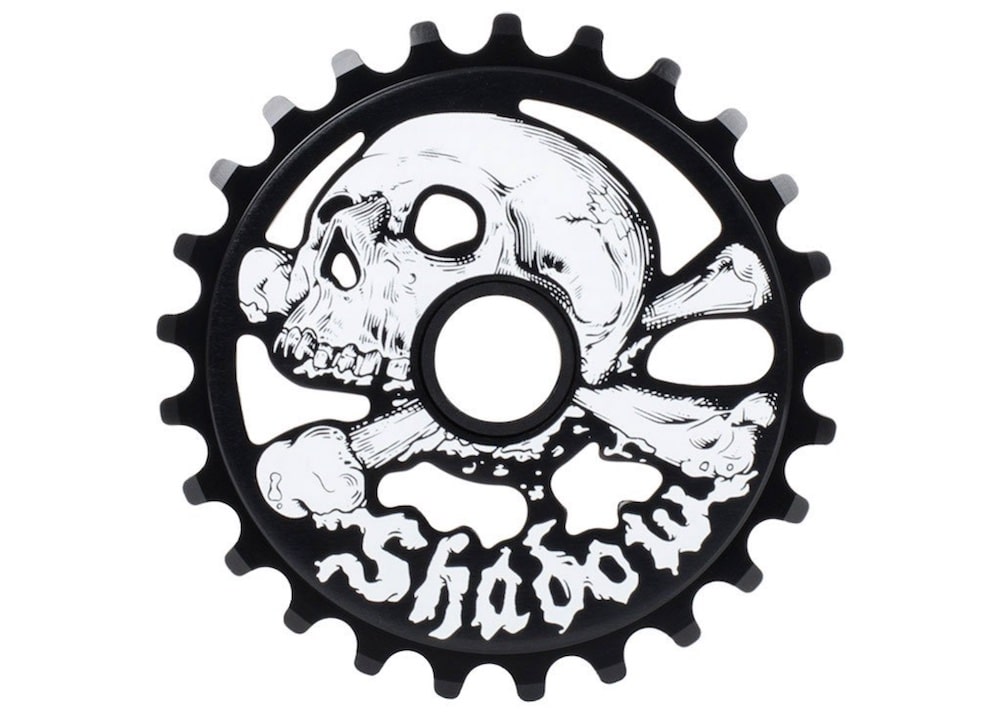 The Shadow Cranium Sprocket is made from 7075 aluminum, comes in a ton of different color options, and is available in 28T or 25T to suit just about everyone.
The design of the sprocket is a skull and crossbones with the Shadow name, and according to their website, it was created "to add a bit of personality to your ride."
And with no defined sprocket bolt hole, you may or may not be able to rotate this one on your cranks.
Price: $34.99 (may vary)
GRAB YOURS
2. Animal OG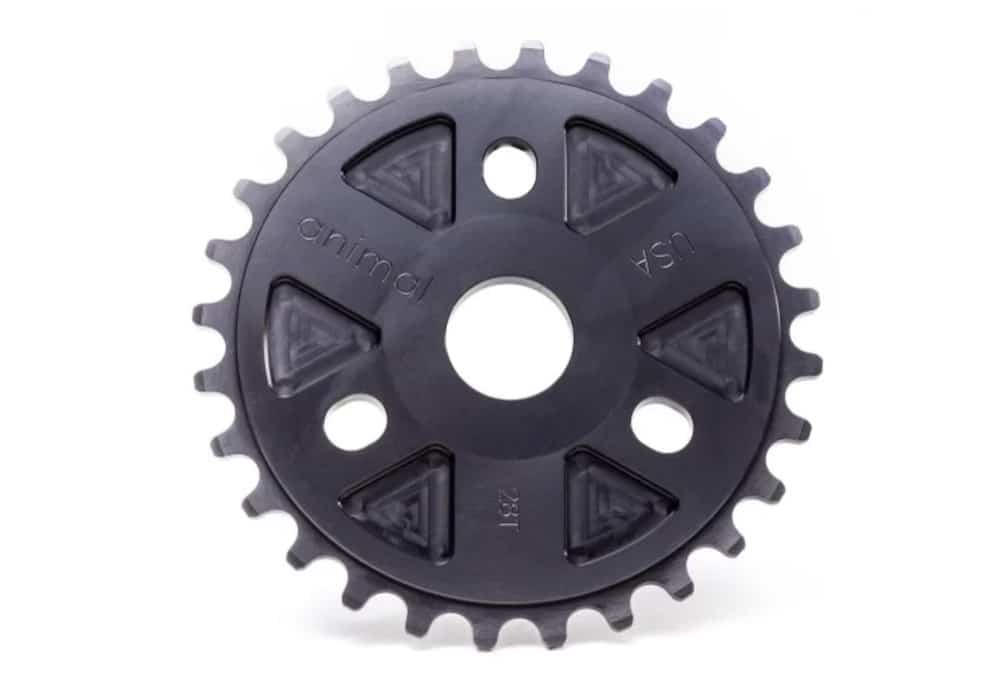 The OG Sprocket from Animal is made in the USA from 7075 aluminum, is 6mm thick, and has a 24mm bore hole in it.
It includes a 19mm and 22mm spacer, which makes this thing fit just about any cranks out there with a sprocket bolt.
The OG sprocket has three bolt holes which means you can rotate it multiple times to extend its life.
It is only available in black and polished with 25T or 28T options.
Price: $74.99 or $82.99 (w/ guard) (may vary)
GRAB YOURS W/O GUARD
GRAB YOURS W/ GUARD
3. Shadow Sabotage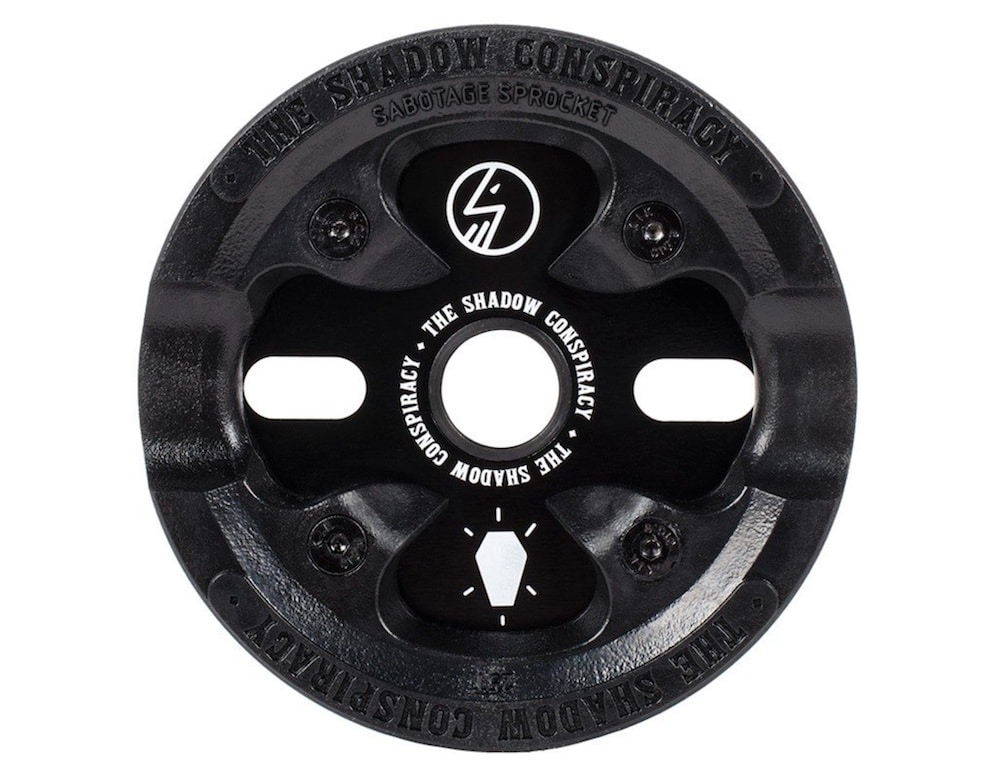 Shadow Conspiracy gained inspiration for their Sabotage sprocket from old-school sprocket/guard combos but added their high-quality twist to it.
It comes in two sizes (25T & 28T) with a removable/replaceable plastic guard that screws to the sprocket with four bolts. The space between teeth and guard is wide enough to fit any modern BMX chain.
Plus, it comes in 8+ color variations!
Price: $38.99 (may vary)
GRAB YOURS
4. Cult Dak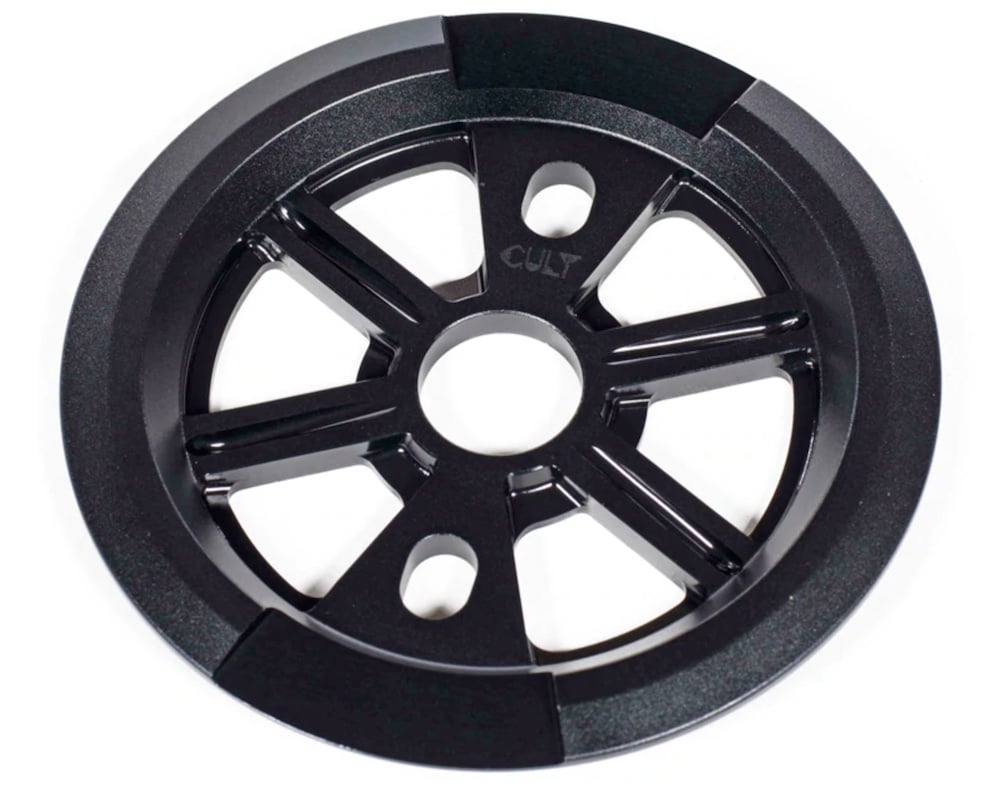 Here we have the guard version of Dakota Roche's signature Dak sprocket. This one is also made from 7075-T6 aluminum just like the original and comes in both 25T or 28T.
Black is the only color option available on the Dak Guard sprocket, but it has two sprocket bolt holes to allow for rotation on your cranks, leading to an extended lifespan.
A sharp-looking sprocket!
Price: $59.99 (may vary)
GRAB YOURS
5. Odyssey Utility Pro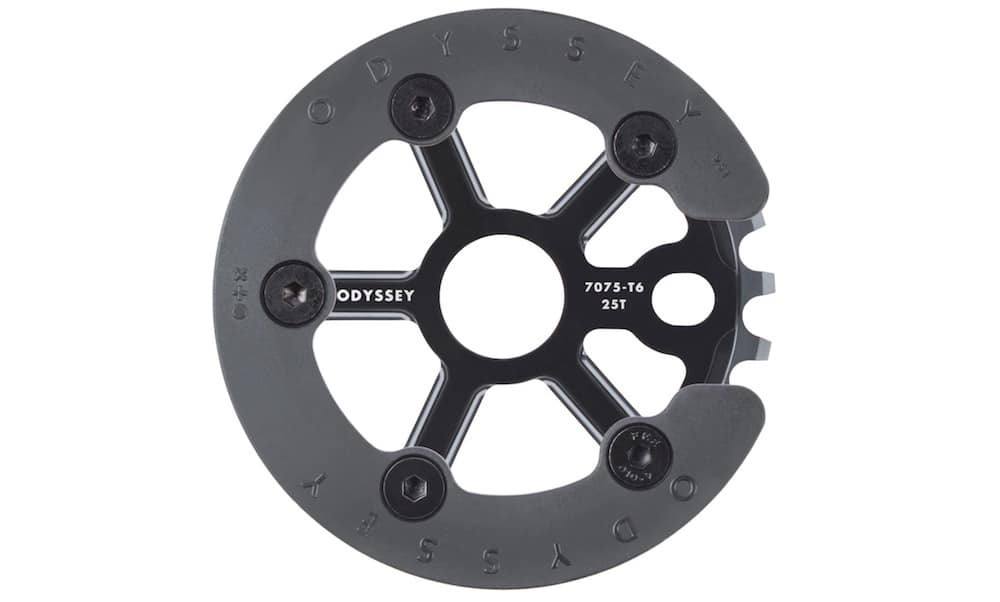 Let's take a look at the Utility Pro Sprocket from Odyssey. This is a sprocket designed to have a rad look by itself and also be compatible with Odyssey's Utility Pro plastic guard.
The sprocket is CNC'd from 7075 aluminum and compatible with all BMX chains.
There are 3 size options on the Utility Pro in 25T, 28T, or 30T, but the 30T option is not compatible with the guard.
The sprocket comes in red, blue, or black, with or without the guard.
Price: $44.99 or $49.99 (w/ guard) (may vary)
GRAB YOURS W/O GUARD
GRAB YOURS W/ GUARD
6. Eclat Onyx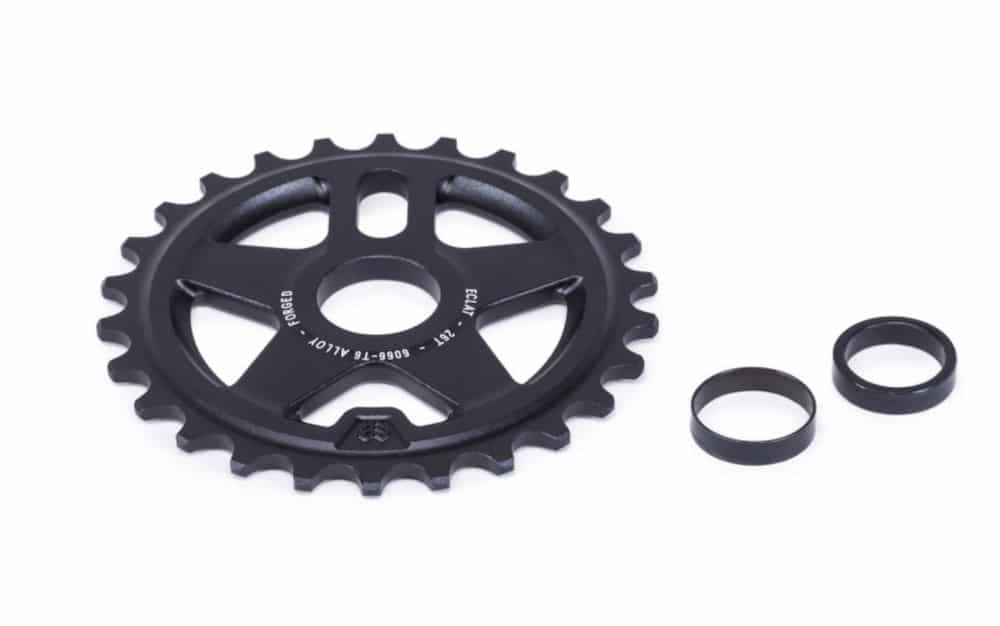 Here we have the Onyx Sprocket from Eclat. This is a cold-forged sprocket which helps bring the price tag down to make it a more affordable option.
Size options on this one include 25T or 26T and it has a thickness of 6.35mm.
One cool feature of the Onyx is its two-sided design, which means you can decide which you want to show just by flipping the sprocket.
There is only one sprocket bolt hole on this one, which is understandable based on the affordable price point and color options: sandblasted black or sandblasted cyan.
Price: $31.99 (may vary)
GRAB YOURS
7. Eclat Abyss Guard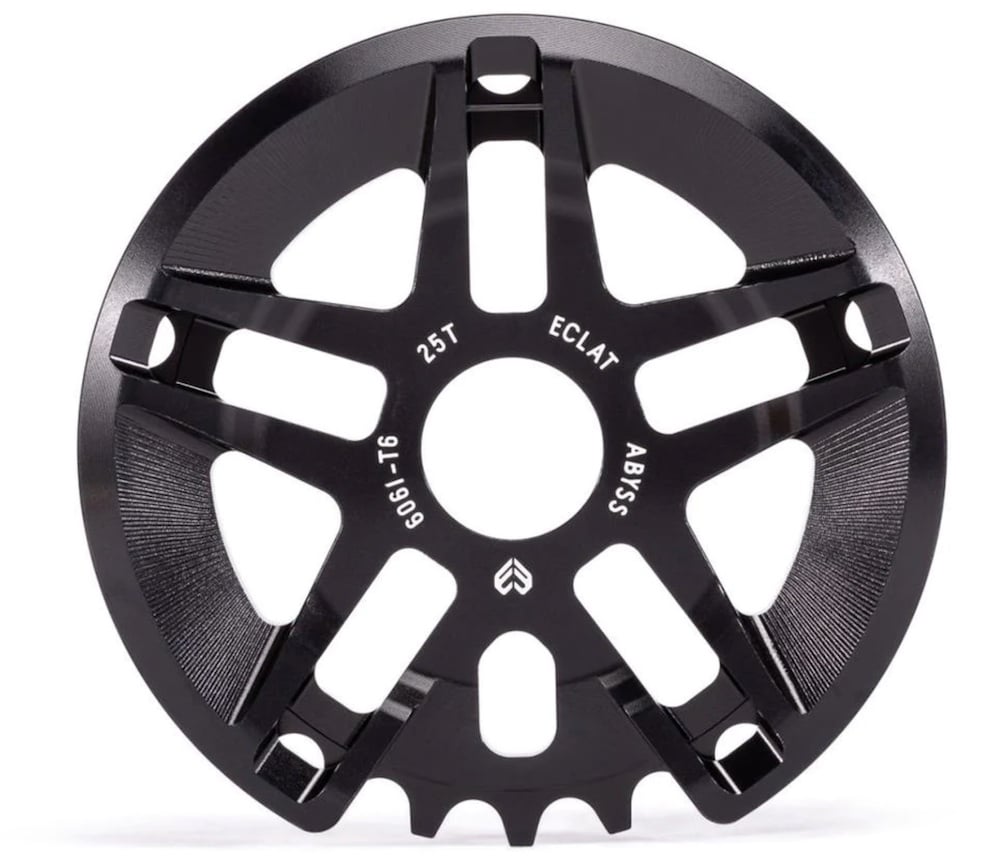 The Abyss Guard sprocket uses extra though alloy with a five-spoke design that keeps the weight low but also looks really good.
The sprocket is 8mm thick and comes in two sizes, 25t and 28t. It's also fully compatible with 19m, 22mm and 24mm BMX crank spindles.
Price: $72.99 (may vary)
GRAB YOURS
8. WeThePeople Pathfinder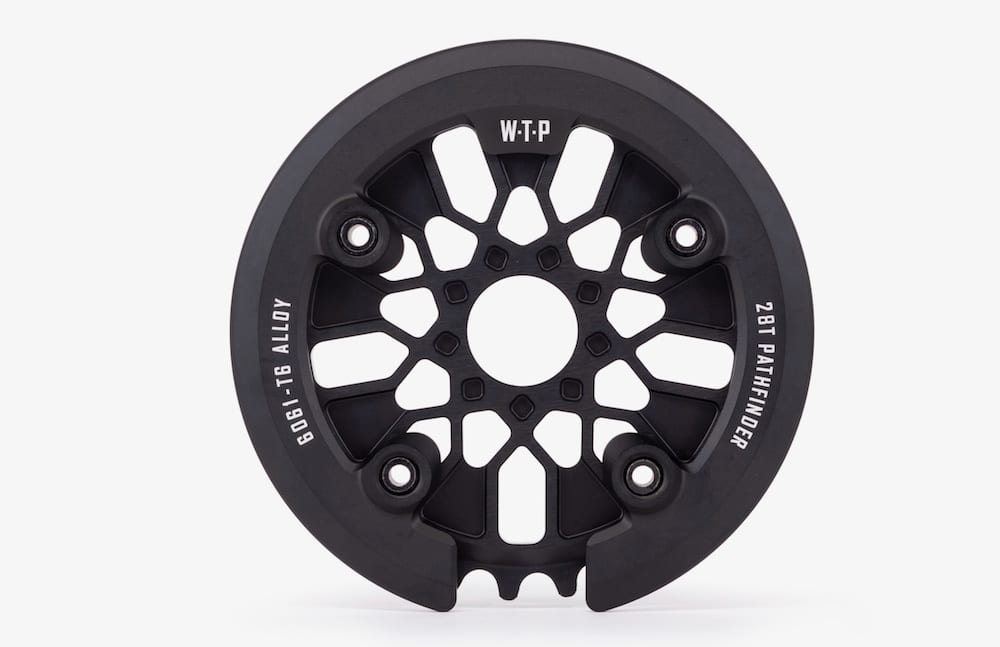 The Pathfinder Sprocket Guard Combo from WeThePeople is a Felix Prangenberg signature that according to the WTP site would be thicker than anything else they had done before at that time.
The design on this one appears to allow the guard to be rotated on the sprocket and for the sprocket to be rotated on the cranks up to 9 different times.
This significantly increases the longevity of a product like this. And how WTP did it, look-wise, is great as well!
The Pathfinder sprocket is available in 25T or 28T and fits 19mm, 22mm, and 24mm spindles.
Price: $49.99 or 80.99 (may vary)
GRAB YOURS
9. WeThePeople 4Star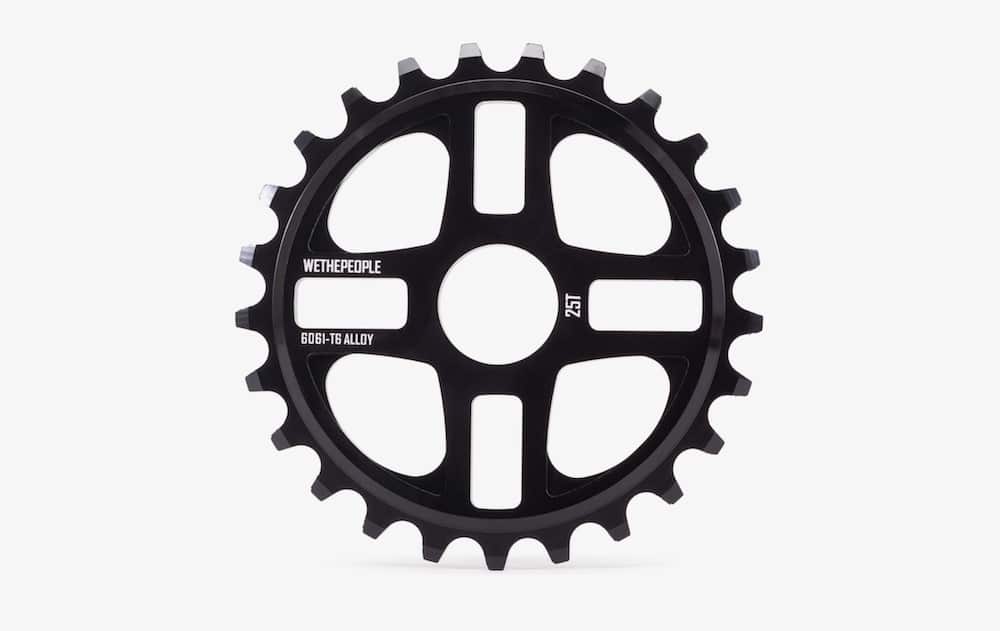 The 4Star Sprocket from WeThePeople is a no nonsense sprocket that is 6mm thick and made from 6061-T6 aluminum.
This one has 4 different sprocket bolt holes, which allow it to be rotated 4 times and has several color options available.
The 4Star comes in 25T or 28T and is a complete CNC machined sprocket that WTP says is run by many WeThePeople Pro squad.
Price: $32.99 (may vary)
GRAB YOURS
10. Subrosa Barcelona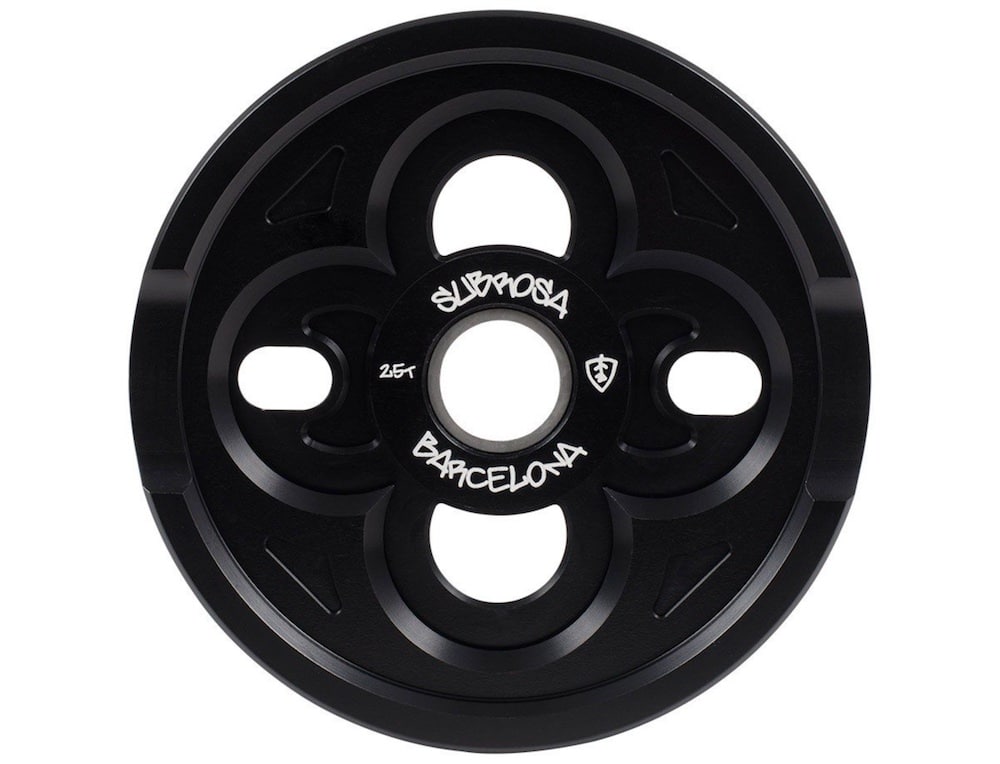 Here we have Simone Barraco's signature Barcelona Sprocket from Subrosa. This is an all aluminum guard sprocket with an 8mm thick guard that is available in 25T or 28T in 4 different color options.
This sprocket is made with the Shadow Conspiracy Interlock Supreme chain in mind so that even after some abuse, you can be sure that your chain will not rub the guard.
Two different sprocket bolt holes allow for sprocket rotation on your cranks and lead to an extended lifespan.
Price: $72.99 (may vary)
GRAB YOURS
11. Fly Bikes Tractor XLII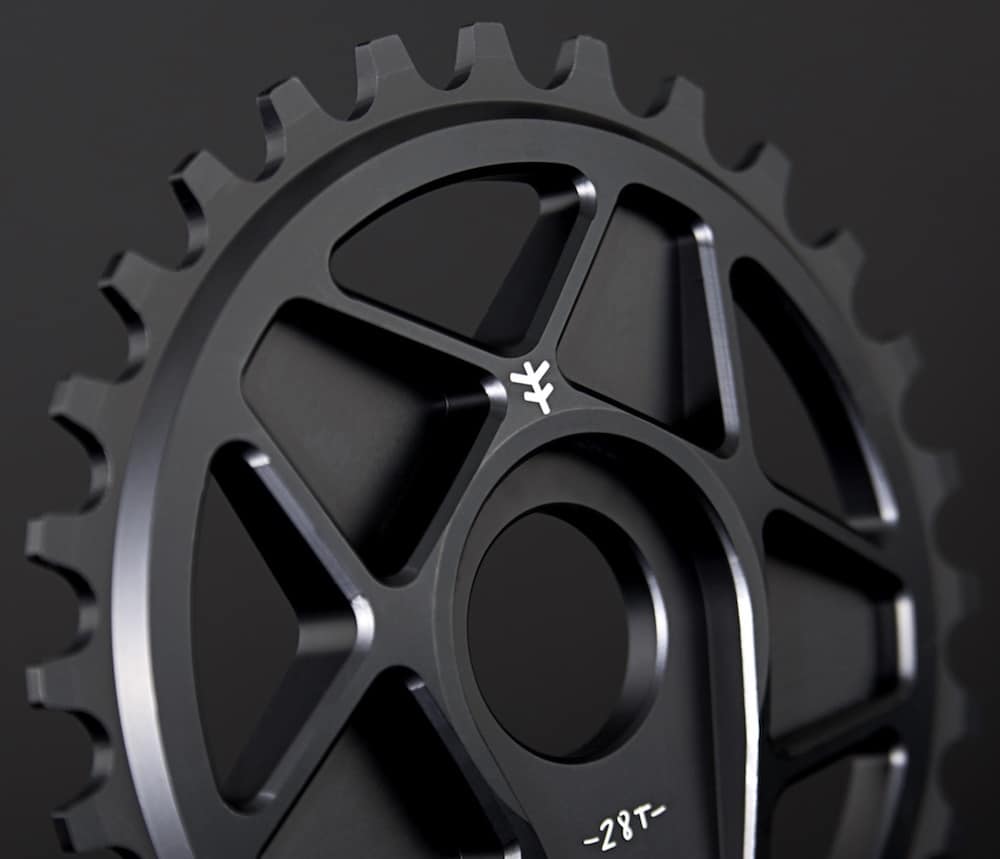 Let's have a quick look at the Fly Bikes Tractor XLII Sprocket. This one is a CNC machined sprocket made from 6061 aluminum that has a wildy different design.
The design is 12mm at its center and tapers down to 6mm at the teeth of the sprocket.
The 12mm area has a recessed area for the crank arm to fit and this is all meant to increase the strength of the sprocket.
This one is available in 25T or 28T and can work with 19mm, 22mm, and 24mm crank spindles.
Price: $69.95 (may vary)
GRAB YOURS
12. BSD Guard Sprocket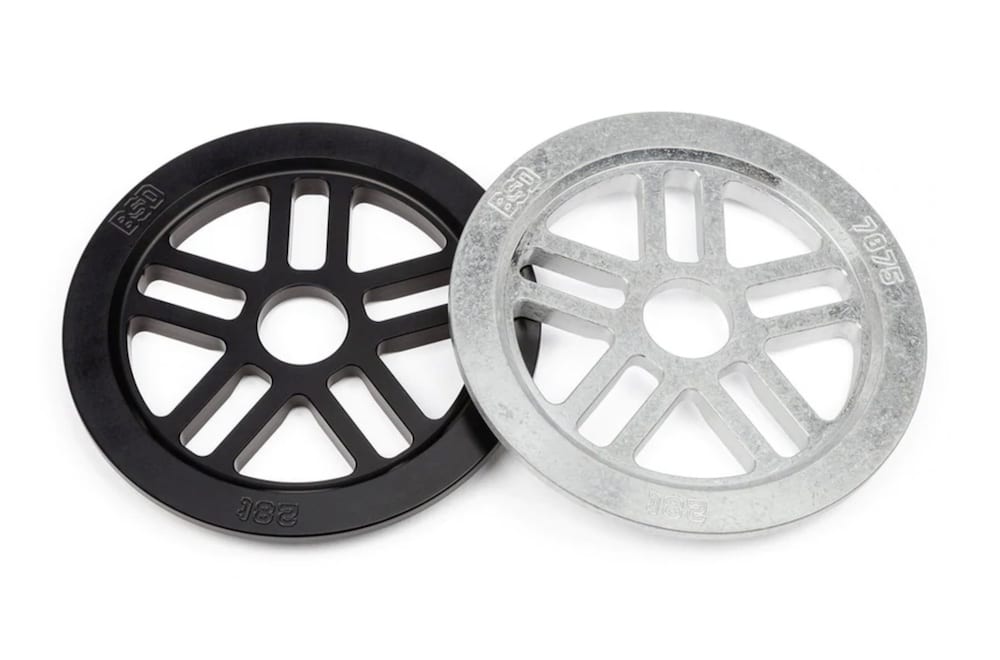 The Guard Sprocket from BSD is a no nonsense guard sprocket made from fully CNC'd 7075 aluminum.
This one features an offset design for better chain alignment, which is great to see in a world where chain alignment is often overlooked.
It is available in raw or black with size options of 25T or 28T.
The design on the guard sprocket also has 5 different slots in it, which you can use for mounting to your crank with the sprocket bolt.
This will help you get your money's worth as you'll be able to rotate it up to 5 different times!
Price: $64.99 (may vary)
GRAB YOURS
13. BSD Jonesin'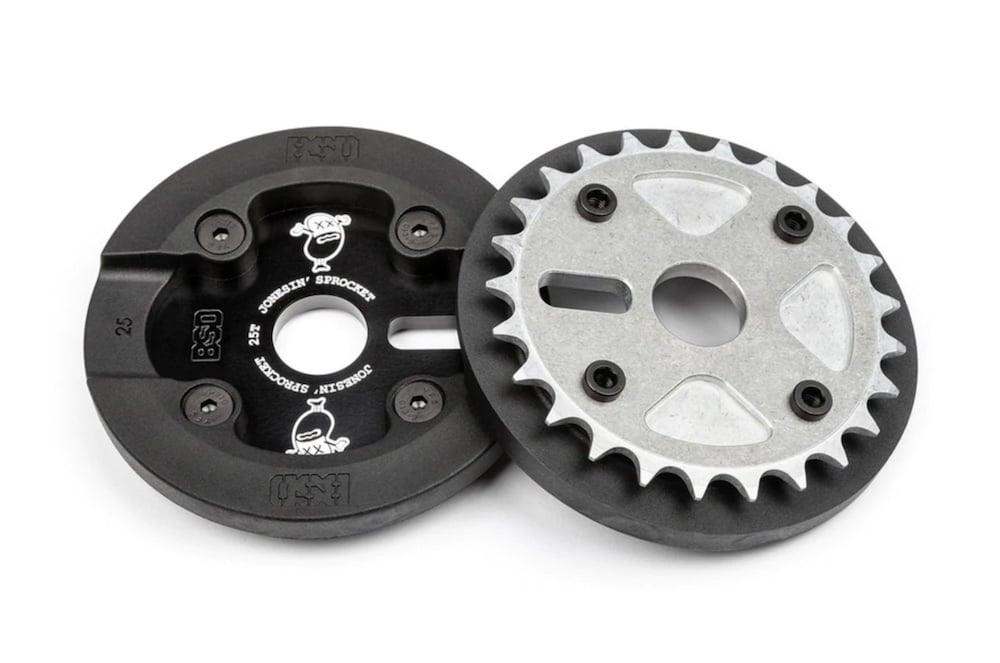 BSD's Jonesin' Sprocket is Sam Jones' signature sprocket and is made to his spec.
This one utilizes a bolt-on plastic guard, so the sprocket has a classic look without the guard.
This sprocket is made from 7075 aluminum, with the guard being made of "high-density nylon" using hardware from hardened chromoly for bolting the guard on.
This one is only available in 25T (black or raw), which is for "the rail crew."
Price: $54.99 (may vary)
GRAB YOURS
How To Pick The Right BMX Sprocket?
Choosing the right sprocket relies primarily on the style of riding you do.
So let's start with the most important one:
1. Gear Ratio (Sprocket Size)
Here are three scenarios (assuming you have a (most common) 9t BMX rear hub.)
Street: You have two options, either a 25t/9t or a 28t/9t combo.
The former is more for technical street riders where you don't need to pedal fast to do giant gaps and stuff. That's the gear ratio I ride.
I actually switched down from the 28t/9t ratio.
28t/9t is great if you also like to jump stairs or are more of an all-around rider, shredding skateparks and occasionally trails.
Note: I once did a 30t/9t gear ratio, but it just doesn't work too well for street (if you're into grinds and stuff; it works if you're Sean Burns and like to do wicked stuff).
Park: Similar to street riding, park riders also prefer smaller/lighter gear ratios. A 25t/9t is an excellent pick, but some even go with a 24t sprocket.
Trails, bowls: This is where the larger, heavier gear ratios come into play.
While many riders still do the 28t/9t ratio, I'd recommend the 30t/9t gear ratio, so you can enjoy the power when needed.
2. Material (CNCed or Forged?)
In most cases, BMX sprockets are CNC machined from Aluminum, which gives the final product a more refined look. These are the most common and my favorite.
Forged sprockets, on the other hand, are forged from a raw Aluminum block under heat and pressure. It's a cheaper process, so that's why forged sprockets are significantly more affordable.
3. Guard or Non-Guard BMX sprocket
The riding style depends on whether to go with a guarded or non-guarded sprocket. But it's also a personal preference because some riders like the look (like myself).
For the most part, guarded sprockets are exclusive for street riders, where you do a lot of grinding, and you regularly hit your chain.
I highly recommend going with a sprocket + guard combo if that's the case. (It's also chain-friendly if you do disasters and crooked grinds where the chance of hitting your sprocket is much higher.)
For me, it's both for the looks and the chain protection.
4. Spline Drive Sprocket
This is a rarity, but I'm mentioning it because you may come across a spline drive sprocket and don't really know its use.
It's a sprocket with a hardened Chromoly insert that matches the crank spindle's 48 splines. One of the current best examples is the Profile Spline Drive sprocket.
In this case, you don't need sprocket bolts, you push it on the spindle, and that's it.
I had the S&M L7 version once. It's great because it makes the bike look much cleaner without the sprocket bolt.
But I could not take it apart when I tried to disassemble it. Do I recommend it? No. (Maybe only for BMX flatland.)
FAQs About BMX Sprockets
What sprocket size is best for BMX?
Picking the best sprocket size depends on your style of riding. 25 – 28T is ideal for street because it helps with grinding but still has enough pedaling power.
But if you like to go fast, anything above 28T would be perfect for you.
Is a smaller sprocket faster BMX?
No. A smaller sprocket is slower in BMX. If you want to go fast, pick a 28T+ sprocket.
How do I choose a BMX sprocket?
A 25 – 28T sprocket is ideal if you ride street and do a lot of grinding.
A 28T+ is perfect if you ride trails, parks and transitions and like to go fast.
What is the best BMX gear ratio?
25/9 gearing for street riding (optionally 28/9).
28/9 gearing for transitions riding (optionally 30/9 or heavier).
Was this article helpful?
Disclosure: The BMX Dude's content is free & reader-supported. I may earn a commission if you click & buy through my links. Your support helps me create the best content & make a difference. Thanks! 🤘