I found out that the market is very limited after reviewing the best BMX flatland frames.
But here are the 3 top options that you can use for flatland riding.
Actually, these frames are strong enough to mix in some street riding, too!
Usually, a flat frame would have a shorter top tube length and lower standover height, but that's not always the case.
Matthias Dandois revolutionized flatland riding with his hybrid approach and everything went from there.
Enjoy.
Best BMX Flatland Frames
1. Utopia (The Best)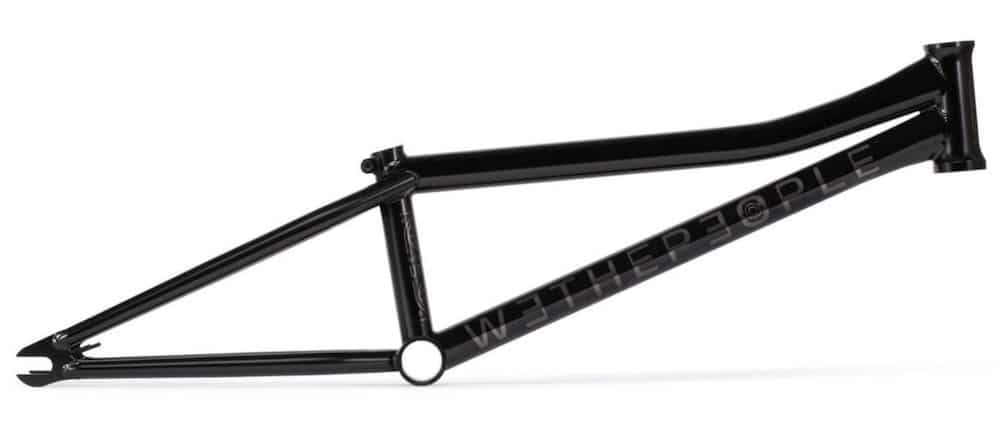 WeThePeople's Utopia frame is the "most advanced flatland specific frame" they've ever made.
The frame uses their signature hydroformed tubing and boasts a lifetime warranty just like most of WTP's frames but with modern flatland geometry.
Utopia has a kinked top tube to fit the needs of flatland riding.
This is also a brakeless frame; meaning there are no mounts or any other brake hardware options.
The frame comes in two different top tube lengths of 19″ and 20″ even and weighs in at just 4.27 lbs at the 20″ top tube length.
Utopia specs:
Top Tube Length: 19", 20"
Head Tube: 75° / 110mm
Seat Tube Angle: 71°
ChainStay Length: 12.7" Slammed
Standover: 6.2"
BB Height: 12"
Weight: 4.27 lbs 20"
Price: $355.99 (may vary)
GET YOURS
2. La Bastille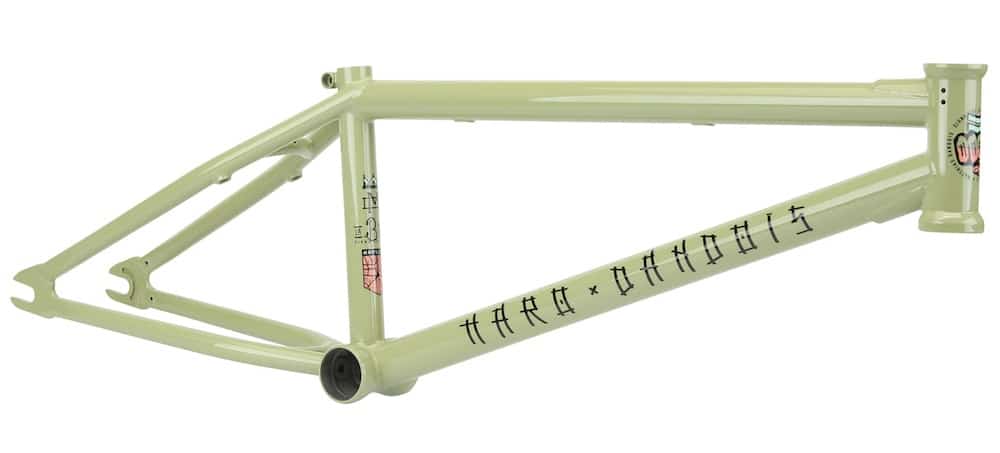 The La Bastille frame is Matthias Dandois' signature flatland frame from Haro. This frame has a hybrid street/flatland geometry to cater to Matthias' unique style of riding.
An interesting aspect of this frame is that the standover height changes depending on the top tube length.
The La Bastille is full chromoly with double-butted top/down tubes and has external gussets on the top/down tube.
The frame has removable brake mounts built-in and is drilled from gyro tabs.
One other aspect of La Bastille that may be attractive is that it comes in at just 4 pounds 7 ounces.
La Bastille specs:
Top Tube Length: 19.5", 20.25", 21"
Head Tube: 75.5°
ChainStay Length: 13.25"
Standover: 19.5" / 8" – 20.25" / 8.25" – 21" / 8.5"
BB Height: 11.5"
Weight: 4 lbs 7 oz
Price: $349.99 (may vary)
GET YOURS
3. Katze V2


The Katze V2 frame from Autum is a street/flatland hybrid frame from the Berlin-based brand.
This frame is available in a brakeless model or a model with removable brake hardware.
It has integrated chain tensioners and is made of the "finest 4130 CrMo Japanese sanko tubing."
There are two different top tube lengths available and it has 14mm dropouts but includes 10mm spacers for those who wish to run a smaller axle in the rear.
Katze V2 specs:
Top Tube Length: 19.3", 20.5"
Head Tube: 75.5°
ChainStay Length: 13"
Seat Tube Angle: 72.5°
Standover: 8.66"
Weight: 4.85 lbs
Price: $369.99 (may vary)
GET YOURS
Was this article helpful?
Disclosure: The BMX Dude's content is free & reader-supported. I may earn a commission if you click & buy through my links. Your support helps me create the best content & make a difference. Thanks! 🤘