Are you searching for the best, strongest and longest-lasting BMX headsets?
We all know that POOR bearings suck big times.
Been there!
Luckily, you almost cannot go wrong if you purchase from a reliable source.
BUT.
I still did this collection of the ultimate headsets to help you pick the best one.
I currently ride Animal's and have nothing to complain about it.
And yes, I picked it because I wanted to raise my front end without stuffing a ton of spacers under the stem.
Keeping it minimal.
However, I also included a few low top versions so that everyone can find their perfect headset.
This post covers:
Check, pick and make those bars spin smoothly.
BOOM!
Best BMX Headsets
1. BSD Highriser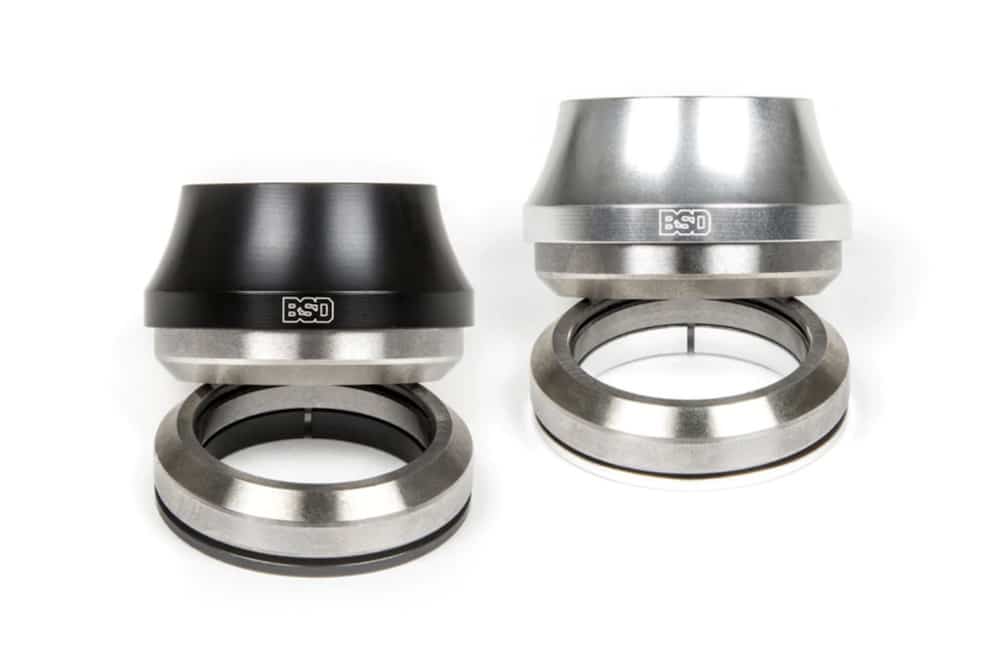 BSD Highriser is an excellent choice if you'd like to avoid spacers, keeping things underneath your stem cleaner. (Speaking of stems, are you a front load or a top load BMX stem, dude?)
The BMX headset comes in three color choices (black, raw & polished) and includes thin spacers for additional height adjustment.
Price: $27.99 (may vary)
GRAB YOURS
2. Fiend Integrated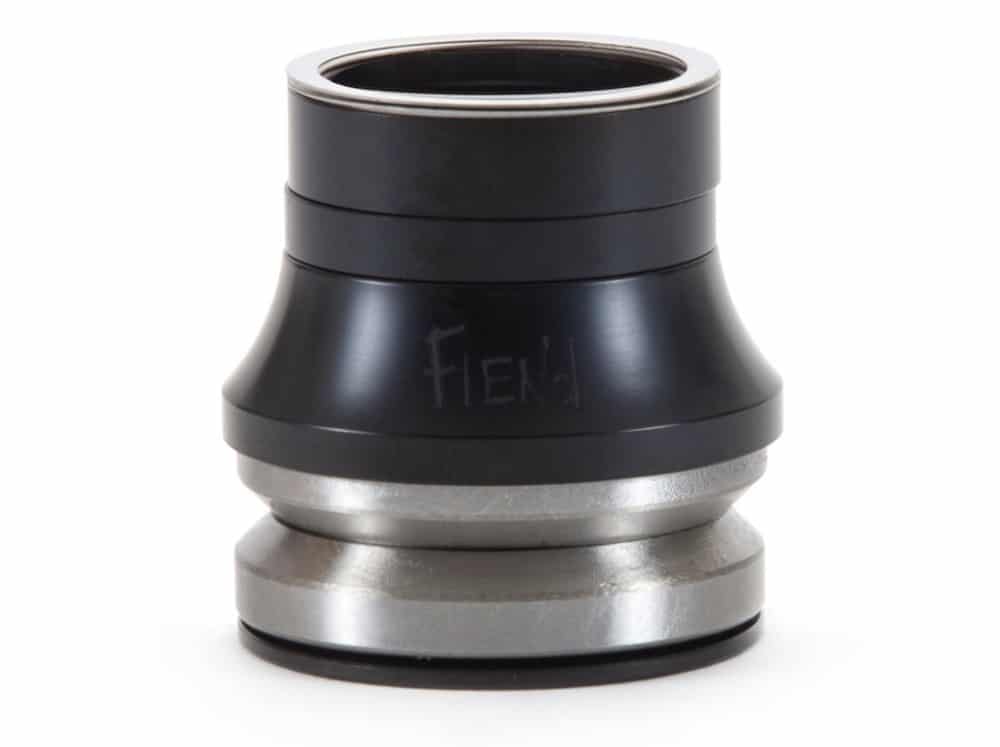 While I wouldn't do anything else other than black when it comes to Fiend, they still offer their hadseat in raw and red (and they look cool!).
This particular solution comes with a 15mm stack and two extra spacers to raise your handlebar some more. The dust cap also includes a logo that tops everything just great!
Price: $30.99 (may vary)
GRAB YOURS
3. Eclat Wave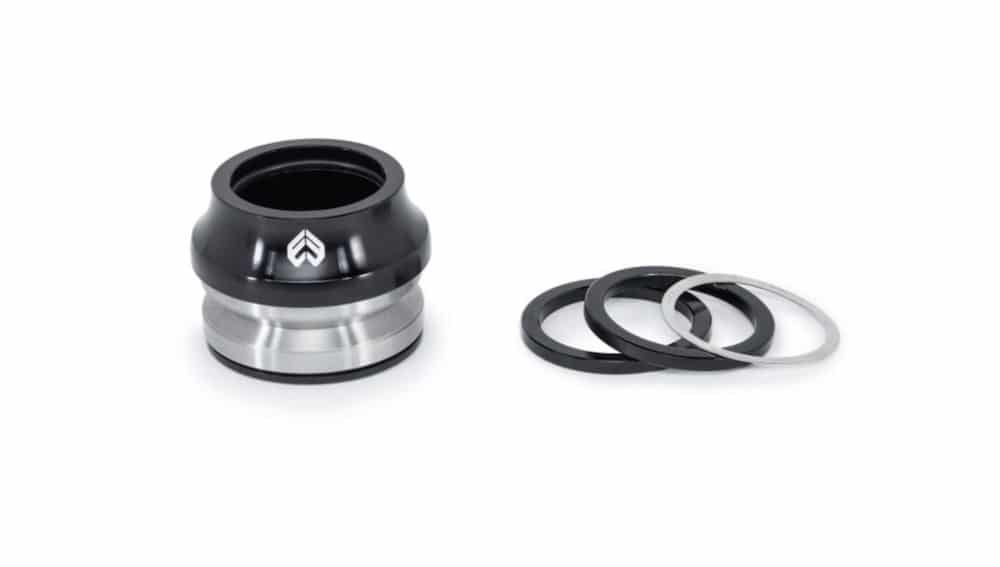 Eclat always comes out with crisp BMX products and their Wave headset is no different.
It's CNC machined out of 6061-T6 alloy and offers a stack height between 16 – 22mm. Yup, that 6mm difference is a BIG deal actually. Try it; you'll see what I mean. Or should I say, feel?
The only downside is that it comes with two 3mm spacers, not giving you more options. A 3mm and a 5mm, a 2mm and a 4mm, etc. But these are fine details.
Price: $30.99 (may vary)
GRAB YOURS
4. Primo Stevie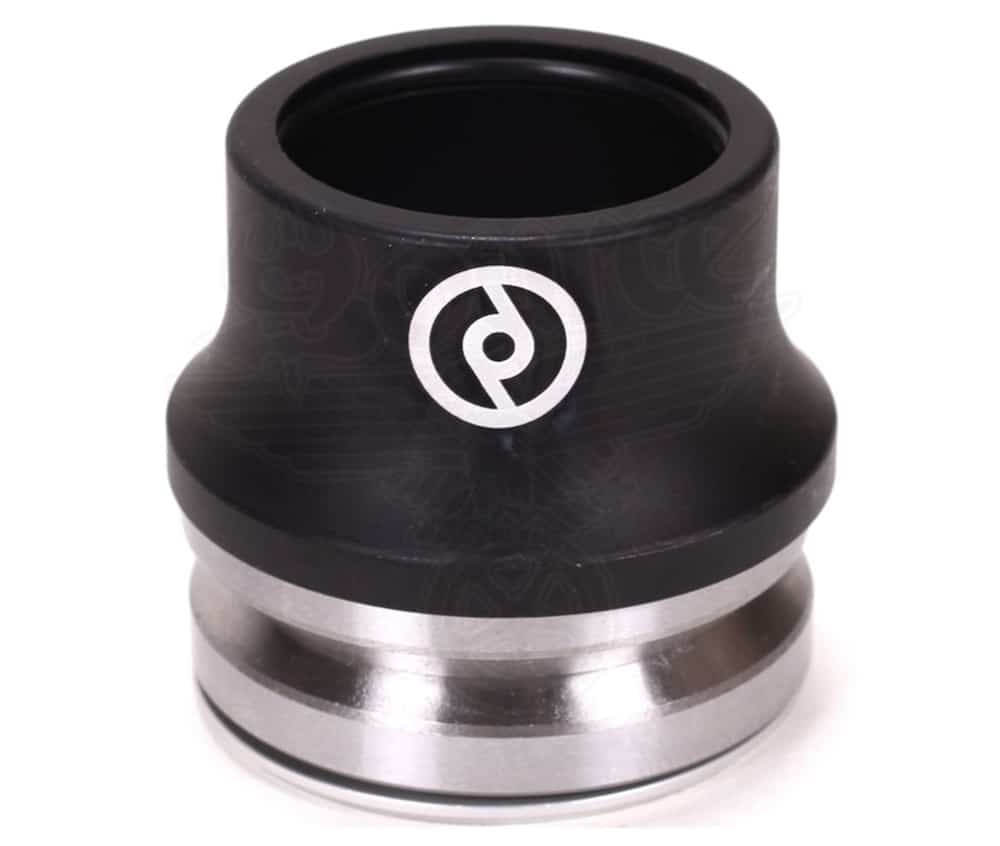 If you're searching for something really high that's when you opt for Stevie Churchill's signature Primo headset. Top cap has a 21mm rise, which is one of the highest!
Sealed bearings, multiple color options, and no extra spacers (because you don't need them!), that's what's up with Primo Stevie integrated BMX headset.
Price: $30.00 (may vary)
GRAB YOURS
5. Jet BMX Integrated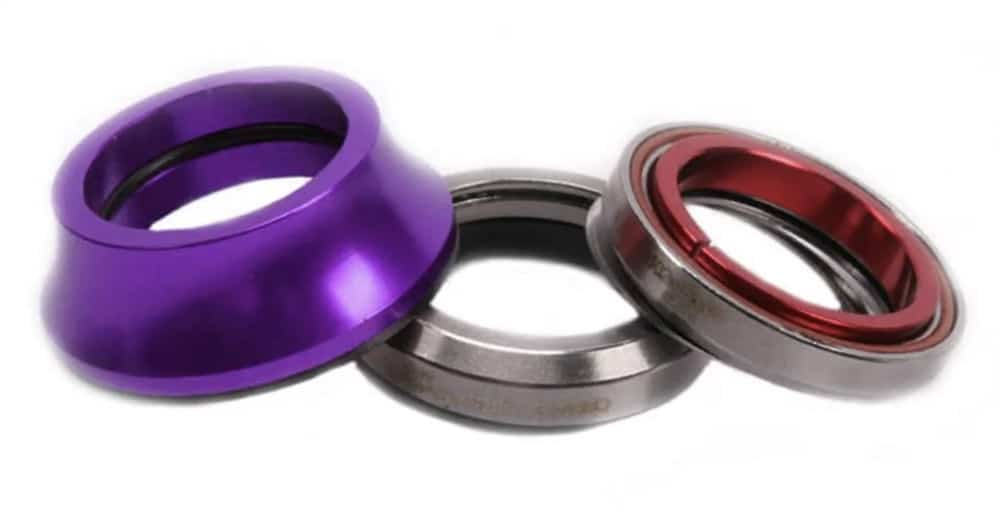 If you're like me, always testing things out, Jet BMX's integrated headset is one of the best options to go with.
Not only is it extremely affordable, but they also created a polycarbonate top cap instead of aluminum to shave off some extra weight.
And what's also really cool about this one is that you can get it in some RAD colors (gold, blue, purple, etc.)!
Price: $16.99 (may vary)
GRAB YOURS
6. Odyssey Pro Conical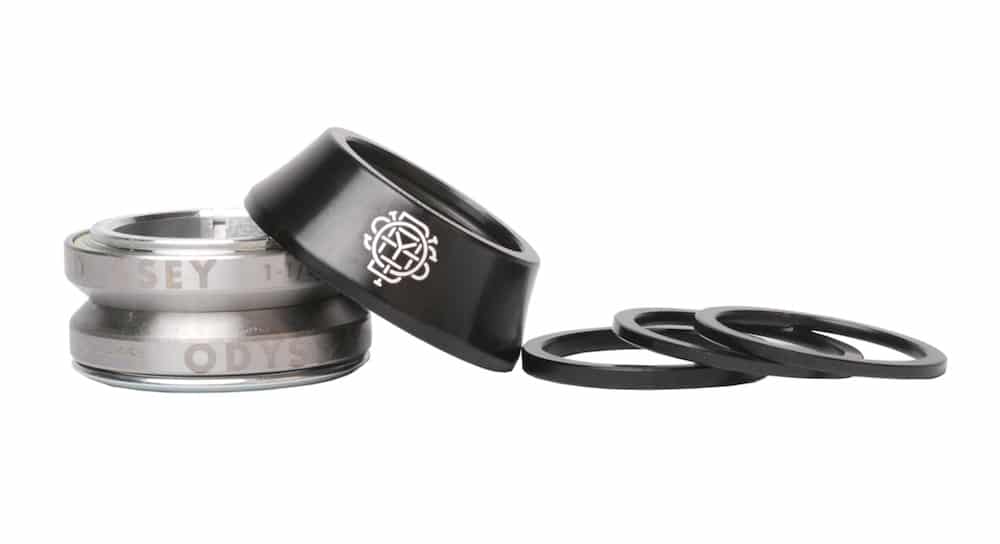 The Odyssey Pro Conical headset is smooth as all their BMX parts are. And to spice things up even further, it comes in a whopping eight color choices (black, yellow, red, purple, blue, etc.).
The dust cap has a 12mm height and you also get 1 x 3mm and 2 x 2mm spacers. Best!
Price: $30.99 (may vary)
GRAB YOURS
7. Sunday Headset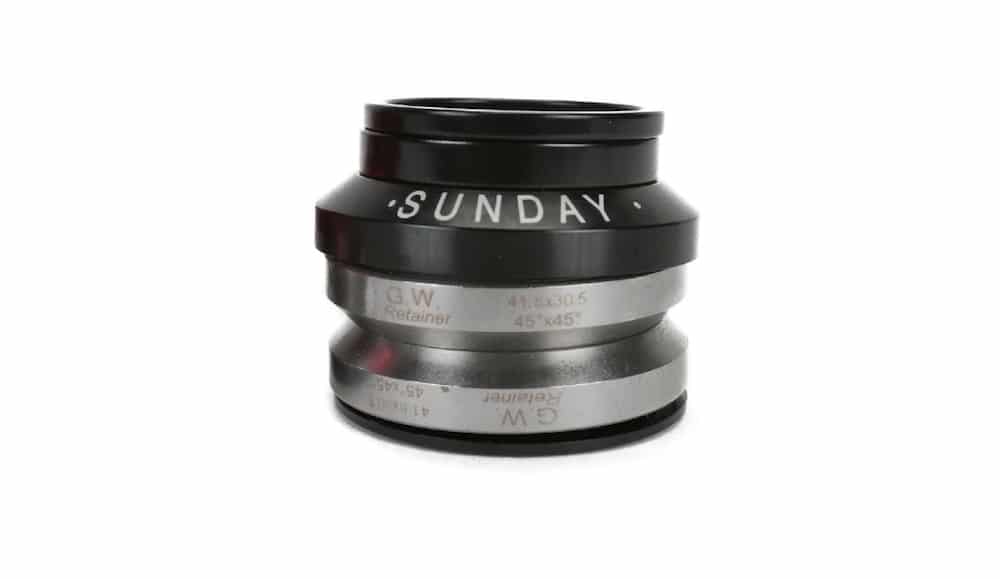 Okay, you're probably wondering why I have so many high BMX headsets here. So many prefer it, so that's why I put more shine on them.
BUT.
If you like things low, you'll like Sunday's headset. But it still comes with 3mm and 5mm spacers – just in case!
Price: $21.99 (may vary)
GRAB YOURS
8. Cult Integrated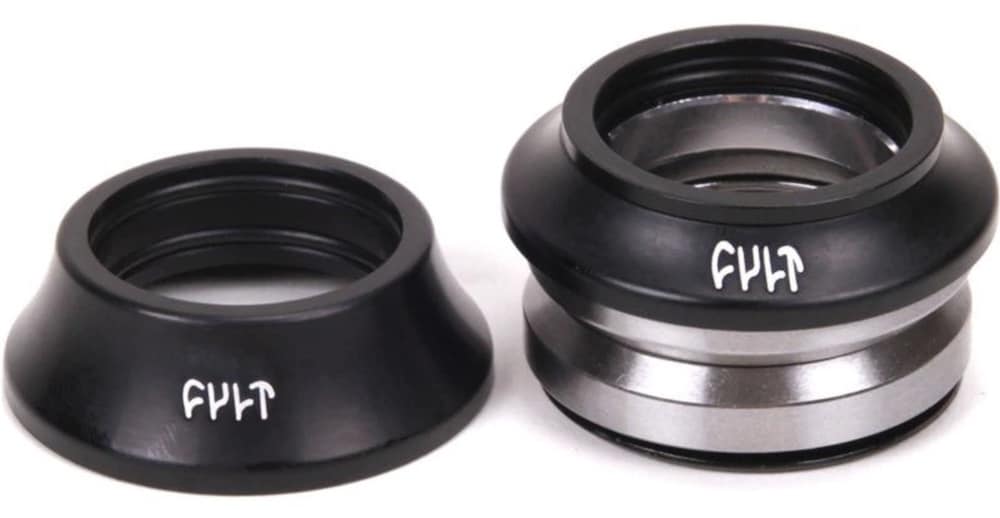 Cult is another brand who offers you two dust caps (a 4mm & an 8mm version), which is a big plus for me.
In addition, you also get two spacers (2mm & 5mm) for playing with stack height.
Lots of options to figure out what suits you best. GO.
Price: $24.99 (may vary)
GRAB YOURS
9. Shadow Stacked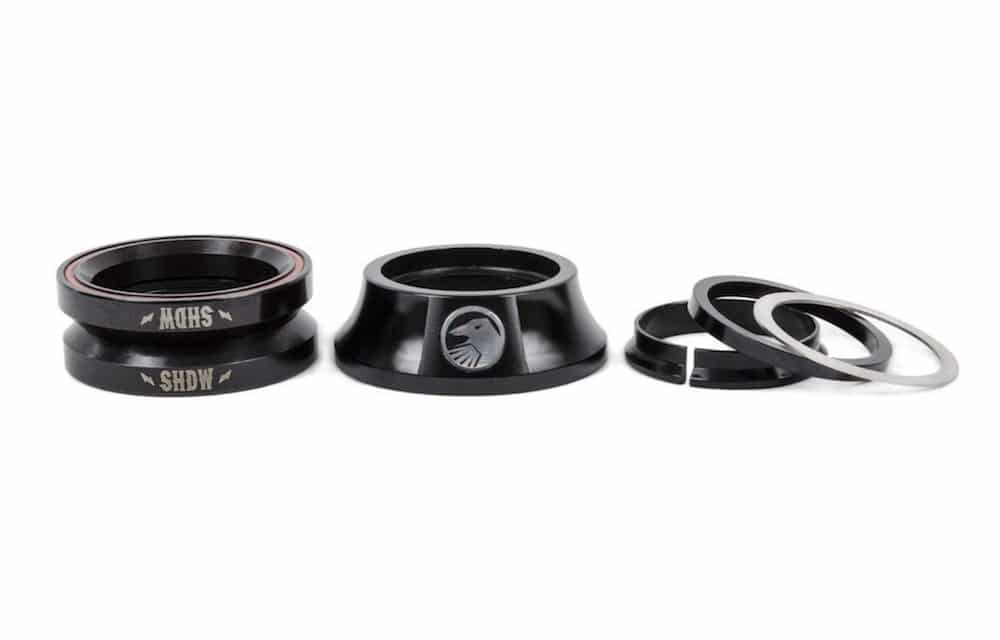 Shadow's Stacked headset has a nice radius shape and various unique color options that create a nice bike detail.
The main cap has a 15mm stack height, but the kit also comes with 2mm, 5mm and 8mm spacers.
Price: $31.99 (may vary)
GRAB YOURS
10. Merritt Low Top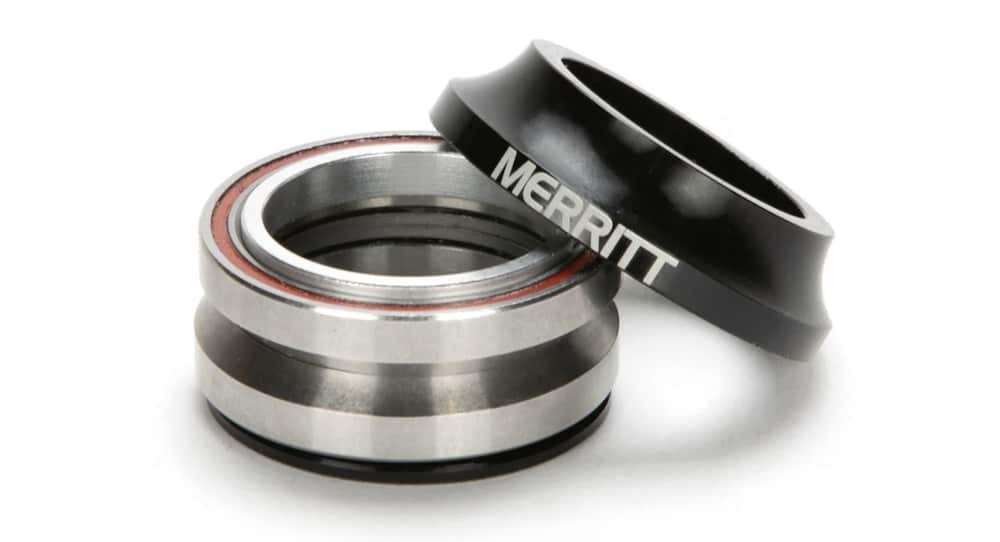 Even though Merritt offers two BMX headsets I'm adding the Low Top version, so this review is not all about the high tops.
It's clean and solid, and that's exactly what you need to know about it. And the laser engraved logo creates a nice touch of detail that makes it look good.
Price: $29.95 (may vary)
GRAB YOURS
11. Kink Integrated 2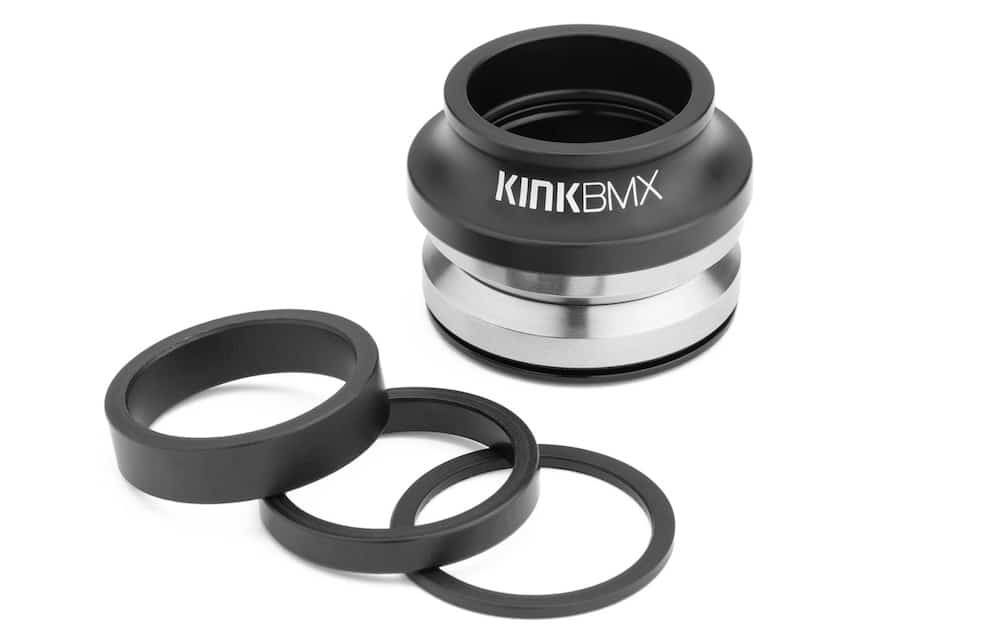 With its lower stack rise, Kink's Integrated 2 headset is perfect for low-to-mid bar height.
Still, it comes with 2mm, 5mm and 7mm spacers, so you have a lot of room to play with the height.
Note: The main dust cap is 15mm high.
Price: $29.99 (may vary)
GRAB YOURS
GRAB CERAMIC VERSION
12. Rant Bang Ur Headset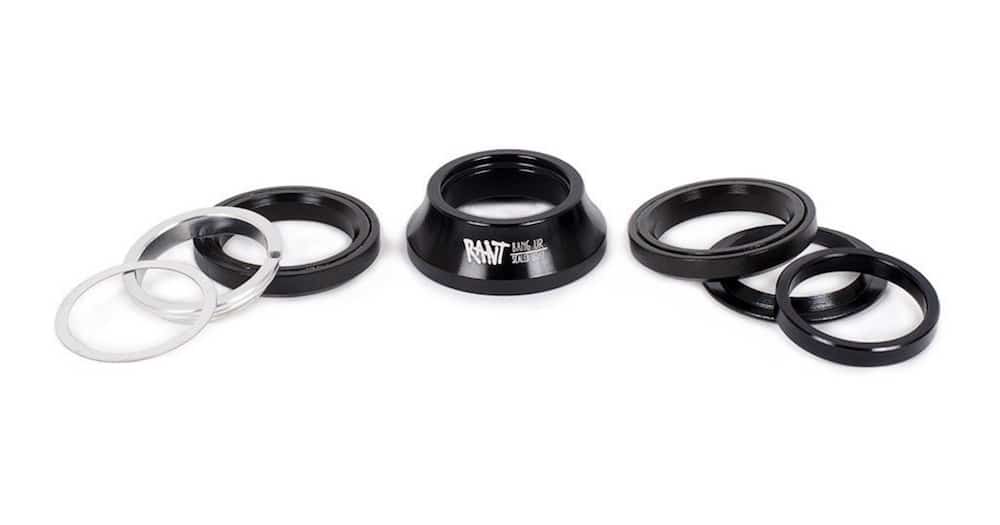 Rant's headset has – BY FAR – the best name in the game. Maybe that's because I'm a metalhead, but admit it, you like it, too.
Bang Ur Headset is a low-price option that guarantees to run smoothly for a very long time.
The total stack height is 20mm with a 5mm spacer. It's also available in a collection of ten colors that go from black and silver to teal, gold, sky blue, etc.
Price: $21.99 (may vary)
GRAB YOURS
13. Stay Strong Integrated Headset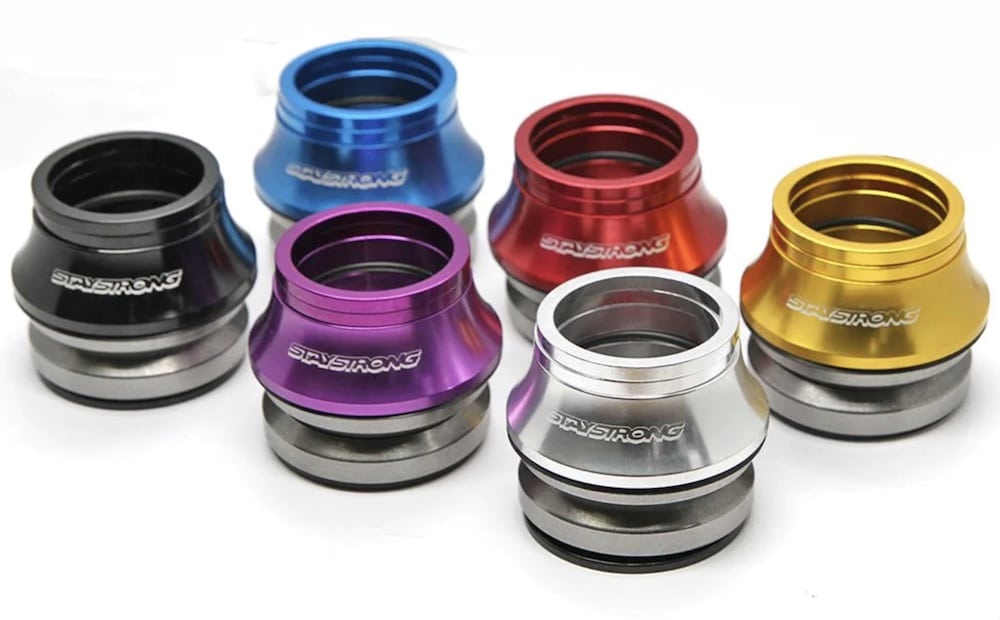 Stay Strong offers a simple headset that offers two spacers and a modern cone that's great if you want to raise your handlebar.
Similarly to Jey BMX, these also come in various color options, ensuring there's something for everyone.
Price: $24.99 (may vary)
GRAB YOURS
Frequently Asked Questions About BMX Headsets
What is a BMX bike headset?
A BMX headset is an essential part of any BMX bike that connects your forks and frame so that your bars spin smoothly. A bike headset is built of bearings, a crown race, a compression washer and a dust cap. It usually also comes with extra washers and spacers.
What is an integrated BMX headset?
An integrated headset is the standard in the BMX industry and fits the inside of the frame. The head tube of a frame spreads and tapers outwards at each end, where the top and bottom headset parts fit in.
How do you install a BMX headset?
Because we use integrated headsets, you don't need tools to install a BMX headset. Here's a step-by-step guide:
Press the crown race onto the forks and then place the bottom part of the headset over it.
Install the fork into the frame, ensuring it fits well over the headset.
Then, place the top part of the headset and press it firmly into the top part of the frame's head tube.
At this stage, everything will feel very wobbly. That's why you must press the compression washer into the bearing, which will center your fork's steerer tube.
Place over the thin washers (this is optional)
Lastly, cover the headset with the dust cap, add spacers (if necessary), and you're good to go.
Note: Don't forget to grease it (a little).
How long do headset bearings last?
A headset can easily last you 5 or even 10+ years if you always install it correctly and don't tighten the fork's top cap too much.
What size is a BMX headset?
All integrated BMX headsets are size 1-1/8″. (Old-school, non-integrated headsets are size 1″.)
Was this article helpful?
Disclosure: The BMX Dude's content is free & reader-supported. I may earn a commission if you click & buy through my links. Your support helps me create the best content & make a difference. Thanks! 🤘