Welcome to my collection of the best BMX rear hubs that you can use for any riding style.
Some of these I tested personally and some I asked my friends to provide their feedback and why they'd recommend it to another rider.
Here are now the ultimate freecoaster and cassette hubs that'll keep you rolling smoothly.
For a VERY long time!
QUICK POST NAVIGATION:
As always, if you have any questions and need help with picking the right hub, just shoot me a message.
Note: You may also be interested in my review of the best BMX front hubs.
Best BMX Freecoaster Hubs
1. BSD Revolution Hub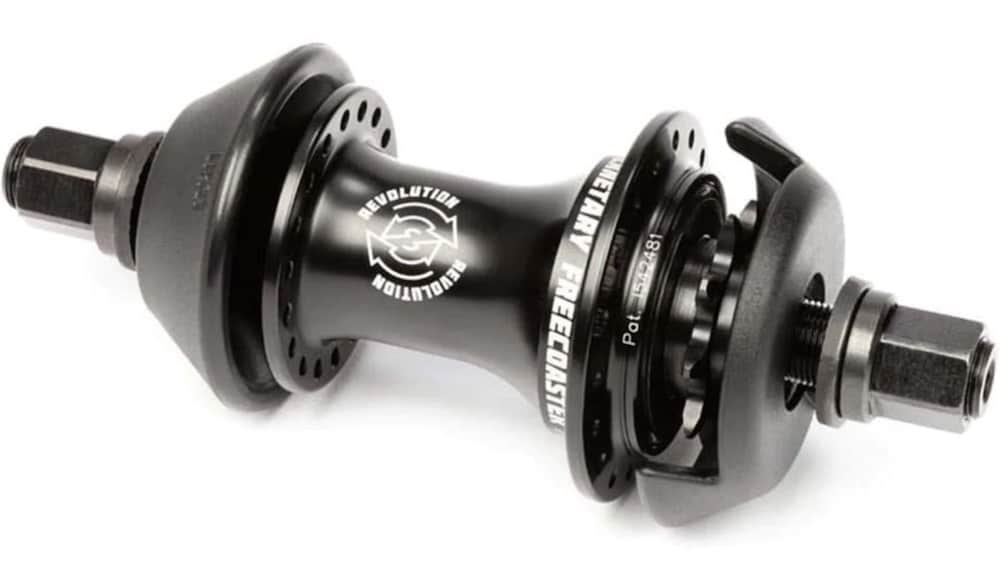 If you like a cassette but thinking of switching to a freecoaster than I cannot recommend BSD's Revolution hub more.
It's light and has a similar pedal gap to a cassette but with all the features of a freecoaster that you need.
Also, their unique planetary clutch system removes all the traditional freecoaster clutch inconveniences.
Note: Yup, this one is pricier than the rest but it's so worth every $.
(It's actually the only BMX rear hub that keeps me thinking about making the switch.)
Revolution specs:
Weight: 16.5oz
Price: $249.99 (may vary)
GET RHD
GET LHD
2. Odyssey Clutch V2 Hub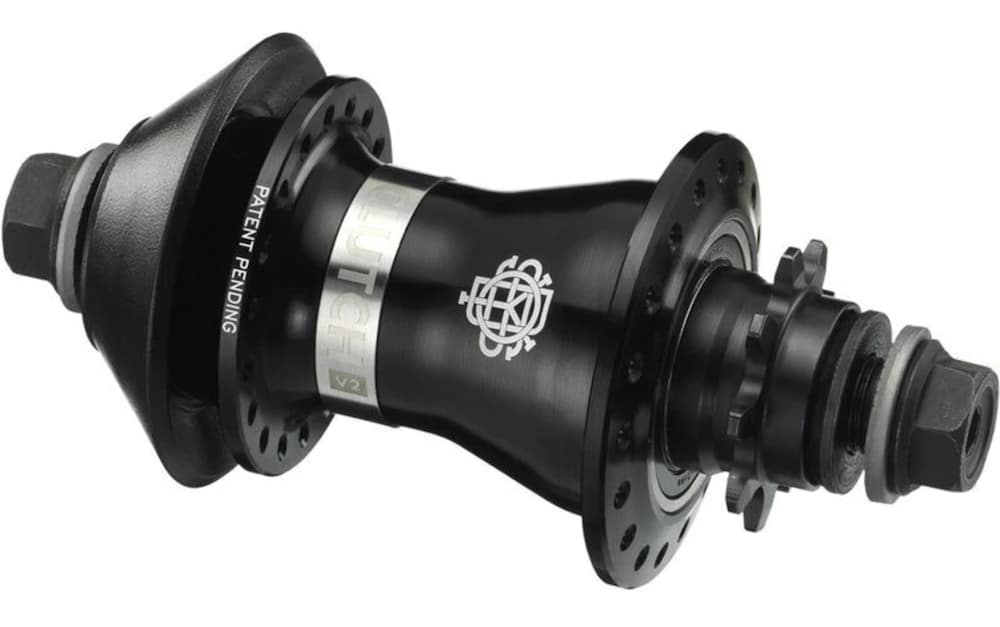 The Odyssey Clutch rear hub is an extremely popular amongst street riders. I've talked with many dudes and all said they enjoy all its perks.
The external slack adjustment is a very handy feature that requires a 2.5m hex key to fit it according to your needs. (There's no need to remove the wheel to adjust it.)
Another cool thing about the Clutch hub is the female axle instead of the male.
Plus, Odyssey also treats you with a non-drive side hub guard, including in the package.
I really like seeing that every new Clutch version comes with cool new features, making riding more enjoyable.
Clutch specs:
Weight: 22.5oz
Price: $179.99 (may vary)
GET RHD
GET LHD
3. Eclat Cortex Freecoaster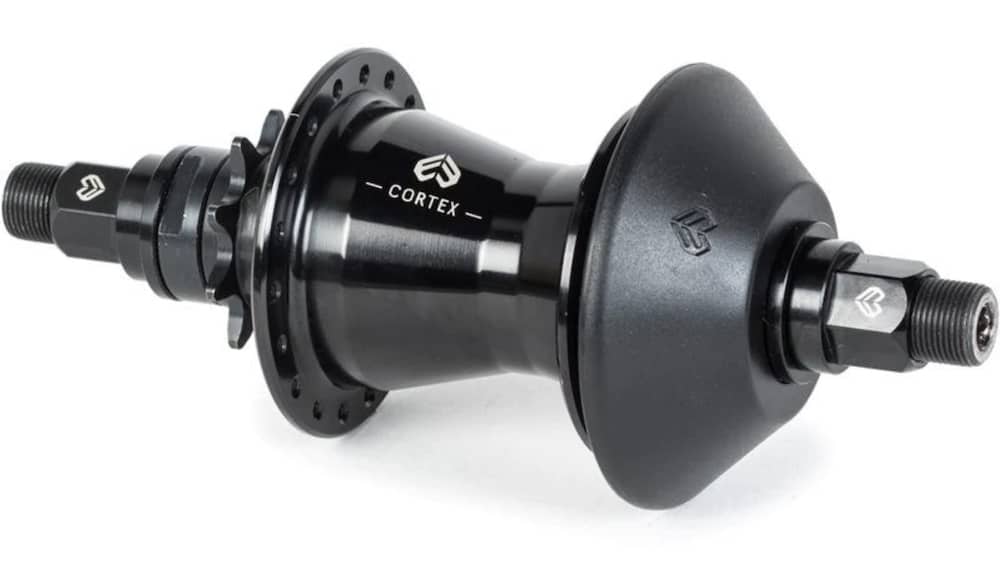 Eclat team riders all wanted a simple, strong and reliable freecoaster and after a lot of testing and trying released the Cortex freecoaster.
It's available in RHD and LHD, comes with adjustable slack and a plastic (Viper) hub guard.
What's unique about the Cortex hub is the relatively large slack, which is done on purpose (but you can configure it).
Cortex specs:
Weight: 27.25oz
Price: $201.99 (may vary)
GET RHD
GET LHD
4. Cinema FX2 Hub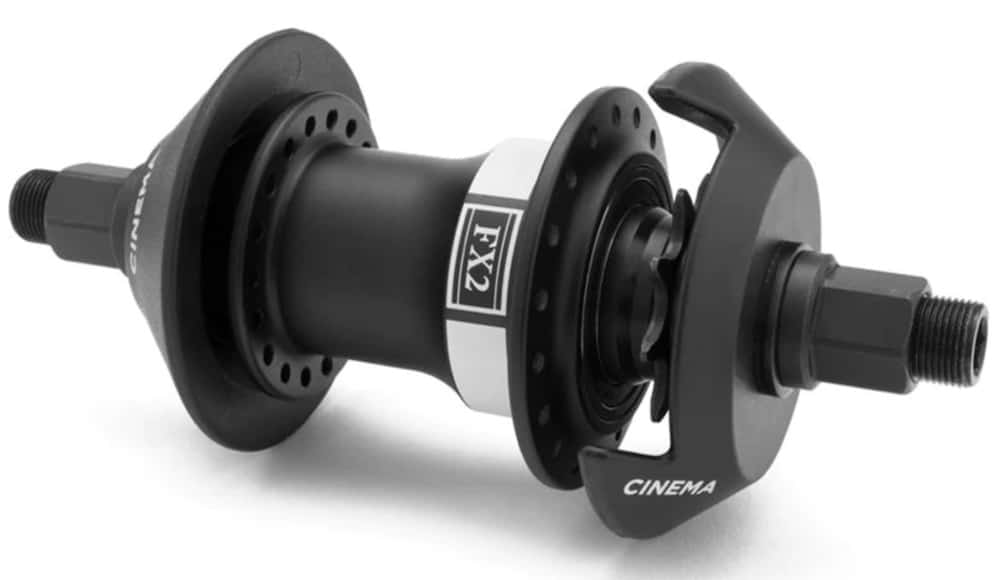 Many of the biggest pros run the Cinema FX2 hub, which tells more than enough. Yes, it works!
First, FX2 has a dual threaded clutch, which allows you to quickly change the drive side, so if you change your mind – NO problem!
Second, you get this BMX rear hub with drive and non-drive side nylon hubs.
It also comes in a bunch of cool color options (but you need to act fast because they sell out quickly).
FX2 specs:
Weight: 25.3oz
Price: $199.99 (may vary)
GET RHD
GET LHD
5. Primo Freemix Freecoaster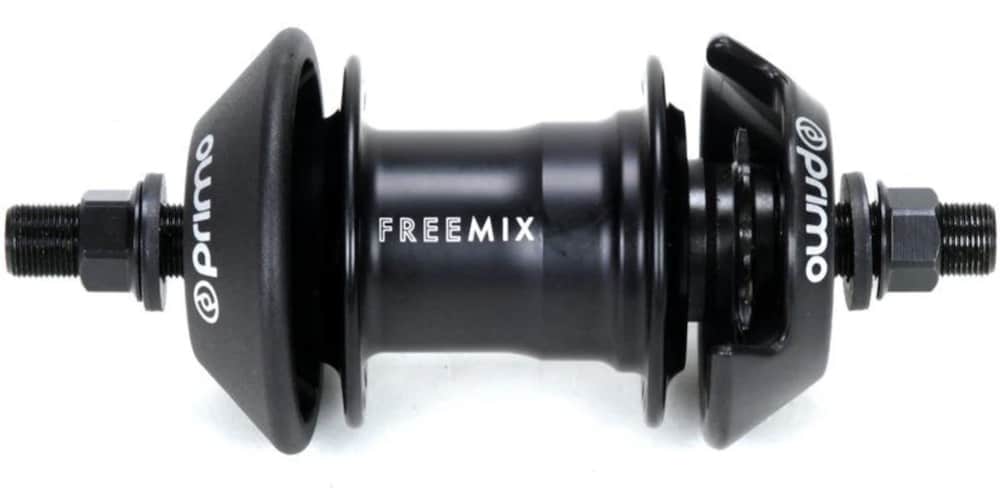 Primo's Freemix freecoaster hub is bold, strong and long-lasting. It features KHE internals and internal bearing to reduce drag.
It also includes plastic hub guards for both sides and extra washers for slack adjustment (small, medium and large options).
Note: Guys at Source BMX can pre-set the slack for you!
I actually highly recommend asking Source to do it for you because Primo's Freemix isn't the most user-friendly.
But the hub balances things out with its strength, capable of handling all sorts of abuse you'd like to put it through.
Freemix specs:
Weight: 25oz
Price: $222.95 (may vary)
GET RHD
GET LHD
6. Cult Crew Freecoaster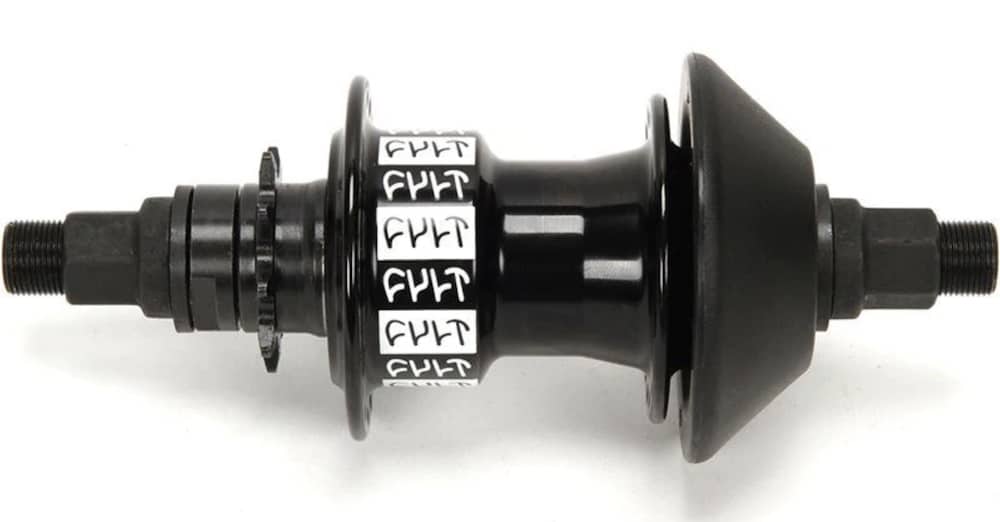 The Cult Crew freecoaster is pretty traditional, also featuring the KHE internals like Primo.
However, what's important to know is that many of the Cult riders prefer it over other freecoaster – probably because of it's simplicity.
Unfortunately, slack adjustment is also possible by removing the wheel (with washers).
Cult Crew Freecoaster specs:
Weight: 26.1oz
Price: $179.99 (may vary)
GET RHD
GET LHD
7. Fiend Cab V2 Freecoaster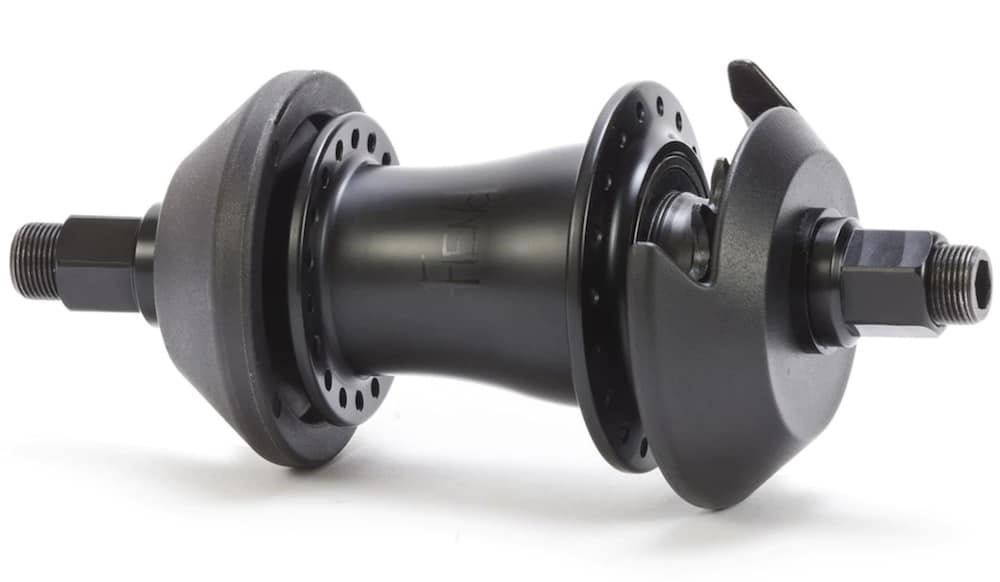 If it holds Colin Varanyak then I'm 100% certain it'll hold you, too.
What I like about the Fiend Cab V2 freecoaster hub is its minimalist look (the black-on-black makes the hub EPIC!).
By getting this one you also benefit from drive and non-drive side nylon hubs.
You'll also notice that Fiend's freecoaster is on the light side, making it more cassette-like.
Cab V2 specs:
Weight: 20.75oz
Price: $179.99 (may vary)
GET RHD
GET LHD
Best BMX Cassette Hubs
8. BSD Street Pro Rear Hub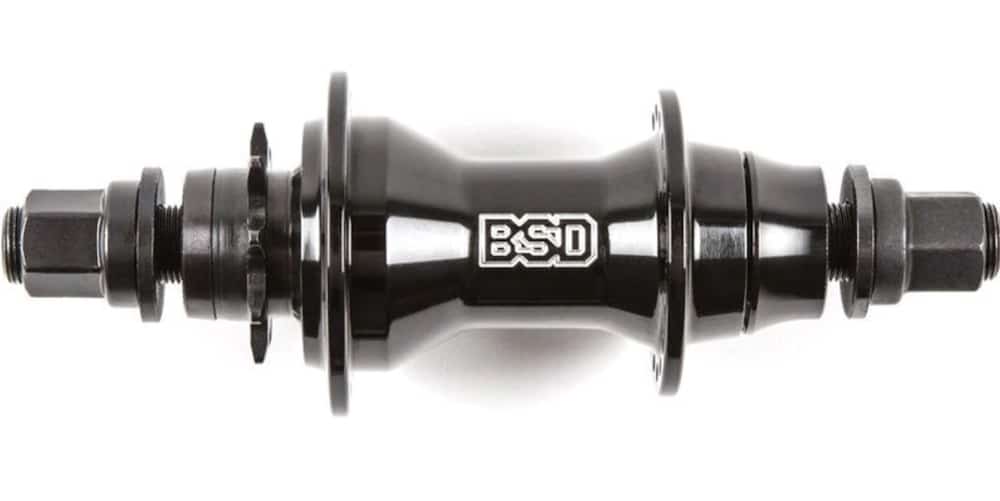 I keep receiving the same response after talking to a lot of you guys and my legendary followers.
Yes, the BSD Street Pro rear hub is their favorite.
It's true, BSD always puts extra effort into making their parts extra strong and long-lasting; the same goes for their cassette.
They even created a custom driver for their Street Pro hub, keeping the slim shell and extra though 14mm axle (with chromoly cones).
Simple colors, RHD and LHD – that's it!
Street Pro specs:
Weight: 17oz
Price: $164.99 (may vary)
GET RHD
GET LHD
9. Eclat Cortex Cassette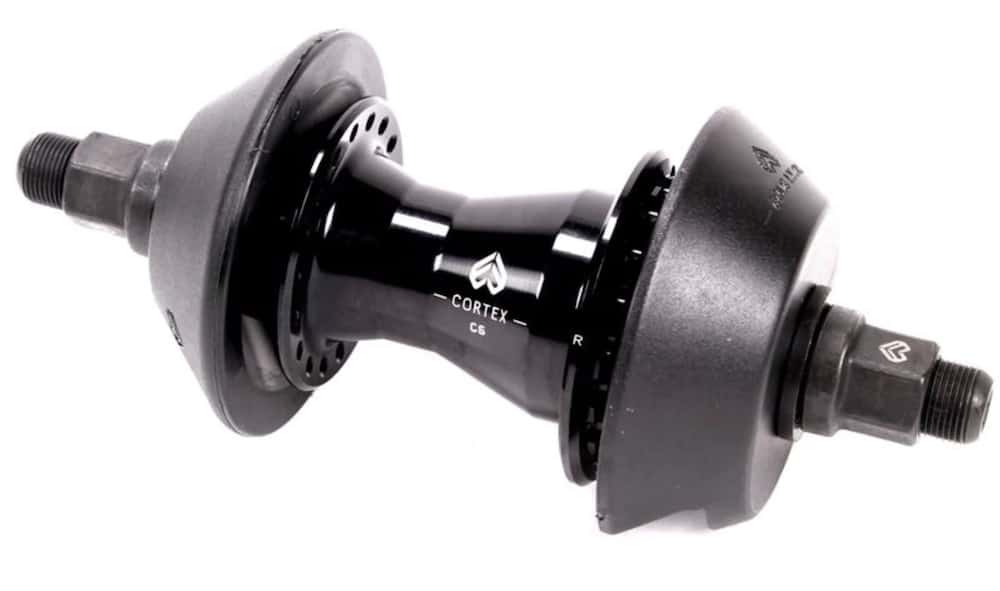 Eclat has you covered with everything you need in a cassette hub with Cortex.
It even comes with drive and non-drive side nylon hub guards, which is a big plus for me. (These are actual Eclat Viper and Gong guards!)
The hub has an alloy shell with two bearings and three driver bearings.
The 14mm chromoly axle is extra hardened, making it indestructible. The axle's inner hex key compatibility also makes it easy to maintain.
Cortex specs:
Weight: 21.4oz
Price: $161.99 (may vary)
GET RHD
GET LHD
10. G-Sport Roloway Cassette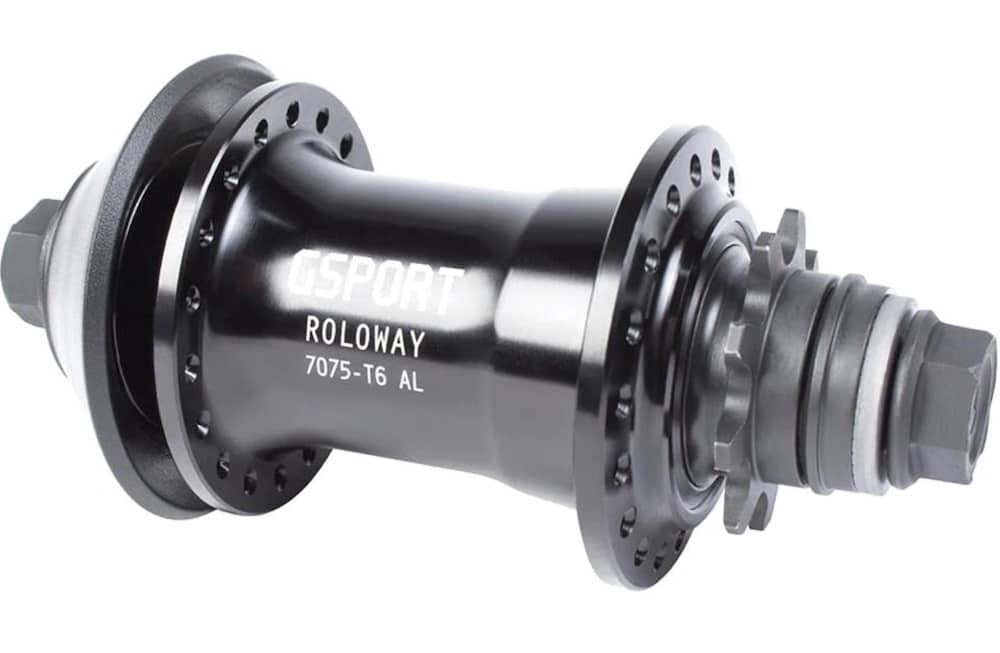 Still, out of all the cassette and freecoaster hubs released, the G-Sport Roloway is my best looking one.
Sadly, I have never tried it, but asked many of the riders who have and everyone's pleased with how well it performs. Not just that, but some ride it for years without a single issue!
Just by holding the hub in your hands, you know that it's tough. And the female axle system makes everything even better!
Roloway cassette is an all-around rear hub preferred by street, park and trail riders.
You'll thank yourself later.
Roloway specs:
Weight: 15.3oz
Price: $209.99 (may vary)
GET RHD/LHD
11. Odyssey Antigram V2 Rear Hub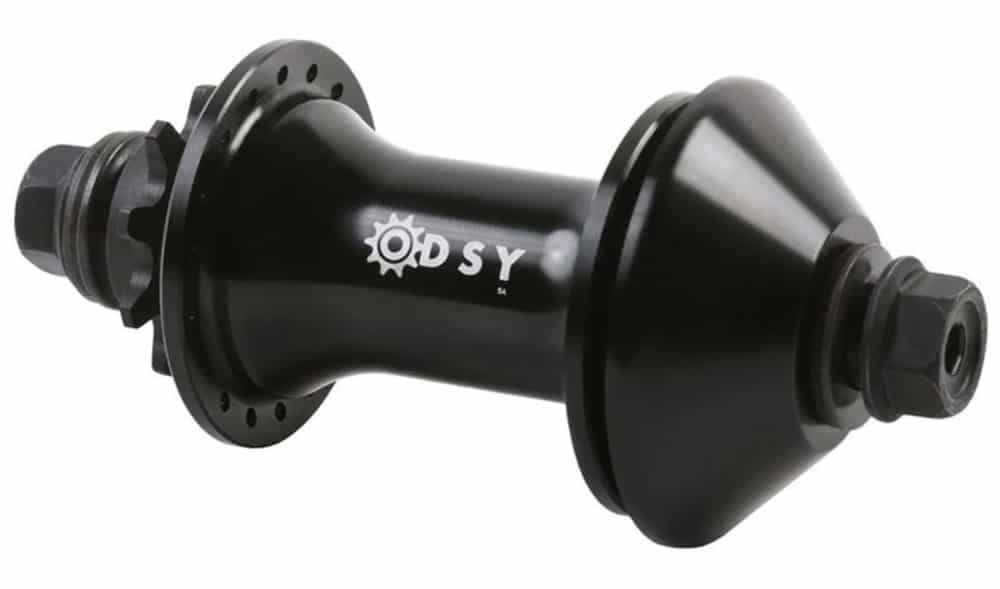 Coming from the same house as the Roloway, Odyssey Antigram cassette is another I tested thoroughly to confirm it's durability.
Female axle, needle bearings for smooth running, aluminum shell and non-drive side hub guard, that's roughly what the Antigram hub is all about.
Lace it to a rim with your favorite spokes or let Source do it for you and roll away with confidence!
Antigram specs:
Weight: 14.5oz
Price: $199.99 (may vary)
GET RHD/LHD
12. Saltplus Trapez Rear Hub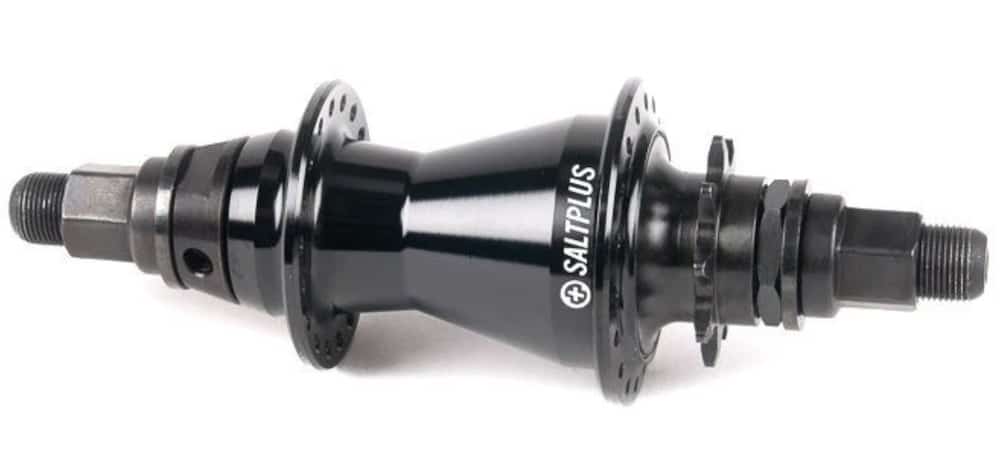 What's unique about the Saltplus Trapez hub is its RHD and LHD compatibility.
How is this possible?
Simple, the switchable driver allows you to set it either as a right- or left-hand drive.
You can change your mind at any time, try the opposite side if you want to see what fits you better.
And the included hub guard is nice icing on the cake. Well done!
Trapez specs:
Weight: 20.1oz
Price: $193.99 (may vary)
GET RHD/LHD
FAQs About BMX Rear Hubs
What is a BMX cassette hub?
A cassette hub is a more traditional hub that modern BMX bikes use. It has a clutch mounted to the body, locking when you're pedaling and going in the "free" mode when you're not.
The only downside is that you need to learn how to pedal when going into fakie, whereas with a freecoaster hub, you don't have to.
What is a BMX freecoaster hub?
A freecoaster hub is an incredible invention that started in the BMX flatland world, allowing you to go backward without pedaling (like you need to with a cassette hub).
Note: If you're coming from a cassette, you'll need to get used to it because it feels a little weird in the first place. But it can unlock so much more options trick-wise.
Which is better, cassette or freecoaster hub?
None is better than the other. These are just two entirely different BMX rear hub types that riders use depending on their riding type.
A freecoaster hub is excellent for technical street and park riding. Also flatland, of course!
But cassette is for everything else. Still, many riders prefer a cassette and do a lot of technical stuff, like Courage Adams.
Was this article helpful?
Disclosure: The BMX Dude's content is free & reader-supported. I may earn a commission if you click & buy through my links. Your support helps me create the best content & make a difference. Thanks! 🤘