Do you want to know what size are BMX grips?
Because I've been in the BMX industry for 20+ years, I've seen the evolution of grips.
It all began with shorter grips, around 130-140mm in length.
Only later, BMX brands started to do longer grips because of the larger handlebars and because of more grip area for pulling tricks like barspins and no-handers.
Today's standard BMX grips length is 160mm. (But you can also get them in 165mm and 170mm.)
This post covers:
I must say that the longer grips make a big difference.
Note: You can find 70+ grips on
Dan's Comp.
How Are BMX Grips Measured?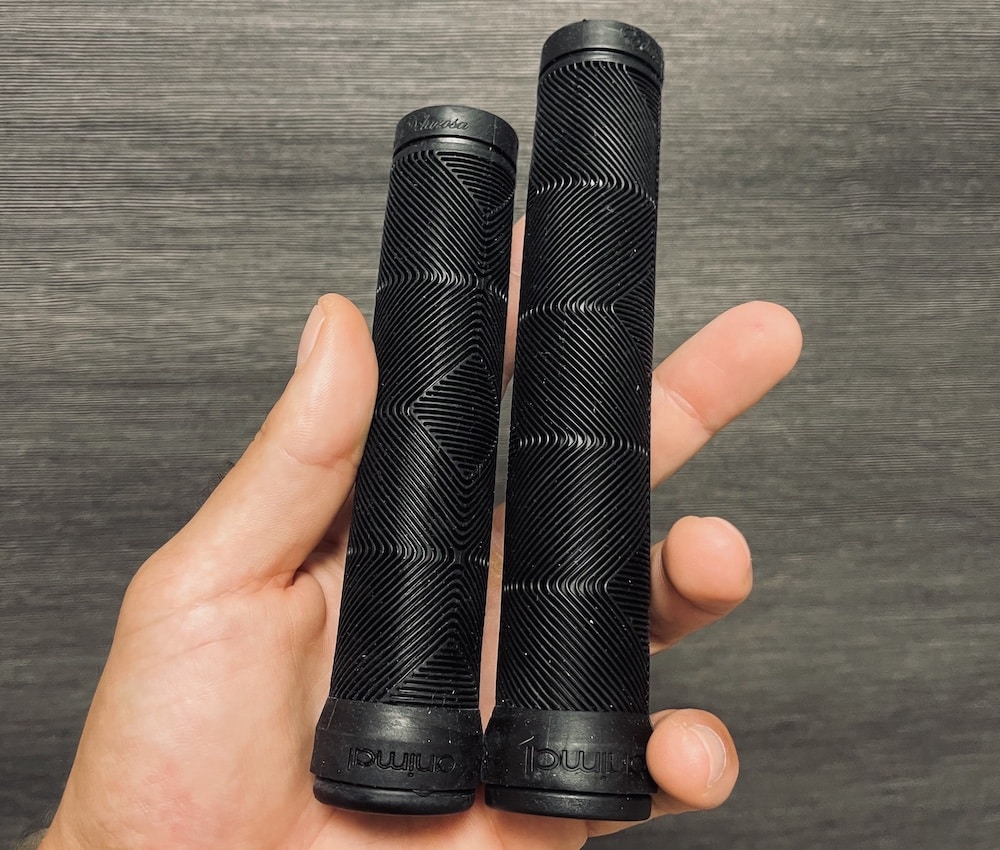 Above is an example of the old Animal Edwin grip and the new V2 version.
The old one was 140mm long, and the new one is 165mm.
How Long Are BMX Grips?
So the main measurement that everyone checks is the grip length.
However, the diameter is another measurement that many new BMX riders don't think about.
In the case of Edwin's grips, the 140mm version has a 30mm diameter, and the 165mm version has a 32mm diameter.
Now, what does this tell you?
The thickness of the grip gives you more cushioning.
Moreover, some have larger hands, so a bigger diameter makes more sense.
But some (me included!) prefer thicker grips because they feel better.
Are Thin Or Thick BMX Grips Better?
There's no right or wrong answer to this.
It's more of a personal preference, so I recommend trying two versions to see which suits your hands and your riding style more.
There's really no other way around this.
What works for me doesn't necessarily mean it'll work for you.
But generally speaking, thicker grips are better if you have larger hands or maybe don't do too many barspins.
Animal Edwin grips are on the thicker side.
When I talked to my riding friends, most said they like grips that are around 29mm in diameter.
But I really like thicker grips, even S&M's Hoder grips that are 31.5mm thick. And I do a lot of barspins, but my hands are average.
So it's really worth testing to see what feels most comfortable for you.
Conclusion: Are All BMX Grips The Same Size?
No, BMX grips aren't the same size.
Note: You can find 70+ grips on Dan's Comp.
While the modern length is somewhere around 160mm, the diameter can vary quite a bit.
Here are a few examples to get a better feel of how much BMX grips differ from each other:
S&M Hoder grips: 160mm long, 31.5mm in diameter
Animal Edwin V2 grips: 165mm long, 32mm in diameter
Fly Devon grips: 160mm long, 29mm in diameter
BSD Passenger grips: 162mm long, 29.4mm in diameter
Cult X Vans Waffle grips: 150mm long, 31mm in diameter
Fit Savage grips: 163mm long, 31mm in diameter
Shadow Maya DCR grips: 160mm long, 31mm in diameter
Primo Cali grips: 170mm long, 31mm in diameter
ODI Longneck Pro grips: 135mm long, 31mm in diameter
Eclat Bruno grips: 164mm long, 28mm in diameter
You see, there's something for EVERYONE.
You may want to check my collection of the best BMX grips if you're ready to get the perfect pair.
Plus, I also recommend using BMX bar ends because it's very unsafe to ride without them.
(Remember, bar ends are included when you get a pair of grips.)
Lastly, you also have the option to pick either flanged or flangeless grips. Click the link to read my two cents on which is better (or is one really better than the other?).
Was this article helpful?
Disclosure: The BMX Dude's content is free & reader-supported. I may earn a commission if you click & buy through my links. Your support helps me create the best content & make a difference. Thanks! 🤘