Are you looking for an in-depth Animal Akimbo cranks review?
I've been riding Akimbos for almost ten years, so you know I REALLY TESTED them!
I had the Akimbos that had dents on the arms, so you know that's a pretty long time ago.
It's important to me to have strong BMX cranks that I can 100% RELY on as a street rider. And as an Animal fan, running Akimbos makes perfect sense.
And trust me, these cranks are down to handle any type of abuse and beating you'd like to put them through.
But I broke one arm once!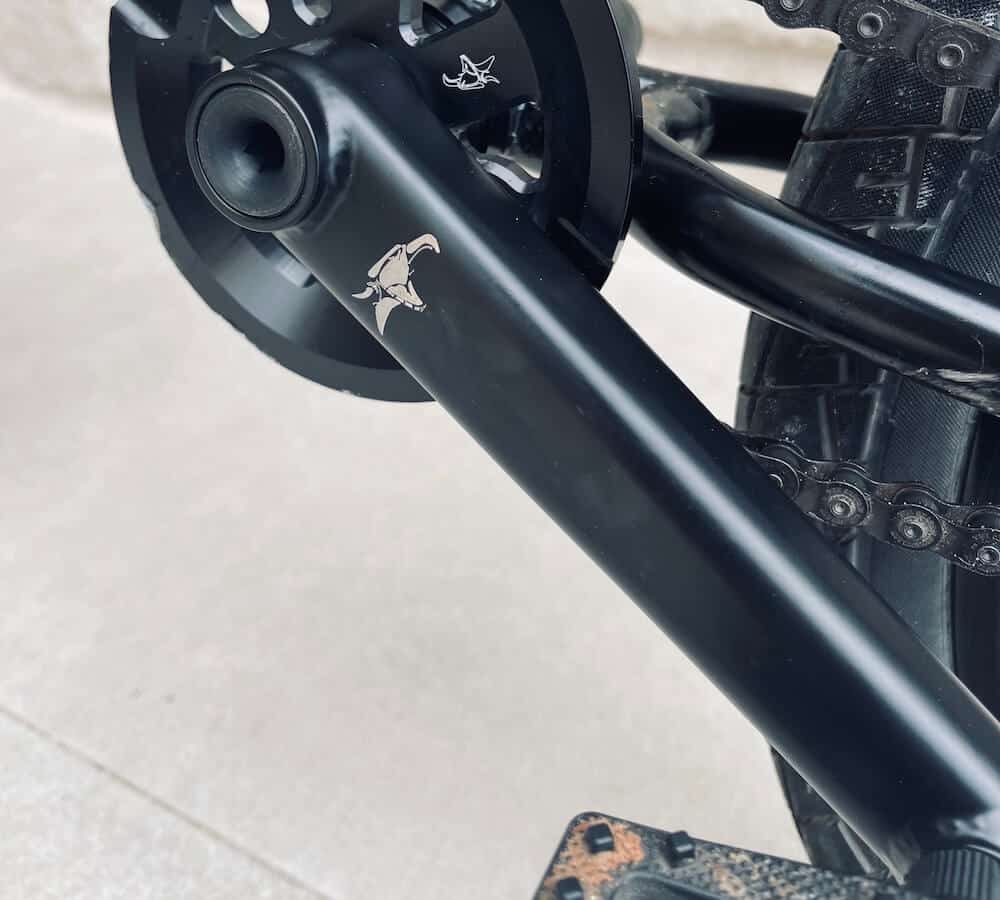 BUT here's the thing.
I was riding the original version of Animal Akimbo cranks for many, many years (8+?), of which my bike was sitting in a very humid basement for a year (rust attack).
Plus, I didn't touch the bike for almost four years because I thought of quitting. Yes, I have nothing to hide – that's the truth.
But when I decided to get back (THE. BEST. DECISION. EVER.), it took me about three months of riding to break the crank arm on a 2 feet high 180 drop.
Note: I don't recommend you run your cranks for so long. That's totally my mistake. And it can go horribly wrong if cranks break.
I was lucky!
Update (4.9.2022): One of the Akimbo cranks' downsides is that the spindle bolts keep untightening. I need to tighten them almost every second or third session, which is a bit annoying.
Animal Akimbo Cranks Are Built To Last
And when the crank broke, I ordered a new pair of 170mm Akimbos that same day. (I was riding 175mm cranks before that.)
You Get A Complete Crank Kit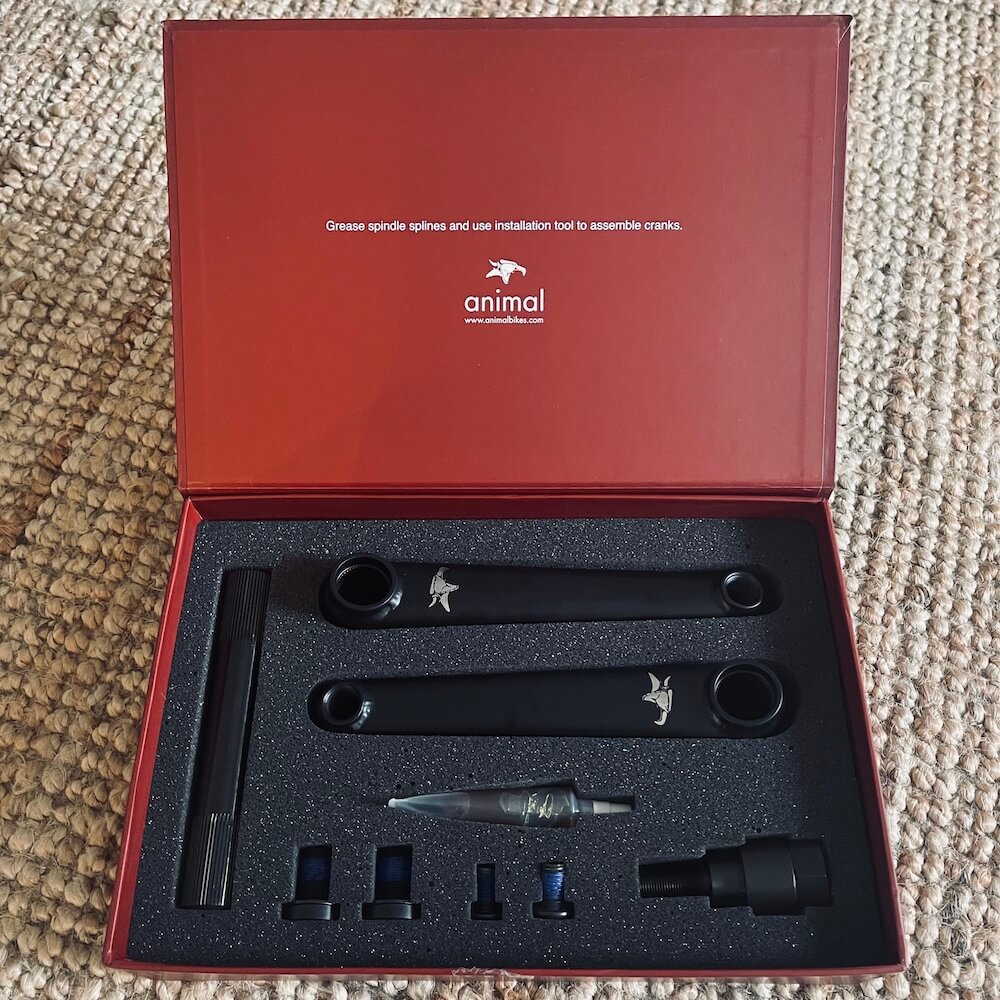 The BEAUTIFUL box with foam center came and I was in love even more than before. (It's a full kit of goodies, including installation and removal tool + grease pack + 2 bolts for regular & micro drive.)
You can get the cranks HERE (from Dan's Comp).
I really like the new cranks' simplicity compared to the previous version.
When you pick the cranks from the box, you know these are BUILT TO LAST.
So solid but not bulky.
Slightly heavier (which I don't mind), but that's what to expect from cranks that can handle anything and everything.
Long crank arm grinds, big drops, massive stair sets – WHATEVER.
Cranks are made from heat-treated 4130 Chromoly with a 22mm hollow axle (48 splined).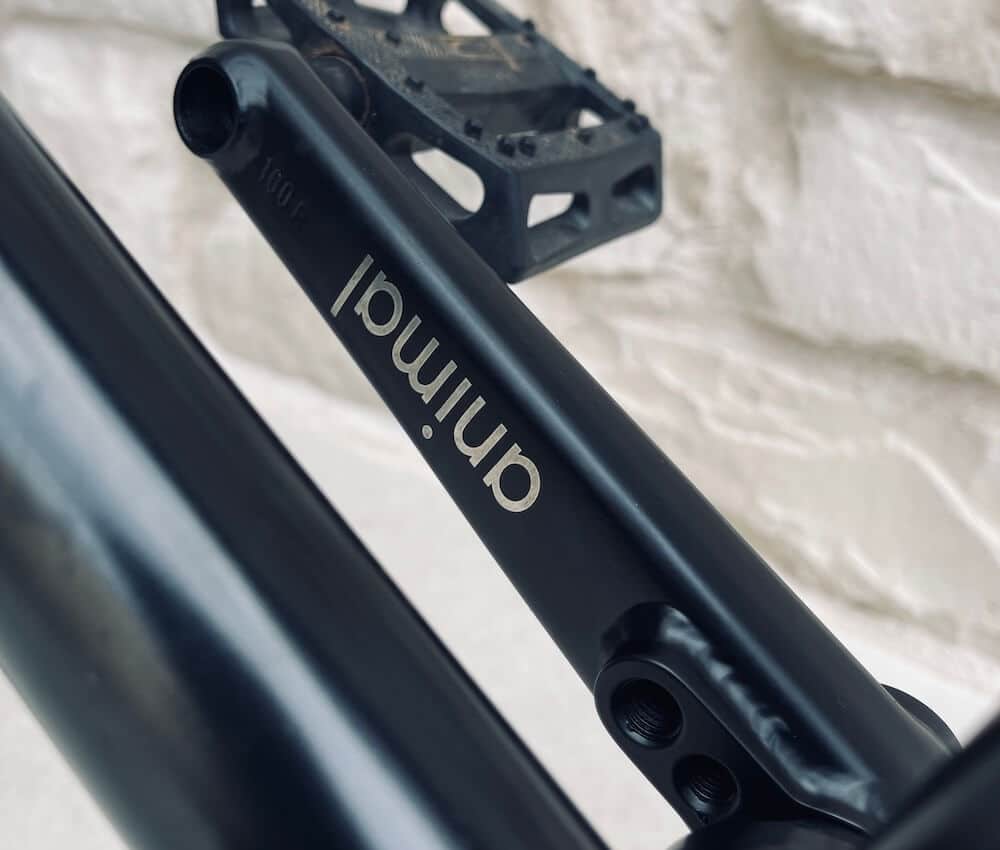 The installation was a breeze.
Even though I needed to use the installation tool, I could put them together by hand (without pliers).
The LOOK and FEEL of the cranks are – for me – perfect. I also really like the logo detail, which gives them a somewhat luxurious feel.
GET YOUR AKIMBOS
Multiple Sizes Available
After riding the 170mm version of Animal Akimbo cranks, I decided to switch to the 160mm length.
Why?
Because of the fourth BMX peg.
My back leg kept hitting the peg even after extending the chain (I run Shadow Interlock V2) for half a link, so I thought 160mm cranks would fix this problem.
Which they did!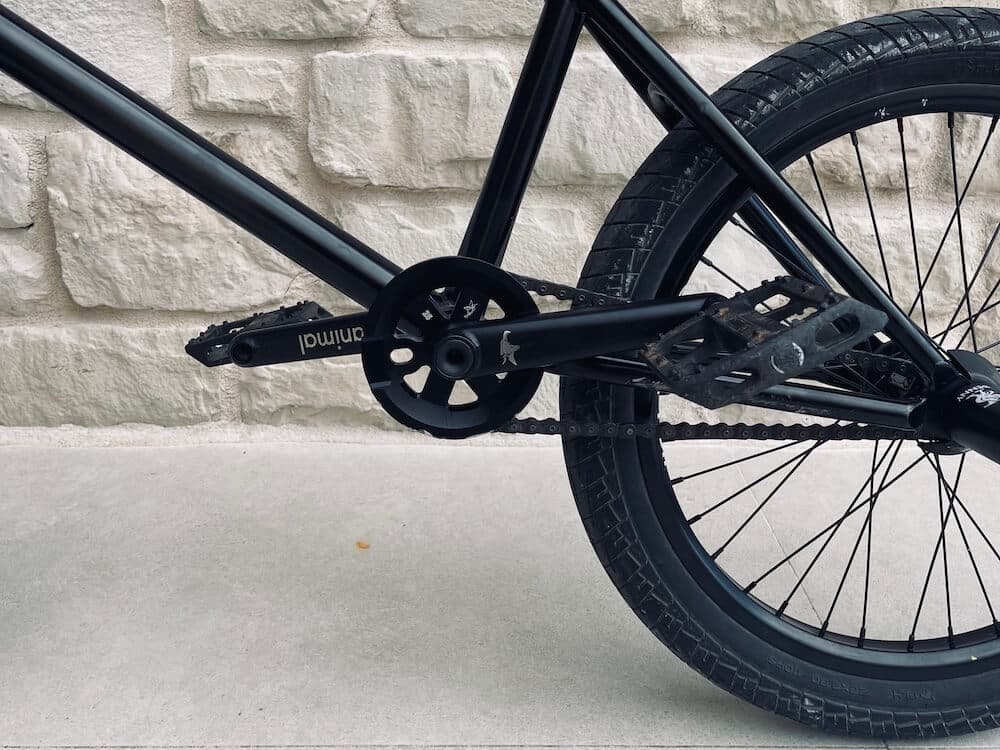 At this moment, I'm stuck with the 160mm Akimbos, and I LOVE IT.
Note: Many told me that switching from 170mm to 160mm cranks is too big of a jump. As weird as it may sound, I barely noticed the difference.
Honestly, I would jump from 175mm straight to 160mm comfortably.
Akimbo cranks specs:
Length: 160mm, 165mm, 170mm & 175mm
Color: Black, Chrome
Compatibility: Left or right hand drive
Spindle Size: 22mm (48 Spline)
Crank Type: 3 piece
Weight: 33.1oz. (938g)
Price: $159.99 (may vary)
GET YOUR AKIMBOS
Conclusion
Yes, I DO recommend Akimbo cranks. They are clean and powerful, lasting for a long time.
Was this article helpful?
Disclosure: The BMX Dude's content is free & reader-supported. I may earn a commission if you click & buy through my links. Your support helps me create the best content & make a difference. Thanks! 🤘