Are you trying to figure out what's the best head tube angle for your riding style?
I've been unaware of the head tube (HT) angle for a long time, which – yes – was damaging to my riding progression.
Hey, if you're a street rider, a 75-degree HT and a 75.5-degree HT make a BIG difference.
A slight adjustment in the angle can change everything. (Which you feel the first time you jump on the bike with a different frame.)
Yes, that 0.5 degree makes the bike feel completely different.
It will make the bike feel more stable or more responsive.
BMX Frame Geometry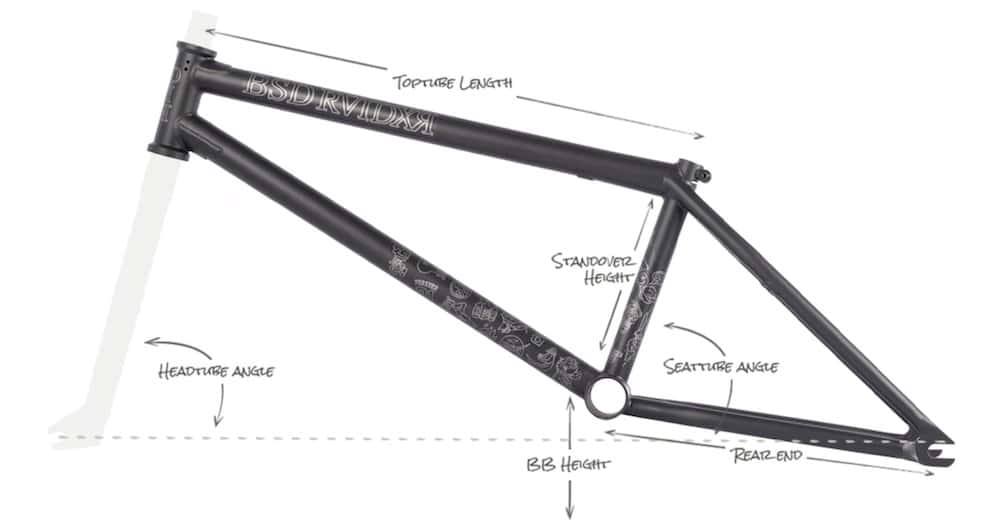 The BMX frame comes with the following specifications:
Top tube length
Head tube angle
Head tube length
Seat tube angle
Rear end length or chainstay length
Bottom bracket (BB) height
Standover height
Why Does Head Tube Angle Matter?
The HT angle determines the angle of your forks.
The steeper the forks are, the twitchier your bike will be – and it'll be a lot easier to get into a nose manual (my fav).
But the "further away" from the bike the fork is, the more stability you'll have – especially at greater speeds.
You can get frames from around 74 and up to 76-degree head tube angles.
Yup, something for everyone!
If riding mainly street and enjoying technical stuff, a frame with a too-mellow HT won't feel as fun. (Harder for spins, manuals, nose manuals, etc.)
On the contrary, if you ride mainly trails and transitions and like to go fast, a frame with a steep head tube will be too responsive and unstable.
Why Does Head Tube Length Matter?
The head tube lengths became more and more important lately, with the craze of rising the front end.
Why? Because it helps!
The longer (or taller, as some say) the head tube, in the more upright position the bike will put you.
While this might be a more vital characteristic for big-wheel bikes, when it comes to BMX, it helps you reduce the use of spacers – making the bike look cleaner.
If you want to raise your front end, check out my best selections of top load stems and 10 inch BMX bars.
What Is The Best BMX Frame Headtube Angle For You?
The classic HT angle is 75 degrees.
It's the most all-around angle you can use for any riding style.
However, a steeper angle would be better if you specialize in street riding.
And if you are enjoying bowls, trails and transitions in general, a mellower, "slack" angle will do the trick.
In short: You'll achieve better handling with a steeper head tube angle but with less stability at speed.
Best BMX Frame Head Tube Angle For Street, Park, Trails & Flatland
However, if you're unsure about the head tube angle, I recommend starting with the classic 75-degree option.
Conclusion: Head Tube Angle Can Help Your Riding Style
While there weren't as many options available when I started riding BMX, there's something for everyone these days.
That said, ensure your forks are at the perfect angle for you and the riding style you enjoy to perform the most.
However, if you are a BMX beginner, as mentioned earlier, I recommend you to pick a frame with a 75-degree head tube angle, or if you're really into street riding, then go with the 75.5-degree one.
Note: I also have a full-blown article about BMX chainstay length, which you shouldn't miss. Why? Because the chainstay is equally important as the head tube angle.
If you have any further questions, you can always email me or message me on IG (@rokrivec). Yo! 🤘
Was this article helpful?
Disclosure: The BMX Dude's content is free & reader-supported. I may earn a commission if you click & buy through my links. Your support helps me create the best content & make a difference. Thanks! 🤘