Are you trying to find the ideal BMX top tube length for your riding style?
I have been searching for the perfect frame size for over two decades.
Yes, REALLY.
I started on a 20.5″ frame, but year after year, my frame's top tube (TT) has slowly gotten longer.
Right now, I ride David Grant's BSD Raider frame in 21.6″ TT (by the way, I'm 5'11").
Yup, this goes ENTIRELY against the grain of all the frame sizing charts you see other websites having (find an example below), aiming at helping you pick the correct frame size.
But these charts might not be as helpful as you'd think, which you'll see why shortly.
This post covers:
If following the traditional frame size recommendation, I'd either need a 20.75″ or a 21″ frame.
I'm grateful that I tried both sizes, including 21.25″, but the one I ride now feels GREAT. The best, to be honest.
It was around three or four years ago when I began paying more attention to the frame sizes BMX pros ride.
Why?
Because I noticed that many of the top pros ride pretty large frames – after carefully observing their videos and IG posts.
Note that I find a rider with a slightly "larger" frame to look a lot more stylish. However, that's just my look at it – of course, I enjoy watching everyone shred.
At the end of the day, there's no right or wrong in BMX – it's all about finding what works and feels best for YOU.
Anyway, back to the TT.
After examining the pros, I did a relatively simple calculation, comparing the riders' heights and the frame sizes they ride.
This helped me answer a common question:
What Size BMX Frame Do Pros Ride?
Garrett Reynolds is 5'7″ and rides a 20.75″ top tube frame. According to his TT, I'd need a 21.9″!
And according to Chad Kerley, I'd need a 22″!
Have you ever even noticed how large Chad's bike is, particularly if he's sitting on it or standing beside it? Also, the front end – his bar is around navel height.
But it wasn't like this always. He had a much smaller frame size and lower front end height if you watch some of his older videos and bike check.
Moreover, if we take Nathan Williams as another example, he is 5'10" and rides a 21.25″ TT frame. So according to Nathan, my frame size would need to be 21.5″ – you see, I almost nailed it with a 21.6″ TT frame (because Nathan is one of my favorite riders).
But this frame-height comparison isn't always the case. If comparing some other pros, I'd need a lot smaller TT (to my current 21.6″) – still, it's different from the traditional frame size charts.
BMX Top Tube Length Guide
Okay, let's look at a traditional BMX frame sizing guide for a 20″ bike.
Attention: Almost no BMX pro out there rides a frame according to these standard sizing recommendations, but most ride a longer one.
| | |
| --- | --- |
| Rider height | Top tube length |
| 4'8″ to 5'2″ | 18.5″ – 20″ |
| 5′ to 5'4″ | 20″ |
| 5'2″ to 5'6″ | 20.25″ |
| 5'4″ to 5'8″ | 20.5″ |
| 5'6″ to 6′ | 20.75″ |
| 5'8″ to 6'2″ | 21″ |
| 6'+ | 21.25″ |
What I will say is this: Don't be afraid to go with a 0.25″ (or even more) longer TT frame.
I picked a MUCH longer frame, which suits my riding style perfectly.
BUT!
Yup, there's always a but.
You first need to look closely at your riding style.
Do you prefer to go super technical?
Do you like to ride trails and transitions?
Or do you like a bit of everything?
For instance, if you pick a frame with a longer TT (something I recommend) but also has a long chainstay length, it'd be slightly more challenging to do super technical stuff (unless you're a taller rider).
BMX TT Length For A 6+ Foot Rider
If checking the above table, a 6-foot-tall rider would need a frame with a 21.25″ top tube.
However, if you're anything above 6′, I recommend you go with a 21.5″ TT frame.
But if you're really tall, I'd then pick a 22″ BMX bike (which is something I haven't said out loud yet – but that's exactly what I'd do).
How To Measure BMX Top Tube Length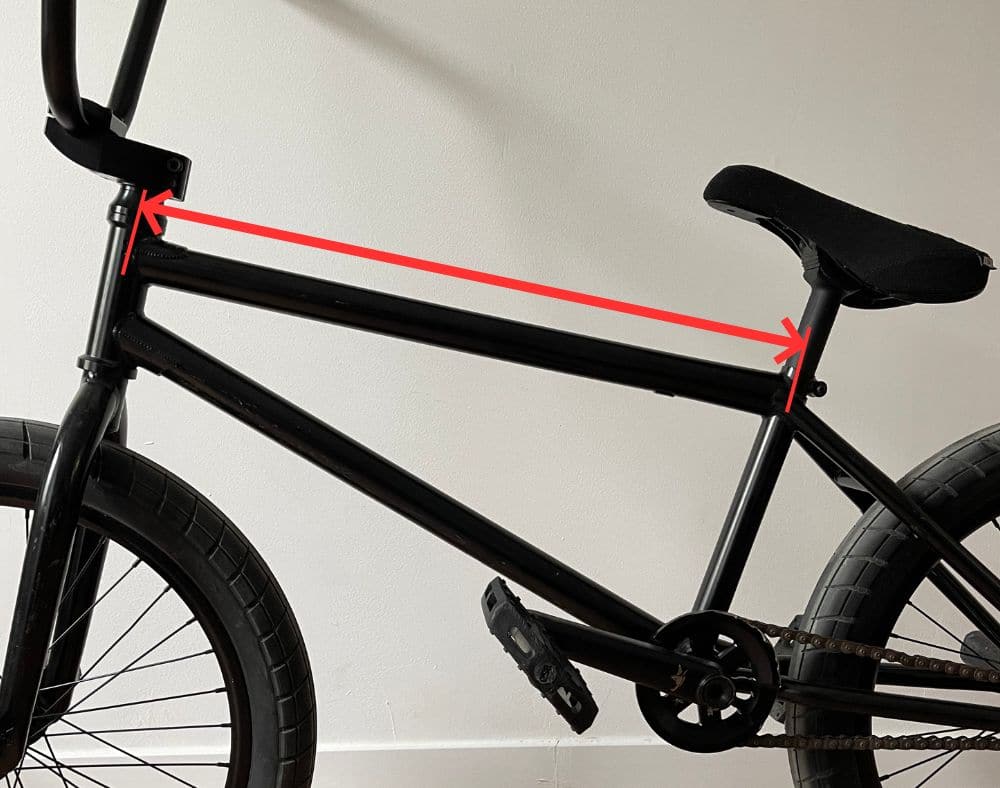 If you have a bike you're unsure what top tube length it has, measure it from the center of the head tube to the center of the seat tube.
That's it.
Conclusion: Pick The Right BMX Top Tube Length
Even though I recommend doing your own thing and picking a larger frame than the TT size charts suggest, I'm sure that might be daunting for some.
Making a switch was easier for me because I tried and tested multiple TTs to find the ideal one.
Remember, you don't have to buy multiple frames to determine your best size.
Borrow bikes from your riding buddies for a few laps. And don't do it just once. Instead, do it over the course of a few sessions, just to get the grip of it.
Also, pay attention to the chainstay – does your friend have it slammed or not? (Because it can greatly affect how the frame feels.)
My final words: Don't be afraid to pick a frame with a longer TT!
I did it, and it works. AND so did many of the top pros.
Further reading:
Was this article helpful?
Disclosure: The BMX Dude's content is free & reader-supported. I may earn a commission if you click & buy through my links. Your support helps me create the best content & make a difference. Thanks! 🤘