Have you ever wondered why there's so much debate around the bottom bracket height of BMX frames?
It's because it's a frame geometry specification that matters.
Yes, it can affect how your bike feels and rides.
Let's first answer a simple question:
What is bottom bracket height? The vertical distance from the ground to the center of the bottom bracket shell.
This post covers:
Street frames and park/trails frame usually have a completely different BB height. And yes, that 0.2″ can make a big difference.
Most BMX frames' BB heights go from 11.5″ up to 11.8″, with a few rare exceptions.
Here are a few examples:
Fly Motosierra frame has an 11.5″ BB height
Cult Dak frame has an 11.6″ BB height
Fiend Mills frame has an 11.625″ BB height
S&M Holy Diver frame has an 11.7″ BB height
Fly Savanna frame has an 11.75″ BB height
Cult Heaven's Gate frame has an 11.8″ BB height
WTP Doomsayer frame has an 11.9″ BB height
WTP Utopia frame has a 12″ BB height (a flatland frame)
(I currently cannot find any frame on the market with a BB height lower than 11.5″.)
How To Measure BMX Bottom Bracket Height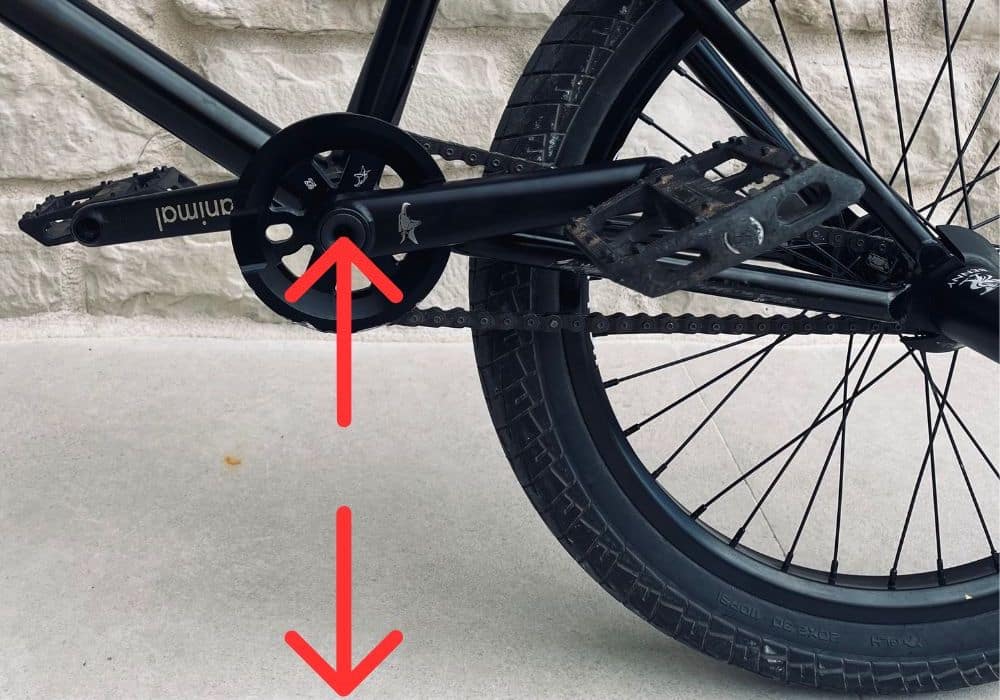 As mentioned above, BB height measures the height between the center of the BB shell and the ground.
But there's a catch!
If you go and measure your frame's BB height, it'll likely be much higher than the official frame specs.
Why?
First, because it's calculated off a standard 20″ overall wheel diameter, sitting above the center of the dropouts (which is 10″).
Second, a 2.1″ tire compared to a 2.4″ tire will also change the height of the BB. (You may also be interested in checking my article on BMX tire width, and find out why it's important.)
What would give you the most relevant height is to measure the BB with your tires off. Yes, your bike sitting on the rims – but don't get the idea of riding it like that because you'll destroy the rims!
However, all BMX brands use the same formula when calculating the bottom bracket height, so there's no deviation from brand to brand.
How Does BB Height Impact My Riding?
Lower Bottom Bracket Height
When it comes to lower BB, all it means is that your center of gravity will be lower.
What this does is it gives you more stability, which is handy, particularly when riding fast.
You'll generally see frames meant for riding trails, bowls and transitions (park frames usually have taller BB) with a lower bottom bracket.
Higher Bottom Bracket Height
As you'd guess, higher BB does the complete opposite.
It raises the center of gravity, which makes the bike feel more responsive and twitchy (read: it'll make your bike easier to spin).
In addition to that, a high BB is perfect if you're heavily into crooked grinds because it gives more clearance, so you won't be hitting your sprocket and chainstays, which can happen with a lower BB.
Conclusion: Does Bottom Bracket Height Matter?
Yes, the BB height of your frame matters, especially if you specialize in a particular riding style, like super technical street or fast transitions.
In short:
Lower BB height gives you stability.
Higher BB height gives you responsiveness.
But if you're unsure what would fit you best, I recommend opting for an 11.7″ BB height. It's best if you're doing a little bit of everything.
Moreover, as soon as you transition to needing more stability or more responsiveness then switch to a frame with either a lower or a higher BB.
If you need help picking the right frame, you can always contact me via the contact form on The BMX Dude website or via Instagram.
By the way, if you need a new BB, check out my collection of the best BMX bottom brackets.
Other BMX frame geometry-related topics you might be interested in:
Was this article helpful?
Disclosure: The BMX Dude's content is free & reader-supported. I may earn a commission if you click & buy through my links. Your support helps me create the best content & make a difference. Thanks! 🤘