Would you like to build a solid park setup and are looking for the best Total BMX frames?
I bring you the ultimate TRICK MACHINES that can take your riding level to new heights.
Yes, they will!
Keep in mind, the color you see below is not the only available color. (I like black, duh!)
There's something for everyone.
Who owns Total BMX?
Note: Total is a UK-based bike company owned by Ronnie Remo and Mark Webb.
Sure, you can get Mark's signature frame, too.
But you can also get Kyle Baldock, Alex Coleborn and Nick Bruce's signature park frames.
THE ULTIMATE TOTAL BMX FRAMES:
So. Cool.
GO!
Best Total BMX Frames
Note: Frames are listed in no particular order. (The 1st one is not necessarily better than the 5th one – all are park-riders-approved!)
1. TWS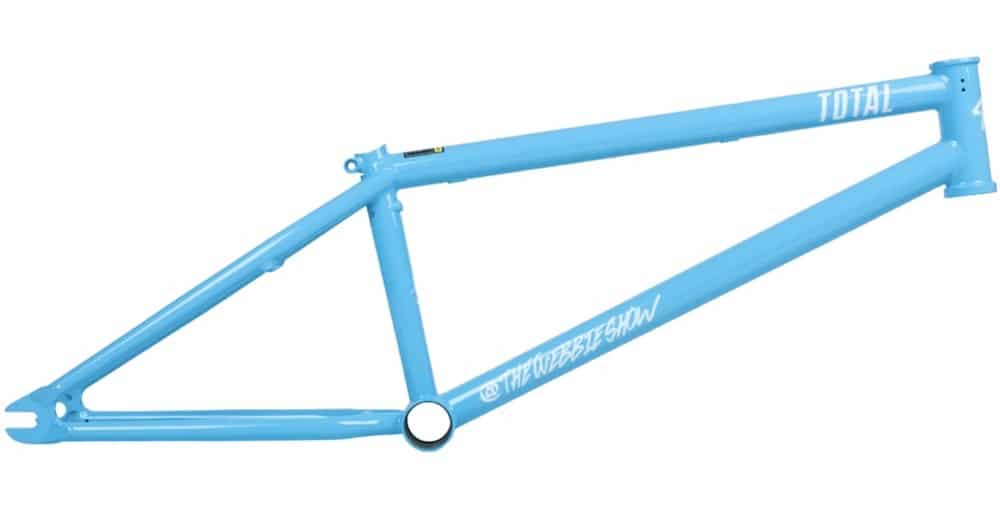 Mark Webb's signature TWS frame from Total saw an upgrade to the TWS 2 frame with the only change being the addition of the DBS brake routing system.
According to the Total site, Mark felt that "the geometry is right on point and making a change would simply be for the sake of it."
The DBS brake routing is intended for dual lower gyro cable setups and allows the cable inners to run through the seat tube rather than around it.
Mark's frame is built with technical geometry but has a medium-length rear end and a lower bottom bracket height which add to the stability and versatility of the frame.
TWS specs:
Top Tube Length – 20.3" – 20.6" – 21" – 21.25"
Head Tube – 75.5°
Seat Tube Angle – 71°
ChainStay Length – 13.2"-13.4"
Standover – 8.75"
BB Height – 11.5"
Weight: 4 lbs 13 oz
Price: $460.80 (may vary)
GET YOURS
2. Killabee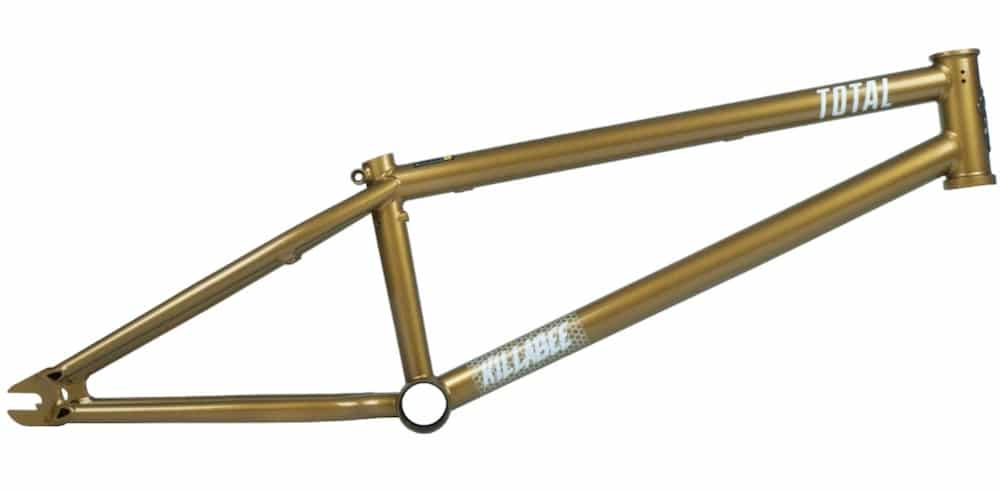 The Total Killabee frame has been a staple of the Total BMX frame lineup for years with this version being the 4th iteration of the frame in the Killabee K4.
Also, if you somehow didn't know, the Killabee is Kyle Baldock's signature frame. The fourth version of this frame has a few additions that have been asked for, including the DBS brake system and integrated chain tensioners.
Killabee has a super low standover height at just 7.7" and received a steeper head tube angle at 75.75 degrees.
The K4 comes in a huge range of top tube lengths from 18" to 21" and is now compatible with tires up to 2.4".
Killabee specs:
Top Tube Length – 18" – 19.75" – 20.4" – 20.7 – 21"
Head Tube – 75.75°
ChainStay Length – 12.65"-12.95"
Standover – 7.7"
BB Height – 11.6"
Weight: 4 lbs 10.1 oz
Price: $460.80 (may vary)
GET YOURS
3. Hangover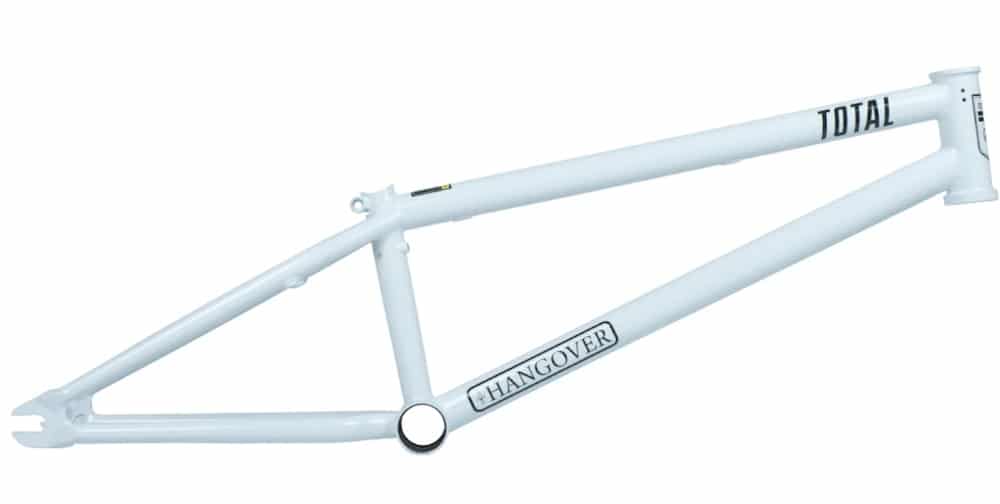 Alex Coleborn's signature Hangover frame from Total has seen several different versions throughout the years. This is the H4 version and the fourth version of the frame.
Aside from a few new colors, changes to the H4 version of the frame include the seat clamp, the DBS braking system, and ovalized chainstays.
The frame features a mega short standover at 7.25" and a low bottom bracket height of 11.5", making for a very recognizable look.
Hangover specs:
Top Tube Length – 19.8" – 20.4" – 20.6" – 21"
Head Tube – 75.25°
Seat Tube Angle – 71°
ChainStay Length – 12.6"-12.9"
Standover – 7.25"
BB Height – 11.5"
Weight: 4 lbs 8.6 oz
Price: $460.80 (may vary)
GET YOURS
4. Americano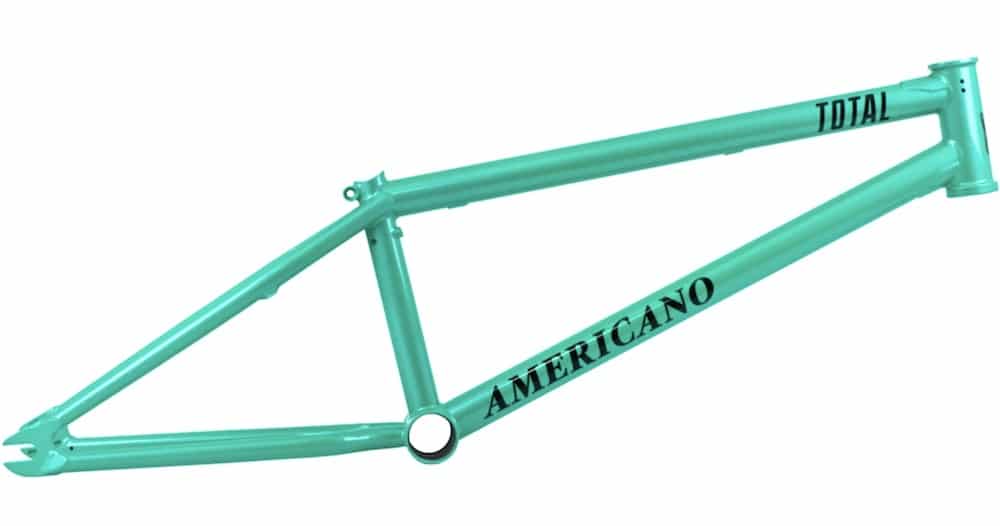 The Americano frame from Total Bikes is Nick Bruce's signature frame. One feature of this frame that is entirely different from almost every other frame in its category is the DBS brake mod for lower gyro cables.
This cable guide allows the dual lower gyro cable to feed directly through the seat tube on the frame. In addition to this mod, the Americano has removable brake hardware that is included with the frame.
It also includes external gussets on both top and down tubes, a first for a Total frame.
The geometry on the frame fits well within the modern BMX park frame geometry segment with an 8.25" standover, 75.1° head tube angle and an 11.5" bottom bracket height.
Americano specs:
Top Tube Length – 20.5" – 20.75" – 21"
Head Tube – 75.1°
ChainStay Length – 13.3"-13.55"
Standover – 8.25"
BB Height – 11.5"
Weight – 4 lbs 14 oz
Price: $460.80 (may vary)
GET YOURS
5. Killabee 18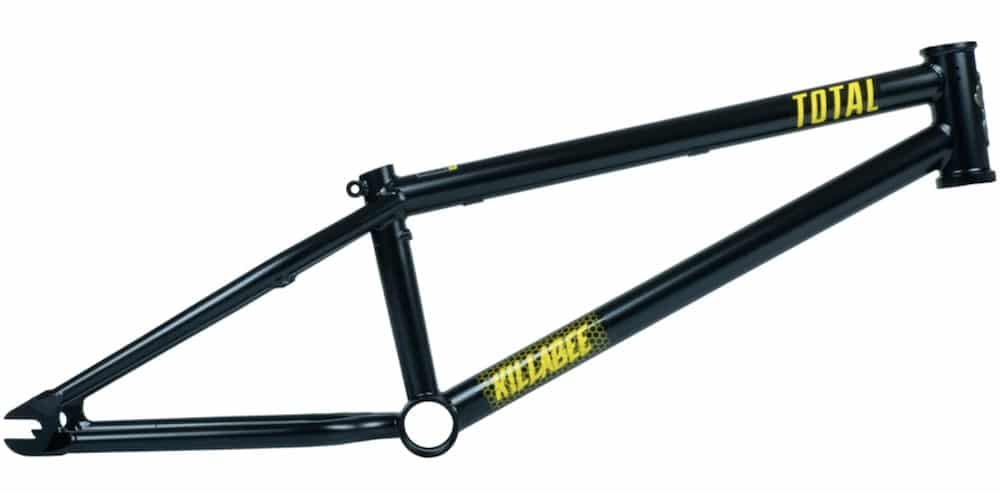 Kyle Baldock's signature Killabee frame from total has several different top tube length options available with its same geometry, but here is an 18" version of the frame.
According to Total, this is one of the lightest and most forward-thinking 18" BMX frames available to date.
One cool aspect of the frame is that it features the DBS braking system of most other Total frames.
The listing on Total's website may not feature the exact geometric numbers of the frame, but it does say that it is built specifically for smaller and younger riders.
Killabee 18 specs:
Top Tube Length – 18"
Head Tube – 75.25°
ChainStay Length – 11.6" (Slammed)
Standover – 7"
BB Height – 11.45"
Weight – 3 lbs 14 oz
Price: $460.80 (may vary)
GET YOURS
Disclosure: The BMX Dude's content is free & reader-supported. I may earn a commission if you click & buy through my links. Your support helps me create the best content & make a difference. Thanks! 🤘