Yo dudes, welcome to my review of the best and strongest United BMX frames.
You can use these for pretty much anything.
They work for street, park and trails riding.
(Flatland? Not really, but you can give it a shot because it can work for you.)
United is a Hastings, UK-based BMX brand that Ian Morris started in 2006 alongside 4Down Distribution.
But we are not here today to study history.
But to check United's CURRENT frame line.
THE ULTIMATE UNITED FRAMES:
Alex Valentino's signature United Frame: Auto Portrait
Miki Fleck's signature United Frame: ZUIN
Best United All-Around Street Frame: Incarnate
It's a bit of a mix of responsiveness (snappy) and stability (mellow) to cover as many riders as possible.
Get cracking.
Best United BMX Frames
Note: Frames are listed in no particular order. (The 1st one is not necessarily better than the 3rd one – they're all fantastic!)
1. Auto Portrait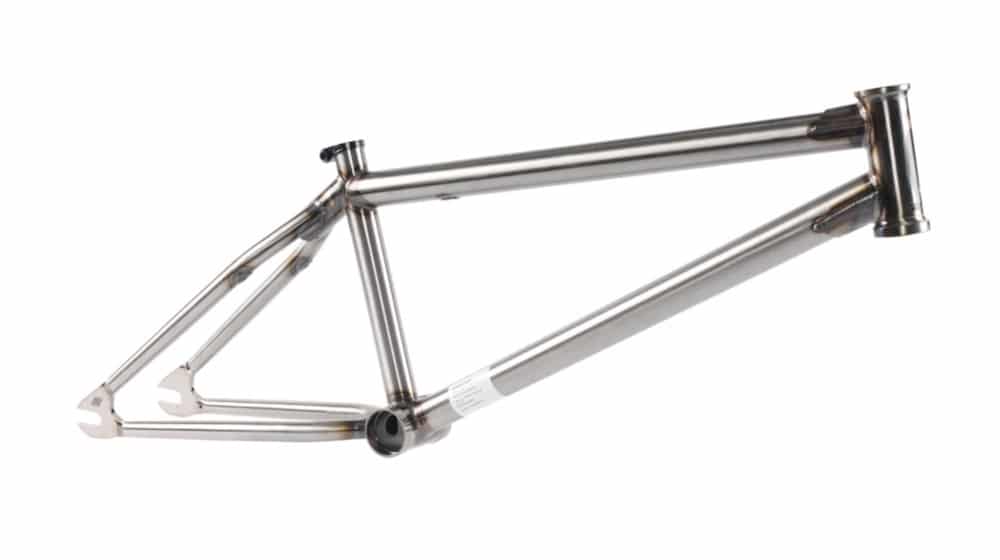 Alex Valentino's signature United Auto Portrait frame is a mixture of new and old. The frame comes in four different top tube lengths and three color options.
It has a steep head tube angle with a somewhat low stand over, at 8.6″ (to today's standards).
Some other features of the frame are double wishbone design, invest cast drop outs and included seat clamp (not integrated).
The graphics are minimal but dope. If you want a French-inspired frame, this is it.
"By acquiring Autoportrait you've got yourself a piece of art." – Alex
Auto Portrait specs:
Top Tube Length: 20.5″, 20.8″, 21″, 21.25″
Head Tube: 75.5°
Seat Tube Angle: 71°
ChainStay Length: 13″ Slammed
Standover: 8.6″
BB Height: 11.8″
Weight: 5lbs
Price: $488 (may vary)
GET YOURS
2. ZUIN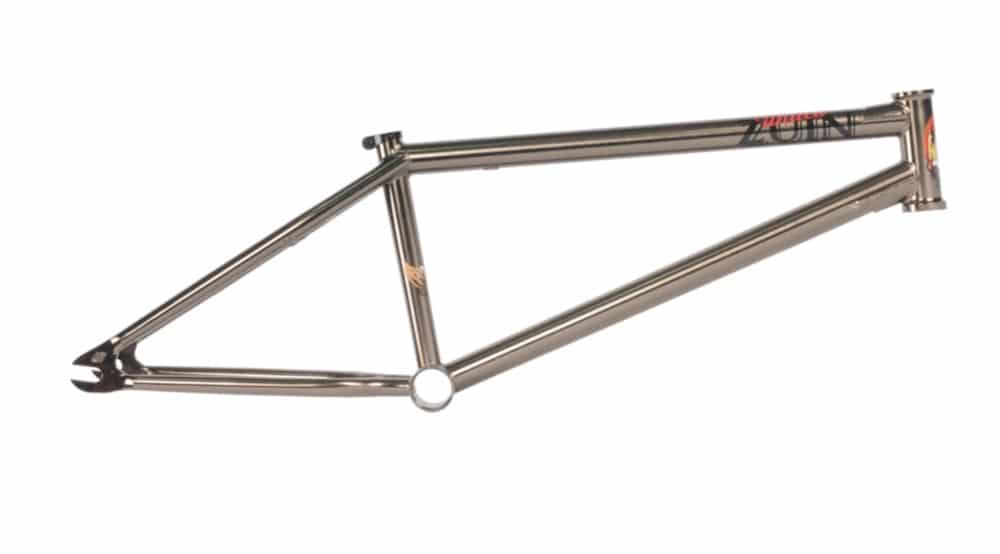 I'm sure you've all been waiting for this one, the all-new Miki Fleck signature ZUIN frame. You know this frame is meant to last, knowing the style of Miki's riding.
The frame is inspired by Incarnate but with a longer (thickened) chain stay and higher bottom bracket height.
Yup, Miki definitely needs thick chain stays, or he'd grind through them too quickly.
It also includes integrated chain tensioners, removable brake mounts and tapered tubing.
Go fast and go big with the ZUIN frame – comfortably!
ZUIN specs:
Top Tube Length: 20.5″, 20.75″, 21″, 21.25″
Head Tube: 75.3°
Seat Tube Angle: 70.25°
ChainStay Length: 13.25 – 13.5″
Standover: 9.3″
BB Height: 11.6″
Weight: 5lbs
Price: $488 (may vary)
GET YOURS
3. Incarnate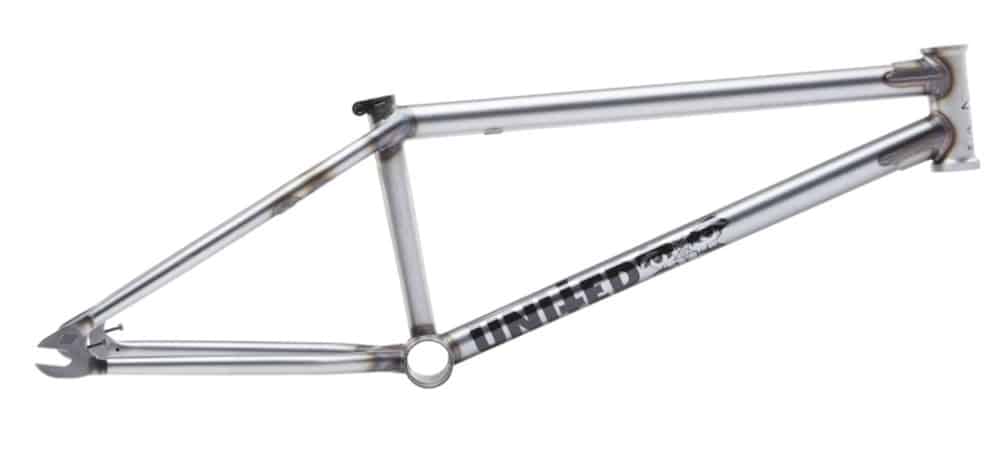 According to United, the Incarnate V2 frame is the "Second rendition of the bomb-proof Incarnate."
The V2 of the frame features a thicker tube set to add to that strength, investment cast dropouts that are updated and have built-in chain tensioners.
The Incarnate has removable brake mounts but no holes drilled for gyro tabs. It also comes with external gussets on the top/bottom tubes.
This frame also has a mellower seat tube angle, which brings the bottom bracket forward, giving the bike a SMALLER feel without affecting the top tube length.
Seat tube angle isn't widely discussed or adjusted in BMX, so this is a welcome feature. It is great that United educates about this on their site!
Incarnate specs:
Top Tube Length: 20.8″, 21″, 21.2″
Head Tube: 75.5°
Seat Tube Angle: 70.25°
ChainStay Length: 13″ Slammed
Standover: 8.75″
BB Height: 11.75″
Weight: 5 lbs
Price: $440.95 (may vary)
GET YOURS
Disclosure: The BMX Dude's content is free & reader-supported. I may earn a commission if you click & buy through my links. Your support helps me create the best content & make a difference. Thanks! 🤘