Are you looking to grab a pair of Shadow Invisa-Lite ankle guards?
The second worst pain – right after getting a shiner! – is hitting the ankle bone.
I. HATE. IT. SO. MUCH.
But if style matters to you, riding bulky ankle braces doesn't come to mind.
Hey, I share all this from my personal experience.
But that's when these minimalist, simple and reliable ankle guards by Shadow Riding Gear come into play.
I tried a bunch of variations (too many) to protect my ankles before, but I somehow immediately knew that these were IT.
But were they really?
Let's find out.
Shadow Invisa-Lite Ankle Guards Review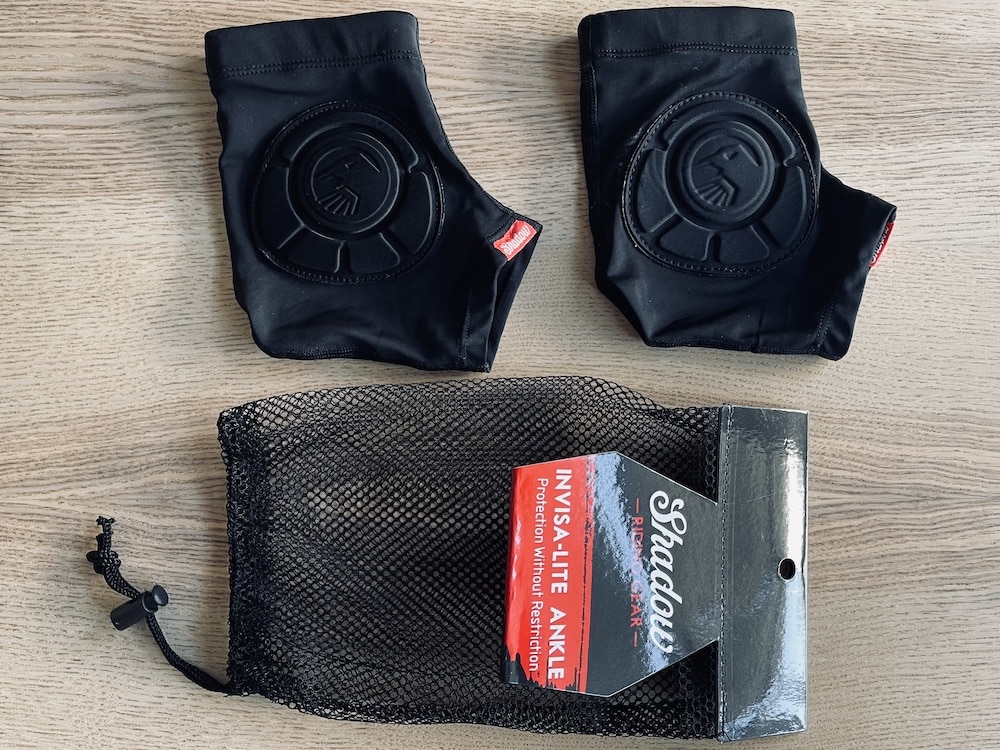 I've been riding these during all my sessions for the past six months, so here's what I've got to share.
Also, I figured out how to make these even more lightweight. More below.
Look, Fit & Size
As soon as I got these in my hands, I was impressed by how LIGHT they were, hence the name Lite.
The Shadow Invisa-Lite series uses this excellent breathable and stretchable lycra material.
You barely notice they are on your feet when you pull them on. Really, you feel socks compressing you more than these guards.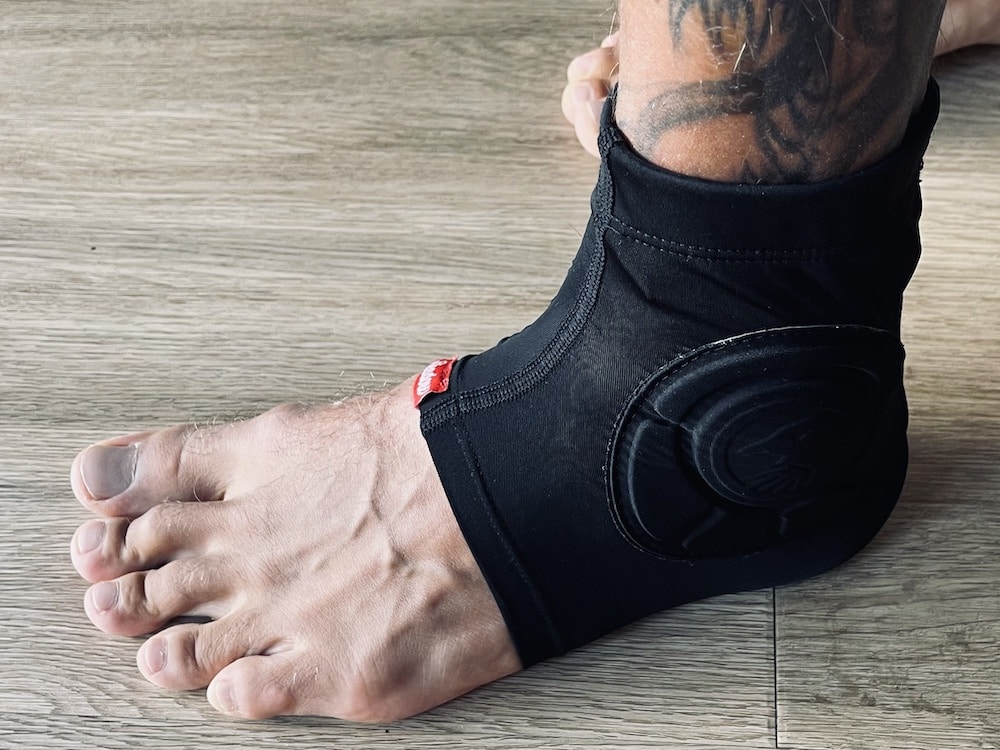 And yes, you can comfortably ride them under your socks, although they are marketed as an over-the-sock ankle guard (at least that's what the official pictures show).
But I like the look of white socks more. (Besides, this really emphasizes the "Invisa" part.)
Not only that, but I find riding Shadow Invisa-Lites under the socks keeping them in place more, causing little to no movement.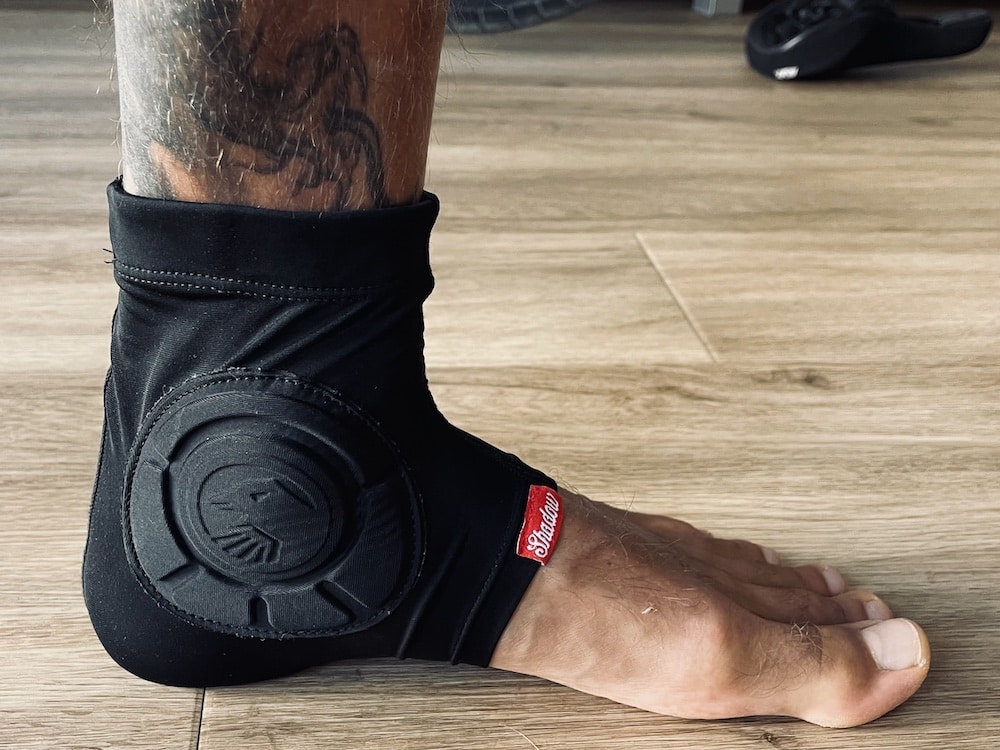 Plus, they will be barely visible.
(But I have a trick I'll share with you shortly on how to make these even more minimalist.)
The only thing I was a little disappointed with was the sizing.
I measured according to the Shadow's sizing chart multiple times, got size M, but they were pretty tight at first.
HOWEVER!
You need to know that these will stretch a little bit.
And because of what I'll share with you right now, that slight tightness disappears immediately.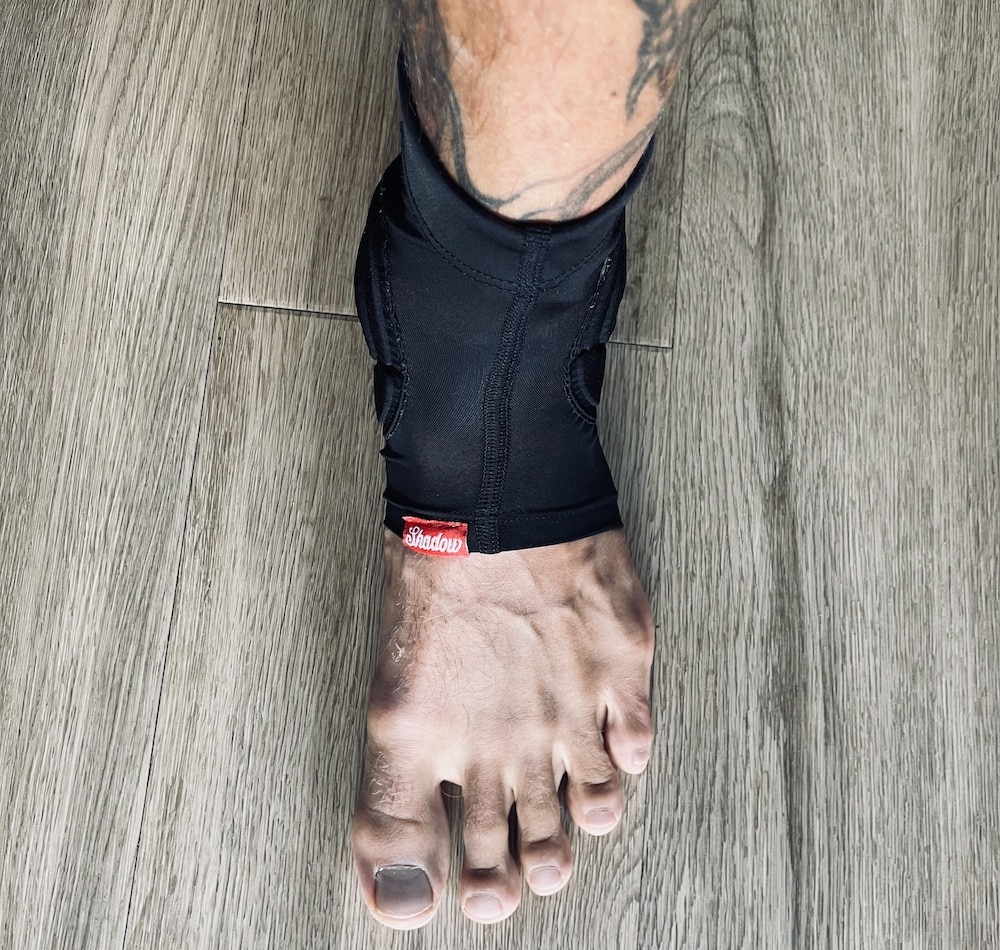 How to make Shadow-Invisa Lite ankle guards even more minimal?
Each ankle guard has two 3D impact foams on each side to protect the inner and outer ankle bones.
But.
Because I never hit myself on the outside of my ankle, I removed the outer foams. It's very easy to do.
Besides becoming a lot "liter," I could also pull them on much more easily. And after covering them with socks, no one could tell I was wearing ankle guards.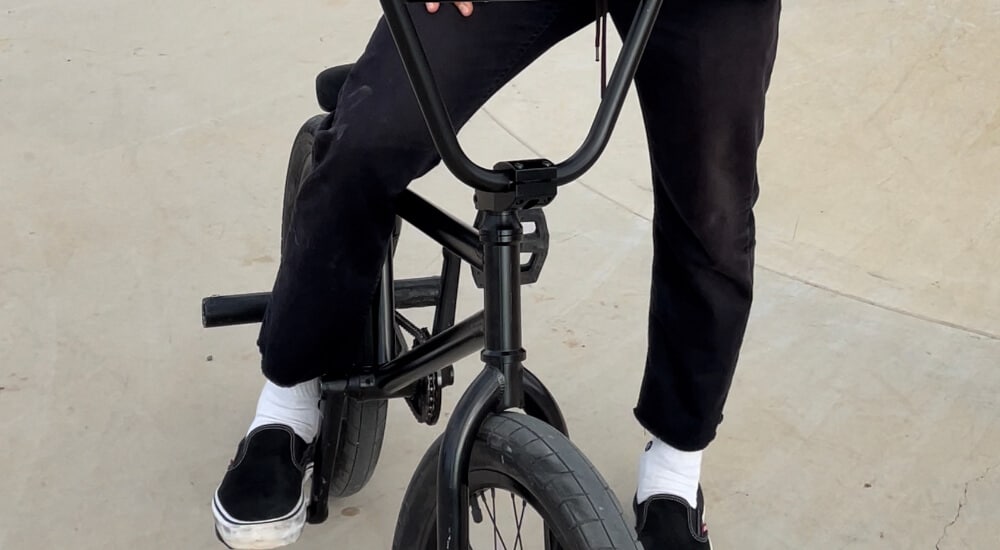 How cool is that?
Would you tell I'm using ankle guards? Nope!
Shadow-Invisa Lite ankle guards size chart
| | | |
| --- | --- | --- |
| Size | Inches | CM |
| S | 8.5 | 21.5 |
| M | 9.5 | 24 |
| L | 10.5 | 26.5 |
| XL | 11.5 | 29 |
Shadow Invisa-Lite Ankle Guards features:
3D impact foam
Stretch & breathable lycra
Anti-slip silicon band on the inside
Double & single-needle heavy-dusty stitching
Weight: 1.6oz/44g per pair
Price: $24.99
GET YOUR INVISA-LITES NOW
Conclusion: Do I Recommend Shadow-Invisa Lite Ankle Guards?
YES!
These are epic.
I'm not sure when was the last time I was this HYPE about a piece of safety gear.
Never.
But you need to know this – if you're getting yourself a pair of guards to protect your ankles because of learning tailwhips, then these will not do it.
They are semi-whip friendly. (But they work great if you're refining your tailwhips.)
I have many great BMX ankle braces and guards ready to make you feel more comfortable catching the whip.
The Invisa-Lite guards are primarily for keeping your away from (light) hits causing bruises and cuts.
Yes, if you hit yourself hard, you'll FEEL it, but you'll unlikely destroy your ankle.
I haven't yet, even after months of using these. (I don't even know when cranks hit my ankles anymore.)
They protect my ankles, and I don't have to worry about bloody white socks anymore.
WIN-WIN.
I'll continue wearing these – forever.
GET YOUR INVISA-LITES NOW
Was this article helpful?
Disclosure: The BMX Dude's content is free & reader-supported. I may earn a commission if you click & buy through my links. Your support helps me create the best content & make a difference. Thanks! 🤘