Are you on the hunt for the best Miki Fleck BMX videos to enjoy some street-riding madness?
Yup, this dude's MENTAL.
This dude is on an entirely different level, going big and tech – with steel pegs!
I love his riding style because it's so unpredictable. And wild and crazy and all that stuff.
Miki was born on April 13, 1998, in Barcelona, Spain, but his blood is Brazilian.
Also, his father is from Kent, London, where Miki goes in the summers.
Moreover, Miki started riding when he was 13 but played soccer before.
He's now killing it for United, Primo and Etnies (do you need new BMX shoes?), and is always doing things creatively.
Treat yourself to something next-level riding today.
GET PARTS MIKI RIDES:
Note: You may also be interested in my Miki Fleck bike check.
Do not forget to follow Miki on Instagram where he's regularly posting wicked riding clips.
Featured photo by: Wesley McGrath.
Best of Miki Fleck Videos
1. Etnies – I Tell You, Dude

Right after finishing the twenty-day-long Brazil trip, Miki and Mattero (behind the lens) went on a nine-day-long cruise around the north of Spain.
They came back with twenty incredible clips and a web video that's over eight minutes long. From amazing spots to incredible riding, you get it all and then some.
But out of all the clips, my favorite is the crankflip to feeble grind on a long kinked ledge and then hop to manual 180 on the final down-ledge section. WOW!
However, that insane gap-to-ledge ride at the end is absolutely mental. Enjoy the heat right now.
2. Primo – ANESIA

Oh. Wow.
I know every time a new Miki video drops, I need to stop doing whatever I'm doing and WATCH it immediately.
There's no secret that it will be good, but I'm most excited about the surprises. And Miki is full of them!
You never know what to expect from this dude (besides that you'll witness a ton of epic riding).
Miki pedals as fast as he can, grinding through his pedals and pegs and pulling some insane street moves that will keep your eyes as big as saucers.
So. Fire.
3. United – Mapteo

A unique approach to grinds with heavy pegs, pedals and frame usage is behind the play button above.
I've been desperately waiting for this one because we know Miki delivers. And deliver, he did!
It all begins with an epic feeble grind to smith grind followed by a plethora of awesomeness that requires at least three rewatches.
But my favorite was the pedal icepick grind to barspin – totally unexpected. But there are so many other unexpected stunts in here that you should not miss in your life.
And the banger… You better see it for yourself.
4. Primo – SOME [LOUD]

You just know that every new Miki stuff will be crazy. And this under two minutes SOME [LOUD] web video for Primo is no different.
Note: I think this is a promo for his signature Primo Da Silva forks (just that they're not trying to make it look like a promo).
If it handles Miki Fleck, it will handle everyone.
This dude's fast-paced riding is on another level. And I really dig his manual 180s (he can do it everywhere!) – especially the LAST ONE.
Just. Enjoy.
5. 3 Lines, 1 Video

Can you film an entire web video by filming just three lines? Will it be too short? Yes, you can, and no, it won't be short!
When Miki was out in Brazil with João Paulo Cunha, the two of them decided to shoot a quickie just by filming three lines.
It worked!
While the first two lines are shorter, the third one is LONG – ending with a truck driver down a pretty decent set of stairs.
6. Etnies "VISUALS" RAW

I'm sure you remember Etnies' "VISUALS" video project with Miki Fleck, Jordan Godwin, Sam Jones and Joe Foley.
DIG dropped this awesome raw footage of Miki that – you know – is all about fast grinds, sparks, epic combos and one of the best manual 180s in the game.
And the last pedal feeble to hard 180 is just insane.
But there's so much other no-music, just-riding stuff in here that it's worth another watch.
7. United BMX ZUIN frame promo

With the recent drop of his signature frame, Miki wants to show you that it's capable of everything. You can ride streets, parks and trails with it – easily. I mean, FAST.
And if it holds Miki, I'm sure it can hold everyone.
Speed is Miki's middle name. Fleck is taking things to the next level, having a ton of bike control while pedaling extremely fast.
Are you ready for another portion of madness? Hit play and treat yourself to several WOW moments.
8. Welcome to Etnies Pro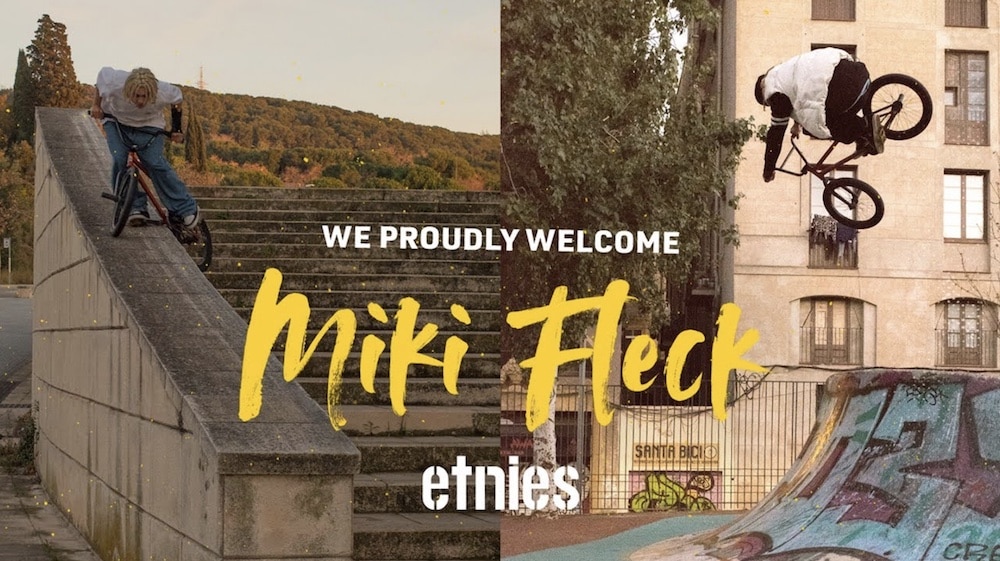 Miki has been killing it for Etnies since 2018, but the time came for the PRO bump. And here's a wild welcome to the team video to make it official.
Miki's riding style is something different, raw, fast and big. While he will do a ton of damage with his pegs, Fleck is also no stranger to pulling a perfect truck over massive sets.
I'm not sure if they shoot all this in Barcelona, Spain, but if yes, damn, this city still has SO MANY (unseen) spots!
If you haven't been to BCN yet – just GO.
Note: Video's age-restricted, so you can only watch it on YouTube.
9. United – "Less Broll"

THIS. IS. MENTAL.
I think that's the only way to start Micki's United "Less Broll" video. Which, by the way, he shot in just a month with Santiago Arano, destroying the beautiful Barcelona streets.
Pegs and pedal use, speed, gaps, manuals and a chill song – the end product is so mind-bending I need to rewatch it.
Although the last gap is absolutely insane, I think the kinked pedal grind on a ledge to quick manual 180 is even more insane. How, Miki?
Enjoy.
10. United – Fistful Of Spliffs

Miki went on a tear in 2020/2021, video after video, where he absolutely killed it. Here we have one for United from later in the year called Fistful Of Spliffs.
The opening for this one has a wild west-themed animation that is super rad, and after the intro, things heat up rather quickly.
Miki has an eye for spot usage and charges everything he does at full throttle.
If you're a fan of unconventional grind combos, big gap to grinds, and a unique approach to modern-day BMX street riding, Miki Fleck is your guy!
Also, the Derek Duster is out of this world at the end!
11. Miki's Dig X Etnies video

Previously we mentioned that Miki Fleck went on a tear in 2021 with amazing videos. Here is a perfect example from mid-2021 for Etnies.
There's just something about Miki's riding that is different but familiar and always entertaining to watch.
From tricks like the mega-long fakie double peg on the ledge with metal pegs to his extremely satisfying pedal grinds both ways, Miki's riding is just awesome!
The way he does pedal grinds to hard 180 just doesn't compute. Plus, there's also something to be said about the speed he approaches everything with – AWESOME.
12. United – Ride Fast Have Fun

Here we have a quick one with Miki Fleck for United called Ride Fast Have Fun. If there were ever a more perfect way to describe the riding of Fleck, we couldn't find it.
This one is from July 2020 and starts precisely as the title says, with a high-speed mega gap. This video contains fast grinds, gaps, and manuals in Barcelona.
That long double peg grind to gap to ice pick bonk was beautiful.
Also, Miki is one of the very few people who have done something at the top of the Sea Walls spot in Barcelona.
13. Miki Fleck Da Silva – La Belle Endormie

Before Miki Fleck blew up in 2020/2021, he had videos popping up like this from 2019. This one is called Miki Fleck Da Silva – La Belle Endormie and is episode number 4.
La Belle Endormie means "The Beautiful Sleeping" in French, which is definitely what the BMX world awoke from as more videos like this one popped up with Miki.
The song has a chill vibe here, but the riding absolutely does not reflect that with its intensity.
The last clip is a massive 180 barspin drop that Miki handled with no problem. Check it out!
14. United – Affirmation

In 2020, United released a full 30-minute video called Affirmation as a way to "introduce a few new faces in with a mix of old."
This is a fantastic way to show the world some up-and-coming riders on the team, and in the mix of all of this was Miki Fleck.
Here we have his almost 5-minute section.
The video starts with absolutely no context behind Miki doing a crankflip in a cheering group of people with pink vests, raincoats and duck umbrellas.
From there, things get a bit more familiar with a few awesome crankflip variations on several incredible-looking spots.
Miki absolutely kills it in this one, and if you missed the full-length, this is worth watching to at least see his part!
15. Welcome to United

Miki was added to the United team back in 2018 in a fantastic fashion with the riding in this video.
This raw video definitely does not take away from the vibe, and when you ride like Miki, you don't need music!
From the technical combos to the gnarly gaps and pedaling fast at almost everything he does, it is easy to see why Miki deserved this spot on the United squad.
And the ender – THAT ENDER!
No spoilers here, but if you missed this one when it came out, you have to watch it at least to see the pure madness that is the last clip!
16. United – Perception

Miki Fleck came to the BMX scene very strongly back in 2019/2020 with some amazing videos, which earned him a well-deserved spot on the United team.
This video, Perception from United, is a way to get to know him a little bit. Miki gives us a little backstory on himself and how he ended up in Barcelona.
Miki gives insight into his home life between work and riding. He explains some of the challenges of riding in Barcelona as well.
Ultimately this is an excellent introduction into who Miki Fleck is behind his riding with some shredding mixed in and is well worth the watch.
17. Primo – The Spanish Dream

Here is a video with Miki Fleck from Primo called The Spanish Dream.
This one is from a month and a half in Seville, Spain, where Miki endured the "way too hot" heat to get clips and make this video.
Miki crushes it here with huge gaps and excellent spot usage like the bank to wallride that starts with a huge hop to even get onto the bank.
Something about a rider whose riding is impossible to predict makes a video so enjoyable to watch. Miki Fleck is definitely one of those riders!
18. Dig 2019

When a video starts with a "Get off the roof" compilation, you know it's going to be a good one. This video with Miki Fleck from mid-2019 does just that.
Miki does not let up in this one with his signature yet unpredictable riding from beginning to end.
There's also a Hobie Doan cameo in here for and HD fans.
Miki hits massive rails, big gaps and also gets technical with tricks like rail grinds to manual or rails to immediate gaps.
When watching this one, stick around to the end because things get insane quickly.
The last clip is one that you do not want to miss!
19. Primo – Michael Fleck Da Silva

This is just over 3 minutes of straight fire as Miki never stops pedaling full throttle at everything he does.
There are too many big gaps to count with a soundtrack that accentuates the pace Miki always seems to ride at.
Miki does so many insane barspin gaps in this video it's hard to pick a favorite!
There's a manual 180 bar down a huge gap, a truck driver down a big gap that is also over a bench, and many more!
That last barspin gap might take the cake, though, as it is HUGE!
This one is worth a rewatch, and if you haven't seen it yet – what are you doing?! Click play.
Was this article helpful?
Disclosure: The BMX Dude's content is free & reader-supported. I may earn a commission if you click & buy through my links. Your support helps me create the best content & make a difference. Thanks! 🤘