Are you considering getting the almigthy WeThePeople Battleship Magnum frame?
Welcome to my in-depth review after testing the frame for almost one year.
Before I even continue, I'm sure you all want to know: Do I recommend it?
YES!
I knew I needed to try this WTP frame when I saw an Instagram post of it in late 2020.
I was riding the WTP Network frame but somehow felt too small, even though I was rocking the 21.1″ version. By the way, I'm 5″11′ (180cm).
I was stoked about Magnum 21.25″ top tube length and – ESPECIALLY – the 9.75″ standover height.
Note: Magnum is the bigger brother of the well-liked Battleship frame.
At the time, it felt WTP released my dream BMX street frame. It almost felt it's my signature.
After putting it together a few months later, when it came from overseas, I was IN LOVE.
The frame really felt good (and it still does!).
This was the first time I had a 21.25″ TT, and I really don't know why I didn't try a larger frame before. (I'm now really curious about how a 21.5″ frame feels.)
You can get the frame HERE (from Source).
WTP Battleship Magnum Frame Features
Front-End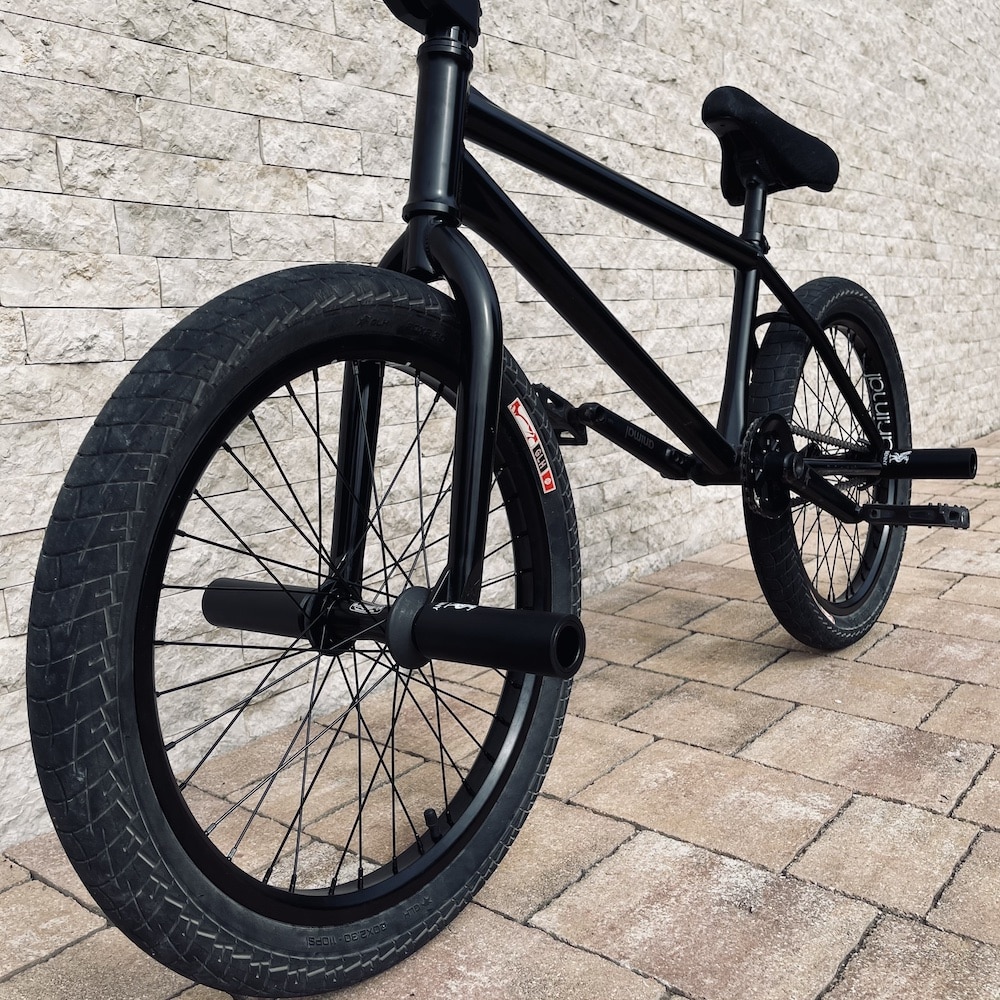 Battleship Magnum has a 75.5-degree head tube angle, perfect for modern street riding.
This is perfect for me since I like doing front wheel stuff. Keep in mind, I also ride Animal's Street fork with a 26 mm offset.
And that hydroformed tubing – SO. COOL. (It even has a hydroformed seat tube, which increases overall frame strength.)
Plus, the head tube is slightly longer, so you don't need as many spacers, which makes everything look a lot cleaner.
Rear-End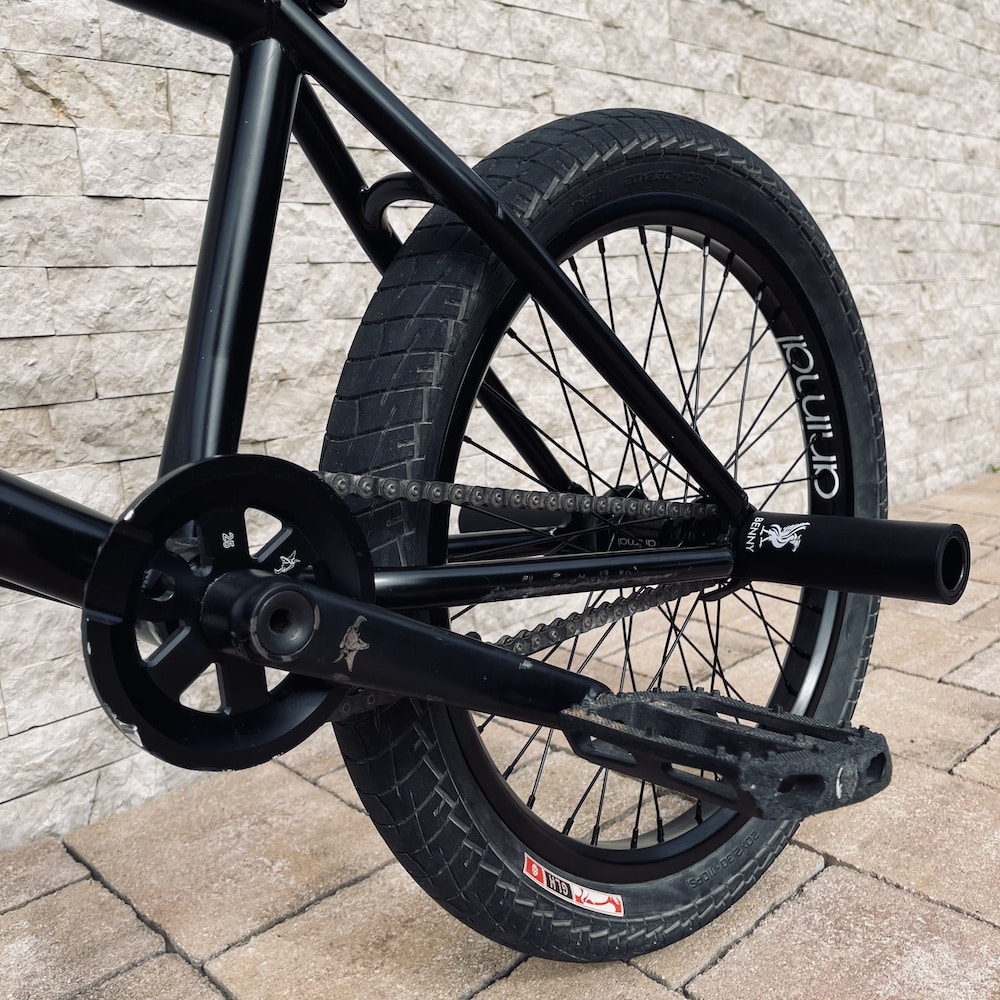 Moreover, the higher standover makes so much sense to me because I don't really like low frames.
Even though this is more for the aesthetics, it allows you to have less seat post out (if that even matters to you).
And NO, it doesn't matter for tailwhips, you won't notice it. (Because a few commented on IG.)
Short Chainstay
Going forward, WeThePeople Battleship Magnum has a very short rear end at 12.7″ slammed. If you like doing spins, this will help you A LOT! I do, so it's awesome.
HOWEVER.
I recently put the fourth peg on and the short chainstay started bothering me. (My back foot hitting the peg – worst feeling.)
I extended the chain, got 160mm Animal Akimbo cranks and it now feels a lot better. (I even went with half-size smaller Vans Shoes, lol.)
Honestly, I wished WTP would make Magnum with a slightly longer chainstay.
But if your shoe size is 10.5 or smaller you'd be good to go with 160mm BMX cranks.
Grind-Approved Dropouts
Since we're still at the back, I need to mention the perfect dropouts, which are excellent for grinding.
They're small enough to hide behind your pegs but very strong at 6mm thick.
Speaking of strong, the entire frame feels really SOLID.
Magnum also has enough rear clearance to fit in 2.4″ tires easily.
And when it comes to weight, Magnum runs a little heavier (21″ weighs 5.57lbs or 2.53kg).
But HEY, this is a beast of a frame, so it needs a little extra muscle.
WTP says it's a frame for taller riders, but with three different TT lengths, it easily caters to a wide variety of dudes out there.
Battleship Magnum frame also comes with a LIFETIME warranty like all the other WeThePeople frames.
Legends!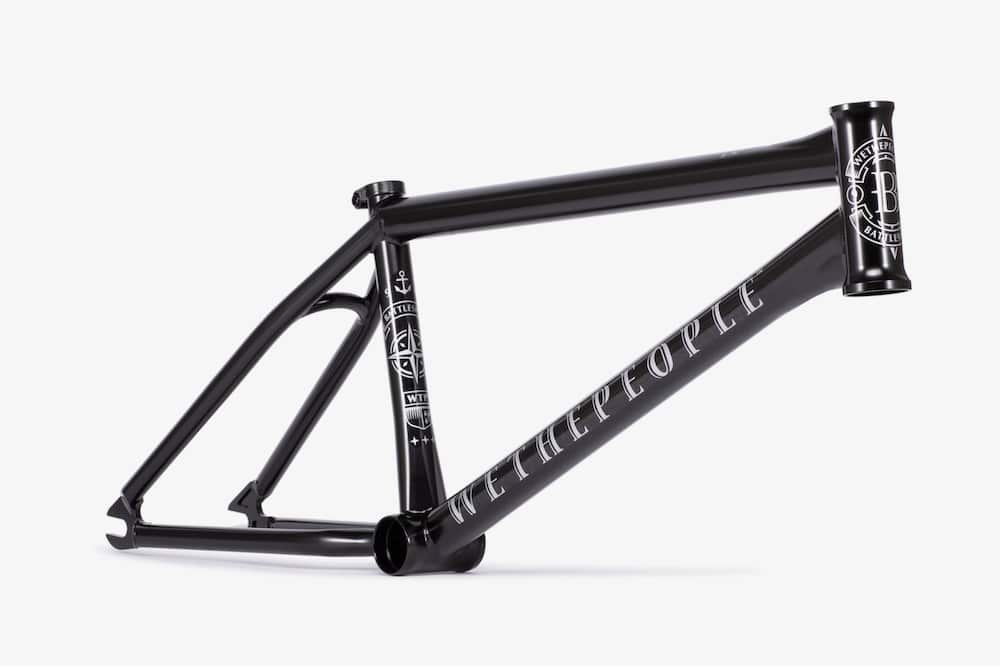 Battleship Magnum specs:
Top Tube Length: 20.75″, 21″, 21.25″
Color: Black, Matt Dusk Blue & Matt Carbon Raw
Head Tube: 75.5° / 127mm
Seat Tube Angle: 71°
Chainstay Length: 12.7″ – 13.25″
Standover: 9.75″
BB Height: 11.7″
Weight: 5.57lbs (21″)
Best for: Street & park
Price: $375.99 (may vary)
GET YOUR MAGNUM
My Conclusion
Yes, I highly recommend this frame because it's just SO SICK.
I really don't have anything else to say because the WTP Battleship Magnum is fire!
Was this article helpful?
Disclosure: The BMX Dude's content is free & reader-supported. I may earn a commission if you click & buy through my links. Your support helps me create the best content & make a difference. Thanks! 🤘