I'm wearing Vans BMX shoes for many years and have tested many different models, so I decided to create this best-of list for you.
I've been asked SO MANY times:
Are Vans good for BMX?
Yes, Vans are perfect for BMX, and it doesn't matter which style of riding you prefer the most. (They work for everything.)
My personal favorite are slip-ons, but the rest are equally quality and durable.
Note: Vans were a bit more on the soft side in the past (at least from my experience), but with the new BMX-specific sole, they improved on that.
This post covers:
THE ULTIMATE VANS BMX SHOES:
What's also really cool is that Vans is regularly teaming up with their riders, releasing signature colorways.
Grab a waffle!
What Vans Are Best For BMX?
Here's the entire list of the best Vans.
1. Courage Adams Old Skool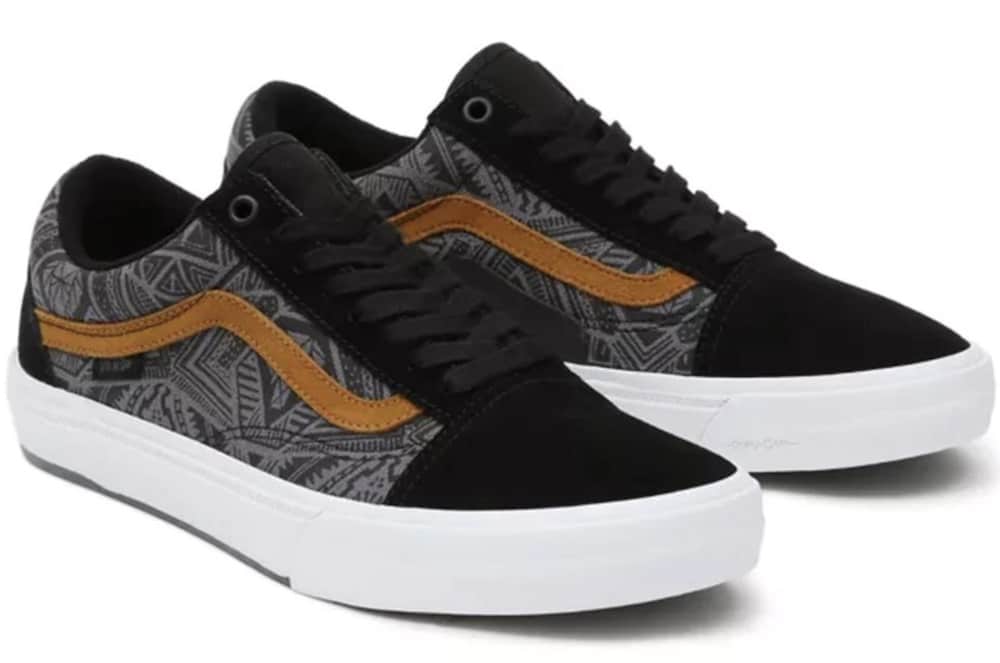 2022's a big year for Courage! After collaborating on his signature Vans slip-ons, he dropped more Vans products, including this REALLY dope Old Skools.
Like all the other Vans BMX shoes, these also feature vulcanized Wafflecup tech with great support and durability. I really like the Vans Popcush insoles, as they keep my heels safe.
And Courage's elephant logo/pattern at the sole makes these look sick.
Price: $84.95 (may vary)
GET YOURS
2. Kevin Peraza Style 114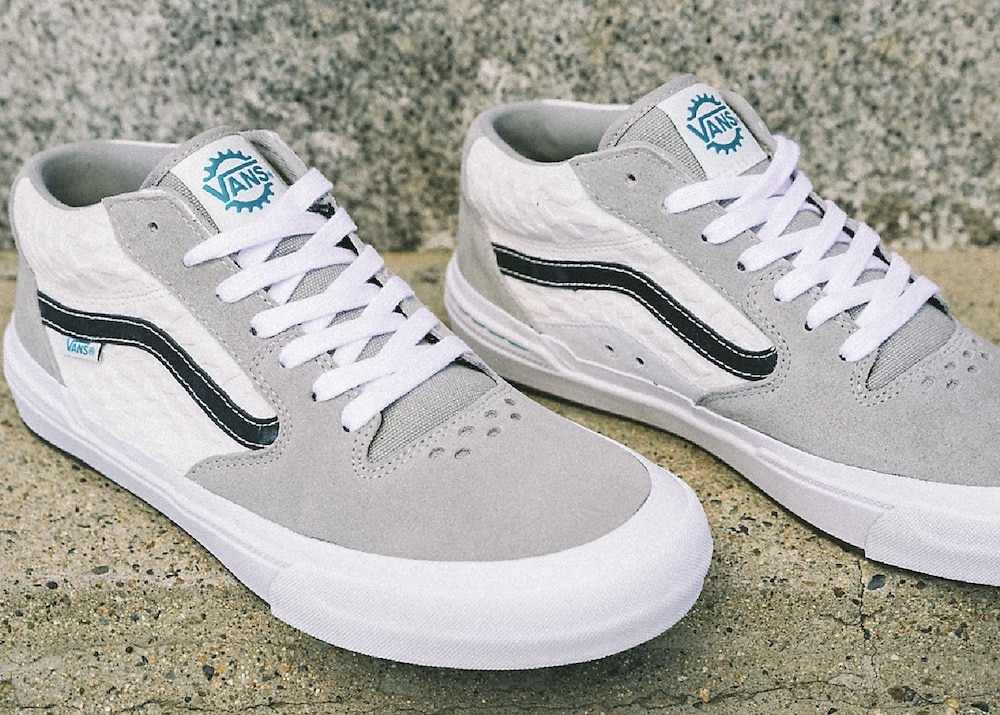 These are Kevin Peraza's signature Vans Style 114 shoes that perfectly reassemble his style. They aren't too bulky but still offer enough protection for the insane riding that Kevin does.
Also, with the special BMX Wafflecup sole, these will last you for a while. Moreover, the shoe features a 10oz canvas, durable suede and TecTuff leather to make it extra durable.
Plus, Vans' Popcush footbeds drastically lower the annoying heel bruises. (I haven't experienced one in SO long.)
If you dig a light shoe color in mid-height, then Kevin's signature shoe is the perfect option for you!
Price: $89.95 (may vary)
GET YOURS
3. Old School shoes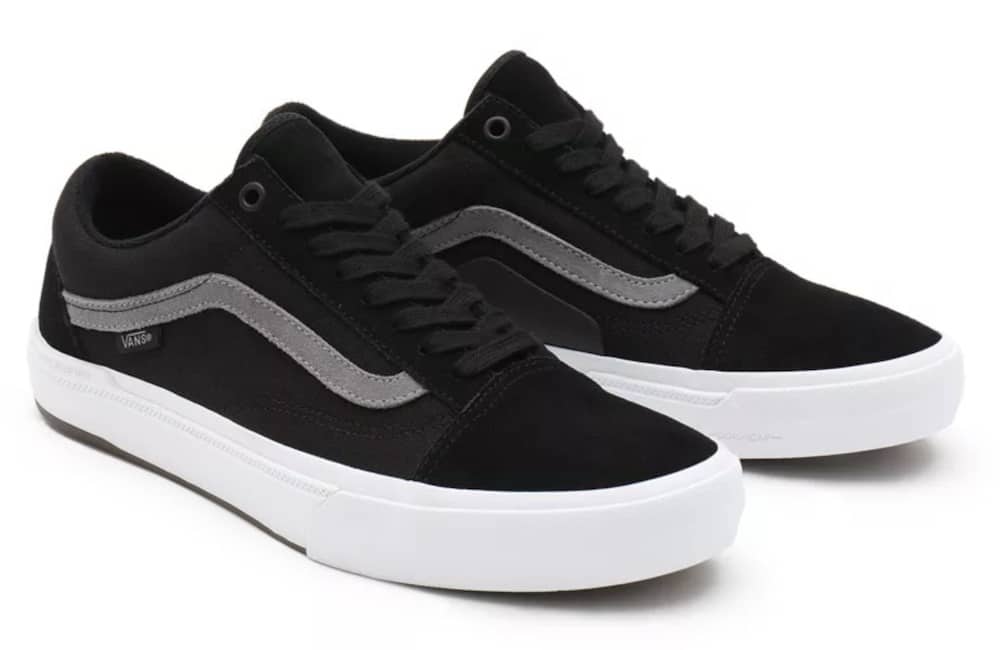 With a BMX specific sole and a rad peach/marshmallow colorway for Vans Pro Angie Marino, the BMX Old Skool Shoes are perfect for BMX.
These shoes are the low-top lace-up shoe in the Vans BMX shoe lineup and feature most of the tech Vans has for their BMX line.
The BMX wafflecup delivers the best combination of pedal feel, support, and durability.
With this, the duracap, and the classic Vans gum rubber compound, these are worthy shoes to look into.
Price: $75.00 (may vary)
GET YOURS
4. BMX Slip-On shoes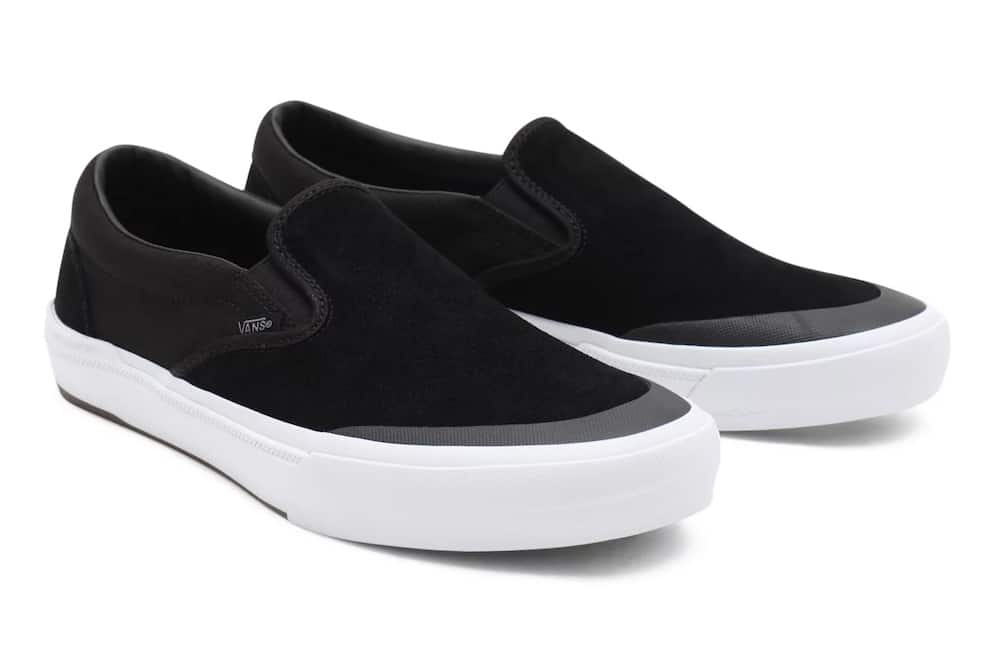 Here we have the BMX slip-on Shoes from Vans. These are slip-on shoes with Vans' shoe tech, specifically for BMX.
There are quite a few people in BMX who enjoy riding in slip-on shoes, but before these, there wasn't a slip-on made for BMX. The standout feature on these is the BMX Wafflecup.
This is the same sole used in Vans other BMX-specific shoes, so seeing it implemented in a slip-on is pretty awesome! There are also quite a few signature colorways for different Vans team riders.
I prefer these over any other Vans shoes because I like the simplicity but at the same time how tough they are.
Price: $70.00 (may vary)
GET YOURS
5. Vans X Cult Old Skool BMX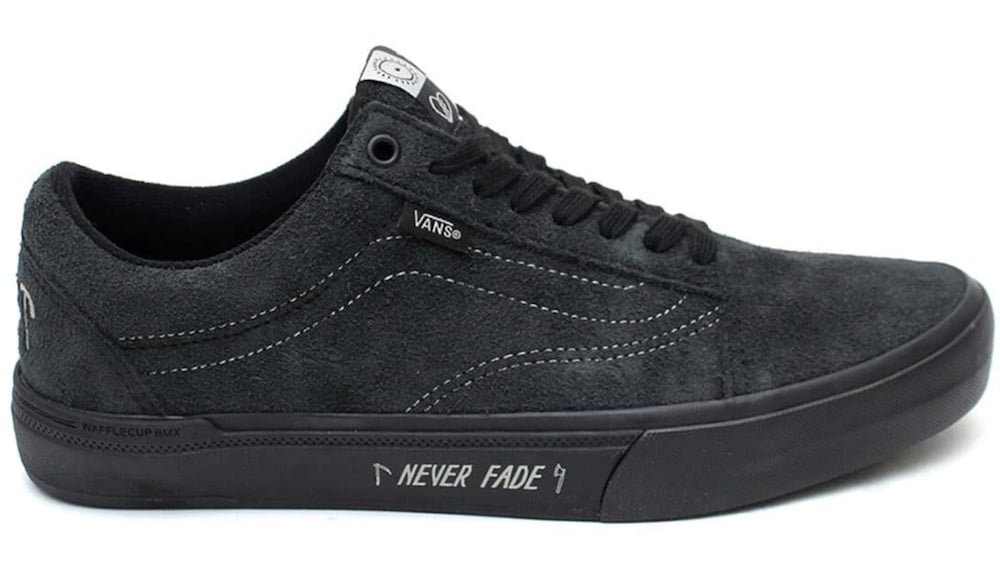 If you like Cult, if you like Vans and if you like all-black BMX shoes, then this is the right pick for you.
A high-quality, durable and lasting shoe for all the shredders out there while keeping you stylish. It gives just the right amount of pedal feel, so you don't distance yourself from your bike too much. (Who even likes super-hard shoes?!)
With, of course, enough grip, so your feet won't slip! (Metal- and plastic pedal-friendly!)
The Vans X Cult Old Skools features a sturdy suede with Wafflecup construction and Duracap upper reinforcement. BOOM
Price: $79.95 (may vary)
GET YOURS
6. SK8-Hi shoes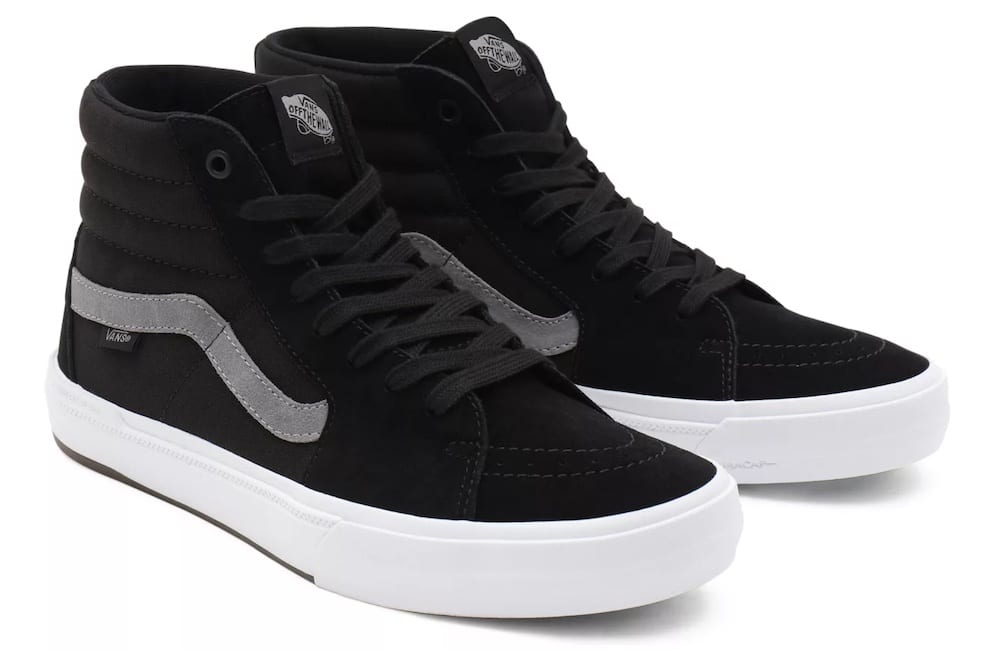 The BMX Sk8-Hi Shoes are the high-top shoe in the Vans BMX shoe line up. These shoes have all of the features of Vans other BMX specific shoes all put into a high top shoe.
These are also the shoes of choice for Scotty Cranmer, as he has had several signature colorways in this model, including his current colorway.
If you're looking for the Vans BMX Wafflecup, but with a high-top, for more ankle protection, the BMX Sk8-Hi shoe is definitely worth a look.
Price: $85.00 (may vary)
GET YOURS
7. Angie Marino Old School shoes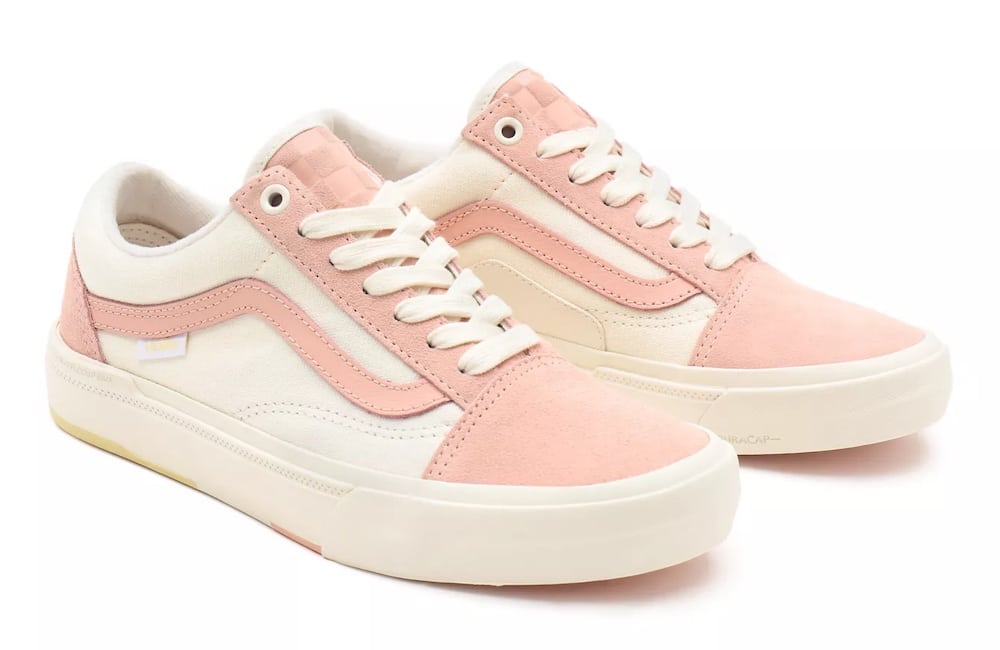 Here we have a beautiful colorway in the Vans BMX Old Skool shoes. The color's technical names are peach/marshmallow and this colorway is Angie Marino's signature colorway.
The support Vans gives to so many BMX riders is fantastic, and to see Angie have her signature colorway is awesome for lady shredders everywhere.
The BMX Old Skool shoe is a low-top shoe that utilizes that BMX Wafflecup sole which is made specifically with BMX in mind.
Price: $80.00 (may vary)
GET YOURS
8. Dan Lacey Slip-On shoes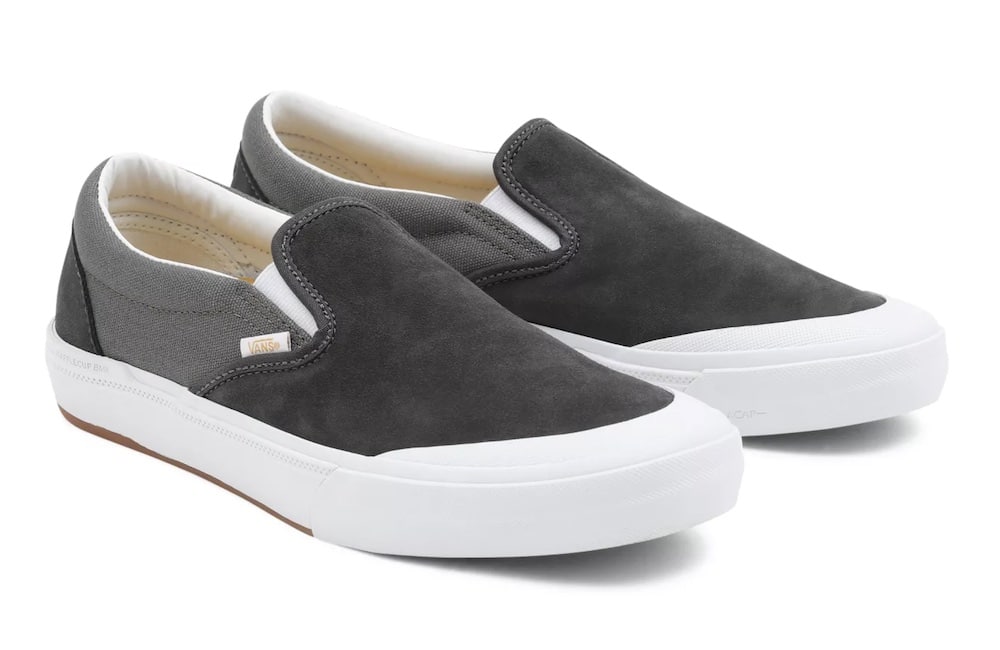 The color names on this one are asphalt/pewter and this is Dan Lacey's signature colorway BMX slip-on.
These have the same BMX Wafflecup as Vans' other BMX-specific shoes and are different than other colorways of the BMX slip-On; these have the Popcush Cushioning.
This is meant for impact protection and makes perfect sense for someone like Dan Lacey. Dan is an absolute savage on his bike and absolutely deserves this signature colorway on the first BMX-specific slip-on shoe.
Price: $74.95 (may vary)
GET YOURS
9. Courage Adams Slip-On shoes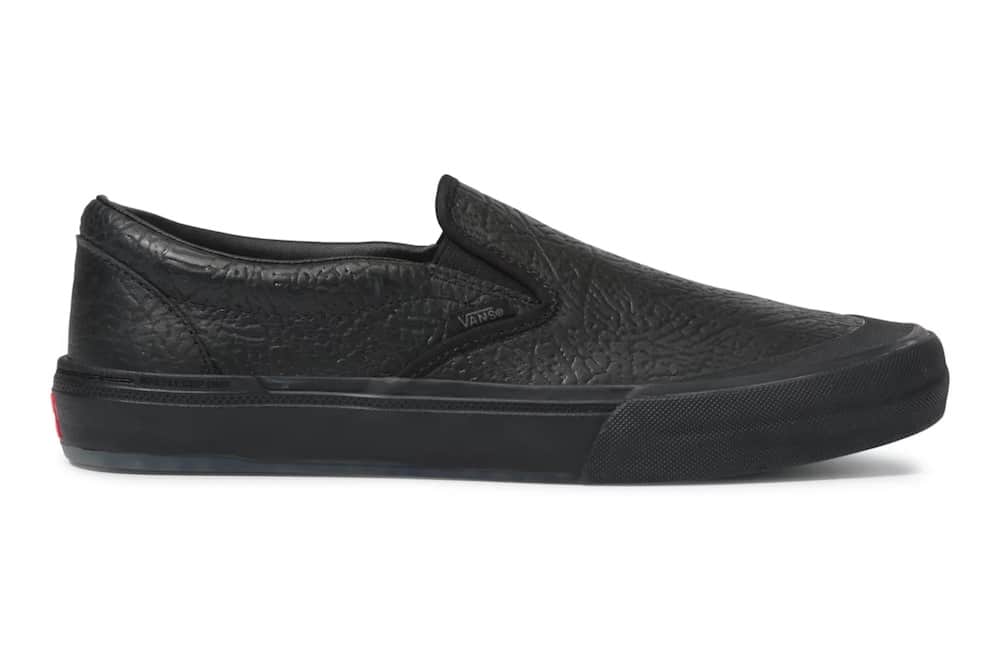 The Courage Adams signature colorway of the Vans BMX slip-On is a sharp looking shoe.
They are definitely one of the most unique-looking shoes, from the premium leather upper embossed with an elephant skin texture to the translucent sole with a design behind it.
These shoes utilize the same technology as the other colorways of the BMX slip-on, including the Popcush Cushioning we saw in Dan Lacey's version.
Courage goes huge as well, and as we saw in his welcome to Vans video, he did the absolutely massive bar spin down 25 stairs in Lyon, France.
Price: $91.69 (may vary)
GET YOURS
How To Pick The Perfect Vans BMX Shoes?
It really all depends on the style of riding you do.
If you're more into style and flow, then you're good to go with Vans slip-ons.
However, you'll see many pros riding slip-ons and they do a ton of tailwhips and other tricks. If you're confident in yourself, then go for it.
My advice: I don't recommend picking a slip-on shoe if you're a beginner, because you want that extra protection. I don't even want to imagine how much damage I'd do to myself starting with slip-ons, so I didn't.
For more protection, pick at least the Old Skool version of a Vans shoe.
However, you can go one step further, adding more ankle protection and support with the SK8-Hi shoes.
Keep your feet safe!
Was this article helpful?
Disclosure: The BMX Dude's content is free & reader-supported. I may earn a commission if you click & buy through my links. Your support helps me create the best content & make a difference. Thanks! 🤘