Do you need the best and strongest BMX forks?
I created a list of the current top offerings that fit any rider, whether you're into streets, parks or trails.
Welcome, dude!
You can opt for an extremely responsive or a more stable fork with a variety of offsets and steerer lengths.
I added the MAIN SPECS to each fork for a quick overview and comparison. (No need to jump from page to page – all in one place.)
I currently ride the Animal Street fork (26mm) and enjoy it. Short offset but not crazy short.
But I'd not mind trying a 20-22mm offset – yup, I like nose manuals 🙂 .
BOOM!
Best BMX Forks for Street, Park, Trails
1. Odyssey R32, R25 & R15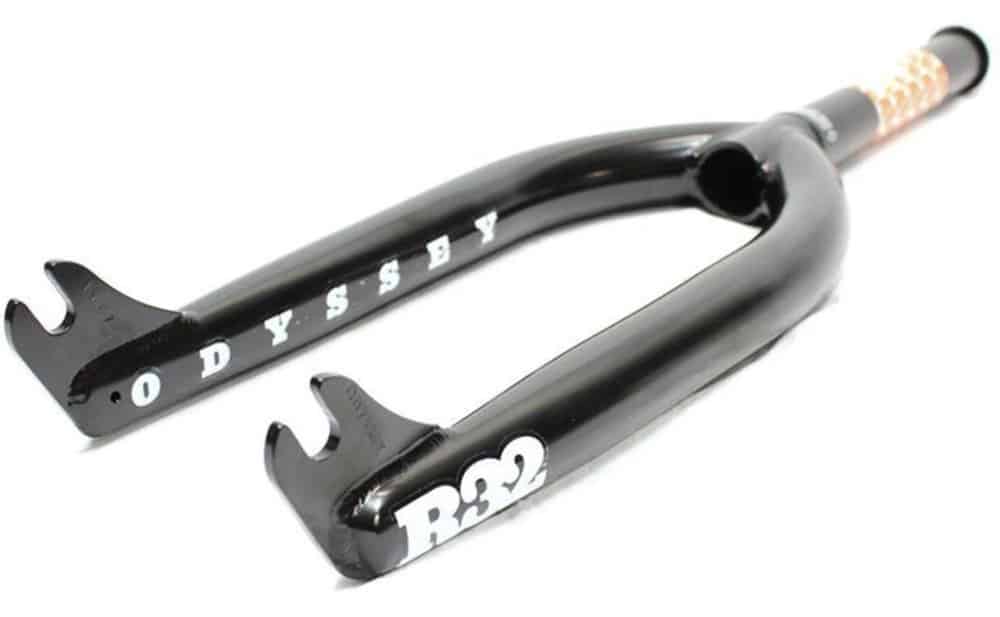 I'm batching the Odyssey R version forks into one because they are pretty similar but OH SO different.
The main difference between all three is the offset. According to their names, you can get them with 32mm, 25mm and 15mm offset.
Each Odyssey fork is made of 41-thermal processed 4130 chromoly with tapered legs and 4mm dropouts.
The Odyssey R fork is excellent whether you ride pegs and hub guards or not. And they come with a lifetime warranty!
Note: I really like the 180mm steerer length!
Odyssey fork specs:
Steerer Length: 170mm (R32), 180mm (R25, R15)
Offset: 32mm, 25mm, 15mm
Weight: 31.2oz
Price: $174.99 (may vary)
GET R32'S
GET R25'S
GET R15'S
2. Cult Sect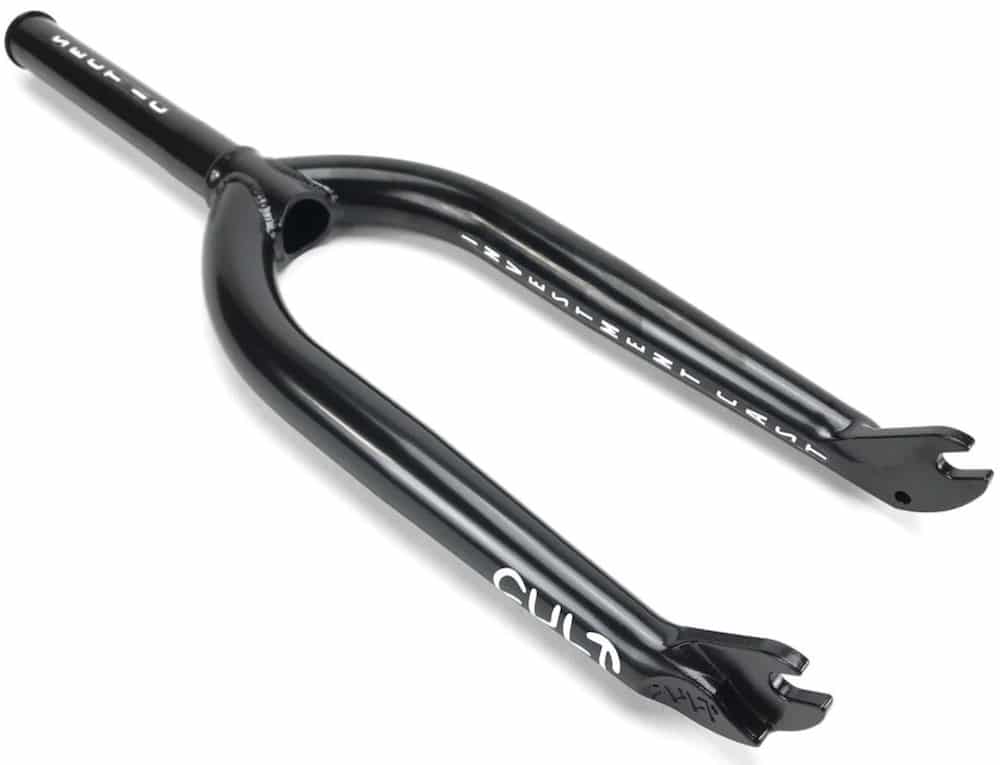 Cult Sect is a modern BMX fork that offers three offset versions, 18mm, 28mm and 32mm.
It comes with a special investment cast dropouts that add to the overall fork strength and look really good.
Each Cult Sect fork is also post-weld heat treated to make it extra solid. (They have enough clearance for a 2.4″ tire easily.)
Available colors: Black and chrome.
Cult Sect fork specs:
Steerer Length: 162mm
Offset: 32mm, 28mm, 18mm
Weight: 35.3oz
Price: $169.99 (may vary)
GET YOURS
3. Eclat Storm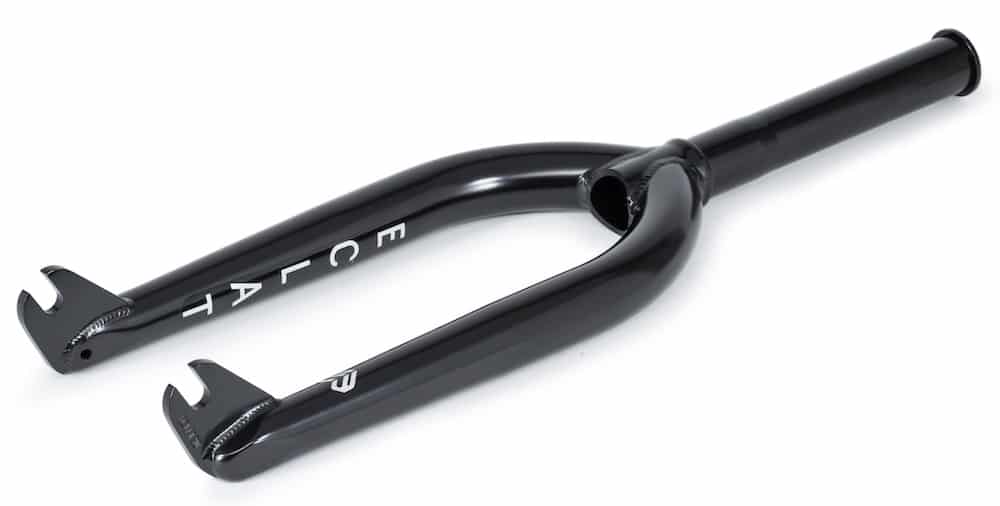 The Eclat Storm storm fork is a widely popular fork amongst the modern street riders. But it works equally well for park and trails riding.
Why?
It comes with four offset options (15, 20, 25 & 30mm), ensuring there's something for everyone.
According to Eclat, they spent two years carefully investigating, testing and trying to create this beast of a fork, Storm!
I also particularly like Storm's minimalist look. You can now put the good looks through any abuse!
Eclat Storm fork specs:
Steerer Length: 170mm
Offset: 30mm, 25mm
Weight: 35.8oz
Price: $139.99 (may vary)
GET YOURS
4. S&M Pitchfork Widemouth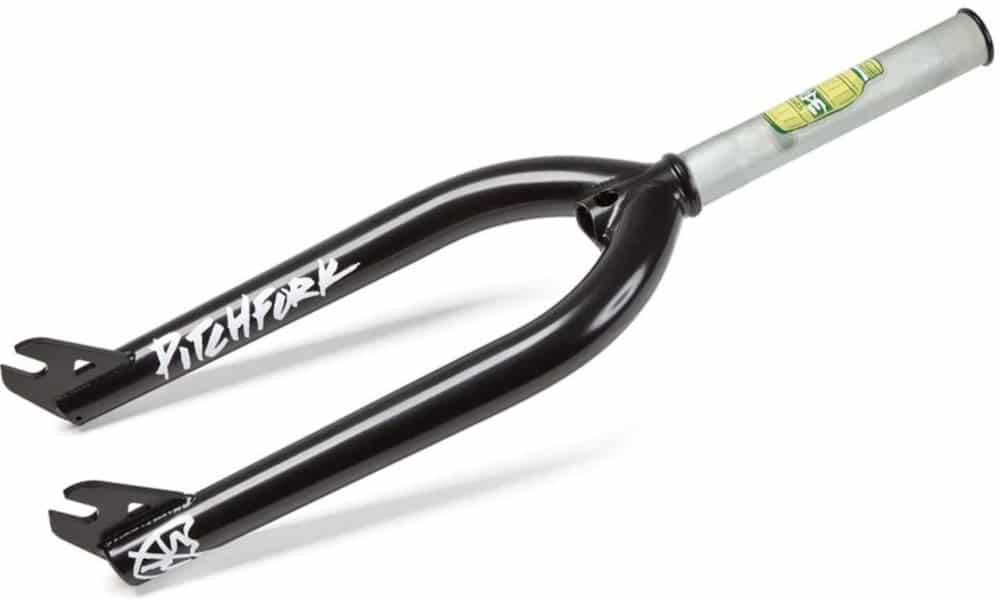 I've had S&M Pitchforks for a very long time, using them to ride everything, especially grinding.
The Widemouth variation is excellent if you'd like to rock really wide tires. Even up to 2.55″!
If you're a fan of USA-made products, I highly recommend you treat yourself to S&M Pitchfork Widemouth. These will last you a very long time.
Note: These forks have an aluminum brace in the steerer tube, which adds strength but not weight.
And their classic look is timeless that will never go out of style.
Pitchfork fork specs:
Steerer Length: 166mm
Offset: 26mm
Weight: 31.8oz
Price: $209.95 (may vary)
GET YOURS
5. BSD Jonesin Fork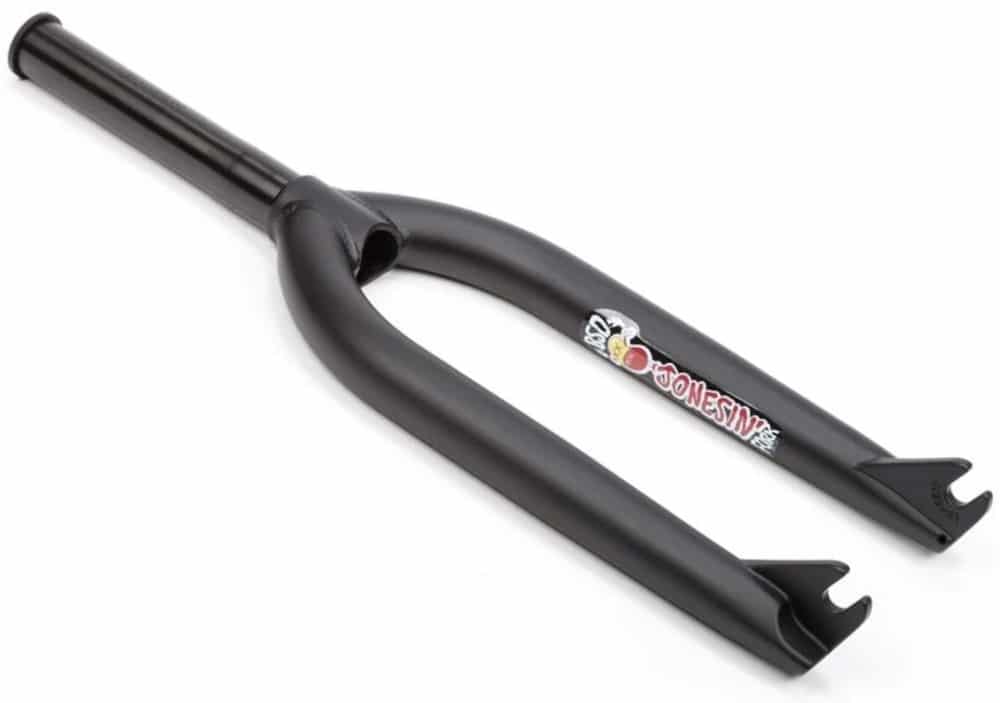 You know immediately that a Sam Jones signature BSD fork MUST be meant for front-wheel stuff. And you couldn't be more right.
However, at 22mm offset, the BSD Jonesin fork is steep and responsive but still strong enough to hold big gaps and long grinds.
It is built out of heat-treated 4130 chromoly with tapered (butted) legs and invest cast drop-outs. Tire clearance: 2.4″.
Make your front-wheel balancing wizardry even easier with the Jonesin.
BSD Jonesin fork specs:
Steerer Length: 157mm
Offset: 22mm
Weight: 35.1oz
Price: $149.99 (may vary)
GET YOURS
6. Kink Foundation 2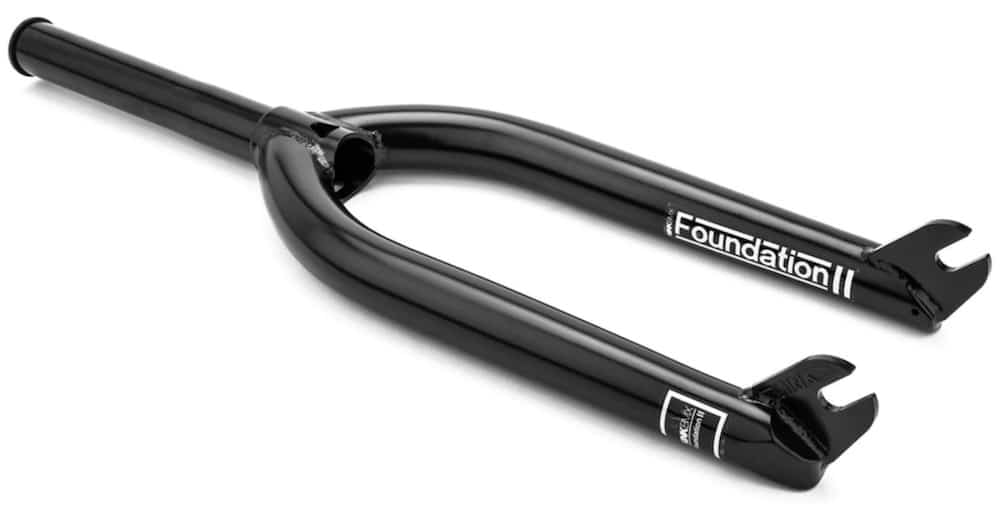 Kink Foundation 2 is an all-around BMX fork that comes with two versatile offsets, 32mm and 26mm.
Go with the former for more stability and the latter for more responsiveness.
CNC machined drop-outs and steer tube with clean looks make the Kink Foundation 2 fork perfect for all the fans.
Kink Foundation 2 fork specs:
Steerer Length: 165mm
Offset: 32mm, 26mm
Weight: 34.8oz
Price: $149.99 (may vary)
GET YOURS
7. Sunday Darkwave

My friend Mike is rocking the Sunday Darkwave fork for a very long time, and never had a single issue.
The Broc Raiford signature fork comes with a 28mm offset and offers five color choices (the midnight blue is rad, but the matte black is my FAV).
What's cool about the Darkwave fork is that if it holds Broc, it holds everyone. And it's backed up by Sunday's 41-Thermal lifetime warranty.
GO.
Sunday Darkwave fork specs:
Steerer Length: 166mm
Offset: 28mm
Weight: 33.1oz
Price: $179.99 (may vary)
GET YOURS
8. WeThePeople Battleship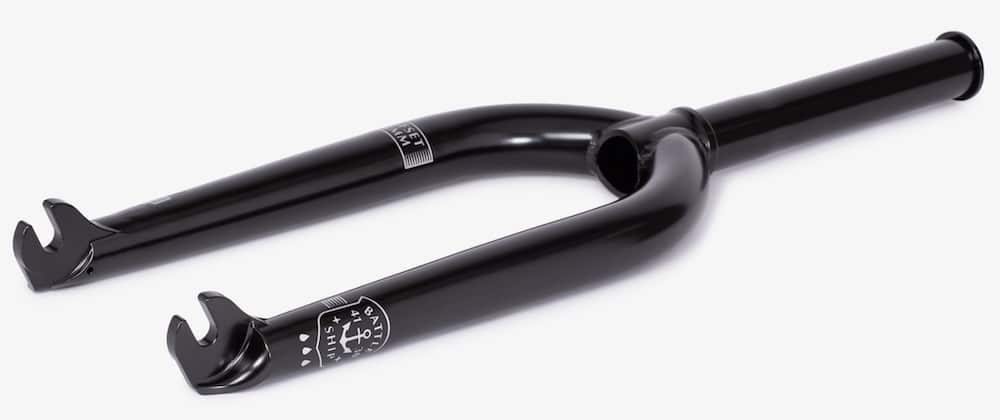 WeThePeople Battleship is another one of those that there's a good chance at least one (if not more) shredders will rock it at the skatepark.
Really. Popular. (But for a good reason.)
This thing is solid and built to last. Plus, the WeThePeople Battleship fork is available in two short offsets, keeping the modern tech street rider sorted.
The 170mm steerer length is also nice to keep your front-end higher but feel free to cut it if necessary.
Note: Don't miss checking my review of the WTP Battleship Magnum frame.
WTP Battleship fork specs:
Steerer Length: 170mm
Offset: 24mm, 15mm
Weight: 36.2oz
Price: $175.99 (may vary)
GET 24MM
9. Animal Street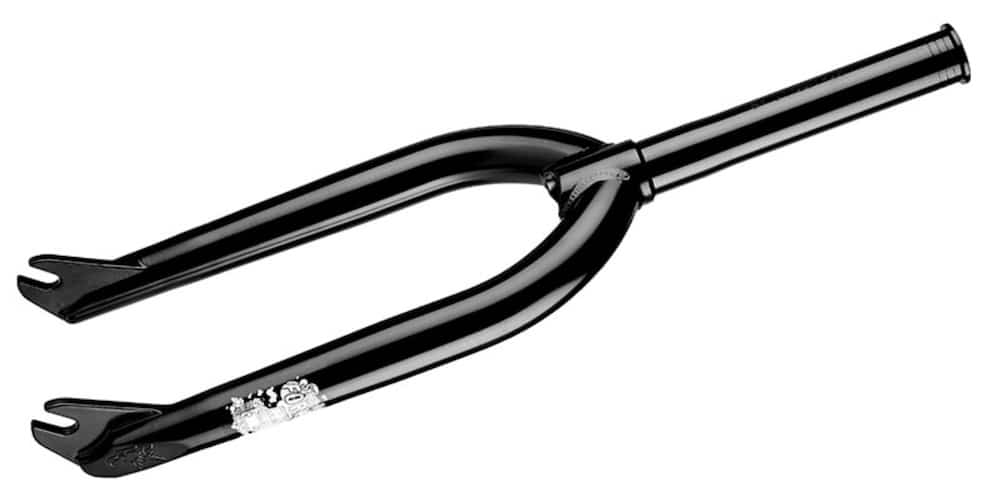 The Animal Street fork is the fork that I'm currently riding and testing. I rock the 26mm offset version because I was too scared to go from a 33mm offset straight to 15mm.
Yup, this fork was exclusively made for a modern street rider, but that doesn't mean it won't work for park and trails (it's just more responsive).
Also, Animal Street's investment cast dropouts are one of the most beautiful I could currently find on the market. (The griffin logo is fire!)
So far, I HIGHLY recommend this fork.
It. Just. Works.
Animal Street fork specs:
Steerer Length: 170mm
Offset: 15mm, 26mm
Weight: 38.8oz
Price: $129.99 (may vary)
GET YOURS
10. BSD Acid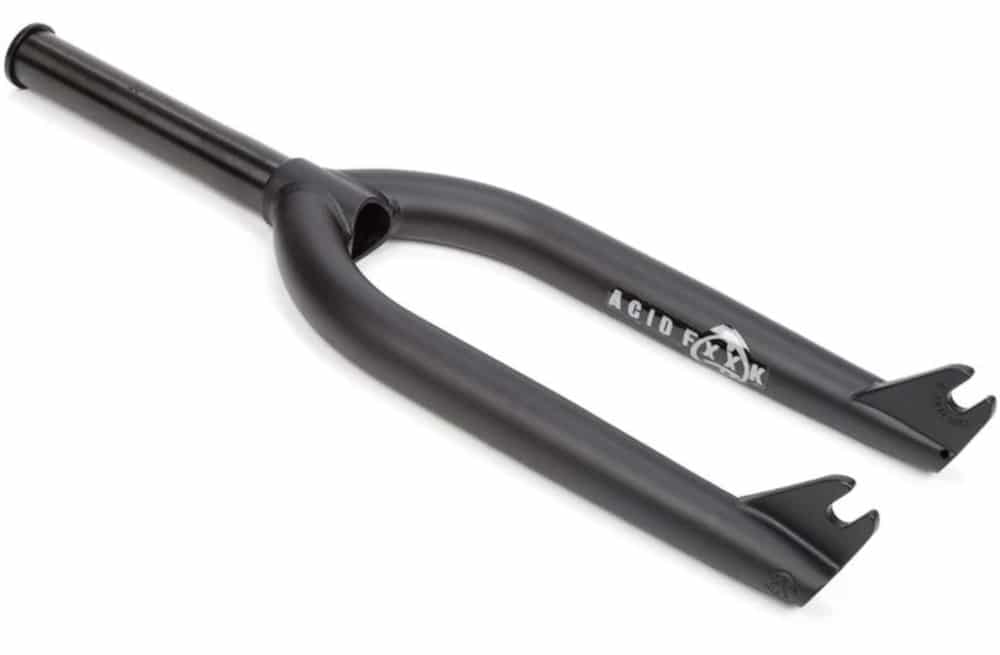 BSD has endless solutions of parts for EVERY rider out there. If the Jonesin fork has a too short offset, then you'll find what you need in Acid.
BSD Acid fork is somewhere in between with its 30mm offset. This fork is beefed up but doesn't make it look like that, keeping things clean but strong AF.
Such a solid fork that'll keep you rolling for a long time.
The only thing I'd wish BSD'd do is to make a longer steerer tube. At least 165mm if not 170mm (with optional cut marks).
BSD Acid fork specs:
Steerer Length: 157mm
Offset: 30mm
Weight: 35.2oz
Price: $149.99 (may vary)
GET YOURS
FAQs About BMX Forks
Are all BMX forks the same size?
No. Forks are available in different offsets and steerer tube lengths.
The offset determines how responsive or stable the fork is. And the steerer length offers you to run your handlebar higher (or lower).
How do I choose a BMX fork?
You choose a BMX fork depending on your style of riding.
Streer riders: Shorter offset works great because it's more responsive for modern and technical street riding. (approx. 15-25mm)
Park riders: A mid offset would work ideally if you like to ride both transitions and grind rails and ledges. (approx. 20-30mm)
Trails riders: A longer offset (30mm+) comes ideal for the stability you need when flying in the air.
How are BMX forks measured?
All BMX forks are mainly measured by the length of the offset. It defines how forward your wheel will be from the center.
But I also like to check the fork's steerer tube length, which many don't even think about.
But a 160mm steerer length can make a big difference compared to a 170mm. If you like your front-end high (like me), make sure you also check this measurement.
It's better to buy a longer one because you can cut it (but you can't add to it if it's too short.)
Was this article helpful?
Disclosure: The BMX Dude's content is free & reader-supported. I may earn a commission if you click & buy through my links. Your support helps me create the best content & make a difference. Thanks! 🤘