Are you searching for the latest Felix Prangenberg bike check?
I have you covered with a list of his old and fresh bike builds!
Even though Felix is a wild street shredder (like so many these days), he still very much differentiates from other riders out there.
He has his original style, a mix of TECHNICAL and BURLY moves.
That's something you can enjoy yourself in my pick of Felix Prangenberg's best videos.
Felix Prangenberg 2023 WeThePeople & Eclat Bike Check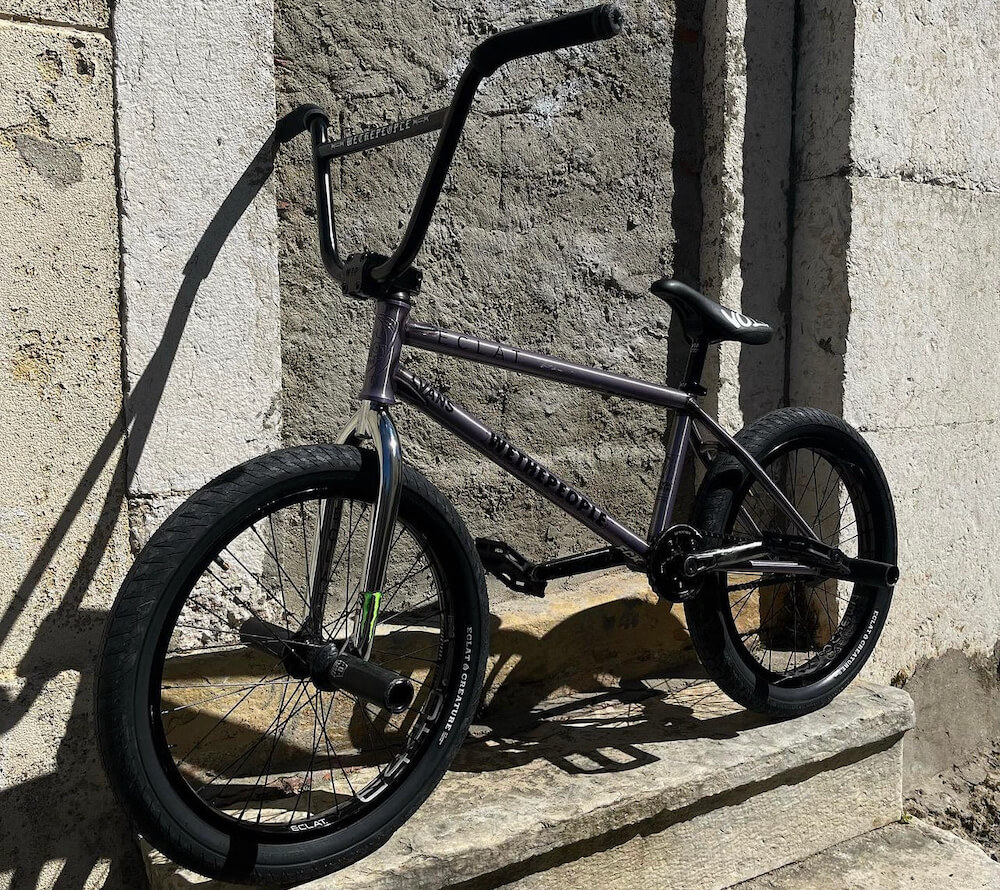 Frame: WTP Pathfinder, 21″ frame
Bar: WTP Pathfinder, 9.6″, OS clamping (I have it in 10″ & it's dope!) bar
Stem: WTP Logic front load stem
Grip: Eclat Pulsar BMX grips
Forks: Eclat Storm BMX forks, 15mm
Headset: Eclat Wave BMX headset
Chain: Eclat Diesel chain
Seat: Eclat Void BMX seat
Seat Post: WeThePeople BMX seat post
Cranks: Eclat Tibia 160mm BMX cranks
Pedals: Eclat Centric plastic BMX pedals
Sprocket: WTP Pathfinder (w/ guard) sprocket
Front Wheel: Eclat Cortex front BMX hub, Eclat Bondi rim
Rear Wheel: WTP Hybrid freecoaster BMX hub, Eclat Bondi rim
Tires: Eclat Creature, 2.4″ tires
Pegs: WTP Dill Pickle plastic BMX pegs
GET FELIX'S SIGNATURE PARTS:
In other words, you will see him pull an insane grind combo with front or back wheel wizardry to link things together. Or, you will witness him pull a massive truck driver over a crazy set of stairs.
It's all possible when it comes to Felix.
That said, he needs to have a bike that he can trust. His setup is a mix of WeThePeople and Eclat parts.
With WeThePeople, Felix also has a signature BMX street frame called Pathfinder. It has a short chainstay and a steep head tube, something that is getting more and more popular.
As part of his WTP Pathfinder line, Felix also has signature bars that come in a 2-piece and 4-piece version.
The latter even comes with a 10″ rise option.
We're not done with his sig parts. You can also get Felix Prangenberg's Pathfinder sprocket in 25t, 26t, or 28t – with or without the guard. And the street oriented Eclat Creature BMX tires.
Enjoy Felix's complete bike checks below.
Do not forget to follow Felix, the German street assassin on Instagram for more insane BMX bike riding.
Featured photo by: WeThePeople IG.
Old Felix Prangenberg Bike Checks
Late 2022 bike check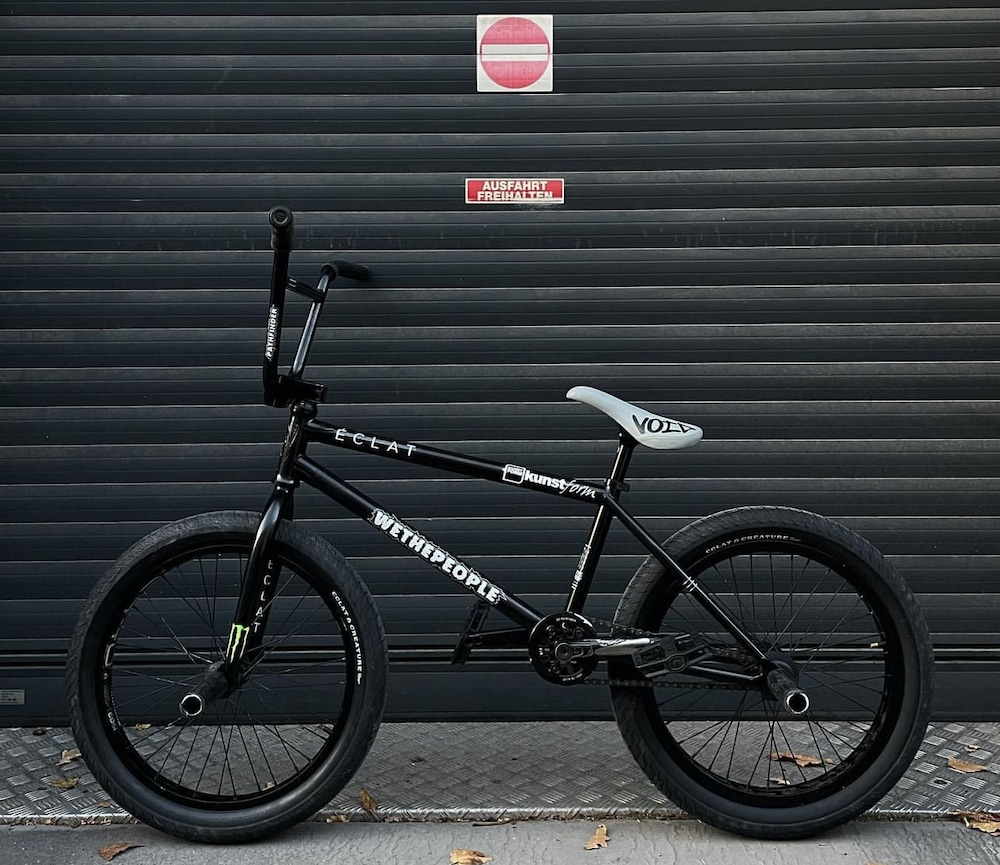 Early 2022 bike check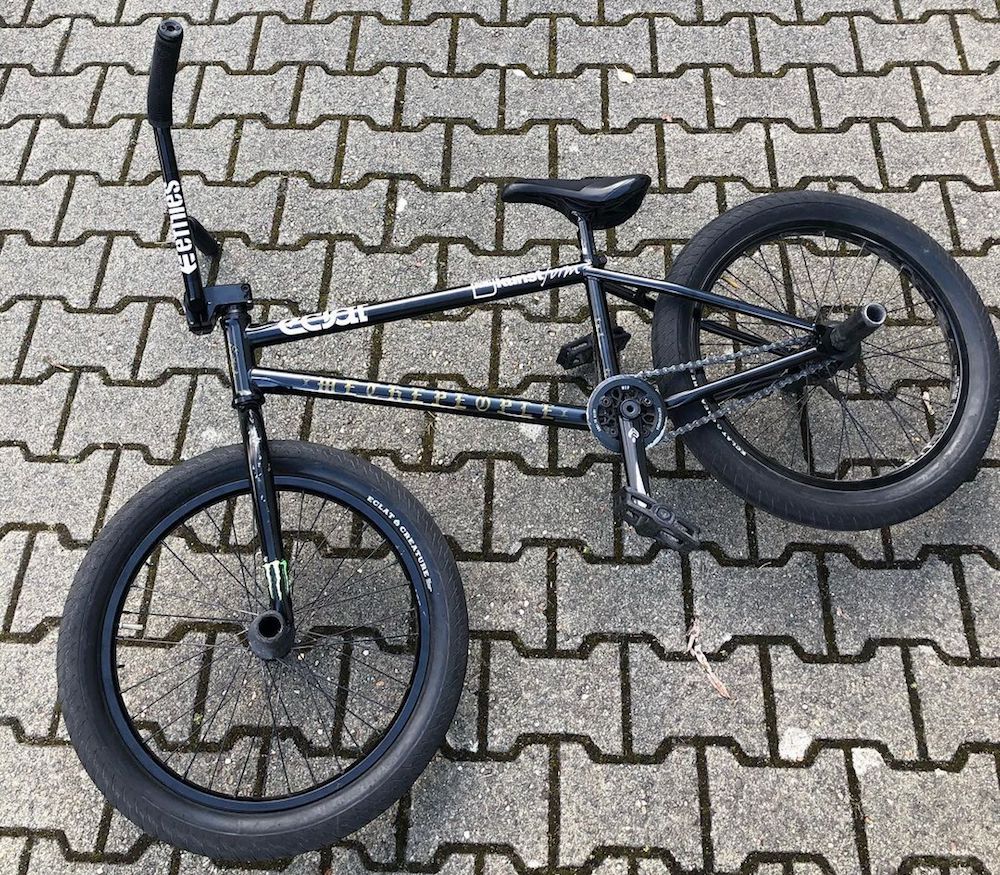 2021 Our BMX bike check

Undoubtedly, 2021 was a killer year for Felix, and we sure all want to know what his bike's like. Good folks over at Our BMX put together this excellent video bike check where Felix shares all his parts.
What's cool, you also get many solid riding clips that spice things up nicely.
Felix's bike mixes WeThePeople and Eclat parts, with a front load BMX stem and a slim seat. In short, a unique bike build that has this nice and raw feel to it.
2020 WTP bike check

This is a very in-depth video bike check of Felix building himself a fresh setup – with a broken hand! Sure, he needs some help from a friend, as he cannot assemble it all by himself.
He also breaks down his signature parts from WeThePeople, like the Pathfinder frame and bars, BMX sprocket and more.
Moreover, he also talks about why he likes the 15mm fork offset, front load step and a slimmer seat. What can I say, that bike, in raw with black parts and green tires, looks really DOPE.
Felix's Pathfinder BMX build

Here's a bike check from WTP from 2020 that's not technically a bike check that we are used to seeing.
It more or less shows us Felix, putting together his signature Pathfinder setup. Note, you'll also see a lot of naked and tattooed skin in here.
In the end, you can also view the different frame colorways that WeThePeople had in 2020, along with Felix's signature 2-pc and 4-pc bar and guarded sprocket.
Prangenberg always puts together a pretty unique and original bike that looks dope.
2019 DIG bike check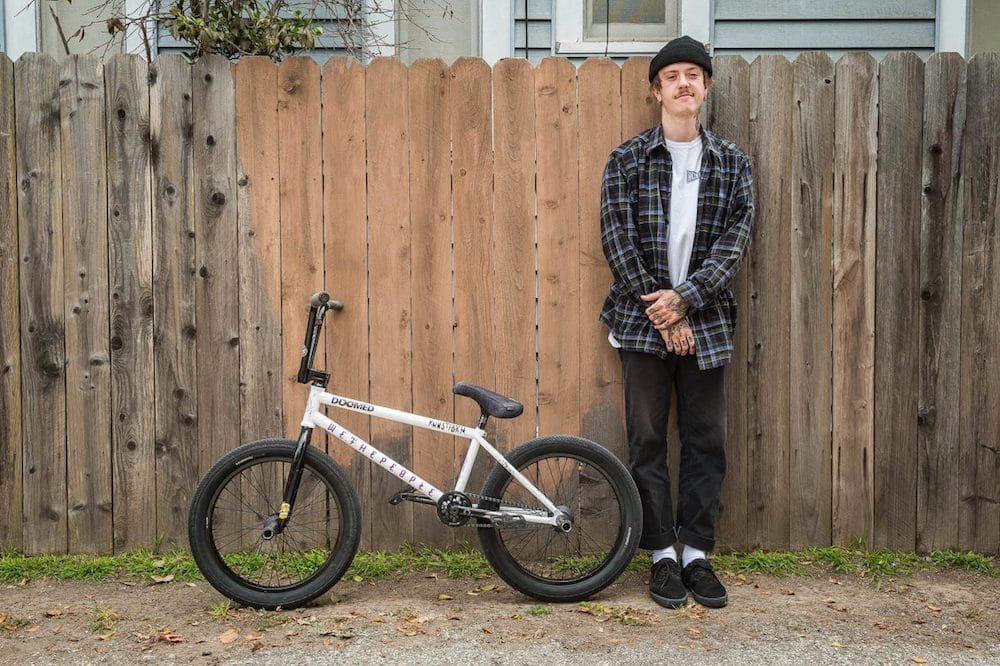 Instead of just taking a peek at what Felix Prangenberg was riding in 2019, DIG also put together a quick interview with him.
Of course, they talk about his WeThePeople beginnings and how it all progressed to having signature parts. Felix has been killing it for a long time and all is well deserved.
Besides tearing down his bike build with a parts list and photos, you can also read about Simple Sessions, his California trip and more.
By the way, this was the time when Felix was not yet on Eclat, so his bike is mainly a WTP build.
2019 WTP bike check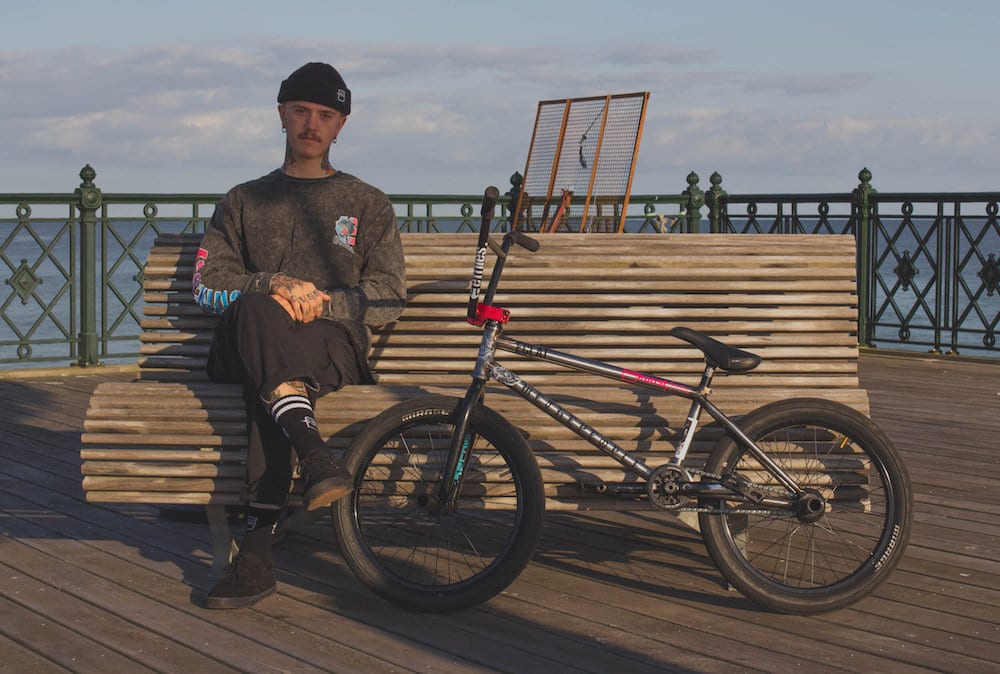 With images straight from the UK during the Battle of Hastings, WTP caught up with their pro rider Felix Prangeberg for a bike check. It features a revamped Pathfinder frame with a shorter chainstay.
His frame also features a step 76-degree head tube and thicker chainstays and bottom bracket, which prevents grinding it through.
For fork pick, he went with Jordan Godwin's signature Storm forks with a 20mm offset.
If you know Felix, you know that he goes heavy. Another specialty on his bike is the oversized clamping for bar and stem, coming at 25.4mm – making it a lot stronger.
Note: nowadays, if you're buying a new set of bars or a stem, make sure you check twice if it's standard or OS clamping. Standard stem and oversized bar clamping do not fit.
2018 Freedom BMX bike check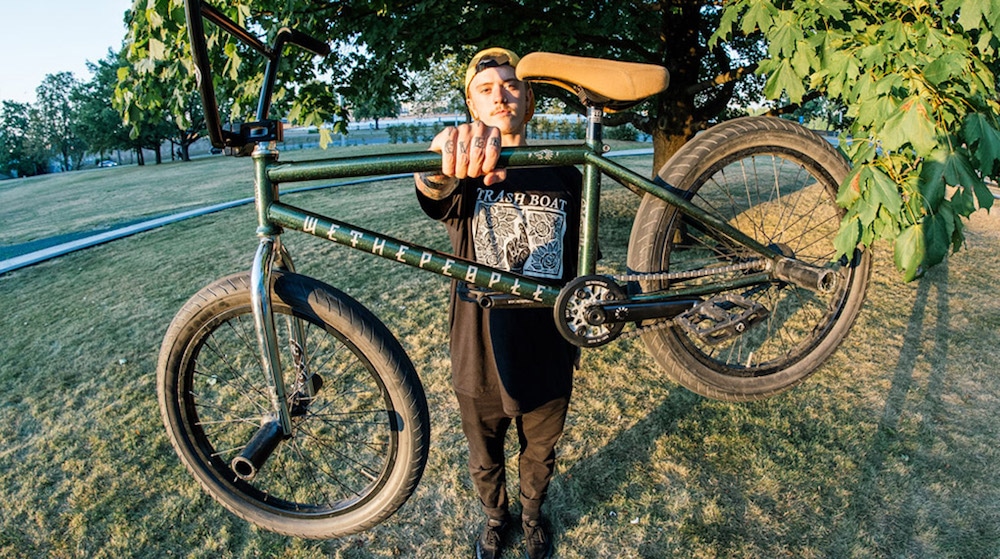 Before I even continue, this one's from Freedom BMX, so it's in German. Still, whether you understand German or not, you're GOOD to go.
You can either just check the photos and the parts, or you can go one step further, use Google Translate and enjoy what Felix has to say.
Me personally, well, I only need the images and the parts list. Remember, while Felix usually rides a 9.6″ Pathfinder bar, he was playing with the 10″ version in 2018.
He even explains why the switch – but for that, you'll need to use a translator. I did because I'm in the process of going from a 9.5″ bar to a 10″.
Was this article helpful?
Disclosure: The BMX Dude's content is free & reader-supported. I may earn a commission if you click & buy through my links. Your support helps me create the best content & make a difference. Thanks! 🤘