Are you looking around the web for the best BMX freecoaster wheels?
Welcome to my extensive collection of the absolute best and most reliable options.
I made sure to include budget-friendly freecoaster wheelsets and the most advanced ones for the burliest riders.
But it doesn't matter which you choose; they work great out of the box.
No more tiresome wheel building!
Plus, most of these wheels also come with plastic hub guards, so you don't need to purchase them separately.
This post covers:
Unlock your TECH potential now!
MY FAVORITE BMX FREECOASTER WHEELS:
Best BMX Freecoaster Complete Wheels
1. BSD Revolution Wheel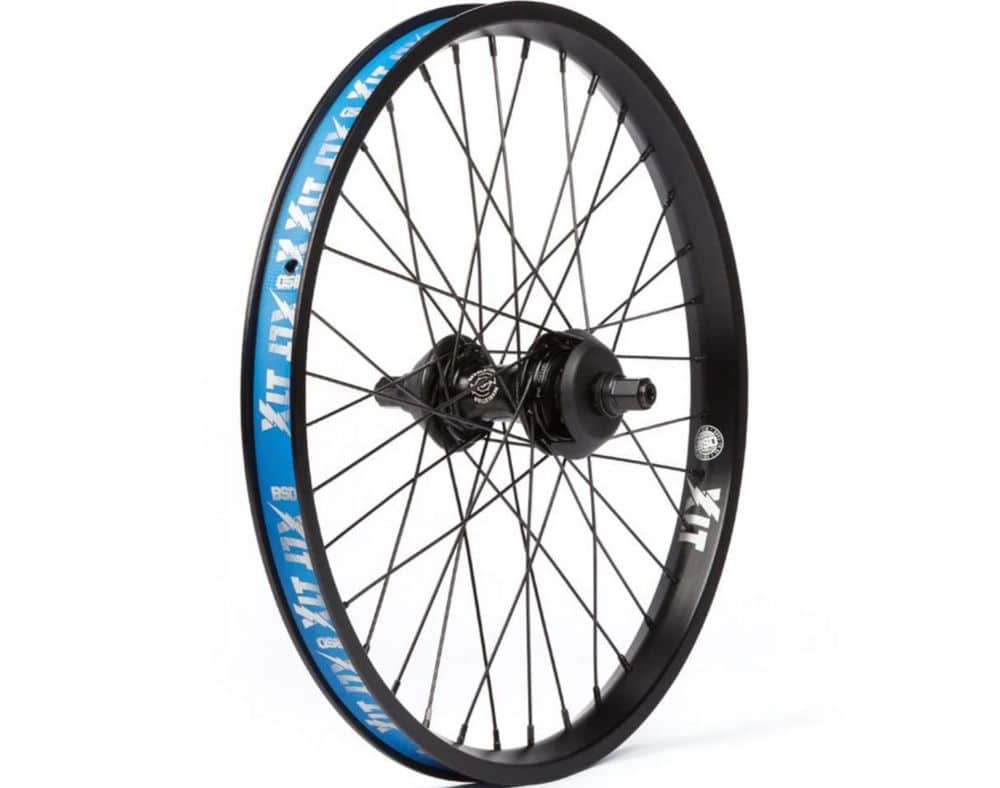 The Revolution wheel by BSD changed the freecoaster game with the planetary clutch system.
It's very like a cassette wheel, but it's a freecoaster. What?
This means it's lighter and doesn't have the slack that we're used to.
Crankflips? Yes.
Many of my dudes reported how well this freecoaster wheel feels and that they aren't switching to anything else.
The wheelset features BSD's XLT BMS rim (34mm wide), 4-cross BSD spokes lacing and BSD rim tape.
Lastly, you also get the Jersey Barrier BMX hub guards straight out of the box.
This one is so worth it if you're looking for the best freecoaster BMX wheel (if you don't like the slack).
Fun fact: Kriss Kyle rides it, and it works in perfect harmony for his unique riding.
Wheel specs:
Hub: BSD Revolution hub
Rim: BSD XLT rim
Hub Guards: Yes
Weight: 1390g
Price: $329.99 (may vary)
GET RHD
GET LHD
2. Cinema Reynolds Freecoaster Wheel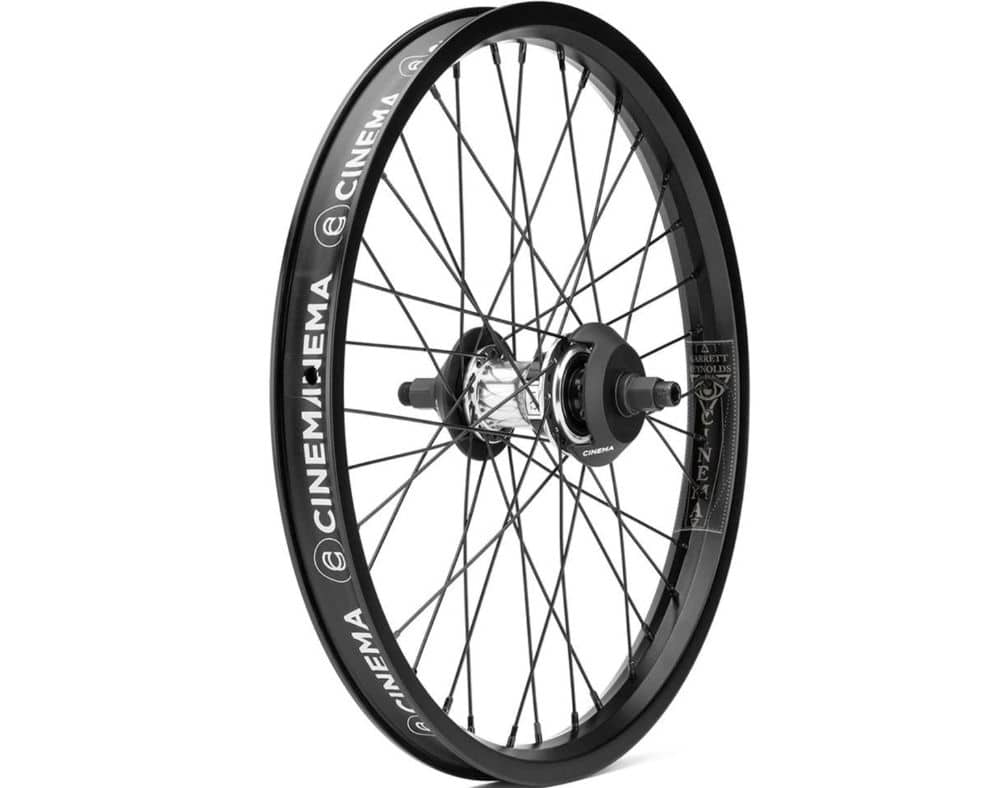 This is Garrett Reynolds' signature Cinema rear wheel.
The wheelset features Cinema FX2 freecoaster hub, Cinema Reynolds rim (38mm wide) and 14 gauge spokes (3-cross lacing).
Plus, you get Cinema's CR and DR nylon hub guards and rim tape.
If it holds Garrett, it can hold anyone.
Note: This is a great option if you like wider rims.
Wheel specs:
Hub: Cinema FX2 Freecoaster
Rim: Cinema Reynolds
Hub Guards: Yes
Weight: 1450g
Price: $309.99 (may vary)
GET RHD
GET LHD
3. Odyssey Hazard Lite X Clutch Wheel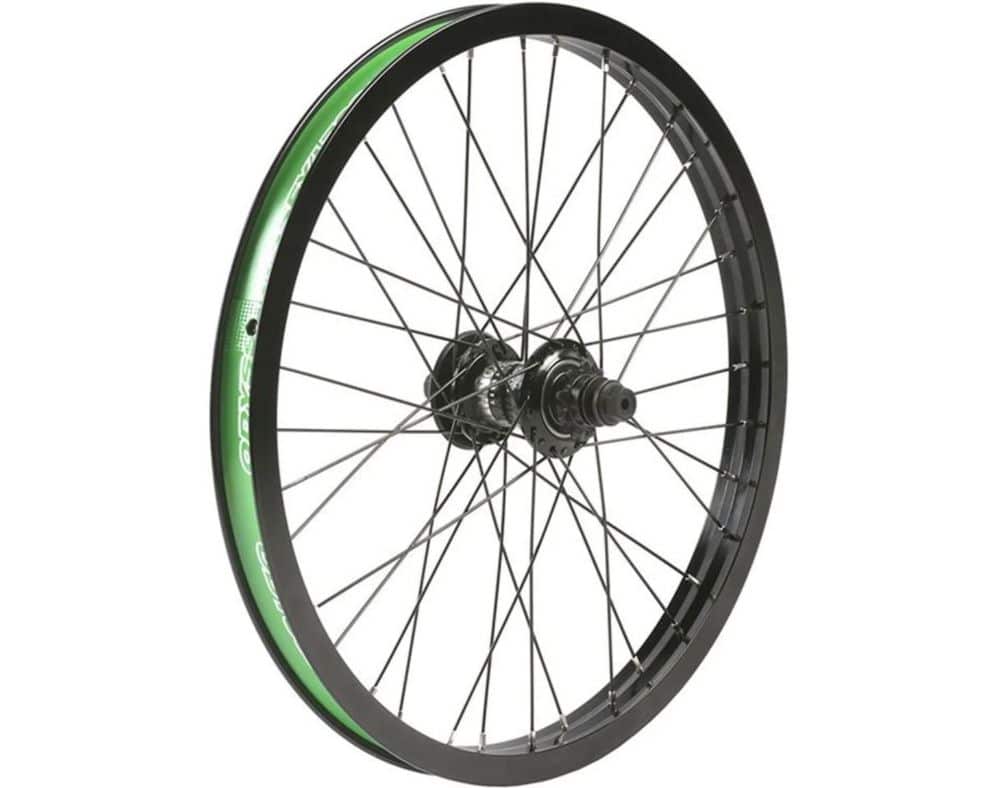 The Clutch freecoaster and the Hazard Lite rim (32mm wide) are around for a while, tested by many pros and amateurs.
This also makes this combo one of the market's more popular ones.
The wheelset is for everyone who like a little extra slack. Remember, you can easily adjust the slack (without removing the wheel).
What I also like is that you can get the wheelset in various colors.
Fun fact: This is the wheelset Broc Raiford rides.
Wheel specs:
Hub: Odyssey Clutch V2 Freecoaster
Rim: Odyssey Hazard Lite
Hub Guards: Yes
Weight: 1361g
Price: $294.99 (may vary)
GET RHD
GET LHD
4. Mission Deploy Freecoaster Wheel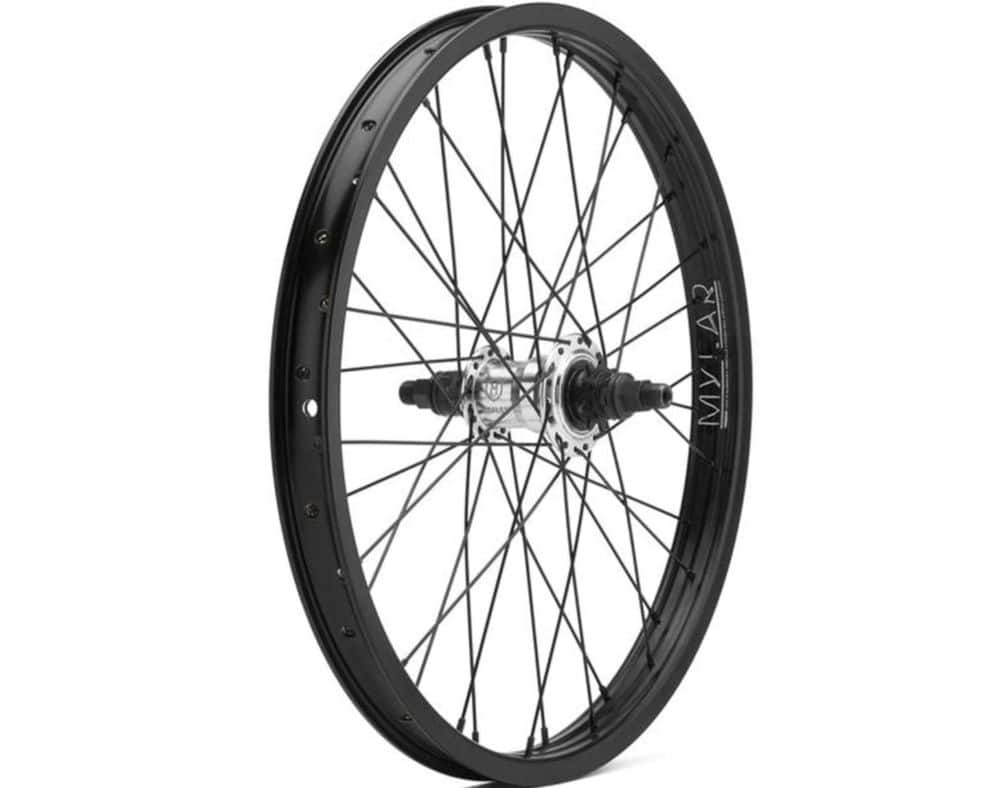 Mission's Deploy freecoaster wheel is the most affordable and at the same time reliable wheelset I could find.
You can fully trust this one for any tech stuff you like to do.
The wheelset has Mission's Deploy hub and Mylar rim (36mm wide) with stainless steel spokes.
It's available in: All-black or black rim and spokes with a silver hub.
This one is SUPER budget-friendly.
Note: Rant's Moonwalker freecoaster is another great budget wheel! (Scroll down)
Wheel specs:
Hub: Mission Deploy freecoaster
Rim: Mission Mylar rim
Hub Guards: No
Weight: 1360g
Price: $179.99 (may vary)
GET RHD
GET LHD
5. G-Sport Freecoaster Wheel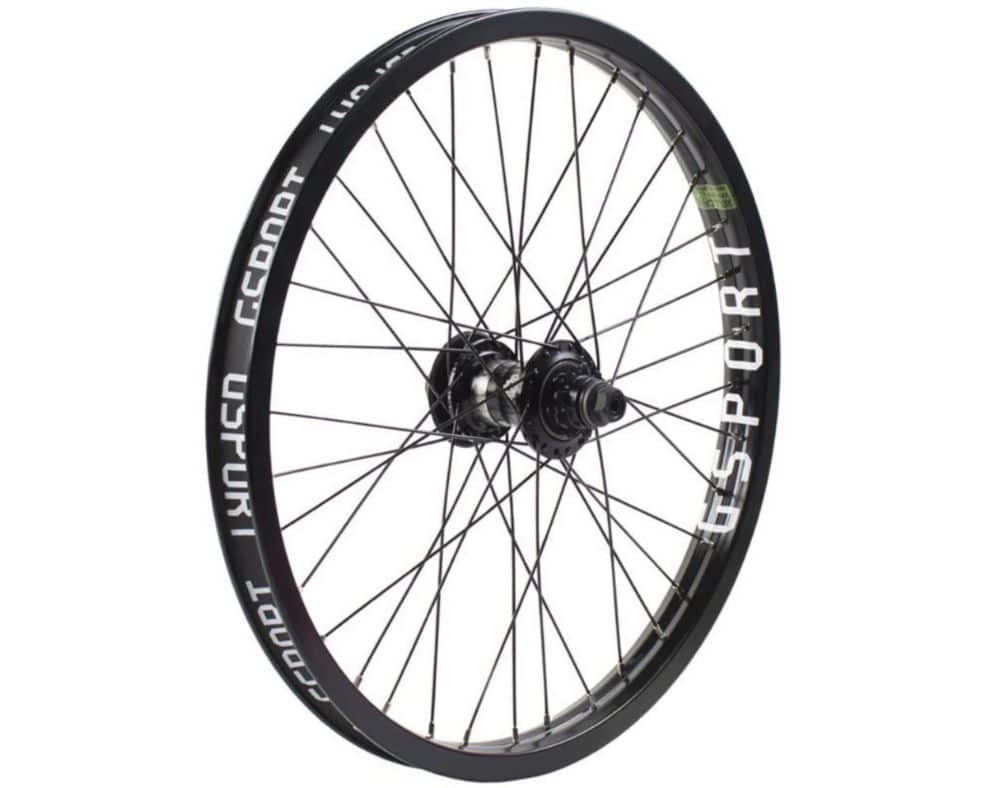 The Odyssey Clutch V2 freecoaster and G-Sport Ribcage rim (36mm wide) wheel is strong AF.
Period.
The complete wheel has a lower profile and a semi-wide rim with enhanced walls that give it extra strength.
Many street and park riders also like its adjustable slack system that I mentioned above (see Odyssey's wheel)
Fun fact: G-Sport is Odyssey's sister company.
Wheel specs:
Hub: Odyssey Clutch V2 Freecoaster
Rim: G-Sport Ribcage
Hub Guards: Yes
Weight: 1389g
Price: $319.99 (may vary)
GET RHD
GET LHD
6. Cult Astronomical Freecoaster Wheel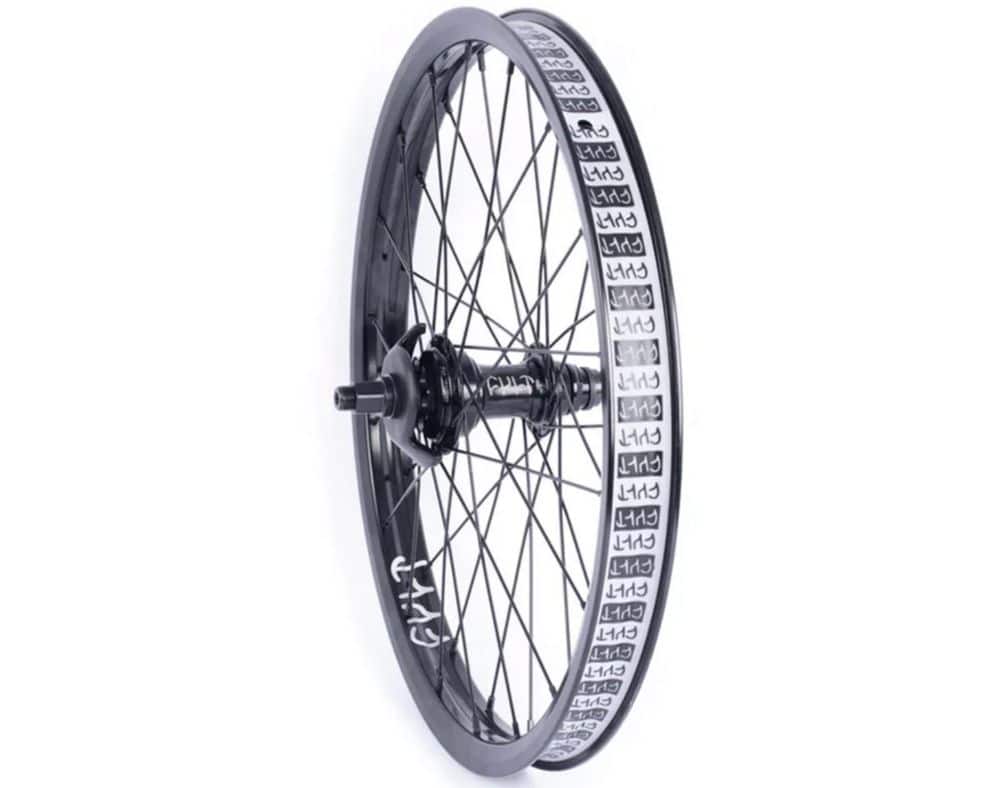 Cult BMX is another brand with the planetary system for their freecoaster hub, available through their Astronomical BMX rear wheel.
You can enjoy less slack and reduced engagement when rolling backward, which many find annoying in traditional freecoasters.
The wheelset also has Cult's Match V2 rim (34 wide) and a drive-side hub guard.
Note: You also get a spoke wrench carabiner!
Wheel specs:
Hub: Cult Astronomical hub
Rim: Cult Match V2
Hub Guards: Yes
Weight: 1360g
Price: $349.99 (may vary)
GET RHD
GET LHD
7. Eclat Cortex X Bondi Wheel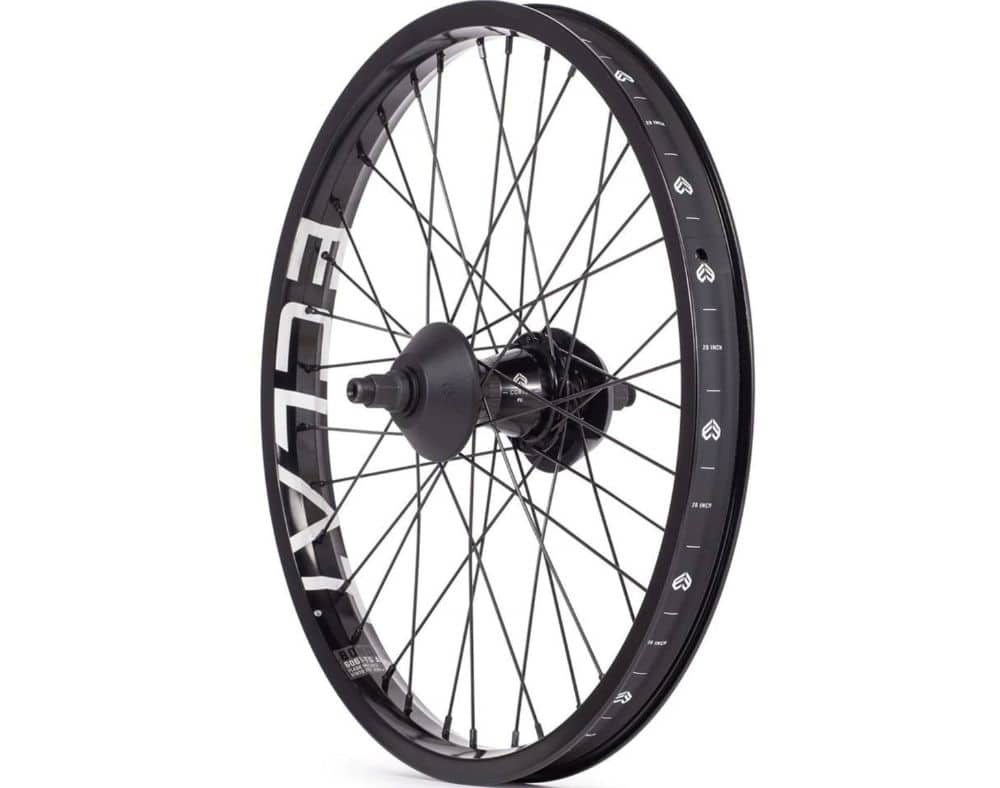 This wheelset has Eclat's popular Corex freecoaster and Bondi rim (38mm wide) combined with the three-cross lacing (14 gauge stainless steel spokes).
It might be one of the heaviest BMX freecoaster wheels, but it's heavy for a reason: STRENGTH.
Fun fact: Felix Prangenberg rides this wheelset straight out of the box.
That tells you everything!
Wheel specs:
Hub: Eclat Cortex hub
Rim: Eclat Bondi rim
Hub Guards: Yes
Weight: 1524g
Price: $282.99 (may vary)
GET RHD
GET LHD
8. Primo Balance VSXL+ Wheel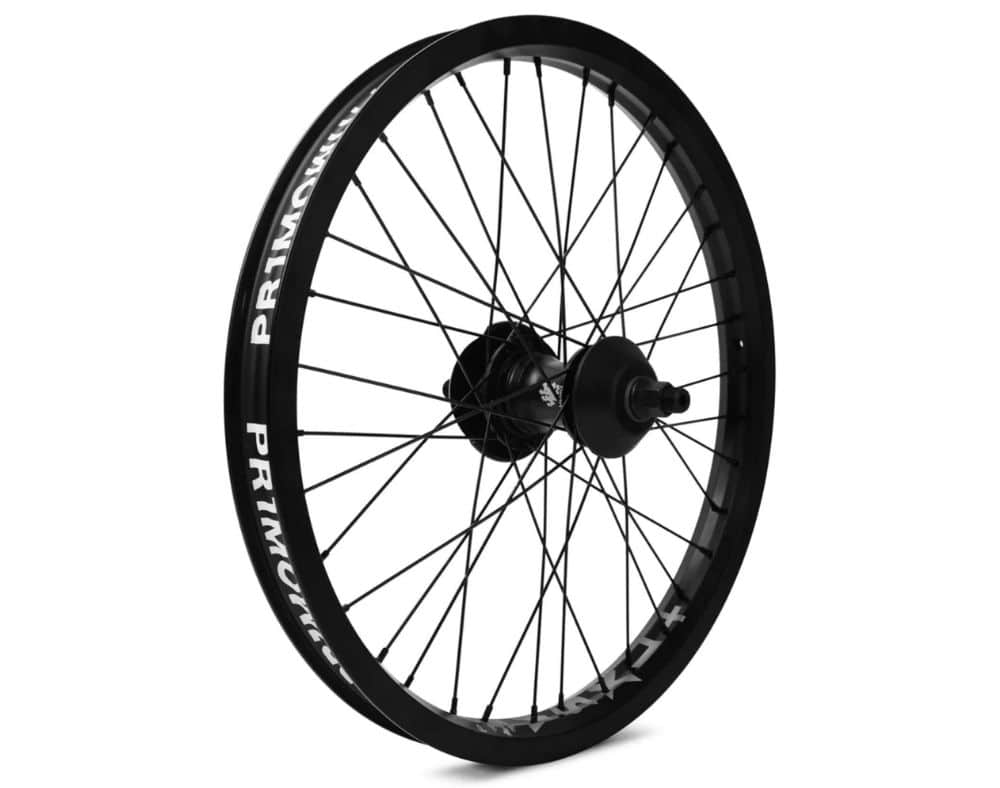 I just recently spoke with three of my Instagram friends and all said that this is the wheel they purchased several months ago and reported 0 issues.
Primo's freecoaster wheelset consists of the Balance V2 hub and VSXL+ rim (35mm wide).
The wheel comes with Primo's DSG and NDSG plastic hub guards and rim tape, so it's ready out of the box.
Primo Balance VSXL+ wheel is for street assassins that don't want too wide rims.
GO.
Wheel specs:
Hub: Primo Balance V2 freecoaster
Rim: Primo VSXL+ rim
Hub Guards: Yes
Weight: 1180g
Price: $306.99 (may vary)
GET RHD
GET LHD
9. Salt Plus Summit Freecoaster Wheel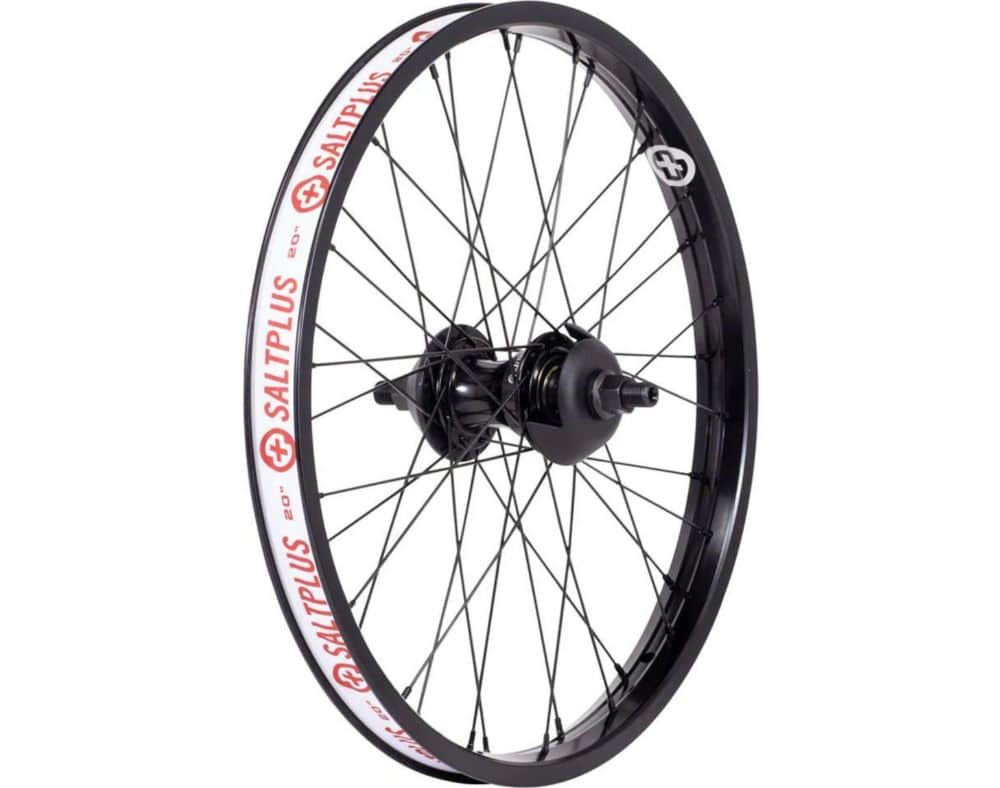 The Salt Plus Summit freecoaster wheelset is another one of the more affordable options that you can get to upgrade your bike.
It features the Vertex freecoaster hub with the Summit rim (36mm wide).
You also get drive and non-drive side hub guards that'll keep you grinding smoother.
The only thing that I heard a few users say is that they needed to true it after a few weeks of use. But that's the only "issue" they had (which isn't too big of a deal).
Wheel specs:
Hub: Salt Plus Vertex hub
Rim: Salt Plus Summit rim
Hub Guards: Yes
Weight: 1450g
Price: $206.99 (may vary)
GET RHD
GET LHD
10. Shadow Optimized Freecoaster Wheel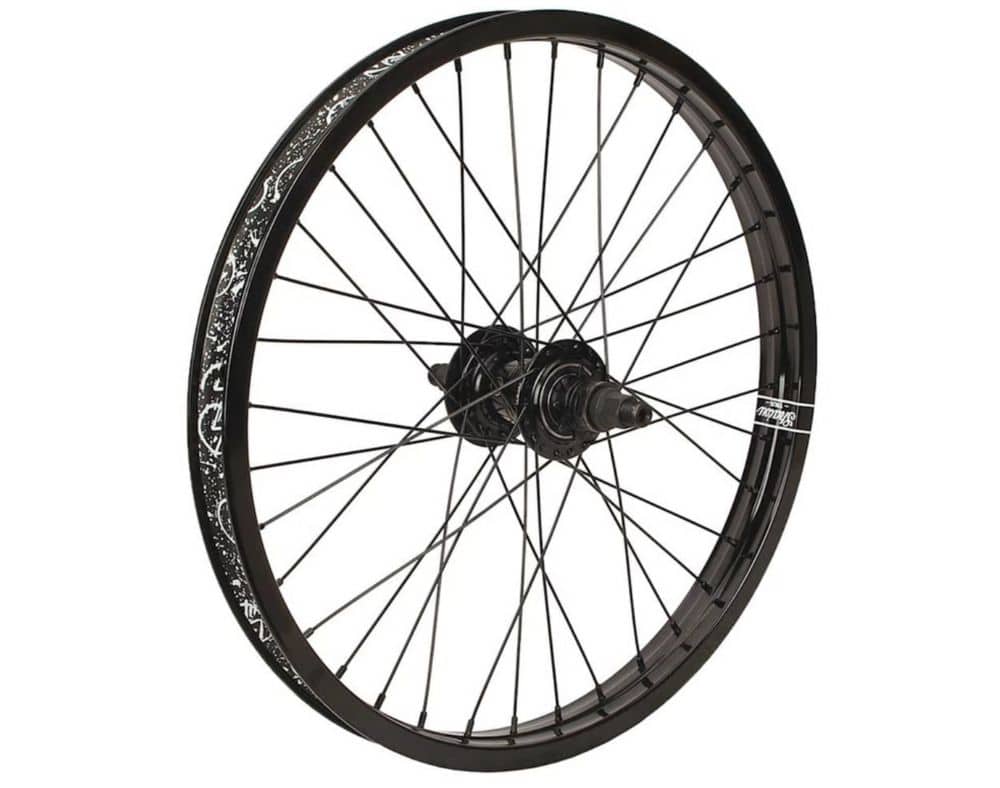 The Shadow Conspiracy's Optimized freecoaster wheelset is for those of you who prefer a wider rim.
It has its widely popular Truss rim that's 38mm wide. This allows you to ride with a lower PSI, but at the same time spreads the BMX tire wider for more contact area.
What's great about the Optimized hub is that it keeps the flange low-profile, which helps with grinding.
Fun fact: Joris Coulomb rides this wheelset.
Wheel specs:
Hub: Shadow Optimized freecoaster
Rim: Shadow Truss rim
Hub Guards: Yes
Weight: 1433g
Price: $274.99 (may vary)
GET RHD
GET LHD
11. Rant Moonwalker 2 Wheel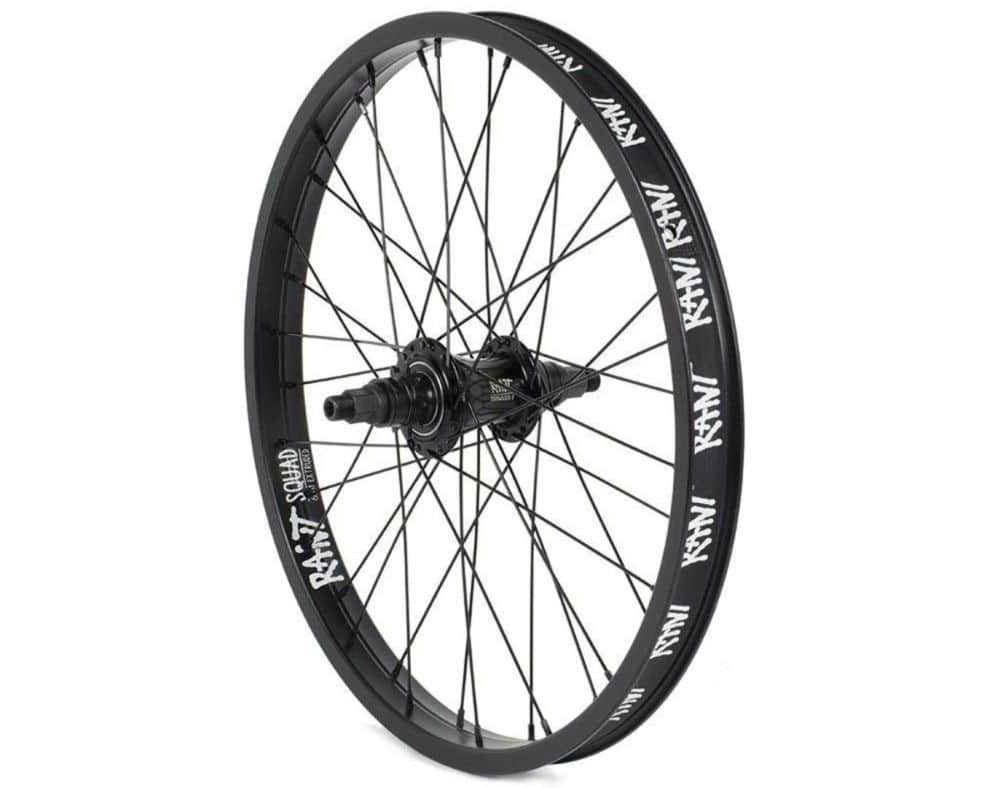 The Rant Moonwalker 2 wheelset is the second most affordable BMX freecoaster wheel that I and many riders vouch for.
It's an excellent upgrade to a complete bike featuring the Moonwalker 2 hub and Squad rim (32mm).
The rim is a lot narrower compared to most other wheelsets, which works great if you don't ride too wide tires.
I'd recommend a 34mm+ rim if you like 2.4″ tires (36mm or 38mm would be even better).
But for anything below 2.4″ tires, the 32mm will work just fine.
Wheel specs:
Hub: Rant Moonwalker 2 hub
Rim: Rant Squad rim
Hub Guards: No
Weight: 1454g
Price: $179.99 (may vary)
GET RHD
GET LHD
How To Pick The Ideal BMX Freecoaster Wheel
There are two main factors that I came across when asking riders what matters to them when purchasing a freecoaster wheelset.
They are:
1. Budget
You are 100% safe with any of the budget-friendly, cheaper wheels that I added to the list if you're a technical street and park rider who isn't too heavy into pulling a ton of gaps (including 180s, 360s, 540s, etc. over stairs and gaps).
But if you're more into burly and heavy riding, then I recommend you purchase a more higher-priced wheel because it'll last you A LOT longer.
2. Rim Width
Many neglect the rim width but it's very important because it helps you to go faster or ride lower PSI.
If you pick a 32mm wide rim, then I don't recommend riding a 2.4″+ tire because it's useless.
On the other hand, it's great for a 2.1″ or even 2.2″ tire with high PSI to ride transitions, trails and going fast.
A 34mm is somewhere in between. I currently ride a 34mm wide rim with a 2.4″ tire but I am looking to switch to a 36mm or a 38mm tire because it'll work better for my riding style.
Moreover, a 36mm or wider rim is better if you like fatter tires and low PSI. The wider rim helps spread the impact more.
3. Bonus: Slack
This is a big one.
The more slack the freecoaster hub has, the more time it has to engage. This is something every freecoaster has.
However, if you opt for a freecoaster with a planetary system, the slack is reduced to the minimum, making the hub feel like a cassette (which doesn't have slack).
Moreover, the more traditional freecoasters come with adjustable slack so that you can find the perfect match for your riding style.
While the planetary system might be pricier, it's lighter that the classic freecoaster, engages quicker and is crankflip-friendly.
You may also be interested in my other collections:
Was this article helpful?
Disclosure: The BMX Dude's content is free & reader-supported. I may earn a commission if you click & buy through my links. Your support helps me create the best content & make a difference. Thanks! 🤘