When you watch Chad Osburn BMX videos, you just want to pick up your bike and go ride.
And do you know what's best?
It does not matter whether you are into dirt, street or skatepark; Chase knows how to pump up everyone.
His INSANELY smooth yet highly versatile style of riding caters to everybody easily.
It could be his welcome to Kink video or the most recent web edit; it does not matter – Osburn had, has and always will have ridiculous style.
On top of all, he does not ride with pegs and is also not really into barspins and tailwhips.
Still, you will see a backflip or a flair from Chad here and there.
The unique style of riding that Chad Osburn has makes him special and his videos are so enjoyable to watch.
If this style of riding appeals to you, make sure you also check videos from:
Even though Chad truly understood how awesome BMX is relatively late, his parents put him on a motorcycle at five.
Now you know why he is fearless and where the fantastic style comes from.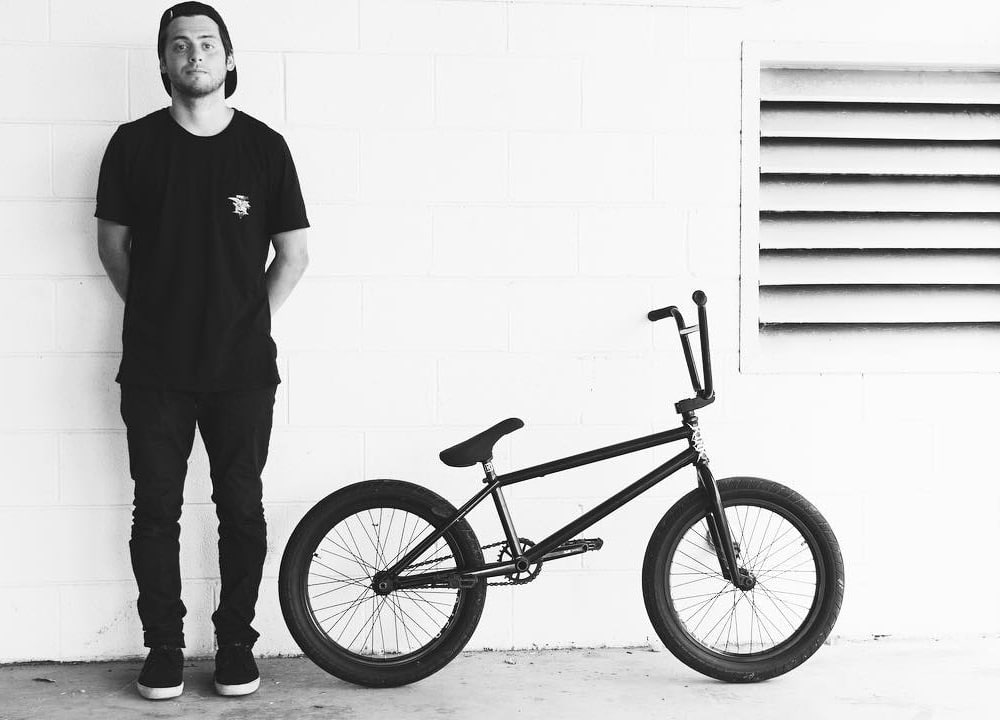 Motocross helped him transition to BMX much more smoother. From then on, it was go time.
Fun fact: Chad only realized that you can pull all kinds of tricks on a BMX bike when he was fifteen.
Chad Osburn's riding: speed & style everywhere
From riding dirt jumps to shredding his local Fresno skatepark at six in the morning, things started to move on from there.
In an interview with DIG BMX, he also mentions that he didn't have any riders who he looked up at the beginning.
Later, he became a fan of Eddie Cleveland and Sean Burns.
Style and going fast, that's what appeals to Chad.
When Chad had his first child, he didn't have a job, and he also did not have any money.
After they built this massive BMX park in Fresno, a contest was held where he got second and won himself $1,200 (for the "baby stuff").
He also got an offer to work at the park, which was a win-win situation for Chad.
Make sure you give Chad a follow on Instagram and look into his busy life as a father, husband, filmer and, of course, BMX rider.
Featured photo by: Devon Hutchins.
Chad's sponsors: Kink, GSport, Relic.
Best Chad Osburn BMX Videos
1. A day in the life of Chad

Even though this might not be a full day in the life of Chad, you will still get a better idea of what he does.
He is full-on all the time, at least that's what it looks like. He is a pro BMX rider, he is a husband, a father, and he even works a full-time job.
Even the legend, Cris Doyle, looks up to him and wants his riding to look like Chad's. By the way, this is from 2013.
For about a minute and twenty, you get to see Chad hang out with his kids, and then it is bike time.
Chad rides street and skateparks around Baltimore, Fresno (his hometown), Pittsburgh and Vancouver.
At the end of the filming, Darryl Tocco laced everything together beautifully for this must-watch Kink web edit.
2. Chad Osburn in Kink's "Intervention"

Two minutes of fire riding from one of the most stylish shredders out there, Chad. I can watch any of his videos on repeat and never get bored.
While I enjoy watching all the other "stylers" out there, it's just something in Chad's riding that I like so much.
It's probably because he does not have a problem going fast while sneaking in his transitions flow from skateparks to dirt jumps.
This was all shoot in Costa Rica and Texts, and the last clip deserves several replays.
3. Kink Mudrunner frame colorway promo

I'll be honest with you for a moment; this is likely the web edit I watched the most from Chad.
It is primarily a street video with just one massive 360 from a skatepark.
But on the streets, Chad even does a flair, which is not a traditional street trick.
Still, as capable as Chad is, he can do stuff that will boggle your mind.
From all the tricks in this video, I must say that the 360 to firecracker is my favorite.
However, everything is amazing, and you know that already.
Note: Don't miss my top Kink BMX frames review.
4. Relic BMX feat. Chad, Clint and Ashley

If you are a transitions guy, boy, will you enjoy this one.
Along with Chad's smoothness, you also get to witness some really nice riding, both concrete and dirt, from Clint Reynolds and Ashley Charles.
This was all shot in Austin, Texas, but Kenny Horton and edited by Darryl Tocco.
Enjoy the amazingness these three can deliver with little to no tricks, just pure flow.
Sometimes, it's not all about the craziest tech combos or flip variations; it's all about cruising with epic style.
Good music, great riding, what else you want?
5. Chad Osburn for GSport

And if you want a somewhat 50-50 mix of street and skatepark riding from Chad, this is the one video for you.
Okay, there is more street shredding in here, but this is still a sweet treat to watch.
Gaps, drops, style and pedaling fast, that pretty much sums up this entire web clip.
It always is a pleasure watching Osburn doing what he does best.
Now, I am waiting for a fresh one to drop from Chad for the brand because you already know that it will be mind-bending.
Just hit the play button now and enjoy yourself.
6. Welcome to Kink pro (2014)

Now you know when exactly did Chad become a pro for Kink.
What I find exceptionally cool about this clip is how well they managed to show Chad's versatility.
He rides streets, abandoned pools, skateparks and dirt jumps and does everything with ridiculous style. Two things to point out.
How he straight drops in is pretty scary but very cool indeed. And the second thing, that flair on the roof – what was he even thinking?
Well, there is still the ending clip; you just do not want to think about what would happen if things go wrong.
7. Signature Kink BMX High Dive seat promo

Whether it is a product promo or a video part, whatever it has Chad in it, you know it will be good.
And this signature seat promo is no different than any other video in this collection – it simply rocks.
In short, it includes a lot of terrific riding that you will want to watch, re-watch and then watch some more.
As for the seat itself is not the slimmest and not the thickest, just something in between.
Unfortunately, it is no longer available on the market, but Kink has many excellent alternatives for you.
8. Kink High Dive seat promo b-roll

If you already enjoyed watching the official promo above, here is an extra video containing some sweet b-roll shots.
It's the first episode of Kink's Cold Cuts feature, where they try to show everyone what it takes to film a solid clip.
They started things off with Chad Osburn and the process he and Darryl Tocco went through during filming for the seat promo.
There are tons of goodies here, from riding to random clips and other whatnot for your viewing pleasure.
9. Chad going smooth on the streets & parks

While this one may be a bit rawer, you know it will be a good one. That's just how things are when it comes to Chad.
Even though just over a minute and a half long, there's still some pretty scary stuff in this one.
While Kink published the edit to YouTube, Chad shows respect to his other sponsor, GSport, in the beginning, too.
Also, you will notice immediately that the song choice is not really in the Chad style.
But that is not really something that should bother you – just focus on the insane shredding instead.
But you may like it so much, you would want to know what song this is. It is May Opinion by Mac Mall. You're welcome.
10. Learn lipslides with Chad Osburn

If you want to learn a style trick, like a lipslide is, you better learn it from those who can pull it the best.
Chad is the best answer to teach you how to pull a lipslide just about anywhere you want.
Chad makes sure you understand how it's done with tons of great tips, so you can go out and try it today.
Once you get the gist of it and start playing around with it more often, you can do it on various objects, even down a street ledge.
Alongside Chad sharing all the ins and outs, you will also get a ton of clips of him doing the lipslide on decks of ramps, even over a box jump.
11. Chad's Kink web edit (2013)

This is back from when Chad was on Kink's AM team, but just a year later, he officially turned pro.
Many amazing spots, like abandoned pools and what seems an abandoned water park, all of which look way too fun to ride.
No matter how old it is, you can return to any of Chad's videos, watch them again, and have as much fun as you had on your first watch.
That is a fact.
Treat yourself to some eye-pleasing BMX riding from Osburn – you will never regret it.
By the way, Chad even pulls a barspin in this one.
12. Welcome to Kink (2013)

This is the first Kink welcome edit (watch the welcome to pro video above) because Chad deserves it.
Even if it is a super short one, it still shows what a fantastic rider he is.
And that is all it matters. If you know how to impress everyone in a minute or so, you are doing something extremely right. And that's what Chad Osburn is all about.
13. Chad and a kinked rail

You've seen almost everything pulled on this classic kinked rail in Albany, NY.
But when the creative pegless street rider, Chad, comes, things get pretty serious.
As a matter of fact, from the whole team, he was the one who decided to take things to extremes.
First, he checks it out to see at what angle to come and at what speed. Second, he pulls a manual down the second part.
And then he decides to go back and do a nose bonk at the end of the rail. That's heavy and you know it.
Was this article helpful?
Disclosure: The BMX Dude's content is free & reader-supported. I may earn a commission if you click & buy through my links. Your support helps me create the best content & make a difference. Thanks! 🤘