Are you searching for the best front BMX wheels?
Luckily, gone are the days of poor wheelsets. (At least if you're buying from a BMX shop!)
Also, I'm so stoked that quality wheels are available because I so don't like lacing them from scratch anymore.
Thus, I just ride a complete wheel for as long as it's not all beat up and then replace it.
After testing a bunch and talking with dozens of my dudes, here's a collection of the ULTIMATE.
THE 3 BEST FRONT WHEELSETS:
Note: I still hear some doubt that a complete wheel isn't as good as a hand-laced one.
Well, that's not true anymore because of how high-quality these front wheelsets are. Even many pros ride them so you have nothing to worry about.
You may also be interested in checking my best rear BMX wheels collection.
Best Front BMX Wheels
1. Odyssey Hazard Lite Front Wheel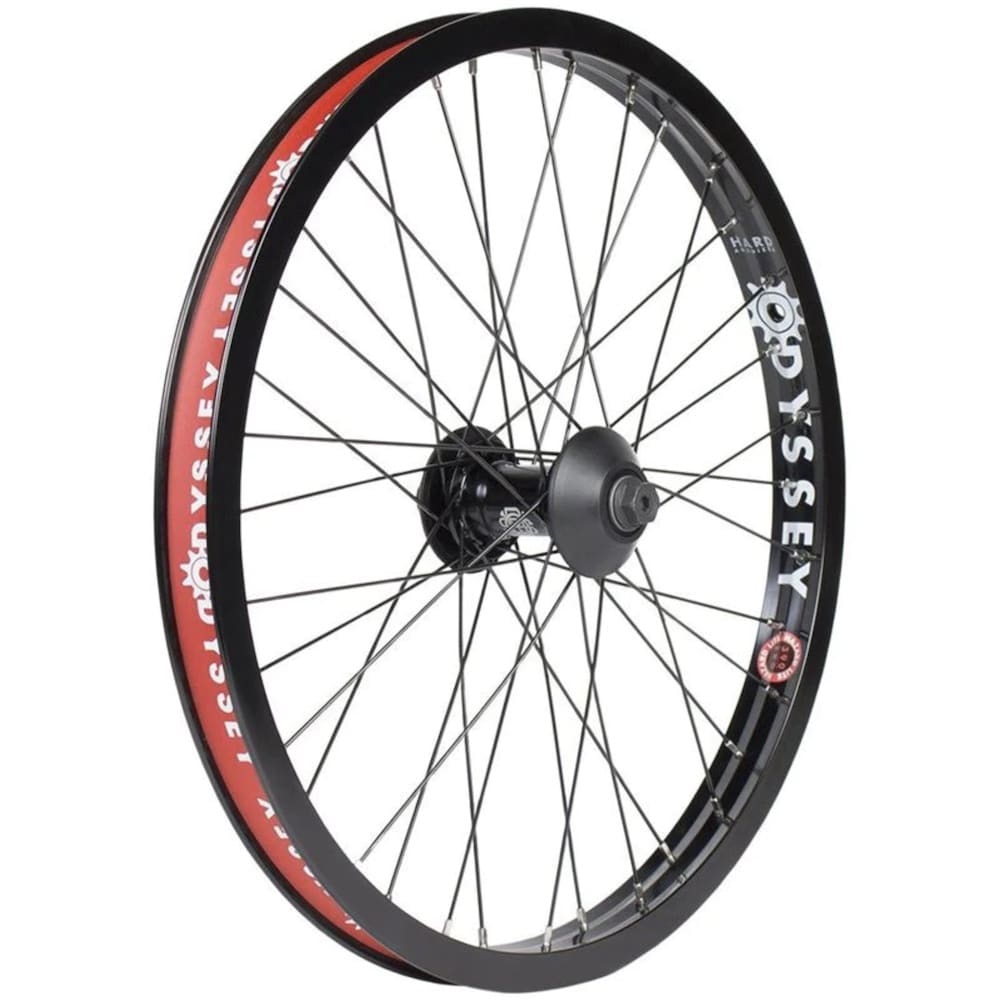 It's been reported to me by dozens of dudes that this is their absolute favorite front wheel setup that they ever purchased.
Hey, it's from Odyssey, and it uses their top-performing parts, like the Vandero Pro BMX front hub and the Hazard Lite rim.
The wheel also features straight gauge BMX spokes and brass nipples.
It's usually also available in a bunch of wild colors, but they usually sell out quickly, so you need to act fast.
But the all-black version is still my favorite!
Note: The Odyssey wheelset is on the heavy side, but that's where its strength comes from.
You can use this one on all-terrain, whether you ride transitions or burly streets.
Go VANDERO!
Wheel specs:
Hub: Odyssey Vandero Pro
Rim: Odyssey Hazard Lite
Hub Guards: Yes
Weight: 1321g
Price: $209.99 (may vary)
GET YOURS
2. Cult Crew V2 Front Wheel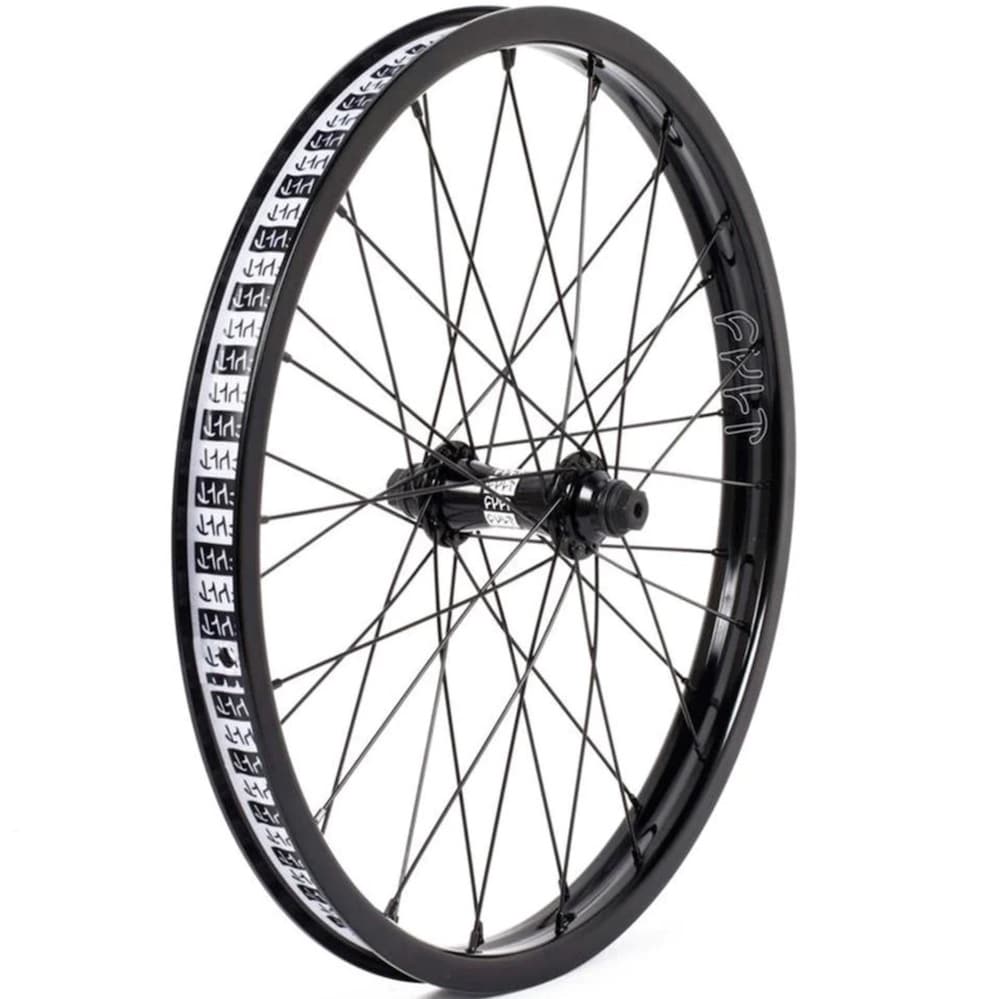 This one is also a favorite from so many of the shredders that I know.
I also talked to a bunch of dudes on IG and everyone said that they rode it for months before they needed to true it for the first time.
The Cult's BMX front wheel is also a lighter one and pretty affordable for what it delivers.
It's an all-black wheelset with the Cult Crew front hub and Cult Match V2 rim.
Besides the two plastic Cult BMX hub guards, you also get a carabiner spoke wrench, which always comes in handy.
Wheel specs:
Hub: Cult Crew
Rim: Cult Match V2
Hub Guards: Yes
Weight: 965g
Price: $169.99 (may vary)
GET YOURS
3. Rant Party On V2 Front Wheel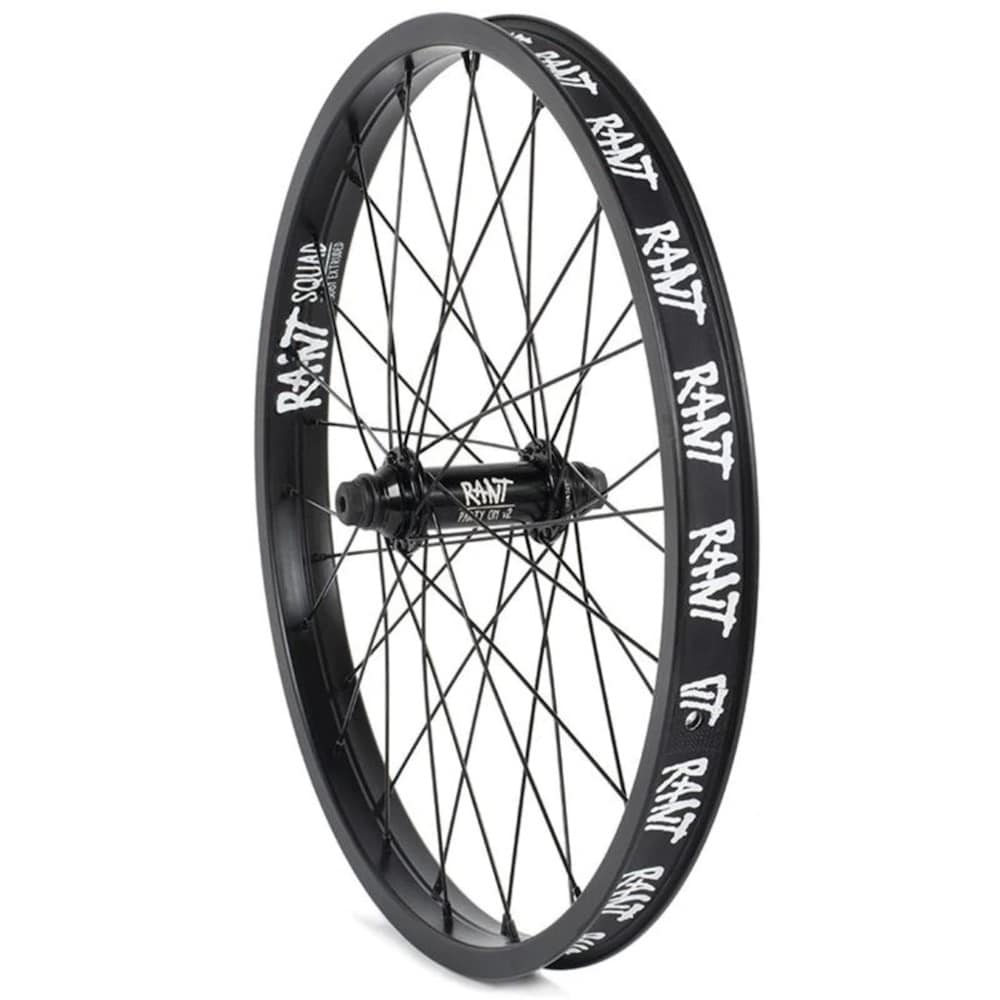 Of all the available and reliable front BMX wheels, I found on the market, Rant's Party On is the lightest.
And also one of the most affordable ones!
Plus, the many rad colors it comes in make it many riders' favorite.
The improved Rant hub is now flatter and wider, accepting the Party hub guards, which I highly recommend you get if you're grinding a lot.
Plus, the hub is laced to the Rant Squad rim with 14-gauge spokes.
If you need a cheap solution that'll be a great bike upgrade, then I recommend going with Rant's front wheelset.
Wheel specs:
Hub: Rant female hub
Rim: Rant Squad
Hub Guards: No
Weight: 900g
Price: $114.99 (may vary)
GET YOURS
4. Shadow Symbol Front Wheel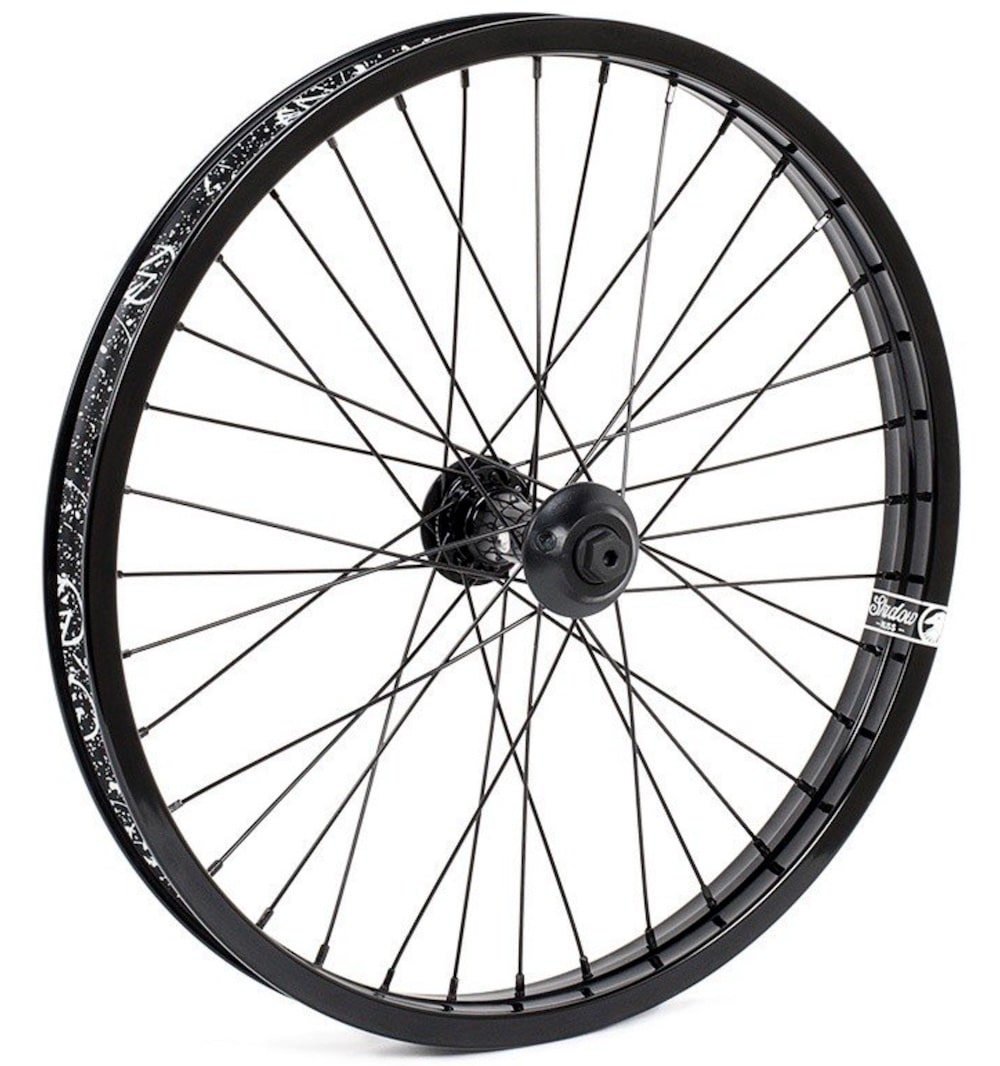 The Shadow Symbol wheel easily handles even the most advanced riders out there.
It features Shadow's Symbol hub and Truss rim with straight gauge spokes and brass nipples.
I was also really impressed by how well it's laced, so you won't need to true it after your first session. (This is something that can happen with the cheaper wheelsets.)
The wheel is available in black and raw polish, keeping it simple, but at the same time available for everyone.
Wheel specs:
Hub: Shadow Symbol
Rim: Shadow Truss
Hub Guards: Yes
Weight: 1017g
Price: $189.99 (may vary)
GET YOURS
5. G-Sport Elite Front Wheel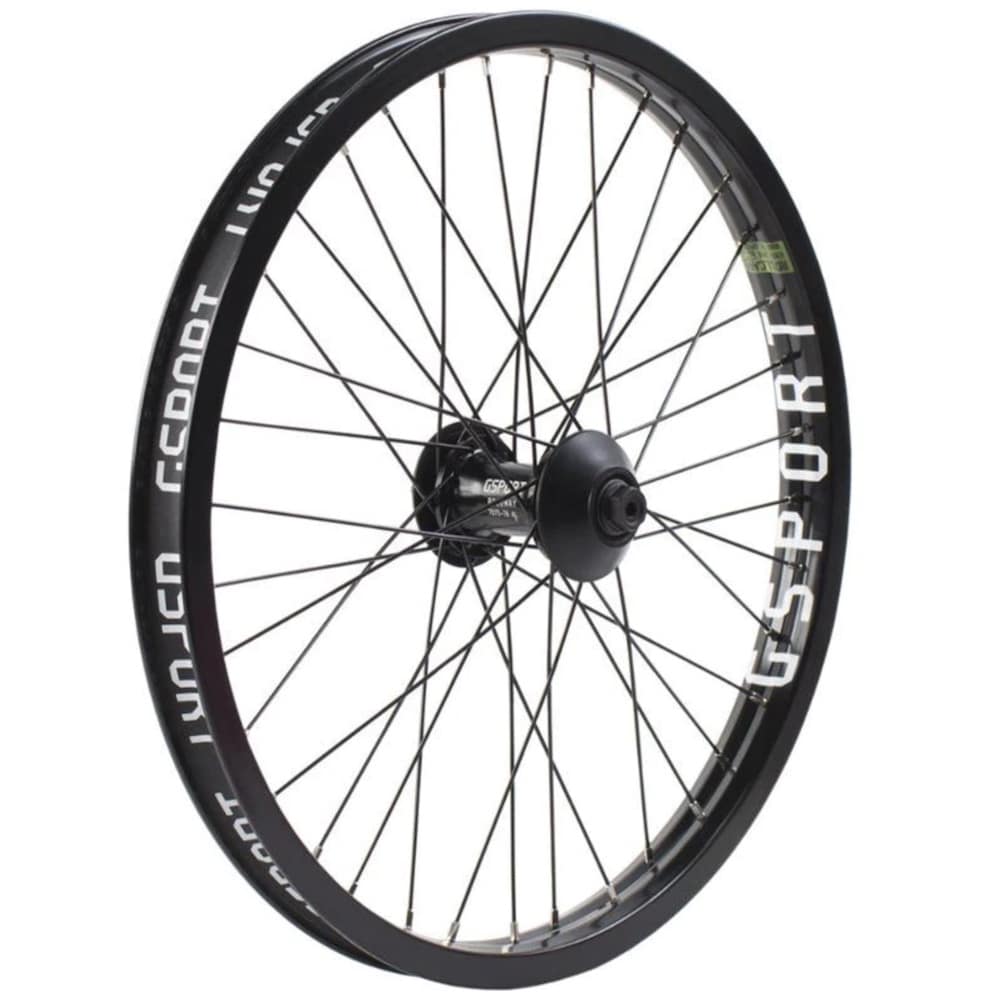 The G-Sport Elite wheel is one of the ultimate that you can currently get on the market.
It has G-Sport's Roloway hub (my favorite) and Ribcage rim with butted spokes and brass nipples.
It's actually very rare that you get butted spokes on a complete wheelset.
But G-Sport isn't your average BMX brand, offering its fans the ultimate products.
Although this is one of the most expensive BMX front wheels, I still recommend it.
Why? Because you'll easily ride it for many years.
(Sure, you'll need to true it from time to time because that's just the natural process of wheel maintenance that needs to be done.)
Wheel specs:
Hub: G-Sport Roloway
Rim: G-Sport Ribcage
Hub Guards: Yes
Weight: 1003g
Price: $249.99 (may vary)
GET YOURS
6. Eclat Cortex/Trippin Front Wheel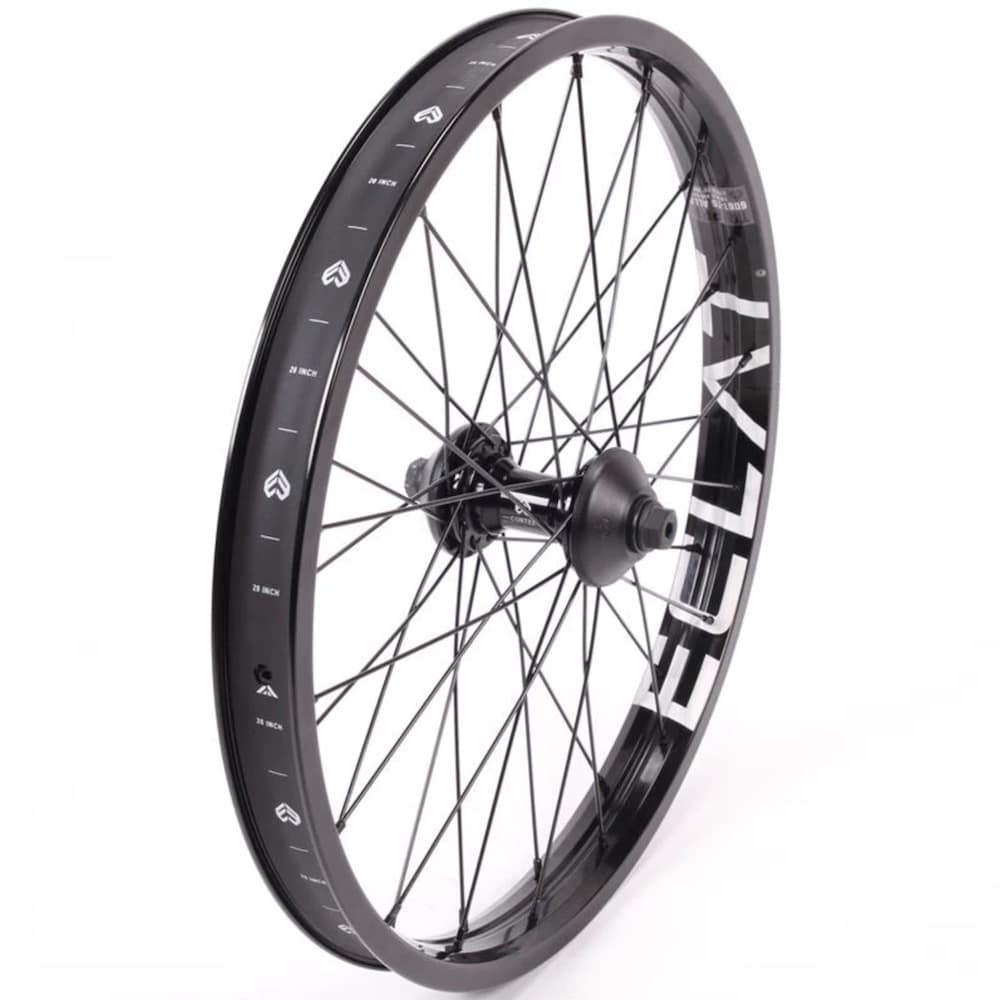 Eclat decided to put on the market one of the cheapest and lightest front BMX wheels, and succeeded greatly!
We all know that the Cortex hub is no joke!
Plus, the Eclat Tripping Pinned rim and straight gauge spokes make this wheelset a beast.
I've already seen so many dudes ride this exact wheelset, and only one complained he needed to true it quite early.
But Ryan's a burly rider, doing a lot of gaps and spins, so that's expected.
When searching for an affordable front wheelset, go with the Eclat's because you'll love it.
Wheel specs:
Hub: Eclat Cortex
Rim: Eclat Trippin Pinned
Hub Guards: Yes
Weight: 938g
Price: $135.99 (may vary)
GET YOURS
7. Primo VS Balance Front Wheel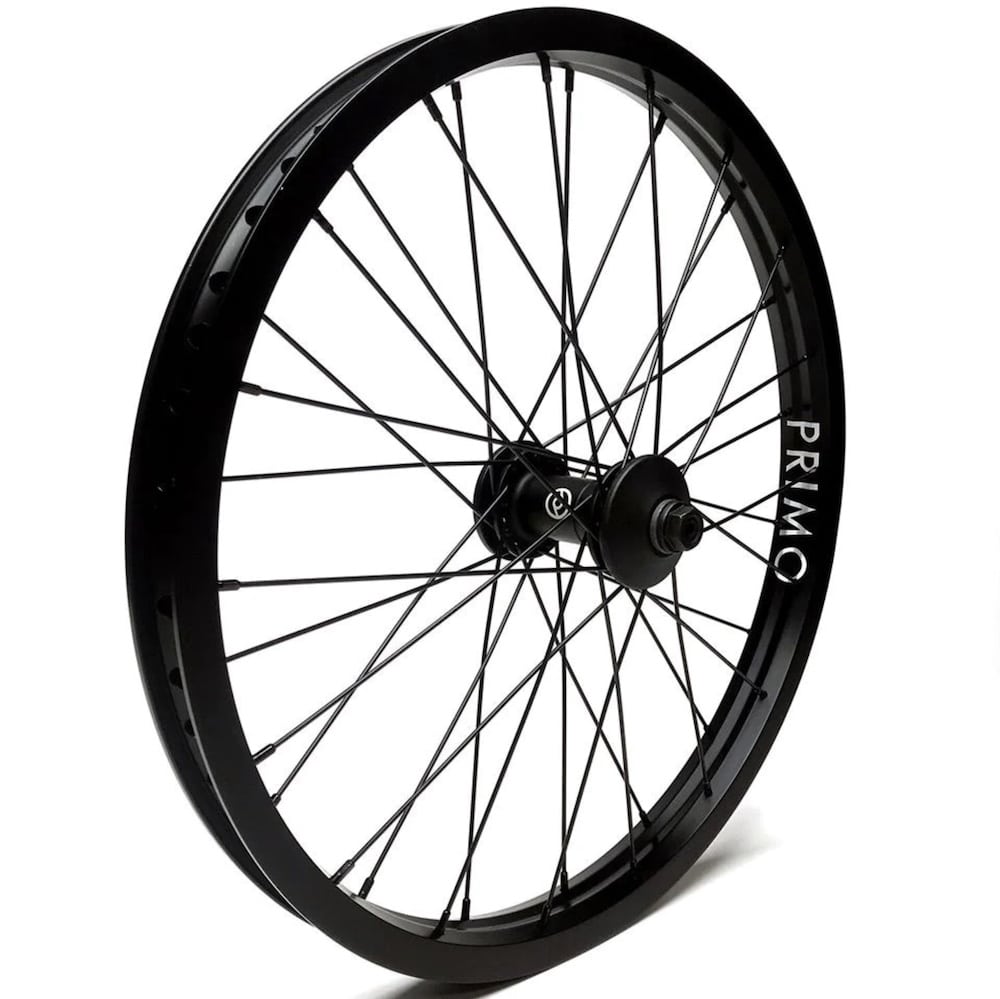 Even though it comes from the same house as Stranger, the Primo VS Balance BMX front wheel is a lot lighter but slightly more expensive.
The wheel includes Primo's Balance rim and VS 7005 rim with internally drilled holes to save weight.
Every wheelset also has a pair of nylon hub guards and rim tape.
What's pretty unique about this one are the forged spokes, which normally don't come as part of a complete wheelset.
Make Primo's wheel decorate the front of your BMX bike and keep you shredding smoothly for a long time.
Wheel specs:
Hub: Primo Balance
Rim: Primo VS 7005 Rim
Hub Guards: Yes
Weight: 992g
Price: $149.99 (may vary)
GET YOURS
8. Cinema Reynolds FX Front Wheel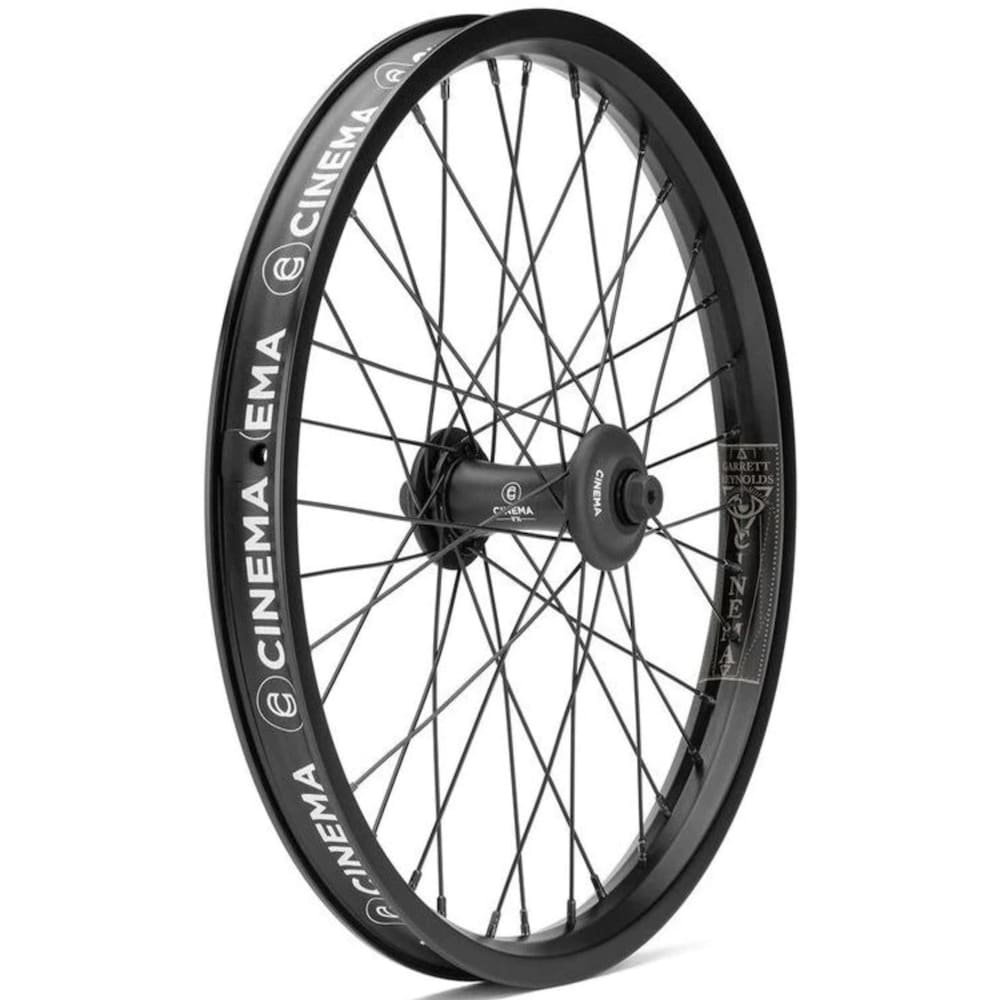 SOOO, if it's a Garrett Reynolds signature wheel, then it must be good, right?
You bet!
The Cinema Reynolds front wheelset features his signature rim laced to the FX front hub with straight gauge spokes.
It really impresses me that they managed to make it so lightweight, while at the same time keeping its strength at an all-time high.
Also, the wheel comes with two nylon hub guards and brass nipples.
You'll be rolling smoothly for a long time with this one.
Wheel specs:
Hub: Cinema FX
Rim: Cinema Reynolds
Hub Guards: Yes
Weight: 915g
Price: $199.99 (may vary)
GET YOURS
9. Stranger Crux V2 XL Front Wheel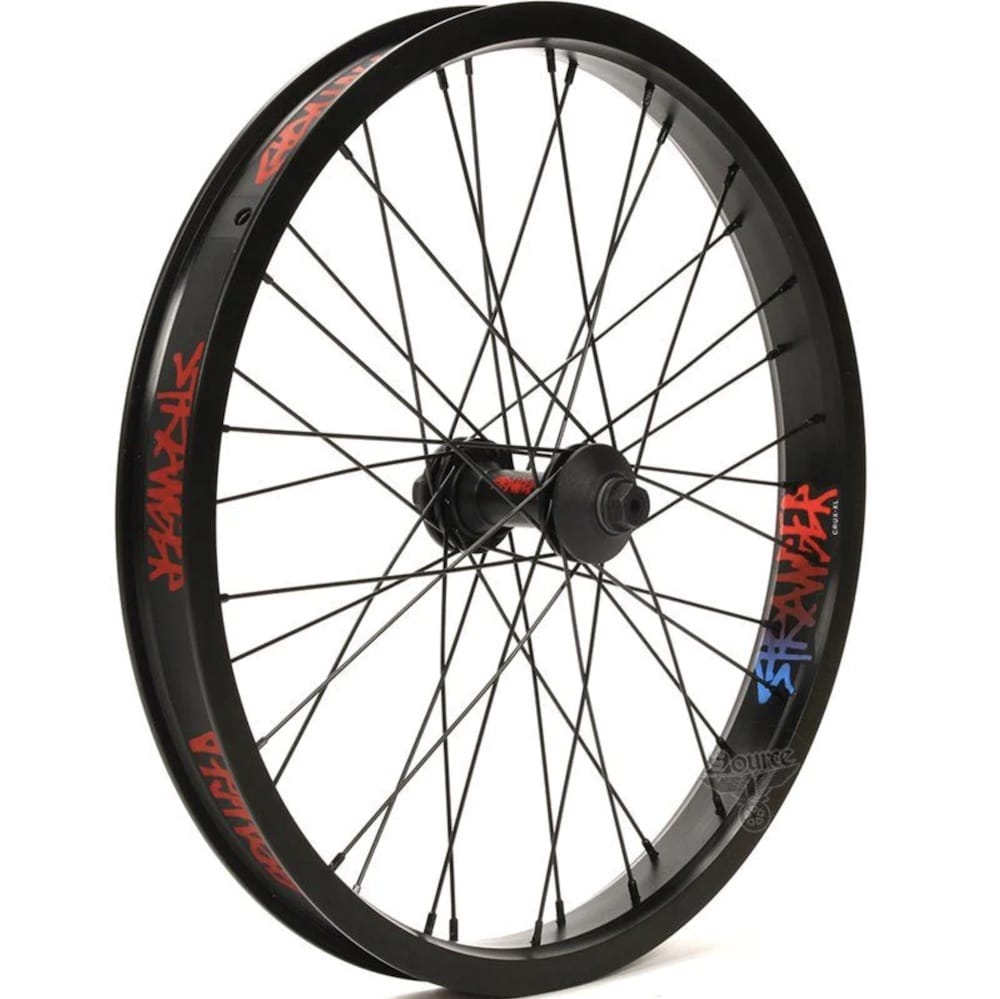 If you need a wheelset with a wide rim, then the Stranger's is exactly what you're looking for.
This thing is ready for abuse, especially on the streets.
Thus, I don't really recommend it for park or trail riders because there are other, better options for you I have here.
The wheelset has a sealed hub with Stranger's Crux XL rim, straight gauge spokes and brass nipples.
You just take it out of the box, put the inner tube and BMX tire on, insert it into the BMX fork, add plastic pegs and off you go!
Wheel specs:
Hub: Stranger Sealed
Rim: Stranger Crux XL
Hub Guards: Yes
Weight: 1213g
Price: $133.00 (may vary)
GET YOURS
10. BSD Mind Street Pro Front Wheel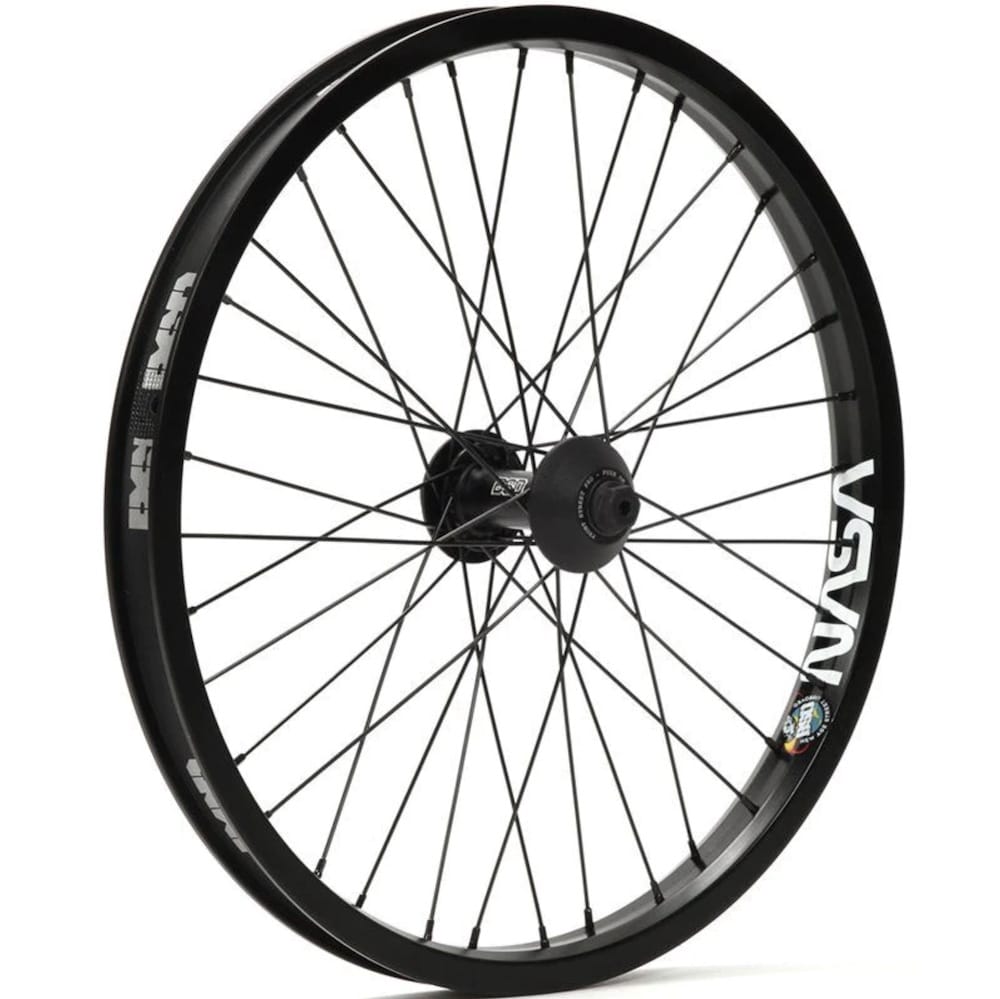 Trust me, you'll be rolling on streets, parks and trails for a long time with BSD's complete front wheelset.
It's a wheel that many of BSD's riders use, so it's properly tested over and over again.
The wheel uses BSD's popular Street Pro hub with the Aero Pro rim.
The 186mm spokes are straight gauge and feature brass nipples. Included are also the Jersey Barrier hubguards that'll make grinding smoother.
BSD's BMX front wheel is also on the heavier side, but not too heavy.
Wheel specs:
Hub: BSD Street Pro
Rim: BSD Aero Pro Rim
Hub Guards: Yes
Weight: 1100g
Price: $169.99 (may vary)
GET YOURS
Front BMX Wheels Buyer's Guide
What's your riding style?
The first thing that should be on your mind when picking a new wheelset is think about what sort of rider you are.
Why is this important?
Because if you're more of a transition rider, then you're good to go with picking a very light wheel.
Also, if you're not into grinding, you're welcome to pick a wheelset without the included hub guards.
On the contrary, if you do a lot of street riding, even heavy park riding, then I recommend opting for a slightly heavier front wheel with included hub guards.
Also, I don't recommend buying the cheapest wheelset from a random shop.
It may have single-wall rims and very poor hubs that cause constant issues with the wheelset.
Axle standards
A modern BMX bike has 10mm front axles, and that's what all the new-age wheelsets feature.
If you think a 14mm axle would be better on the front end, you're wrong.
It's way better (and lighter) to have a high-quality 10mm axle than a cheap 14mm axle/hub that may come with extremely low-quality bikes.
Don't bother about those and seek 10mm axles, which are the current standard anyway.
Hub standards
You'll find it challenging to get a front wheel with a male axle because the female version is just so much more practical.
But there are no real hub size standards in terms of flanges.
While a lower profile hub works better, not every brand features the same flange diameter.
But that's why different length BMX spokes are available to fit every rim and hub.
Rim standards
It's important that you always look for double-wall rims.
If the wheelset you plan to buy has single-wall rims, well, just don't buy it. You'll twist it very easily and dent it even faster.
On the contrary, there's no real need for triple-wall rims when getting a front wheel. They add extra unnecessary weight.
Stick to double-wall rims because they're the best!
Was this article helpful?
Disclosure: The BMX Dude's content is free & reader-supported. I may earn a commission if you click & buy through my links. Your support helps me create the best content & make a difference. Thanks! 🤘