Do you need the best BMX rims?
This is my collection of the ultimate twelve that easily fit every rider out there, regardless of style.
However, I do recommend picking a wider rim if you run fatter tires or you do a lot of gaps and spins because it offers extra strength. (Eclat Bondi is my favorite!)
Don't forget to check my post on what's the best BMX rim width.
But if you are an all-around rider, then a more traditional (Odyssey Hazard Lite) rim will do the trick!
I also have three solutions if you're on a budget (Mission, Rant, Saltplus), but I recommend them only to beginners.
This post covers:
Best BMX Rims
1. Eclat Bondi Rim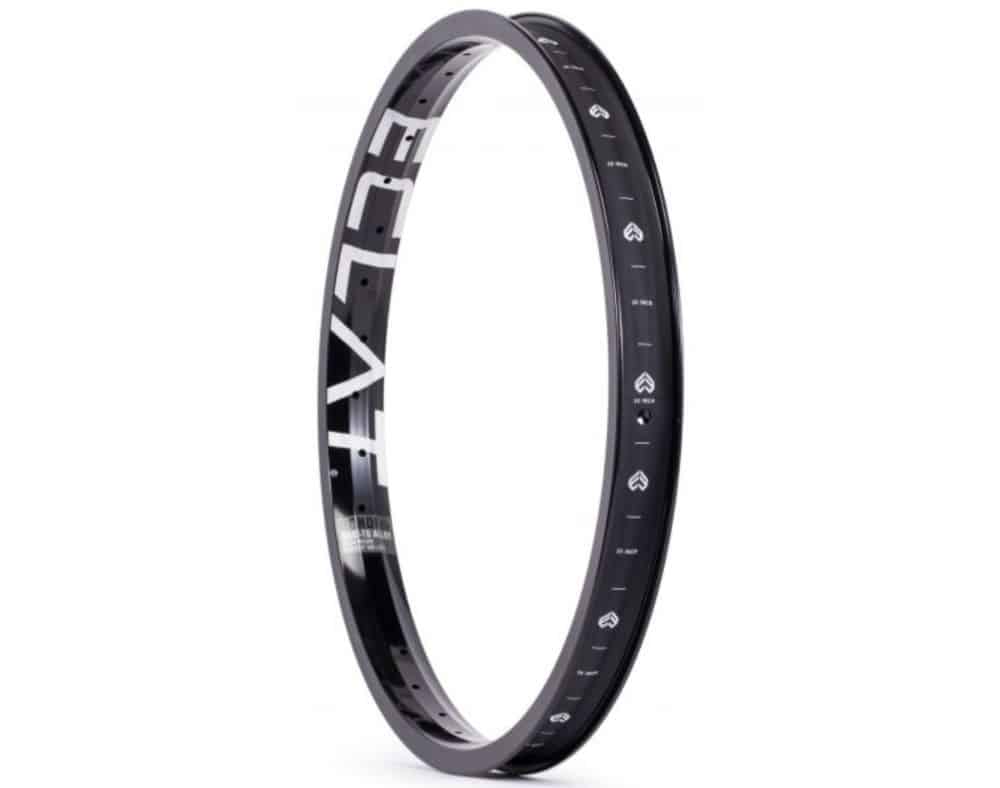 Eclat's Bondi rim is a heavy-hitting rim that guarantees the needed strength for all your insanse street, park, trails riding you do. Hey, this is the rim Sean Burns and Felix Prangenbeg ride, so you know what's up!
The design is wider with thicker sidewall and spoke hole areas to prevent twisting and spoke pull. Also, the rim walls are 19mm tall, perfectly compatible with brakes.
If you need a rim you can 100% rely on, Bondi is it!
Bondi specs:
Width: 38mm
Weight: 538g
Price: $72.99 (may vary)
Also available as a Cassette Wheel, Freecoaster Wheel or Front Wheel.
GET YOURS
2. Odyssey Hazard Lite Rim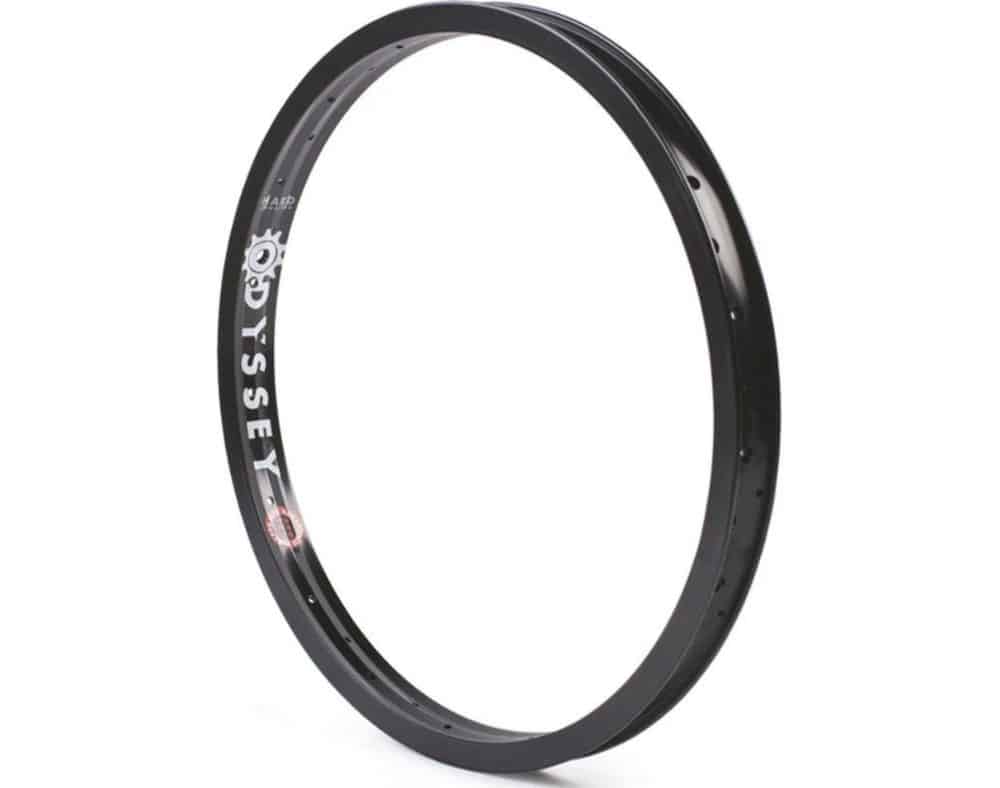 One of the most popular rims ever made, the Odyssey Hazard Lite rim is a more old-school version that's still loved by SO MANY riders.
It's a narrower rim at 32mm width, but it's still perfect for all-terrain.
Street, park and dirt riders rock the Hazard Lite rim, and I haven't heard anyone complain about it yet. (And I spoke to dozens of riders!)
Similar to the Shadow Truss rim, the Hazard Lite is also available in VERY MANY color options if you want to spice things up.
Note: Odyssey's Jacob Cable and Broc Raiford ride Hazard Lite.
Hazard Lite specs:
Width: 32mm
Weight: 500g
Price: $78.95 (may vary)
Also available as a Cassette Wheel, Freecoaster Wheel or Front Wheel.
GET YOURS
3. Alienation Deviant Rim

Because I know weight matters to many of you, I'm adding the Alienation Deviant rim, the lightest on this list, at only 312g.
However, may the weight not fool you because the Deviant rim was designed with strength in mind. It uses a 30% stronger base, 6069 T6 Aluminum, instead of the classic 6061 T6 (like most of the rims on the market).
Plus, it features an arch shape, which makes the rim stronger than the traditional shape. Remember, because of this shape, Deviant isn't meant for riding brakes.
While this is an epic and long-lasting rim, I wouldn't recommend opting for it if you're pulling a ton of huge gaps and drops. For anything else, and if you care about your bike's weight, go for it.
Deviant specs:
Width: 32mm
Weight: 312g
Price: $57.00 (may vary)
GET YOURS
4. GSport Birdcage Rim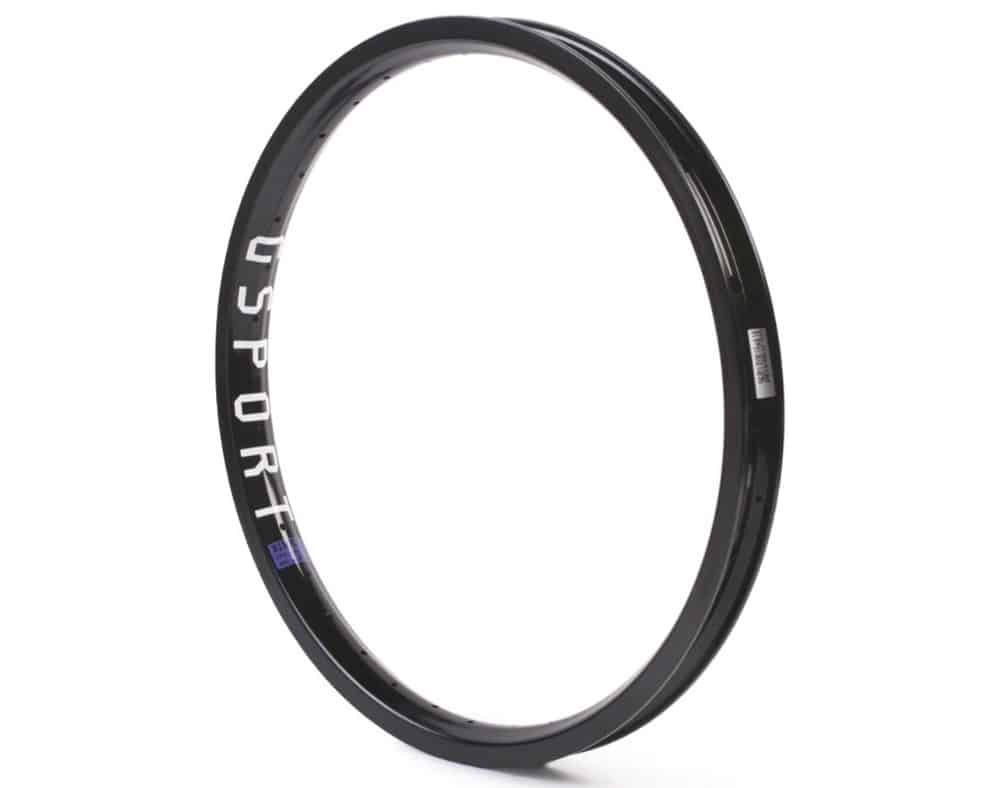 GSport has one of the strongest rims available on the market, the Ribcage, but they wanted to create a lighter rim while retaining as much strength as possible. And the Birdcage rim was born (weighing 60g less)!
The Birdcage has an aero-style look with an exclusively designed hollow bead to save weight.
Moreover, the rim also features a cross-lacing design and a re-engineering valve core (it has an offset valve hole – which also makes fitting a pump easier), both boosting its strength.
Birdcage specs:
Width: 34mm
Weight: 440g
Price: $94.99 (may vary)
GET YOURS
5. Odyssey Stage 2 Rim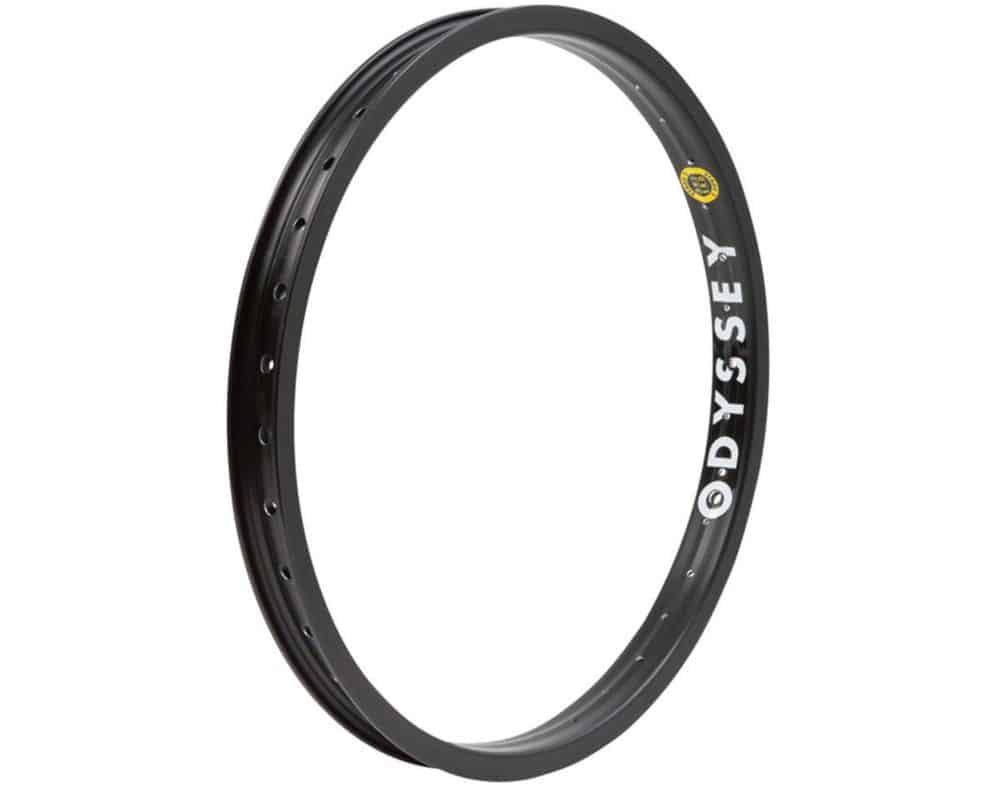 If you are searching for an affordable but reliable rim that you can use for any riding style, the Odyssey Stage 2 is an excellent option, vouched by many of the dudes I talked to.
It's a pinned, double-wall rim with extra-thick sidewalls and flat-top bead hooks to ensure the strength and tech of the higher-priced rims.
This is a superb upgrade!
Stage 2 specs:
Width: 36mm
Weight: 550g
Price: $31.99 (may vary)
Also available as a Cassette Wheel, Freecoaster Wheel or Front Wheel.
GET YOURS
6. BSD Aero Pro Rim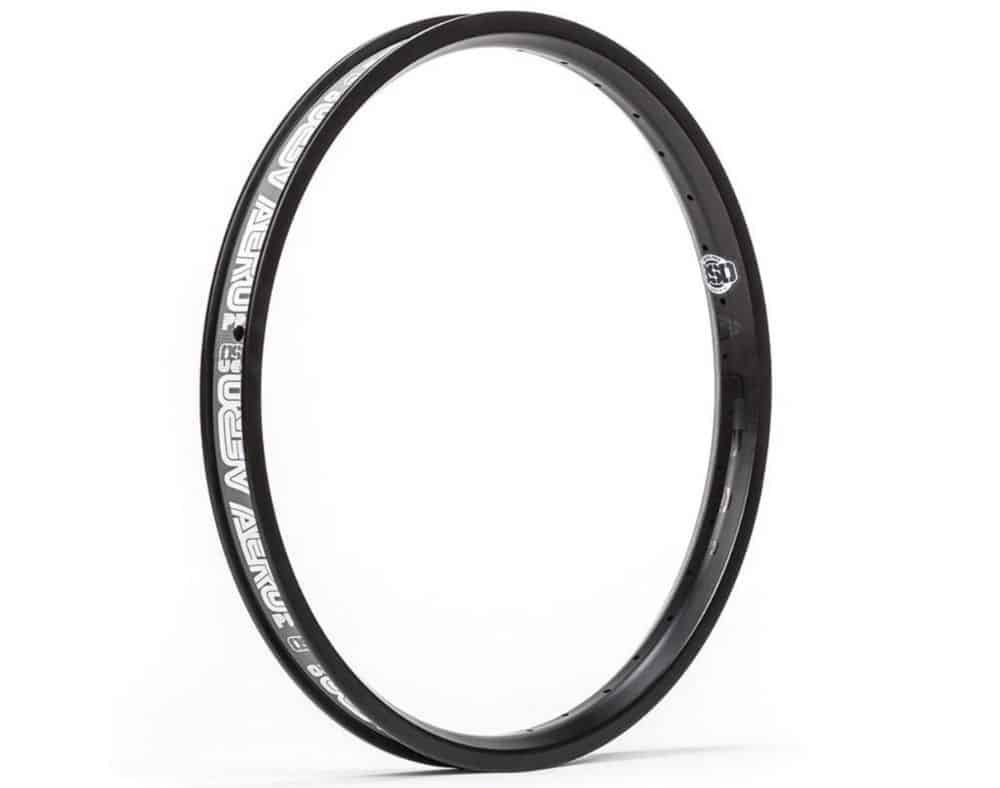 The BSD Aero Pro rim is a very versatile solution for every rider.
It doesn't matter if you ride street, park or trails, with or without breaks, the Aero Pro will do the thing.
The rim may look very lightweight at first glance, but it was designed with extra strength in mind. So you get the best of both worlds.
It has thick and tapered sidewall and spoke seats with a curved inner strut (for additional stiffness).
Additionally, the rim has two intra cavity supports that give it even more radial strength.
The Aero Pro rim proved to work really well on all-terrain, so I HIGHLY recommend it.
Note: BSD's Denim Cox rides the Aero Pro.
Aero Pro specs:
Width: 36mm
Weight: 498g
Price: $79.99 (may vary)
GET YOURS
7. Primo VSXL+ Rim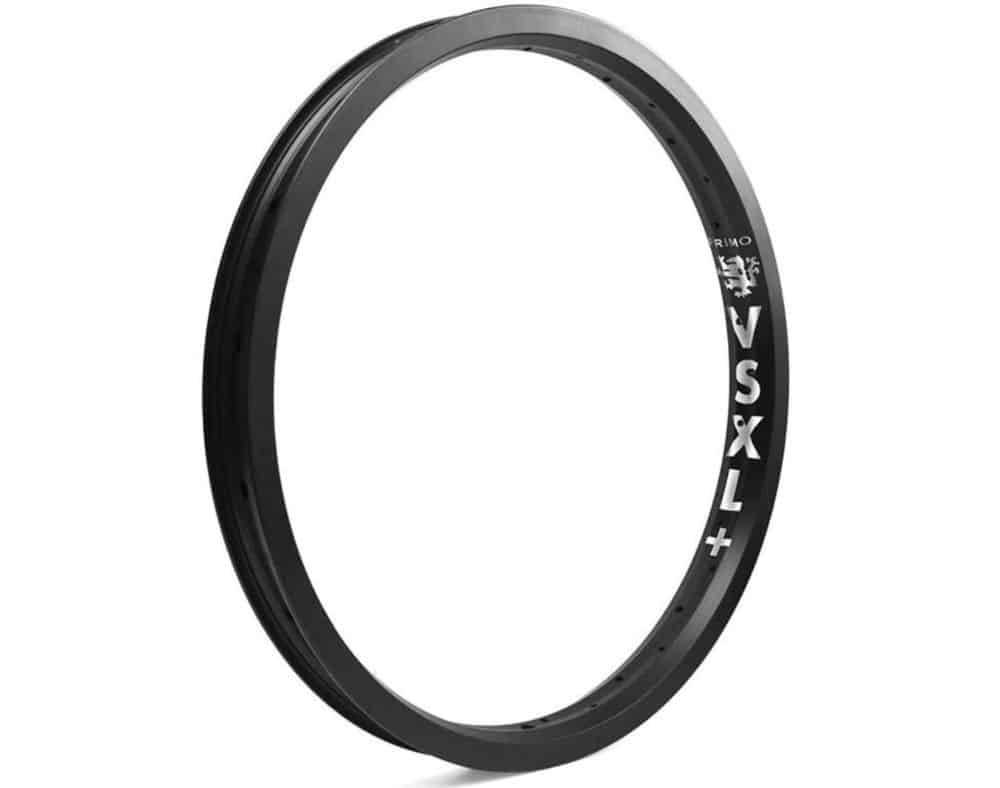 With the high popularity of the Primo VS rim, the dudes decided to create an even better version for the modern BMX rider.
The core focus of creating the VSXL+ rim was to make it wider than the OG.
It's 12% wider, which is just enough to still work with all BMX tires, regardless of their thickness. Although I recommend only rocking a 2.2″+ tire with this rim.
VSXL+ rim is great if you'd like to give your tires an even bulkier look.
Note: Primo's Miki Fleck rides the VSXL+.
VSXL+ specs:
Width: 38mm
Weight: 560g
Price: $90.99 (may vary)
Also available as a Cassette Wheel, Freecoaster Wheel or Front Wheel.
GET YOURS
8. Cinema Reynolds Rim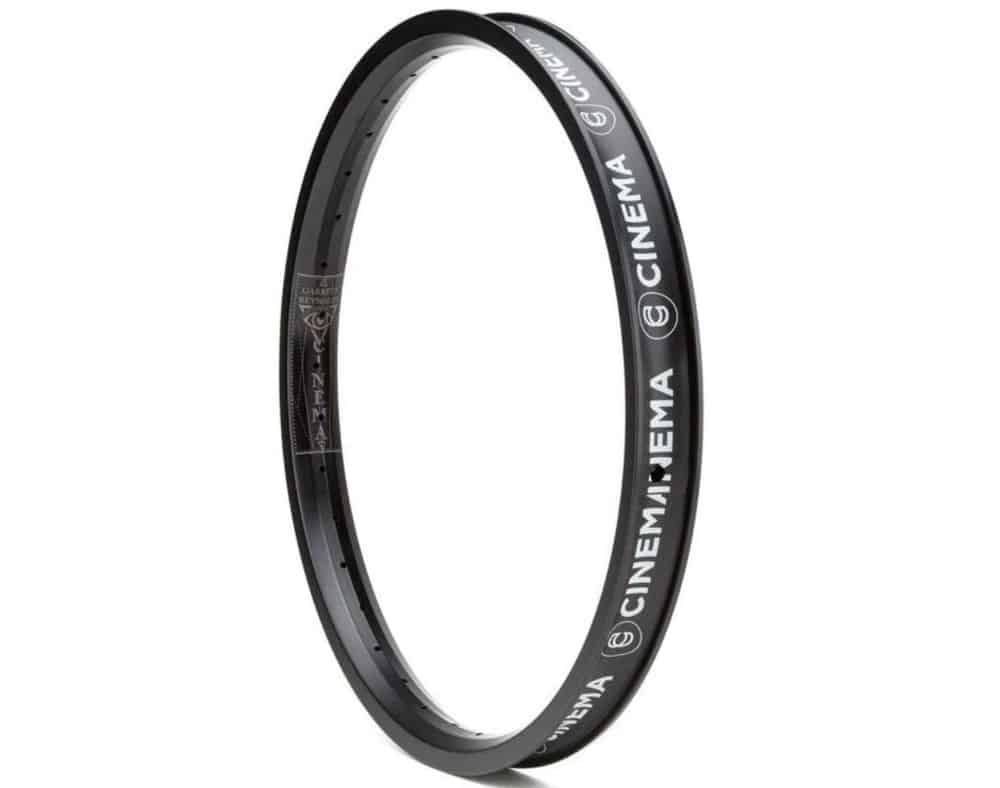 This is Garrett Reynolds's signature Cinema rim that features all the modern technologies to ensure extra strength.
We know Garrett likes to go big and technical, so he needs a versatile rim to handle any abuse.
And that's The Reynolds rim.
It's a wider rim with extra thick (warped) sidewalls that give it the additional stiffness that you need for your heavy sessions.
And you'll insert your BMX inner tube and tire much easier because the Reynolds rim is wider. The sidewall lip was also designed in a way to lock the tire more securely.
I've been told time and time again how strong the rim is by many riders. Also, everyone reported that their wheel stayed true for a lot longer.
Reynolds specs:
Width: 38mm
Weight: 530g
Price: $89.99 (may vary)
Also available as a Freecoaster Wheel.
GET YOURS
9. Shadow Truss Rim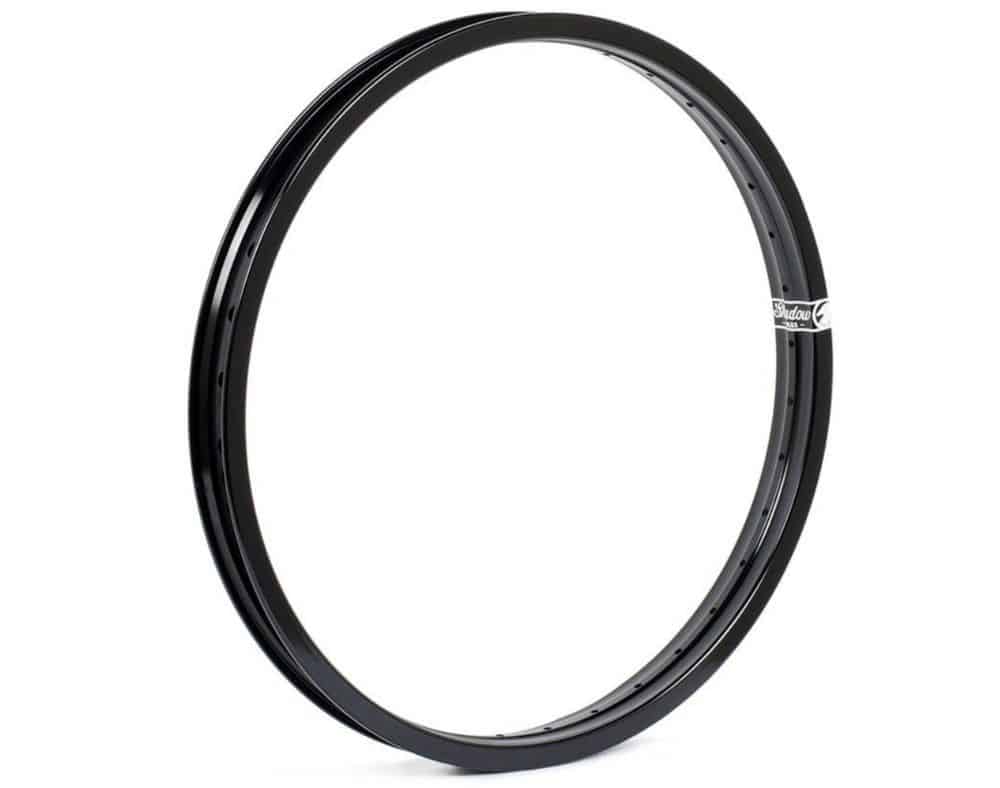 The Shadow Truss BMX rim follows modern standards with its wider shape.
I didn't mention it before, but a wider rim absorbs the impact on a much wider area, ensuring you run it for much longer.
The Truss rim also has a somewhat simple but robust design with strength written all over it.
What's extra cool about Truss is that you can get it in multiple RAD colors!
Note: Shadow's Trey Jones rides the Truss.
Truss specs:
Width: 38mm
Weight: 503g
Price: $74.99 (may vary)
Also available as a Cassette Wheel, Freecoaster Wheel or Front Wheel.
GET YOURS
10. Mission Honor Rim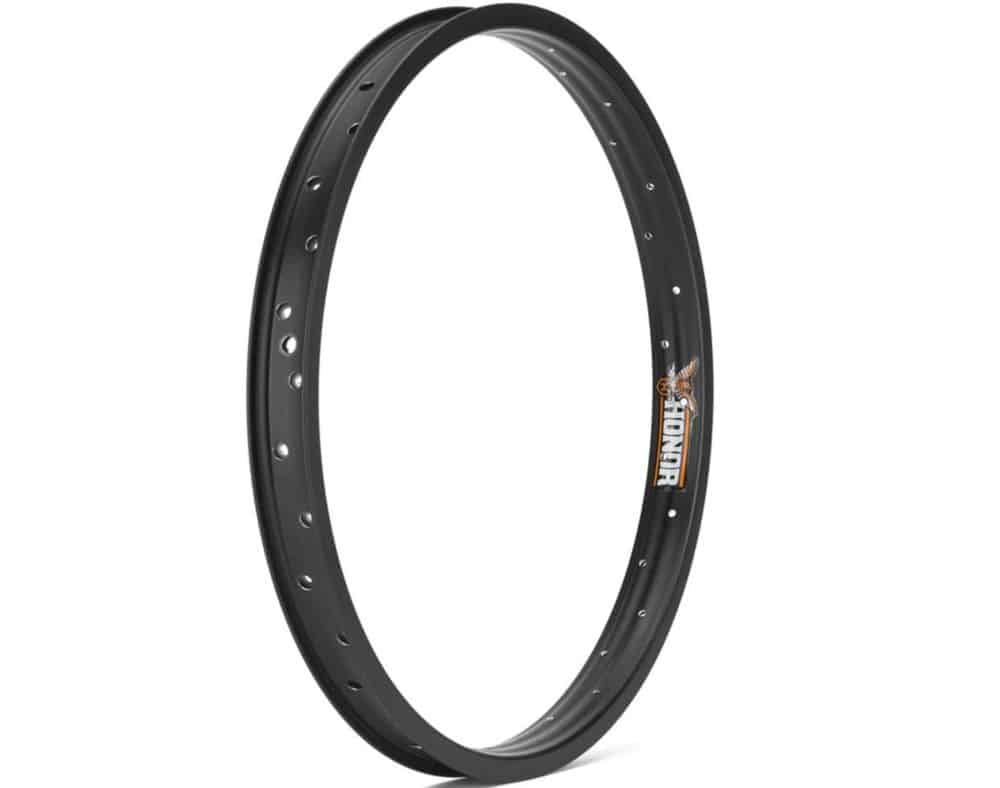 The Mission Honor rim is one of the cheapest BMX rims you can get on the market.
But it's still a double-wall rim (never buy a single-wall rim!) with oversized pins that add strength.
Note: I only recommend this one if you're a beginner because it's not as strong and stiff as the other (pricier) rims in his collection.
Honor specs:
Width: 36mm
Weight: 462g
Price: $24.99 (may vary)
Also available as a Cassette Wheel.
GET YOURS
11. Rant Squad Rim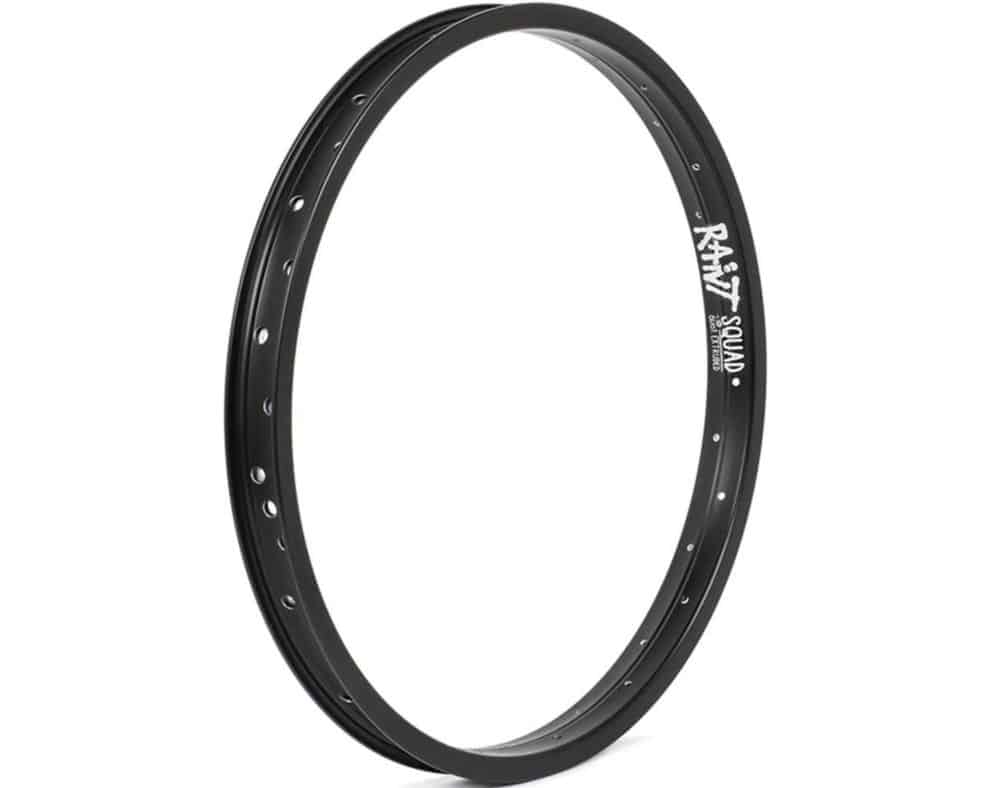 The Rant Squad rim is another budget-friendly rim, like Mission's Honor.
The main difference between the Squad and the Honor rims is their width. Squad rim is significantly narrower, like the Odyssey Hazard Lite.
Moreover, it features a double wall structure with a pinned seam and four separate chambers.
All this gives this BMX rim enough stiffness, but I recommend using it for lighter riding.
In other words, don't opt for this one if you do a lot of gaps and a ton of spins.
Lastly, Rant Squad rim is also available in multiple colors to fit every rider's taste.
Squad specs:
Width: 32mm
Weight: 490g
Price: $29.99 (may vary)
Also available as a Cassette Wheel, Freecoaster Wheel or Front Wheel.
GET YOURS
12. Stranger Crux Rim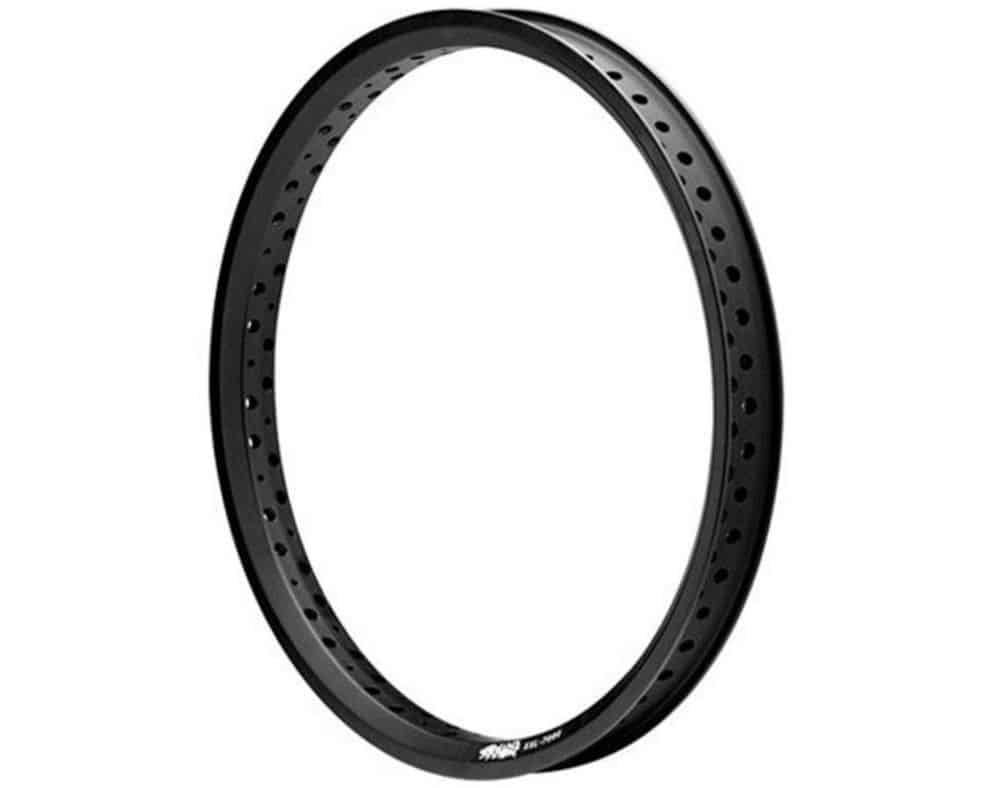 Similar to Eclat's Camber Sleeved rim, the Stranger Crux rim is also mid-priced for everyone who's in the BMX game for a while.
It's a lot narrower rim with a double wall design and a pinned seam, which keeps the cost low.
The Crux rim is great for everyone except for the burliest riders.
Go for it if you're not too much into gaps (it'll still hold some abuse here and there, but don't put heavy stress on it too often).
Crux specs:
Width: 32mm
Weight: 516g
Price: $42.00 (may vary)
GET YOURS
FAQs About BMX Rims
Do I need to pick a wider rim?
No. But if you need extra strength or you like to ride fat tires, then yes. Also, you can ride a lot lower pressure tires with a wider rim.
Single wall rims vs. double wall BMX rims
Never go with a single wall rim because you'll quickly untrue it. It only has one chamber and is prone to twisting it without any heavy abuse.
Whereas a double wall rim (with two chambers) gives you the extra strength, you need whether you're a more technical rider, a gap assassin or like trails.
A double wall rim also offers the best strength-to-weight ratio.
Note: There also used to be triple wall rims, but they were too heavy and offered very little extra stiffness compared to a double wall version. Thus, we're not using them anymore in BMX.
Welded vs. pinned/sleeved BMX rims
A welded rim creates a completely smooth joint that's necessary if you ride brakes. A welded rim is also typically a lot stronger, but the process costs more, so that's why the higher price range.
A pinned or sleeved rim is much cheaper to create but can be slightly unbalanced (which you won't notice when you ride it). Also, the joint can have imperfections, affecting only those who ride brakes. Tip: You can sandpaper the joint to smoothen it out.
Was this article helpful?
Disclosure: The BMX Dude's content is free & reader-supported. I may earn a commission if you click & buy through my links. Your support helps me create the best content & make a difference. Thanks! 🤘