Are you ready to watch the best Joris Coulomb BMX videos because you're a fan of creativity?
Who's Joris? A French dude who evolved himself into a spiritual BMX shredder.
In fact, no one out there is like Joris, and that's why I am that more excited to present to you this short bio and some of his best video parts and web edits.
I have been a fan of Joris, aka Joco for a long time. (Sine the skinny pants time.)
It is always super enjoyable watching him pull unique moves on a BMX, similarly to Simone Barraco.
This post covers:
Joris's videos are ideal if you are ready to make a change and enjoy yourself in originality that has no limits.
GET JORIS'S SIGNATURE PARTS:
Do not forget to follow Joris on Instagram for a lot of amazing BMX and non-BMX content that he publishes.
Featured photo by: Arc.
Best Joris Coulomb BMX Videos
1. Subrosa Om V2 frame promo

With the release of Joris' second version of Om frame by Subrosa comes an extremely dope promotional video. This one is really FIRE.
The style and the creativity are a match made in heaven, bringing you a ton of WOW moments. And wait until you see the last rail ride to 360 – that setup is insane. (I'd never think of doing anything on it!)
From technical stunts to big moves – you get it all and then some. Hit that play button.
The video was entirely filmed and edited by Stephan August.
You can grab his signature frame here.
2. For The (IG) Homies

If you are a Joris fan, then I'm quite sure you've probably seen all these clips. But if you're not, you better watch them right now.
And even if you've seen them all, they all deserve another watch – because they are THAT good.
In other words, Joris put together a compilation of some of his Instagram posts into this nearly nine-minute-long video for the (IG) homies.
Joris's smooth and unique riding style speaks through every clip, whether it's something more basic or super advanced and technical.
Sit back, relax and hit play.
3. DIG – An LA Minute

One minute of Joris? Why not!
Everything that comes out from this dude I want to watch it immediately. And this quick clip is no different.
Joris has this original style of riding unlike any out there, and that's probably why I enjoy watching him ride so much.
Joris shot this one with the one and only Grant Castelluzzo for his sponsors Subrosa, Shadow and Fade.
Sit tight, this one will hit you hard.
4. The Shadow Conspiracy "Full Of Bliss"

Joris' unique style never disappoints. No matter what is happening in the world, Joris will still go out and enjoy some street spots.
This video was shot in Seatle, Washington, either by himself or his friends.
In the mixture of amazing riding, you will find it all, from simple tricks and technical moves to even some really big stuff as well.
Joris is always full of surprises and greatness, which we all enjoy watching oh so much.
This is nearly six minutes long, and it's hard to say what stands out the most – it all stands out!
5. Signature OM frame promo (2020)

No matter what you are into, everyone enjoys the creativity and uniqueness one offers. And this is something that Joris is well aware of.
After spending a month in Long Beach at the end of 2019 with Wes McGrath, he managed to film a ton of remarkable clips to create this killer promotional web edit for his signature Subrosa OM frame.
Joris wasn't aware of what was coming and neither was any one of us, but he managed to make it all happen before the craziness that overtook the world at the beginning of 2020.
But let's focus on riding, as that's what matters most.
6. Joris Coulomb's Ecuador experience

Instead of every edit being straight-up fire riding, let's enjoy something different this time.
What happens when you send Joris over to Ecuador to meet the locals, attend a contest and enjoy what the country offers?
This short documentary from The Shadow Conspiracy reveals it all for you.
BMX is about having fun, whether riding stairs, pulling a 360 over a jump box or doing manuals on a curb. This clip mixes it all very well for your viewing pleasure.
7. Joris Maya web edit

Here, you will discover heaps of super smooth riding clips that shot for two years.
Joris and the crew went on multiple trips across Europe and the US, and it was Ryan Chadwick behind the lens all the time.
With all the clips in one place, Joris decided to put them together in this beautiful Maya edit for The Shadow Conspiracy.
The fact of how effortless Joris's rail rides look is hard to comprehend. I think I will just hit replay and watch this one more time.
8. Joris for SeasonBikes

Some of you may be too young or joined BMX when Joris already evolved himself as a rider. But this is something different, an old web edit for SeasonBikes (not in existence anymore).
I must say that this is the edit that I watch countless times. It features Joris shredding downtown London. It is a street edit primarily with a few park clips here and there.
I still remember watching this one just before I went out on my bike.
Even though I haven't seen it in years, I must say that it was a pleasure. That nollie 180 bar at the end is dope.
9. What Could Go Wrong DVD part

What Could Go Wrong is The Shadow Conspiracy's third full-length DVD, and you already know that Joris went all-in for his part.
The final product is five minutes of insanely original street riding, from tech combos to big rail rides and crank flips.
You will likely see stuff that you haven't seen before, which is something to expect from the Frenchman.
While his dreadlocks may be all over the pale, his riding style is nothing but precision.
10. Joris and Simone at Hasting's Plaza

Original and innovative riding at its finest from the two unique dudes, Joris Coulomb and Simone Barraco.
All this was shot at Hasting's skate plaza section, and you already know that it will be a good one. Also, I like the idea that there is no music to it, just riding/bike sounds.
Rail rides, whips, nose manuals, grinds, you name it, these two pull it.
Unfortunately, Joris hurt himself on a whip, and that's when Nico Badet comes to the scene with more great riding for your viewing pleasure.
Keep in mind, all this was shot in just one hour.
11. Joris Coulomb's ONE web part

Joris is part of both Subrosa Brand and The Shadow Conspiracy, which is what ONE full-length web video project was about.
To connect six of the pros that ride for both brands and bring together and show they are nothing but a big family.
Since it's Joris' day today, this is his part from the ONE. Style, balance and freshness are the three characteristics of Joris.
He knows how to hold your attention with his riding; this edit is another good proof.
12. Marie Jade "No Future" closing section

To have the ending section on a DVD is a privilege. And Joris Coulomb sure deserves it.
Marie Jade is a French group of amazing street shredders who know how to produce quality stuff over and and over again.
Their No Future DVD is no different. And if you would like to get a glimpse of it, here is over five minutes worth of amazing riding material from Joris himself.
I do not know where all this is shot, but I bet it is a mix between Barcelona and France.
What are you waiting for, enjoy the you-know-it-is-going-to-be-good part from Coulomb.
13. Get Used To It part

If I recall it right, Subrosa's Skeleton Crew is today's AM crew. When they were (already) filming for "Get Used To It" DVD, Joris got on the team quite late.
However, he was confident enough to have more than enough time to create a banger of an edit for the DVD.
As it turned out, he shot most of his video on just two trips, one to Barcelona and the other to Arizona.
This is from the time before dreadlocks, and it is all in black and white – just like old Subrosa videos were.
You will be happy that I added this one to this list of his best BMX videos – especially if you have not seen it yet.
14. Subrosa OM Frame Promo (2017)

There is a three-year gap between the promo video for his signature frame above and this one. The riding is, of course, amazing, but you can already spot the difference in the style.
Also, the video still follows the old black and white format that made Subrosa famous for.
Enough of me blabbering, you better watch Joris go crazy on the streets, putting his signature OM frame to a serious test.
The crank flip to icepick grind down a rail was super wild. And the crank flip to feeble to hard 360 on a ledge at the end was ridiculously good.
Bonus: Joris Coulomb BIO
In an interview with DIG BMX, Joris Coulomb tells that he started skateboarding at the age of eleven.
(He was actually quite serious about the skateboarding thing.)
But then, he ran into a group of BMX riders, and everything changed for him.
On his 13th birthday, Joris got his first BMX bike; the rest was history.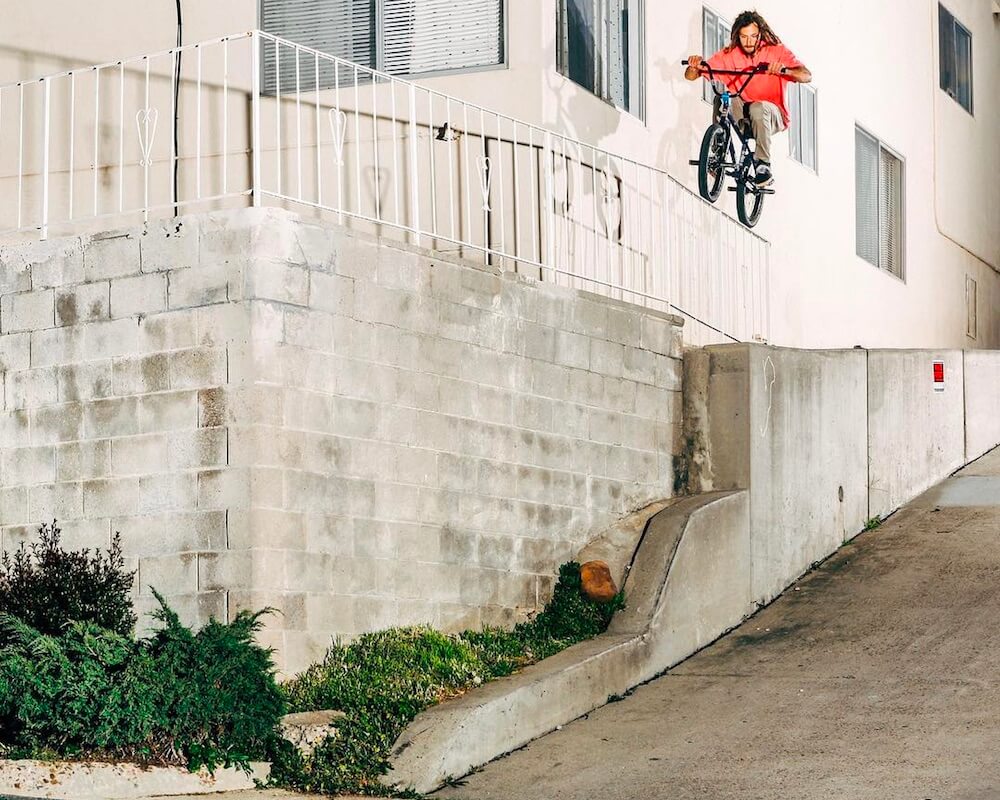 At first, Joris rode dirt and park primarily, but he already started playing with the street here and there. With influences like Garrett Reynolds, Nathan Williams and Sean Sexton, Joris started to get interested in BMX street riding more and more.
Over his reach career, a lot of stuff happened, like Proper and Nike, as well as touring around, riding spots in different cities.
Joris: "Hare Krishna"
At the time of writing this, Joris is sponsored by Subrosa BMX, The Shadow Conspiracy, Fade Footwear, Marie Jade and Plants Basically (a JJ Palmere company).
Joris also has his signature BMX street frame, forks, grips, sprocket and BMX shoes.
What's cool about Joris is that he never really sought a sponsor. He didn't even shoot an edit with that intention – he just enjoyed himself doing what he loves best.
Brands came to him.
Note: Ride for fun and never be "pushy," as this will not take you far in the BMX world. Things will always happen at the right time.
Was this article helpful?
Disclosure: The BMX Dude's content is free & reader-supported. I may earn a commission if you click & buy through my links. Your support helps me create the best content & make a difference. Thanks! 🤘