Are you ready to watch the best Simone Barraco BMX videos?
Instead of jumping from page to page, I hand-collected all the AMAZING clips and edits from one of Italy's finest street riders.
Not just in Italy but in the world.
This post covers:
Simone's style changed a lot over the years. Still, he always knows how to add his twist to every trick he pulls.
Lately, he is getting MORE and MORE creative.
I met the "Kid" once in Romania, and we had a blast. I remember he had problems pulling nose manuals and nollie barspins; however, he quickly fixed that.
GET SIMONE'S SIGNATURE PARTS:
Simone Barraco BIO
Simone has been on the scene for quite some time now, but before he went all-in with BMX riding, he was doing gymnastics, proudly representing Italy.
Note: Don't miss the latest Simone Barraco bike check.
Later, he decided that BMX was his real passion, and he dedicated his heart and soul to it.
In 2006, his career took off and exploded in the global scene with tons of amazing web edits and attending different competitions.
By the age of 20, Simone already achieved a lot in his career.
He later even won the 2015 Nora Cup "Best Video Part" award.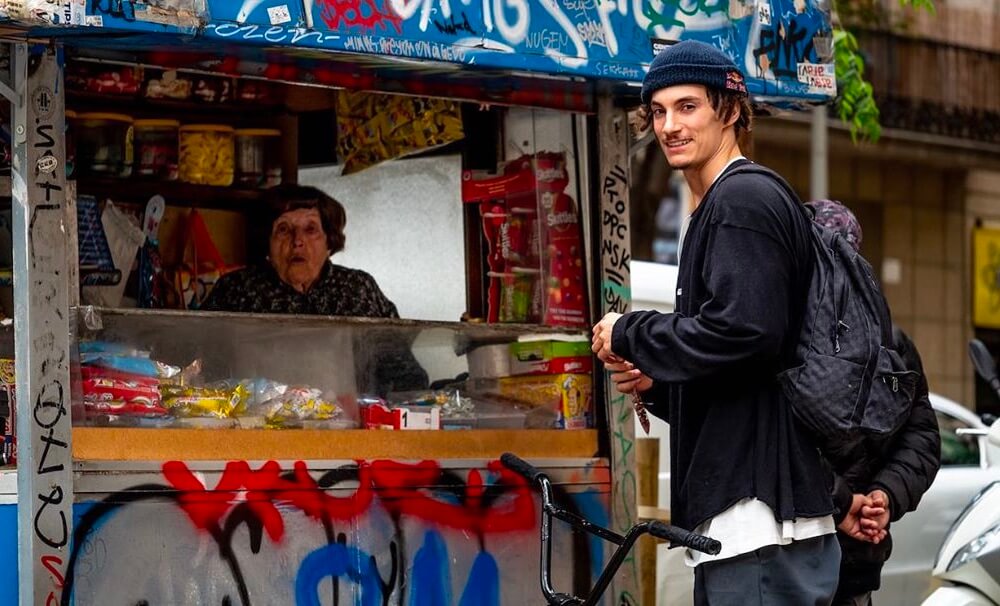 Barraco keeps on progressing, making everyone's eyes go as big as saucers with each new BMX video or part he films.
Today, you can watch many clips just by scrolling down and getting excited to go ride.
Facts
Date of birth: July 8, 1991
Place of birth: Genoa, Italy
Officially started riding (pro): 2006
Sponsors: The Shadow Conspiracy, Subrosa, Vans Shoes
Even though I bet Simone Barraco enjoys killing streets (of Barcelona) and eating pasta or pizza the most, he still enjoys having fun in the skatepark.
Without a doubt, a flexible rider who has some genuinely ridiculous style.
You can spot Simone from miles away.
In short, if you need inspiration, you can gain a lot of it from this super innovative rider. Simone knows how things roll.
At this point, you may also be interested in seeing some other street machines do their thing. Do not miss Lewis Mills, JJ Palmere, Ty Morrow and Dan Kruk do their thing.
Make sure you give Simone a follow on Instagram and be the first to see his latest clips, news and other whatnot.
Featured photo by: Ryan Chadwick.
Best Simone Barraco BMX Videos
1. Shadow – Kisses

I'm sure we've all been waiting for this one ever since Shadow started hyping it up. Why? Because we all know that anything Simone drops is a must-watch creative wizardry that's on an entirely different level.
This video is literally all about the kisses – like Simo says, "I mostly enjoy kissing spots nowadays."
What's also really awesome is that this entire project, including merch design, is all Simone's idea.
If you are into original riding that breaks all the barriers, then drop everything and hit that play button above.
But you'll probably need to watch it a few times just to fully grasp all that goes down.
2. Vans Unfiltered Paris w/ Simone & Anthony

There's never enough of Simone and Anthony Perrin's video content. These two have a unique riding style that's super unpredictable.
They visited Paris, France (suburbs) for the Vans Unfiltered project with Rich Forne, and the final product is just AMAZING.
It starts with Barraco's uniqueness, followed by more intense Anthony riding. (By the way, the last manual to 180 on the down ledge was insane, Perrin!)
Get a dose of inspiration from the best in the streets and then rewatch it because you'll probably miss some stuff, just like I did.
Boom.
3. Shadow and Subrosa – 10%

There's already a best-of video celebrating Simo's 10th anniversary below, but here's the all-new video we've waited for.
Finally! (So damn good.)
In true Simone fashion, you can expect a lot of creative and technical riding, even NBDs. This was filmed in Barcelona, Spain, and may include spots you haven't seen before.
The originality of this one is at level eleven. Incredibly inspiring – a web edit that will broaden your view of what's possible on a BMX bike.
A. LOT.
4. 10 years on Shadow/Subrosa (best-of)

Even though this is more or less a best-of collection of clips from the other videos (which I'm sure you already saw), I can't hold myself back from not posting it here.
2021 marks Simone's tenth anniversary with Shadow Conspiracy and Subrosa. They even released an exclusive/capsule collection of his signature street frame, seat, apparel and complete bike.
If you want to indulge in nearly eight minutes of Simone goodness, sit back, relax and enjoy yourself. TO THE FULLEST.
I've been a massive fan of Simo forever. Even though I saw all these clips multiple times, I will give it another watch. Right. Now.
5. Simone for DIG (2017)

The level of creativity in this one is extremely high. But that's something that applies to pretty much every Simone edit.
This was shot for eight months in Barcelona, Spain, and you know already that it will be exceptionally good.
Simone and Peter Adam collaborated on this one to produce one hell of an edit that is five minutes long.
Even though this is not heavily banger-focused, each clip/trick is simply mind-bending. If you need inspiration for street riding, just watch Simone shred.
6. Simone Barraco Real BMX 2020

Every time Simone releases an edit, you know it will be one-of-a-kind. And the same goes for his Real BMX 2020 all-street competition.
One minute and a half of amazing street riding that you do not see every day.
If you are interested in watching something different, this particular web edit is the way to go.
Even though every BMX rider out there is creative in their way, Simone always knows how to surprise with something novel.
Enjoy watching his distinct style now.
7. Behind the scenes footage from BCN

Above, you can watch the full-blown edit Simone and Peter shot for DIG, and here you have some being the scene clips.
It is all in here for your viewing pleasure, from crashes and second angles to random clips and Simone's room.
Even though I enjoyed watching the main edit more, this is still really good.
On the other hand, sometimes, I prefer watching behind the scenes even more. Well, not in this instance.
However, enjoy "getting familiar" with Simone and see some dope shots that will make you want to go ride.
8. Subrosa Noster frame promo (2017)

It is pretty ridiculous how effortless Simone's street riding is. From some insane tech and innovative tricks to absolute bangers, everything Simone does, he does it with butter-smooth style.
And this promotional web edit for his signature Subrosa Noster frame is good proof.
What a treat to watch – but it deserves a few more rewatches just to understand how good the edit is.
I remember in one of his old interviews, Simone says how much he sucks at nose manuals.
Well, he definitely worked on nose manuals to the point of pure mastery. Look at him now, linking them with other tricks with ease.
9. Simone Barraco Real BMX 2019

If the 2020 edition is a bit more mellow, this one is heavier. It's unique, creative, and wild; that's what's up when it comes to Simone's riding.
I believe this was all shot in Barcelona, where Simone lives, in collaboration with Ryan Chadwick.
Even though you see tons of unique shredding in other riders, Simone always knows how to take things to the extremes.
Here is another proof that will make you an instant fan of the Kid. But, very likely, you are already a fan, regardless of what type of riding you are into.
10. Shadow Conspiracy "What Could Go Wrong" part

Yes, this is nine and a half minutes long video part. Even though there is about eight minutes' worth of riding, you will enjoy watching it in its entirety.
This video is so excellent it won Simone a Nora Cup award.
They beautifully mixed everything together, from tech combos to big tricks, all laced together with jaw-dropping style.
From start to finish, you can begin saying, "wow, that's my favorite clip," over and over again.
Yes, everything is top-class, and everything can easily become your favorite clip/trick. Watch and enjoy yourself to the fullest.
11. Just random clips – not really!

While all these shots may be filmed just randomly on a trip through the Southwest, eventually, The Shadow Conspiracy crew decided to put them into an edit.
If this would never be released, it would almost be a crime.
Anyway, a whole repertoire of perfect street riding from the Italian style king, Simone Barraco.
I could watch this dude's BMX videos forever and never get bored.
Is this happening to you, too? Amazing trick on amazing trick on amazing trick – that's how Barraco rolls.
12. Welcome to Subrosa pro

We come to one of my favorite Simone Barraco BMX videos ever released. I dunno, it's just something about this web edit that I could never stop watching.
Sure, the intro is the best, but it's the riding, the song, the fact that it's black and white and just how well everything comes together makes it my favorite.
Still, I enjoy every short one-trick clip or a ten minutes long video part from Simone, as it is always a pleasure watching him ride.
13. Simone's raw clips from Warsaw

Raw clips from Simone doing his thing on the streets of Warsaw, Poland. Even if you watch this video ten years from now or any other from Simone, it will never get old.
These are the edits that we will remember forever because of how original everything is.
And being raw without any music makes the whole experience of watching Barraco ride even better.
The manual 180 down that big set of stairs at the end is pretty crazy. But there are some other insane moves that will take your breath away.
14. Shredding Barcelona street never grows old

We are back in Barcelona, Spain. Some of the spots you will see here are very famous while the rest are fresh.
If you ever go to Barcelona, you better hit up Simone, as he will take you to places you haven't seen before.
And Barcelona, being one giant skate plaza, you know how much good stuff is there to ride.
Diego Navarro took the time to go around BCN with Simone to film this amazing clip for The Shadow Conspiracy.
Do I even need to say how good the end product is? I thought so.
15. Welcome to The Shadow Conspiracy pro

No matter how old this may be, it is still a must-see. And in case you have not yet, you better do it right now.
A welcome to the pro team edit for The Shadow Conspiracy that features Simone and his unique riding technique.
It's worth noting that this was shot in just one week in Southern California and Philadelphia.
That's very little time to come out with an edit as good as this one.
But when your name is Simone Barraco, all is possible. Are you ready to enjoy some street wilderness from the Kid himself?
16. Subrosa Noster frame promo (2015)

Creativity never ends for Simone. Even though these may be "cruising clips" for Simone, they are definitely on a whole different level.
However, when you are as good of a rider as Simone is, everything looks almost too easy to be true.
Watch an amazing Noster frame promo from back in 2015, appearing exceptionally one-of-a-kind.
With so much originality, you will likely gain some inspiration to go out and try something different today.
And it's this distinct style of street riding that made Barraco become who he is today.
17. Simone Barraco POV Barcelona street

This is a super cool video from GoPro of Simone riding around Barcelona while cops chase him.
But Simone stays chill, enjoys himself cruising and escaping with a sweet hop over a fence. There are no cops actually, but there sure is a lot of cool shredding.
Even if they hunt Simone down, it will be almost impossible to catch him. But it's the streets of Barcelona and Simone's style that matter the most in here.
Also, if you ever wanted to see what it looks like from behind Barraco's handlebar, here you go.
18. Simone and Courage in Sicily

Okay, I needed to include this one in this list of the best Simone Barraco BMX videos. With his Vans companion, Courage Adams, they headed over to Sicily, Italy, where they got things to happen at some amazing street spots.
When it comes to Simone and Courage, you know you are up for some super tech and innovative street magic.
In addition to that, this entire video is very well filmed and edited, in black and white and laced to an interesting tune.
I will admit it, I probably watched this one at least twenty times already, as it's not your everyday BMX web video.
Was this article helpful?
Disclosure: The BMX Dude's content is free & reader-supported. I may earn a commission if you click & buy through my links. Your support helps me create the best content & make a difference. Thanks! 🤘