Are you ready to enjoy the madness that Lorenzo Mesa BMX videos are?
This Costa Rican dude is on another level, combining technical combos with burly moves, making your eyes as big as saucers.
All the freaking time!
What I really like about Lorenzo is that you never know what to expect from him.
Lorenzo is an AM for Kink BMX and Merritt. He moved from Costa Rica to sunny California to enjoy the BMX mecca.
GRAB PARTS LORENZO RIDES:
Do not forget to follow Lorenzo on Instagram. Unfortunately, he's not posting that much, but when he does, you'll know it.
Now let's get to business and witness some really wild BMX riding from Mesa.
Featured photo by: Lorenzo's IG.
Best Lorenzo Mesa BMX Videos
1. Lorenzo Costa Rica Returns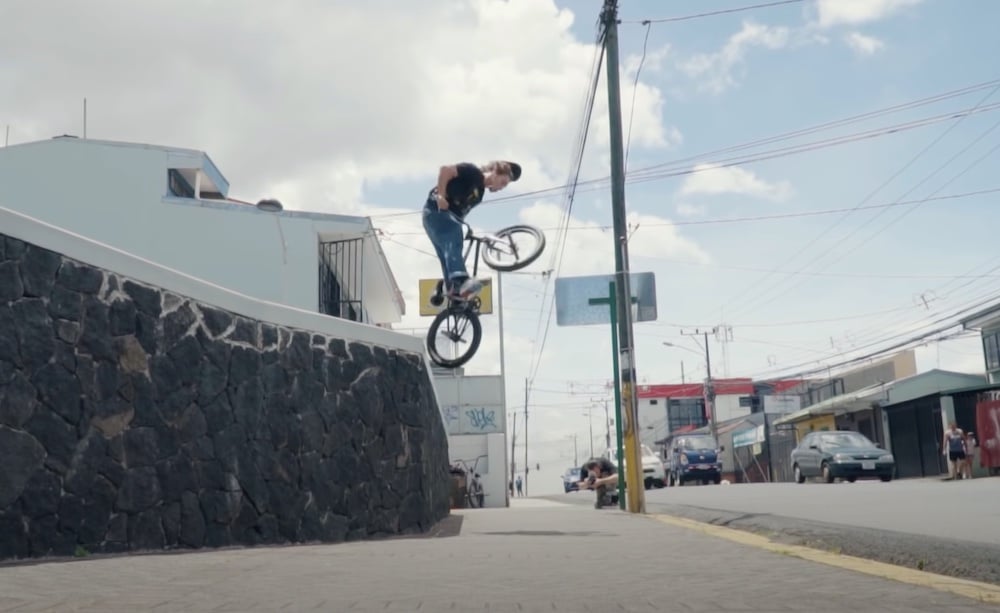 Lorenzo doesn't fool around. He spent much quality time riding the epic spots on returning to Costa Rica.
Here's the result for Kink BMX, dropping hammers after hammers.
The manual to barspin and then straight into a 180 to fakie 180 nollie barspin was NUTS.
But this is just one "small" example of how good Lorenzo is.
I didn't even watch the video to the end when I already started writing this because I was so hyped.
Update: I already watched it five times in a row.
Watch the video on Youtube.
2. Lorenzo Mesa Summertime In The LBC

Tech combos and burly moves – that's what you can expect from Lorenzo Mesa after spending a week in beautiful Southern California for Kink.
This was actually his first trip to the West Coast, but he played no tourist guy.
Lorenzo went straight to business with Sam Downs behind the lens.
I won't go too into detail because I don't want to ruin your experience, but the last line is insane.
It goes like this: Nollie to feeble to barspin to manual to smith to nose to smith to manual to opposite feeble grind to truck driver.
WHAT??!!
3. Lorenzo's Florida Heat

I like to see a good 180 toboggan, especially from a street machine like Lorenzo is!
But that's the COOL thing about Mesa – you never know what to expect from him. And yes, he definitely will mess with your brain because you'll go WOW often.
Lorenzo moved from Costa Rica to Florida, where he's hanging with the Kink squad, enjoying the amazing riding spots and delivering a ton of quality bike riding clips for video projects.
Like this one!
4. Welcome to Merritt

Big gaps are no BIG deal for Lorenzo Messa.
Here's Lorenzo's welcome to Merritt video from 2019 when he was already killing it like a MAD guy.
A solid dude who never disappoints, whether it's an IG clip or a full video.
I'm always glued to the screen watching Messa do his thing because I don't get how he does most of the stuff.
And, by the way, Lorenzo doesn't do regular roof drops; he truck drives them.
Filmed and edited by Rafael Delgado.
5. Game Of BIKE: Stephan Atencio VS Lorenzo Mesa

Two street machines in a Game of BIKE? I'm always down to watch Stephan Atencio and Lorenzo do their thing.
You can expect many good stunts from a bike check that's nearly ten minutes long.
And even though I don't understand a word they're saying, this was a great watch. Hey, I only know "Que tal?" in Spanish.
Anyway, enjoy!
It's also pretty awesome to see that Lorenzo is wearing a helmet.
::
You'll also have a blast watching other Kink dudes' BMX videos:
Was this article helpful?
Disclosure: The BMX Dude's content is free & reader-supported. I may earn a commission if you click & buy through my links. Your support helps me create the best content & make a difference. Thanks! 🤘