Do you want to watch the best Stephan Atencio BMX videos?
When I first stumbled across this dude, I knew immediately that this dude's future would be very bright.
I couldn't be more right.
Stephan lives in the beautiful, street-first Barcelona, Spain, but is originally from Costa Rica.
He was born on July 19, 1995, and got his first bike at 11. According to his Wiki page, his early days weren't the brightest, but that's not what we'll discuss here.
We're here to admire the insane street rider that Stephan is today, doing it for WeThePeople and 360BS.
Everyone knows that Atencio can go really, REALLY big, especially with his 360s. On the flip side, he's no stranger to tech wizardry also.
Do not forget to follow Stephan on Instagram for more hot stuff from the streets (mainly Barcelona, Spain).
I'm sure you'll also enjoy watching other Stephan teammates' videos:
Featured photo by: Stephan's IG.
Stephan Atencio Bike Check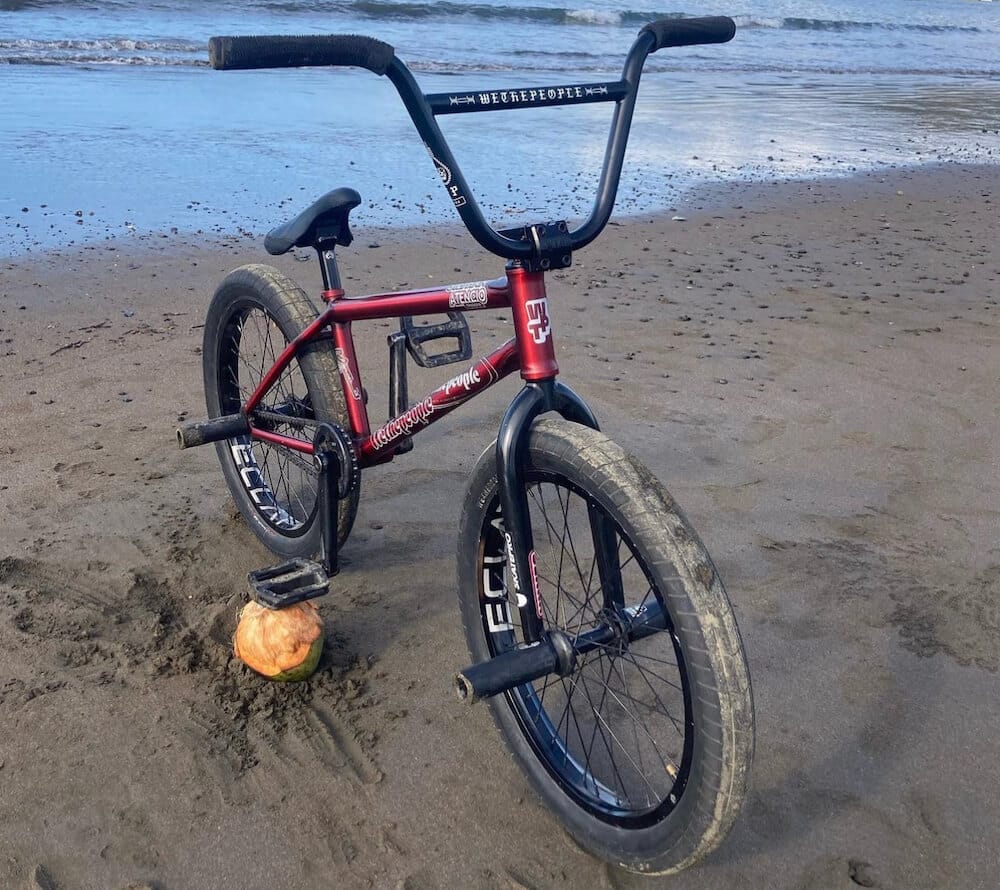 Note: Don't forget to check the full Stephan Atencio bike check.
Best Stephan Atencio BMX Videos
1. WeThePeople (2023)

Honestly, I had no idea that Stephan had this one in the works. So epic! Especially knowing that he spent nine months recovering from a complete patellar tendon rupture in his knee.
Stephan sure is a fighter!
And this is no easy video that Rafael Degado filmed and edited. Stephan pulled some really wild stuff, from big 360s and tailwhips to technical combos – you ABSOLUTELY need to see everything.
Are Atencio's whips the cleanest?
Plus, you may see some Barcelona spots you haven't seen before.
2. WeThePeople – ATENCIO!

Stephan is an absolute beast on a bike and blew up on the BMX scene with some fantastic video parts. Here we have one for WeThePeople called "ATENCIO" that dropped in late 2021.
This video starts with a major bang in an absolutely massive 360 roof drop straight to flat in the streets of Barcelona.
The vibe of this one goes pretty hard as Stephan gets super tech in addition to the burliness we all know and love from him.
With tricks like insanely long rail grinds and rail rides and tricks like a wedge hip whip to manual to 270 over another wedge hip, this one is worth every second!
3. Dig – Stephan Atencio

Stephan is a pretty well-known name in the BMX world these days; however, that was not always the case.
Back in 2019, when this video was released on the Dig youtube channel, the caption of "There's a new kid in town" couldn't have been more accurate.
As the BMX world soon discovered, Stephan Atencio was here to stay! This video starts with a pretty epic intro and goes straight into some wild riding.
One of the first clips is a giant tail whip drop that Stephan handles flawlessly.
After the intro song finishes, the vibe continues with a song you'll surely recognize as Stephan continues to throw down hammers.
This is a must-watch if you haven't seen it yet and worth a replay even if you have!
4. 1st WeThePeople Web Video

Stephan Atencio's first video for WeThePeople was filmed in just 9 months then dropped toward the end of 2020.
It didn't take long for Stephan to get hooked up in BMX after his amazing video came out in 2019 and this follow-up does not disappoint!
The video is just under 4 minutes long and starts with another epic intro to follow his 2019 video.
Once the riding kicks in, it is clear that this one will be another banger with tricks like a massive hop to manual to drop manual to 360 drop that was just perfect.
There's something about the vibe of Stephan's videos that just makes them extremely enjoyable. And I cannot talk about this video without mentioning the last clip.
The last clip has to be one of the biggest 360s ever to go down, and it is incredible to watch!
5. Dig "RAW" – Stephan Atencio

There is no denying the amount of work that can go into a BMX video and when it comes to any Atencio video, the effort is plain to see.
Stephan went HARD for a debut video that came out in 2019 and this raw cut of that video shows some of the efforts he put in to make it happen.
The original four-minute thirty-second video is just under 14 minutes here and gives some insight into the filming process.
Seeing behind the scenes of the truck driver banger from his video is honestly just cool. As was the b-roll shot of him laying on top of the setup listening to music.
You have to respect how many times Stephan did the 360 off of the setup and attempted the truck before landing it. Celebration well earned!
6. Raw Look At Stephan's 1st WTP Video

When you're as wild as Stephan Atencio is, the amount of hard work and determination into a video part is undeniable.
This video is a raw look at his first-ever video part on the WeThePeople team.
From behind the scenes of the massive truck driver he did and the pain from just doing a 360 down the gap to the struggles of a technical grind down a multi-kinked handrail – this is a must-watch.
We also get an in-depth look at what it took to land the 360 at the end, which has to be one of the biggest 360's ever done on a BMX bike.
7. WeThePeople – Twins

Four days in Barcelona is all Stephan Atencio and Wiktor Skibinski had to make this three-minute video. And clearly, four days is all they needed to put out an absolute banger.
The video starts with one of Stephan's signature massive 360's downstairs, complemented by Wiktor's incredible technical abilities.
These two have styles that lend to each other, making for an enjoyable video from start to finish.
A couple more stand-out clips from this one are the up rail hard 180 whip from Stephan and the crook to pegs to hard 360 over from Wiktor.
8. BMX Edit from 2013

When someone like Stephan bursts onto the scene with the insane videos he did, some may wonder where he came from.
In the internet age, where cameras are everywhere, we sometimes glimpse into the past with videos like this one. Here is a Stephan Atencio BMX Edit from 2013.
A young Stephan starts the video out with a pretty huge truck driver down a gap that would be gnarly for any mere mortal adult today.
From there, we see that he had 540's, tailwhips, manuals to tricks, and so much more dialed even back in 2013.
Stephan is incredible!
Was this article helpful?
Disclosure: The BMX Dude's content is free & reader-supported. I may earn a commission if you click & buy through my links. Your support helps me create the best content & make a difference. Thanks! 🤘