Are you searching for the ultimate Shadow Interlock chain review? The V2 and the Supreme version?
Before I even continue, I want to say one thing: You're making the RIGHT choice.
I've been riding the Interlock chain for the past fifteen years (yes, that's 15!) or so.
But that's not the most impressive part.
What I'm totally SHOCKED (in a good way) by is that I believe I'm now on my fourth (maybe 3rd) chain.
Yes, that's right.
And while I did have a pretty long pause from not riding because of knee injury and surgery, I still rode the chain A LOT.
I still remember when I first started riding and how much trouble I had with CONSTANTLY (!) breaking chains.
Those thin, 410 chains sucked.
But then I had the idea of getting a moped chain.
That thing was heavy AF, but it didn't break. However, it damaged my sprocket and rear cog pretty quickly, which wasn't too much fun.
Thus, I went back and forth between the thin and the moped chains, trying to figure out what would work BEST.
Because everyone who's ever broken a chain knows it can go horribly wrong. And I broke a chain dozens of times.
And although I didn't hurt myself every time, just the idea of constantly fixing the chain sucked.
It goes beyond that.
You know you have a bike part that's very likely to break – and that's not the best mental practice.
Every time you pedal (fast) to pull a trick, you think: "Will the chain handle or break?!"
NO. GOOD.
Shadow Interlock V2 Chain Review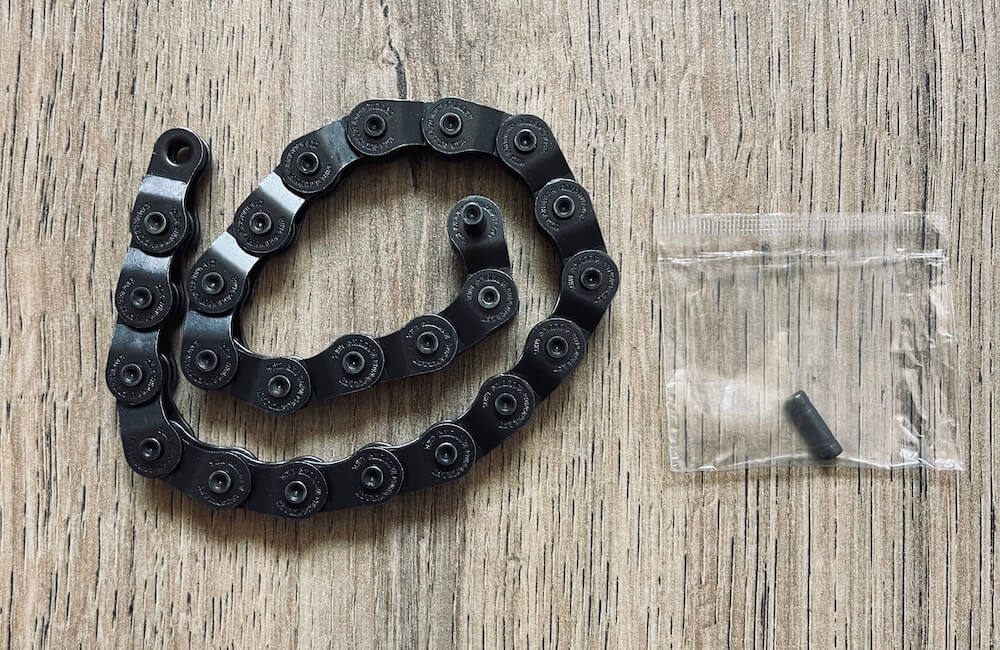 But then The Shadow Conspiracy came out with something unique – the very first half link chain in the BMX (and bicycle) market.
(When Shadow started in 2002, one of their first ideas was to create a chain, but it took them approx. two years to realize it. So much hard work went into it but it was so worth it!)
And because the hype was so strong, I knew immediately that I needed to get it.
Usually, good things don't happen overnight, but they did for me when I first put on the Shadow's V1 interlock chain.
NO. MORE. BROKEN. CHAIN.
I almost couldn't believe it.
From then on, whoever I saw without the Interlock, I always wondered why are they so SILLY to risk it?
I knew that this would be the chain I would ride forever.
But then the V2 version came out. (Which, of course, I switched to.)
However, Shadow kept working in the lab, trying to further optimize and improve the Interlock V2 chain, and eventually released the Supreme chain.
While the Interlock V2 chain has an insane 1,300 kg tensile strength, the Supreme version goes beyond that with a whopping 1,500 kg.
What's particularly unique about the Shadow Supreme chain is that it features forged plates, which NO OTHER company in the bicycle industry has ever done.
Because of the insane strength, it doesn't really matter whether you ride with or without a sprocket guard.
I rode Shadow's Interlock V2 for the first ten years without the guard. I only switched to a guarded sprocket a few years ago.
Shadow Interlock V2 & Supreme Chain Features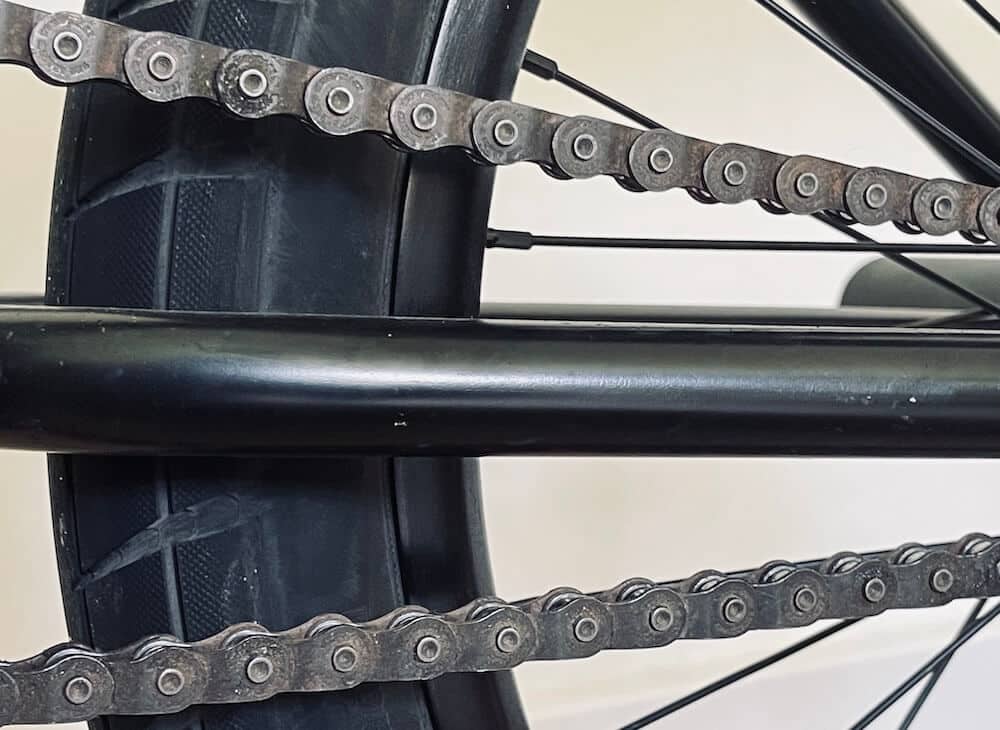 Shadow Interlock V2 Chain
Color: Multiple color options
Total Links: 98
Pins: Strong mushroomed pins
Weight: 11.3 oz. (w/ 72 Links)
Extra master link: Included (2X)
Compatibility: 8T driver and up
Price: $37.99
GRAB YOUR V2 CHAIN
Shadow Interlock Supreme Chain
Color: Black and silver
Total Links: 98
Pins: Extra wide mushroomed pins and hardened rollers
Weight: 11.1 oz. (w/ 72 Links)
Extra master link: Included (2X)
Compatibility: 8T driver and up
Price: $64.99
GRAB YOUR SUPREME CHAIN
Note: When you get the Shadow's Interlock V2 or Supreme chain, always look for the 1/8″ because the chain is also available in 3/32″, created for racers.
How To Install A Shadow Conspiracy Interlock Chain
It's important that you install the Interlock chain in the right direction because a half link is different than a full link BMX chain.
It's EASY: The wider end of the link should face the rotating direction when pedaling forward.
Speaking of installation, you'll need a BMX chain breaker tool to link the Interlock together.
But if you don't have any tools, I highly recommend getting a BMX multi-tool (it also includes a chain breaker).
Important: Because the Interlock chains are wider, it might happen that the chain will ride more on the body of the sprocket and rear driver than the teeth. But this will smoothen out, so don't worry about it.
How To Make Your BMX Chain Last Longer
Installing a chain isn't a set-it-and-forget-it kind of situation. Regular maintenance means your Interlock (or any other chain) will last much longer.
Here are some tips:
Degrease chain: Use a chain cleaning tool or take off the chain to soak it in a degreaser.
Brushing: Use a brush to remove stubborn grime.
Rinse: Use clean water to rinse off the degreaser.
Dry vs. wet lube: Dry lube doesn't attract as much dirt but washes off easily. Wet lube lasts longer but can attract grit (I recommend using wet lube).
Deep clean: Every few of months, give your chain a thorough cleaning.
Check for damaged links: Look for any bent or damaged links and replace as necessary.
Keep spares: If you have to replace a broken chain during your session, having a link with you can save the day.
By regularly cleaning and appropriately lubricating your BMX chain, along with adopting good riding habits, you can greatly extend the life of your chain.
Conclusion: Don't Worry About Breaking Your Chain Anymore!
Okay, I know there are cheaper half link BMX chains on the market, but with some products, price shouldn't be a buying factor.
In fact, you'll save money with either the Interlock V2 or the Interlock Supreme.
Why?
Because regardless of how hard you ride, these two chains will hold the abuse.
However, I will say this: If you aren't the burliest of riders, you're completely fine with the V2 version. I've been riding the current one for three plus years and haven't had a single issue with it.
But if you want to be 110% sure in the strength of your chain, then go Supreme (+ it looks better, in my opinion).
Thanks, Shadow, for making the Interlock (all versions) chain!
Was this article helpful?
Disclosure: The BMX Dude's content is free & reader-supported. I may earn a commission if you click & buy through my links. Your support helps me create the best content & make a difference. Thanks! 🤘