Do you want to know what the best BMX rim width is?
Not just that, but what's the craze behind wider rims? Are they worth it?
Let's find out.
When I first started riding (20+ years ago), nobody really cared about the rim width. Actually, we didn't care about the BMX tire width either.
There was no situation like, "Yo, how wide are your rims?" or "How wide are your tires?"
This post covers:
This came later.
But the only reason companies started making wider rims was because the tires started getting fatter. (You may also be interested in my list of the ultimate BMX tires.)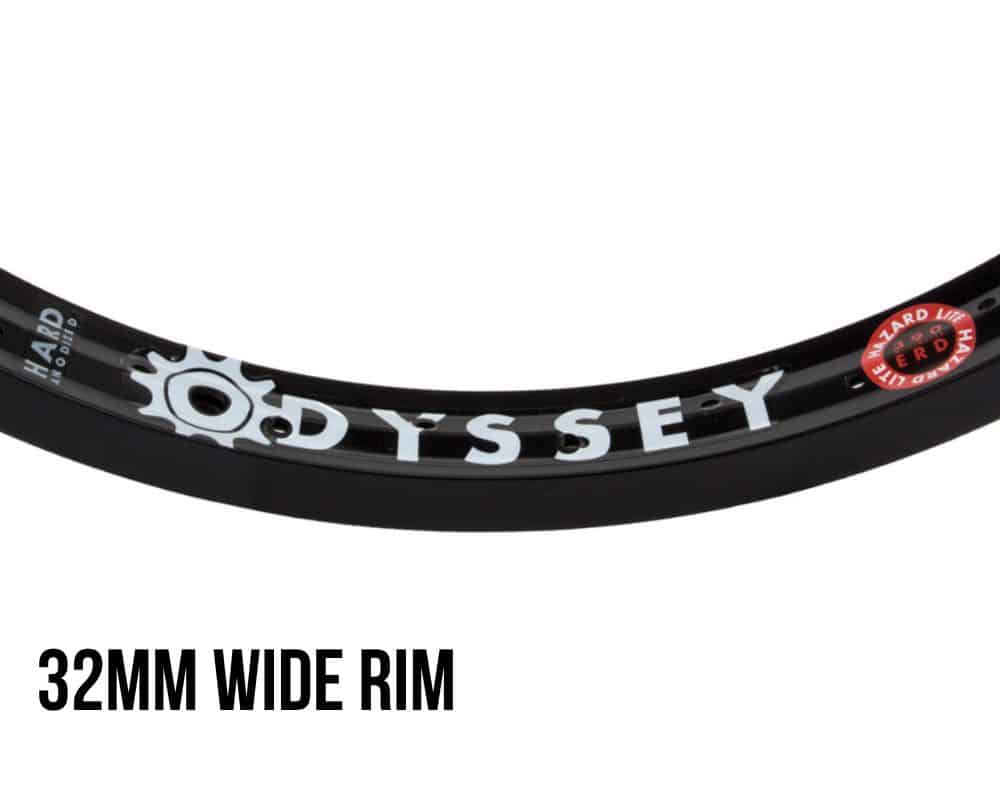 A standard for a rim width was 32-34mm when I started, but right now, it's anything 34mm+. More like anything between 36-38mm.
BUT!
You can also get a 40mm (ex. Premium Varanyak rim) or, even crazier, a 42mm (ex. Stranger Crux XL rim) wide rim.
Before we continue, I want to mention my collection of the best BMX rims if you're in for new ones.
How Wide Should BMX Rims Be?
Hint: Wider is better.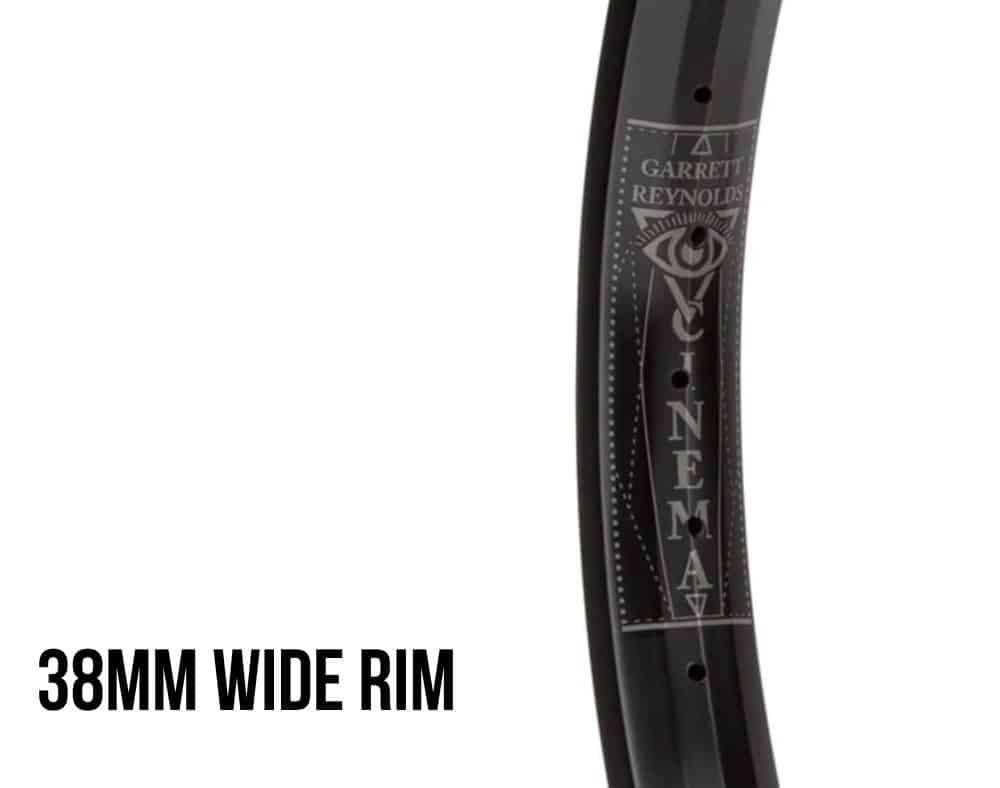 Imagine an Odyssey Hazard Lite rime that's 32mm wide. Now put on it Nathan Williams' 2.5″ tire.
How will it look?
Like a balloon.
By doing this, the tire will move around (unstable) a lot more, plus the balloon-shaped tire's sidewalls will rub against ledges and rails more, causing additional (but unnecessary) damage.
Now place this same tire on a 40mm rim. That's 8mm wider, making a massive difference in how your bike suddenly handles.
The wide rim stretches out the tire (like on a car), so the side wall will be straighter, giving it more stability. Also, it won't rub against the ledges and rails as much as the balloon one will.
This will also give the tire more traction, which is handy for rail rides. (Although some prefer doing rail rides with slimmer rims/tires.)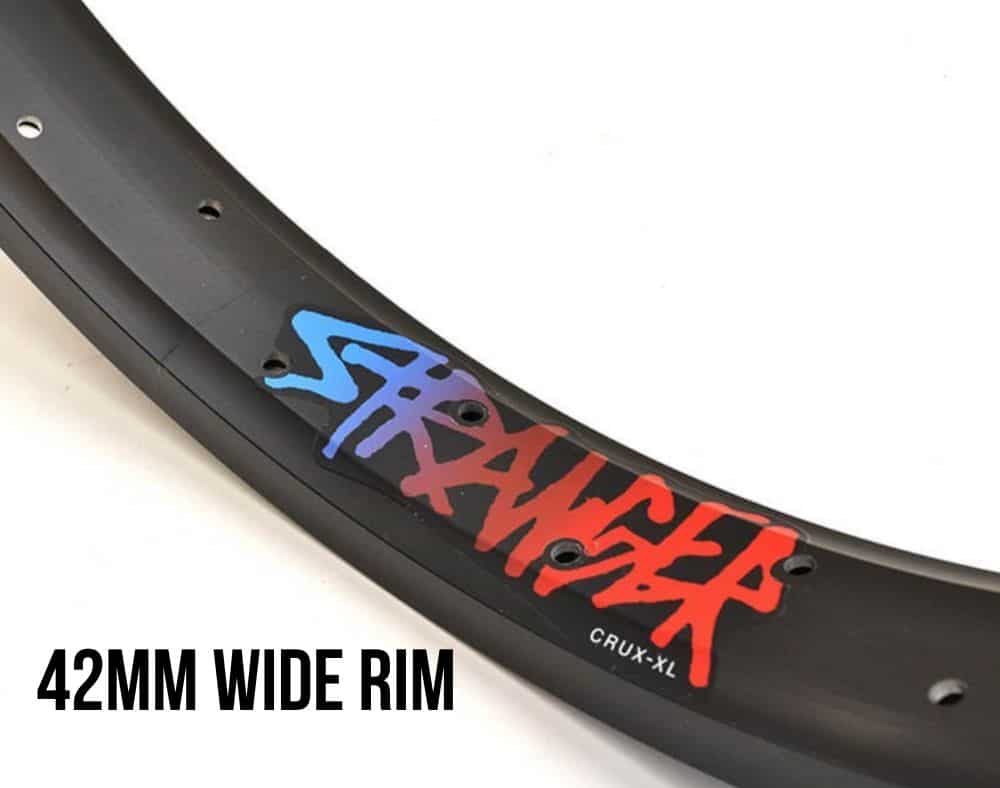 And when you have a combination of a wider rim and a wider tire, you can ride lower PSI much more comfortably.
Note: You may also want to read my article on the best BMX tire pressure to decide on the ideal PSI easier.
Another benefit of a wider rim is this – the spokes will be further apart, adding additional strength to the wheel. It's said that a wider rim is even better than one that supports cross-lacing.
Sure, there are riders, even pros (!), who ride fat tires on narrow rims.
Do I recommend it?
No.
What's The Best BMX Rim Width?
If you have 2.4″+ tires (even 2.3″), go with at least a 36mm rim, but a 38mm one will be even better.
But if you're tires are 2.1″ or even below 2," and you want to save weight, then go with a 32mm tire.
Conclusion: Do I Need Wide Rims?
Yes, absolutely, if you're riding wide tires.
Why?
Because the rims will stretch out the tires nicely.
This creates more straight sidewalls, giving your bike additional stability, better grinding (less tire-to-rail or tire-to-ledge friction) and an option to ride lower PSI.
On the contrary, if you would like to save weight and ride narrower tires (like some skatepark dudes do), then a 32-34mm will do the trick.  This will also make your bike go faster. Note that Corey Walsh goes extremely fast and his signature Cult tires are 2.4″.
All this tells you is there's no right or wrong approach – find YOUR OWN.
Recap:
32-34mm rims: Best for narrower tires and everyone who wants to lose weight (and go fast).
36mm+ rims: Best for fat tires that are common in modern street riding.
Finally, all modern BMX tires will fit on all modern rims – you cannot mess things up.
But I just shared with you why a wider or a narrower rim is better.
Hey, you can still put a 2.5″ tire on a 32m wide rim. However, you won't benefit from it as much as using a 36mm or 38mm rim.
Was this article helpful?
Disclosure: The BMX Dude's content is free & reader-supported. I may earn a commission if you click & buy through my links. Your support helps me create the best content & make a difference. Thanks! 🤘