If you've been trying to find what BMX peg types are there, don't worry, I've got you covered.
In general, there are three types available: Plastic pegs, steel pegs and Alloy pegs.
But now the question comes, "Which is better?"
It really all depends on the riding style you do.
And that's why I decided to break things down even further, peg by peg, so you know which is best for you.
What Kind Of BMX Pegs Are There
Plastic BMX Pegs

Plastic pegs are the new CRAZE.
It's a two-part peg consisting of an Alloy or Chromoly core and a replaceable plastic/nylon sleeve.
Those who want to save weight usually go with the Alloy version.
However!
If you're doing a ton of street riding, putting your pegs under a lot of street, I DO NOT recommend opting for the plastic pegs with the Alloy core.
Instead, go with the Chromoly version so that you can trust your pegs more.
Note: What I also like about the Chromoly core version is that the core itself is strong enough to be used as a thin peg.
Because, yes, the Alloy version can break.
Still, if you ride more park and light street, then the lighter variation of the plastic peg will do the trick.
And when it comes to nylon sleeves, you MUST rotate them regularly.
When I first got plastic pegs, I forgot to rotate my dominant back peg, grinded through it and needed to replace it.
Whereas if you rotate the sleeve, it will last you MUCH longer.
Additionally, the longevity of the sleeves depends on how much grinding you do, whether it's rails or rough ledges (use extra wax), etc.
If you're looking for new pegs, I'd like to share with you my tested and proven collection of the best plastic BMX pegs.
Steel/metal BMX Pegs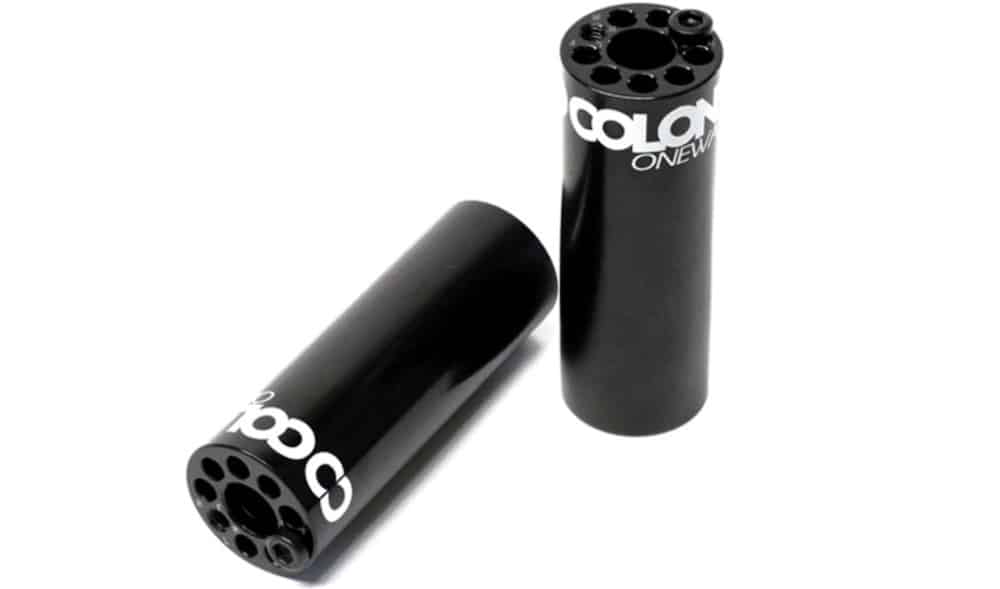 But it all started with trustworthy steel or metal pegs made out of Chromoly.
I rode them for nearly two decades and have nothing but GOOD things to say about them.
But I mainly made the switch because plastic pegs are more street-friendly and more silent, too.
Still, there are lots of professionals and amateurs out there who wouldn't ride anything else other than the metal pegs.
And dudes like Mike Fleck and Jaume Sintes even grind through them.
A metal peg is still considered "true street," but you're no less street if you ride plastic pegs because most of the biggest pros use plastic.
Don't forget to check my ultimate collection of the best BMX metal pegs.
Alloy BMX Pegs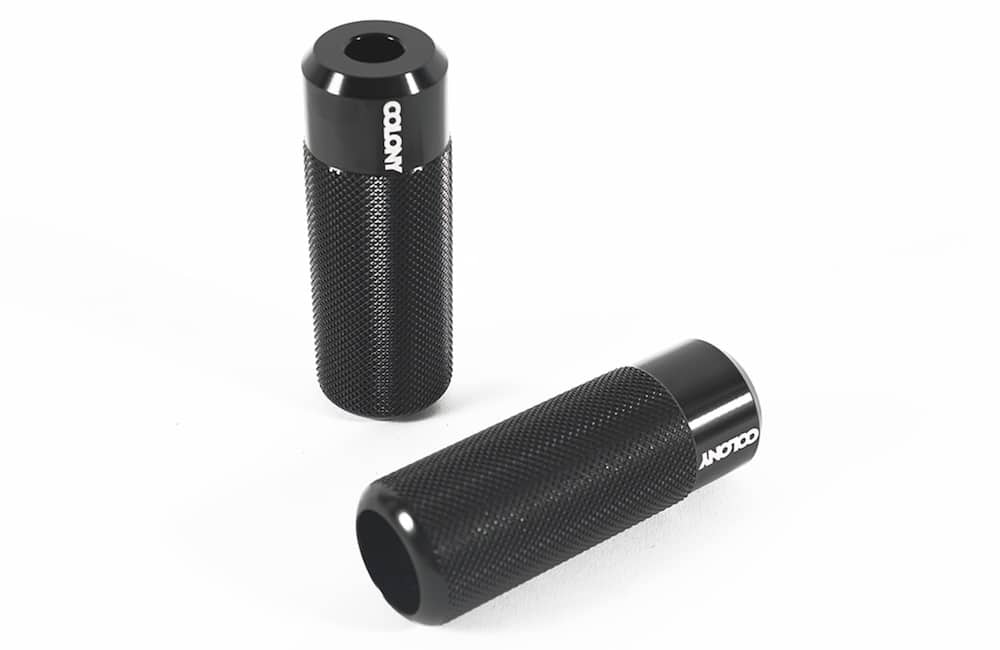 Alloy pegs a for flatland and flatland only!
I see some brands creating Allow pegs for street and park, but you should NEVER opt for those.
If you worry about your pegs being too heavy, it's better to go pegless than to ride Alloy pegs for grinds.
JUST. DO. NOT.
But when it comes to flatland BMX, Alloy pegs are excellent. They're usually slightly fatter with knurling on them, so they have the necessary grip to prevent slippage.
Fun fact: When I got my first bike, it came with Alloy flatland pegs. I knew nothing about pegs then, so I used them to learn grind tricks, too.
Well, they didn't last too long.
Conclusion: Are All BMX Pegs The Same?
No, they're not.
Not only are there plastic, metal and Alloy pegs, but they also come in different lengths and their diameter varies slightly, too. Plus, they come in 10mm and 14mm variations for front and rear hubs.
Speaking of dimensions, check out what BMX peg size you need.
You may also be interested in reading my article to answer whether BMX pegs are universal.
I switched from steel to plastic pegs some time ago and don't see myself going back to steel ones.
And if you're unsure about which pegs to opt for, I recommend picking up plastic ones WTH Chromoly core.
Trust me; you don't want to break a peg during grinding, especially not during a gap to grind.
Yo!
Was this article helpful?
Disclosure: The BMX Dude's content is free & reader-supported. I may earn a commission if you click & buy through my links. Your support helps me create the best content & make a difference. Thanks! 🤘